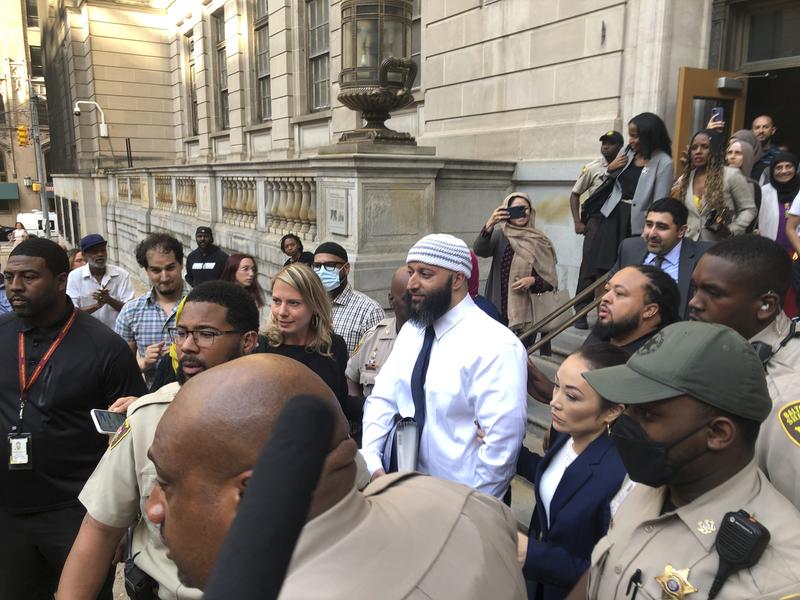 Transcript
NEWS REPORT An escalation in the political fight over immigration. Dozens of apparent migrants landed by charter flight on a rocky island in the Atlantic, Martha's Vineyard, Massachusetts.
BROOKE GLADSTONE From WNYC in New York, this is On the Media. I'm Brooke Gladstone. It turns out that the media stunt dreamed up by the Florida governor and delivered to Fox News on a silver platter is even more phony than at first glance.
PHILIP BUMP These were not immigrants that were in the country illegally. They were apparently people who were seeking asylum. And not only that, but these people didn't come from Florida. They came from Texas.
BROOKE GLADSTONE Plus, the case of Adnan Seth documented in the hit podcast Serial arguably launched a media industry for Rabia a Chaudry. He was just a friend in need.
RABIA CHAUDRY If not me, then who? Because his family just didn't have the capability to deal with this. And if not me, he's going to die in prison.
BROOKE GLADSTONE It's all coming up after this.
[END OF BILLBOARD]
BROOKE GLADSTONE From WNYC in New York. This is On the Media. I'm Brooke Gladstone.
[CLIP]
NEWS REPORT An escalation in the political fight over immigration. Dozens of apparent migrants landed by charter flight on a rocky island in the Atlantic, Martha's Vineyard, Massachusetts. [END CLIP]
BROOKE GLADSTONE This was yesterday. On Tuesday, Venezuelan migrants flown to the small, wealthy Vacation Island sued Florida Governor Ron DeSantis for engaging in a duplicitous scheme to relocate them. An attorney who's representing some of the migrants who landed in Martha's Vineyard claimed that they were purposefully deceived.
[CLIP]
MIGRANT ATTORNEY The migrants were misled about where they were being taken and what would be provided when they arrived. [END CLIP]
BROOKE GLADSTONE DeSantis has admitted to his involvement in the scheme, but has reiterated that.
[CLIP]
RON DeSANTIS It was clearly voluntary and all the other nonsense you're hearing is just not true. And why wouldn't they want to go given where they were? [END CLIP]
BROOKE GLADSTONE Philip Bump, national correspondent for The Washington Post, suggests that DeSantis may have taken some inspiration from Tucker Carlson's segment back in late July.
[CLIP]
NEWS REPORT Has got to be Martha's Vineyard over the past four years, according to FEC data. 92% of all donations from its biggest town, Edgartown Massachusetts, went to the Democratic Party. So you probably imagine Edgartown is pretty diverse. I mean, the Obamas live on the island right – no. In fact, we checked at last count. Edgartown is 95.7% white. What century is this? They are begging for more diversity. Why not send migrants there in huge numbers? [END CLIP]
PHILIP BUMP Obviously, we can't at this point draw a direct line between what Carlson is saying on air and what DeSantis ended up doing. But there are a lot of asterisks that apply here. He has claimed that this was because he was taking illegal immigrants in his terminology and moving them to a sanctuary state. But these were not immigrants that were in the country illegally. They were apparently people who are seeking asylum. They're allowed to be in the country legally. Massachusetts and Martha's Vineyard are not sanctuary jurisdictions. And not only that, but these people didn't come from Florida. They came from Texas. So there are all these indications that this was not only a political stunt, but it didn't even uphold the basic tenets that DeSantis was claiming that is upheld.
BROOKE GLADSTONE Now, what I don't entirely understand is what's this about Florida governors sending migrants seeking asylum from Texas to Martha's Vineyard? Couldn't we find some in Florida?
PHILIP BUMP Well, it's a great point. He's actually asked about that this week. He framed it as a problem that they didn't have as many immigrants as he had hoped. They had someone who was working in San Antonio, apparently, who was responsible for identifying individuals who might be willing to participate in this. They kept them sequestered in hotel rooms. In part, our lawsuit alleged this week because they wanted to prevent them from talking to actual immigration aides who might have told them, hey, look, this is not normal and you might want to reconsider this. Essentially, this was rooted in Texas, and there was a very brief 40 minute stopover in Florida, potentially just to uphold the letter of the law. The budget that was set aside mandated that people be sent from Florida. So it may be the case they simply came to Florida, landed on the ground for 40 minutes, and then took off, destined for Martha's Vineyard simply to be able to use that funding. Everything about it was a setup.
BROOKE GLADSTONE The migrants who were ushered on to the plane, they were promised jobs by these operatives before they were shipped off. And DeSantis hasn't addressed the ethics of that.
PHILIP BUMP There had been promises made that there would be employment therapy, housing, that there would be resources. A newsletter obtained a copy of a brochure that had been made and given to the migrants, which basically presented to the migrants that they would have access to all these various resources that are available to refugees. But these were not people who are seeking refugee status. And so there are lots of indications that there were misrepresentations made about what they could expect once they arrive, where they're going, which they didn't know, apparently, until they were on the plane. You had asked about the ethics of this. And the ethics service are very clear. That these are not just people who woke up one day just across the border in Mexico and decided, hey, I'm going to try and enter the United States. These people travel from Venezuela, where the government is in meltdown, where there are all these crises that are unfolding. You know, one of the people that's party to this lawsuit escaped with her husband and her 11 year old son, and they made their way to the United States. They crossed the border immediately, according to the lawsuit, turned themselves over to authorities, presumably to make a claim of asylum. Ended up in San Antonio after being released, suggesting they're in the country illegally and then were approached by someone said, hey, look, we can get you a job in housing. Just sign here. And they did so. And then, bam, here they are. The ethics of that, regardless of politics, regardless of the law, seem pretty obvious.
BROOKE GLADSTONE So getting back to Fox, DeSantis sent a videographer on the plane with the migrants, and he obtained some shaky exclusive footage for Fox News of the planes touching down and the migrants lining up to disembark. This could be added to a long list of DeSantis–Fox News collaborations.
PHILIP BUMP Ron DeSantis has played to the Fox News audience repeatedly. For example, when he signed legislation last year restricting access to voting in the state of Florida, purportedly because he was concerned about illegal voting and so forth. Prevented other news outlets from being in the room when he did it. And in the middle of a Fox and Friends interview, he actually signed the legislation. He has been very deliberate about using his position as governor of Florida to play to right wing culture war fights. We've seen this in a number of different legislative efforts. Republicans from the state legislature have gone along with him repeatedly, but this is what he's building his political brand on. Is being the guy who's going to use governmental power to actually effect these sorts of things that people talk about on Fox News. And he's very, very explicit about that.
BROOKE GLADSTONE And as much as DeSantis loves Fox News, Fox News really, really loves DeSantis.
PHILIP BUMP Ron DeSantis can thank Fox News for his current career. He was a member of the House of Representatives who wanted to be elected governor of Florida. He had the very smart strategy of going on Fox News as often as possible and speaking to its viewer, Donald Trump. When Donald Trump was president of the United States and he was repeatedly blasting the Russia investigation, the investigation by special counsel Robert Mueller.
[CLIP]
RON DeSANTIS And Trump Russia, so-called collusion still many months later. No evidence of that. [END CLIP]
PHILIP BUMP And Donald Trump like that, Donald Trump endorsed him in the primary in Florida. DeSantis ran ads basically presenting himself as a carbon copy of Trump, was able to win the party primary and then by the skin of his teeth, win election in Florida in 2018. People forget that he won by a very, very narrow margin, but since then has really probably even more through Trump leveraged his power on behalf of the political right and the country.
BROOKE GLADSTONE Now you say that all this stems from DeSantis's accurate understanding of a fundamental component of right wing politics right now: a desire to fight back against and to inflict pain on perceived left wing hegemony. I mean, that's kind of been the case since George W Bush, the holier than thou liberals, need to be shown up. And there's nothing better than actually trolling them and getting 'em.
PHILIP BUMP Yeah, kinda. There is a longstanding pattern here, but it's indisputably the case that particularly starting in 2009, when Barack Obama set into the presidency, even before that, with Sarah Palin being selected as vice presidential running in 2008, it's been somewhat different and there's been a different tenor to it. We saw the Tea Party march and we saw the Republican establishment face with the Tea Party trying sort of consume it and bring it into the fold and moderate their policies a little bit so that they could sort of co-opt the Tea Party. And you saw institutions like Fox News do sort of the same thing. And then you saw Donald Trump pop up. He spoke the language of the Republican base. He was a Fox News watcher. He was a guy who read Breitbart. He wasn't Jeb Bush trying to appeal to those folks. Donald Trump was those folks. No matter how rich he was, he could speak the language of disaffected passion, of hating the elites. And it really worked for Donald Trump. And he proceeded to try to govern like that for four years. And he showed this road map of not only maintaining a loyal base, but getting people to come out and vote for you.
BROOKE GLADSTONE And how is DeSantis different?
PHILIP BUMP DeSantis is different a couple of ways. One is that he, I think, is broadly acknowledged as being more thoughtful about how he leverages his power. Donald Trump never really had any interest in policy. He liked to get in fights with people on Twitter and so on, so forth, and just left everything else to the House and Senate. Ron DeSantis within the state of Florida can take executive action and get the legislature to do things that Donald Trump was never able or interested in doing. On a national level.
BROOKE GLADSTONE Things like DeSantis's Don't Say Gay Bill.
PHILIP BUMP Exactly. DeSantis has more power within the state, than did Donald Trump in sort of the lone out to the national level to make these sorts of changes and is willing to do so. But DeSantis also does something else that Donald Trump doesn't do, which is that he maintains this veneer of present ability by sort of outsourcing some of his more egregious behavior. So he has, for example, this really, really virulent group that is responsible for maintaining a social media presence. People like Christina Pushaw, who used to be his spokesman and is now a spokesperson for his reelection campaign, who is really the person that started trying to frame opposition to that bill about same sex relationships that was passed as being about people being groomers like she started sharing it–.
BROOKE GLADSTONE Oh, she's the one. Okay
PHILIP BUMP Exactly. And so DeSantis gets to a lot of complaints about Trump or, you know, I like Trump. I like what he's doing. I just wish you weren't crazy on Twitter. DeSantis outsources the crazy on Twitter. And in much the same way that he has outsourced what exactly happens with the movement of the migrants to Martha's Vineyard? He can at this point say, hey, that's not how I want them to do that thing in Texas, because he wasn't the one directly doing it. And I think this is probably a deliberate strategy on his part.
BROOKE GLADSTONE So far, 2 million migrants have arrived at the southern border in the U.S. this fiscal year. That's an all time high. Many, like the migrants from Venezuela and Colombia who are put on planes, want to apply for asylum because that's the only viable path to being documented here. In the lead up to the 2018 midterms. Trump talked endlessly about the caravans of migrants. So is DeSantis capitalizing on just a traditional strategy for the GOP? And is it working?
PHILIP BUMP It is absolutely the case that Republicans and DeSantis in particular are trying to gin up energy on the right by focusing on immigration. There's no question about that. I think it's really, really, really important, however, to contextualize those numbers. Right. So, yes, since the beginning of the Biden administration, 3.7 million people have been stopped at the border. More than half of them, however, were prevented from entering the country under what's known as Title 42, which is this COVID era stipulation that allows the government to turn people away at the border. So more than half of them didn't even make it into the country. And a lot of those people then try and get back in again and then add to the number. So a lot of the numbers are also inflated by the fact people try more than once. But of those people who do make it into the United States, a significant portion, I think it was half last time I checked. And also just stolen detention, being detained at a federal or state level and aren't released in the United States. A lot of them, however, do make credible claims for asylum, and they're seeking asylum in the United States. If they do so, then they're allowed to remain in the United States. It is not illegal for them to be in this country if they are making an asylum claim. And so when we hear a lot of these conversations about millions of illegal immigrants, it's just not true from the standpoint that we're talking about just as some fraction of that. And these are people that are making a perfectly valid legal claim.
BROOKE GLADSTONE Well, part of the reason that immigration has been such a winning strategy for Republicans – I think, is that it's an issue that their party has an answer for, and the Democrats seem continually overwhelmed. Over the past few months, about 11,000 migrants arrived in New York City, and that overwhelmed the already crowded shelters and hotels. And that's why New York Mayor Eric Adams proposed housing migrants on cruise ships. A temporary measure, maybe, but temporary things have a way of becoming permanent. Still, it's presented as a short term housing solution. Is this why mainstream Dems avoid the topic of immigration and also avoid addressing the charges of Republicans?
PHILIP BUMP Yeah, I think that Democrats have two conflicting motivations, particularly elected Democrats. One is that they want to be responsive to Venezuelans who are seeking to stay alive and avoid the Maduroregime and have jobs and be able to provide for their kids. They want them to be welcome to the United States, which has obviously a long history of welcoming immigrants. At the same time, they recognize that this is putting a strain on the system and that it is a trigger for the opposition. And I think, of course, that Republicans approach is understanding that it is a political trigger, a political trigger that is often rooted in the exact same fear that Donald Trump always tried to highlight when he says Making America Great Again. He's talking about going back to a previous time in American history, and a lot of that sort of sense of wanting to go backward is rooted in the idea that demographics in this country are changing. So immigration plays on that as well. So you have a lot of these overlapping factors. But at the end of the day, it is the case that the country is being strained by immigration, that it plays very much to how Republicans want to frame what is happening to the country and that the Democrats are torn between two diverging motivations in how they respond.
BROOKE GLADSTONE We've seen similar collaborations between GOP leaders and Fox News before Fox News created Ron DeSantis to some extent. It also certainly created unquestionably created Donald Trump. And if you go back to the Tea Party, they announced where Tea Party events would be with great specificity, urged people to come on the air. I'm not saying there wasn't a genuine grassroots dissatisfaction that grew out of the mere fact of Obama being president, among many other things. But this being On the Media tell me the role of right wing media and particularly Fox in all of this.
PHILIP BUMP Fox News is really interesting for a lot of reasons. One of the things that they were trying to do is figure out how they could have an appeal to both the more extreme components of Donald Trump's base and more moderate Republican viewers. And that was something that Mitch McConnell at the same time was also trying to figure out. I think that Fox News did a good job of being able to parlay its long standing allegiances with the Republican Party into a way that allowed them to stay true to what Donald Trump supporters wanted to see on the air. That was Fox News strategy. And then what happened in this really fascinating moment in the weeks after Donald Trump lost in 2020 was that Fox News, like a lot of Republicans, suddenly found itself having to choose between the reality of Donald Trump's loss and the surreality of what Trump and his supporters wanted to believe. And they had a lot of internal tensions. This new book that just came out from Peter Baker and Susan Glasser really dives into what happened at Fox in the immediate aftermath of the election. And that they had discussed even just withholding calls because they didn't want to be the ones to call that Joe Biden who won the presidency. They had this business incentive to try and continue to bolster these false claims that Donald Trump was making and to present a false view of the world to their viewers. And they at times have done that explicitly. And I think it's really remarkable. And it's one of the reasons why if you go back and look at polling, the group that was always most loyal to Donald Trump were Republicans who watched Fox News.
BROOKE GLADSTONE Do you expect that those most loyal to DeSantis, should he run for president, will be the same?
PHILIP BUMP I think it's going to be fascinating to see if DeSantis and Trump end up being the top two candidates. What the conservative media does. Donald Trump has existing allies, but all of those folks want to be pointed in the same direction as the base so that they can show them the ads and so they can fundraise off of them. If the base is sort of twisting in the wind and moving back and forth, it's going to be really interesting to see what the media companies do in response. I feel extremely confident, though, that whoever wins the primary by the time the General Fox News and every other conservative media outlet will be fully on board.
BROOKE GLADSTONE Phillip[, thank you very much.
PHILIP BUMP Thank you.
BROOKE GLADSTONE Phillip Bump is a national correspondent for The Washington Post and author of the weekly newsletter. How to Read This Chart. Coming up, a nascent podcast industry exploded in 2014 when Serial investigated a murder case week by week. Eight years later, there's a new episode. This is On the Media.
[BREAK]
BROOKE GLADSTONE This is On the Media, I'm Brooke Gladstone. By now, many of you have heard that on Monday, a very famous incarcerated man was released from prison after more than two decades.
[CLIP].
[CROWD CHEERS]
NEWS REPORT The crowd swarmed Adnan Syed outside a Baltimore circuit court.
NEWS REPORT Judge in Baltimore has overturned the murder conviction of Adnan Syed, who was convicted in the 1999 murder of his high school classmate, Haye Minh Lee. [END CLIP]
BROOKE GLADSTONE Lee. You might not recall that name at first, but if you are an avid podcast listener, actually, even if you're not, his story may sound familiar.
Speaker 6 [SERIAL THEME SONG COMES IN]
BROOKE GLADSTONE It's not the first time media attention has sparked new scrutiny of a wrongful conviction and even overturn it. In 2019, James Chad Lewis Clay had his conviction overturned after a report from the Detroit Free Press. In 2020, a Georgia man named Dennis Perry was freed from prison after 20 years with the help of local reporter Joshua Sharp and a podcast called Undisclosed, about which more in a few minutes. That same year, charges were dropped against accused murderer Curtis Flowers after being featured on season two of the In the Dark podcast. But in 2014, we, by which I mean countless millions worldwide, took the time to download, tune in and listen to Adnan Syed's Story on Serial. We got to know Adnan, his family, his friends, and weigh in on whether he was guilty of murdering his ex-girlfriend. Hey, Min Lee.
[CLIP MONTAGE]
Speaker 4 Okay, so do you think Adnan's guilty?
[SOMEONE GROANING INTO THEIR PALMS]
SERIAL LISTENER I think he had something to do with the. But I don't think he should be in prison.
SERIAL LISTENER I don't know for sure. Listen, I could talk about it all day.
SERIAL LISTENER No, I think it's innocent. Completely. I think he had nothing to do with it. [END CLIP]
BROOKE GLADSTONE Baltimore's chief prosecutor, Marilyn Mosby, currently facing federal charges for fraud and perjury – that's another story – was committed to reviewing the sentences of minors convicted of crimes.
[CLIP]
MARILYN MOSBY This act allows people convicted of crimes as juveniles to request a modification of sentence after they have served more than 20 years incarceration. Mr. Syed qualified because he spent more than 22 years. Becky Feldman subsequently led a year –nearly a year long, exhaustive investigation... [END CLIP]
BROOKE GLADSTONE She reviewed Said's files and found enough holes and omissions in the prosecution's case to prompt a judge to overturn his conviction. Some of those discrepancies and omissions were exposed by investigations after the release of Serial. But it wasn't happy news for everyone.
[CLIP].
NEWS REPORT While Adnan Syed is family, friends and supporters celebrate his release, as you just heard. The family of murder victim Hae Min Lee say the new developments are, and I quote, a living nightmare. [END CLIP]
BROOKE GLADSTONE Rabia Chaudry is an attorney, author, podcaster and criminal justice reform advocate who's spent much of the last 23 years working to get her friend Adnan Syed out of prison. And when it finally happened.
RABIA CHAUDRY It felt a little bit like a dream sequence. There was something about that entire day, Monday when we left the courthouse that was so familiar, and I realized it was because it was exactly how I had hoped and envisioned it for many years. I was in the courtroom in 2000 when he was convicted. That day is just burned in my memory. And about a month later, I found the alibi witness who was never presented in court. And I got an affidavit from her. And for years, I just took that affidavit around trying to get somebody's attention, like this should be enough to get him a new trial. But nobody just nobody examined his alibi witness. His attorney greatly failed in this. But, you know, we went through the appellate process, the direct appeals then a post-conviction. By the time we got the hearing, it was a couple of years later, I testified there. The alibi witness did not show up. That's when I realized it seemed like we were not going to get good justice in the courts. And I had been a long time watcher of Dateline and, you know, these kinds of shows. And I thought, let's just get a journalist to look at this. Maybe a journalist can find something that we have not been able to find. And I reached out to Sarah Koenig because her name came up when I did a quick search of anybody who had written about Adnan or his attorney or Baltimore crime in 1999. And she had worked for the Baltimore Sun then.
BROOKE GLADSTONE She was working at This American Life.
RABIA CHAUDRY Right. I thought this would turn maybe into a one hour This American Life episode. I had no idea they were going to make a podcast, and I had no idea what a podcast was, frankly.
BROOKE GLADSTONE Were you shocked – was he – when the series took off like a rocket?
RABIA CHAUDRY Oh, immediately. I mean, the very first day that it launched there are two episodes and my phone just blew up. Calls from people I knew, they're like, is this you from media? I mean, like, it was an instant sensation. And I don't think anybody in the Serial team expected that either. Yeah, it was crazy.
BROOKE GLADSTONE Mm hmm. Serial came out in 2014. It was a new way to use a new medium that ultimately revolutionized the radio industry. It offered a long and intimate look into the thinking of the reporters and the producers and the process as they tried to unwind Hae's murder and Adnan's case.
[CLIP]
ADNAN SYED I've seen it on TV before, like, you know, on dateline and Matlock where someone tries to reenact the crime. [CONTINUES UNDER]
BROOKE GLADSTONE Adnan, on the prison phone to Serial.
[PICKS UP]
ADNAN SYED There's a moment where, like, there's someone like, 'you know what? This crime could not have been committed according to these sets of facts. It's like always this moment, right? The route. This is. This is. I don't know. Okay. Get ready to go. Right. Sorry. – alright bye!
SARAH KOENIG Okay. Bye. That happens sometimes. The guards come by and you're just done mid-sentence. Anyway, I can pick up from Adan's letter. He wrote that in addition, the route to the Best Buy, even though it's close to the school, there are major intersections along the way and that there is, quote, a ton of traffic at that time, unquote. And then the murder itself, how would he be able to strangle, Hae, a tall, strong, athletic girl? Quote, remove her body from the car, carry it to the trunk and place her in there in broad daylight at 230 in the afternoon. And then I walk into the Best Buy lobby and call Jay and tell him to come meet me there? All in 21 minutes. I'm 100% sure that if someone tried to do it, it would be impossible, unquote. Gantlet. So thrown producer Dana Chivvis. And I gave it a shot. [END CLIP]
BROOKE GLADSTONE It was downloaded hundreds of millions of times and reached listeners around the world. It launched podcasting as a medium, especially the true crime medium we're also familiar with thatcIt became an easy target for satire.
[CLIP]
HOST The True Crime Podcast. "I Saw it."
TRUE CRIME PODCAST TRAILER Police brought back the bike, but not the boy bike. Bike, but no boy – because the boy was dead. Blue Apron! Don't have time to cook? Blue Apron has you covered [END CLIP]
RABIA CHAUDRY It launched so many other podcasts which were examining this case. It also brought resources to me. Two attorneys who I began working with to investigate the case. The thing is here, it was an incredible narrative and interesting storytelling. But throughout the series, it was very difficult for me to really enjoy it because there was a misreporting. Out of frustration, I began blogging. Not to malign the podcast, but to kind of add more to where I thought there was a lot of holes. And these other two attorneys were also blogging. And so then we just teamed up and people said, Your blogs are great. Nobody's reading them. Start your own podcast. That's how people want to hear the story. In fact, the motion that was filed last week that helped release Adnan included evidence of these two attorneys found and we reported on Undisclosed years ago.
BROOKE GLADSTONE What was that evidence?
RABIA CHAUDRY That the cell phone tower evidence was completely junk science and faulty? And my colleague, Susan Simpson, who's an attorney, is the one who discovered this fax cover sheet. And I still have the email she sent to me and said, 'Rabia, do you realize this fax cover sheet has this one line that says that this information cannot be used to track location on the cell phone?'
BROOKE GLADSTONE And yet the initial prosecutors used this information to help convict Adnan?
RABIA CHAUDRY Well, I mean, the murder took place in 1999 and cell phone technology was very new then. This might have been the first case in Maryland that revolved around some cell phone technology evidence. There was no GPS tracking then, but, you know, your cell phones would ping off of towers. But sometimes if the tower wasn't available, it would ping off another tower. And the prosecutors argued that these pings were like a map. The problem, of course, even in that case, even if those pings were accurate, is those pings covered, let's say, a radius about three miles around the tower. But they argue that there were pings that covered where the burial ground was, which is true. But those were also the same radius in which one of the state's witnesses lived. The school, the mosque was in that area. Everything happened in such close proximity, it was impossible to pinpoint where the phone would be. But, you know, it kind of wowed the jury. Right. Or you have the CSI effect going on. So they're like, oh, this is tech. This is like real forensic evidence – except it wasn't. And so last week, the state capitulated and said, it's junk science. It didn't work. The second thing the state capitulated on last week was that the state's witness was completely unreliable. My colleague Susan Simpson did an incredible job lining up his changing statements every time something new would arise in the police investigation day by day. Jay Wilds, the state's witness, would have to change his story to match it. When you read the transcript, it's hard to understand what happening in the interrogation room with this witness. When you listen to the recording, Jay would say something. There would be a knocking sound on a table like somebody alerting him. He would say, Sorry, sorry. And he would start over.
[CLIP]
JAY WILDS What happens then? Really there, I believe, can bear witness from a process of, okay, go out there. I took him back to school and I dropped him off.
SERIAL LISTENER Did you catch that? Jay's responding to someone after that pause. And not just that, there's a tap, tap. And then Jay says, Oh, okay. And suddenly a moment later, he knows the answer. [END CLIP]
BROOKE GLADSTONE This was the only eyewitness.
RABIA CHAUDRY And then, you know, another thing in the motion that the state filed last week, the track record of one of the lead detectives at the time Serial aired, that detective had been sued numerous times for coercing witnesses to lie in other innocence cases. So people who were exonerated got out and sued this detective. And, you know, when Sarah Koenig said in Serial, well these were just good guys doing their jobs, I immediately sent her links to those lawsuits. And I said, they have a pattern of misconduct.
BROOKE GLADSTONE Principally, you're talking about Detective William Ritz.
RABIA CHAUDRY The state said that these are detectives with a history of misconduct. They coerce witnesses. And that's how we ended up with Jay Wilds and his crazy statements.
BROOKE GLADSTONE Right.
RABIA CHAUDRY The state cited that in their motion last week. And, you know, a lot of people thought that I was somehow involved in producing the show. I had no idea what was going to be reported week by week. And when I would listen, I would always be stressed out. Like, What else are they going to report that's going to undermine our defense of Adnan? And these things did, frankly. And what I really would just hope is for them to say, we got some things wrong, here's some corrections, and that's it. And in the times in Serial, so much more evidence has been discovered. More evidence that was cited in the motion last week actually came from the HBO documentary. And the prosecutor talked about this evidence from the documentary –.
BROOKE GLADSTONE Your Documentary.
RABIA CHAUDRY I executive produced it. But Amy Berg, the director, gets the credit for the investigation there. There was just so much more work that had to be done in the last seven years. But we're so grateful for the attention and the resources Serial brought to the case.
BROOKE GLADSTONE Right. You're grateful for what Serial did. You're frustrated with what Serial did. I guess you've never called them?
RABIA CHAUDRY Well, because of my experience during the reporting of Serial. I tried in real time. I tried and they would not take any feedback. In fact, they would get upset. But, you know, I don't want to, like, keep getting bogged into this. The issue with Serial is that nobody has reach like Serial. If they don't correct their record, people can continue to know the case. Right.
BROOKE GLADSTONE On the other hand, you've also noted that Serial and Sarah Koenig taught you a lot about how to present a story.
RABIA CHAUDRY Oh, look, what Serial taught all of us is that people have an appetite for longform investigative reporting and people have the attention span to listen to it. And so we were able to do like 20 odd episodes on Adnan's case in my show, and people listened to it. Also that, you know, storytelling can change people's mind. A lot of times where facts and figures fail. Storytelling is much more powerful.
BROOKE GLADSTONE Of course, storytelling imposes limitations. You've noted that a journalistic endeavor, a podcast say differs from a legal investigation, although both should share the goal of getting to the truth. But storytelling, especially audio storytelling, requires a kind of linear approach. And there's so much that you need to parcel out slowly because people can't go up the page and recheck something you just said. Did you feel a deeper understanding of the process and its limitations when you undertook your own endeavors? The podcast, the HBO documentary, the book.
RABIA CHAUDRY Yeah. You know, look, maybe because I am an attorney and I was working with other attorneys on the podcast, we especially with the first season actually in many seasons after that, we just kind of decided that if it took 18 episodes to really unpack the case and give it its do, we were going to take 18 episodes. We were approached by other defendants. We were approached by Innocence Projects, by families of people who are incarcerated, saying, Can you take a look at our case? We ended up doing 24 cases. You know, later down the line, we would be like, well, okay, we really need to figure out how to pack it into 12 episodes, let's say, or 14, like limit it somehow. But even then, the investigative part was front and center. We don't have the kind of storytelling abilities that Serial has or even the incredible production quality and the beautiful audio editing. But we focus on what we think is important for the defendant to prove this defendants innocence.
BROOKE GLADSTONE You mentioned storytelling ability. Part of it is when you provide a piece of information, when you build a sense of suspense, all of these things without distorting the story, hopefully. Or right, without too much audience manipulation, maybe just a little to keep them excited. Did you attempt any of that or you saw your thing as a kind of public record?
RABIA CHAUDRY You know, we've done our best to try to incorporate stronger storytelling techniques in our reporting just to keep the audience engaged by doing things like, for example, at the end of every episode, kind of leaving with a little bit of a cliffhanger, doing things like after credits, having some outtakes and things like that. You know, we learned some as we moved along. But look, frankly, our first few episodes dropped and we got some absolutely vicious reviews about how terrible the quality was and all that because we were like all of us were sitting in our closets, the three of us, and, you know, just trying to lay out evidence. The thing about Serial is, you know, and I was talking to my husband about the other day and it's so complicated for me. And I said to him, I said, what if somebody told an amazing story that brought tons of attention to you and support for you? But so much of it was wrong. Where on the scale of appreciation, should you be right?
BROOKE GLADSTONE Adnan is presented as a really good, really relatable guy in your series and in Serial. You've observed that, you know, people saw him now older with a white kippah, as I would call it.
RABIA CHAUDRY You know, the Muslim equivalent of a kippah.
BROOKE GLADSTONE And bearded that, you know, after years of conditioning, so to speak, there might be a reflex to recoil. Do you think that serials reporting helped the take away some of that stigma that Adnan might have suffered? And does the coverage in other places report on the communities appropriately?
RABIA CHAUDRY Right. That is one thing I think Serial gets all the credit for. That they were able to humanize American Muslims in our experience and just who we are as people in a way that I don't know if any media has ever done before, frankly, ever. We can argue about like whether things were better for Muslims before 911. But in 1999, when the man was convicted, his religion and national origin and race were brought up over 300 times at his trial. And these stereotypes were used against him. There's been lots of reports about the image of Muslims in media and how for 100 years in Hollywood, especially Muslim men, they've always been portrayed as misogynist and violent against women and all these things. And women are submissive – or they're belly dancers, right? It's one or the other. And so the beauty of the podcast medium was that people got to hear my voice, my brother's voice, Adnan's voice. They had no idea what we look like, you know, and I wonder if it was a visual medium, if the story would have been received differently. I really do.
BROOKE GLADSTONE I think you're right, because when This American Life went to television, Ira Glass has said that one reason why it didn't work as well is because visuals separate audiences from the subjects or from the characters, whereas voices are so intimate, like the breath on your cheek, and it brings them so much closer.
RABIA CHAUDRY I think the fact that people got to know us through our personalities and voices before they got to see what we look like, made a huge difference.
BROOKE GLADSTONE Mm hmm.
BROOKE GLADSTONE So, yeah, I do think on that front, Serial was incredibly powerful, and I don't know if there's ever been any media like it before.
BROOKE GLADSTONE Obviously Rabia had some things to say about Serial, so we invited cereal to respond. Sarah Koenig wrote this. I have enormous admiration for Rabia for all kinds of reasons, but our ambitions are different. She's an advocate, I'm a reporter. I made editorial decisions she didn't agree with. She made public statements I didn't agree with. During the making of the podcast, I welcomed information from anyone and everyone, and especially from Rabia. She provided crucial help. And from looking back just now through our texts and emails from 2014 and 15. I see we were exchanging information pretty regularly. After that, I don't see any emails or texts from Rabia to me or to the Serial staff alerting us to more information or asking for episode updates.
Regarding Detective Bill Ritz. It's not correct that we resisted information about his reputation. At the time we aired, Ritz had been named in only one relevant lawsuit, not multiple lawsuits. And that lawsuit had been dismissed because we didn't know the strength of the allegations against him. We chose to focus instead on the questionable work he did in Adnan's case. We pointed out that during his taped conversations with Jay, the state's main witness, Rick seemed to be inappropriately pulling Jay toward a narrative that would align with cell phone records. The only other real evidence they had about that night we engaged an expert in police interrogations, and he, too, on Serial, expressed suspicion of the way Jay was questioned by the detectives because too much was happening off tape undocumented. The expert also noted detectives never searched Jay's house or submitted him to a polygraph, possibly to avoid encountering evidence that contradicted their theory.
It's also not accurate that we haven't covered important developments in Adnan's case. We have when the news came out in 2015 that Abe Waranowitz the state's cellphone expert, had recanted his testimony. We wrote an extensive blog post on our website about what that meant for Adnan's case. When that issue finally made its way into court in 2016, we covered it. We made three new follow up episodes in which we discussed the cell phone testimony at length. Those episodes were released on the serial feed and posted on our website for the next six years. When the state finally conceded that the cell phone evidence was unreliable on September 19th, we reported that, too.
I want to make clear that I've always thought that we kick started the process of getting Adnan's case more attention. I have never then or now considered the story we did on Serial as definitive. As others have found out more, I've cheered on that new information and given credit where credit is due and Rabia and her team deserve a lot of credit. Coming up, the latest chapters in the stories of Adnan Syed Rabia Chaudry and Hae Min Lee. This is On the Media.
[BREAK].
BROOKE GLADSTONE This is On the Media, I'm Brooke Gladstone. In 2019, HBO presented a documentary in four parts called The Case Against Adnan Syed. Produced by Rabia Chaudry, her closeness to both the family in the case, her relentless pursuit of irrefutable exonerating evidence made her a part of the story. And of course, so were Adnan's family and friends and his accusers. And so also where Hae Min Lee and her friends and glimpses of her family too. This part of the interview also has some actual news. One of the things you did in the HBO series that I so admired was to really give voice to Hae Min Lee. It was enormously lucky that she kept a diary and that Amy Berg found what I can only hope was the right kind of voice to read it.
[CLIP]
NARRATOR This book is open to those whose heart is in a cell. Do you feel any guilt reading this? You should stop. [CONTINUES UNDER]
BROOKE GLADSTONE It really placed her at the center of the tale with Adnan. For as long as it could.
NARRATOR Be dedicated to those who I love and love me back. Do love and remember me forever since I'll always love you all. [END CLIP]
RABIA CHAUDRY Yeah. You know what? I saw that first episode that just left me weeping and just reeling. Because, you know, when Amy found this narrator that she thought would work, she checked with Hae's friends, and they said, this sounds like, Hae. You know, seeing Hae, come to life, but also seeing Adnan come to life and seeing them both as, like, you know, high school kids. Amy brought them both back to life in that time, and it still gives me goose bumps. It has been so hard to give him Hae Min Lee a voice, and I thought that was a brilliant decision on her part.
BROOKE GLADSTONE At the most recent hearing, Hae Min Lee's younger brother, said, 'This isn't a podcast for me. It's a nightmare.'.
RABIA CHAUDRY Yeah.
BROOKE GLADSTONE Have you spoken with the live family?
RABIA CHAUDRY Look, we have never spoken to the Lee family because for us to reach out would be really inappropriate. It could look like we are somehow pressuring them or intimidating. It's just a bad idea to do it. However, me and others have publicly said many times if they wanted to reach out, our doors are always open. We would love to sit down and go through the case with them, go through the evidence that multiple different investigators have found. You know, I met with the state's attorney, Marilyn Mosby, me, Adnan's mother and his brother on Monday before the hearing. And at that meeting, I said to her, do you have a liaison with the Lee family? I know how difficult this is going to be for them. I mean, I don't personally know, but I can imagine. So do you have a liaison that you can reach out to them and say, listen, we're here to talk. Also let them know that we, us family, people who are close to Adnan are here to talk. And she said they did. They had a program, they had a process, but the victim's family had to decided that they didn't want to be part of it.
BROOKE GLADSTONE Sarah Koenig tried to contact the family and she couldn't either. There was something that you said in the documentary that I feel bears repeating. That clinging to Adnan as the perpetrator denies, Hae, justice. You know, there's a rape kit that maybe should be tested. There's DNA that was never really followed up on a bunch of objects and a couple of names. Is there any hope that Hae's case can be reopened for real by people who go on a track that does not automatically fall on the easy to accuse ex-boyfriend?
RABIA CHAUDRY Yeah. You know, a lot of times in these kinds of cases, when there is an exoneration, you know, I've been involved in so many now, the state will just decline to investigate further. They literally just close the case and move on. And it's really traumatic for the family. There's no closure for the victim. There's also in many ways no closure for the person who was exonerated because they don't even know whose crime they serve time for, right? This case is different. The state's attorney has announced that they have an active homicide detective team investigating the case. There are still outstanding DNA. Beyond the DNA, there's other evidence. I can tell you this. The things that they've told us about the suspects are looking at in the motion is probably a fraction of the evidence they've actually gathered. I actually anticipate that there will be an arrest in this case probably before the end of the year.
BROOKE GLADSTONE Wow. There was a book, a huge podcast, a less huge podcast. A documentary. Lots of pressure and good will. But none of them freed Adnan. They don't make those decisions. So what did.
RABIA CHAUDRY What made the difference in this case is that this is a state's attorney who already has established a track record of prioritizing exonerations and sentence justice reform. State's Attorney Marilyn Mosby, years ago established a sentencing review unit and a conviction integrity review unit, which look at people who were sentenced too harshly and that look at people who might be innocent. She's only one of two prosecutors in the entire state of Maryland that has done this and one of very few, a handful maybe across the country, maybe a dozen. She's already exonerated 12 people. And the sentencing review unit, she hired an attorney named Becky Feldman, who worked with the public defender's office, who was very familiar with the kinds of police and prosecutorial misconduct that occurred in this case. And when our attorney approached Attorney Feldman to say maybe Adnan could get resentenced, if nothing else, under this new law, she took a look at this case a year ago and started investigating. She was the one who came back and said resentencing might not be justice for Adnan because I think this might be an innocence case and nobody could have predicted that.
BROOKE GLADSTONE Two last questions. One each about Adnan. And Hae, you mentioned that it's possible that his case could be resolved within a year.
RABIA CHAUDRY Within this year.
BROOKE GLADSTONE Within this year, I've heard tell of a of a possible suspect or two.
RABIA CHAUDRY There are two suspects who are named in the motion that was filed last week by the state. And they both seem like pretty strong suspects. They are waiting on more DNA evidence to be returned. There's testing that hasn't been completed, but I think they anticipate that'll happen in the next month or two.
BROOKE GLADSTONE Are these people that we know if we follow the case or are they new?
RABIA CHAUDRY If you know the case well enough, you probably would be able to recognize at least one of the suspects. The other one is unlikely. I don't think anybody ever considered this other person a suspect before. But having said that, I've also been asked not to publicly speculate on or, you know, name who I believe are the suspects. One of them, I think, is pretty clear. But I mean, for them to name these suspects in a motion, they're not putting all their cards on the table. There is going to be much more evidence that they are holding on to. And it could be just based on that evidence alone, with or without the DNA, they're able to make an arrest.
BROOKE GLADSTONE About Adnan, now, Adnan is on house arrest for now. He's now partly back in the world. Is this weird for him?
RABIA CHAUDRY I mean, honestly, he's he is partly back in the world. I don't know if it's weird for him. The last couple of days when we talked, he just sounds happy. And he is he is on home monitoring. He has an ankle bracelet he needs. He's going to have that up until the state's attorney decides to either take him back to trial or drop charges, which will happen within 30 days. You know, when we talked, we talked about all kinds of things, but I never got a chance to ask him, how did you feel when you walked into the courthouse and saw the reaction?
BROOKE GLADSTONE What was the reaction?
RABIA CHAUDRY Oh, oh, it was mayhem. It was just, you know, hundreds of people screaming their love and support and applauding for him and... I'm getting emotional, thinking about it. It was incredible. It was exactly what had hope for and envisioned. And when we went to his house, I mean, his house is right down the road from the mosque. Everybody in the community, people who knew him since he was born but hadn't seen him in 23 years, came by like for hours and hours and hours. People kept coming and bringing food and just loving on him. And it was wonderful. It was incredible.
BROOKE GLADSTONE He was in jail for 23 years. You devoted that much time to trying to get him out. Yeah. He was a friend of your younger brother. You knew the family. Why?
RABIA CHAUDRY Why? Because I absolutely believed he was innocent, because I saw the trial play out. I knew how egregious his defense was, how many ways his attorney, defense attorney had failed. I was shocked and horrified by what I witnessed in the courtroom. But also because I always thought about one thing. If not me, then who? Because his family just didn't have the capability to deal with this. And if not me, he's going to die in prison. Like, am I okay with walking away and saying Adnan, I have a life, I have a job, I never, ever worked as his attorney, I had a full time career doing other things, always. I went through a divorce. You know, being a single parent, I had life, but I kept thinking if I say I can't do it anymore and that means he dies in prison. Am I okay with that? And I just couldn't be okay with that.
BROOKE GLADSTONE Rabia, thank you very much.
RABIA CHAUDRY Thank you so much, Brooke. I really appreciate your time and coverage of this story.
BROOKE GLADSTONE Rabia Chaudry is an attorney, author, podcast host and criminal justice reform advocate. Her podcast is called Undisclosed and her memoir. Fatty, Fatty, Boom, Boom, a memoir of Food, Fat and Family is out November 8th.
And that's the show. On the Media is produced by Micah Loewinger, Eloise Blondiau, Molly Schwartz, Rebecca Clark-Callender, Candice Wang and Susanne Gaber with help from Temi George. Our technical director is Jennifer Munson. Our engineer this week was Andrew Dunn. Katya Rogers is our executive producer. On the Media is a production of WNYC Studios. I'm Brooke Gladstone.