DeSantis, Fox News, and the Martha's Vineyard 'Stunt'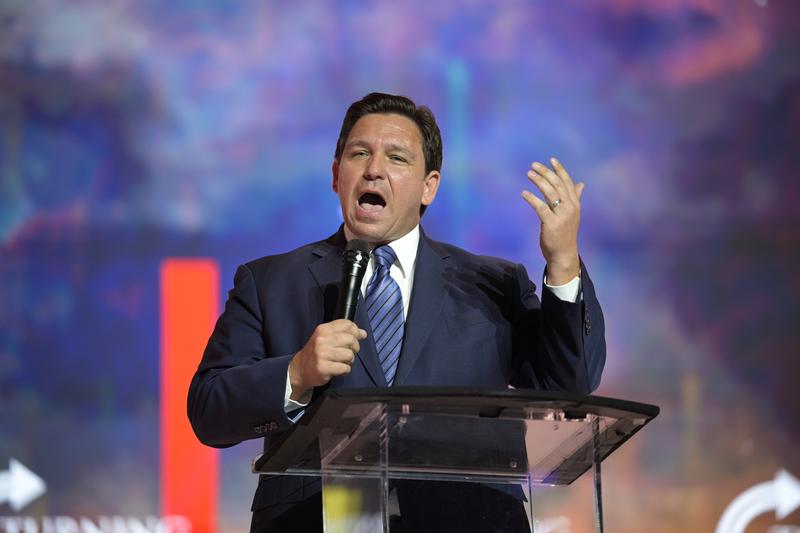 Transcript
NEWS REPORT An escalation in the political fight over immigration. Dozens of apparent migrants landed by charter flight on a rocky island in the Atlantic, Martha's Vineyard, Massachusetts. [END CLIP]
BROOKE GLADSTONE This was yesterday. On Tuesday, Venezuelan migrants flown to the small, wealthy Vacation Island sued Florida Governor Ron DeSantis for engaging in a duplicitous scheme to relocate them. An attorney who's representing some of the migrants who landed in Martha's Vineyard claimed that they were purposefully deceived.
[CLIP]
MIGRANT ATTORNEY The migrants were misled about where they were being taken and what would be provided when they arrived. [END CLIP]
BROOKE GLADSTONE DeSantis has admitted to his involvement in the scheme, but has reiterated that.
[CLIP]
RON DeSANTIS It was clearly voluntary and all the other nonsense you're hearing is just not true. And why wouldn't they want to go given where they were? [END CLIP]
BROOKE GLADSTONE Philip Bump, national correspondent for The Washington Post, suggests that DeSantis may have taken some inspiration from Tucker Carlson's segment back in late July.
[CLIP]
NEWS REPORT Has got to be Martha's Vineyard over the past four years, according to FEC data. 92% of all donations from its biggest town, Edgartown Massachusetts, went to the Democratic Party. So you probably imagine Edgartown is pretty diverse. I mean, the Obamas live on the island right – no. In fact, we checked at last count. Edgartown is 95.7% white. What century is this? They are begging for more diversity. Why not send migrants there in huge numbers? [END CLIP]
PHILIP BUMP Obviously, we can't at this point draw a direct line between what Carlson is saying on air and what DeSantis ended up doing. But there are a lot of asterisks that apply here. He has claimed that this was because he was taking illegal immigrants in his terminology and moving them to a sanctuary state. But these were not immigrants that were in the country illegally. They were apparently people who are seeking asylum. They're allowed to be in the country legally. Massachusetts and Martha's Vineyard are not sanctuary jurisdictions. And not only that, but these people didn't come from Florida. They came from Texas. So there are all these indications that this was not only a political stunt, but it didn't even uphold the basic tenets that DeSantis was claiming that is upheld.
BROOKE GLADSTONE Now, what I don't entirely understand is what's this about Florida governors sending migrants seeking asylum from Texas to Martha's Vineyard? Couldn't we find some in Florida?
PHILIP BUMP Well, it's a great point. He's actually asked about that this week. He framed it as a problem that they didn't have as many immigrants as he had hoped. They had someone who was working in San Antonio, apparently, who was responsible for identifying individuals who might be willing to participate in this. They kept them sequestered in hotel rooms. In part, our lawsuit alleged this week because they wanted to prevent them from talking to actual immigration aides who might have told them, hey, look, this is not normal and you might want to reconsider this. Essentially, this was rooted in Texas, and there was a very brief 40 minute stopover in Florida, potentially just to uphold the letter of the law. The budget that was set aside mandated that people be sent from Florida. So it may be the case they simply came to Florida, landed on the ground for 40 minutes, and then took off, destined for Martha's Vineyard simply to be able to use that funding. Everything about it was a setup.
BROOKE GLADSTONE The migrants who were ushered on to the plane, they were promised jobs by these operatives before they were shipped off. And DeSantis hasn't addressed the ethics of that.
PHILIP BUMP There had been promises made that there would be employment therapy, housing, that there would be resources. A newsletter obtained a copy of a brochure that had been made and given to the migrants, which basically presented to the migrants that they would have access to all these various resources that are available to refugees. But these were not people who are seeking refugee status. And so there are lots of indications that there were misrepresentations made about what they could expect once they arrive, where they're going, which they didn't know, apparently, until they were on the plane. You had asked about the ethics of this. And the ethics service are very clear. That these are not just people who woke up one day just across the border in Mexico and decided, hey, I'm going to try and enter the United States. These people travel from Venezuela, where the government is in meltdown, where there are all these crises that are unfolding. You know, one of the people that's party to this lawsuit escaped with her husband and her 11 year old son, and they made their way to the United States. They crossed the border immediately, according to the lawsuit, turned themselves over to authorities, presumably to make a claim of asylum. Ended up in San Antonio after being released, suggesting they're in the country illegally and then were approached by someone said, hey, look, we can get you a job in housing. Just sign here. And they did so. And then, bam, here they are. The ethics of that, regardless of politics, regardless of the law, seem pretty obvious.
BROOKE GLADSTONE So getting back to Fox, DeSantis sent a videographer on the plane with the migrants, and he obtained some shaky exclusive footage for Fox News of the planes touching down and the migrants lining up to disembark. This could be added to a long list of DeSantis–Fox News collaborations.
PHILIP BUMP Ron DeSantis has played to the Fox News audience repeatedly. For example, when he signed legislation last year restricting access to voting in the state of Florida, purportedly because he was concerned about illegal voting and so forth. Prevented other news outlets from being in the room when he did it. And in the middle of a Fox and Friends interview, he actually signed the legislation. He has been very deliberate about using his position as governor of Florida to play to right wing culture war fights. We've seen this in a number of different legislative efforts. Republicans from the state legislature have gone along with him repeatedly, but this is what he's building his political brand on. Is being the guy who's going to use governmental power to actually effect these sorts of things that people talk about on Fox News. And he's very, very explicit about that.
BROOKE GLADSTONE And as much as DeSantis loves Fox News, Fox News really, really loves DeSantis.
PHILIP BUMP Ron DeSantis can thank Fox News for his current career. He was a member of the House of Representatives who wanted to be elected governor of Florida. He had the very smart strategy of going on Fox News as often as possible and speaking to its viewer, Donald Trump. When Donald Trump was president of the United States and he was repeatedly blasting the Russia investigation, the investigation by special counsel Robert Mueller.
[CLIP]
RON DeSANTIS And Trump Russia, so-called collusion still many months later. No evidence of that. [END CLIP]
PHILIP BUMP And Donald Trump like that, Donald Trump endorsed him in the primary in Florida. DeSantis ran ads basically presenting himself as a carbon copy of Trump, was able to win the party primary and then by the skin of his teeth, win election in Florida in 2018. People forget that he won by a very, very narrow margin, but since then has really probably even more through Trump leveraged his power on behalf of the political right and the country.
BROOKE GLADSTONE Now you say that all this stems from DeSantis's accurate understanding of a fundamental component of right wing politics right now: a desire to fight back against and to inflict pain on perceived left wing hegemony. I mean, that's kind of been the case since George W Bush, the holier than thou liberals, need to be shown up. And there's nothing better than actually trolling them and getting 'em.
PHILIP BUMP Yeah, kinda. There is a longstanding pattern here, but it's indisputably the case that particularly starting in 2009, when Barack Obama set into the presidency, even before that, with Sarah Palin being selected as vice presidential running in 2008, it's been somewhat different and there's been a different tenor to it. We saw the Tea Party march and we saw the Republican establishment face with the Tea Party trying sort of consume it and bring it into the fold and moderate their policies a little bit so that they could sort of co-opt the Tea Party. And you saw institutions like Fox News do sort of the same thing. And then you saw Donald Trump pop up. He spoke the language of the Republican base. He was a Fox News watcher. He was a guy who read Breitbart. He wasn't Jeb Bush trying to appeal to those folks. Donald Trump was those folks. No matter how rich he was, he could speak the language of disaffected passion, of hating the elites. And it really worked for Donald Trump. And he proceeded to try to govern like that for four years. And he showed this road map of not only maintaining a loyal base, but getting people to come out and vote for you.
BROOKE GLADSTONE And how is DeSantis different?
PHILIP BUMP DeSantis is different a couple of ways. One is that he, I think, is broadly acknowledged as being more thoughtful about how he leverages his power. Donald Trump never really had any interest in policy. He liked to get in fights with people on Twitter and so on, so forth, and just left everything else to the House and Senate. Ron DeSantis within the state of Florida can take executive action and get the legislature to do things that Donald Trump was never able or interested in doing. On a national level.
BROOKE GLADSTONE Things like DeSantis's Don't Say Gay Bill.
PHILIP BUMP Exactly. DeSantis has more power within the state, than did Donald Trump in sort of the lone out to the national level to make these sorts of changes and is willing to do so. But DeSantis also does something else that Donald Trump doesn't do, which is that he maintains this veneer of present ability by sort of outsourcing some of his more egregious behavior. So he has, for example, this really, really virulent group that is responsible for maintaining a social media presence. People like Christina Pushaw, who used to be his spokesman and is now a spokesperson for his reelection campaign, who is really the person that started trying to frame opposition to that bill about same sex relationships that was passed as being about people being groomers like she started sharing it–.
BROOKE GLADSTONE Oh, she's the one. Okay
PHILIP BUMP Exactly. And so DeSantis gets to a lot of complaints about Trump or, you know, I like Trump. I like what he's doing. I just wish you weren't crazy on Twitter. DeSantis outsources the crazy on Twitter. And in much the same way that he has outsourced what exactly happens with the movement of the migrants to Martha's Vineyard? He can at this point say, hey, that's not how I want them to do that thing in Texas, because he wasn't the one directly doing it. And I think this is probably a deliberate strategy on his part.
BROOKE GLADSTONE So far, 2 million migrants have arrived at the southern border in the U.S. this fiscal year. That's an all time high. Many, like the migrants from Venezuela and Colombia who are put on planes, want to apply for asylum because that's the only viable path to being documented here. In the lead up to the 2018 midterms. Trump talked endlessly about the caravans of migrants. So is DeSantis capitalizing on just a traditional strategy for the GOP? And is it working?
PHILIP BUMP It is absolutely the case that Republicans and DeSantis in particular are trying to gin up energy on the right by focusing on immigration. There's no question about that. I think it's really, really, really important, however, to contextualize those numbers. Right. So, yes, since the beginning of the Biden administration, 3.7 million people have been stopped at the border. More than half of them, however, were prevented from entering the country under what's known as Title 42, which is this COVID era stipulation that allows the government to turn people away at the border. So more than half of them didn't even make it into the country. And a lot of those people then try and get back in again and then add to the number. So a lot of the numbers are also inflated by the fact people try more than once. But of those people who do make it into the United States, a significant portion, I think it was half last time I checked. And also just stolen detention, being detained at a federal or state level and aren't released in the United States. A lot of them, however, do make credible claims for asylum, and they're seeking asylum in the United States. If they do so, then they're allowed to remain in the United States. It is not illegal for them to be in this country if they are making an asylum claim. And so when we hear a lot of these conversations about millions of illegal immigrants, it's just not true from the standpoint that we're talking about just as some fraction of that. And these are people that are making a perfectly valid legal claim.
BROOKE GLADSTONE Well, part of the reason that immigration has been such a winning strategy for Republicans – I think, is that it's an issue that their party has an answer for, and the Democrats seem continually overwhelmed. Over the past few months, about 11,000 migrants arrived in New York City, and that overwhelmed the already crowded shelters and hotels. And that's why New York Mayor Eric Adams proposed housing migrants on cruise ships. A temporary measure, maybe, but temporary things have a way of becoming permanent. Still, it's presented as a short term housing solution. Is this why mainstream Dems avoid the topic of immigration and also avoid addressing the charges of Republicans?
PHILIP BUMP Yeah, I think that Democrats have two conflicting motivations, particularly elected Democrats. One is that they want to be responsive to Venezuelans who are seeking to stay alive and avoid the Maduroregime and have jobs and be able to provide for their kids. They want them to be welcome to the United States, which has obviously a long history of welcoming immigrants. At the same time, they recognize that this is putting a strain on the system and that it is a trigger for the opposition. And I think, of course, that Republicans approach is understanding that it is a political trigger, a political trigger that is often rooted in the exact same fear that Donald Trump always tried to highlight when he says Making America Great Again. He's talking about going back to a previous time in American history, and a lot of that sort of sense of wanting to go backward is rooted in the idea that demographics in this country are changing. So immigration plays on that as well. So you have a lot of these overlapping factors. But at the end of the day, it is the case that the country is being strained by immigration, that it plays very much to how Republicans want to frame what is happening to the country and that the Democrats are torn between two diverging motivations in how they respond.
BROOKE GLADSTONE We've seen similar collaborations between GOP leaders and Fox News before Fox News created Ron DeSantis to some extent. It also certainly created unquestionably created Donald Trump. And if you go back to the Tea Party, they announced where Tea Party events would be with great specificity, urged people to come on the air. I'm not saying there wasn't a genuine grassroots dissatisfaction that grew out of the mere fact of Obama being president, among many other things. But this being On the Media tell me the role of right wing media and particularly Fox in all of this.
PHILIP BUMP Fox News is really interesting for a lot of reasons. One of the things that they were trying to do is figure out how they could have an appeal to both the more extreme components of Donald Trump's base and more moderate Republican viewers. And that was something that Mitch McConnell at the same time was also trying to figure out. I think that Fox News did a good job of being able to parlay its long standing allegiances with the Republican Party into a way that allowed them to stay true to what Donald Trump supporters wanted to see on the air. That was Fox News strategy. And then what happened in this really fascinating moment in the weeks after Donald Trump lost in 2020 was that Fox News, like a lot of Republicans, suddenly found itself having to choose between the reality of Donald Trump's loss and the surreality of what Trump and his supporters wanted to believe. And they had a lot of internal tensions. This new book that just came out from Peter Baker and Susan Glasser really dives into what happened at Fox in the immediate aftermath of the election. And that they had discussed even just withholding calls because they didn't want to be the ones to call that Joe Biden who won the presidency. They had this business incentive to try and continue to bolster these false claims that Donald Trump was making and to present a false view of the world to their viewers. And they at times have done that explicitly. And I think it's really remarkable. And it's one of the reasons why if you go back and look at polling, the group that was always most loyal to Donald Trump were Republicans who watched Fox News.
BROOKE GLADSTONE Do you expect that those most loyal to DeSantis, should he run for president, will be the same?
PHILIP BUMP I think it's going to be fascinating to see if DeSantis and Trump end up being the top two candidates. What the conservative media does. Donald Trump has existing allies, but all of those folks want to be pointed in the same direction as the base so that they can show them the ads and so they can fundraise off of them. If the base is sort of twisting in the wind and moving back and forth, it's going to be really interesting to see what the media companies do in response. I feel extremely confident, though, that whoever wins the primary by the time the General Fox News and every other conservative media outlet will be fully on board.
BROOKE GLADSTONE Phillip[, thank you very much.
PHILIP BUMP Thank you.
BROOKE GLADSTONE Phillip Bump is a national correspondent for The Washington Post and author of the weekly newsletter. How to Read This Chart. Coming up, a nascent podcast industry exploded in 2014 when Serial investigated a murder case week by week. Eight years later, there's a new episode. This is On the Media.