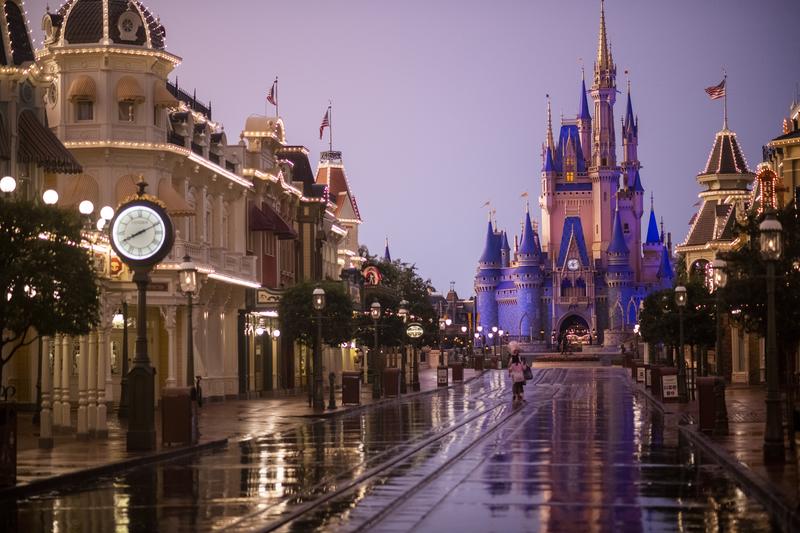 Transcript
Brooke Gladstone Disney frames its lawsuit against Florida as a free speech fight, but its legal case is based on reviving the moribund contracts clause.
Mark Joseph Stern Minimum wage laws, health and safety laws, child labor laws. The court struck down on the theory that the Constitution protects this very broad freedom of contract.
Brooke Gladstone From WNYC in New York, this is on the media. I'm Brooke Gladstone. 20 years exactly since the U.S. declared mission accomplished in Iraq. For Iraqi journalists, the path toward a free press is increasingly opaque.
Ghaith Abdul Ahad I think the landscape is very different dynamic at the moment.
Suzanne Gaber More intense for journalists?
Ghaith Abdul Ahad It is so intense that they cannot answer this question.
Brooke Gladstone Plus, why everything on the Internet kind of sort of seems to be getting worse.
Cory Doctorow In codification is the death cycle of platforms rather than doing a useful thing you said, between people who do useful things and people who need useful things.
Brooke Gladstone It's all coming up after this.
Brooke Gladstone From WNYC in New York, this is On the Media. I'm Brooke Gladstone. The feud between the Florida governor and the state's largest employer began over a year ago.
TAPE It is Disney versus DeSantis, the CEO of Disney now pushing back against Florida's parental rights and education bill, which of course, has become known as the don't say gay bill.
TAPE Disney CEO Bob Chapek came out strongly against it, said it should be repealed and sided with Disney's LBGTQ new employees and their allies in Florida.
Brooke Gladstone Governor DeSantis was not happy.
TAPE Today, Florida's Republican controlled House gave final legislative approval to a measure revoking a special tax district that has allowed Disney to self-govern its land. Governor Ron DeSantis has led the push against the California based entertainment giant.
TAPE This state is governed by the interests of the people of the state of Florida. It is not based on the demands of California corporate executives.
Brooke Gladstone Disney's Special Tax district is called the Reedy Creek Improvement District.
TAPE The 40 square mile special Disney Self-governing Area was created in 1967, just before construction began. It exempts Disney from certain taxes, fees and regulations minimizing state oversight. As a result, Disney effectively has its own security force and building zoning and fire departments.
Brooke Gladstone Governor DeSantis replaced Disney's independent Reedy Creek Board with a new one.
TAPE That board voted to avoid a deal that has Allowed Disney World to maintain wide authority over its theme park properties.
Brooke Gladstone So last week, Disney took DeSantis to court.
TAPE In Florida's northern district, alleging the governor and the new state oversight board violated Disney's First Amendment rights.
TAPE In the lawsuit, Disney alleges DeSantis is waging a campaign of government retaliation.
TAPE Saying it is being forced to defend itself against, quote, a state weaponizing its power to inflict political punishment.
Brooke Gladstone Mark Joseph Stern is a senior writer covering courts and law for Slate. His recent column on the lawsuit is called Why I Can't Root for Disney's Lawsuit Against Ron DeSantis.
Mark Joseph Stern Disney really pushed this out as a freedom of speech case. But when you actually get to the legal arguments, you see that that is almost an afterthought. The chief legal argument that the company is making is that the governor and his allies have violated the contracts clause of the Constitution.
Brooke Gladstone Give me a little bit of the case law behind that.
Mark Joseph Stern Yes. So the contracts clause is actually part of the original Constitution. It was really one of the few limitations against state power at the time. And it says that states are not allowed to break contracts that have been entered into. This was heavily litigated in what we call the Lochner era. That was the period from the 1890s to the 1930s.
Brooke Gladstone The Lochner era was one in which contracts were used by businesses to block every effort of the government to regulate totally.
Mark Joseph Stern The most notorious cases from this era involved minimum wage laws, health and safety laws, and maximum our laws.
Brooke Gladstone Child labor laws.
Mark Joseph Stern Yes, the court struck down a bunch of those laws on this theory that the Constitution protects this very broad freedom of contract. There were a series of cases where these cities wanted to take control of their water supply. The water supply was being strangled by a private company that had a monopoly and was bilking residents. And the Supreme Court blocked that from happening and said, oh, no, you aren't allowed to create public waterworks because you made a contract with this monopoly that you have to honor.
Brooke Gladstone Now, going back to the case law behind the contracts clause, it hit its biggest obstacle during the Depression, right, in the Roosevelt era.
Mark Joseph Stern Yeah. When the Supreme Court was confronted with the New Deal, the famous case here involved a minnesota law that gave residents who had defaulted on their mortgage two extra years to reclaim their homes after they had been foreclosed upon. This was in 1934, which was kind of like the height of the Lochner era. Everybody expected the Supreme Court to strike down that law, but the court upheld it by a 5 to 4 vote. And that was actually the beginning of the end of the Lochner era, because the court signaled that it wasn't going to impose this super kind of libertarian conservative vision of freedom of contract. And it was going to let the government experiment with regulations to help normal people.
Brooke Gladstone Mm hmm. So since 1934, the Supreme Court has ruled that states can enact regulations that alter contracts in a, quote, reasonable and appropriate way. Right.
Mark Joseph Stern Yes.
Brooke Gladstone And the last time the court had a. Chance to revive the clause was in 2018, and it declined to do so. But as you know, we have a different court in 2023. So what are the stakes in a decision favorable to Disney? Couldn't the court just say that what DeSantis did was neither reasonable or appropriate and leave it at that? I mean, what do you think happens to contract law?
Mark Joseph Stern So that is one possibility. And we should be clear about exactly what happened here. Basically, the governor dissolved the old boards that regulated Disney and created a new one. Just before that old board went out of business. It entered into a contract with Disney that gave Disney continued rights over its own property for almost an indefinite amount of time. And the new board came in and just tried to void that contract. And so you could make the argument that all Disney should be doing here is saying, hey, they're trying to dishonor this contract, it's binding, it's valid. They aren't allowed to just step in and nullify it.
Brooke Gladstone And isn't that what Disney is doing?
Mark Joseph Stern So here's the thing. It's not quite what Disney's doing. When you've got a contractual dispute, you go into state court and you say, Hey, judge, this other guy is trying to violate this contract. Will you enforce its terms and make sure that I got what I was promised? That's what Disney could have done and I think should have done. But instead, it's gone into federal court and said that this violation of its contract is so egregious that it actually runs afoul of the federal Constitution.
Brooke Gladstone A lot of states and municipalities in the COVID 19 era tried to push against the eviction moratorium that was going to help people whose economic lives were overturned by the pandemic. They spent a lot of money, you say, trying to revive the contracts clause.
Mark Joseph Stern We saw this flood of lawsuits claiming that putting a moratorium on evictions violated the contracts clause because, well, these people had signed contracts saying that they would pay a certain amount of rent. They aren't paying it anymore. So they should be able to just kick out these residents because the government has no power to alter their contracts. We saw this in other areas, too. You know, there were rent stabilization laws to try to avoid rent hikes that drew a contracts clause challenge. There were guaranteed wage increases for frontline workers that drew a contracts clause challenge vaccine mandates, drew contracts, clause challenges. Most of the courts turned away these arguments, but at least a few judges actually entertained these challenges to try to bring back a more robust contracts clause.
Brooke Gladstone And you say that Disney is basically offering a huge gift to these plaintiffs. But why do you think so many reporters, myself among them, hadn't picked up on the contracts clause piece of the case?
Mark Joseph Stern Disney related. This is a story about free speech, and it's really not until you get to the end of the suit when they're actually presenting their legal claims that you see that this is really a contracts clause case because it's very, very difficult for anybody, especially a corporation, to convince a court to nullify some kind of state action on the grounds that it was retaliation against free speech.
Brooke Gladstone But isn't the governor trying to punish Disney for its political speech, even if at heart this is a contract dispute when it's the governor reneging on the contract? Isn't there an argument that elevates it to a free speech issue?
Mark Joseph Stern There is a free speech concern here, and it's one I'm very sympathetic to. Disney is trying to show the public that it is a victim of political persecution, basically, of censorship. And that is a powerful argument for public consumption, but.
Brooke Gladstone Not an easy argument. You said to sell in the courts?
Mark Joseph Stern Not at all. I mean, imagine, say, the EPA comes out with stricter regulations for coal power plants. The coal industry comes into court and says, well, the EPA administrator is retaliating against us for criticizing his regulations. And so the court should strike down this law, this idea that retaliation against speech can undermine or nullify laws in federal court. It's a tough sell, and that's why Disney puts it at the very, very end of their legal argument and really foregrounds the contract stuff.
Brooke Gladstone And you say that the typical case for violations of free speech generally happens in employment cases.
Mark Joseph Stern Yeah, employment cases or whatever. Solitary arrest cases. There's actually a case pending at the Supreme Court involving that exact issue. This guy commented online criticizing a police officer. The police went and arrested him. You know, that is the kind of retaliatory First Amendment claim that Disney wants to raise here. But Disney is a huge corporation. There are a whole lot of legitimate reasons that the state of Florida might want to alter this contract. Is it doing that because of legitimate reasons? Of course not. It's political persecution. But it's going to argue in court that it has excellent reasons to be doing what it's doing.
Brooke Gladstone States passed new regulations and laws all the time, and you can't psychoanalyze all of them as a retaliation against speech that would really open the floodgates. That's what you're saying.
Mark Joseph Stern Yeah. And maybe if we had more reliable and consistent courts, that wouldn't be such a problem. But look around at this judiciary and ask like, do you want these guys psychoanalyzing our state legislators?
Brooke Gladstone Is there any legitimacy to Disney's claim that if it loses, the First Amendment will be at risk?
Mark Joseph Stern Look, I actually do think that Disney has a point here. Recently, a lot of leaders of the Republican Party have decided to declare war on what they call woke corporations. They're trying to show that they're still the boss and that corporations don't have any power to comment on matters of public concern or participate in politics. Well, there is a case about this. It's called Citizens United. And in that case, the Supreme Court said very clearly that, in fact, corporations do have very strong First Amendment rights to participate in politics and comment on matters of public concern. For a lot of progressives, that's going to be tough to swallow. A lot of them want to defend Disney but hate Citizens United. But if you hate what Ron DeSantis is doing, then you really have to ally yourself with Citizens United and say these corporations deserve to speak freely.
Brooke Gladstone Do you have any sense of whether Disney is likely to win this case?
Mark Joseph Stern So this case has been filed in the northern district of Florida. I think there's a good chance that this court rules for Disney. But after that, the case is going to go up to the 11th Circuit on appeal.
Brooke Gladstone That's a court that's been entirely flipped by Trump. Right.
Mark Joseph Stern Totally flipped. And I think Disney is going to face very rough sledding at the 11th Circuit if they prevail in the court below.
Brooke Gladstone If the conservative courts rule against Disney, that implicitly means they're not buying the effort to revive the contracts clause.
Mark Joseph Stern Yeah, exactly right. And so in a way, it would be a relief. On the other hand, there are some smart cookies on the 11th Circuit who are very conservative, but also strategic. And it's quite possible for me to imagine those judges sort of swallowing whatever hostility they might have against Disney and exploiting this case to try to bring back the contracts clause. And that's why I think Disney is playing with fire here and unnecessarily so, because instead of going to a state court and saying, can you please just enforce this contract as written, Disney is probably going to go up to the 11th Circuit. It's very easy to imagine the Trump majority using this not only to bring back the contracts clause, but to tee up a case for the United States Supreme Court to issue a major, major decision that brings back the contracts clause and with it, the Lochner era.
Brooke Gladstone Oh, my. Mark, thank you very much.
Mark Joseph Stern Thank you so much for having me on.
Brooke Gladstone Mark Joseph Stern covers courts and the law for Slate. On Monday, the new DeSantis appointed board sued Disney right back, claiming the company had struck a backroom deal. Coming up, the state of Iraqi media twenty years after Mission Accomplished. This is On the Media.
Brooke Gladstone This is On the Media. I'm Brooke Gladstone. This week marks 20 years since Mission Accomplished. The speech given by then President George W Bush on the flight deck of the USS Abraham Lincoln.
TAPE My fellow Americans. Major combat operations in Iraq have ended in the battle of Iraq. The United States and our allies have prevailed.
Brooke Gladstone For On the Media, producer Suzanne Gaber takes us back to the streets of Baghdad right after Bush's speech had aired.
Suzanne Gaber It was a victory in the U.S. in a post-9-11 world. But for a lot of Iraqis at the time, it felt like a sick joke.
Ghaith Abdul Ahad If I just go down the street, I will see tanks rolling through the streets. I see checkpoints, I will see helmets and soldiers pointing their guns at me. So this is not the end of the war.
Suzanne Gaber Today, he's a reporter for The Guardian. But in 2003, Laith Abdul-Ahad was in his late twenties and working as an architect. He says at the time, it felt as though the American media were letting the U.S. military pat themselves on the back for a job half done. And in Iraq, there was almost no media to speak of to push back on that narrative.
Ghaith Abdul Ahad Few speak of journalists in Iraq under Saddam. You basically speak of someone who's working for the government under Saddam.
Suzanne Gaber The media was dominated by regime propaganda. The news blackout they experienced was almost total.
Ghaith Abdul Ahad I mean, we knew September 11 happened. We knew there was something called a spider book. Each of these big events were filtered to us through the channels of the regime.
Suzanne Gaber When Saddam fell for the first time in recent history, Iraqis had a moment of hope for free media alongside a new government. As the sun came up on April 10th, 2003, just days after American tanks rolled into Baghdad. Leith Rose with a curiosity about what an Iraq without Saddam would look like. He decided to try on the role of journalists for size.
Ghaith Abdul Ahad I walked through American checkpoints claiming that I'm a British journalist, and I ended up in the palace grounds. And they were very gracious, the Americans.
Suzanne Gaber He's referring to the presidential palace of Saddam Hussein in central Baghdad. It's an almost mythical symbol of Saddam's regime that no average Iraqi had been allowed into before.
TAPE The former dictator's face is carved into the palace walls. The great holes inside are empty. Marble walls are covered in graffiti.
Ghaith Abdul Ahad I remember a young lieutenant who took me around the palace, showed me the big dining room that was converted into dormitories.
Suzanne Gaber Weeks into the occupation. The place was still ambivalent about the occupying army and the Western journalists they brought with them. Their coverage up to that point had been flawed, but as he saw it, at least they were there. For decades, he says, different leaders had controlled how Iraqis understood their lives, their country. First the monarchy and then Saddam.
Ghaith Abdul Ahad I mean, Saddam was really bigger than God in our lives. He dominated our lives. He led us to war. Afterward, defeat after defeat.
Suzanne Gaber He says that in the chaos of the moment, he thought that he could finally get some answers to the questions that under Saddam were dangerous to even ask.
Ghaith Abdul Ahad No, I thought if I go to the palace, I'll find clues about why we fought Iran for eight years, why we invaded Kuwait, why did we go through all of this?
Suzanne Gaber I wasn't the only one trying to make sense of the decades of life under Saddam. Since the nineties, there had been efforts within the American government to try to understand the Iraqi strongman. And by 2003, they had landed on a story sold to them by Saddam's political opposition.
Ghaith Abdul Ahad In the nineties, a group of Iraqi political exiles pushed this narrative that how do we topple Saddam? And one of the justification that was pushed at that time is the oppression.
TAPE Saddam is a mass murderer who was personally responsible for the genocidal slaughter of at least 200,000 Iraqi Kurds, 250,000 other Iraqis, Arabs in this case.
TAPE And the neo cons aligned with an urbane Iraqi ex-patriot named Ahmed Chalabi. Chalabi heads the Iraqi National Congress, a group of Iraqi emigres and defectors lobbying to get rid of Saddam.
Suzanne Gaber Saddam was Sunni, and in their attempts to remove the dictator who had expelled them, the exiles painted a picture of Iraq as divided along deep sectarian lines, with the minority Sunnis oppressing the majority Shia.
Ghaith Abdul Ahad One can understand why the exiles would push that narrative, and one can understand why a group of the neocons would listen to that narrative and use it as a justification. But that narrative had nothing to do with Iraq.
Suzanne Gaber In the days and weeks after the invasion, the U.S. government continued to push the notion of sectarian division, and every journalist Laith worked with asked him to ask the same question over and over again.
Ghaith Abdul Ahad The journalist would ask me to translate the question of Are you Sunni or Shia? I didn't know what was the meaning of the question. Why would a interview about the family living in a I don't know, in an apartment on the eastern side of Baghdad? Why does it matter if they were Sunni or Shia?
Suzanne Gaber But before too long, he'd internalized that message.
Ghaith Abdul Ahad Within a few weeks, a few months, I myself started seeing Iraq within that prism, and it took me years to come out of that.
Suzanne Gaber Society began to form around that story to the American occupation, use that framework to create a new political system in Iraq. And government positions were allocated to Sunni, Shia, Kurds and other minorities based on the percentage of Iraqis who belonged to each group.
Ghaith Abdul Ahad We call it more houses in Arabic, in which every sect, every political party, every organization will be allocated part of the spoils of the state.
Suzanne Gaber In 2005, a new constitution was created in Iraq with a lot of help from the Americans.
TAPE Today, Iraqi political leaders completed the process for drafting a permanent constitution. Their example is an inspiration to all who share the universal values of freedom, democracy and the rule of law.
Suzanne Gaber The new constitution created a governing body to oversee independent media and required new media outlets to get a license.
Aida Al Kaisy We saw that regulatory body starts to behave in a very political way and assign licenses and take away licenses on a sort of ethno sectarian or political basis.
Suzanne Gaber I don't. Casey is a British Iraqi media analyst who has studied the country's media landscape for the last 20 years. In the early 2000, she was working at The Guardian alongside her faith. Money was pouring in from NGOs. Eager to train a new generation of Iraqi journalists. But it says that plan had flaws from the outset.
Aida Al Kaisy Training of journalists was all done without even thinking about the fact that so many journalists still understand media as a form of propaganda.
Suzanne Gaber It seemed that the dream of an independent media in Iraq was already fading.
Ghaith Abdul Ahad You see, like official Iraqi media network becoming a kind of a replicate of the media organization under Saddam, glorifying the prime minister, whoever he is.
Suzanne Gaber The structure that was put in place after the American invasion, where each political party had its own media megaphone, went unchallenged for nearly a decade, until in 2014, Shia and Sunni media outlets, instead of fighting each other, found a common foe.
TAPE We began the scene with the escalating crisis in Iraq. Iraq's central government is steadily losing control of its territory. Last week, the militant group Islamic State of Iraq and Syria, also known as ISIS, captured two of Iraq's most important cities, Mosul. In Tikrit.
Suzanne Gaber Mohammed al-Hashimi was born in the city of Mosul in northern Iraq in the late 1980s. In June of 2014, he was living just outside the city where he watched as ISIS, also known as Daesh, took over his hometown.
Mohammed Alhashimie Daesh strategy was very similar to Saddam regime time, which was like creating a siege and a communication siege to have a better control of the people who are trapped inside the city.
TAPE In Mosul, ISIS's not letting them leave is using them as human shields.
Ghaith Abdul Ahad They're describing a life of torture under the Islamic State's brutal rule.
Suzanne Gaber Seeing the residents of Mosul cut off from the world by ISIS, Mohammed decided to start his own radio station in 2015. He set up transmitters just a few miles from the front lines to broadcast into the captured territory. Radio could share the stories of people trapped inside the city.
Mohammed Alhashimie Having been hunted by Daesh. They stopped our lives. They stopped us from going to complete our education. And we are left with no future. We are living in a prison.
Suzanne Gaber Meanwhile, Iraqi media united against ISIS villainized everyone living within ISIS's territory.
Aida Al Kaisy There was this rise, for example, of shows where government security forces would go in and find an arrest, a dash sympathizer, and there'd be a kind of public punishment live on television.
Mohammed Alhashimie That was like one of the biggest reasons why so many innocent people were jailed. And in my opinion, that was one of the times that media was misused.
Suzanne Gaber By the end of the siege of Mosul, more and more Iraqis were feeling let down by the government that they saw as serving the whims of the elites. While the average Iraqi struggled for basic resources. Over the next two years, tensions in Baghdad were steadily rising, and in October of 2019, thousands of people took to the streets.
TAPE Demonstrators say they are taking a stand against government corruption, a lack of basic services and high unemployment levels.
TAPE It's the start of another deadly clash in Baghdad. With protesters again running for their lives and security forces apparently once more firing live.
Ghaith Abdul Ahad Rounds into the crowds.
Aida Al Kaisy We saw young people, activists, journalists out on the streets demanding a change in the entire system.
Suzanne Gaber According to the International Crisis Group. Over 600 protesters were killed during the shooting revolution named after the month it began and active steps were taken by the government to prevent local coverage of the events.
Aida Al Kaisy None of the mainstream media in Iraq were covering the protest movement.
Suzanne Gaber Journalists who did venture out to the streets face targeted violence. Saudi funded Al-Arabiya as Baghdad bureau was ransacked by militia. Other outlets had their buildings burned, and at least three journalists died during the protests. Protesters, frustrated by the lack of coverage, reported their own videos of the events, too. Iraqi comedian and political satirist Ahmed al Basheer.
Suzanne Gaber He's saying the protests are louder than the bullets, louder than the tear gas, louder than the channels and outlets of wires.
Aida Al Kaisy Ahmed al Basheer is known for his critical take on Iraqi political systems processes. He calls out corruption.
TAPE How did we get here? The answer to that question is one key word, Mutasa. It's time for an Arabic lesson. Don't be afraid. Repeat after me. No. Huh? Sir?
Suzanne Gaber Sir, the Al Basheer show has almost 7 million subscribers on YouTube, but Iraqis watch it on a German satellite channel, which airs at different times every day. To avoid government jamming, Al Basheer left Iraq to be able to comment freely. And many other journalists have followed suit. Laith included, he now lives in Turkey. But there are some bright spots.
TAPE Broadcast Jummar.
Suzanne Gaber Juma Jamaa, a new publication, ETA helped Start, is one of a handful of recent start ups attempting to untangle the relationship between media and politics. Ira says that it's been difficult for independent media in the country to stay afloat as Iraq wades through economic instability. She's hopeful, though she's seeing a generation that didn't grow up under Saddam. Start to come into this space.
Aida Al Kaisy How do I say this without sounding like an idiot? I just want to say that, you know, young people are the future, but they are.
Suzanne Gaber Other independent media outlets have managed to continue as well. After the liberation of Mosul in 2017. Mohammed al Hashemi decided to keep the radio station going in order to keep telling the stories of the residents of Mosul from their own perspectives. Today, the station holds town halls with politicians.
Mohammed Alhashimie What we are doing is giving the people that voice to start speaking about things that they want from the government. This is the kind of continuous mission that is doing.
Suzanne Gaber But even as independent media continues to build their new systems of reporting, the Iraqi government is trying to put the genie of information back in the bottle it was in under Saddam. Since 2019, the Iraqi parliament has introduced a cybercrimes bill several times. The bill would give prison sentences all the way up to life in prison for online posts that endanger, quote, the independence, unity or integrity of the country or its economic, political, military or security interests, unquote. And in January of this year, the Ministry of Interior announced the country would start to enforce laws criminalizing what they consider to be immoral content online. So far, that has included social commentary and Tik Tok influencers performing dances on the app. At least 14 people have been charged and six sentenced to time in prison. Clay himself was charged with defamation by former Iraqi Prime Minister Nouri al-Maliki back in 2009. But he says now the stakes are way higher.
Ghaith Abdul Ahad We won in the appeal, and I don't think we will be able to do that now.
Suzanne Gaber Why not? What has shifted that you wouldn't be able to win in the appeal?
Ghaith Abdul Ahad I think the landscape is very different dynamic at the moment.
Suzanne Gaber More intense for journalists?
Ghaith Abdul Ahad It is so intense that I cannot answer this question.
Suzanne Gaber Without real change in the way the Iraqi media is structured, the dreams Ghaith had 20 years ago while wandering through Saddam's palace of a free and flourishing press will remain unfulfilled. For On the Media. I'm Suzanne Gaber.
Brooke Gladstone For more on how far we've come or haven't in the last two decades, tune in to our podcast for my interview with author and Intercept editor Peter Maass about what really happened the day Saddam Hussein's statue was toppled and subscribe so you can hear the extra content we post there every week. Coming up, why big, bold digital platforms often devolve into garbage. This is On the Media.
Brooke Gladstone This is On the Media. I'm Brooke Gladstone. We have spent hours dissecting the anatomy of the Internet, chronicling concerns about privacy, the appeal of connection, our willful woeful walled gardens, and the fumbled attempts to regulate any of it at all. But we hadn't been clued into the systemic nature of the increasing scrappiness of being on, let's call it big digital, until now.
TAPE Federal regulators claim that Facebook misled parents and failed to protect the privacy of children using its Messenger Kids app. Federal Trade Commission says Facebook misrepresented the access it provided to private to San Diego. Women are suing Amazon in a proposed class action lawsuit claiming Amazon Prime members who pay $139 a year for membership have been misled for years regarding shipping times.
TAPE CEO Elon Musk said people must pay $8 a month for the Twitter blue subscription service. Journalists, politicians, city and government organizations who would not pay have been stripped of their verified status, causing chaos and confusion about what information can be trusted.
Brooke Gladstone The tech industry, changing the world as it does in mysterious ways, is bound to spark editorial tongue clucking and laments about how it's just not the way it used to be. But this is different. Both clunkers are right. And Cory Doctorow. Journalist, activist, and the author of many books most recently read Teen Blues, a science fiction crime thriller, has tracked this phenomenon for a long while and knows why he'll be our guide over the next three weeks, exploring and explaining the process whereby going online grows ever less rewarding and ever more repellent. But to start things off, this trend should have a name. Luckily, Doctorow has one. He calls it enshittification. Yeah, it's absolutely accurate and totally not allowed on broadcast radio.
Cory Doctorow Enshittification is the death cycle of platforms and platforms are the native form of the Internet, because on the one hand, the Internet doesn't have a lot of competition. And also because digital is so flexible, it means you have these companies that are really neither disciplined by regulation nor by competition, and who can kind of change the rules as they go.
Brooke Gladstone Now get into the nitty gritty of the process, which you managed to compress into three distinct steps.
Cory Doctorow Step one. First, the company is good to its users. So think about Amazon. When Amazon started, it had a lot of shareholder capital and was able to operate at a loss, sold you goods for less than they cost. It's subsidize the price of shipping. It's subsidized the price of returns. You know, Jeff Bezos wasn't like a good natured slob who just wanted you to have stuff below cost.
TAPE So, you know, here's what's not. Do they have the right tools? You can pick up the torch for the girl, for you. But if you need it now.
TAPE They got blood pressure monitors, dishwashers, noses below Dickies and scaffolding Amazon.
Cory Doctorow And lots of people piled in. You know, this was especially true of Amazon's digital goods Kindle and then later audible again they sold these things for low cost. And you know, there were lots of things that Amazon fixed that were really broken for a lot of people, people who have disabilities and couldn't leave the house, people who needed to get large things. There was a point early on where Amazon started off with putting all kinds of things in prime for free shipping. And there was this point where people on the Internet were trying to find the heaviest item that you could get free shipping on and you could buy like a two ton safe and good natured old Uncle Jeff would pick up the shipping tab to deliver two tons of tempered steel to your front porch. Those were the good old days.
Brooke Gladstone So you say lots of us piled in. Lots of brick and mortar retailers withered and died, making it harder to go elsewhere.
Cory Doctorow Step one is figuring out how not just to give the users a good deal, but then spring the trap, right, so that they don't go break your local retail so that the only place to shop is Amazon prepay for prime getting you to prepay for a year's worth of shipping. Right. Who's going to shop anywhere else if you've already paid for the shipping? It's also getting you to prepay for a book every month. So the audible subscription packages are extraordinarily generous because that means that you would never buy an audiobook anywhere else because you've already bought the book. And then with the digital stuff, they also use digital rights management, which is this kind of encryption that locks the file to their authorized player. So you can only read a Kindle book in a player that Amazon has authorized. You can only listen to an audible book in a player that Amazon is authorized. And the thing about digital rights management is that since 1998, when Bill Clinton signed the Digital Millennium Copyright Act, it has been a felony to give someone a tool to remove digital rights management, even if no copyright infringement ever takes place. So if you buy one of my books on Amazon, which you can't because none of my books are sold on Amazon with digital rights management. But if they were and I supplied you with the tool that lets you take the DRM off the Digital Rights Management Office and go to a rival platform so you could breakup with Amazon, I would commit a felony punishable by a five year prison sentence and a $500,000 fine. Those are penalties that are much stiffer than if you just stole the book.
Brooke Gladstone Wow. So then go to step two. When the platform starts to squeeze users for the betterment of their business partners.
Cory Doctorow So the platform is now a thing that you're locked to partly because you like it and partly because it's got all of your recurring subscriptions, playlists, all your music or movies or books or everything are kind of stuck in its walled garden. Now they can start doing things like allocating other surpluses, as our friend in the economics trade would say to these sellers.
Brooke Gladstone What does that mean? Allocating surpluses.
Cory Doctorow Surpluses are just goodies. Right. It's what's left over after you're running the business or what you have in your bank account that you can spread around. Amazon can run the business at a loss, but it can get money from selling shares or by borrowing money. Other surpluses might be your privacy to pitch ads to you. So Amazon takes some surplus and it starts to allocate it to those business users.
Brooke Gladstone Charging some low fees for preferential treatment.
Cory Doctorow Really low platform fees, preferential treatment ads. If you're a Kindle author or an audible author, the royalties are crazily good. And this is at a time when publishing is really in the toilet. Some of that is down to Amazon. So Amazon is being good to its suppliers, but not all of them. Amazon ran a project called Project Gazelle, and in this project they went to their small and medium publishers and they demanded discounts from them that were so deep that the publishers actually were losing money on their sales. And the reason it was called Project Gazelle is that the managers in charge of this were exhorted to think of themselves as cheetahs, bringing down the sickly gazelles in the herd. The only thing that Amazon's lawyers objected to about this was the name of the program. And and so they're making stuff cheaper and they're offering authors really good deals because Project Gazelle is making all the publishers disappear. And so you have other kinds of suppliers, creative workers, piling into the platform. You have readers, you have writers, you have buyers, you have sellers. And even things are getting a little worse for the buyers. It's still a pretty good deal.
Brooke Gladstone We're still at step two. Consumers won't find better prices elsewhere. Sellers won't find a bigger pile of consumers. We arrive at step three, and this is where the ominous organ chord sounds. Because after squeezing the consumer for the business folks, the platform then squeezes the business folks to further enrich Amazon.
Cory Doctorow Amazon's turning to the merchants and saying, hey, if you want to come to the top of the search results, even if you're not selling the thing that our customer is searching for, you can buy ads. Amazon has a $31 billion ad market now. I mean, they have a little bit of the kind of ads we think of when we say ads, which is like you're a publisher and you want to run ads alongside your content. But most of their ad market is just payola. It's just saying if you want to be the top result for Duracell, you've got to outbid everybody else who wants to be the top result for Duracell, even Duracell. The last time I searched for Duracell on Amazon, there was a banner across the top that said Duracell. And then in the corner it said sponsored post. Duracell outbid everyone who wasn't Duracell to have a banner across the top of the screen that said Duracell. When you go searching specifically for Duracell.
Brooke Gladstone And you mentioned the $31 billion ad market that Amazon is so proud of.
Cory Doctorow Right. And it's important to note here that this is a withdrawal of surplus from both end users and business customers, because when you type a certain to Amazon, right, if you're looking for gas, get for the water filter in your fridge and you type in your fridge manufacturer or water filter and gasket.
Brooke Gladstone That's awfully random, Cory, But please go on.
Cory Doctorow We just bought one and it's exactly the kind of thing that it used to be like, Oh God, do I have to figure out where to get this rubber ring that is precisely this size? And so you type that in, and if Amazon is being kind to you, the top result is that thing. It's an incredible service, actually. But when Amazon opens the floodgates to say you can bet against it, then you get all kinds of stuff, including things that don't fit your fridge. It's just because Amazon has like done the math and said overall, allowing people to advertise anything to any search term gets us more business than the ill will generated by people at the periphery who do irrational things like advertise the wrong size gasket against your fridge manufacturer.
Brooke Gladstone Amazon knows that you're going to be really annoyed and may end up going to the local hardware store or Target, but it's making the guess that you're just going to stay.
Cory Doctorow That you won't go elsewhere because there's no other retail, because you've already prepaid for shipping. Because, because, because then they don't have to take as much care of you, right? They don't have to be quite so relentless. You remember Lily Tomlin in the old sketch, right?
Brooke Gladstone So the next time you complain about your service furniture, try using two Dixie cups in the spring. We don't have to tell where the phone company.
Cory Doctorow Companies that don't fear losing your business know that they can treat you worse.
Brooke Gladstone So sum this up, the first three steps.
Cory Doctorow So step one, buyers or end users are lured in with a good offer, but they're also locked in with subtle things that keep them from leaving. If the offer gets worse and then things are made worse for the buyers. To make things better for the sellers and bring in lots of sellers, but they too are locked in. And once you have buyers and sellers who are locked in and can't leave, all of the good stuff is taken away from both of them. Life has made worse for them and life has made infinitely better for the shareholders who own the platform, in this case, Jeff Bezos and his pals.
Brooke Gladstone Can you walk us through. Sure. The three steps of Facebook's enshittification.
Cory Doctorow So Facebook is a kind of canonical case of an ID So when Facebook started, everyone already had a social media account with MySpace. And so Facebook's pitch to MySpace users was come to Facebook and tell us who matters to you? Tell us who your friends are, if they're on the platform. Any time they see something that they want their friends to know about. We'll show it to you. Just reverse chronological order feed of everything that the people you care about have to say. And so that's the first stage. We're not spying on you. We're showing you the things that the people you like are saying. Stage two is they want to bring in two kinds of business customers, advertisers, and we'll call them publishers. But it's publishers, it's performers, it's brands, it's TV networks. It's anyone who wants to reach an audience but isn't like just an advertiser. And so to the advertisers, they say, Remember when we told our users that we were never going to spy on them? We changed our mind. We've actually got a ton of surveillance data on them, and we will let you use that really cheaply to the media companies. They said, Hey, you know what you need? You need a funnel to drive traffic to your own website. So all you need to do is post like an excerpt from your article along with a link, and then to the users. They said, You remember when we promised you that we were only going to show you the things that the people you cared about had to say, Well, we're altering the deal a little here. We're also going to like non consensually rammed down your eyeballs. Brief excerpts from media articles and advertisements. So step one, we're going to show you what the people that you like have to say. And we're not going to spy on you. Step two We're going to be good to our business customers. We're going to spy on you. Targeted ads to you, show you the stuff that you never asked to see, which is content for media brands and performers and publishers.
Brooke Gladstone Facebook was a really helpful platform for media companies, right? I mean, we still post our segments and shows on Facebook, but then.
Cory Doctorow Then they take the goodies away from the publishers. Facebook suddenly turns the screws to make this happen. They start to say, Actually, we're going to show your stuff less frequently unless you are more generous in what you put on the platform. And so what you have as a business customer, an advertiser, is a declining business proposition. If you're a media brand, Facebook is not a funnel for traffic to your own site. You structure your material so that it lives on Facebook and never leaves anywhere else. And even then, Facebook still wants you to pay to boost your content, which is their cutesy word. Again, for payola to reach your own subscribers and for advertisers. Well, Facebook starts to do a lot of ad fraud.
Brooke Gladstone What do you mean, ad fraud?
Cory Doctorow So, for example, Facebook and Google engaged in a secret, unlawful collusive arrangement called Jedi Blue that was identified in the Texas attorney general's antitrust case, where they just agreed that they were going to like, charge advertisers more, pay publishers less and pocket the difference. Right. I mean, there's a lot of complexity to how they managed it. But at the end of the day, all of these accounting scams just boil down to we stole some money from. Yeah. And that's what they did. They stole money from advertisers.
Brooke Gladstone So now take us to step three.
Cory Doctorow So step three, advertising is getting worse. You're paying more, you're reaching your targeted audience less Well, And for users, your feed now only incidentally, consists of things that people that you love and care about have said, it's a bad deal all around.
Brooke Gladstone What about?
TAPE Some people say the metaverse will only be virtual, but one day this lecture hall will be made of code. And though they're virtual students, what they'll learn together is real.
Cory Doctorow Yeah, I mean, as a cyberpunk writer, I just find it deeply depressing and offensive that they think that it was a suggestion and not a warning. It's really scary. So here is Facebook, right? They have made this bad deal for users. They made this bad deal for advertisers who made this bad deal for publishers, but they tried to leave enough goodies in the system that users don't leave. Advertisers don't leave and publishers don't leave. They all feel like they can't, even if every time they log in, every time they write a check. They're just like, Oh, this is terrible. And the thing about that equilibrium, right, that state where you've got just enough surplus and to keep people using it, but not so much that there's any extra it's brittle. It just takes one good competitor like tech talk or one big scandal, like a live streamed mass shooting or one big privacy debacle like Cambridge Analytica. And it can tip. And you know, we're talking about Facebook, but I think the example that everyone can relate to here is Twitter. Right. Twitter has gone from indispensable to completely dispensable for larger and larger groups of people, businesses, movements and so on. Very quickly, even though it felt like there was nowhere else that you could conceivably go. And so when that happens, when the platform tips over and becomes a useless policy, which is the end of notification, then it starts to thrash. And so in that world, Mark Zuckerberg has to pivot, which is Silicon Valley for thrash. Pivoting in his case is let's all be legless, sexless, highly surveilled, low polygon cartoon characters in a virtual world named after a satire from a dystopian cyberpunk novel. And, you know, long before we had the folly of Elon Musk, we had the folly of Mark Zuckerberg, who was able to do these really reckless things. And maybe he wouldn't have been able to do it if his board had been there going like, Wait, what are you doing? No, you're eating the seed corn. Stop it.
Brooke Gladstone I'm wondering, you talk about the collective action problem. You know, there are consumers who argue that their platforms are still working for them. But is it perhaps not that their Amazon searches are that helpful or their Facebook feed is that fun, but that they can imagine a world without them?
Cory Doctorow People aren't lying when they say they get value out of these services. That's the point, right? If the services playing and nation right and not tipping over, then they are leaving a reason to stay behind. So if you've got a rare disease and everyone else who shares that rare disease has found each other on Facebook, then Facebook isn't just valuable. It might be invaluable to you. And so there is lots of value in these services. That's why we use them. But the thing that the platforms want us to think is that there is no way to arrange their products and services such that all the things that we hate about them wouldn't come with the things that we love about them, that they are inseparable, that surveillance is a part of search and could not ever be anything but a part of search. Right. That a bearded prophet came down off a mountain with two stone tablets and said, Larry, Sergei, thou shalt stop rotating thine log files and lo, thou shalt mine them for actionable market intelligence. But, you know, Google didn't surveil Facebook. We know that you can make a Facebook without spying on people. How do we know that? Because Facebook used to be the social media service that didn't spy on you. What these platforms would like you to believe is what Margaret Thatcher wanted us to believe.
Brooke Gladstone There is no alternative.
Cory Doctorow There is no alternative. To paraphrase whoever said it, maybe it was Jack. Maybe it was Jameson. It is harder to imagine the end of the world itself than it is to imagine the end of Amazon.
Brooke Gladstone Cory Doctorow is the author of the new novel Red Team Blues and special advisor to the Electronic Frontier Foundation. Cory, are you up for talking about how we enabled this situation? And will you give us a definitive definition of twiddling?
Cory Doctorow I will, and I will. And I am.
Brooke Gladstone Next week, the great Cory Doctorow returns for part two of our three part conversation about the en-bleep-ification of big Internet. And that's the show. On The Media is produced by Micah Loewinger, Eloise Blondiau, Molly Schwartz, Rebecca Clark-Callender, Candice Wang and Suzanne Gaber with help from Temi George. Our technical directors, Jennifer Munson. Our engineers this week were Andrew Nerviano and Sandra Cartier. Katya Rogers is our executive producer. On the Media is a production of WNYC Studios. I'm Brooke Gladstone.