What Media Coverage of Disney v. DeSantis is Missing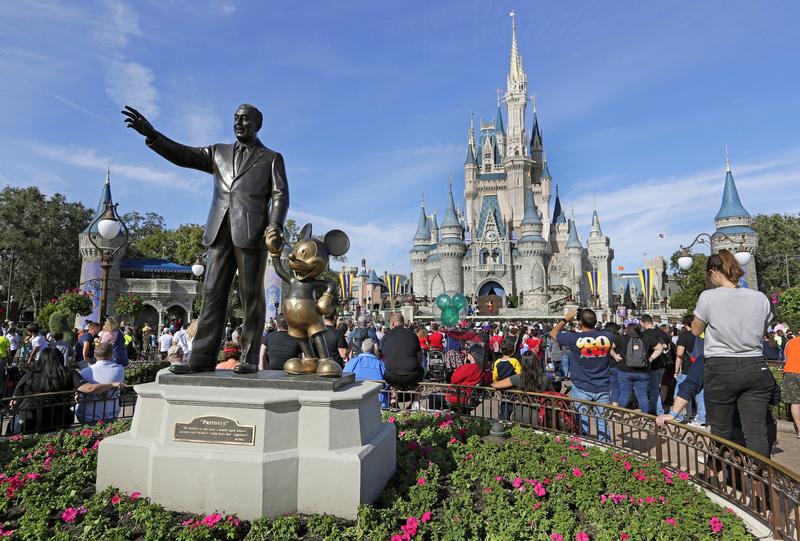 Transcript
Brooke Gladstone From WNYC in New York, this is On the Media. I'm Brooke Gladstone. The feud between the Florida governor and the state's largest employer began over a year ago.
TAPE It is Disney versus DeSantis, the CEO of Disney now pushing back against Florida's parental rights and education bill, which of course, has become known as the don't say gay bill.
TAPE Disney CEO Bob Chapek came out strongly against it, said it should be repealed and sided with Disney's LBGTQ new employees and their allies in Florida.
Brooke Gladstone Governor DeSantis was not happy.
TAPE Today, Florida's Republican controlled House gave final legislative approval to a measure revoking a special tax district that has allowed Disney to self-govern its land. Governor Ron DeSantis has led the push against the California based entertainment giant.
TAPE This state is governed by the interests of the people of the state of Florida. It is not based on the demands of California corporate executives.
Brooke Gladstone Disney's Special Tax district is called the Reedy Creek Improvement District.
TAPE The 40 square mile special Disney Self-governing Area was created in 1967, just before construction began. It exempts Disney from certain taxes, fees and regulations minimizing state oversight. As a result, Disney effectively has its own security force and building zoning and fire departments.
Brooke Gladstone Governor DeSantis replaced Disney's independent Reedy Creek Board with a new one.
TAPE That board voted to avoid a deal that has Allowed Disney World to maintain wide authority over its theme park properties.
Brooke Gladstone So last week, Disney took DeSantis to court.
TAPE In Florida's northern district, alleging the governor and the new state oversight board violated Disney's First Amendment rights.
TAPE In the lawsuit, Disney alleges DeSantis is waging a campaign of government retaliation.
TAPE Saying it is being forced to defend itself against, quote, a state weaponizing its power to inflict political punishment.
Brooke Gladstone Mark Joseph Stern is a senior writer covering courts and law for Slate. His recent column on the lawsuit is called Why I Can't Root for Disney's Lawsuit Against Ron DeSantis.
Mark Joseph Stern Disney really pushed this out as a freedom of speech case. But when you actually get to the legal arguments, you see that that is almost an afterthought. The chief legal argument that the company is making is that the governor and his allies have violated the contracts clause of the Constitution.
Brooke Gladstone Give me a little bit of the case law behind that.
Mark Joseph Stern Yes. So the contracts clause is actually part of the original Constitution. It was really one of the few limitations against state power at the time. And it says that states are not allowed to break contracts that have been entered into. This was heavily litigated in what we call the Lochner era. That was the period from the 1890s to the 1930s.
Brooke Gladstone The Lochner era was one in which contracts were used by businesses to block every effort of the government to regulate totally.
Mark Joseph Stern The most notorious cases from this era involved minimum wage laws, health and safety laws, and maximum our laws.
Brooke Gladstone Child labor laws.
Mark Joseph Stern Yes, the court struck down a bunch of those laws on this theory that the Constitution protects this very broad freedom of contract. There were a series of cases where these cities wanted to take control of their water supply. The water supply was being strangled by a private company that had a monopoly and was bilking residents. And the Supreme Court blocked that from happening and said, oh, no, you aren't allowed to create public waterworks because you made a contract with this monopoly that you have to honor.
Brooke Gladstone Now, going back to the case law behind the contracts clause, it hit its biggest obstacle during the Depression, right, in the Roosevelt era.
Mark Joseph Stern Yeah. When the Supreme Court was confronted with the New Deal, the famous case here involved a minnesota law that gave residents who had defaulted on their mortgage two extra years to reclaim their homes after they had been foreclosed upon. This was in 1934, which was kind of like the height of the Lochner era. Everybody expected the Supreme Court to strike down that law, but the court upheld it by a 5 to 4 vote. And that was actually the beginning of the end of the Lochner era, because the court signaled that it wasn't going to impose this super kind of libertarian conservative vision of freedom of contract. And it was going to let the government experiment with regulations to help normal people.
Brooke Gladstone Mm hmm. So since 1934, the Supreme Court has ruled that states can enact regulations that alter contracts in a, quote, reasonable and appropriate way. Right.
Mark Joseph Stern Yes.
Brooke Gladstone And the last time the court had a. Chance to revive the clause was in 2018, and it declined to do so. But as you know, we have a different court in 2023. So what are the stakes in a decision favorable to Disney? Couldn't the court just say that what DeSantis did was neither reasonable or appropriate and leave it at that? I mean, what do you think happens to contract law?
Mark Joseph Stern So that is one possibility. And we should be clear about exactly what happened here. Basically, the governor dissolved the old boards that regulated Disney and created a new one. Just before that old board went out of business. It entered into a contract with Disney that gave Disney continued rights over its own property for almost an indefinite amount of time. And the new board came in and just tried to void that contract. And so you could make the argument that all Disney should be doing here is saying, hey, they're trying to dishonor this contract, it's binding, it's valid. They aren't allowed to just step in and nullify it.
Brooke Gladstone And isn't that what Disney is doing?
Mark Joseph Stern So here's the thing. It's not quite what Disney's doing. When you've got a contractual dispute, you go into state court and you say, Hey, judge, this other guy is trying to violate this contract. Will you enforce its terms and make sure that I got what I was promised? That's what Disney could have done and I think should have done. But instead, it's gone into federal court and said that this violation of its contract is so egregious that it actually runs afoul of the federal Constitution.
Brooke Gladstone A lot of states and municipalities in the COVID 19 era tried to push against the eviction moratorium that was going to help people whose economic lives were overturned by the pandemic. They spent a lot of money, you say, trying to revive the contracts clause.
Mark Joseph Stern We saw this flood of lawsuits claiming that putting a moratorium on evictions violated the contracts clause because, well, these people had signed contracts saying that they would pay a certain amount of rent. They aren't paying it anymore. So they should be able to just kick out these residents because the government has no power to alter their contracts. We saw this in other areas, too. You know, there were rent stabilization laws to try to avoid rent hikes that drew a contracts clause challenge. There were guaranteed wage increases for frontline workers that drew a contracts clause challenge vaccine mandates, drew contracts, clause challenges. Most of the courts turned away these arguments, but at least a few judges actually entertained these challenges to try to bring back a more robust contracts clause.
Brooke Gladstone And you say that Disney is basically offering a huge gift to these plaintiffs. But why do you think so many reporters, myself among them, hadn't picked up on the contracts clause piece of the case?
Mark Joseph Stern Disney related. This is a story about free speech, and it's really not until you get to the end of the suit when they're actually presenting their legal claims that you see that this is really a contracts clause case because it's very, very difficult for anybody, especially a corporation, to convince a court to nullify some kind of state action on the grounds that it was retaliation against free speech.
Brooke Gladstone But isn't the governor trying to punish Disney for its political speech, even if at heart this is a contract dispute when it's the governor reneging on the contract? Isn't there an argument that elevates it to a free speech issue?
Mark Joseph Stern There is a free speech concern here, and it's one I'm very sympathetic to. Disney is trying to show the public that it is a victim of political persecution, basically, of censorship. And that is a powerful argument for public consumption, but.
Brooke Gladstone Not an easy argument. You said to sell in the courts?
Mark Joseph Stern Not at all. I mean, imagine, say, the EPA comes out with stricter regulations for coal power plants. The coal industry comes into court and says, well, the EPA administrator is retaliating against us for criticizing his regulations. And so the court should strike down this law, this idea that retaliation against speech can undermine or nullify laws in federal court. It's a tough sell, and that's why Disney puts it at the very, very end of their legal argument and really foregrounds the contract stuff.
Brooke Gladstone And you say that the typical case for violations of free speech generally happens in employment cases.
Mark Joseph Stern Yeah, employment cases or whatever. Solitary arrest cases. There's actually a case pending at the Supreme Court involving that exact issue. This guy commented online criticizing a police officer. The police went and arrested him. You know, that is the kind of retaliatory First Amendment claim that Disney wants to raise here. But Disney is a huge corporation. There are a whole lot of legitimate reasons that the state of Florida might want to alter this contract. Is it doing that because of legitimate reasons? Of course not. It's political persecution. But it's going to argue in court that it has excellent reasons to be doing what it's doing.
Brooke Gladstone States passed new regulations and laws all the time, and you can't psychoanalyze all of them as a retaliation against speech that would really open the floodgates. That's what you're saying.
Mark Joseph Stern Yeah. And maybe if we had more reliable and consistent courts, that wouldn't be such a problem. But look around at this judiciary and ask like, do you want these guys psychoanalyzing our state legislators?
Brooke Gladstone Is there any legitimacy to Disney's claim that if it loses, the First Amendment will be at risk?
Mark Joseph Stern Look, I actually do think that Disney has a point here. Recently, a lot of leaders of the Republican Party have decided to declare war on what they call woke corporations. They're trying to show that they're still the boss and that corporations don't have any power to comment on matters of public concern or participate in politics. Well, there is a case about this. It's called Citizens United. And in that case, the Supreme Court said very clearly that, in fact, corporations do have very strong First Amendment rights to participate in politics and comment on matters of public concern. For a lot of progressives, that's going to be tough to swallow. A lot of them want to defend Disney but hate Citizens United. But if you hate what Ron DeSantis is doing, then you really have to ally yourself with Citizens United and say these corporations deserve to speak freely.
Brooke Gladstone Do you have any sense of whether Disney is likely to win this case?
Mark Joseph Stern So this case has been filed in the northern district of Florida. I think there's a good chance that this court rules for Disney. But after that, the case is going to go up to the 11th Circuit on appeal.
Brooke Gladstone That's a court that's been entirely flipped by Trump. Right.
Mark Joseph Stern Totally flipped. And I think Disney is going to face very rough sledding at the 11th Circuit if they prevail in the court below.
Brooke Gladstone If the conservative courts rule against Disney, that implicitly means they're not buying the effort to revive the contracts clause.
Mark Joseph Stern Yeah, exactly right. And so in a way, it would be a relief. On the other hand, there are some smart cookies on the 11th Circuit who are very conservative, but also strategic. And it's quite possible for me to imagine those judges sort of swallowing whatever hostility they might have against Disney and exploiting this case to try to bring back the contracts clause. And that's why I think Disney is playing with fire here and unnecessarily so, because instead of going to a state court and saying, can you please just enforce this contract as written, Disney is probably going to go up to the 11th Circuit. It's very easy to imagine the Trump majority using this not only to bring back the contracts clause, but to tee up a case for the United States Supreme Court to issue a major, major decision that brings back the contracts clause and with it, the Lochner era.
Brooke Gladstone Oh, my. Mark, thank you very much.
Mark Joseph Stern Thank you so much for having me on.
Brooke Gladstone Mark Joseph Stern covers courts and the law for Slate. On Monday, the new DeSantis appointed board sued Disney right back, claiming the company had struck a backroom deal. Coming up, the state of Iraqi media twenty years after Mission Accomplished. This is On the Media.