Inside the 20-Year Fight for a Free Press in Iraq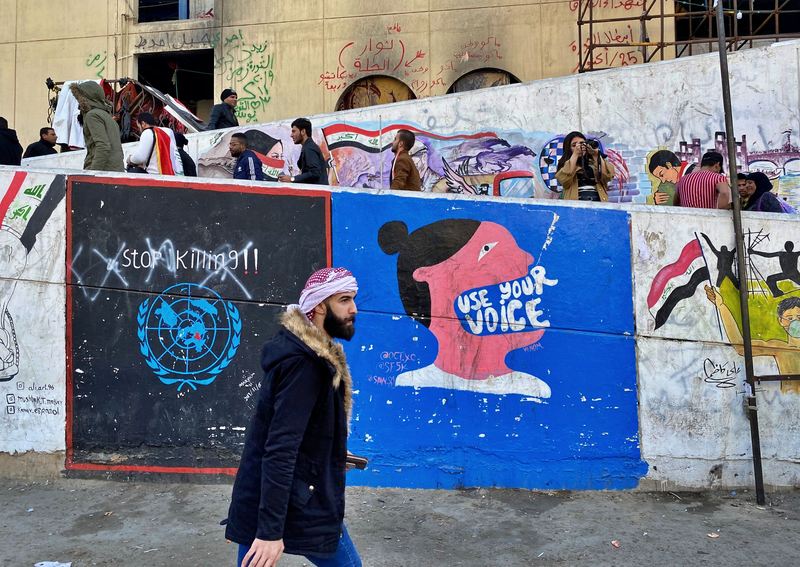 Transcript
Brooke Gladstone This is On the Media. I'm Brooke Gladstone. This week marks 20 years since Mission Accomplished. The speech given by then President George W Bush on the flight deck of the USS Abraham Lincoln.
TAPE My fellow Americans. Major combat operations in Iraq have ended in the battle of Iraq. The United States and our allies have prevailed.
Brooke Gladstone For On the Media, producer Suzanne Gaber takes us back to the streets of Baghdad right after Bush's speech had aired.
Suzanne Gaber It was a victory in the U.S. in a post-9-11 world. But for a lot of Iraqis at the time, it felt like a sick joke.
Ghaith Abdul Ahad If I just go down the street, I will see tanks rolling through the streets. I see checkpoints, I will see helmets and soldiers pointing their guns at me. So this is not the end of the war.
Suzanne Gaber Today, he's a reporter for The Guardian. But in 2003, Laith Abdul-Ahad was in his late twenties and working as an architect. He says at the time, it felt as though the American media were letting the U.S. military pat themselves on the back for a job half done. And in Iraq, there was almost no media to speak of to push back on that narrative.
Ghaith Abdul Ahad Few speak of journalists in Iraq under Saddam. You basically speak of someone who's working for the government under Saddam.
Suzanne Gaber The media was dominated by regime propaganda. The news blackout they experienced was almost total.
Ghaith Abdul Ahad I mean, we knew September 11 happened. We knew there was something called a spider book. Each of these big events were filtered to us through the channels of the regime.
Suzanne Gaber When Saddam fell for the first time in recent history, Iraqis had a moment of hope for free media alongside a new government. As the sun came up on April 10th, 2003, just days after American tanks rolled into Baghdad. Leith Rose with a curiosity about what an Iraq without Saddam would look like. He decided to try on the role of journalists for size.
Ghaith Abdul Ahad I walked through American checkpoints claiming that I'm a British journalist, and I ended up in the palace grounds. And they were very gracious, the Americans.
Suzanne Gaber He's referring to the presidential palace of Saddam Hussein in central Baghdad. It's an almost mythical symbol of Saddam's regime that no average Iraqi had been allowed into before.
TAPE The former dictator's face is carved into the palace walls. The great holes inside are empty. Marble walls are covered in graffiti.
Ghaith Abdul Ahad I remember a young lieutenant who took me around the palace, showed me the big dining room that was converted into dormitories.
Suzanne Gaber Weeks into the occupation. The place was still ambivalent about the occupying army and the Western journalists they brought with them. Their coverage up to that point had been flawed, but as he saw it, at least they were there. For decades, he says, different leaders had controlled how Iraqis understood their lives, their country. First the monarchy and then Saddam.
Ghaith Abdul Ahad I mean, Saddam was really bigger than God in our lives. He dominated our lives. He led us to war. Afterward, defeat after defeat.
Suzanne Gaber He says that in the chaos of the moment, he thought that he could finally get some answers to the questions that under Saddam were dangerous to even ask.
Ghaith Abdul Ahad No, I thought if I go to the palace, I'll find clues about why we fought Iran for eight years, why we invaded Kuwait, why did we go through all of this?
Suzanne Gaber I wasn't the only one trying to make sense of the decades of life under Saddam. Since the nineties, there had been efforts within the American government to try to understand the Iraqi strongman. And by 2003, they had landed on a story sold to them by Saddam's political opposition.
Ghaith Abdul Ahad In the nineties, a group of Iraqi political exiles pushed this narrative that how do we topple Saddam? And one of the justification that was pushed at that time is the oppression.
TAPE Saddam is a mass murderer who was personally responsible for the genocidal slaughter of at least 200,000 Iraqi Kurds, 250,000 other Iraqis, Arabs in this case.
TAPE And the neo cons aligned with an urbane Iraqi ex-patriot named Ahmed Chalabi. Chalabi heads the Iraqi National Congress, a group of Iraqi emigres and defectors lobbying to get rid of Saddam.
Suzanne Gaber Saddam was Sunni, and in their attempts to remove the dictator who had expelled them, the exiles painted a picture of Iraq as divided along deep sectarian lines, with the minority Sunnis oppressing the majority Shia.
Ghaith Abdul Ahad One can understand why the exiles would push that narrative, and one can understand why a group of the neocons would listen to that narrative and use it as a justification. But that narrative had nothing to do with Iraq.
Suzanne Gaber In the days and weeks after the invasion, the U.S. government continued to push the notion of sectarian division, and every journalist Laith worked with asked him to ask the same question over and over again.
Ghaith Abdul Ahad The journalist would ask me to translate the question of Are you Sunni or Shia? I didn't know what was the meaning of the question. Why would a interview about the family living in a I don't know, in an apartment on the eastern side of Baghdad? Why does it matter if they were Sunni or Shia?
Suzanne Gaber But before too long, he'd internalized that message.
Ghaith Abdul Ahad Within a few weeks, a few months, I myself started seeing Iraq within that prism, and it took me years to come out of that.
Suzanne Gaber Society began to form around that story to the American occupation, use that framework to create a new political system in Iraq. And government positions were allocated to Sunni, Shia, Kurds and other minorities based on the percentage of Iraqis who belonged to each group.
Ghaith Abdul Ahad We call it more houses in Arabic, in which every sect, every political party, every organization will be allocated part of the spoils of the state.
Suzanne Gaber In 2005, a new constitution was created in Iraq with a lot of help from the Americans.
TAPE Today, Iraqi political leaders completed the process for drafting a permanent constitution. Their example is an inspiration to all who share the universal values of freedom, democracy and the rule of law.
Suzanne Gaber The new constitution created a governing body to oversee independent media and required new media outlets to get a license.
Aida Al Kaisy We saw that regulatory body starts to behave in a very political way and assign licenses and take away licenses on a sort of ethno sectarian or political basis.
Suzanne Gaber I don't. Casey is a British Iraqi media analyst who has studied the country's media landscape for the last 20 years. In the early 2000, she was working at The Guardian alongside her faith. Money was pouring in from NGOs. Eager to train a new generation of Iraqi journalists. But it says that plan had flaws from the outset.
Aida Al Kaisy Training of journalists was all done without even thinking about the fact that so many journalists still understand media as a form of propaganda.
Suzanne Gaber It seemed that the dream of an independent media in Iraq was already fading.
Ghaith Abdul Ahad You see, like official Iraqi media network becoming a kind of a replicate of the media organization under Saddam, glorifying the prime minister, whoever he is.
Suzanne Gaber The structure that was put in place after the American invasion, where each political party had its own media megaphone, went unchallenged for nearly a decade, until in 2014, Shia and Sunni media outlets, instead of fighting each other, found a common foe.
TAPE We began the scene with the escalating crisis in Iraq. Iraq's central government is steadily losing control of its territory. Last week, the militant group Islamic State of Iraq and Syria, also known as ISIS, captured two of Iraq's most important cities, Mosul. In Tikrit.
Suzanne Gaber Mohammed al-Hashimi was born in the city of Mosul in northern Iraq in the late 1980s. In June of 2014, he was living just outside the city where he watched as ISIS, also known as Daesh, took over his hometown.
Mohammed Alhashimie Daesh strategy was very similar to Saddam regime time, which was like creating a siege and a communication siege to have a better control of the people who are trapped inside the city.
TAPE In Mosul, ISIS's not letting them leave is using them as human shields.
Ghaith Abdul Ahad They're describing a life of torture under the Islamic State's brutal rule.
Suzanne Gaber Seeing the residents of Mosul cut off from the world by ISIS, Mohammed decided to start his own radio station in 2015. He set up transmitters just a few miles from the front lines to broadcast into the captured territory. Radio could share the stories of people trapped inside the city.
Mohammed Alhashimie Having been hunted by Daesh. They stopped our lives. They stopped us from going to complete our education. And we are left with no future. We are living in a prison.
Suzanne Gaber Meanwhile, Iraqi media united against ISIS villainized everyone living within ISIS's territory.
Aida Al Kaisy There was this rise, for example, of shows where government security forces would go in and find an arrest, a dash sympathizer, and there'd be a kind of public punishment live on television.
Mohammed Alhashimie That was like one of the biggest reasons why so many innocent people were jailed. And in my opinion, that was one of the times that media was misused.
Suzanne Gaber By the end of the siege of Mosul, more and more Iraqis were feeling let down by the government that they saw as serving the whims of the elites. While the average Iraqi struggled for basic resources. Over the next two years, tensions in Baghdad were steadily rising, and in October of 2019, thousands of people took to the streets.
TAPE Demonstrators say they are taking a stand against government corruption, a lack of basic services and high unemployment levels.
TAPE It's the start of another deadly clash in Baghdad. With protesters again running for their lives and security forces apparently once more firing live.
Ghaith Abdul Ahad Rounds into the crowds.
Aida Al Kaisy We saw young people, activists, journalists out on the streets demanding a change in the entire system.
Suzanne Gaber According to the International Crisis Group. Over 600 protesters were killed during the shooting revolution named after the month it began and active steps were taken by the government to prevent local coverage of the events.
Aida Al Kaisy None of the mainstream media in Iraq were covering the protest movement.
Suzanne Gaber Journalists who did venture out to the streets face targeted violence. Saudi funded Al-Arabiya as Baghdad bureau was ransacked by militia. Other outlets had their buildings burned, and at least three journalists died during the protests. Protesters, frustrated by the lack of coverage, reported their own videos of the events, too. Iraqi comedian and political satirist Ahmed al Basheer.
Suzanne Gaber He's saying the protests are louder than the bullets, louder than the tear gas, louder than the channels and outlets of wires.
Aida Al Kaisy Ahmed al Basheer is known for his critical take on Iraqi political systems processes. He calls out corruption.
TAPE How did we get here? The answer to that question is one key word, Mutasa. It's time for an Arabic lesson. Don't be afraid. Repeat after me. No. Huh? Sir?
Suzanne Gaber Sir, the Al Basheer show has almost 7 million subscribers on YouTube, but Iraqis watch it on a German satellite channel, which airs at different times every day. To avoid government jamming, Al Basheer left Iraq to be able to comment freely. And many other journalists have followed suit. Laith included, he now lives in Turkey. But there are some bright spots.
TAPE Broadcast Jummar.
Suzanne Gaber Juma Jamaa, a new publication, ETA helped Start, is one of a handful of recent start ups attempting to untangle the relationship between media and politics. Ira says that it's been difficult for independent media in the country to stay afloat as Iraq wades through economic instability. She's hopeful, though she's seeing a generation that didn't grow up under Saddam. Start to come into this space.
Aida Al Kaisy How do I say this without sounding like an idiot? I just want to say that, you know, young people are the future, but they are.
Suzanne Gaber Other independent media outlets have managed to continue as well. After the liberation of Mosul in 2017. Mohammed al Hashemi decided to keep the radio station going in order to keep telling the stories of the residents of Mosul from their own perspectives. Today, the station holds town halls with politicians.
Mohammed Alhashimie What we are doing is giving the people that voice to start speaking about things that they want from the government. This is the kind of continuous mission that is doing.
Suzanne Gaber But even as independent media continues to build their new systems of reporting, the Iraqi government is trying to put the genie of information back in the bottle it was in under Saddam. Since 2019, the Iraqi parliament has introduced a cybercrimes bill several times. The bill would give prison sentences all the way up to life in prison for online posts that endanger, quote, the independence, unity or integrity of the country or its economic, political, military or security interests, unquote. And in January of this year, the Ministry of Interior announced the country would start to enforce laws criminalizing what they consider to be immoral content online. So far, that has included social commentary and Tik Tok influencers performing dances on the app. At least 14 people have been charged and six sentenced to time in prison. Clay himself was charged with defamation by former Iraqi Prime Minister Nouri al-Maliki back in 2009. But he says now the stakes are way higher.
Ghaith Abdul Ahad We won in the appeal, and I don't think we will be able to do that now.
Suzanne Gaber Why not? What has shifted that you wouldn't be able to win in the appeal?
Ghaith Abdul Ahad I think the landscape is very different dynamic at the moment.
Suzanne Gaber More intense for journalists?
Ghaith Abdul Ahad It is so intense that I cannot answer this question.
Suzanne Gaber Without real change in the way the Iraqi media is structured, the dreams Ghaith had 20 years ago while wandering through Saddam's palace of a free and flourishing press will remain unfulfilled. For On the Media. I'm Suzanne Gaber.
Brooke Gladstone For more on how far we've come or haven't in the last two decades, tune in to our podcast for my interview with author and Intercept editor Peter Maass about what really happened the day Saddam Hussein's statue was toppled and subscribe so you can hear the extra content we post there every week. Coming up, why big, bold digital platforms often devolve into garbage. This is On the Media.