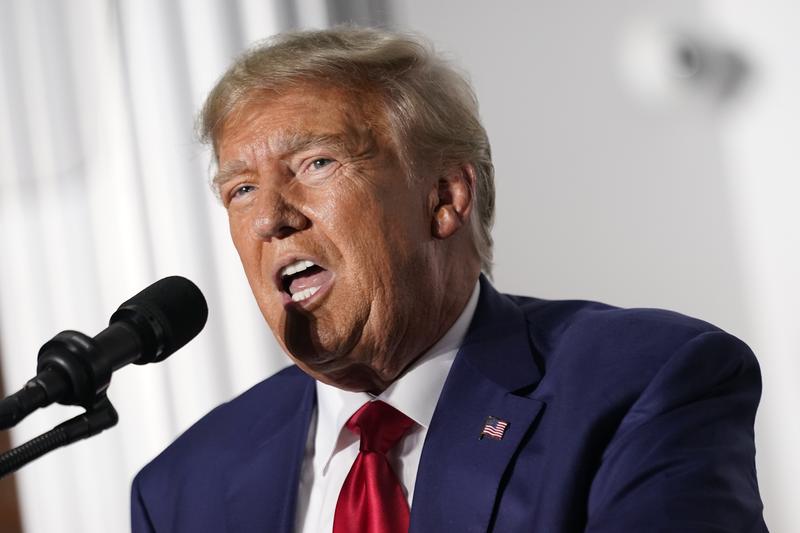 Transcript
[music]
Brooke Gladstone: Donald Trump is arraigned on charges related to his handling of classified documents, and his best defense so far is the claim of unequal justice, because, "Hey, but her emails."
Kevin McCarthy: You have a former First Lady, senator, secretary of state that had the same situation that nothing was done to her.
Brooke Gladstone: From WNYC In New York, this is On the Media. I'm Brooke Gladstone. One journalist criss-crossed the country, trying to decode the allure of fascism.
Jeff Sharlet: That anger you feel, it's not anger, it's love for your country.
Brooke Gladstone: Plus, how to assess this notably hard historical moment in light of all the other ones.
James Fallows: America is in trouble, and always has been. The question is, how does the quotient and the forces leading to trouble match the forces that are resisting that trouble?
Brooke Gladstone: It's all coming up after this. From WNYC in New York, this is On the Media. I'm Brooke Gladstone, and I'm here with my ride-along companion, this week's co-host, James Fallows. He'll be familiar to longtime listeners. For decades, we've turned to Jim for insights on topics ranging from politics to plane crashes. Right now, he's the author of the blog, Breaking the News on Substack. Hey, Jim, thanks for sharing the mic.
James Fallows: Brooke, I am delighted to be here. Thank you.
Brooke Gladstone: How about starting us off?
James Fallows: Okay. For the political news media, this week basically started on Tuesday, with the arrival of Donald Trump to the federal courthouse in Miami.
News clip: Moments ago, through his attorney, Todd Blanche, former President Trump pleaded not guilty to these 37 federal charges.
News clip: Charges under the Espionage Act and obstruction statutes that potentially carry decades in prison if he's convicted.
James Fallows: Last Friday, the charges Trump faces were published in full, and naturally, the devil was in the details.
News clip: The unsealed indictment includes images of places where Trump kept classified documents, including a bathroom, and bedrooms.
Brooke Gladstone: Though recently we've seen government documents popping up like errant Easter eggs in the homes of President Biden and past VP Pence, among others, Trump's now documented resistance to returning them sets him apart. Nevertheless, he continues to say, he, "Did everything right." There were no cameras in the courtroom, but he later got down to rallying and vilifying, albeit a little deflatedly, from the cozy confines of his golf club in Bedminster, New Jersey.
Donald Trump: Today, we witness the most evil and heinous abuse of power in the history of our country. Very sad thing to watch, a corrupt sitting president had his top political opponent arrested on fake and fabricated charges of which he and numerous other presidents would be guilty, right in the middle of a presidential election, in which he is losing very badly.
James Fallows: CNN and MSNBC did not broadcast the 30-minute speech that followed in full, airing only clips with the host-added caveats.
News clip: I want to explain that picture on our screen. Trump has gone to [unintelligible 00:03:15] all Republican candidates, actually probably Democratic candidates go as well. [unintelligible 00:03:20] it's in Little Havana in the Miami area. He's still a candidate for president. We don't need to see that anymore. We know where he is.
News clip: The folks in the control room, I don't need to see any more of that. He's trying to turn it into a spectacle, into a campaign ad. That's enough of that.
James Fallows: Fox News and Newsmax ran it all. Response to the charges has become yet another test of allegiance. Trump's defenders don't claim that he didn't do these things, they argue only that others did the same or worse, which is untrue. Here's Speaker of the House, Kevin McCarthy.
Kevin McCarthy: When you think about what they're trying to indict President Trump on, you've got a sitting president right now in the exact same situation. You have a former First Lady, senator, secretary of state that had the same situation that nothing was done to her.
James Fallows: Here's ABC is George Stephanopoulos with Senator Lindsey Graham.
George Stephanopoulos: Donald Trump has said repeatedly that he did nothing wrong. Do you believe that?
Senator Lindsey Graham: Well, here's what I believe. We live in an America where if you're the Democratic candidate for President, Hillary Clinton, Secretary of State, you can set up a private server in your basement to conduct government business, and when an investigation is had about your activity-- No, let me finish.
George Stephanopoulos: But you didn't answer the questions.
Senator Lindsey Graham: This panel you have was ridiculous. Well, I'm trying to answer the question from a Republican point of view.
James Fallows: For a different point of view, the latest piece by New York Magazine writer, Eric Levitz, is titled, The DOJ Tried to Give Trump a Pass. He Wouldn't Take It.
Eric Levitz: In the Fox News narrative, the only explanation for the decision not to bring those charges, is that the deep state is compromised by liberals who wanted to give Hillary Clinton a pass despite this really nefarious conduct with regard to her handling of information.
James Fallows: In the world outside the Fox News ecosystem, the world of legal authorities, is there any controversy about the decision not to prosecute Hillary Clinton?
Eric Levitz: I would say no. If you look at the rationale that then FBI Director, James Comey, put together in 2016, when he announced that they would not be seeking charges, he was very clear about the rationale there. He said that there aren't a lot of precedents for bringing this kind of case in a situation where we did not see evidence, first of all, that the violation of classified information laws was willful, that the person in question knowingly tried to subvert the law. Second, there wasn't any evidence of an attempt to obstruct an investigation into their mishandling of classified information.
James Fallows: The two points that Comey said were reasons not to prosecute Hillary Clinton, are two reasons that the current indictment is proceeding against Donald Trump.
Eric Levitz: Yes. He listed a number of conditions that, if we're going to bring charges, we would want to see either evidence of obstruction, evidence of willful violation of the law, a list of exacerbating circumstances, among them two circumstances that apply in the Trump case, and that did not apply in the Clinton one.
James Fallows: Let's now talk briefly about the case of Joe Biden. There is, of course, an ongoing investigation into Biden's documents. We don't really know how the justice system is going to treat him, but the info that is available so far does seem also to suggest that he has been cooperative as opposed to resistant, and that his case, like Hillary Clinton's, is fundamentally different on these grounds than is the case of Donald Trump. Is that correct?
Eric Levitz: Yes. At least based on the publicly available information, classified documents were discovered, Biden complied and tried to return them. Right now the available evidence seems to suggest that carrying out the duties of the vice president, you're taking documents to lots of different offices while you're working on them. It looks like this is probably an incidental retention, and perhaps more importantly, looks like Biden cooperated fully with returning the documents as quickly as possible. There is not much basis for asserting that there is this political hypocrisy between how Trump and Biden have been treated.
James Fallows: What I found really interesting in your article, is your argument, which was not simply that the GOP narrative of Trump being picked upon was wrong, but that in fact, it was the opposite of the truth. You're right, "In reality, the federal government has been affording Trump extraordinary leniency."
Eric Levitz: If we compare Trump's case to cases of ordinary government employees, rather than Trump's case to Clinton and Biden, this becomes, I think, fairly clear. One example that I cite is of Asia Janay Lavarello, who was a civilian employee of the Defense Department in 2020. She worked at the US Embassy in Manila, working on a classified thesis, a piece of scholarly research that drew on classified documents. In order to research that paper, she had to read other scholarly work that because it touched on certain security issues, was classified.
She was supposed to review these documents in a secure information facility at the US Embassy, but then the pandemic hits and that facility shuts down, so she brings three classified theses back to her hotel room. In my understanding, that very night, she holds a dinner party, one of her guests sees this folder of classified documents and tells her, "This is not a good idea," so she returned those documents to a safe at the embassy two days later, because, I believe, of the COVID restrictions, she wasn't able to get them all the way into the secure information facility, but she got them into a safe.
She was ultimately charged by the DOJ and ended up serving three months in prison. Compare that case to Donald Trump's. Trump was not charged for a single count of mishandling classified information for the 197 classified documents that he returned in January 2022. Now, at that point, he had willfully retained these documents illegally for many months, and had ignored multiple requests to return them. The DOJ chose not to bring charges in a single one of those mishandlings of classified documents, not a single count.
He was given a chance of getting a jail-free card essentially, like, "Look, you've been holding on to this stuff for months, but if you just give them back now, we're not going to bring charges." This was not an option that was presented to Asia Lavarello. This was an option that was presented to Donald Trump, likely because there is a sense that it is a little bit politically destabilizing. I think that political considerations actually led the DOJ to go light on Trump and he violated the law so egregiously and repeatedly, that he left the DOJ with little choice.
James Fallows: Eric, you talk about the interaction between a candidate and an information machine or misinformation machine. Tell us how you think the past years of conservative media conditioning their audience for a certain view of reality, how that plays into the current events.
Eric Levitz: The coverage of Hillary Clinton during the 2016 campaign both on the Right, but also in the mainstream media, I think informs all of this. You had some studies after the 2016 campaign, which found that in the six days after James Comey reopened the investigation into Hillary Clinton on, I believe, October 29th in 2016 because of the emails found on Anthony Weiner's computer, which turned out to be a complete nothing [unintelligible 00:10:28] red herring, that in the days after that, The New York Times gave more coverage in six days to Clinton's emails than they had to all policy issues in the final 69 days of the campaign.
I think there was an impulse among the mainstream media to preserve some image of balance by counterbalancing the endless [unintelligible 00:10:48] of negative stories about Trump that were unavoidably popping up every few days because of his various scandals in business, in his personal life, in his sexual life, as well as his complete lack of message discipline and tendency to say extremely inflammatory things.
This, I think, created an imperative to, "Okay, well, what is the negative story on Clinton's side?" This is continuing scrutiny of the email case, as well as I think this perception that, "Okay, Trump, he's obviously going to lose. We want to hold the actual future president accountable." I think this had a perverse effect where there's a famous scene from The Simpsons in which a doctor is explaining how Mr. Burns is still alive despite how ill he is.
Simpsons clip: If you have a moment, I can explain. Here's the door to your body, you see? These are oversized novelty germs. Here's what happens when they all try to get through the door at once. Move it, chowder ahead. We call it three stooges syndrome.
Eric Levitz: With Trump, there were so many different scandals that no single one attained this character-defining salience. Whereas with Clinton, we had this one, something shady about her emails and then the fact that the government didn't bring charges, despite this sense that there's something really bad there, why would there be so much coverage if there wasn't, I think probably feeds into contemporary interpretations of the fact that Trump has faced charges while Clinton hasn't. I do think that there's a certain responsibility from the mainstream media.
James Fallows: Thank you, Eric.
Eric Levitz: Thanks for having me.
James Fallows: Eric Levitz is a feature writer for New York Magazine who covers politics and economics.
Brooke Gladstone: Coming up, an argument for dropping the phrase crisis in democracy to describe the current moment and replacing it with fascism.
James Fallows: This is On The Media.
[music]
James Fallows: This is On the Media. I'm James Fallows.
Brooke Gladstone: I'm Brooke Gladstone. As we heard, this week after President Trump was indicted for the second time, the GOP defense consisted largely of whataboutism. There were more strident and more cryptic statements. Representative Clay Higgins from Louisiana tweeted that the summoning of President Trump to the Miami Federal Courthouse was a "perimeter probe from the oppressors. Hold. rPOTUS has this. Buckle up. 1/50K know your bridges. Rock steady calm. That is all."
Jeff Sharlet: After Representative Higgins tweeted that, a lot of people were delighted. They said this was words, salad, and look at these goofballs, and they're harmless.
Brooke Gladstone: Jeff Sharlet is the author of the new book, The Undertow: Scenes from a Slow Civil War, and a professor in the art of writing at Dartmouth College. He crossed the country to trace the undertow. I asked him to translate Representative Higgins' malicious speak for me.
Jeff Sharlet: For a nation so steeped in war movies, I was surprised that more people couldn't figure out that a perimeter probe is testing the enemy. rPOTUS is real POTUS, the real President of the United States. Most importantly, 1/50K is 1 to 50000, it's the scale of military-grade maps and maps used by the US Geological Survey for areas mostly around military facilities.
Know your bridges. What he's referring to is a long-standing militia fantasy which rose out of a white supremacist movement that the highest legal authority in the United States is actually your county sheriff who has the right to nullify laws. The fantasy in militia world is that the feds are coming to take your guns, they're coming to invade the perimeter probe. It's an attack. They're getting ready for a big strike. Get ready to defend yourself.
Brooke Gladstone: I knew that there was something going on in his tweet that I didn't understand. Is it important? Is he important?
Jeff Sharlet: He is. Representative Clay Higgins, a longtime sheriff, in many ways a media creation, the result of years of positive coverage from so-called liberal media for his tough-on-crime viral videos. In the current Congress, he's chairman of border security on the subcommittee on the Homeland Security Department. Moreover, he has militia credibility. He doesn't say he supports militias. He says he is militia. He identifies as a three-percenter.
I've been driving back and forth across the country, and the first thing I notice is more guns than I've seen in 20 years. I'm not afraid of guns, I'm a gun owner, but this is really something different. Churches arming up militias. You take any one of these stories individually, yes, it seems fringe. The better way to understand this is there's a great mass of fringe which is making the fabric of what I think we can plausibly and without hyperbole argue is an American fascist movement now. I don't use that term lightly. In fact, I've argued against it in the past, but here we are.
Brooke Gladstone: I'm wondering how Trump's own reaction to this indictment reinforced and built on some of this. He tweeted that in the wake of the indictment, the seal was broken, and that went right over my head.
Jeff Sharlet: It's a seal on the indictment. A lot of people hear it as the seventh seal of the book of Revelation. It marks the coming of Jesus in this apocalyptic final battle, which Trump has been talking about for a while now. I've been writing about the broadcast and the reception of Trump, paying attention always to these stories since 2015. In Trump's speeches of past, you would have long segments describing in detail stabbings, rape, decapitation, disembowelment.
Donald Trump: These men took the 50 bullets, dropped them in the pigs, swished them around.
Brooke Gladstone: This is an old yarn about how General Jack Black Pershing killed Muslims a century ago.
Donald Trump: There was blood all over those bullets, had his men, instructed his men to put the bullets into the rifles, and they shot 49 men.
[cheering]
Jeff Sharlet: Really violent, gory horror movie rhetoric, but his post-indictment speech last Saturday--
Donald Trump: We have a record crowd here today, so that's--
Jeff Sharlet: Representative turning point in his rhetoric. He was talking about the final battle, which he's been doing.
Donald Trump: This is the final battle. This is the most important election we've ever had.
Jeff Sharlet: Then there was another element. He's speaking of obliteration. He's saying, "Not only is there a risk of World War III, there will absolutely be World War III unless I am returned to power."
Donald Trump: I will prevent World War III. I will prevent it, and now people believe it too.
Brooke Gladstone: He said the same thing in the speech that just preceded January 6th. He said, "You have to fight as hard as you can or you won't have a country."
Jeff Sharlet: Oh, no, that's not the same thing. When he means World War III, he's not talking about not having a country, he's talking about nuclear obliteration.
Donald Trump: This won't be a conventional war with army tanks going back and forth shooting each other. This will be nuclear war. This will be obliteration, perhaps obliteration of the entire world. I will prevent it. Nobody else can say that.
Jeff Sharlet: I alone can stop it, which is, of course, a classic of fascist rhetoric.
Brooke Gladstone: The Democrats are just going to fire off a nuke for no reason?
Jeff Sharlet: Yes, I think that is how it's being heard, that we are very close to nuclear war with Russia, that he alone can stop it. It's even more abstract than that. When he says--
Donald Trump: At the end of the day, either the communists win, destroy America, or we destroy the communists because that's what they are. They may go by a different name, fascists, Marxists.
Jeff Sharlet: He opens and closes the speech with some kind of classic anti-Semitism, talking about globalists and Marxists. He's expanding the potent conspiracism of anti-Semitism so that it applies to all of his enemies, but lest anyone be confused, he doubles down in the middle by talking about Jack Smith.
Brooke Gladstone: The special counsel who indicted him.
Donald Trump: Jack Smith. What do you think his name used to be? I don't know [unintelligible 00:19:10] anybody-- Jackson. Sounds so innocent.
Jeff Sharlet: What is his original name? What's his real name? It's Jack Smith. It couldn't be. That sounds so innocent, by which he means it sounds so all-American white. Then at the end, and this was new, he said--
Donald Trump: We will drive out the globalists. We will cast out the communists. We will throw off the sick political class that hates our country and wants to destroy our country.
Jeff Sharlet: This is a reference to driving out the money changers. Jesus driving out the money changers. To make sure you don't miss it, the speechwriter, I should say, refers to both the Gospel of John and the Gospel of Matthew. The money changers, historically in anti-Semitism, are understood as the Jews, but in this moment, it's understood as the enemy. The enemy, it's Jack Smith, it's whoever is on the other side.
Brooke Gladstone: That's interesting. Rather than cast the Jew as the enemy, that's the tradition. Here, that's already assumed and so you cast the enemy, whoever that may be, as Jews.
Jeff Sharlet: Yes, the Jew becomes metaphor and he's got plausible deniability, because, of course, there are enough right-wing Jews. Maybe Stephen Miller, who is Jewish, wrote that speech for him and has not been shy of using that language before, so he can say, "This isn't about Jews." In a way, for Trump, it's really not. His enemy is whoever is against him in his power. Then since he's become proxy, when I go out and I speak to everyday people, they see him as a martyr.
Brooke Gladstone: You say that Trump has always strived to create martyrs. Back in 2017 when he was president, he said that the wounded GOP Congressman, Steve Scalise, took a bullet for all of us when he was shot in the hip by someone who professed to be a Trump hater at a congressional baseball practice. You say that Ashli Babbitt, who was killed as she stormed the US Capitol on January 6th, was, "Processed, made productive almost immediately after her death. Transformed right away into yet another flag, like a new tarot card in the deck of fascism, where it joined Gadsden, the coiled snake on yellow and the Blue Lives Matter flag."
Jeff Sharlet: When I saw Ashli Babbitt, white woman who led a mob, climbed up through a broken window and a Capitol Hill police officer shot her and killed her. We saw only the hands of the officer, and he's a Black man. I understood immediately as a student of American mythology and history, this is the lynching story. Innocent white womanhood killed by a Black man. This is the template of Hollywood. You go back to the Birth of a Nation, one of the most influential movies of all time, 1915, based on a novel called The Klansmen.
It's a positive story about the Ku Klux Klan and a white woman flees from a dangerous Black man and jumps over a cliff and dies and thus the Klan must ride to avenge her. Ashli Babbitt was such a productive martyr because she's wearing an American flag outfit, kind of. She's the only woman in this crowd, but she's really fierce and tough. She's also a veteran. I started traveling around the country watching the myth in formation, who Ashli Babbitt was, doesn't matter to them.
Brooke Gladstone: Given all the myth-making about Ashli, you looked into her life, and what did you find?
Jeff Sharlet: She documented her life very extensively. 8,000 tweets. She made a lot of videos. I found someone I think would surprise a lot of people. Ashli Babbitt from deep blue Southern California, kind of a beach person, votes for Obama twice, thinks he's the best president ever.
Brooke Gladstone: How did she get from there to here? What was the turning point?
Jeff Sharlet: She talks about a houseless man in Southern California defecating on her front lawn. The compassion she's tried to have in her life, she just says to hell with it. Trump is right there with this story. You know what? That anger you feel, it's not anger. It's love for your country. You don't have to swim against the current, give into the undertow, let it take you out. Here's white supremacy, it's ready to carry you. Now she's got a leader and she's got a mythology, and it's so easy to go with it.
Brooke Gladstone: You call what's going on a cult of militant eroticism. Can you talk about that?
Jeff Sharlet: Part of the aesthetics of fascism has always been titillation and the thrill, because the eroticism is of transgression. Think of Steve [unintelligible 00:23:48] Not an attractive man. Yet, here is a man. He does what he wants. He eats what he wants to eat, he smokes what he wants to smoke. If he was a truck driver, he'd be driving a coal roller spewing out black. He lives fully.
Brooke Gladstone: They're bad boys.
Jeff Sharlet: Yes. The same thing you see with so many of these right-wing politicians doing ads where they're firing guns. For some people, that's sexy. It's also saying, "You know what, I'm free." Free is exciting.
Brooke Gladstone: After reporting your book, you concluded that we're in the midst of something you call a slow civil war. That is, we're in the undertow.
Jeff Sharlet: In spring of 2021, I started noticing academic historians talking about civil war. I'm married to a historian. Historians are necessarily cautious. They know that history usually moves slow. I came to the term slow civil war as I started to think, "Well, wait a minute. There already are casualties." When we look at the wave of queer and trans suicide, the ways in which many people are now criminalized in 20 states and counting. All the pregnant people dying or are in trouble for lack of reproductive rights, and so many of the victims of mass shootings. What I do is I read the manifestos and I see how each one builds on another.
Literally, they cut and paste from the last one, and then they say, "Here's how I did it and I'm probably going to die. In fact, that's my plan, but I hope the next man can learn from what I did and can carry this forward." When I look at the men who line up with AR-15s outside of hospitals and libraries and schools and bars--
Brooke Gladstone: Isn't that just performative?
Jeff Sharlet: Oh, that's my favorite question, Brooke. For so long, the political press, which was built to report on a fairly stable establishment, wants to dismiss anything outside of that as just theater. That works really well for the growth of fascism. Fascism is theater. No just about it.
Brooke Gladstone: You say that the mainstream media is reluctant to use the word fascism to describe the movement Trump fueled and rode to power. Why is fascism a better characterization than the much more often-used crisis of democracy?
Jeff Sharlet: I'm actually against the term, the crisis of democracy, and I'm against calling it crisis. I understand why people use them. Crisis is narratively a word that supposes this is a story with a beginning, a middle, and an end. It's going to have a happy ending or a sad ending. That's not the nature of the situation we face. Some things were lost. Fascism is understood in the press as an F-word.
As opposed to describing a political movement, look at these elements, the cult of personality, the idea that a strong man leader alone can fix it, that he transcends the normal rule of law, they're persecuted in group, a mysterious outgroup that can take any form, but most importantly, and I think this is also, this goes back to the militant eroticism, not just a rhetoric of violence, but of pleasure and violence. That's a key part of fascism. I think in as much as we resist it, and I'm sympathetic to that resistance, but what if we don't see it as a crisis, as a final battle, but say, "Hey, that's the condition. How do we get through this?"
Brooke Gladstone: Do you think this is a Coast versus Midwest, rural versus urban divide?
Jeff Sharlet: Both sides in this conflict want to believe that. I know it's not because I've been driving around the country and I can cross the front lines, the battle lines in any given county in the United States.
Brooke Gladstone: If you set out looking for fascists, you're going to find them. How widespread is it really?
Jeff Sharlet: I think it's a powerful minority. There's all kinds of arguments. Don't worry, they're just a minority. We're the majority. Don't worry, the country is diversifying. Don't worry, they're aging out. I'm 51. Since I was a teenager, I've been hearing that don't worry, conservatism is dead. Your generation's going to save us. Well, we didn't save squat. The diversification story is ignoring the latest American contribution to fascism. What scholar Anthea Butler, author of White Evangelical Racism, calls the promise of whiteness. It brings in increasing numbers of people of color who believe that they can be part of this. That's not going to get us out. I don't think you can just sit there and let a current carry you out of fascism.
Democracy is not something you have. You have to actually go and do it. I think about that group, The Three Percenters, a militia movement with which Congressman Higgins identifies, and they believe that the American Revolution was fought only by 3%. From their perspective, it only takes 3% to overthrow an empire, the British Empire. This isn't true. Scholars say the number is closer to maybe 25%, 26%, but what matters is what 3% can do in terms of disrupting things. The reality is fascism, it's a minority, but it has a hold of more than 3%. I live in deep, deep blue Vermont. I go up the road, I see the flag of Trump as Rambo. I go the other direction, I can see Confederate flag that ripples across the state.
Brooke Gladstone: I don't see it in Brooklyn.
Jeff Sharlet: You don't see it in Brooklyn. The reality is, you want to know what, there are more pride flags in America than there are fascist flags. There are. If you say, "Well, that settles it. I guess we win." I think a better way to understand it in terms of crisis, which is narratively a word that supposes this is a story with a beginning, a middle, and an end, is a little bit like we're striking matches. None of them are flaring. Thank God.
Brooke Gladstone: Well, January 6th was a flare.
Jeff Sharlet: January, it was a flare, but the flame didn't last since that left a lot of them brokenhearted for a while until they saw, "Oh wait, we're not going to show up to be arrested by the FBI. That's a trap. We're going to work in different ways."
Brooke Gladstone: You say that's why they didn't show up in droves at Trump's arraignment. He called for a bigger show than he got. Does this mean Trump's not at the center of this anymore?
Jeff Sharlet: No, I don't think he's been in the center of it for a while. I think we need to speak of Trumpism. The speech Trump gave on Saturday after the indictment, there's a key moment there where he's talking about cutting taxes and he gets cheers, and then he starts talking about what he calls transgender craziness, and he gets huge cheers. He steps back, and I've seen this moment in so many Trump rallies. He steps back and he says, "Look at that."
Donald Trump: You see, I'm talking about cutting taxes, people go like that.
Jeff Sharlet: He mimes moderate applause.
Donald Trump: I talk about transgender, everyone goes crazy. Who would've thought? Five years ago you didn't know what the hell it was.
Jeff Sharlet: This is how Trump uses rallies. He is not a leader. He's riding this undertow. He's the one saying, "Is this where we're going"? He says, "Five years ago nobody talked about it. Who'd have thought?" Not him, but he'll follow now.
Brooke Gladstone: Jeff, thank you very much.
Jeff Sharlet: Thank you, Brooke.
Brooke Gladstone: Jeff Sharlet is the author of the book, The Undertow: Scenes from a Slow Civil War. He's also a professor in the Art of Writing at Dartmouth College.
James Fallows: Coming up, the looping light motifs of political campaigns.
Brooke Gladstone: This is On the Media.
[music]
Brooke Gladstone This is On the Media. I'm Brooke Gladstone, and I'm here with my co-host this week, James Fallows, to chew over some of what we just heard and to take in some of what he's observed about political reporting, from his days on the Carter campaign and in the Carter White House as a speechwriter, and in his own coverage of pretty much every presidential campaign since.
First, just before Trump was elected, you and your wife Deborah Fallows traveled the country, Jim, seriously and extensively to take the nation's pulse and produced the book, Our Towns: A 100,000-Mile Journey Into the Heart of America, and later a documentary. You were heartened by what you found. Let's talk about what Jeff Sharlet laid out. I think he makes a solid case, but I think I'm of a darker disposition.
James Fallows: I think that what he says is true and also there were other things that are true. The task for us is to balance the dark themes that Jeff Sharlet is so astutely writing about, and the other buffering or offsetting themes in American life.
Brooke Gladstone: Can you give a couple of examples of those?
James Fallows: Yes. I grew up in a town of Redlands, California, that went for Barry Goldwater in 1964 when I was a kid. Very conservative in its political leanings, and all of my conscious life has been among people who had a different cultural and political outlook from the one I've come to have in adult life. My wife Deb and I have spent the last 10 years seeing parts of America that don't normally get national media coming to them unless there's an election or a tornado or something of that sort.
We've been aware, I think, of the contradictory realities that people who we know have entirely opposite views to ours politically, and might well be subjects of Jeff Sharlet's book, simultaneously are doing things in their communities to welcome immigrants, to provide for the public schools, to work towards a sustainable future. Jeff Sharlet has found people whose primary identity is their political affiliation. Those people exist.
Brooke Gladstone: Studies suggest that those people are in the majority, that it has surpassed religion and gender, and even race, for being the chief way one identifies oneself.
James Fallows: Who am I to quarrel with data-based science? My lifetimes of experience and my 10 years of past reportorial experience going around the country, suggest that's not how most people actually think. Most people, if you go in and you start out asking them, what do you think about Hillary Clinton? What do you think about Barack Obama? What do you think about Donald Trump? You'll get an answer just like on a cable news show, but if you open-endedly ask them about their lives, their hopes, their fears, their communities, their children, politics will be a part, but not the signal part.
Brooke Gladstone: A lot of your reporting on the book that you did traveling all around the country was prior to the most recent change in our political culture. It may have been heading in that direction, but it didn't achieve the brazenness of its celebration of violence in certain quarters that it has now.
James Fallows: Our understanding of the Trump movement and what I've just been saying about the fact that most people are not mostly animated by political extremism or political resentment, I think was number one, the contingency of the circumstances that brought Donald Trump to office. It was a number of circumstances involving James Comey and countless other dominoes that fell in direction that brought him to office. Of course, he lost the popular vote by a couple of million.
The election day of 2000, when George W. Bush was declared the winner over Al Gore, as of that time, no living American had ever experienced an election in which the popular vote winner did not also take office. It was contingent that Donald Trump took office. Most of the political results since then have suggested a buffering effect. The fact that Joe Biden won by a larger popular vote margin than Hillary Clinton did, the success of midterms after that. America is full of anti-democratic sentiments. It is full of people who seethe with resentment, but metaphorically as opposed to statistically.
Brooke Gladstone: We're so used to hearing that everything about this era is unprecedented in a break from historical norms. The fact that we're even talking about another civil war underscores how different this moment is from say, a Dukakis/George H. W. Bush contest, or Obama against Mitt Romney. You, Jim, see deeply etched patterns carved out by the political press in accordance with the expectation of the audience, which is all of us. You liken that expectation to our need to hear a minor chord resolve.
James Fallows: There are certain expectations we have built-in in narrative and in our personal lives, and in performances.
News clip: If you take the simple scale, the next to last note, the seventh, that's a definition of an interval that is screaming to do that. No matter what chord you put it with, you can't get rid of that feeling like it's going to do that, it's going to do that.
James Fallows: When it comes to media treatment of political campaigns, it's not that these expectations or instincts are wrong or damaging, but it's worth thinking about these grooves in our collective brain, and the ways we as the media, we as the public, are accustomed to think about presidential politics.
Brooke Gladstone: Let's start with the election trope of the new savior. There's such a hunger for a person who will lift America out of its doldrums. As every cycle begins, you can feel the press aching to fall in love, right?
James Fallows: An example from my dim childhood when John F. Kennedy ran for president, a book that changed political narrative lastingly, was Theodore White's The Making of the President 1960, about the Kennedy campaign, and all the things about the glamor of the Kennedys, just the physical beauty of John and Jacqueline Kennedy, his war heroism, which has also been part of a constructed narrative. There was a sense after the Eisenhower era, Eisenhower, a very effective president in retrospect, but less flashy, as we knew, to have this young candidate who explicitly spoke about a new generation of new people.
Brooke Gladstone: A new frontier.
John F. Kennedy: The new frontier is not a set of promises. It sums up not what I intend to offer to the American people, but what I intend to ask of them.
James Fallows: That was an early illustration of the [unintelligible 00:38:10] but periodically, since then, whenever there's been a time of national strain, you can feel a lane opening for whoever's going to be the candidate who says, "I'm the one you're looking for." Not that long in historical terms after Kennedy's race, was the one I worked in in 1976 for Jimmy Carter.
Although it's not generally remembered now, the Carter of those times had a real magic/savior quality to him. It was after Richard Nixon and Spiro Agnew had resigned. It was not that long after the final collapse of Saigon. It was an extremely troubled time for the US and Carter [unintelligible 00:38:48] saying, "I'm not going to lie to you."
Carter: I'll never tell a lie, I'll never make a misleading statement.
James Fallows: I like rock and roll music. I'm young, I'm progressive, I'm a naval veteran. I'm going to redeem what you think about America, and you can skip ahead to Barack Obama who also had that quality in ways I don't need to belabor. In between them, I will submit that Ronald Reagan offered this appeal to people who were on his side politically.
Brooke Gladstone: Directly connected to the new savior trope is this promise to get back to what America really is like. That how we are now isn't really who we are, and this is an eternal theme.
James Fallows: One of the most reliable markers of any presidential campaign is when the candidate, he or she, begins promising to restore real America to real Americans
Speaker 17: In every branch, at every level, national, state, and local, must be as a city upon a hill.
James Fallows: That America is not a country with all the sins and flaws any American historian would dwell upon, but rather it is this city on a hill which needs to return to its city on the hill basis.
Jimmy Carter: I've spoken of the shining city all my political life, but in my mind it was a tall, proud city and teeming with people of all kinds, living in harmony and peace.
James Fallows: When Jimmy Carter was running for president, I was working for him on the campaign in the White House. One of his trademark lines, which originally came out of some impromptu speech, was that America needed a government as good as its people. That's what we've had, most of our history, we've had governments as good as our people, and that's the problem. Carter was using it in a self-flattering way for America that actually we are good and we just need a government that reflect this real us. None other than Mike Pence has begun using that same line.
Mike Pence: The American people are good and decent and compassionate and generous and caring of their neighbors, and I think we just got to have a government as good as our people again.
James Fallows: This was something that Barack Obama, with his particular coding as the first non-white serious candidate for the presidency made as part of his debut in 2004 saying--
Barack Obama: There is not a liberal America and a conservative America. There is the United States of America.
James Fallows: This brings up all the more oddity of Donald Trump essentially lumping the United States right now into the [beep] whole country category.
Brooke Gladstone: Recalling Jeff Sharlet. He said that he made hate patriotic, a kind of love.
James Fallows: There has always been a theme in American life of appealing to certain subsets of America saying that you are the real Americans, you Protestants, you white people, you men, you southerners, you, whatever the category is, you are the real Americans. These other people are the phonies, the intruders. That has been an ongoing theme of those candidates who choose intentionally to rise by bringing out the worst in the American character. Trump has done this, George Wallace did it back in the 1960s and in 1972, Strom Thurmond, when he actually got electoral votes against Harry Truman and Tom Dewey in 1948. It's been there for a long time.
Brooke Gladstone: Another trusted trope in the political reporters quiver, the forgotten voters. Here's a new group we've just identified that will really determine the outcome. Does that trope originate though with the press or with the politicians? I mean, Nixon and Agnew had the silent majority.
James Fallows: It originates from both of them in different sequences. If you look back at winning campaigns, you have the postmortems. I know this firsthand from the Carter campaign, it was there identifying early on what other people had not seen. For example, the Carter campaign, they figured out the Iowa caucuses, whose passing we mourn, they figured out before anybody else and knew how to concentrate there. Richard Nixon famously in 1968 had his southern strategy to realize that the old South was going to become the Republicans base as opposed to the Democrats base because of civil rights legislations.
Brooke Gladstone: You believe in the forgotten voter trope.
James Fallows: I believe there's an ever-changing logic of how you get elected. It's partly luck, it's partly timing, but it's partly knowledge too and science of where you can make your pitch, and it will pay off, where the electoral votes are. I think for reporters, this usually shows up after the election analysis saying after 2016, "Oh, yes, it was these guys in a diner in Kentucky who allegedly were making the difference." We know now that actually that wasn't the case, but there was two years worth of analysis by reporters who visited diners.
A very interesting case of what I'm talking about is the 2022 midterms. It was obvious to practitioners, including many of those doing referendum races in various states, that the decisive issue in that campaign was actually the Dobbs ruling. The effect that the end of Roe v. Wade had on many voters, and especially on female voters, who are the majority. Much of the professional press was saying even the day before the election, that it was going to be about inflation and gas prices and the withdrawal from Afghanistan. That's why most of the press seemed to be taken by surprise by all of this.
The meta point I'm making is that probably the press should put less emphasis on prediction of any kind just because we are all so bad at it. If there's less prediction, what becomes what you do more of? I think it is the challenge of trying to say, where are we in terms of the ways the country has changed in the past 10 years, the way it is likely to change in the next 10 years?
You can say that with more confidence than you can the outcome of an election, and what are the levers that a government has and doesn't have over all these factors? I know what you're thinking, but are too polite to say right now, Brooke, which is, that sounds boring, but the trick of writing about everything else in life is that reporters specialize in making things that could be boring interesting. If it were more like the best parts of the rest of our journalism, including not being boring, that's what I'm looking for.
Brooke Gladstone: The last trope I'm going to talk about, one that I believe, but I think you'll probably have an argument against, it's a hardy perennial, and it is that this is the most important election ever.
James Fallows: On the one hand, certain elections really, really have mattered in American life. The election of 1860 with Abraham Lincoln, the most important in my view, 1932 with Franklin Roosevelt, very important, Barack Obama in 2008, the electoral college victory of Donald Trump. Those were all real turning points in American life. Things would've been different in all those cases if the result had gone the other way.
Yes, there are elections that really make a difference. I think that it does become a crutch both for politicians and for reporters to use this line. For politicians because you want to get out the vote. For reporters because it's part of the standard toolkit we bring out. It's like a macro key you would have. It's both true and familiar.
Brooke Gladstone: I notice how much history you yourself have covered or lived through that you used to bolster your discussion of these election tropes.
James Fallows: It is true that I have lived through a lot of American history firsthand. I'm of the dreaded boomer era. My emphasis on tropes is partly because I think there are a few ongoing themes in American life that are always there. One of them is, "America is in trouble and always has been." The question in any given moment in American life is how does the quotient and the forces leading to trouble match the forces that are resisting that trouble?
Brooke Gladstone: It isn't just a trope, it's a truth.
James Fallows: It is a truth, and I will contend, if you name almost any year in American life, I can reel off for you the tragedy that was happening at that time, the cruelty, the people who were being oppressed, whose hopes were squashed. You can also think of the people who were pushing the other way. There was the original Gilded Age, which is so much like our current moment in the late 1800s. There was the populist and progressive movement after that in the early 1900s. The question is whether we'll have anything like that populist and progressive movement ourselves.
I fully recognize the idea that there are tremendously destructive and hateful forces that are threatening our public life right now. I also recognize in the 1920s, The Ku Klux Klan was entering a new heyday and the lynchings were widespread across the Midwest and the South then.
Brooke Gladstone: There was a plague in the Middle Ages that killed a third of the world. Do we really have to harken back to disasters that are even worse than the one we are now in?
James Fallows: We don't have to hark back, but it is worth recognizing that we are in trouble and we have always been in trouble. The duty has always been to deal with that trouble because it's always been there. When I was in college in 1968, the person who was likely to become president, Robert F. Kennedy was assassinated. Within almost a month's time, Martin Luther King, the leading civil figure of the mid-20th century was assassinated, and there were just riots every place.
The point is not, "Oh, I've seen it all. You kids these days stop your whining." The point is, this is our national story. Our national story is never resolved, unlike a chord, our national story all requires a force of progress against the destruction, always requires some idealism against the venality. It requires leaders who are pushing up rather than punching down. That is our ongoing predicament. Yes, we pay attention to the people who are threatening us now, and we see ourselves in continuity with those who did it before and those who will have to do it forever.
Brooke Gladstone: You don't give way to existential threat.
James Fallows: Life in my personal and political view is ongoing effort and an ongoing struggle. You're never coasting. It is a life of permanent engagement. I think people in the press should welcome that as part of the mission to which we can contribute.
Brooke Gladstone: Thank you so much, Jim. It's been wonderful having you with us this week.
James Fallows: Brooke, it is a real pleasure and honor to be part of your little team here.
Brooke Gladstone: James Fallows writes the newsletter, Breaking the News on Substack, which I can attest is definitely worth a read.
[music]
Brooke Gladstone: On the Media is produced by Micah Loewinger, Eloise Blondiau, Molly Schwartz, Rebecca Clark-Callender, Candice Wang, and Suzanne Gaber. With help from Shaan Merchant. Our technical director is Jennifer Munson. Our engineer this week was Josh Hahn. Katya Rogers is our executive producer. On the Media is a production of WNYC Studios. I'm Brooke Gladstone.
Copyright © 2023 New York Public Radio. All rights reserved. Visit our website terms of use at www.wnyc.org for further information.
New York Public Radio transcripts are created on a rush deadline, often by contractors. This text may not be in its final form and may be updated or revised in the future. Accuracy and availability may vary. The authoritative record of New York Public Radio's programming is the audio record.