The Politics of Indicting Trump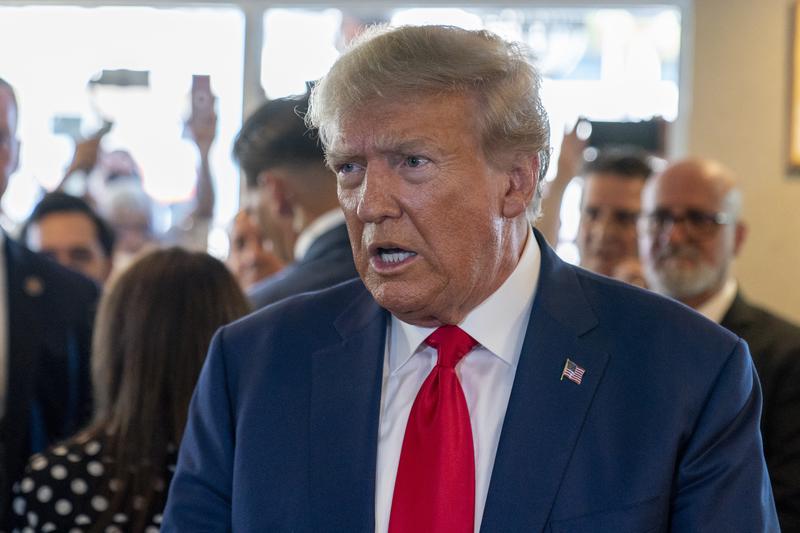 Transcript
Brooke Gladstone: From WNYC in New York, this is On the Media. I'm Brooke Gladstone, and I'm here with my ride-along companion, this week's co-host, James Fallows. He'll be familiar to longtime listeners. For decades, we've turned to Jim for insights on topics ranging from politics to plane crashes. Right now, he's the author of the blog, Breaking the News on Substack. Hey, Jim, thanks for sharing the mic.
James Fallows: Brooke, I am delighted to be here. Thank you.
Brooke Gladstone: How about starting us off?
James Fallows: Okay. For the political news media, this week basically started on Tuesday, with the arrival of Donald Trump to the federal courthouse in Miami.
News clip: Moments ago, through his attorney, Todd Blanche, former President Trump pleaded not guilty to these 37 federal charges.
News clip: Charges under the Espionage Act and obstruction statutes that potentially carry decades in prison if he's convicted.
James Fallows: Last Friday, the charges Trump faces were published in full, and naturally, the devil was in the details.
News clip: The unsealed indictment includes images of places where Trump kept classified documents, including a bathroom, and bedrooms.
Brooke Gladstone: Though recently we've seen government documents popping up like errant Easter eggs in the homes of President Biden and past VP Pence, among others, Trump's now documented resistance to returning them sets him apart. Nevertheless, he continues to say, he, "Did everything right." There were no cameras in the courtroom, but he later got down to rallying and vilifying, albeit a little deflatedly, from the cozy confines of his golf club in Bedminster, New Jersey.
Donald Trump: Today, we witness the most evil and heinous abuse of power in the history of our country. Very sad thing to watch, a corrupt sitting president had his top political opponent arrested on fake and fabricated charges of which he and numerous other presidents would be guilty, right in the middle of a presidential election, in which he is losing very badly.
James Fallows: CNN and MSNBC did not broadcast the 30-minute speech that followed in full, airing only clips with the host-added caveats.
News clip: I want to explain that picture on our screen. Trump has gone to [unintelligible 00:03:15] all Republican candidates, actually probably Democratic candidates go as well. [unintelligible 00:03:20] it's in Little Havana in the Miami area. He's still a candidate for president. We don't need to see that anymore. We know where he is.
News clip: The folks in the control room, I don't need to see any more of that. He's trying to turn it into a spectacle, into a campaign ad. That's enough of that.
James Fallows: Fox News and Newsmax ran it all. Response to the charges has become yet another test of allegiance. Trump's defenders don't claim that he didn't do these things, they argue only that others did the same or worse, which is untrue. Here's Speaker of the House, Kevin McCarthy.
Kevin McCarthy: When you think about what they're trying to indict President Trump on, you've got a sitting president right now in the exact same situation. You have a former First Lady, senator, secretary of state that had the same situation that nothing was done to her.
James Fallows: Here's ABC is George Stephanopoulos with Senator Lindsey Graham.
George Stephanopoulos: Donald Trump has said repeatedly that he did nothing wrong. Do you believe that?
Senator Lindsey Graham: Well, here's what I believe. We live in an America where if you're the Democratic candidate for President, Hillary Clinton, Secretary of State, you can set up a private server in your basement to conduct government business, and when an investigation is had about your activity-- No, let me finish.
George Stephanopoulos: But you didn't answer the questions.
Senator Lindsey Graham: This panel you have was ridiculous. Well, I'm trying to answer the question from a Republican point of view.
James Fallows: For a different point of view, the latest piece by New York Magazine writer, Eric Levitz, is titled, The DOJ Tried to Give Trump a Pass. He Wouldn't Take It.
Eric Levitz: In the Fox News narrative, the only explanation for the decision not to bring those charges, is that the deep state is compromised by liberals who wanted to give Hillary Clinton a pass despite this really nefarious conduct with regard to her handling of information.
James Fallows: In the world outside the Fox News ecosystem, the world of legal authorities, is there any controversy about the decision not to prosecute Hillary Clinton?
Eric Levitz: I would say no. If you look at the rationale that then FBI Director, James Comey, put together in 2016, when he announced that they would not be seeking charges, he was very clear about the rationale there. He said that there aren't a lot of precedents for bringing this kind of case in a situation where we did not see evidence, first of all, that the violation of classified information laws was willful, that the person in question knowingly tried to subvert the law. Second, there wasn't any evidence of an attempt to obstruct an investigation into their mishandling of classified information.
James Fallows: The two points that Comey said were reasons not to prosecute Hillary Clinton, are two reasons that the current indictment is proceeding against Donald Trump.
Eric Levitz: Yes. He listed a number of conditions that, if we're going to bring charges, we would want to see either evidence of obstruction, evidence of willful violation of the law, a list of exacerbating circumstances, among them two circumstances that apply in the Trump case, and that did not apply in the Clinton one.
James Fallows: Let's now talk briefly about the case of Joe Biden. There is, of course, an ongoing investigation into Biden's documents. We don't really know how the justice system is going to treat him, but the info that is available so far does seem also to suggest that he has been cooperative as opposed to resistant, and that his case, like Hillary Clinton's, is fundamentally different on these grounds than is the case of Donald Trump. Is that correct?
Eric Levitz: Yes. At least based on the publicly available information, classified documents were discovered, Biden complied and tried to return them. Right now the available evidence seems to suggest that carrying out the duties of the vice president, you're taking documents to lots of different offices while you're working on them. It looks like this is probably an incidental retention, and perhaps more importantly, looks like Biden cooperated fully with returning the documents as quickly as possible. There is not much basis for asserting that there is this political hypocrisy between how Trump and Biden have been treated.
James Fallows: What I found really interesting in your article, is your argument, which was not simply that the GOP narrative of Trump being picked upon was wrong, but that in fact, it was the opposite of the truth. You're right, "In reality, the federal government has been affording Trump extraordinary leniency."
Eric Levitz: If we compare Trump's case to cases of ordinary government employees, rather than Trump's case to Clinton and Biden, this becomes, I think, fairly clear. One example that I cite is of Asia Janay Lavarello, who was a civilian employee of the Defense Department in 2020. She worked at the US Embassy in Manila, working on a classified thesis, a piece of scholarly research that drew on classified documents. In order to research that paper, she had to read other scholarly work that because it touched on certain security issues, was classified.
She was supposed to review these documents in a secure information facility at the US Embassy, but then the pandemic hits and that facility shuts down, so she brings three classified theses back to her hotel room. In my understanding, that very night, she holds a dinner party, one of her guests sees this folder of classified documents and tells her, "This is not a good idea," so she returned those documents to a safe at the embassy two days later, because, I believe, of the COVID restrictions, she wasn't able to get them all the way into the secure information facility, but she got them into a safe.
She was ultimately charged by the DOJ and ended up serving three months in prison. Compare that case to Donald Trump's. Trump was not charged for a single count of mishandling classified information for the 197 classified documents that he returned in January 2022. Now, at that point, he had willfully retained these documents illegally for many months, and had ignored multiple requests to return them. The DOJ chose not to bring charges in a single one of those mishandlings of classified documents, not a single count.
He was given a chance of getting a jail-free card essentially, like, "Look, you've been holding on to this stuff for months, but if you just give them back now, we're not going to bring charges." This was not an option that was presented to Asia Lavarello. This was an option that was presented to Donald Trump, likely because there is a sense that it is a little bit politically destabilizing. I think that political considerations actually led the DOJ to go light on Trump and he violated the law so egregiously and repeatedly, that he left the DOJ with little choice.
James Fallows: Eric, you talk about the interaction between a candidate and an information machine or misinformation machine. Tell us how you think the past years of conservative media conditioning their audience for a certain view of reality, how that plays into the current events.
Eric Levitz: The coverage of Hillary Clinton during the 2016 campaign both on the Right, but also in the mainstream media, I think informs all of this. You had some studies after the 2016 campaign, which found that in the six days after James Comey reopened the investigation into Hillary Clinton on, I believe, October 29th in 2016 because of the emails found on Anthony Weiner's computer, which turned out to be a complete nothing [unintelligible 00:10:28] red herring, that in the days after that, The New York Times gave more coverage in six days to Clinton's emails than they had to all policy issues in the final 69 days of the campaign.
I think there was an impulse among the mainstream media to preserve some image of balance by counterbalancing the endless [unintelligible 00:10:48] of negative stories about Trump that were unavoidably popping up every few days because of his various scandals in business, in his personal life, in his sexual life, as well as his complete lack of message discipline and tendency to say extremely inflammatory things.
This, I think, created an imperative to, "Okay, well, what is the negative story on Clinton's side?" This is continuing scrutiny of the email case, as well as I think this perception that, "Okay, Trump, he's obviously going to lose. We want to hold the actual future president accountable." I think this had a perverse effect where there's a famous scene from The Simpsons in which a doctor is explaining how Mr. Burns is still alive despite how ill he is.
Simpsons clip: If you have a moment, I can explain. Here's the door to your body, you see? These are oversized novelty germs. Here's what happens when they all try to get through the door at once. Move it, chowder ahead. We call it three stooges syndrome.
Eric Levitz: With Trump, there were so many different scandals that no single one attained this character-defining salience. Whereas with Clinton, we had this one, something shady about her emails and then the fact that the government didn't bring charges, despite this sense that there's something really bad there, why would there be so much coverage if there wasn't, I think probably feeds into contemporary interpretations of the fact that Trump has faced charges while Clinton hasn't. I do think that there's a certain responsibility from the mainstream media.
James Fallows: Thank you, Eric.
Eric Levitz: Thanks for having me.
James Fallows: Eric Levitz is a feature writer for New York Magazine who covers politics and economics.
Brooke Gladstone: Coming up, an argument for dropping the phrase crisis in democracy to describe the current moment and replacing it with fascism.
James Fallows: This is On The Media.