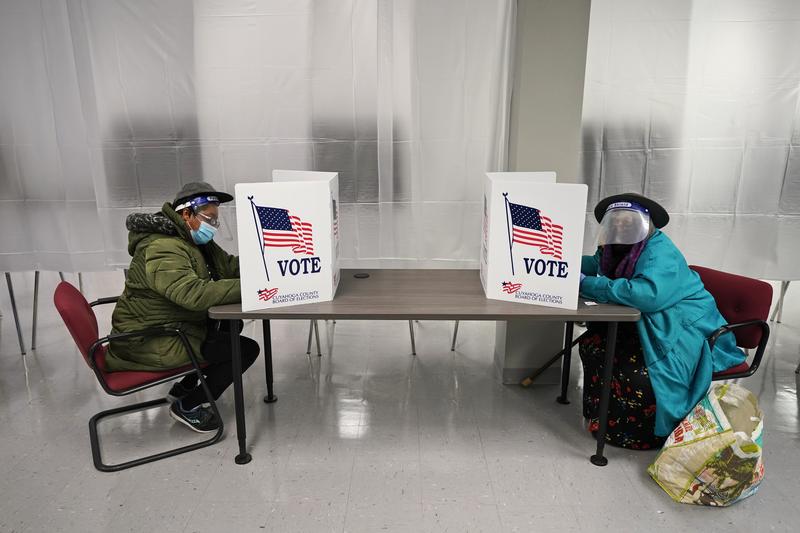 Transcript
[CLIP]
ALEXANDRIA OCASIO-CORTEZ OK. Hello. Hi, everyone. Holy cow. [END CLIP]
BROOKE GLADSTONE From WNYC in New York, this is On the Media. I'm Brooke Gladstone.
BOB GARFIELD And I'm Bob Garfield. New York Congresswoman Alexandria Ocasio-Cortez took to the streaming site Twitch this week to play a video game. Oh, and to round up some new voters.
MAKENA KELLY At the peak point of the stream, folks at the DNC were saying that they were getting the most referrals to Iwillvote.com than they ever have before.
BROOKE GLADSTONE Plus, how to leverage the failure of local newspapers to take advantage of desperate out of work journalists.
PAT MORRIS I would never in a billion years work to promote political PACs, certainly not them. I feel really, really used.
BOB GARFIELD Pink slime, pay for play - both. It's all coming up after this.
[BREAK]
BOB GARFIELD From WNYC in New York, this is On the Media, I'm Bob Garfield.
BROOKE GLADSTONE And I'm Brooke Gladstone. First, some foresight from Ezekiel, Isaiah, Matthew, Paul and Pat Robertson, who spoke this week of what will follow the preordained reelection of Donald Trump. The Russians and North Korea will threatened us. There will be at least two attempts on the president's life. Blood will run in our streets, greet hordes, will move against Israel and be wiped out by God. Then five years of blessed peace, followed by cleansing apocalypse.
[CLIP] PAT ROBERTSON The only thing that will fulfill what the word of Jesus, and I'm gonna give you in a minute, is some kind of an asteroid strike on the globe. [END CLIP]
BROOKE GLADSTONE He lets Matthew pick it up from there.
[CLIP] PAT ROBERTSON And then will appear the sign of the son of man in heaven, and all of peoples of the earth will mourn when they see the son of man coming on the clouds of heaven with power and great glory. [END CLIP]
BROOKE GLADSTONE Then that asteroid strike and then the rapture.
[CLIP]
PAT ROBERTSON And he will sell his angels with a loud trumpet call and they will gather his elect for the four winds from one end of heaven to the other. [END CLIP]
BROOKE GLADSTONE To recap
[CLIP]
PAT ROBERTSON There's going to be a war. Ezekiel 38 is going to be the next thing down the line. Then a time of peace. Then, maybe the end.
BROOKE GLADSTONE But first, the election is coming up, at which time.
[CLIP]
PAT ROBERTSON According to what I believe the Lord told me, the president is going to be reelected. I'm saying, by all means, get out the vote. Vote for whoever you want to vote for. [END CLIP]
BROOKE GLADSTONE Another get out the vote message of a kind directed to a particular audience. That's the theme of the hour. Fervent messages made to measure. Both sincere, and later this hour, cynical - but sincerity rules this segment. After all, some of us pray. Some of us have already voted and low, some of us when called upon stan. All will be revealed.
[CLIP]
ALEXANDRIA OCASIO-CORTEZ Hello. Hi, everyone. Holy cow. [END CLIP]
BROOKE GLADSTONE On Tuesday this week, Congress-person Alexandria Ocasio-Cortez undertook a socially distant get out the vote effort through the streaming platform, Twitch. Her pitch opened the three hour plus event and closed it too.
[CLIP]
ALEXANDRIA OCASIO-CORTEZ First things first, if you are able to vote, we are here - iwillvote.com. Make sure that you make your voting plan, and if you can't vote, if you're under the age of 18, make sure you talk to someone that can vote and try to direct them to Iwillvote.com and make sure that they get their voting plan in place. [END CLIP]
BROOKE GLADSTONE But 400,000 plus viewers hadn't pulled up AOC's first twitch stream to hear her pitch. They were mainly there to watch her game.
[CLIP]
ALEXANDRIA OCASIO-CORTEZ Oh my God, oh my God, oh my God. I knew it!
BROOKE GLADSTONE The first-term representatives first kill in the game Among Us, which has lately become popular among videogame streamers, some of whom joined her that evening.
[CLIP]
STREAMER 1 AOC Do I? Is that weird? To just call you AOC?
ALEXANDRA OCASIO-CORTEZ No, no, you guys can call me AOC. Mike Pence can't call me AOC.
STREAMER 2 OK.
ALEXANDRIA OCASIO-CORTEZ You guys can call me AOC.
STREAMER 2 All right, let's go! [END CLIP]
BROOKE GLADSTONE Though many have politicked on social media before the old school playbook of the ground game and TV ads still dictate the 21st century campaign. But, from the COVID-era emerges a new playbook, according to The Verge political reporter, Makena Kelly. And in that book, Tuesday's livestream marks a landmark event. Makena, welcome to the show.
MAKENA KELLY Hey, it's great to be here.
BROOKE GLADSTONE So the stream was a massive success as far as viewership goes, but it was also billed as a get out the vote effort. Do we know how successful that was?
MAKENA KELLY At the peak point of the stream, folks of the DNC were saying that they were getting the most referrals to the Web site. To Iwillvote.com than they ever have.
BROOKE GLADSTONE Do we know how many that was?
MAKENA KELLY I was not able to get a specific figure, but during the vice presidential debate, they bought FlyWillVote.com. And then when Taylor Swift said that she was going to endorse Joe Biden, they bought TaylorWillVote.com. So there have been huge referrals to this link before and saying that the AOC stream was bigger than, say, that huge viral moment with the fly. And Taylor Swift, who is arguably one of the most famous celebrities in the world, says a lot.
BROOKE GLADSTONE Now, a lot of folks weren't going to sit through the entire thing, but there were moments that were clipped and put on Twitter or YouTube. Like when AOC talked about socialized medicine with H bomber guy,.
[CLIP] HBOMBERGUY You go to the doctor and you say, I have this problem and then they prescribe you the medicine, and then you just go pick it up and that's it. And then you go home and you Google how much it would have cost in America.
ALEXANDRIA OCASIO CORTEZ Oh my gosh. [END CLIP]
BROOKE GLADSTONE Later, he kills her.
[CLIP]
ALEXANDRIA OCASIO-CORTEZ [GASPS] I'm actually a bit heartbroken. [END CLIP]
BROOKE GLADSTONE But, hey, life is cheap. Can you talk about that moment?
MAKENA KELLY So people and users on Twitch are accustom to diving in and out and jumping in the chat and chatting for a little bit and then maybe going watching some TV or some other video. So an important part of the twitch culture is the clips function. And when people do catch something interesting, those clips in those conversations can go viral and reach even bigger audiences on Twitter, on Facebook, on YouTube than they ever could on Twitch, because Twitch, of course, is live. But these clips will last forever.
BROOKE GLADSTONE Now, Polygon senior editor Patricia Hernandez wrote this week that it wasn't just about organizing and savvy. This was fandom. Those hundreds of thousands of viewers included thousands of stan, referring in this case to the AOC diehards. For people who, you know, aren't as hip to the jive as I am. Stan is a term that's drawn from the title of an Eminem song. Right. Right.
[CLIP]
EMINEM Girl is jealous because I talking about the 24/7. But she don't know you like I know you Slim -no one does. She don't know what it was like for people like us growing up. You gotta call me man. I'll be the biggest fan you'll ever lose. Sincerely yours, Stan - P.S. - we should be together too.
MAKENA KELLY When it comes to stand culture with pop culture and movies and television, oftentimes people will draw fan art of their favorite characters and people were doing that for AOC in 2018 and she was reposting that fan art on her Instagram page. So she has been building this community of people for a very, very long time, and that's why Tuesday's stream was so successful. She already had this base. There are already people who stan Hbomberguy. There are already people who stan Hasan Piker and pokimane and the other folks who are on there. There is just a bunch of communities colliding in a really interesting way. And then, of course, the Ed Markey stuff is the most important part here.
BROOKE GLADSTONE So you're talking about Massachusetts Senator Ed Markey. His online supporters helped propel him past a primary challenge from Joe Kennedy, the third, earlier this year. How did Stan's play a role in that campaign, and in his victory?
MAKENA KELLY Markey is a big Internet guy. He has been behind the Internet for a very long time, introducing privacy rights. He's a big net neutrality supporter. So he's always kind of been in this realm.
BROOKE GLADSTONE And by a very long time, you're talking about three decades.
MAKENA KELLY Exactly. So he's been there from the very beginning, right. But it was new folks that they brought on their digital team, folks who really paid very close attention to what the Bernie Sanders campaign did in 2016, engaging with authentic organic content from supporters there. And they saw how powerful that was. So they were building meme pages for Markey. There's a bunch of little accounts on Twitter. Harry Styles stans for Ed, Barbes for Ed, which is the word that refers to Nicki Minaj, stans. Really built a crazy in kind of strange grassroots community of people to really propel Markey into reelection in September.
[CLIP]
FAN I'm Ed Markey.
ED MARKEY I'm Ed Markey. I'm running for Congress because I want to fight for the principles that I believe in.
FAN I'm f*cking Ed Markey, and I'll f*cking fight with you. [END CLIP]
BROOKE GLADSTONE New York Times cultural critic Amanda Hess has written extensively about the stan-ification of politics. And she's often noted that esthetics can become a shorthand for ideas. That a meme that feels so true and becomes so popular actually begins to maybe obscure a little the votes that a candidate has taken, or the bills they want to see become law. Do you think this happened this year during the Markey-Kennedy primary?
MAKENA KELLY It absolutely happened this year. People who really supported him online would pick out specific moments of humanity and authenticity with him. His Nike Air Jordan shoes that he wore to knock on doors became symbolism for how embedded in the community he is, right. He's not wearing loafers, but also just like his introduction of the Green New Deal, his support of that and the supporters really wanting to push forward on climate change and putting memes about Markey saving the environment did kind of obscure a lot of his past history. A lot of folks who support him now have a big gripe with his vote to approve the Iraq war, so a lot of that was kind of left behind.
BROOKE GLADSTONE Let's go back to Twitch for a sec. Ideally, participating in democracy requires more than hanging out. Tweeting is kind of a joke these days because people will sometimes do that instead of actually engaging in politics. Is there any danger of stan-dom politics becoming like a sad substitute for genuine political engagement?
MAKENA KELLY Right. You can't vote online. All of this excitement needs to transition into action. And that's a very difficult metric to measure. You can't really poll everyone who re-tweets, a Markey tweet to make sure that they voted for him, right. But there also has always been toxic culture in stan-dom and fandom, right.
BROOKE GLADSTONE There was in the Markey enterprise, some really nasty people talking about the Kennedy assassination.
MAKENA KELLY We saw even with the Bernie campaign in 2016 and 2020, the idea and concept of burning brose who were harassing people online. There's also the fandom around Kamala Harris, the K Hive, who also get criticized frequently online for launching terrible attacks on people on the Internet, too. When I spoke to a ton of the stans who have these accounts and kind of engage with the community on a daily basis, the community itself does a lot of self policing. So if they did see really terrible JFK post, they would all tell the people in their discord chats, in their slack chats to go and report it. But the excitement and things like this does seem to inspire a lot of hateful and toxic behavior.
BROOKE GLADSTONE Seems only natural to compare AOC's success online to the Biden campaign's inroads into newer platforms, which are much more modest. Should the Democrats expect a similar level of online engagement from the Biden campaign? Or is that like asking apples to act like oranges?
MAKENA KELLY When the first kind of wave of the pandemic hit in the spring, Biden's team had a very difficult time transitioning to the Internet. Their first Zoom call with supporters, the audio was busted.
[CLIP]
BIDEN [GARBLED] I know this country will summon the spirit of empathy, decency, and unity.[END CLIP]
MAKENA KELLY A lot of those very Internet savvy digital folks from the Bernie team have moved over to the Biden campaign. They launched a Twitch channel themselves a couple weeks ago, and their first stream was just a video shot of the back of an Amtrak train with lo fi. Hip hop beats playing in the background.
[LO-FI MUSIC PLAYING]
MAKENA KELLY Something for people just to have on while they work. And which is something that already takes place on the platform and showed a real fluency in Twitch's audience, right. Their design and creative team are doing design streams on Twitch now too. Those streams are extremely popular. There's so many famous Instagram artists who will just go and draw on Twitch for a little bit and talk to their followers. And it's hard for me to talk about Biden's strategy without talking about their bout in the Animal Crossing New Horizons Nintendo Game. The game is all about design. The Biden campaign introduced yard signs in September. And people would take screenshots of the little Biden Harris yard sign in front of their virtual little home and posted them on social media where they go viral. And then last week, the Biden campaign was like, okay, we saw how you guys like the yard signs. We're making an entire island for you to visit because you can't go to field offices anymore because of social distancing, right.
[CLIP]
STREAMER I have to say, whoever built this, put a lot of work into it. You see the little Team Joe signs everywhere. One of their villagers is a bald eagle. [END CLIP]
MAKENA KELLY And there's even a little Joe Biden figure who walks around, and when you talk to him, he says, "No Malarkey!". They just really took the time to familiarize themselves with the game. And those people who go and visit this island. They're taking screenshots and they're posting them on social media. But the thing is, is that when you take these big risks, there is a chance for you to have like a hello fellow kid's moment, right. It seems disingenuous. It feels like you're doing this for clout. But for them, they were really attentive and respectful. And I think that's why the payoff was so big.
BROOKE GLADSTONE They tried to learn the language.
MAKENA KELLY They did.
BROOKE GLADSTONE Makena, thank you very much.
MAKENA KELLY Yeah. No, this was so much fun.
BROOKE GLADSTONE McKenna Kelly is a politics reporter for The Verge.
BOB GARFIELD Coming up, we looked at the future of political campaigning, now let's consider the past.
BROOKE GLADSTONE This is On the Media.
[BREAK]
BOB GARFIELD This is On the Media, I'm Bob Garfield.
BROOKE GLADSTONE And I'm Brooke Gladstone. There's hyperbole about the critical importance of every general election, but this time the claim is most definitely warranted. The results may determine what our nation stands for, for generations. But modern methods of seeding lies and hysteria into a campaign. The precision of it, the craft, can be traced back to a single race in 1934 for California governor. Some years back, we talked to two lifelong students of history about how that race was run and what it wrought. We began with Greg Mitchell, who's written a dozen books about U.S. politics and history of the 20th and 21st centuries. He said that the governor's race was intensely watched because it was seen as a judgment on FDR's New Deal because seemingly out of nowhere, the Democratic primary was won by Upton Sinclair, the prolific, muckraking author of The Jungle, which galvanized public outcry over the reckless disregard for public health and workers' lives in the meatpacking industry. An unabashed socialist, his political star rose when he launched a hugely popular anti-poverty campaign.
[CLIP]
UPTON SINCLAIR No excuse for poverty in a state as rich as California. We can produce so much food and we have to dump it into our bay. [END CLIP]
BROOKE GLADSTONE "I aimed at the public's heart," he wrote, "and by accident I hid it in the stomach." Mitchell told us that the reaction to Sinclair's primary win was swift and furious, ushering in the first modern media campaign. Mitchell described him as, among other things, a militant vegetarian, erstwhile socialist and scourge of the ruling class. Erstwhile, because after several unsuccessful runs as socialist, Sinclair changed his party affiliation to Democrat.
GREG MITCHELL He led a mass movement called End Poverty in California, or EPIC, and managed to sweep the Democratic primary in a landslide with hundreds of thousands of votes and was the favorite to win in November.
BROOKE GLADSTONE So people knew who they were voting for?
GREG MITCHELL Oh, absolutely. He was one of the most famous authors in the world. Today we remember him mainly for the jungle. But at the time he was always in and out of the headlines getting arrested and was certainly a famous figure in California and around the country.
BROOKE GLADSTONE As you describe it, the swiftest response to his winning the primary came from newspaper magnates like William Randolph Hearst and the Chandlers. All right. The family behind the Los Angeles Times and also Hollywood.
GREG MITCHELL Well, of course, the newspapers at that time were extremely reactionary throughout the state. They are owned by families. They had a lot of money at stake, and, you know, Sinclair, bless his heart, had been one of the leading media critics of his day. We think of Sinclair today as this muckraker, like an investigative journalist or something. It was mainly a novelist. And even The Jungle is a novel, so what the newspapers would do is they would take some outrageous thing that a character in one of Sinclair's novels said and pretend that Sinclair had said it himself, so they would put it right on the front page and have him believing in free love and giving away money to everyone and hating the church. So, yeah, the newspapers were in that were in the forefront of the fight.
BROOKE GLADSTONE The Los Angeles Times also took shots at Sinclair's followers.
GREG MITCHELL Yeah, they called him the maggot-like horde, then. It was so over the top.
BROOKE GLADSTONE The political editor of the Los Angeles Times was a real kingmaker. His name was Kyle Palmer, and you cite this really amazing anecdote when he's having a conversation with The New York Times' star reporter who is in California, a guy named Turner Catledge.
GREG MITCHELL Turner came out there to cover the campaign and in a fairly even handed way and was amazed there was no coverage about Sinclair at all in the L.A. Times, except for all the negative shots. And so he asked Kyle Palmer, how can you get away with only covering one campaign? And Palmer said: "Turner, forget it. We don't go in for that kind of crap that you have back in New York of being obliged to print both sides. We're going to beat this son of a bitch, Sinclair, any way we can. We're going to kill him.".
BROOKE GLADSTONE Quote, unquote. OK. So what was Hollywood's beef with Upton Sinclair?
GREG MITCHELL They thought that Sinclair and his former socialistic background was a threat to the movie industry itself. And so the first thing they did was they threatened to move to Florida. When that didn't work, they docked each of their employees one day's pay to be donated, then to the GOP candidate. And then finally, Irving Thalberg at MGM. Made these newsreels that presented Sinclair and his supporters in the worst possible light. And we're actually mainly faked footage. Some of it was shot on the studio lot. They hired actors to portray bums and other other Sinclair supporters.
BROOKE GLADSTONE This was the famous humanitarian Irving Thalberg?
GREG MITCHELL He admitted it after the campaign that he was the one and I managed to find these newsreels, they were sort of missing to history. They were really the first attack ads on the screen. And people back then got a lot of their news off the newsreels and they thought they were the straight deal.
BROOKE GLADSTONE You say that this campaign marked the beginning of media politics. I wanted to make that argument for me because certainly negative advertising did not begin with the gubernatorial campaign of Upton Sinclair.
GREG MITCHELL There, of course, had been dirty campaigns before this, but campaigns had always been run by political parties and their local leaders. But the Sinclair threat was so great, they turned the campaign over for the first time to what we now call political consultants. To PR people we now call spin doctors. The first turning over the campaign to advertising people. The use of radio and the screen to make attack ads and national fundraising from all over the country. In one state race, all of those things were unprecedented.
BROOKE GLADSTONE What was the substance of these smears that made it so unprecedented?
GREG MITCHELL The Sinclair said that if he was elected, California would become such a paradise that the unemployed would want to come to California. And of course, he was just joking about it. But they took that and they made radio dramas around it. They made two of these fake newsreels around it. They plastered it on billboards all over the state.
BROOKE GLADSTONE Horrific images of huddled masses crowding in to California.
[CLIP]
NEWSREEL Your inquiring cameramen interviewed, 30 stated that they were on their way to California to spend the winter and to remain there permanently if the EPIC plan went into effect. [END CLIP]
GREG MITCHELL Hearst owned movie theaters, so he worked with MGM to get these newsreels into his movie theaters. He had all these people on every level of radio, newspapers, movies, advertising, all in the same room and saying, OK, how can we direct this campaign using all these different tools?
BROOKE GLADSTONE You're describing a sort of vertical integration of the political smear.
GREG MITCHELL That's right. One of the things that was continually used against Sinclair was that he was a free love advocate, almost what you might call hippie bohemian and so forth. This was because there were characters in his books who had these traits. He was a vegetarian, you know, which at that time was seen as somehow un-American. So he had some personal traits. But the odd thing was he was such a straight laced. Not in any way a free spirit that they pictured him as.
BROOKE GLADSTONE So are you convinced that it was the negative advertising that took down Upton Sinclair?
GREG MITCHELL I think after coming off his primary win, which is at the very end of August, the EPIC campaign was an incredible mass movement. I mean, they had 800 chapters around the state. They had a weekly newspaper that had two million circulation. I would say that if these new techniques and over-the-top, incredible dirty tricks had not been employed, that Sinclair would have narrowly won.
BROOKE GLADSTONE Greg Mitchell is the author of, among many other books, The Campaign of the Century: Upton Sinclair's Race for Governor of California and The Birth of a Media Politics.
BOB GARFIELD Hollywood may have bankrolled and assembled the anti Sinclair ads, but who helped to shape them, to coordinate them? Who holds the techniques of the out of context quotation? And opposition research, now part of the standard campaign playbook.
JILL LEPORE Sinclair writes a book about what's been done to him, and he calls it the Lie Factory. But he doesn't even really know who's done it, who's behind it.
BOB GARFIELD The masterminds behind that campaign were Clem Whitaker and Leone Baxter, the owners of Campaigns Inc, the world's first political consulting firm.
JILL LEPORE They use invented organizations to print pamphlets all the time.
BOB GARFIELD Jill Lepore, New Yorker staff writer, Harvard history professor and author of Just About Everything You Need to Make Sense of American History. We spoke to her about eight years ago after she profiled the duo in The New Yorker.
JILL LEPORE Clem Whitaker had been a longtime newspaper reporter. He also founded a wire service, The California Feature Service. And Leone Baxter, who's this young widow, is hired to work with him on his first political campaign. They fall in love. He divorces his first wife and marries her. They worked behind the scenes, no one really pays much attention to who they are, so it's very different from political consultants today who very much adore the limelight and are very much celebrities.
BOB GARFIELD And yet, semi-anonymous as they were, they dominated this fledgling industry, winning 70 out of 75 campaigns. What was their secret sauce?
JILL LEPORE Well, the first thing they do is they hibernate for a weekend or some number of days when they're hired by any campaign. And they come up with a plan of campaign. They come up with all the rhetoric that they're going to use, exactly the way they're going to position their candidate. Then they write an opposition plan of campaign to imagine that there was someone actually opposing them, but there is no opposition. There are no other political consulting firms before the 1950s, so they're just really fighting their own shadow. They're boxing in the dark. But Whitaker says there's only two ways to interest Mr. or Mrs. America in a political campaign. You'd have to put on a fight or you have to put on a show. It's no coincidence that political consulting comes out of California. It's very much bound up with Hollywood. Whitaker and Baxter had a rule. You know, if you have to explain something, you've already lost the issue. That you never explain. Your obligation is to simplify the message and go on the attack. You can't win a defensive campaign.
BOB GARFIELD One of the tricks was to come up with an allegation and just repeat it endlessly, no matter how dubious its merits.
JILL LEPORE Among the rules was this - you have to say something seven times to make a sale.
BOB GARFIELD It also has echoes of Goebbels, the dynamics of the big lie. Were they on the same track?
JILL LEPORE You know, it's something that people in the 1930s are very concerned about with radio in general. There's a lot of concern in the 30s about propaganda in Europe. There's obviously a lot of concern about the border between fact and fiction in American radio broadcasting. They just think about War of the Worlds and the controversy that that sparks. Baxter in particular later in life. Looking back at the work she had done, thought about, was there a difference in what she was doing in Nazi propaganda? Not obviously the level of content she thought what she was doing was principled and that her political arguments were sincere. And I think they indeed were sincere. But I think she had come to understand and this is reflected in this quite powerful oral history interview that's conducted with her later in her life. You know, it's like sort of believing in a benevolent dictatorship. You can't accept that these tools are a good thing if it depends on the nobility of the intentions of the people who hold them.
BOB GARFIELD What's so spooky about your New Yorker piece is how much it seems to presage what goes on today. Tell me about the campaign against government mandated health insurance.
JILL LEPORE Whitaker and Baxter were first hired in the state of California to defeat Earl Warren's proposed statewide health insurance program in the 40s. They had actually gotten Warren elected governor, but he had then fired them. He was pretty concerned about the methods that they used. He proposed a health insurance program. They were hired, Whitaker and Baxter were hired by the California Medical Association to defeat it. They used all of their classical methods. They decided that what Warren was proposing was creeping socialism. They invoked the specter of Stalinism. They defeated it successfully by one vote. Warren was outraged. Harry Truman then picked up the cause both in California and nationwide. Compulsory health insurance was incredibly popular. What Whitaker and Baxter did when they were hired then subsequently by the American Medical Association was take those same techniques that they'd use to defeat health insurance in California and bring them to the nation at large. And they did so very much with an eye toward defeating not only that proposal that Truman had offered, but health insurance forever afterwards. They tell the AMA, you are hiring us not just to defeat this piece of legislation. You are hiring us to put an end forever to the idea that the federal government could have anything to do with health care.
BOB GARFIELD This whole conversation, Jill, is premised on the idea that Campaigns Inc created in the thirties the template for all modern political campaigning. It's also completely protected by the thing we hold most dear, the First Amendment. Are we doomed to this kind of political cancer forever?
JILL LEPORE There was a great moment in the 50s when this political scientist named Stanley Kelly went around and interviewed a bunch of political consultants who were just starting out. He's even wrote this book about the founding of this industry. He said, you know, "what's gonna happen?", "What's going to happen with this stuff?" and one guy says to him, "I give it a few months 'cause really we're sellin' so much baloney. How much longer could anybody possibly believe a word we're telling them?".
[BOB LAUGHING]
JILL LEPORE [LAUGING] You know?
BOB GARFIELD Jill Lepore is the author of many books about American history, most recently. If Then: How The Simulmatics Corporation Invented the Future. Coming up, the whole press corps sitting with Linus in the pumpkin patch.
BROOKE GLADSTONE This is On the Media.
[BREAK]
BROOKE GLADSTONE This is On the Media, I'm Brooke Gladstone. And this third part of our episode on tailored messaging is even slimier than the second.
BOB GARFIELD A few facts: One, the newspaper business is in the toilet, decimating local journalism and putting thousands of reporters on the street. Two, digital tools and the Internet make it easy to create genuine looking forgeries of actual documents. Even entire bogus news outlets. And three, bad actors of all stripes are seizing the opportunities afforded by technology to poison the information well with propaganda psyops and lies such as Russia's infamous Internet research agency, which contaminated our 2016 election. As one of the culprits explained on the CBC.
[CLIP]
TRANSLATED INTERVIEW I figured out early that the main goal was to create a picture of the world and the Internet that mirrored what was being shown on Russian television. [END CLIP]
BOB GARFIELD All of the above is how Laura Walters wound up as a stooge for the Russians.
LAURA WALTERS I felt pretty stupid. I felt pretty embarrassed. And I just thought, oh, my gosh, how did I not pick this up? I'm usually the person who's reporting on these things. I'm usually the person who's spotting these things.
BOB GARFIELD The specific thing the London based New Zealand journalist didn't spot was that the apparent do-gooder publication that had solicited her work, called Peace Data, was a phony site set up by that same Internet research agency. This time, the Russians covertly paid legitimate Western journalists for articles to establish a veneer of respectability for its disinformation.
LAURA WALTERS A person calling themselves Alice Schultes messaged me on LinkedIn and said, "Hey, we see you have written about issues like human rights and global social issues and geopolitical issues in the past, and we've just started up a brand new, not for profit organization. We're trying to get some good content on our new website, and we're looking to publish the type of stuff you've been writing about. Would you be interested in writing something for us?
BOB GARFIELD So she submitted a story that, as we shall see shortly, was the Hope Diamond of dark irony. But for now, let's just observe that Laura Walters is by no means alone. As reported over the past year by Reuters, Columbia Journalism Review, Deseret News, Lansing State Journal and most recently, The New York Times, various political actors have exploited the tools of digital technology and the financial hardship of struggling journalists to develop sophisticated propaganda operations fronted by innumerable unwitting accomplices. And they are everywhere.
[CLIP]
CHRISTIANE AMANPOUR Over a thousand two hundred local news sites in all 50 states in the run up to the 2020 election. That's a problem. [END CLIP]
BOB GARFIELD That was Christiane Amanpour. This political grift is an ugly evolution of the so-called content farm, which emerged about a decade ago to provide dirt cheap content for budget strapped news organizations. They scraped official data online, automated basic financial reporting, copied press releases and paid freelancers piecework to mass produce what looked like journalism, but was mainly just filler. Such content came to be known by the same name, applied to the dubious meat like product, also used as filler.
[CLIP]
NEWS REPORT Gerald Zirnstein, grinds his own hamburger these days. Why? Because this former USDA scientist, now whistleblower, knows that 70 percent of the ground beef we buy at the supermarket contains something he calls pink slime. [END CLIP]
BOB GARFIELD Cheap and filling, yes, and also kinda nauseating.
PRIYANJANA BENGANI You know, it's hard to come by a good business model in local news nowadays.
BOB GARFIELD Priyanjana Bengani is a senior research fellow at Columbia Journalism School's Tow Center for Digital Journalism, who has written extensively on the slime beat and its capacity for dressing up readily available information as news.
PRIYANJANA BENGANI They use automated techniques to just flood the pipelines with content which people may or may not care about.
BOB GARFIELD Sometimes, though, the human touch is required.
PRIYANJANA BENGANI If there was something that needed to be reported or that needs to have a little bit more of a human element, those stories would then be outsourced to the Philippines, where they could pay people very little money to either conjure up bylines or conjure up quotes.
BOB GARFIELD In her mention of the Philippines, she refers particularly to a content farm called Journatic, founded in 2006 by Brian Timpone, which counted among its clients and investors, such publishers as Hearst Newspapers and the Tribune Company. It was quite the industry darling until 2012, when This American Life revealed just how slimy the news substitute was.
[CLIP]
SARAH KOENIG The reporter's name on the story is Ginny Cox, but there is no Ginny Cox or even if there is a Ginny Cox somewhere out there, she didn't write this story. The writer was someone named Jiselle Bautista in the Philippines who works for Journatic. Again, looking at the computer system the company uses to manage its stories. It seems that when Jiselle worked on this real estate story, there was a button called "select alias" when she clicked on it, she had a choice. She could either be Ginny Cox or Glenda Smith.
BOB GARFIELD That says Bengani was curtains for Journatic, but also the moment when pink slime turned into something far more nefarious.
PRIYANJANA BENGANI In 2014 - 2015, Timpone created a new company called Newsinator, and he started creating a network of local sites in Illinois. This was done in partnership, or at least heavily funded by Don Proff to run a superPAC called Liberty Principles. And Don Proff has been described as a controversial figure in conservative politics in Illinois. Eventually, what's happened with Newsinator was somehow it's rebranded to become something called LGIS, or local government information services.
BOB GARFIELD The main brands nowadays is called Locality Labs, but by any name, she says, it is a pay for play operation. Conservative clients paying for propaganda disguised as vetted local reporting. There's a name for that, actually.
[CLIP]
TRUMP I'm the president, and you're fake news. [END CLIP]
BOB GARFIELD Only this is actual fake news. From countless sites whose ownership is intentionally obscured by a confusing array of entities. It is the quintessential shadowy network which Bengani's internet sleuthing and other reporter's shoe leather reporting has now bathed in unwelcome light.
PRIYANJANA BENGANI There are various metadata-y things and websites that you can identify. What other domains are sitting on the same IP address as the Michigan sites. Who else is using the same Google Analytics I.D.? The Facebook pixel I.D.? Who else is sharing the same SSL certificate?
BOB GARFIELD Essentially, Timpone charges his almost entirely rightwing clients to create and publish their made-to-order propaganda, dressed up as news mixed in with some legitimate content, precisely like Laura Walter's story in Peace Data. In other words, a homegrown version of Russia's Internet research agency.
[CLIP]
INTERVIEW The IRA specifically sent people to the United States to study the political sphere in the U.S. and to understand what the pressure points were.
BOB GARFIELD From the HBO documentary Agents of Chaos.
[CLIP]
INTERVIEW The depth of the content was surprising. Our assumption was that all of this content would be on one side politically. But what they had done very effectively was find pay friction point and then try to manipulate people on both sides. [END CLIP]
BOB GARFIELD 2016 redux. And again, the con depends on real journalists, some unwittingly, some not, who provide actual reporting as a cover for the scheme. Florida reporter Pat Morris, who until the Great Recession had been a staffer and a dozen small market dailies, weeklies and alt weeklies has lately depended on freelance gigs, including a year in the Timpone Archipelago.
PAT MORRIS You know, I was laid off in 2009, so I haven't been in a newsroom since then. But yes, that never occurred to me. I would be part of anything like that. Like I said, I read last November's, I guess the first thing that the Columbia Journalism Review had published. And I just I wanted to throw up. I really, really wanted to just throw up.
BOB GARFIELD Not just because her stories created a cover for political mischief, but because her readers and her own stories subjects were themselves abused in service of lies.
PAT MORRIS You know, talking to people like at the Urban League in Charleston. Farmers who would stop and talk to me from their tractor for an hour while a tariff is killing them. Doing all that interesting, me thinking that they're helping their communities.
BOB GARFIELD But instead helping the purveyors of not pink but red made in the USA, political slime.
PAT MORRIS I mean, you know, you kind of expect the Russians to do stuff, too, but you don't expect, you know, your own country to, you know, people using the mechanisms of your own country and the mechanisms of freedom of the press, which is not a Russian concept, but it's an American concept. I think it's certainly more hurtful personally, and I think it's more dangerous socially because, you know, Americans. If you're American, you know you know how to do it. I mean, the Russians, I guess, were masters of social media, but what these guys are doing is using local community news, and that's something that Americans know and trust.
BOB GARFIELD We asked Timpone for comment, but he did not respond. So let's return now to the Masters, the Russians and the story of Laura Walters. In the analog cloak and dagger world of espionage, intelligence operatives tend to seek agents who are vulnerable for one reason or another. The slime sites are no different.
LAURA WALTERS I did have a certain vulnerability. I didn't have that protection of being a staff reporter. I also didn't have the certainty of, you know, weekly or a monthly paycheck. And it's not just being a freelancer. It's being a freelancer within the media environment during COVID. You know, where there aren't a whole lot of jobs going, if anything, there are jobs being slashed. So, of course, it makes you vulnerable. It makes you more likely to, you know, jump on any opportunity that comes your way.
BOB GARFIELD Which is why she and Pat Morris have gone on the record to warn others of the dangers, even if it means exposing the grim irony of failing to do the journalistic due diligence on their employers that they routinely do in their reporting.
LAURA WALTERS The fact that Ellis Schults used a gmail account and not, you know, a staff account like @peacedata.com, they used AI generated profile pictures. So these were pictures of people who don't exist and have never existed, and there are ways to pick up on those. Of course, I didn't search. I didn't look into it, but if I had, maybe I would have spotted that. They only wanted to pay via PayPal. No, they didn't want to use any other form of Internet transfer or payment option. And the social media accounts were quite new and quite unpopulated as well, so you'd think that someone who was, you know, very connected, working in an NGO space or a media space would probably have had quite an established social media presence, and they didn't. So those were some of the obvious things that jumped out to me, looking back at it.
BOB GARFIELD But irony wise, really, that's nothing. Earlier, I promised you a true Gob's smacker and I am about to deliver. Laura Walters wrote exactly one piece for Peace Data. It was a thousand-word story about a sinister foreign scheme to plant disinformation in her home country. A story Alice Schults or Vladimir McPutin or whoever the editor really was said was "just perfect."
LAURA WALTERS They got this gushing response where they said we'd all like to thank you. You know, from the bottom of our hearts, it's such a fantastic piece. And then Ellis went on to say, It's hard to believe how totalitarian countries like China or Russia are finding their ways to meddle even in the strongest democracies around the globe. And of course, at the time, I thought nothing of it. Now, you know, I look back at that and I just can't help but laugh.
BOB GARFIELD It is to laugh, or it is to cry.
LAURA WALTERS Exactly. And I teetered on the edge. I really did.
BOB GARFIELD Don't we all, don't we all? And democracy right along with us.
BROOKE GLADSTONE Yes, we may teeter and even totter her, but we can always rely on the insights from the insider's and farseers of our political press, extrapolating from the pronouncements of our elected officials. Even, as Bob observes, when they are wrong, time after time. The fact that they feel so sure is reassuring, right?
BOB GARFIELD This was Republican Ben Sasse last week dumping on Donald Trump.
[CLIP]
BEN SASSE The way he kisses dictator's butts. I mean, he and I have a very different form of policy. It isn't just that he fails to lead our allies. It's that we, the United States, now regularly sells out our allies under his leadership. The way he treats women and spends like a drunken sailor.
BOB GARFIELD Sasse goes on and on, triggering a spasm of triumphal journalism about Senate Republicans like Sasse, like John Cornyn of Texas and Martha McSally of Arizona, finally fleeing the stinking Trump ship. Running for the lifeboats, as the Hill put it. CNN's Brianna Keilar.
[CLIP]
BRIANNA KEILAR Some are coming to the realization that they're towing a President Trump shaped anchor. [END CLIP]
BOB GARFIELD Different nautical analogy, but...whatever. At Vox politics and policy reporter Li Zhou described, quote, a broader trend of Republicans doing what many GOP lawmakers have long been unwilling to do, signal a break with Trump. That's true. Republicans have long been unwilling to break with Trump on Brett Kavanaugh's court nomination, on climate change, on immigration, on impeachment, on COVID, on health care, on the wall, on thousands of lies and cowardly attacks. The press, on the other hand, has been super willing to see such breaks coming. Just after the perfect call to Ukraine's president that triggered impeachment, Janan Ganesh in the Financial Times ventured that, quote, The GOP establishment might desert Mr. Trump as swiftly and unexpectedly as it bent the knee to him in 2016.
In Fortune, a year ago, quote, public support for impeachment inquiry surges as key Republicans distanced themselves from Trump. And Business Insider headlined the story Cracks appear in GOP Redwall of support for Trump. Nope. Turns out that was one wall that went up and stayed up. Whether this and all the other crack noticing was a case of careless extrapolation or just wishful thinking. This time of year, it all sounds so familiar.
[CLIP]
LINUS Hey, aren't you going to wait and greet the great pumpkin, huh? It won't be long now! [END CLIP]
BOB GARFIELD The press's great pumpkin vigil actually began before Trump ever took office. The Republican civil war has begun, wrote Rolling Stone in March of 2016. Republican exodus from Trump Grows, claimed The Hill, which went all Dwight Eisenhower on how it was all going to happen?
[CLIP]
THE HILL Each defection could cause a domino effect for the Republican Party. [END CLIP]
BOB GARFIELD And good ole' Morning Joe.
[CLIP]
MORNING JOE They're not going to be able to come. Endorse a guy that makes racist statements. [END CLIP]
BOB GARFIELD So many exoduses that weren't. So many growing distances, so many journo-geologists detecting so many fault lines. Perhaps especially at The Washington Post, which sees cracks everywhere.
BOB GARFIELD October 2019, the Republican Cracks on Impeachment are Starting to Show; September 2019, Cracks Emerge Among Senate Republicans; March 2019, GOP Unity Behind Trump is Cracking; January 2019, As Trump appeals to Nation For Wall Cracks Show in His GOP Support; and Post columnist Michael Gerson, in August 2017, That Sound You Hear is the Wall of Elected Republicans Support for President Trump Beginning to Crack...or just the sound of magical thinking? Meanwhile, as the press goes gaga over the candor, humility and raw political courage of Ben Sasse, please note that over four years the senator has voted with Trump 86.7 Percent of the time, including on Brett Kavanaugh, including repealing Obamacare, including the border wall, including arms to Saudi Arabia, including the ruinous tax cuts and including confirmation of Mike Pompeo, Wilbur Ross, Scott Pruitt, Betsy Davos, Linda McMahon and Bill Barr, and including impeachment. The heroic renegade Martha McSally has voted with the president 94.8 Percent, John Cornyn ninety 95.1 Percent. With distance like that, who needs blind loyalty? But on the Hallow's Eve of election, here's the press once more suckered into the exodus narrative. Some have compared such chronic gullibility to Charlie Brown, thinking Lucy will finally let him kick the football. But how can we possibly trivialize a matter as grave as media failure by comparing it to Charlie Brown? Come on, be serious.
[CLIP]
CHARLIE BROWN What did he leave us? Did he leave us any toys?
LINUS I was robbed! I spent the whole night waiting for the Great Pumpkin when I could have been out for tricks or treats. Halloween is over and I missed it! [COMEDIC THUMP] [END CLIP]
BOB GARFIELD That's it for this week's show. On the Media is produced by Alana Casanova-Burgess, Micah Loewinger, Leah Feder, Jon Hanrahan and Eloise Blondiau with help from Ava Sasani. And our show was edited....by Brooke. Our technical director is Jennifer Munson. Our engineers this week with Sam Bair and Josh Hahn.
BROOKE GLADSTONE Katya Rogers is our executive producer. On the Media is a production of WNYC Studios, and I'm inviting you to hang out with us on November 3rd for election night. It'll be on Zoom or something like Zoom, so you'll actually be seeing us and our guests. Just go to the green space. That's G-R-E-E-N-E space dot org. For more info, or text OTM Live to 7-0-1-0-1 to get updates by text. I'm Brooke Gladstone.
BOB GARFIELD And I'm Bob Garfield.
Copyright © 2020 New York Public Radio. All rights reserved. Visit our website terms of use at www.wnyc.org for further information.
New York Public Radio transcripts are created on a rush deadline, often by contractors. This text may not be in its final form and may be updated or revised in the future. Accuracy and availability may vary. The authoritative record of New York Public Radio's programming is the audio record.