Welcome To The Fandom Era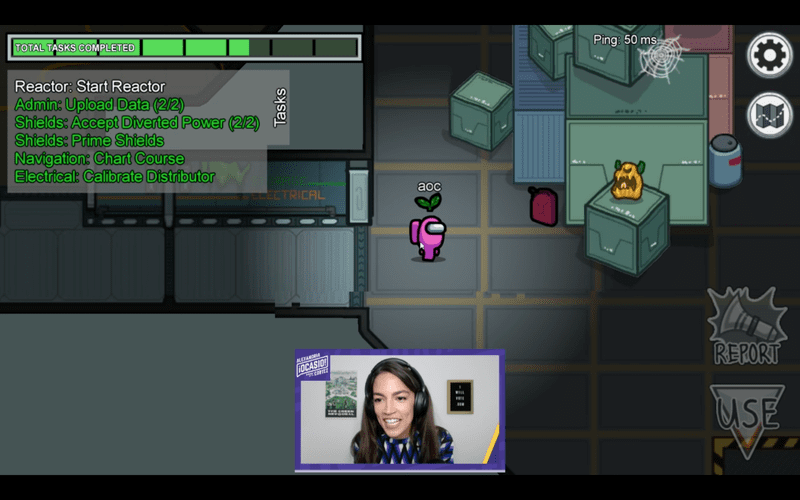 Transcript
[CLIP]
ALEXANDRIA OCASIO-CORTEZ OK. Hello. Hi, everyone. Holy cow. [END CLIP]
BROOKE GLADSTONE From WNYC in New York, this is On the Media. I'm Brooke Gladstone.
BOB GARFIELD And I'm Bob Garfield. New York Congresswoman Alexandria Ocasio-Cortez took to the streaming site Twitch this week to play a video game. Oh, and to round up some new voters.
MAKENA KELLY At the peak point of the stream, folks at the DNC were saying that they were getting the most referrals to Iwillvote.com than they ever have before.
BROOKE GLADSTONE Plus, how to leverage the failure of local newspapers to take advantage of desperate out of work journalists.
PAT MORRIS I would never in a billion years work to promote political PACs, certainly not them. I feel really, really used.
BOB GARFIELD Pink slime, pay for play - both. It's all coming up after this.
[BREAK]
BOB GARFIELD From WNYC in New York, this is On the Media, I'm Bob Garfield.
BROOKE GLADSTONE And I'm Brooke Gladstone. First, some foresight from Ezekiel, Isaiah, Matthew, Paul and Pat Robertson, who spoke this week of what will follow the preordained reelection of Donald Trump. The Russians and North Korea will threatened us. There will be at least two attempts on the president's life. Blood will run in our streets, greet hordes, will move against Israel and be wiped out by God. Then five years of blessed peace, followed by cleansing apocalypse.
[CLIP] PAT ROBERTSON The only thing that will fulfill what the word of Jesus, and I'm gonna give you in a minute, is some kind of an asteroid strike on the globe. [END CLIP]
BROOKE GLADSTONE He lets Matthew pick it up from there.
[CLIP] PAT ROBERTSON And then will appear the sign of the son of man in heaven, and all of peoples of the earth will mourn when they see the son of man coming on the clouds of heaven with power and great glory. [END CLIP]
BROOKE GLADSTONE Then that asteroid strike and then the rapture.
[CLIP]
PAT ROBERTSON And he will sell his angels with a loud trumpet call and they will gather his elect for the four winds from one end of heaven to the other. [END CLIP]
BROOKE GLADSTONE To recap
[CLIP]
PAT ROBERTSON There's going to be a war. Ezekiel 38 is going to be the next thing down the line. Then a time of peace. Then, maybe the end.
BROOKE GLADSTONE But first, the election is coming up, at which time.
[CLIP]
PAT ROBERTSON According to what I believe the Lord told me, the president is going to be reelected. I'm saying, by all means, get out the vote. Vote for whoever you want to vote for. [END CLIP]
BROOKE GLADSTONE Another get out the vote message of a kind directed to a particular audience. That's the theme of the hour. Fervent messages made to measure. Both sincere, and later this hour, cynical - but sincerity rules this segment. After all, some of us pray. Some of us have already voted and low, some of us when called upon stan. All will be revealed.
[CLIP]
ALEXANDRIA OCASIO-CORTEZ Hello. Hi, everyone. Holy cow. [END CLIP]
BROOKE GLADSTONE On Tuesday this week, Congress-person Alexandria Ocasio-Cortez undertook a socially distant get out the vote effort through the streaming platform, Twitch. Her pitch opened the three hour plus event and closed it too.
[CLIP]
ALEXANDRIA OCASIO-CORTEZ First things first, if you are able to vote, we are here - iwillvote.com. Make sure that you make your voting plan, and if you can't vote, if you're under the age of 18, make sure you talk to someone that can vote and try to direct them to Iwillvote.com and make sure that they get their voting plan in place. [END CLIP]
BROOKE GLADSTONE But 400,000 plus viewers hadn't pulled up AOC's first twitch stream to hear her pitch. They were mainly there to watch her game.
[CLIP]
ALEXANDRIA OCASIO-CORTEZ Oh my God, oh my God, oh my God. I knew it!
BROOKE GLADSTONE The first-term representatives first kill in the game Among Us, which has lately become popular among videogame streamers, some of whom joined her that evening.
[CLIP]
STREAMER 1 AOC Do I? Is that weird? To just call you AOC?
ALEXANDRA OCASIO-CORTEZ No, no, you guys can call me AOC. Mike Pence can't call me AOC.
STREAMER 2 OK.
ALEXANDRIA OCASIO-CORTEZ You guys can call me AOC.
STREAMER 2 All right, let's go! [END CLIP]
BROOKE GLADSTONE Though many have politicked on social media before the old school playbook of the ground game and TV ads still dictate the 21st century campaign. But, from the COVID-era emerges a new playbook, according to The Verge political reporter, Makena Kelly. And in that book, Tuesday's livestream marks a landmark event. Makena, welcome to the show.
MAKENA KELLY Hey, it's great to be here.
BROOKE GLADSTONE So the stream was a massive success as far as viewership goes, but it was also billed as a get out the vote effort. Do we know how successful that was?
MAKENA KELLY At the peak point of the stream, folks of the DNC were saying that they were getting the most referrals to the Web site. To Iwillvote.com than they ever have.
BROOKE GLADSTONE Do we know how many that was?
MAKENA KELLY I was not able to get a specific figure, but during the vice presidential debate, they bought FlyWillVote.com. And then when Taylor Swift said that she was going to endorse Joe Biden, they bought TaylorWillVote.com. So there have been huge referrals to this link before and saying that the AOC stream was bigger than, say, that huge viral moment with the fly. And Taylor Swift, who is arguably one of the most famous celebrities in the world, says a lot.
BROOKE GLADSTONE Now, a lot of folks weren't going to sit through the entire thing, but there were moments that were clipped and put on Twitter or YouTube. Like when AOC talked about socialized medicine with H bomber guy,.
[CLIP] HBOMBERGUY You go to the doctor and you say, I have this problem and then they prescribe you the medicine, and then you just go pick it up and that's it. And then you go home and you Google how much it would have cost in America.
ALEXANDRIA OCASIO CORTEZ Oh my gosh. [END CLIP]
BROOKE GLADSTONE Later, he kills her.
[CLIP]
ALEXANDRIA OCASIO-CORTEZ [GASPS] I'm actually a bit heartbroken. [END CLIP]
BROOKE GLADSTONE But, hey, life is cheap. Can you talk about that moment?
MAKENA KELLY So people and users on Twitch are accustom to diving in and out and jumping in the chat and chatting for a little bit and then maybe going watching some TV or some other video. So an important part of the twitch culture is the clips function. And when people do catch something interesting, those clips in those conversations can go viral and reach even bigger audiences on Twitter, on Facebook, on YouTube than they ever could on Twitch, because Twitch, of course, is live. But these clips will last forever.
BROOKE GLADSTONE Now, Polygon senior editor Patricia Hernandez wrote this week that it wasn't just about organizing and savvy. This was fandom. Those hundreds of thousands of viewers included thousands of stan, referring in this case to the AOC diehards. For people who, you know, aren't as hip to the jive as I am. Stan is a term that's drawn from the title of an Eminem song. Right. Right.
[CLIP]
EMINEM Girl is jealous because I talking about the 24/7. But she don't know you like I know you Slim -no one does. She don't know what it was like for people like us growing up. You gotta call me man. I'll be the biggest fan you'll ever lose. Sincerely yours, Stan - P.S. - we should be together too.
MAKENA KELLY When it comes to stand culture with pop culture and movies and television, oftentimes people will draw fan art of their favorite characters and people were doing that for AOC in 2018 and she was reposting that fan art on her Instagram page. So she has been building this community of people for a very, very long time, and that's why Tuesday's stream was so successful. She already had this base. There are already people who stan Hbomberguy. There are already people who stan Hasan Piker and pokimane and the other folks who are on there. There is just a bunch of communities colliding in a really interesting way. And then, of course, the Ed Markey stuff is the most important part here.
BROOKE GLADSTONE So you're talking about Massachusetts Senator Ed Markey. His online supporters helped propel him past a primary challenge from Joe Kennedy, the third, earlier this year. How did Stan's play a role in that campaign, and in his victory?
MAKENA KELLY Markey is a big Internet guy. He has been behind the Internet for a very long time, introducing privacy rights. He's a big net neutrality supporter. So he's always kind of been in this realm.
BROOKE GLADSTONE And by a very long time, you're talking about three decades.
MAKENA KELLY Exactly. So he's been there from the very beginning, right. But it was new folks that they brought on their digital team, folks who really paid very close attention to what the Bernie Sanders campaign did in 2016, engaging with authentic organic content from supporters there. And they saw how powerful that was. So they were building meme pages for Markey. There's a bunch of little accounts on Twitter. Harry Styles stans for Ed, Barbes for Ed, which is the word that refers to Nicki Minaj, stans. Really built a crazy in kind of strange grassroots community of people to really propel Markey into reelection in September.
[CLIP]
FAN I'm Ed Markey.
ED MARKEY I'm Ed Markey. I'm running for Congress because I want to fight for the principles that I believe in.
FAN I'm f*cking Ed Markey, and I'll f*cking fight with you. [END CLIP]
BROOKE GLADSTONE New York Times cultural critic Amanda Hess has written extensively about the stan-ification of politics. And she's often noted that esthetics can become a shorthand for ideas. That a meme that feels so true and becomes so popular actually begins to maybe obscure a little the votes that a candidate has taken, or the bills they want to see become law. Do you think this happened this year during the Markey-Kennedy primary?
MAKENA KELLY It absolutely happened this year. People who really supported him online would pick out specific moments of humanity and authenticity with him. His Nike Air Jordan shoes that he wore to knock on doors became symbolism for how embedded in the community he is, right. He's not wearing loafers, but also just like his introduction of the Green New Deal, his support of that and the supporters really wanting to push forward on climate change and putting memes about Markey saving the environment did kind of obscure a lot of his past history. A lot of folks who support him now have a big gripe with his vote to approve the Iraq war, so a lot of that was kind of left behind.
BROOKE GLADSTONE Let's go back to Twitch for a sec. Ideally, participating in democracy requires more than hanging out. Tweeting is kind of a joke these days because people will sometimes do that instead of actually engaging in politics. Is there any danger of stan-dom politics becoming like a sad substitute for genuine political engagement?
MAKENA KELLY Right. You can't vote online. All of this excitement needs to transition into action. And that's a very difficult metric to measure. You can't really poll everyone who re-tweets, a Markey tweet to make sure that they voted for him, right. But there also has always been toxic culture in stan-dom and fandom, right.
BROOKE GLADSTONE There was in the Markey enterprise, some really nasty people talking about the Kennedy assassination.
MAKENA KELLY We saw even with the Bernie campaign in 2016 and 2020, the idea and concept of burning brose who were harassing people online. There's also the fandom around Kamala Harris, the K Hive, who also get criticized frequently online for launching terrible attacks on people on the Internet, too. When I spoke to a ton of the stans who have these accounts and kind of engage with the community on a daily basis, the community itself does a lot of self policing. So if they did see really terrible JFK post, they would all tell the people in their discord chats, in their slack chats to go and report it. But the excitement and things like this does seem to inspire a lot of hateful and toxic behavior.
BROOKE GLADSTONE Seems only natural to compare AOC's success online to the Biden campaign's inroads into newer platforms, which are much more modest. Should the Democrats expect a similar level of online engagement from the Biden campaign? Or is that like asking apples to act like oranges?
MAKENA KELLY When the first kind of wave of the pandemic hit in the spring, Biden's team had a very difficult time transitioning to the Internet. Their first Zoom call with supporters, the audio was busted.
[CLIP]
BIDEN [GARBLED] I know this country will summon the spirit of empathy, decency, and unity.[END CLIP]
MAKENA KELLY A lot of those very Internet savvy digital folks from the Bernie team have moved over to the Biden campaign. They launched a Twitch channel themselves a couple weeks ago, and their first stream was just a video shot of the back of an Amtrak train with lo fi. Hip hop beats playing in the background.
[LO-FI MUSIC PLAYING]
MAKENA KELLY Something for people just to have on while they work. And which is something that already takes place on the platform and showed a real fluency in Twitch's audience, right. Their design and creative team are doing design streams on Twitch now too. Those streams are extremely popular. There's so many famous Instagram artists who will just go and draw on Twitch for a little bit and talk to their followers. And it's hard for me to talk about Biden's strategy without talking about their bout in the Animal Crossing New Horizons Nintendo Game. The game is all about design. The Biden campaign introduced yard signs in September. And people would take screenshots of the little Biden Harris yard sign in front of their virtual little home and posted them on social media where they go viral. And then last week, the Biden campaign was like, okay, we saw how you guys like the yard signs. We're making an entire island for you to visit because you can't go to field offices anymore because of social distancing, right.
[CLIP]
STREAMER I have to say, whoever built this, put a lot of work into it. You see the little Team Joe signs everywhere. One of their villagers is a bald eagle. [END CLIP]
MAKENA KELLY And there's even a little Joe Biden figure who walks around, and when you talk to him, he says, "No Malarkey!". They just really took the time to familiarize themselves with the game. And those people who go and visit this island. They're taking screenshots and they're posting them on social media. But the thing is, is that when you take these big risks, there is a chance for you to have like a hello fellow kid's moment, right. It seems disingenuous. It feels like you're doing this for clout. But for them, they were really attentive and respectful. And I think that's why the payoff was so big.
BROOKE GLADSTONE They tried to learn the language.
MAKENA KELLY They did.
BROOKE GLADSTONE Makena, thank you very much.
MAKENA KELLY Yeah. No, this was so much fun.
BROOKE GLADSTONE McKenna Kelly is a politics reporter for The Verge.
BOB GARFIELD Coming up, we looked at the future of political campaigning, now let's consider the past.
BROOKE GLADSTONE This is On the Media.
Copyright © 2020 New York Public Radio. All rights reserved. Visit our website terms of use at www.wnyc.org for further information.
New York Public Radio transcripts are created on a rush deadline, often by contractors. This text may not be in its final form and may be updated or revised in the future. Accuracy and availability may vary. The authoritative record of New York Public Radio's programming is the audio record.