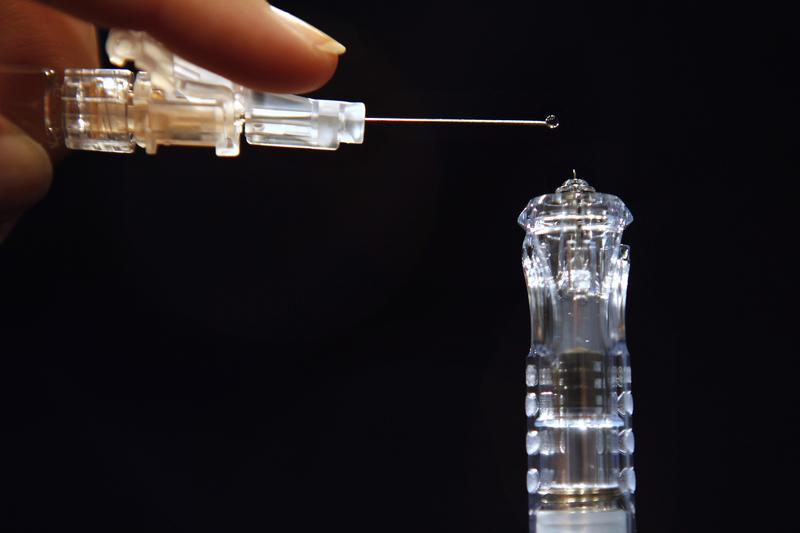 Transcript
[CLIP]
STERLING Death threats, physical threats, intimidation. It's too much. [END CLIP]
BOB GARFIELD When Republicans turn on Republicans, it can get ugly. From WNYC in New York, this is On The Media, I'm Bob Garfield. Also on this week's show, the anti-vax crowd used to be limited to nervous moms and the seriously red pilled. But COVID changed all that.
BRANDY ZADROZNY Everybody was at home on their computer and looking for answers where they were none to be found yet. So, the anti-vaccination movement saw that as an opportunity, so they started creating content.
BOB GARFIELD The first anti-vaxxers freaked out over cowpox inoculations agitated 300 years ago.
MICHAEL KINCH These vaccinated individuals, it was feared, would become these minotaur-like creatures and kill everyone in the village. And so a lot of the folks that were vaccinated early on were shunned.
BOB GARFIELD Plus, who're you calling a herd? It's all coming up after this.
[BREAK]
BOB GARFIELD From WNYC in New York, this is On the Media, Brooke Gladstone is away, I'm Bob Garfield. OK, it's here. Potential salvation in a syringe.
[CLIP]
NEWS REPORT The FDA will soon hold reviews for COVID-19 vaccine makers Pfizer and Moderna, both who have submitted emergency use authorization application. [END CLIP]
BOB GARFIELD Two or possibly three such vaccines will soon be distributed in tens of millions of doses. The goal is to successfully inoculate 60 percent of the public, at which point society would obtain so-called herd immunity and with it the end of community spread that turns isolated infections into epidemics. What humanity has going for it is a variety of vaccines with extraordinary efficacy, in clinical trials shown to approach 95 percent. What goes against us is a parallel pandemic of distrust, including conspiracy thinking and active disinformation.
[CLIP]
SKEPTIC That there's never been a vaccine like this. It's an RNA vaccine. It is what's called trans infection. It will fundamentally change people's DNA. And what I don't like about it even more than the usual thing about the toxic metals that are in vaccines that make our bodies literally into an antennae with 5G. [END CLIP]
BOB GARFIELD Lethal superstition versus lethal biological reality. As if some sort of 15th century morality tale were being played out on a 21st century stage with nothing hanging in the balance but eight billion lives. And so to begin this week's program, we will explore what both history and contemporary public opinion tell us about the prospects for protecting the human race.
We'll start with history. Before vaccines, there was an ancient practice called variolation, where people would intentionally sicken themselves with smallpox to create natural immunity. Problem was, the disease killed some percentage of the very elated and the ones who lived were still contagious. Then, in the smallpox plagued seventeen hundreds, humans were first inoculated with live cowpox - harvested from diseased cattle. And, it worked. Michael Kinch is director of the Centers for Research, Innovation and Biotechnology and Drug Discovery at Washington University in St. Louis and author of Between Hope and Fear A History of Vaccines and Human Immunity.
MICHAEL KINCH You had a new hope for preventing this horrendous disease of smallpox, but there was a fear because this was coming from a cow, it was a new thing, it was considered sort of unclean.
BOB GARFIELD Not just new, but repulsive. Scraping pus off the udders of old sick Bessie and smearing or injecting the goo on healthy humans, which some people found a bit off-putting.
MICHAEL KINCH That's putting it mildly. These vaccinated individuals, it was feared, would become these minotaur-like creatures and go and kill everyone in the village. And so a lot of the folks that were vaccinated early on were shunned by their neighbors and some of them were run out of town.
BOB GARFIELD It turned out, like unwarranted modern panics about MMR vaccine and autism, there were no actual outbreaks of minotaur violence, and the primitive vaccine was effective at curbing a disease that was killing 400000 people a year in Europe throughout the 1800s. And so the English government made the vaccine mandatory. But efficacy or no efficacy, this did not sit well with the public.
MICHAEL KINCH Well, people don't like mandates. They especially don't like government mandates. And there where everything from folks who just refuse to do it and we're willing to be jailed to riots in the streets. Folks are generally afraid of things that they don't understand and they were afraid to put their children at risk.
BOB GARFIELD I remember as a very small child, maybe a kindergartner standing in a line and being given a sugar cube which carried the polio vaccine. How did I get to that line and get my sugar treat?
MICHAEL KINCH Polio back in the 50s was a horrendous scourge. And what ended up happening was all the attention or most of the attention was being put on a gentleman by the name of Jonas Salk. And Salk had identified a way to isolate the virus for polio, to kill it using chemicals and then to take the dead virus and inject it into adults and children. And that would prevent polio from happening. When he announced that the results of his study, this was carried live on national radio and the parents were so relieved that there might now be a way to prevent polio that, you know, there was quite literally the ringing of church bells.
BOB GARFIELD But soon a horrible stroke of misfortune.
MICHAEL KINCH Some of the polio vaccine in the United States was produced by a company called Kutter Laboratories. And Kutter did not properly inactivate the polio vaccine. And sadly, polio virus, unintentionally, infected a number of children and quite a few of them died. And word of this obviously spread and caused huge panic. And very quickly, that vaccine was suspended. And instead there was a competing vaccine by a gentleman, by the name of Albert Sabin out of Cincinnati. And he was using an attenuated vaccine strain, which means a weakened virus where the virus doesn't cause disease, but it does protect. And that was put in a sugar cube and given orally. And that was the sugar cube that you and I both took.
BOB GARFIELD But again, not before actual children had died from bad batches of the previous polio vaccine. Not minotaurs or autism imaginings, but actual deaths. Yet my parents and millions of other parents rushed us into that sugar cube line. Amid contemporary narratives of stolen elections, crisis actors, pedophile elites and a malign deep state, there seems something almost quaint about that degree of trust. Matthew Motta is an assistant professor of politics at Oklahoma State University who's been conducting and collating surveys on intended vaccine acceptance based on the premise that a vaccine that's 90 percent effective will require almost 70 percent coverage to achieve the magical 60 percent immunity. I asked him if we're going to make it.
MATTHEW MOTTA The simple answer is we're cutting it really close. Based on public opinion research from both myself and my colleagues as well as other organizations, we think that somewhere around 30 percent of Americans intend to refuse a coronavirus vaccine once one becomes available. That puts us in a very precarious position.
BOB GARFIELD Yeah, it does sound like a squeaker. What are the cohorts that comprise the 30 percent of vaccine averse?
MATTHEW MOTTA On the one hand, you have some of the what we might call usual suspects. People who are less trusting of doctors and scientific evidence tend to be more likely to not plan to vaccinate. But we also see some strong political differences.
[CLIP]
TRUMP This is that new hoax. We have lost nobody to coronavirus in the United States. [END CLIP]
MATTHEW MOTTA Early on, in the spring, Democrats and Republicans tended to intend to vaccinate at roughly equal rates. Republicans dropped off over the course of the spring and summer. Potentially due to somewhat elevated levels of distrust in the scientific community. And as President Trump began tying vaccine development to his reelection chances -
[CLIP]
TRUMP We're on track to deliver and distribute the vaccine in a very, very safe and effective manner. [END CLIP].
MATTHEW MOTTA We tended to see then Democrats drop off as well. So the vaccine has become politicized in that sense. We also tend to see that women and black folks in the US are overrepresented in the group of people who don't intend to vaccinate.
BOB GARFIELD A little later in the show, we'll be looking into the frightening growth of the anti-vaxx movement, but Motta says that it's a relatively small portion of the, so far, COVID vaccine averse.
MATTHEW MOTTA The number of people who intend to refuse a coronavirus vaccine is much larger than the number of people who generally think that childhood and other vaccines are unsafe. It's a bigger group. And so while there's some overlap, there are many Americans who ordinarily think that vaccines are safe, who ordinarily vaccinate their children, who may be part of this group, who intends to refuse a coronavirus vaccine.
BOB GARFIELD And is this because they're suspicious of any vaccine which typically take between five and 20 years to develop, anything produced under warp speed conditions?
MATTHEW MOTTA Yeah, you know, the concerns about the safety and efficacy of the vaccine are the most common reason that people tell us in surveys that they might intend to refuse the vaccine once one becomes available.
BOB GARFIELD You said that black Americans are particularly wary and it's not too hard to figure out why. Structural racism in our health care system has been well documented. And then there's Tuskegee. There's a lot of sordid history there.
MATTHEW MOTTA As you mentioned, we have a very unfortunate history of testing out, as a country, novel medical procedures and treatments on people who didn't have the opportunity to say no. And so that skepticism is very well warranted. But there's another dimension to it as well, which is that we tend to find in our research that black folks in the US tend to be more likely to be concerned about the ability to get a coronavirus vaccine. They're more concerned about the possibility that they might have to pay for the vaccine or that it might be otherwise inaccessible to them.
BOB GARFIELD Motta's work is not just to identify areas of resistance, but to form messaging strategies to break that resistance down.
MATTHEW MOTTA Some people, these are the types of people who who are inclined to see their body as a temple. Were very wary of putting anything foreign into their body, and so it makes perfect sense that these individuals would be more likely to refuse vaccine. So what we do in our studies is we tell people, look, we get it. We know that vaccines are putting something foreign into your body and that that's uncomfortable. But you know what else is a foreign substance entering your body and potentially doing it harm? Measles, mumps and rubella, the very diseases that this vaccine is designed to protect you against. And we find that when we connect with people on the very grounds that lead them to be skeptical about vaccines and present the alternative using similar terms, we can get people on the side of the science.
BOB GARFIELD For those caught in the partisan divide, he proposes bipartisan expressions of reassurance and support, such as three former presidents announced this week.
[CLIP]
NEWS REPORT Presidents Barack Obama, George W. Bush and Bill Clinton have all said that they will take the vaccine on camera to promote public confidence in the vaccine safety. [END CLIP]
BOB GARFIELD But reason, proportion, trust and even success do not guarantee a reassured public. Two years ago, we spoke to Dr. Harvey Fineberg, former dean of the Harvard School of Public Health and coauthor of the government report on the 1976 swine flu outbreak that resulted in a warp speed vaccination program of its own. From a few sickened soldiers at Fort Dix to 45 million Americans vaccinated within months against the chance of a bloodbath such as the 1918 flu epidemic.
HARVEY FINEBERG You could think of it as a kind of insurance scheme, but the decision at the time didn't separate that insurance of producing the vaccine from the decision to go ahead and try to immunize all of the American public.
BOB GARFIELD Officials at the CDC and in the White House certainly understood the Chicken Little effect, which is to say, when the government does take drastic measures - just in case - if the sky doesn't fall, a pandemic doesn't materialize, they're perceived to have overreacted. So if they fail, they fail. If they succeed, they fail.
HARVEY FINEBERG You're right. In fact, there is a kind of damned if you do, damned if you don't character to these decisions. In the end, in public health, you weigh very heavily the protection of the public against this risk of reputation or future credibility, but one of the lessons of the swine flu affair was that long term credibility also matters.
BOB GARFIELD The successful stopping of the 1976 outbreak in its tracks was perceived as shooting a fly with an elephant gun and public trust in authorities diminished, lingering to this day. And yet communications expert Matt Motta is optimistic. OK, guardedly optimistic, but also not paralyzed with despair.
MATTHEW MOTTA So I'll just say that when I learned the news about the vaccine efficacy that was reported by some of these companies, I literally jumped for joy. 90 percent effectiveness puts us in the range of what we typically see for childhood immunizations, like MMR. Very effective vaccines. And are much more effective than, say, the seasonal influenza vaccine, which is typically closer to a coin flip territory. And that has really important implications for vaccine uptake. In some research undergoing peer review right now, I show that people who are told that a vaccine is more effective are going to be more likely to want to get it. And that's kind of a no brainer, right? People are more likely to want to vaccinate when they believe that what they're putting in their body has a very high rate of being successful or very high chance of being successful.
BOB GARFIELD So that may be 70 percent of us will indeed roll up our sleeves and take one for the team. Coming up, where distrust lurks. This is On the Media.
[BREAK]
BOB GARFIELD This is On the Media, I'm Bob Garfield. As Matt Motta said, stopping the pandemic's stranglehold on the United States may hinge on reframing the choices that face us. Writer Eula Biss, author of On Immunity and Innoculation, says that Americans shy away from a term like herd immunity because it conjures images of cattle corralled into a slaughterhouse. Thus the cognitive dissonance between individualism and mandatory vaccination. This proposes instead the term hive immunity to emphasize the collaboration and interdependence of a community solving a mutual problem. The Reverend Paul Abernathy is mobilizing his hive, the predominantly black and to underserved neighborhoods in Pittsburgh, to build black Americans trust in a vaccine. Father Paul enlisted community health deputies to encourage their neighbors to participate in the University of Pittsburgh's vaccine trials. Father Paul, welcome to OTM.
FATHER PAUL ABERNATHY Bob, it's so good to be with you. Thank you for having me.
BOB GARFIELD Depending on which survey you look at, between 50 and 70 percent of the public in general is willing to be vaccinated with one of these new COVID vaccines, but only 32 percent of black Americans. How did we get here?
FATHER PAUL ABERNATHY In my conversations in the community, I think there are three primary reasons why there's a lack of trust in the vaccines in the black community. First would be a history of clinical abuse. Now I think we can talk about things like the Tuskegee experiment and the mark that is left on the psyche of the African-American community. But we have to go beyond that, because there's the lived experience of clinical abuse, even in our own day and age. We can reference the studies about African-Americans being less likely to receive pain medication than whites and various other studies around health outcomes and the experiences of African-Americans in the health care system. And so this is the first reason.
A second reason would be a mistrust of government. People see government involved in the inception and distribution of this vaccine, and as they see that, they also again reflect on their experience with the government. Many failed government systems in in our communities, communities that are underserved, communities that have poor education, high unemployment rates, high rates of gun violence. And so it looks as though government policy has failed this community. And so when they see the government involved in vaccine, there's right away a mistrust of the vaccine because there's mistrust of the government.
And thirdly, I have heard people talk about a mistrust of corporate America. People understand that there are corporations that are developing vaccines. And so there's this sometimes notion that this vaccine is being pushed to make those who are rich, richer. Many people who don't have much they're not so willing to put themselves in a position to receive a vaccine ultimately to make somebody else rich. And so, just in my anecdotal experience, these are the three primary perspectives that I do believe cloud people's trust of these vaccines.
BOB GARFIELD You're in Pittsburgh where there's yet another wrinkle that I believe has manifested itself, and that is that the universities are also viewed with suspicion because they're the primary funders of gentrification swallowing up whole neighborhoods. So, you're asked to go to a university to get your vaccine. And they're kind of already viewed with suspicion.
FATHER PAUL ABERNATHY There's no question about it. Universities, although, you know, very often they claim to be places of enlightenment. Whenever we really look into how they really, you know, live the citizenship in our communities out, it's very often detrimental to those who really suffer the most among us. I think it's also compounded by the fact that there have been historically many researchers who have come into our communities, who have conducted countless hours of research, and the results of that research has served our community in absolutely no way. It's got to be a reckoning for our relationship with these universities. We can't just say these universities are going to help us, you know, promote and disseminate the vaccine. We have to say if these universities are going to embrace their obligation to serve the most vulnerable in this time of great need, we have to do so in the context of a reckoning. That I think is part of a broader national reckoning, where we have to understand that there has been too much that's too injust for too long. This vaccine gives us an opportunity to begin to have those conversations on a more serious level.
BOB GARFIELD So what you've described is, you know what, in a PowerPoint presentation they'd call headwinds. There are many obstacles to widespread acceptance of any of the COVID vaccines in the black community. What are you doing and what are you proposing to cut through those winds?
FATHER PAUL ABERNATHY The vaccine collaborative, there's weekly meetings essentially. Where community members and researchers are brought together to essentially strategize, plan and report out on the success of recent strategies implemented on the ground. And when the vaccine trials were made available, there was three percent minority participation. And so, we mobilized the community health deputies and set them out.
BOB GARFIELD Now, we're not just talking about apostles of mask wearing and social distancing. We are talking about where the rubber really meets the road. Vaccine experimentation. You mobilized people to actually sign up for clinical trials.
FATHER PAUL ABERNATHY I've seen some of these community health deputies themselves initially were not warm to the idea of vaccines, in particular vaccine trials. You know, I've seen this community hub deputies actually go out and engage folks and really ask them the question: would you do this? And if not, why? And one of the things that's been most remarkable to see, you know, I can think of one example where a community health deputy posed the question, why really would you not do that? Well the woman answered, Well, you know, I haven't seen the results of any of this and I just don't trust it. You know, the response was, well, do you know this is phase three trials explaining that phase one trial is high risk, low benefit, but phase three trial is actually high benefit, low risk. If we could get you the results from phase one or phase two, could that help alleviate some of your concern about this particular Phase three trial? And you have to see the woman pause and say, you know, if you got me some of that information. I might consider it. And that's the kind of interaction that I've seen makes all of the difference on a street here in our community. After the first week we went from three percent to eight percent enrollment of minority participation. So that was the first indicator that we had that this method was actually much more effective than some of the other methods we had previously tried.
BOB GARFIELD If you were the Sultan, what would you tell the people who are charged with the logistics of a vaccine rollout, particularly in predominantly black communities?
FATHER PAUL ABERNATHY Yes, I would tell those in charge of distribution that we've got to find those places that are, well, trusted places in the community that can become vaccine distribution sites. I know that there's challenges with that, I know in terms of refrigeration, there's probably other logistical challenges. In addition to that, these efforts should really be done in coordination with community members who are essentially opinion leaders who are deputized to become champions of the vaccine. These are some of the things that I think can greatly help vaccine distribution in these communities.
BOB GARFIELD They say, and it's become a commonplace, that with crisis comes opportunity. If the subject is broad mistrust of untrustworthy institutions with respect to the black community, with the stakes are so high, this seems like it could be a time provided the institutions behave equitably and responsibly and sensitively to actually regain or to win for the first time the trust that they have not enjoyed for, you know, two hundred and forty years.
FATHER PAUL ABERNATHY This, to me, moment in our history represents an opportunity for precisely just that. And when we look at this COVID vaccine, it's got to be about more than just COVID. It's got to be about how we not only end the pandemic as it relates to this disease, but how we also finally heal the epidemic of racial injustice in our nation.
BOB GARFIELD Father Paul, thank you.
FATHER PAUL ABERNATHY Bob, thank you.
BOB GARFIELD Father Paul Abernathy is the founder of the Neighborhood Resilience Program in Pittsburgh, Pennsylvania. To understand how to combat anti vaccination sentiment, we have to understand how the misinformation virus spreads, and to understand that we have to first know where it has resided from birth. Brandi Zadrozny, an investigative reporter at NBC News covering misinformation online, has spent years tracking the contagion. What began as science quackery that gripped anxious mothers of autistic children, Zadrozny reminds us, has turned into an industry.
BRANDY ZADROZNY Media wasn't really covering these people anymore because it was clear that the science that was the basis of the argument was junk. The doctor had been discredited, Andy Wakefield. He had been stripped of his license. And so they found and used social media, specifically Facebook, to move their message. Ads could be bought really cheap. They could even target people who Facebook had decided were, you know, vaccine curious or concerned about vaccines. That was a real boon to them. And then they quickly grew their movement and it became not a movement of moms anymore, but sort of a movement of media men. And then we had, you know, a couple of breakout stars from that Robert F. Kennedy Jr.
[CLIP]
ROBERT F KENNEDY JR Why do all our kids have diabetes, rheumatoid arthritis, they are all coming from vaccines. [END CLIP]
BRANDY ZADROZNY And Del Bigtree. The producer turned anti vaccination rock star.
[CLIP]
DEL BIGTREE And yet we listen to our medical establishment telling us we approved and we've debunked the idea that vaccines cause autism. And they are lying. They are lying [END CLIP]
BOB GARFIELD In 2019, it looked like there might be some sort of turning point or reckoning.
[CLIP]
NEWS REPORT The number of measles cases in the U.S. is surging and what has become the worst outbreak in 25 years. The CDC says seven hundred four cases have been reported in 22 states this year. [END CLIP]
BOB GARFIELD Surely this shut up the naysayers and smartened up the public, right?
BRANDY ZADROZNY I've been covering the anti vaccination movement for about a decade now. And I thought for sure that the 70 something children in Samoa who had been killed by measles would do it. That that would be the thing that people would see with their own eyes what the return of vaccine preventable illnesses can be and do and the trauma and the harm it can cause. The World Health Organization said that we were running dangerously close to no longer having officially eradicated the disease in the U.S. and strangely, it just seemed to make people dig in further.
BOB GARFIELD OK, so a still burgeoning community of mindless resistance. And then comes the serial killer, the pandemic - COVID. Look, I know what happened, but tell me what happened.
BRANDY ZADROZNY Previously where the only audience anti vaxxers may have had are people with very small children or maybe very red pilled grandparents, people like that. But now what happened with COVID was everybody was at home on their computers and looking for answers where there were nearly none to be found yet. So anti vaxxers started creating content. Content about COVID, saying it was a hoax. Content, saying that, you know, it was from various places when we didn't quite know what was happening with it, saying that preventative measures, lockdown measures were anti-liberty, anti-freedom. They started aligning with groups with which they never really had before. New age groups, libertarian groups, Q-Anon conspiracy groups, and with the help of that outreach, have grown more than tenfold. The biggest pages, I think there was a report by the Center for Countering Digital Hate, and they found that the movement has gained about eight million followers since 2019. And that has happened because they were able to align themselves with those disparate groups under one big umbrella, which is that we can't trust what anybody is telling us about these vaccines.
BOB GARFIELD You mentioned this diverse landscape of anti-vax sentiment. It was outlined in a paper in the journal Nature in May that compared the size and the scope and the strategies of the anti-vax camps with the pro-vaxxers, that is to say, the science based advocates. What were the conclusions?
BRANDY ZADROZNY So the May Nature report came out of George Washington University and it came from a physicist by the name of Neil Johnson, who actually has a past studying extremist groups like ISIS. And he draws a lot of comparisons between ISIS and the anti vaccination movement. But what he found was that the anti vaccination groups were smaller in terms of membership than pro vaccination groups, but although there were fewer of them, their messages were so diverse, they were emotive, they were really persuasive, and they were so good at spreading those messages outside of their groups and therefore they could reach more people.
BOB GARFIELD And what was their most powerful messaging technique?
BRANDY ZADROZNY So the anti vaccination movement, although it's led by men, it really rests on mothers and their stories. And those stories are some of the most heartbreaking stories you'd ever want to hear. They are stories of children who have been injured, who are autistic in a lot of cases, and so they have found an explanation for the unexplainable. And they tell these stories of, you know, baby deaths and childhood injuries. And those are the stories that really fly on social media. You know, one anti-vaxxer once told me, you have data, we have stories, and there's no way you can fact check that kind of story.
BOB GARFIELD I'm curious about that. The person saying you have data, we have stories. That suggests a kind of self-awareness and cynicism, that they understand that there is no scientific there there to connect vaccine with autism, for example, and yet they persist. For what reason?
BRANDY ZADROZNY Well, the people that run these organizations, the reason is clearly money. I mean, again Del Bigtree runs the most profitable anti vaccination nonprofit. Last year, he brought in 3.4 million dollars, a million dollars more than he brought in the year before and a million dollars more than he brought in the year before that. So this is a business to a small handful of men who run it. And that is what keeps the engine moving. And for the moms who power this engine, the reason seems clear. It gives you an understanding of why something terrible has happened, for which there is no reason. And, you know, it also gives you a sort of purpose. There's no greater story than saving children. And so it's a powerful narrative. It's a powerful mission that totally makes sense to me why anybody would believe in the anti vaccination movement, even if it's completely false.
BOB GARFIELD OK, stipulated storytelling is a powerful tool. Does that tool not work for the pro vaccination camp as well? I mean, it surely it has stories to tell.
BRANDY ZADROZNY So there are a couple of organizations. One is Voices for Vaccines and another is Vaccinate Your Family, who for years have been trying to do just that. There's a problem of funding. They just don't have that much money. The second thing is the types of stories that they have are: I went to the doctor and I got my kid vaccinated and things are great. Like that's not as compelling a story. And the second type of story that is more compelling but is also harder to get is the story of mothers and parents whose children have died from vaccine preventable illnesses. And there are some parents who have come out and told their stories like this and said, you know, my child died from a vaccine preventable illness. Please get your children vaccinated so this doesn't happen to you. But those parents are subject to some of the worst harassment campaigns you can think of. I mean, just constantly told that they have killed their children, that they're doing the devil's work, that, you know, what they're saying isn't true -
BOB GARFIELD Like the Sandy Hook parents.
BRANDY ZADROZNY 100 percent. So these Facebook groups for a long time have been not just like places to spread misinformation, but also places to organize harassment campaigns against mothers like this who might tell their stories or even, you know, a random mom who posts that her child was stillborn. They'll meet in these groups, trade these stories around and say, let's go get her in effect and then they'll go and brigade her comment section with actually it was vaccines, come to this group and we'll tell you, you know, how you can make your life have purpose. Sometimes it works and you get a new poster child for the anti vaccine movement and sometimes all it does is harass and harm a grieving parent.
BOB GARFIELD So a lot of this lives on Facebook and other social media platforms, and they've tried to take some steps to combat this kind of misinformation and the harassment. What are those steps?
BRANDY ZADROZNY Baby steps. In twenty nineteen, it was the first big move from Facebook. They were responding to that outbreak of measles and they announced a plan that they were going to reduce the visibility of vaccine misinformation. So they said they would reject advertising, they would no longer show you anti vaccine groups and pages when you search for them. Because before, if you just went to Facebook and typed in vaccine in 2019, what you would see was all anti-vax groups. Cause they all got the most engagements, they were popped up to the front. So they said they were going to stop doing that. And then finally, after a few months, that effort seemed to sort of work as part of the three pronged effort to, you know, remove super bad content, reduce borderline content, and then inform the public of good content. And then COVID happened. COVID changed everything. You know, the World Health Organization came out and said, we have a misinformation infodemic on our hands. And this was in February when we were still just sort of learning about COVID. They got all the social media platforms together and said we have to work together to combat this. And then I'm not really sure what came of that. A collaboration, seemingly not much, because Facebook just continued to roll out every couple of months. Here is a new thing we're doing on vaccines. In April, they started adding warning labels to content and working with fact checkers. Anything that they found to be false about COVID got a label. Over the summer, they set up some debunking pages and they started putting alerts out that would tell you, you know, to wear a face mask. And then in October, they said they were going to ban anti vaccine ads completely. But they still didn't address, you know, the real sources of COVID misinformation, which is pages and groups, organic conversations that's happening on their platform. And they didn't do anything until November. And November was when we saw the big enforcement with the removal of two really large anti vaccination pages and groups. Larry Cook's Stop Mandatory Vaccination and Del Bigtree's, The Highwire Internet Show that were really, for years, pumping out just the worst content.
BOB GARFIELD You mentioned the researcher, Neil Johnson. He's compared what you just described to an insurgency. How do you fight an insurgency?
BRANDY ZADROZNY What he's saying and what others have told me is there's no point trying to convince anti vaccination folks. And there's no point in trying to debunk every one of the lies because you're just playing whack a mole. At this point, what you need to do is find the civilian population in the middle. People that aren't necessarily sure and meet them where they are, have compelling narratives to tell them, and try to get those fence sitters over on your side. What he also says is that it's not enough to eradicate a problem in your own yard. So it's not enough for Facebook just to push them off to the other platform, because then, as he put it, the ants are just going to go into your neighbor's yard. What you need to do is have a neighborhood meeting with all of the platforms. Now, anybody who studies platforms or reports on platforms know that, you know, we're never going to have a room with all the people from Facebook and Twitter and Google and Gabb and Parler and whatever else. So it seems like the more likely possibility is the first one where science communicators, public health advocates have got to get better at reaching those people in the "I love my dog" groups and the "best organic wine" groups on Facebook and getting their message to those folks.
BOB GARFIELD But the ants are all over the neighborhood, the cat's out of the bag, the genie is out of the bottle. I'll stop metaphoring now, but the outlook is poor, is it not?
BRANDY ZADROZNY Yeah, it's really bad. It's really bad. There's just no really good spin to put on it. The fact is that the platforms can do whatever they want at this point shy of shutting down completely. But these groups have organized effectively on the platforms so that now you don't even need the biggest groups to spread the message. It's already in place.
BOB GARFIELD Brandy, thank you.
BRANDY ZADROZNY Thank you.
BOB GARFIELD Brandy Zadrozny is a reporter for NBC News. Coming up, hey Sidney Powell, get cracking, Kraken. This is On the Media.
[BREAK]
BOB GARFIELD This is On the Media, I'm Bob Garfield.
[CLIP]
STERLING I'm going to do my best to keep it together because it's all. Gone. Too. Far. All of it.
BOB GARFIELD That was Gabriel Sterling, a Georgia elections manager, at a press conference Tuesday in what felt like the strongest public rebuke from a Republican official against his own party since Election Day.
[CLIP]
STERLING Death threats, physical threats, intimidation, it's too much. [END CLIP]
BOB GARFIELD Sterling went on to list a series of recent threats by conservatives, including ones targeted at two Republican election officials, for the sin of debunking Trump world conspiracy theories, namely that voting machines converted Trump votes into Biden votes. One of the targets, Christopher Krebs, former director of the Cybersecurity and Infrastructure Security Agency, was fired by the president and harassed by Trump campaign lawyer Joe DiGenova.
[CLIP]
STERLING Joe DiGenova today asked for Chris Krebs, a patriot, to be shot. [END CLIP]
BOB GARFIELD One militia member filmed a MAGA mobile caravan swarming the roads surrounding the Georgia Secretary of State's house. Blasting their horns and demanding electoral justice.
[CLIP]
MILTIA MEMBER All right. We're rolling. Beep. Must be a 100 cars out here today [END CLIP]
BOB GARFIELD One young election worker in Georgia, an employee of the suddenly vilified Dominion Voting Systems, was doxed for performing a routine task.
[CLIP]
STERLING A 20-something tech at Gwinnett County today has death threats and a noose put out saying he should be hung for treason because he was transferring a report on batches from an EMS, to a county computer so he could read it. It has to stop. [END CLIP]
BOB GARFIELD Why would they stop? The whole point of a big lie is to mobilize the partisan gullible. Oh and to monetize them too. Trump has used the voter fraud grift to raise nearly 200 million dollars since Election Day. Thus, on Wednesday, he and his legal team updated their bizzaro conspiracy narrative, now focused on the aforementioned voting machine company.
[CLIP]
TRUMP Its name is Dominion. With the turn of a dial or the change of a chip. You can press a button for Trump, and the vote goes to Biden. What kind of a system is this? [END CLIP]
BOB GARFIELD Not only have his election fraud theory been repeatedly shot down by courts in Michigan, Pennsylvania, Wisconsin, Arizona and Georgia. The Washington Post review of vote tallies found that in 81 percent of swing state counties that used Dominion software, Trump won. Even Attorney General Bill Barr, hitherto reliable for using the weight of the Justice Department in Trump service, said no vote in any precinct was so far found to have been undone by fraud. That message was heard loud and clear by the president, who reportedly hinted Barr will be fired. Bloodied but unbowed, Trump's Four Seasons total lawyer Rudy Giuliani pressed for legislative relief. In a hearing staged by sympathetic Michigan legislators, Giuliani unveiled the campaign's new star witness, Mellissa Carone, a former Dominion contractor whose testimony a Michigan judge had found, quote, simply not credible. On Wednesday, she found herself further doubted by Republican Representative Steven Johnson, whom Carone promptly fingered as part of the conspiracy.
[CLIP]
JOHNSON We're not seeing the poll book off by 30,000 votes. That's not the case.
CARONE What did you guys do? Take it and do something crazy to it?
JOHNSON I'm just saying the numbers are not off by 30,000 votes. So.
CARONE I know what I saw.
JOHNSON Are you saying that they're filling in.
CARONE I know what I saw. And I signed something saying that if I'm wrong, I can go to prison. Did you? [END CLIP]
BOB GARFIELD Shortly thereafter, it would seem, as you already know, if you have the Internet, Giuliani got at least some of the relief he sought.
[CLIP]
GIULIANI the answer that I gave you is they didn't bother to interview a single [AUDIBLY EXPELS GAS] witness just like you. They don't want to know the truth. [END CLIP]
BOB GARFIELD But the real star of the Dominion Circus is Sidney Powell, the lawyer who was fired from the president's legal team last month on the grounds of being from outer space. A Trump campaign official told The Washington Post that Powell was, quote, too crazy even for the president. Not too crazy for Fox Business, however.
[CLIP]
SYDNEY POWELL Well, I can hardly wait to put forth all the evidence we have collected on Dominion. Starting with the fact it was created to produce altered voting results in Venezuela for Hugo Chavez. It was funded by money from Venezuela and Cuba, and China has a role in it also. [END CLIP]
BOB GARFIELD Powell did not mention Altair IV, the Forbidden Planet, which was perhaps an oversight. So naturally she made the rounds of Fox channels, including spots on Lou Dobbs and Sean Hannity, who was just dying to hear from the testimony of the random witnesses who 13 courts have dismissed as irrelevant.
[CLIP]
DOBBS Listen, if these people have something to say, we've got to be able to hear them. When these people can speak, I'd love to have the chance to interview them. Sydney, thank you. [END CLIP]
BOB GARFIELD As for Dobbs, he gets credit for platforming the obscure lawyer in her journey from eccentricity to conspiracy addled cartoon character. It was on his show a few weeks ago that Powell first uttered her now famous catch phrase.
[CLIP]
POWELL I'm going to release the Kraken. [END CLIP]
BOB GARFIELD The Kraken, the giant sea monster from Scandinavian folklore. Later, mishmashed with Greek mythology in the 1981 film Clash of the Titans, remade in 2010. The catchphrase comes from a scene when Zeus sends the beast to wreak havoc on a human city.
[CLIP]
ZEUS Release the kraken. [END CLIP].
BOB GARFIELD In a matter of days, hashtag release the Kraken went viral as a rallying cry for the far-right groups, hoping the Trumps team's flimsy legal challenges would flip the election and own the Libs big time.
[CLIP]
LOYALIST OK, everybody set for a good weekend. I sure am, because Donald Trump administration has released the kraken. [END CLIP]
BOB GARFIELD It was QAnon Joe McCarthy's list of 205 State Department communists and Charlie Brown's football all rolled into one. But wait, had Powell or her followers even seen The Clash of The Titans? At the film's climax, our protagonist Perseus vanquishes the kraken, turning the monster into a pile of stone rubble that comes crashing into the sea. Which brings to mind another misapplied movie reference by another disgraced former Trump employee. That time when Brad Parscale, former reelection campaign manager, likened to the 2020 campaign's grandeur to that of the Death Star from Star Wars. The Death Star. The mothership of the quasi fascist empire that was famously blown up by the good guys. Death Star, Kraken, the Republican health care plan, they all sound so cool and big and triumphant, kind of like the Great Awakening, or the storm. The vague prophecies that animate the members of the QAnon cult. Who, by the way, went all in on the Dominion conspiracy theory.
[CLIP]
WATKINS So you have the issue of the person who is inside the tabulation machine, which is just a normal Windows 10 computer. Are they manipulating the vote before it goes to the flash drive?
ANCHOR When American News spoke with Ron Watkins, a large systems technical analyst who has been poring over the Dominion Systems Manual. [END CLIP]
BOB GARFIELD A large systems technical what? In fact, Ron Watkins is the former site administrator for 8kun and 8chan, the far-right Internet forums that incubated the QAnon conspiracy theory. This is a man who literally had the authority to post as Q, the mysterious messiah for which the conspiracy theory is named. Many assume Watkins himself is Q. So why would OAN, on his first TV appearance obscure the simple facts about his past? The same reason why Dobbs and Hannity somehow omitted Sidney Powell's fall from grace. The same reason why the Trump legal team is relying on uncredible witnesses like Melissa Carone. In a reckless final effort to retain power, Trump World can locate no actual experts or persons of reputation to flog their delusion. So they make demi-celebrities of D-listers and the previously disgraced. Like birtherism, perfect phone call, and COVID hoax - stop the steal is built upon a flimsy tissue of lies. But yet, as they say, it persists. In our world, the real world. The Kraken has crumbled to the sea. The Death Star has been destroyed, but in the right-wing media, the parade of fictions goes marching on.
That's it for this week's show. On the Media is produced by Alana Casanova-Burgess, Micah Loewinger, Leah Feder, Jon Hanrahan and Eloise Blondiau with help from Ava Sasani. Xandra Ellin writes our newsletter. Our technical director is Jennifer Munson, our engineers this week were Adriene Lilly and Josh Hahn. Katya Rogers is our executive producer. Bassist composer Ben Allison wrote our theme. On the Media is a production of WNYC Studios. Brooke Gladstone will be back next week, I'm Bob Garfield.
Copyright © 2020 New York Public Radio. All rights reserved. Visit our website terms of use at www.wnyc.org for further information.
New York Public Radio transcripts are created on a rush deadline, often by contractors. This text may not be in its final form and may be updated or revised in the future. Accuracy and availability may vary. The authoritative record of New York Public Radio's programming is the audio record.