How to Earn Trust in a Coronavirus Vaccine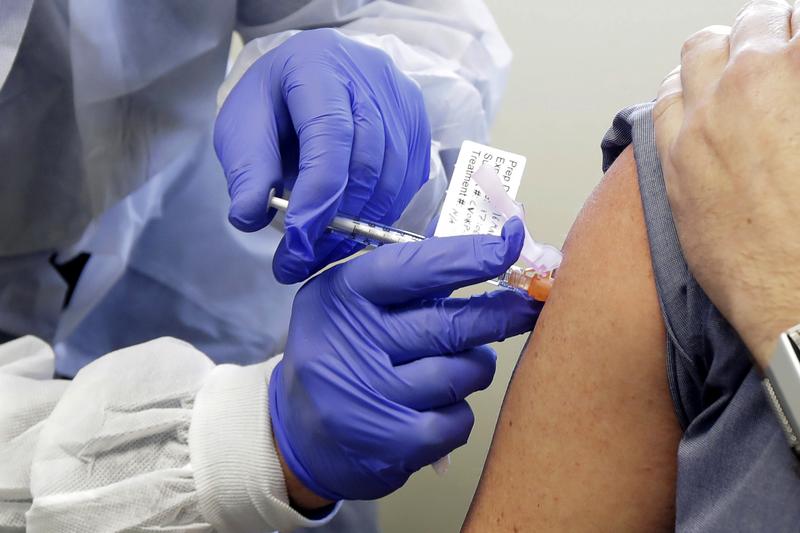 Transcript
BOB GARFIELD From WNYC in New York, this is On the Media, Brooke Gladstone is away, I'm Bob Garfield. OK, it's here. Potential salvation in a syringe.
[CLIP]
NEWS REPORT The FDA will soon hold reviews for COVID-19 vaccine makers Pfizer and Moderna, both who have submitted emergency use authorization application. [END CLIP]
BOB GARFIELD Two or possibly three such vaccines will soon be distributed in tens of millions of doses. The goal is to successfully inoculate 60 percent of the public, at which point society would obtain so-called herd immunity and with it the end of community spread that turns isolated infections into epidemics. What humanity has going for it is a variety of vaccines with extraordinary efficacy, in clinical trials shown to approach 95 percent. What goes against us is a parallel pandemic of distrust, including conspiracy thinking and active disinformation.
[CLIP]
SKEPTIC That there's never been a vaccine like this. It's an RNA vaccine. It is what's called trans infection. It will fundamentally change people's DNA. And what I don't like about it even more than the usual thing about the toxic metals that are in vaccines that make our bodies literally into an antennae with 5G. [END CLIP]
BOB GARFIELD Lethal superstition versus lethal biological reality. As if some sort of 15th century morality tale were being played out on a 21st century stage with nothing hanging in the balance but eight billion lives. And so to begin this week's program, we will explore what both history and contemporary public opinion tell us about the prospects for protecting the human race.
We'll start with history. Before vaccines, there was an ancient practice called variolation, where people would intentionally sicken themselves with smallpox to create natural immunity. Problem was, the disease killed some percentage of the very elated and the ones who lived were still contagious. Then, in the smallpox plagued seventeen hundreds, humans were first inoculated with live cowpox - harvested from diseased cattle. And, it worked. Michael Kinch is director of the Centers for Research, Innovation and Biotechnology and Drug Discovery at Washington University in St. Louis and author of Between Hope and Fear A History of Vaccines and Human Immunity.
MICHAEL KINCH You had a new hope for preventing this horrendous disease of smallpox, but there was a fear because this was coming from a cow, it was a new thing, it was considered sort of unclean.
BOB GARFIELD Not just new, but repulsive. Scraping pus off the udders of old sick Bessie and smearing or injecting the goo on healthy humans, which some people found a bit off-putting.
MICHAEL KINCH That's putting it mildly. These vaccinated individuals, it was feared, would become these minotaur-like creatures and go and kill everyone in the village. And so a lot of the folks that were vaccinated early on were shunned by their neighbors and some of them were run out of town.
BOB GARFIELD It turned out, like unwarranted modern panics about MMR vaccine and autism, there were no actual outbreaks of minotaur violence, and the primitive vaccine was effective at curbing a disease that was killing 400000 people a year in Europe throughout the 1800s. And so the English government made the vaccine mandatory. But efficacy or no efficacy, this did not sit well with the public.
MICHAEL KINCH Well, people don't like mandates. They especially don't like government mandates. And there where everything from folks who just refuse to do it and we're willing to be jailed to riots in the streets. Folks are generally afraid of things that they don't understand and they were afraid to put their children at risk.
BOB GARFIELD I remember as a very small child, maybe a kindergartner standing in a line and being given a sugar cube which carried the polio vaccine. How did I get to that line and get my sugar treat?
MICHAEL KINCH Polio back in the 50s was a horrendous scourge. And what ended up happening was all the attention or most of the attention was being put on a gentleman by the name of Jonas Salk. And Salk had identified a way to isolate the virus for polio, to kill it using chemicals and then to take the dead virus and inject it into adults and children. And that would prevent polio from happening. When he announced that the results of his study, this was carried live on national radio and the parents were so relieved that there might now be a way to prevent polio that, you know, there was quite literally the ringing of church bells.
BOB GARFIELD But soon a horrible stroke of misfortune.
MICHAEL KINCH Some of the polio vaccine in the United States was produced by a company called Kutter Laboratories. And Kutter did not properly inactivate the polio vaccine. And sadly, polio virus, unintentionally, infected a number of children and quite a few of them died. And word of this obviously spread and caused huge panic. And very quickly, that vaccine was suspended. And instead there was a competing vaccine by a gentleman, by the name of Albert Sabin out of Cincinnati. And he was using an attenuated vaccine strain, which means a weakened virus where the virus doesn't cause disease, but it does protect. And that was put in a sugar cube and given orally. And that was the sugar cube that you and I both took.
BOB GARFIELD But again, not before actual children had died from bad batches of the previous polio vaccine. Not minotaurs or autism imaginings, but actual deaths. Yet my parents and millions of other parents rushed us into that sugar cube line. Amid contemporary narratives of stolen elections, crisis actors, pedophile elites and a malign deep state, there seems something almost quaint about that degree of trust. Matthew Motta is an assistant professor of politics at Oklahoma State University who's been conducting and collating surveys on intended vaccine acceptance based on the premise that a vaccine that's 90 percent effective will require almost 70 percent coverage to achieve the magical 60 percent immunity. I asked him if we're going to make it.
MATTHEW MOTTA The simple answer is we're cutting it really close. Based on public opinion research from both myself and my colleagues as well as other organizations, we think that somewhere around 30 percent of Americans intend to refuse a coronavirus vaccine once one becomes available. That puts us in a very precarious position.
BOB GARFIELD Yeah, it does sound like a squeaker. What are the cohorts that comprise the 30 percent of vaccine averse?
MATTHEW MOTTA On the one hand, you have some of the what we might call usual suspects. People who are less trusting of doctors and scientific evidence tend to be more likely to not plan to vaccinate. But we also see some strong political differences.
[CLIP]
TRUMP This is that new hoax. We have lost nobody to coronavirus in the United States. [END CLIP]
MATTHEW MOTTA Early on, in the spring, Democrats and Republicans tended to intend to vaccinate at roughly equal rates. Republicans dropped off over the course of the spring and summer. Potentially due to somewhat elevated levels of distrust in the scientific community. And as President Trump began tying vaccine development to his reelection chances -
[CLIP]
TRUMP We're on track to deliver and distribute the vaccine in a very, very safe and effective manner. [END CLIP].
MATTHEW MOTTA We tended to see then Democrats drop off as well. So the vaccine has become politicized in that sense. We also tend to see that women and black folks in the US are overrepresented in the group of people who don't intend to vaccinate.
BOB GARFIELD A little later in the show, we'll be looking into the frightening growth of the anti-vaxx movement, but Motta says that it's a relatively small portion of the, so far, COVID vaccine averse.
MATTHEW MOTTA The number of people who intend to refuse a coronavirus vaccine is much larger than the number of people who generally think that childhood and other vaccines are unsafe. It's a bigger group. And so while there's some overlap, there are many Americans who ordinarily think that vaccines are safe, who ordinarily vaccinate their children, who may be part of this group, who intends to refuse a coronavirus vaccine.
BOB GARFIELD And is this because they're suspicious of any vaccine which typically take between five and 20 years to develop, anything produced under warp speed conditions?
MATTHEW MOTTA Yeah, you know, the concerns about the safety and efficacy of the vaccine are the most common reason that people tell us in surveys that they might intend to refuse the vaccine once one becomes available.
BOB GARFIELD You said that black Americans are particularly wary and it's not too hard to figure out why. Structural racism in our health care system has been well documented. And then there's Tuskegee. There's a lot of sordid history there.
MATTHEW MOTTA As you mentioned, we have a very unfortunate history of testing out, as a country, novel medical procedures and treatments on people who didn't have the opportunity to say no. And so that skepticism is very well warranted. But there's another dimension to it as well, which is that we tend to find in our research that black folks in the US tend to be more likely to be concerned about the ability to get a coronavirus vaccine. They're more concerned about the possibility that they might have to pay for the vaccine or that it might be otherwise inaccessible to them.
BOB GARFIELD Motta's work is not just to identify areas of resistance, but to form messaging strategies to break that resistance down.
MATTHEW MOTTA Some people, these are the types of people who who are inclined to see their body as a temple. Were very wary of putting anything foreign into their body, and so it makes perfect sense that these individuals would be more likely to refuse vaccine. So what we do in our studies is we tell people, look, we get it. We know that vaccines are putting something foreign into your body and that that's uncomfortable. But you know what else is a foreign substance entering your body and potentially doing it harm? Measles, mumps and rubella, the very diseases that this vaccine is designed to protect you against. And we find that when we connect with people on the very grounds that lead them to be skeptical about vaccines and present the alternative using similar terms, we can get people on the side of the science.
BOB GARFIELD For those caught in the partisan divide, he proposes bipartisan expressions of reassurance and support, such as three former presidents announced this week.
[CLIP]
NEWS REPORT Presidents Barack Obama, George W. Bush and Bill Clinton have all said that they will take the vaccine on camera to promote public confidence in the vaccine safety. [END CLIP]
BOB GARFIELD But reason, proportion, trust and even success do not guarantee a reassured public. Two years ago, we spoke to Dr. Harvey Fineberg, former dean of the Harvard School of Public Health and coauthor of the government report on the 1976 swine flu outbreak that resulted in a warp speed vaccination program of its own. From a few sickened soldiers at Fort Dix to 45 million Americans vaccinated within months against the chance of a bloodbath such as the 1918 flu epidemic.
HARVEY FINEBERG You could think of it as a kind of insurance scheme, but the decision at the time didn't separate that insurance of producing the vaccine from the decision to go ahead and try to immunize all of the American public.
BOB GARFIELD Officials at the CDC and in the White House certainly understood the Chicken Little effect, which is to say, when the government does take drastic measures - just in case - if the sky doesn't fall, a pandemic doesn't materialize, they're perceived to have overreacted. So if they fail, they fail. If they succeed, they fail.
HARVEY FINEBERG You're right. In fact, there is a kind of damned if you do, damned if you don't character to these decisions. In the end, in public health, you weigh very heavily the protection of the public against this risk of reputation or future credibility, but one of the lessons of the swine flu affair was that long term credibility also matters.
BOB GARFIELD The successful stopping of the 1976 outbreak in its tracks was perceived as shooting a fly with an elephant gun and public trust in authorities diminished, lingering to this day. And yet communications expert Matt Motta is optimistic. OK, guardedly optimistic, but also not paralyzed with despair.
MATTHEW MOTTA So I'll just say that when I learned the news about the vaccine efficacy that was reported by some of these companies, I literally jumped for joy. 90 percent effectiveness puts us in the range of what we typically see for childhood immunizations, like MMR. Very effective vaccines. And are much more effective than, say, the seasonal influenza vaccine, which is typically closer to a coin flip territory. And that has really important implications for vaccine uptake. In some research undergoing peer review right now, I show that people who are told that a vaccine is more effective are going to be more likely to want to get it. And that's kind of a no brainer, right? People are more likely to want to vaccinate when they believe that what they're putting in their body has a very high rate of being successful or very high chance of being successful.
BOB GARFIELD So that may be 70 percent of us will indeed roll up our sleeves and take one for the team. Coming up, where distrust lurks. This is On the Media.
Copyright © 2020 New York Public Radio. All rights reserved. Visit our website terms of use at www.wnyc.org for further information.
New York Public Radio transcripts are created on a rush deadline, often by contractors. This text may not be in its final form and may be updated or revised in the future. Accuracy and availability may vary. The authoritative record of New York Public Radio's programming is the audio record.