Anti-Vax Ideas Have Metastasized in 2020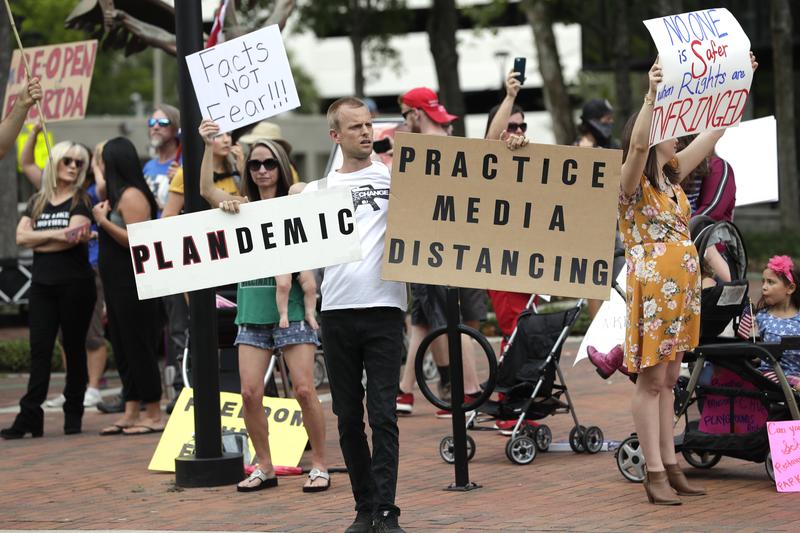 Transcript
BOB GARFIELD To understand how to combat anti vaccination sentiment, we have to understand how the misinformation virus spreads, and to understand that we have to first know where it has resided from birth. Brandi Zadrozny, an investigative reporter at NBC News covering misinformation online, has spent years tracking the contagion. What began as science quackery that gripped anxious mothers of autistic children, Zadrozny reminds us, has turned into an industry.
BRANDY ZADROZNY Media wasn't really covering these people anymore because it was clear that the science that was the basis of the argument was junk. The doctor had been discredited, Andy Wakefield. He had been stripped of his license. And so they found and used social media, specifically Facebook, to move their message. Ads could be bought really cheap. They could even target people who Facebook had decided were, you know, vaccine curious or concerned about vaccines. That was a real boon to them. And then they quickly grew their movement and it became not a movement of moms anymore, but sort of a movement of media men. And then we had, you know, a couple of breakout stars from that Robert F. Kennedy Jr.
[CLIP]
ROBERT F KENNEDY JR Why do all our kids have diabetes, rheumatoid arthritis, they are all coming from vaccines. [END CLIP]
BRANDY ZADROZNY And Del Bigtree. The producer turned anti vaccination rock star.
[CLIP]
DEL BIGTREE And yet we listen to our medical establishment telling us we approved and we've debunked the idea that vaccines cause autism. And they are lying. They are lying [END CLIP]
BOB GARFIELD In 2019, it looked like there might be some sort of turning point or reckoning.
[CLIP]
NEWS REPORT The number of measles cases in the U.S. is surging and what has become the worst outbreak in 25 years. The CDC says seven hundred four cases have been reported in 22 states this year. [END CLIP]
BOB GARFIELD Surely this shut up the naysayers and smartened up the public, right?
BRANDY ZADROZNY I've been covering the anti vaccination movement for about a decade now. And I thought for sure that the 70 something children in Samoa who had been killed by measles would do it. That that would be the thing that people would see with their own eyes what the return of vaccine preventable illnesses can be and do and the trauma and the harm it can cause. The World Health Organization said that we were running dangerously close to no longer having officially eradicated the disease in the U.S. and strangely, it just seemed to make people dig in further.
BOB GARFIELD OK, so a still burgeoning community of mindless resistance. And then comes the serial killer, the pandemic - COVID. Look, I know what happened, but tell me what happened.
BRANDY ZADROZNY Previously where the only audience anti vaxxers may have had are people with very small children or maybe very red pilled grandparents, people like that. But now what happened with COVID was everybody was at home on their computers and looking for answers where there were nearly none to be found yet. So anti vaxxers started creating content. Content about COVID, saying it was a hoax. Content, saying that, you know, it was from various places when we didn't quite know what was happening with it, saying that preventative measures, lockdown measures were anti-liberty, anti-freedom. They started aligning with groups with which they never really had before. New age groups, libertarian groups, Q-Anon conspiracy groups, and with the help of that outreach, have grown more than tenfold. The biggest pages, I think there was a report by the Center for Countering Digital Hate, and they found that the movement has gained about eight million followers since 2019. And that has happened because they were able to align themselves with those disparate groups under one big umbrella, which is that we can't trust what anybody is telling us about these vaccines.
BOB GARFIELD You mentioned this diverse landscape of anti-vax sentiment. It was outlined in a paper in the journal Nature in May that compared the size and the scope and the strategies of the anti-vax camps with the pro-vaxxers, that is to say, the science based advocates. What were the conclusions?
BRANDY ZADROZNY So the May Nature report came out of George Washington University and it came from a physicist by the name of Neil Johnson, who actually has a past studying extremist groups like ISIS. And he draws a lot of comparisons between ISIS and the anti vaccination movement. But what he found was that the anti vaccination groups were smaller in terms of membership than pro vaccination groups, but although there were fewer of them, their messages were so diverse, they were emotive, they were really persuasive, and they were so good at spreading those messages outside of their groups and therefore they could reach more people.
BOB GARFIELD And what was their most powerful messaging technique?
BRANDY ZADROZNY So the anti vaccination movement, although it's led by men, it really rests on mothers and their stories. And those stories are some of the most heartbreaking stories you'd ever want to hear. They are stories of children who have been injured, who are autistic in a lot of cases, and so they have found an explanation for the unexplainable. And they tell these stories of, you know, baby deaths and childhood injuries. And those are the stories that really fly on social media. You know, one anti-vaxxer once told me, you have data, we have stories, and there's no way you can fact check that kind of story.
BOB GARFIELD I'm curious about that. The person saying you have data, we have stories. That suggests a kind of self-awareness and cynicism, that they understand that there is no scientific there there to connect vaccine with autism, for example, and yet they persist. For what reason?
BRANDY ZADROZNY Well, the people that run these organizations, the reason is clearly money. I mean, again Del Bigtree runs the most profitable anti vaccination nonprofit. Last year, he brought in 3.4 million dollars, a million dollars more than he brought in the year before and a million dollars more than he brought in the year before that. So this is a business to a small handful of men who run it. And that is what keeps the engine moving. And for the moms who power this engine, the reason seems clear. It gives you an understanding of why something terrible has happened, for which there is no reason. And, you know, it also gives you a sort of purpose. There's no greater story than saving children. And so it's a powerful narrative. It's a powerful mission that totally makes sense to me why anybody would believe in the anti vaccination movement, even if it's completely false.
BOB GARFIELD OK, stipulated storytelling is a powerful tool. Does that tool not work for the pro vaccination camp as well? I mean, it surely it has stories to tell.
BRANDY ZADROZNY So there are a couple of organizations. One is Voices for Vaccines and another is Vaccinate Your Family, who for years have been trying to do just that. There's a problem of funding. They just don't have that much money. The second thing is the types of stories that they have are: I went to the doctor and I got my kid vaccinated and things are great. Like that's not as compelling a story. And the second type of story that is more compelling but is also harder to get is the story of mothers and parents whose children have died from vaccine preventable illnesses. And there are some parents who have come out and told their stories like this and said, you know, my child died from a vaccine preventable illness. Please get your children vaccinated so this doesn't happen to you. But those parents are subject to some of the worst harassment campaigns you can think of. I mean, just constantly told that they have killed their children, that they're doing the devil's work, that, you know, what they're saying isn't true -
BOB GARFIELD Like the Sandy Hook parents.
BRANDY ZADROZNY 100 percent. So these Facebook groups for a long time have been not just like places to spread misinformation, but also places to organize harassment campaigns against mothers like this who might tell their stories or even, you know, a random mom who posts that her child was stillborn. They'll meet in these groups, trade these stories around and say, let's go get her in effect and then they'll go and brigade her comment section with actually it was vaccines, come to this group and we'll tell you, you know, how you can make your life have purpose. Sometimes it works and you get a new poster child for the anti vaccine movement and sometimes all it does is harass and harm a grieving parent.
BOB GARFIELD So a lot of this lives on Facebook and other social media platforms, and they've tried to take some steps to combat this kind of misinformation and the harassment. What are those steps?
BRANDY ZADROZNY Baby steps. In twenty nineteen, it was the first big move from Facebook. They were responding to that outbreak of measles and they announced a plan that they were going to reduce the visibility of vaccine misinformation. So they said they would reject advertising, they would no longer show you anti vaccine groups and pages when you search for them. Because before, if you just went to Facebook and typed in vaccine in 2019, what you would see was all anti-vax groups. Cause they all got the most engagements, they were popped up to the front. So they said they were going to stop doing that. And then finally, after a few months, that effort seemed to sort of work as part of the three pronged effort to, you know, remove super bad content, reduce borderline content, and then inform the public of good content. And then COVID happened. COVID changed everything. You know, the World Health Organization came out and said, we have a misinformation infodemic on our hands. And this was in February when we were still just sort of learning about COVID. They got all the social media platforms together and said we have to work together to combat this. And then I'm not really sure what came of that. A collaboration, seemingly not much, because Facebook just continued to roll out every couple of months. Here is a new thing we're doing on vaccines. In April, they started adding warning labels to content and working with fact checkers. Anything that they found to be false about COVID got a label. Over the summer, they set up some debunking pages and they started putting alerts out that would tell you, you know, to wear a face mask. And then in October, they said they were going to ban anti vaccine ads completely. But they still didn't address, you know, the real sources of COVID misinformation, which is pages and groups, organic conversations that's happening on their platform. And they didn't do anything until November. And November was when we saw the big enforcement with the removal of two really large anti vaccination pages and groups. Larry Cook's Stop Mandatory Vaccination and Del Bigtree's, The Highwire Internet Show that were really, for years, pumping out just the worst content.
BOB GARFIELD You mentioned the researcher, Neil Johnson. He's compared what you just described to an insurgency. How do you fight an insurgency?
BRANDY ZADROZNY What he's saying and what others have told me is there's no point trying to convince anti vaccination folks. And there's no point in trying to debunk every one of the lies because you're just playing whack a mole. At this point, what you need to do is find the civilian population in the middle. People that aren't necessarily sure and meet them where they are, have compelling narratives to tell them, and try to get those fence sitters over on your side. What he also says is that it's not enough to eradicate a problem in your own yard. So it's not enough for Facebook just to push them off to the other platform, because then, as he put it, the ants are just going to go into your neighbor's yard. What you need to do is have a neighborhood meeting with all of the platforms. Now, anybody who studies platforms or reports on platforms know that, you know, we're never going to have a room with all the people from Facebook and Twitter and Google and Gabb and Parler and whatever else. So it seems like the more likely possibility is the first one where science communicators, public health advocates have got to get better at reaching those people in the "I love my dog" groups and the "best organic wine" groups on Facebook and getting their message to those folks.
BOB GARFIELD But the ants are all over the neighborhood, the cat's out of the bag, the genie is out of the bottle. I'll stop metaphoring now, but the outlook is poor, is it not?
BRANDY ZADROZNY Yeah, it's really bad. It's really bad. There's just no really good spin to put on it. The fact is that the platforms can do whatever they want at this point shy of shutting down completely. But these groups have organized effectively on the platforms so that now you don't even need the biggest groups to spread the message. It's already in place.
BOB GARFIELD Brandy, thank you.
BRANDY ZADROZNY Thank you.
BOB GARFIELD Brandy Zadrozny is a reporter for NBC News. Coming up, hey Sidney Powell, get cracking, Kraken. This is On the Media.
Copyright © 2020 New York Public Radio. All rights reserved. Visit our website terms of use at www.wnyc.org for further information.
New York Public Radio transcripts are created on a rush deadline, often by contractors. This text may not be in its final form and may be updated or revised in the future. Accuracy and availability may vary. The authoritative record of New York Public Radio's programming is the audio record.