Inside Russia's Crackdown on Journalists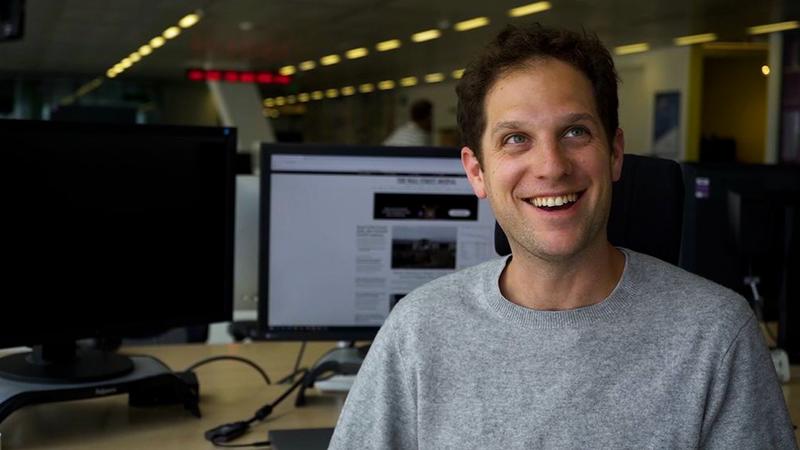 Transcript
Brooke Gladstone From WNYC in New York, this is on the media. I'm Brooke Gladstone. This week, we had a mother of a big old leak.
NEWS CLIP Around 100 pages of classified slides and briefing materials from the Pentagon have now been found floating around the Internet. The documents range from briefing slides, mapping out Ukrainian military positions to assessments of international support for Ukraine.
Brooke Gladstone The leaked documents surfaced on Discord, an online messaging app popular with gamers. An anonymous user called OGE posted them in a small chat room of about 25 people, the kind of place where you'd expect to find obscure posts about video game tactics and some unsavory means. The evidence suggests that O.G. wasn't an activist or a firebrand. Just kind of a show off. Seen on video shouting racist slurs while firing a gun.
NEWS CLIP The documents were leaked when one server member posted them to win an argument about the war in Ukraine. After that, the leaked documents started circling around a few other private discords, including a minecraft theme one before leaking to Fortune.
NEWS CLIP People were reading them and they were not commenting on them.
NEWS CLIP There are sensitive topics, including under what circumstances Vladimir Putin might use nuclear weapons. Some materials were marked top secret. Most are considered genuine.
Brooke Gladstone On Thursday, the New York Times broke the news that the FBI had raided the home of the alleged culprit, a 21 year old member of the Massachusetts Air National Guard.
NEWS CLIP His unit, per our Pentagon team, would typically be handling intelligence collected by surveillance aircraft like Reaper and Predator drones.
Brooke Gladstone The leak comes at a delicate time. Ukraine's spring offensive, the subject of much of the leaked documents, could be a make or break moment in its fight against Russian aggression. The pages expose U.S. intelligence on Russian and Ukrainian battle strategies, munitions counts and the number of casualties on both sides, a statistic journalists have found very hard to get. They show how good U.S. intelligence is, but also how opaque this conflict really is to the rest of us. Reporting on the war is complex, difficult and dangerous. On the media, producer Molly Schwartz brings us the story of the arrest of Wall Street Journal reporter Evan Gersh. A bitch the first time a U.S. reporter has been held on espionage charges in Russia since the Cold War. And the challenges right now of reporting on Russia from Russia.
MOLLY SCHWARTZ For the first months of the war. Valerie Hopkins, a New York Times correspondent who's usually based in Moscow, was in Ukraine. Then she went back to Moscow to cover the conflict from there.
VALERIE HOPKINS Evan became one of my close friends when I went back after the war started in August last year. We got very close because it's a very difficult environment to work in and at first a lot of people were leaving. Then the censorship laws came out. Then they started charging people with the censorship laws.
MOLLY SCHWARTZ The Russian government passed several censorship laws in early March 2020 to warn against spreading so-called fake news and another against discrediting the Russian army. Those new laws made it really risky to be a journalist in Russia. And so most of the journalists left the country. Evan and Valerie were a couple of the only American correspondents still working there.
VALERIE HOPKINS I talked a lot with Evan about what a privilege it was and what a responsibility we both felt to be there at this time and do this work. And among the many things that are so heartbreaking about this is that Evan felt a real sense of journalistic mission, of living through historic times, being in Moscow, being in Russia does actually really feel every day like a time when you can see how society is changing, how a country is changing before your eyes. And being able to chronicle it was really important.
MOLLY SCHWARTZ It was after noon on Wednesday, March 29th, when Valerie noticed something might be wrong.
VALERIE HOPKINS We had actually a group chat with another American journalist where we basically talked almost every day, and I had sent him a message in the afternoon. And I remember going to bed on Wednesday thinking like, This is really weird. Why didn't he answer with something? He normally actually answers very fast.
GORDON FAIRCLOUGH Our security folks raised the alarm that they were unable to reach him.
MOLLY SCHWARTZ Gordon Fairclough is the Wall Street Journal's world coverage chief. He oversees all of the journalists, foreign correspondents, including Evan.
GORDON FAIRCLOUGH His phone stop pinging and he missed one of his regularly scheduled callings. And so that then set off a scramble to try to find him.
MOLLY SCHWARTZ Evan has lived and worked in Russia as a journalist for almost six years. He joined The Wall Street Journal in January 2022, just about a month before Russia invaded Ukraine.
GORDON FAIRCLOUGH One of the first stories he did after the war started. Was traveling to the border of Belarus and Ukraine, or he was the only Russian journalist, to my knowledge, to witness the very large number of Russian casualties coming out from the offensive efforts around Kiev and saw caravans of ambulances and wounded Russian soldiers being loaded into trains to be shipped back to hospitals in Russia.
MOLLY SCHWARTZ Right. And that was a major story because Russia had been downplaying the casualties of its soldiers during the war. And Evan was the first American journalist, I think, to see on the ground proof of these casualties.
GORDON FAIRCLOUGH That's right. And those were in the very early days when we really weren't sure what was happening on the ground. You know, and it was one of the first significant indications that the Russians were having trouble.
MOLLY SCHWARTZ It wasn't until the day after Evan missed his regular check in that the Journal found out what had happened to him.
GORDON FAIRCLOUGH We didn't manage to find him until the next morning when the FSB released a statement that he had been detained.
NEWS CLIP Russian Security Agency says it has arrested a US journalist working for the Wall Street Journal in Moscow on charges of espionage
NEWS CLIP The Federal Security Service, or FSB, accused him of, quote, acting on instructions from the American side to collect information about the activities of one of the enterprises of the Russian military industrial complex that constitutes a state secret. He was charged and entered a plea of not guilty in a moscow courtroom. Nobody was allowed in that courtroom. No journalist, not even his own lawyer.
NEWS CLIP Gershkovich is being detained at the notorious fort of a prison on the outskirts of Moscow.
NEWS CLIP He is the first American reporter to be arrested on espionage charges in Russia since 1986, carries a sentence of 20 years in prison.
EMMA TUCKER It's utter, utter rubbish.
MOLLY SCHWARTZ The Wall Street Journal's editor in chief, Emma Tucker, on CNN.
EMMA TUCKER Evan was doing what reporters do and what he did very well. He was out there gathering news, talking to people, reporting, providing an eyewitness account of what's going on inside Russia.
MOLLY SCHWARTZ The Journal made the decision to lift the paywall from all of Evan's past articles and put out photos of Evan that people can post on social media with the hashtag I stand with Evan.
GORDON FAIRCLOUGH I think it's important for us, you know, to keep the spotlight on Evan.
MOLLY SCHWARTZ The White House agrees. On April 10th, the State Department pronounced that Evan Gershkovich was, quote, wrongfully detained. This is important because it means they see him as the equivalent of a political prisoner and it shifts his case to the office of the special presidential envoy for Hostage Affairs. New laws around hostage cases were passed in 2020 and codified by President Biden just last summer. It means that there will be more tools available for Evan's case, like the ability to put pressure on the host country and share intelligence with Evan's family.
GULNOZA SAID It means that they are going to use a lot of resources to make sure that everyone gets back safe and sound on the U.S. soil.
MOLLY SCHWARTZ Gulnoza Said is the Europe and Central Asia program coordinator for the Committee to Protect Journalists, or CPJ.
GULNOZA SAID Evan Gershkovich is a hostage. And Russia, the Russian government is going to use him as a bargaining chip.
MOLLY SCHWARTZ There is plenty of precedent for what Evan and his editors at the Journal are going through. Washington Post reporter Jason Rezaian was taken hostage by Iran in 2014, and Marty Baron, the editor of The Washington Post at the time, said he considered it his job to be a regular presence on TV, radio and in the press. Rezaian was released in a prisoner exchange in 2016.
GULNOZA SAID And a lot of media outlets have reported about a potential prisoner exchange in Evan Gershkovich's case. And they've been throwing different names.
MOLLY SCHWARTZ Which also happened last year when WNBA player Brittney Griner was tried on drug charges and sentenced to nine years in prison. She was then freed in exchange for Viktor Bout, a Russian arms dealer being held by the U.S.. But Said says that even when everything is going according to plan, that isn't a guarantee of immediate results. Brittney Griner was held for 294 days. Jason Rezaian for 544.
GULNOZA SAID The case of Jason Rezaian just shows how important it is to keep the attention on the case, because we, as journalists know very well how news cycle works.
MOLLY SCHWARTZ Meanwhile, the Russian public is being exposed to a very different media campaign.
GULNOZA SAID If you look at how Russian state media reported on Evan Gershkovich's case you would think that he was already a convicted spy. As if Iran didn't have a right to presumption of innocence guaranteed by the Russian constitution.
MOLLY SCHWARTZ State Duma member Andrea Sive, on one of Russian State TV's political talk shows, said that journalism is an ideal cover for a spy
MOLLY SCHWARTZ He says it was the West that started a half cold, half hot war against Russia. And then Evan Gershkovich is a captured spy of a state at war with Russia caught on Russia's territory. He is undoubtedly a prisoner and prisoners are sometimes subject to exchange.
GULNOZA SAID So from all that, it is clear that the case is very political, especially because the immediate gain of the Russian authorities is just silence Evan's reporting.
MOLLY SCHWARTZ It's very unusual for nation states to detain foreign correspondents, even in countries with a bad record of violating press freedom. According to CPJ's latest prison census, the vast majority of the 363 journalists imprisoned around the world were locked up by their own government.
DAN STORYEV So we are seeing this ramping up of repressions against journalists in Russia. Right now, we have I believe there are 31 journalists persecuted for anti-war activities. Anti-war stance.
MOLLY SCHWARTZ Dan Storyev of is the managing editor of English language publications at OVD Info, a Russian human rights group.
DAN STORYEV We kind of have this repressive iceberg, as I like to put it right where at the bottom you have this long burning, stamping out of journalism, of freedom, of press, of civil society in Russia.
MARIA KUZNETSOVA You can be in prison up to 15 years for saying something that is not in accordance to Russian official position.
MOLLY SCHWARTZ Maria Kuznetsova is the spokesperson for OVD info.
MARIA KUZNETSOVA And we have a lot of public leaders and journalist talking was done czars and face such huge criminal charges because of just one scene they sat over.
MOLLY SCHWARTZ OVD Info has recorded around 200 criminal charges brought against people for violating the fake news laws and around 6000 minor offenses brought against people for quote, discrediting the Russian military. And these have been brought against people for posting no to war or Ukrainian flag or even just a peace sign or a picture of a dove.
MARIA KUZNETSOVA We have cases round people are holding Leo Tolstoy book War and Peace, and that book was considered as discrediting Russian army. And the police wrote in the Protocols that Tolstoy did not support the czar regime. And because this person was holding his book, it means that he does not support the current regime in Russia. We had the guy who wrote special military operation, but he just pulled quotation marks and the police wrote in the protocols that by putting quotation marks, he was mocking the name and that means he was discrediting the Russian army.
MOLLY SCHWARTZ And then just this past February, Maria Ponomarenko, a Russian journalist, was sentenced to six years in prison for posting that it was Russian planes that had bombed a theater full of children and Mariupol. Alexei Moscow Yacov, a single father, was recently arrested because his 13 year old daughter drew an antiwar picture at school. His daughter was put into an orphanage and then given to her estranged mother.
DAN STORYEV We're seeing the Kremlin kind of reverting to the Soviet playbook.
MOLLY SCHWARTZ Dan Storyev
DAN STORYEV If there is a Soviet saying that's kind of hard to translate, but it basically goes along the lines of if you have a man, you will find an article to charge that man under the bed, shall I? Big deal. And I did so right. And so we kind of coming back to that where it doesn't really matter what article are they going to persecute you under, prosecute you under? Are they going to persecute you, prosecute you anyway? And now with Evan. Now this extends to the foreigners as well.
VALERIE HOPKINS It's now about two weeks since Evan was detained. And I think every single day is probably incredibly psychologically and emotionally difficult.
MOLLY SCHWARTZ Valerie Hopkins of The New York Times knew it was risky to be working as a journalist in Russia, but she told me that Evan's arrest partly came as such a shock because of the espionage charges. Foreign correspondents have to get their accreditation extended by the Russian government every three months.
VALERIE HOPKINS If they really believed that Evan posed a risk, they could have chosen to not extend his accreditation, which effectively would have anyways ended his ability to report from inside Russia. But instead they chose to to do this escalation, which I think, you know, probably have the chilling effect that it intended.
GORDON FAIRCLOUGH We withdrew our bureau chief.
MOLLY SCHWARTZ Evan's boss, Gordon Fairclough.
GORDON FAIRCLOUGH I'm not sure when I would consider it safe for us to have someone back on the ground in Russia. And that, of course, makes it harder for American audiences to know what's happening in Russia. Right. Particularly at a time of, I think, pretty significant diplomatic tension between Washington and Moscow. Having fewer avenues for mutual understanding is not a good thing.
MOLLY SCHWARTZ The New York Times says that after it publicly moved most of its bureau out of the country last year, it's been sending journalists into Russia regularly to report stories, but it currently has no reporters based there.
VALERIE HOPKINS When I was asking myself about what price I was willing to pay to do journalism in Russia, in Russia of 2022, you know, I did that and think a lot about whether or not it would be worth it if I wound up in jail.
MOLLY SCHWARTZ Throwing journalists in jail is the hallmark of authoritarian countries, which the Soviet Union was, and today's Russia has become. It's a history that Evan knows well. His parents emigrated to the US from the Soviet Union.
VALERIE HOPKINS Both of us grew up as the children of immigrants. We bonded over being bilingual kids loving Russian bands like Kino and also the Backstreet Boys. Shortly before he was arrested, I remember we went and did karaoke, actually. You know, we sang Russian and American songs.
MOLLY SCHWARTZ Kino, a band Evan loves, was this underground Soviet rock band.
MOLLY SCHWARTZ I keep thinking about a Kino song called April. The lyrics go so much pain and scars, It's difficult to move.
MOLLY SCHWARTZ And April will die and be born once again.
MOLLY SCHWARTZ I listened to this song a lot when I was in Russia last year on a journalism fellowship. When the war started, I was forced to leave the country and in the chaos of that moment, I latched on to this song with its acknowledgment of pain and message, of rebirth, like a kind of North star.
MOLLY SCHWARTZ There's an email address that people can use to write Evan letters in prison, freegershkovich@gmail.com. I hope that if people do, this is the message he receives. For On the Media, I'm Molly Schwartz.
Brooke Gladstone Coming up, an exiled Russian reporter in Berlin. This is On the Media.
Brooke Gladstone This is On the Media, I'm Brooke Gladstone. The day before Evan Gershkovich was arrested, I was in Berlin where I interviewed a 27-year-old exiled Russian reporter named Nikita Kondratyev. At least a thousand Russian journalists have left the country in the year since Russia invaded Berlin, according to a legal aid group called the Net Freedoms Project. In large part because, as we just heard, it's pretty much impossible to do journalism there.
Novaya Gazeta Europe is a new outlet formed by former staffers at the now suspended Moscow-based Novaya Gazeta, one of Russia's most prominent and courageous, independent publications. Kondratyev, who once worked for Novaya Gazeta, now works for the European version in Berlin.
When we met up, it seemed he really didn't want to be there, he was visibly tense, as we moved from one noisy coffee house to another and then finally outside, where he relaxed a little - and could smoke.
He talked about what he was reporting on, like the illegal divisions the mercenary Wagner group had stocked with Russian prisoners, about the state of Russia's air defense, and more. Mostly, I was after how he worked and how he felt about it. He started his story in Moscow.
NIKITA KONDRATYEV The war broke out on the 24th of February. We kept on working for a month under military censorship, of course, under all the threats. I mean, if if you are writing something that is not going along the line of the Kremlin, you'll be in prison. So as a young Russian citizen who can be mobilized to the armed forces, of course, I had just two choices, if not imprisonment, then frontline. Yeah. So we fled.
BROOKE GLADSTONE What sorts of stories are you reporting and for whom are you reporting them?
NIKITA KONDRATYEV For Russian citizens, obviously.
BROOKE GLADSTONE How do you reach them.
NIKITA KONDRATYEV As we did before? You know, Russia is not some kind of a valley of silence. Yeah, people still use VPN. Youtube isn't blocked yet, so you can reach them for retelling your stories saw in videos and podcasts.
BROOKE GLADSTONE I know that you're covering stories about the war. I wonder how you're getting that information.
NIKITA KONDRATYEV There are different types of stories. I mean, if we are talking about stories from the battlefield, we do not have any reporters in Ukraine because it's risky for Russian journalists to work in Ukraine because how shall I put it, Russian citizens are not welcome in Ukraine. Russian journalists are not welcome in Ukraine. Russian male journalists are not welcome in Ukraine because they can be spies. Russia has an obligatory military service, so lots of Russian male journalists have military experience. And that is, of course, a problem for Ukraine. So female Russian journalists can enter Ukraine in [unintelligible]. But it's risky because frontline can change any day. And if you get killed by the Russian military, they want imprison you, they will just kill you and torture a bit.
BROOKE GLADSTONE I hear you. So. So how are you getting your information?
NIKITA KONDRATYEV The biggest part of that work is open source intelligence using sources among Russian so-called siloviki. If you know the term, that means anyone involved in the law enforcement forces, military forces. Obviously, you need some sources in Russia and some stringers to cover some topics because there are some security issues about people who are working for us in Russia.
BROOKE GLADSTONE For Novaya Gazeta Europe, not Novaya Gazeta for both.
NIKITA KONDRATYEV Yeah, there are people working for Novaya Gazeta and for an old I guess it's a Europe. They're in Russia, they are not interconnected. I must say that.
BROOKE GLADSTONE Yes, I understand. I wonder whether the Russian authorities will make the same distinction you're so careful to make here. They want can you give me an example of some of the challenges of the work here in Berlin?
NIKITA KONDRATYEV It could be unethical for Western journalists, but, you know, in Russia, personal information is sold for a dime.
BROOKE GLADSTONE It's easy to purchase information. Russians put it up for sale.
NIKITA KONDRATYEV You know. Before the war, we tried to speak to all those internationally recognized principles of clear and transparent journalism. But since the war started, I'm speaking for myself. But I personally think that the Russian state can go [censored] itself and I can purchase any information that can help me investigate what those morons are doing. So I feel free to do whatever I can to find this information, to analyze this information, and to publish this information if it helps to document war crimes that my not my government, but the government that's basically occupying Russia is doing.
BROOKE GLADSTONE What sorts of stories are you focused on? Give me a few examples, if you can, on.
NIKITA KONDRATYEV I interviewed Russian deserter who fled the war. He was serving as a person who deactivates explosives in the Chechen Republic, deactivated all the explosives left in the Republic after two Chechen wars. But then he was recruited to the war in Ukraine. Of course, he couldn't say no because he would be put in prison. So here knows more than his flag. Of course, I had to fact check everything he told me, and I purchased some leaked information about the mobile phone. So those commanding officers of his regiment, I called them, asked them some questions.
BROOKE GLADSTONE So what's the most important story that you think you've done since you came here?
NIKITA KONDRATYEV That was last summer, because that was a big investigation. Now, what illegal divisions Russia has on the frontline, the Wagner Group, they had just entered the war and there were other groups of insurgents such as Role Sich, the neo-Nazi battalion in Donetsk region, Russian neo-Nazi battalion such as Aamodt, that the special task force formed by Cardinal Films on the heads of the Chechen Republic, and that's basically his personal guard. But they didn't have any legal status.
BROOKE GLADSTONE Do you intend on going back to Russia at some point?
NIKITA KONDRATYEV Of course. As fast as possible. Yeah. Mobilization is still ongoing and I do not know what will happen next. But even if our regime will collapse one way or another, it won't be peaceful, democratic Russia at once. There will be some. Tough period, and I do not know if I want to partake. So, yeah, a lot of militant groups. They are not connected to government in any way they can conduct their own violent policy.
BROOKE GLADSTONE Can you tell me a little bit about life in Berlin for journalists like you exiled from their country?
NIKITA KONDRATYEV There is a tremendous sense of displacement, of course. And considering the fact that the war is ongoing and it isn't just a war with some distant country, that's war against a country that's lots of false, consider it our motherland as well. Before the war, before 2014, I guess Ukraine has never been an enemy to anybody in Russia. I'm not talking about here. We are the same nation. We are the same country that's built that my relatives, lots of other people's relatives are Ukrainian. We all in some extent have some connection. Yeah, and lots of friends. There are so, of course, of kids here. If you realize what kind of war it is, everyone is frustrated. Every journalist, every Russian refugee, I guess. I want to think so, because if they are not, I don't know where their feelings are or are they hurt? Is he? Of course, as it's all started, we were frustrated, but we kept on working. We worked a lot and it helped us not to realize what's going on with ourselves. We are. Yeah. When you're writing about it, when you try to analyze some things, try to investigate something, you're in the work with your head. But so as you stop working and alone with yourself, with your faults and your things, then you understand how awful it is, what is happening and who is doing this. Your neighbor. Everyone from your hometowns. Yeah. Those people who were who were near you all the time. They are doing it. That's it. I'll think about it.
BROOKE GLADSTONE Are you in touch with other refugee journalists here?
NIKITA KONDRATYEV Of course there is a diaspora, I would say in Berlin. There are lots of places where we can gather to communicate.
BROOKE GLADSTONE I guess I shouldn't ask where.
NIKITA KONDRATYEV That's common knowledge. I won't specify, but if FSB officers would want to find us, they would find us. But why would they want to?
BROOKE GLADSTONE But when you hang out with other exiled journalists, what's the most common cause of complaint or distress?
NIKITA KONDRATYEV There are three main topics, of course. The first one is depression. Everyone is depressed and struggling. The second one is German authorities, German immigration laws because the Minister of Foreign Affairs, Annalena Baerbock. If I'm not mistaken, she publicly told that Russian journalists and dissidents in exile are welcome here and that the entire process of legalization will be easier for them. But it took some time to simplify the procedure.
BROOKE GLADSTONE And what's the third thing?
NIKITA KONDRATYEV And the third thing is how to work, because, uh, now there is some kind of a stalemate on the frontline, and the main topic we are covering nowadays is what's going on in Russia, what's going on between elites in the government, what's going on with the mobilization, what's going on with the armed forces, I mean, with shipments from China and so on, with the entire anti-missile defense system in Russia. And of course, what's going on in prisons.
BROOKE GLADSTONE They are emptying out the prisons to throw them into the battles.
NIKITA KONDRATYEV There is 666 panel colonists in Russia and yeah, six, six, six and a half million of prisoners, almost half a million. So they're not acting in their mouth.
BROOKE GLADSTONE I exaggerated.
NIKITA KONDRATYEV Yeah.
BROOKE GLADSTONE It's still they have been a presence on the front lines reportedly used as cannon fodder.
NIKITA KONDRATYEV They are indeed used as cannon fodder. But the Wagner group, stop doing it. We are trying to figure out why.
BROOKE GLADSTONE Maybe too many of them are just running away.
NIKITA KONDRATYEV No. They're not running away. They're being shot. If they try to run away, that's almost impossible to run away from the front line nowadays. There were rumors that the defense ministry had started to do that instead of the Wagner group, and they indeed started to do that. I've got some sources among prisoners. There are cell phones and their calendars as well.
BROOKE GLADSTONE One last question How sustainable is this for you? Can I be frank? You seem a little bit stressed out.
NIKITA KONDRATYEV My country has waged war. Why wouldn't I be stressed out? I don't know. Yes.
BROOKE GLADSTONE How long do you think you can do this?
NIKITA KONDRATYEV I don't know. No idea. Uh, I cannot foresee he future. I can plan my life for next 10 hours, I guess, or or a week at least. I don't know what will happen next month if there will be a second massive wave of mobilization if in Russia, if Russian towns will be attacked. Russia is losing this war. And my greatest concern nowadays is that Russian cities will be under a massive attack. They realized that that's a logical outcome.
BROOKE GLADSTONE That Russian cities would be put under attack.
NIKITA KONDRATYEV 2 hours ago, a Ukrainian unmanned UAV crashed in Moscow. Ukrainian UVAs are crashing in Russian towns once or twice a week Now they are mocking Russian military, but any they can turn into a real UAV war.
BROOKE GLADSTONE I'm so grateful that you talked to me. Thank you so much.
NIKITA KONDRATYEV Thanks a lot. Thank you.
BROOKE GLADSTONE Nikita Kondratyev is a reporter for Novaya Gazeta Europe. Thanks to the American Academy in Berlin for their support in producing this conversation. Coming up, public radio stations fly the coop. This is On the Media.
BROOKE GLADSTONE This is On the Media. I'm Brooke Gladstone. The collapse of Twitter has been prophesied for a while, more so since Elon Musk took the reins in late October. But this week felt a little different.
NEWS CLIP NPR says it's leaving Twitter.
BROOKE GLADSTONE This comes after Twitter labeled NPR's account as state affiliated media last Tuesday.
NEWS CLIP A designation traditionally that's been reserved for foreign media outlets that represent the official views of the government of those countries like Russia's Aarti or China's Xinhua.
BROOKE GLADSTONE Then this week.
NEWS CLIP That was changed to, quote, government funded media.
JOHN LANSING It essentially challenged the credibility of our content, and that's just something that I'm unwilling to compromise.
BROOKE GLADSTONE NPR's CEO and President John Lansing.
JOHN LANSING It's really kind of a red herring to call out the revenue because it's not the issue.
BROOKE GLADSTONE The label itself is inaccurate. Less than 1% of NPR's annual operating budget comes from the Corporation for Public Broadcasting and Federal Agencies. Most of the organization's funding comes from corporate or individual sponsors. Twitter gave the BBC the same label, although that was changed this week to publicly funded media, which John Lansing would prefer. But as I write this, Twitter hasn't offered that option to NPR, and it's not clear that would matter now.
JOHN LANSING The issue is whether the revenue is influencing the editorial decision making of the news organization. And we are very serious about walling off any outside influence from money or otherwise from our editorial decision making.
BROOKE GLADSTONE But even before NPR made its exit, local public radio stations were dropping off one by one.
MIKE SAVAGE We just don't think it's a viable platform for news content anymore.
BROOKE GLADSTONE Mike Savage is the director and general manager at WEKU, the public radio station serving Central and Eastern Kentucky. It's also an NPR member station, as is our producing station WNYC. WEKU left Twitter a few days prior to NPR.
MIKE SAVAGE This is potentially a watershed moment for journalistic organizations to decide which platform is appropriate for their news. My concern is that you've got a whole group of people who are not aware of public radio world, and they may stumble across something on Twitter that's news related and not be familiar with WEKU or another station or even NPR, and that the label immediately causes them to pass judgment and pass that over. Our content is journalistically accurate, but if every time somebody looks at it and there's a label that is there that's not vetted, that's not correct. It's unfair. It just creates a problem.
BROOKE GLADSTONE After NPR's announcement, Musk tweeted, quote, Defund NPR and several more member stations decided to leave Twitter as well. WBUR in Boston. KUOW in Seattle. WECA in Pittsburgh. And KUNR in Reno, just to name a few. On Thursday morning, PBS followed. Zoe Schiffer is the managing editor of Platformer, an investigative newsletter on the tech industry in Silicon Valley. She's been following Twitter closely since Musk's purchase last fall. Welcome to On the Media, Zoe.
ZOE SCHIFFER Thank you so much for having me.
BROOKE GLADSTONE We posted on the on the media Twitter account about NPR's exit from the platform, and one user responded by saying, I understand this the government funded media label is unconscionable. But NPR's accounts on Twitter have long been my principle source of news. And you said you're concerned about the large number of people who now get their news from Twitter. Do we know how many people there are?
ZOE SCHIFFER I think that the latest survey that I read from Pew Research was that 23% of Americans use Twitter and roughly seven in ten users say they get news on the site. Mm hmm. So that's a pretty considerable portion. At the same time, I think part of the reason that Twitter has had staying power, even when people have declared it dead month after month, is the fact that the media simply cannot get off Twitter. And so I do think it's quite significant that NPR in particular is no longer going to have a presence on the site.
BROOKE GLADSTONE That's not going to be affecting Twitter's bottom line at all. Right.
ZOE SCHIFFER And not in the sense of NPR leaving the platform, having a direct result on the company's ability to function. But I think when we think about the end of Twitter, we're really not thinking about the platform going dark all of a sudden because of some massive technical failure. We're thinking of it becoming less relevant over time, and we think of that in a few different facets. One, you as a user log in and your for you page is just less relevant than it used to be. But two if major media outlets are no longer on the site, the site becomes much less useful. Twitter, in a lot of ways has lagged behind the other big tech platforms in terms of user growth. But when we look at who is on the platform, the importance of the people there is really part of its magic. It was kind of a who's who of power players across media and politics and sports. So when those people abandon the platform and go to other platforms, I think that that has real implications for Twitter.
BROOKE GLADSTONE NPR has close to 9 million users on Twitter. Do you think NPR will suffer from its departure?
ZOE SCHIFFER Robbie Allen, tech reporter for NPR, said that less than 2% of NPR's traffic comes from Twitter. So it's always been more beneficial to individual reporters than news organizations as a whole. I think as a reporter, you can really build a brand on Twitter. But NPR's brand doesn't necessarily need that same sort of attention. It has a lot of different ways to reach people and a lot of name recognition beyond Twitter as a platform. For journalists, it's very important for kind of building your personal brand. If you wanted to be seen by your peers in the media as someone who was breaking news, you were breaking that news often on Twitter. And I don't think we have a real viable alternative yet. That said, there was increasingly tension between the journalists' desire to break news on Twitter and a news organizations desire to actually draw eyeballs to their website.
BROOKE GLADSTONE There was a lot of press some time back when Musk decided to sell verified status. That was kind of a badge that signified you aren't a bot or a fake account and that in fact you're kind of important. Here's what Musk told the BBC about yanking that status from the New York Times.
ELON MUSK I must confess some delight in removing the verified video times. That was that was great. Anyway, they're still alive and well.
BROOKE GLADSTONE There seems to be some unabashed spite in his selected targets. What did he have against The Times or the BBC and NPR? Most other media outlets haven't had their verified status revoked, even though they haven't paid up.
ZOE SCHIFFER He keeps pushing back the deadline for when badges will be revoked. And it's it's kind of happened haphazardly so far. Elon Musk, like many leaders in Silicon Valley, has a large amount of animosity towards the media in general. And a lot of that animosity is directed at the New York Times. This is a debate that goes way beyond Elon Musk and really has to do with the fear that venture capitalists and other tech leaders have, that a single New York Times article, kind of a hit piece, as they would call it, can bring down an entire organization that, according to them, is doing really good work. And maybe the CEO just like made a little mistake. And I think that that fear has driven a kind of war on the media. We've seen organizations like Andreessen Horowitz, a very prominent venture capitalist group, say that they're going to start up alternative news websites. There's been little success so far in those ventures. But I do think there's this feeling of like, hey, we don't need you and we don't want you and we don't want people from our organizations or the companies that we fund to even speak to the media.
BROOKE GLADSTONE I don't think any news organization has the power to bring down a mogul on the basis of a little mistake. It might have the power to open up investigations and prove incredible wrongdoing.
ZOE SCHIFFER The way that we find out about wrongdoing at a company is almost always from the employees themselves. Those are the people who for years have seen bad behavior on the part of executives and have often tried unsuccessfully to bring that to light internally and as a last ditch effort they speak out and an organization is forced to change and change in positive ways. And we've seen what happens when the tech press in particular is too fawning. But I think from the perspective of Musk and his peers, there was an overcorrection after Theranos. According to them, people were looking for hit pieces. Musk said during the BBC interview that he's constantly being pummeled by the media. Now, when you are the person with the biggest megaphone on Twitter and the person who is able to literally reconfigure that megaphone to make your voice always the loudest. We as journalists have a responsibility to report on what you do and why.
BROOKE GLADSTONE I read that Musk has an army of fans out there looking for unfavorable coverage of their hero so he can retaliate more effectively. Is that true?
ZOE SCHIFFER I've seen this play out in the Community Notes forums. So Twitter has a tool that's supposed to kind of crowdsource fact checking. And so you see it show up underneath tweets. If they contain false or misleading information, there will be a little note saying, hey, this tweet is incorrect and here's why. And that information comes from volunteer organizers who kind of in a Wikipedia style fashion fact check information on the platform. What we've seen since he took over is that a small army of fans has sprung up in the Community Notes forum and really looks for articles that are critical of him and tries to correct what they see as errors in even legitimate reporting. It's not always successful because there are enough people in the forums who I think are legitimately trying to use community notes in the true fact checking sense. That said, we have seen news articles that were legitimate, that were supposedly fact checked, but the fact check is actually incorrect. And I think that just goes to show that the level of news literacy that you need to read Twitter with a critical lens, the bar for that is getting higher and higher. You can't just look at a tweet or even look at a fact check and trust that what you're seeing is the truth. And this brings us back to the state funded media question.
BROOKE GLADSTONE Just last week, a group of journalists with large followings on Twitter came out against the app after Twitter decided to make it harder for users to find and view links to substack. It's a newsletter service that many freelance reporters use, but also smaller organizations. But they rely on Twitter often to share their work and grow their subscriber base. So Twitter made it harder by blocking access to something that's called an API, which stands for Application Programming Interface.
ZOE SCHIFFER Yes. Substack on April 5th announced that they were creating a Twitter competitor called Notes. The day after that happened. Twitter started taking steps to limit the interaction between the two platforms. So first off, Substack writers used to be able to embed tweets in their stories. They were no longer able to do that. Then all of a sudden people couldn't interact with Substack's actual corporate Twitter account in the same way. This is extremely unusual. I had a scoop last month that Twitter was suppressing the corporate accounts of various competitors, including many of Tiktok's corporate accounts and Instagram's, and now Substack is part of that list. It's not unusual for organizations to be preferential to content that creators make on their platforms. So, for example, Instagram rewards you for posting reels and it kind of demotes your content if you're reposting Tiktoks to Instagram stories. But actually being vindictive and taking steps to limit a corporate account. It's unique to Elon Musk, and it resulted in very prominent substack writers to abandon Twitter overnight.
BROOKE GLADSTONE Now, like with the verified status, he wants to charge for access to the APIs which have been used in a variety of important ways for tracking hate speech on the site, for example. So you think it was worth it, monetarily speaking?
ZOE SCHIFFER You know, even people who disagree with him on a lot of things do say like, hey, Twitter had a lot of people using the API for free and it needed to kind of roll some of that back. That said, not allowing researchers to use that. When Musk has said that one of the things he cares about most is supposedly transparency. That's extremely worrying. The other thing is Musk has talked repeatedly about making Twitter X the Everything app. But from a technical perspective, to do that, you need third party developers creating apps on your platform. You can't do everything in-house and you need an open API to do that. That was work that was underway when Musk came on board and he fired everyone on the team and closed access to the API. To me, those two things don't go together in any comprehensive sense.
BROOKE GLADSTONE So you've suggested we really need to find an alternative. There doesn't seem to be one. There was a brief romance with Mastodon, a social network some people are still advocating for, but that shift wasn't terrifically successful. Is there another platform that shows more promise as a space for news on social media?
ZOE SCHIFFER Yeah, I have a lot of respect for people who have taken a stand because of decisions that Musk has made, like labeling NPR and BBC state funded media and said they're no longer going to be part of the platform because our inability to do that is really rewarding Musk's behavior. I'm open to an alternative and I'm waiting around, but personally, I'm not willing to put up with a mastodon like experience to make that happen. You know, to have these apps take off in the mainstream, the user experience needs to be very seamless for a wide array of people, and Mastodon just simply is not. We're not going to solve this problem by individually getting off of Twitter or even having a new CEO come in and create stronger content moderation policies. I think the reality is that we need stronger government oversight. And yet, for all of the talk that Congress likes to have around regulating big tech, we have yet to see any real regulation. We can probably all agree that strong antitrust regulations would mean that we don't have one app that becomes so prominent and powerful that the decision of a single CEO can influence, say, an election in a way extremely worrying pro-democracy.
BROOKE GLADSTONE Zoe, thank you very much.
ZOE SCHIFFER Thank you so much for having me.
BROOKE GLADSTONE Zoe Schiffer is the managing editor of Platformer. On The Media is produced by Micah Loewinger, Eloise Blondiau, Molly Schwartz, Rebecca Clark-Callender, Candice Wang and Suzanne Gaber, with help from Temi George. Special thanks to the American Academy in Berlin for their support on this hour. And our show was edited by me. Our technical director is Jennifer Munson. Our engineer this week was Andrew Nerviano. Katya Rogers is our executive producer. On the Media is a production of WNYC Studios. I'm Brooke Gladstone.
Copyright © 2023 New York Public Radio. All rights reserved. Visit our website terms of use at www.wnyc.org for further information.
New York Public Radio transcripts are created on a rush deadline, often by contractors. This text may not be in its final form and may be updated or revised in the future. Accuracy and availability may vary. The authoritative record of New York Public Radio's programming is the audio record.