The Arrest of Journalist Evan Gershkovich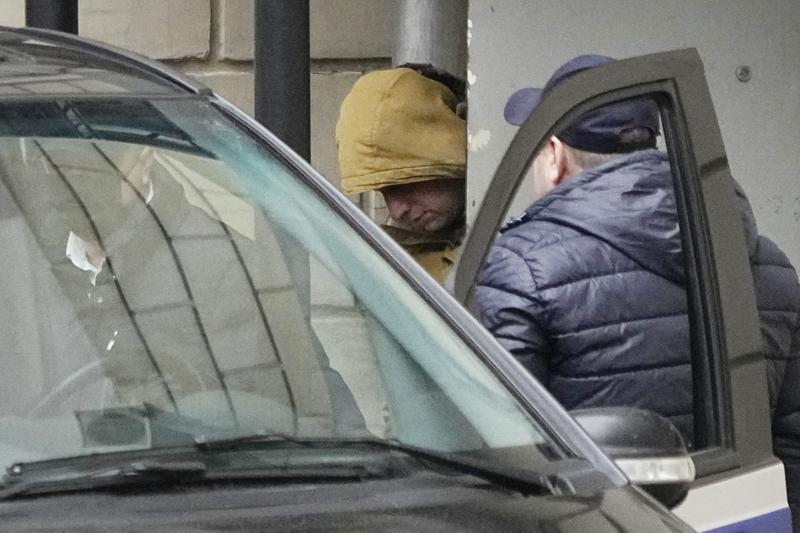 Transcript
Brooke Gladstone From WNYC in New York, this is on the media. I'm Brooke Gladstone. This week, we had a mother of a big old leak.
NEWS CLIP Around 100 pages of classified slides and briefing materials from the Pentagon have now been found floating around the Internet. The documents range from briefing slides, mapping out Ukrainian military positions to assessments of international support for Ukraine.
Brooke Gladstone The leaked documents surfaced on Discord, an online messaging app popular with gamers. An anonymous user called OGE posted them in a small chat room of about 25 people, the kind of place where you'd expect to find obscure posts about video game tactics and some unsavory means. The evidence suggests that O.G. wasn't an activist or a firebrand. Just kind of a show off. Seen on video shouting racist slurs while firing a gun.
NEWS CLIP The documents were leaked when one server member posted them to win an argument about the war in Ukraine. After that, the leaked documents started circling around a few other private discords, including a minecraft theme one before leaking to Fortune.
NEWS CLIP People were reading them and they were not commenting on them.
NEWS CLIP There are sensitive topics, including under what circumstances Vladimir Putin might use nuclear weapons. Some materials were marked top secret. Most are considered genuine.
Brooke Gladstone On Thursday, the New York Times broke the news that the FBI had raided the home of the alleged culprit, a 21 year old member of the Massachusetts Air National Guard.
NEWS CLIP His unit, per our Pentagon team, would typically be handling intelligence collected by surveillance aircraft like Reaper and Predator drones.
Brooke Gladstone The leak comes at a delicate time. Ukraine's spring offensive, the subject of much of the leaked documents, could be a make or break moment in its fight against Russian aggression. The pages expose U.S. intelligence on Russian and Ukrainian battle strategies, munitions counts and the number of casualties on both sides, a statistic journalists have found very hard to get. They show how good U.S. intelligence is, but also how opaque this conflict really is to the rest of us. Reporting on the war is complex, difficult and dangerous. On the media, producer Molly Schwartz brings us the story of the arrest of Wall Street Journal reporter Evan Gersh. A bitch the first time a U.S. reporter has been held on espionage charges in Russia since the Cold War. And the challenges right now of reporting on Russia from Russia.
MOLLY SCHWARTZ For the first months of the war. Valerie Hopkins, a New York Times correspondent who's usually based in Moscow, was in Ukraine. Then she went back to Moscow to cover the conflict from there.
VALERIE HOPKINS Evan became one of my close friends when I went back after the war started in August last year. We got very close because it's a very difficult environment to work in and at first a lot of people were leaving. Then the censorship laws came out. Then they started charging people with the censorship laws.
MOLLY SCHWARTZ The Russian government passed several censorship laws in early March 2020 to warn against spreading so-called fake news and another against discrediting the Russian army. Those new laws made it really risky to be a journalist in Russia. And so most of the journalists left the country. Evan and Valerie were a couple of the only American correspondents still working there.
VALERIE HOPKINS I talked a lot with Evan about what a privilege it was and what a responsibility we both felt to be there at this time and do this work. And among the many things that are so heartbreaking about this is that Evan felt a real sense of journalistic mission, of living through historic times, being in Moscow, being in Russia does actually really feel every day like a time when you can see how society is changing, how a country is changing before your eyes. And being able to chronicle it was really important.
MOLLY SCHWARTZ It was after noon on Wednesday, March 29th, when Valerie noticed something might be wrong.
VALERIE HOPKINS We had actually a group chat with another American journalist where we basically talked almost every day, and I had sent him a message in the afternoon. And I remember going to bed on Wednesday thinking like, This is really weird. Why didn't he answer with something? He normally actually answers very fast.
GORDON FAIRCLOUGH Our security folks raised the alarm that they were unable to reach him.
MOLLY SCHWARTZ Gordon Fairclough is the Wall Street Journal's world coverage chief. He oversees all of the journalists, foreign correspondents, including Evan.
GORDON FAIRCLOUGH His phone stop pinging and he missed one of his regularly scheduled callings. And so that then set off a scramble to try to find him.
MOLLY SCHWARTZ Evan has lived and worked in Russia as a journalist for almost six years. He joined The Wall Street Journal in January 2022, just about a month before Russia invaded Ukraine.
GORDON FAIRCLOUGH One of the first stories he did after the war started. Was traveling to the border of Belarus and Ukraine, or he was the only Russian journalist, to my knowledge, to witness the very large number of Russian casualties coming out from the offensive efforts around Kiev and saw caravans of ambulances and wounded Russian soldiers being loaded into trains to be shipped back to hospitals in Russia.
MOLLY SCHWARTZ Right. And that was a major story because Russia had been downplaying the casualties of its soldiers during the war. And Evan was the first American journalist, I think, to see on the ground proof of these casualties.
GORDON FAIRCLOUGH That's right. And those were in the very early days when we really weren't sure what was happening on the ground. You know, and it was one of the first significant indications that the Russians were having trouble.
MOLLY SCHWARTZ It wasn't until the day after Evan missed his regular check in that the Journal found out what had happened to him.
GORDON FAIRCLOUGH We didn't manage to find him until the next morning when the FSB released a statement that he had been detained.
NEWS CLIP Russian Security Agency says it has arrested a US journalist working for the Wall Street Journal in Moscow on charges of espionage
NEWS CLIP The Federal Security Service, or FSB, accused him of, quote, acting on instructions from the American side to collect information about the activities of one of the enterprises of the Russian military industrial complex that constitutes a state secret. He was charged and entered a plea of not guilty in a moscow courtroom. Nobody was allowed in that courtroom. No journalist, not even his own lawyer.
NEWS CLIP Gershkovich is being detained at the notorious fort of a prison on the outskirts of Moscow.
NEWS CLIP He is the first American reporter to be arrested on espionage charges in Russia since 1986, carries a sentence of 20 years in prison.
EMMA TUCKER It's utter, utter rubbish.
MOLLY SCHWARTZ The Wall Street Journal's editor in chief, Emma Tucker, on CNN.
EMMA TUCKER Evan was doing what reporters do and what he did very well. He was out there gathering news, talking to people, reporting, providing an eyewitness account of what's going on inside Russia.
MOLLY SCHWARTZ The Journal made the decision to lift the paywall from all of Evan's past articles and put out photos of Evan that people can post on social media with the hashtag I stand with Evan.
GORDON FAIRCLOUGH I think it's important for us, you know, to keep the spotlight on Evan.
MOLLY SCHWARTZ The White House agrees. On April 10th, the State Department pronounced that Evan Gershkovich was, quote, wrongfully detained. This is important because it means they see him as the equivalent of a political prisoner and it shifts his case to the office of the special presidential envoy for Hostage Affairs. New laws around hostage cases were passed in 2020 and codified by President Biden just last summer. It means that there will be more tools available for Evan's case, like the ability to put pressure on the host country and share intelligence with Evan's family.
GULNOZA SAID It means that they are going to use a lot of resources to make sure that everyone gets back safe and sound on the U.S. soil.
MOLLY SCHWARTZ Gulnoza Said is the Europe and Central Asia program coordinator for the Committee to Protect Journalists, or CPJ.
GULNOZA SAID Evan Gershkovich is a hostage. And Russia, the Russian government is going to use him as a bargaining chip.
MOLLY SCHWARTZ There is plenty of precedent for what Evan and his editors at the Journal are going through. Washington Post reporter Jason Rezaian was taken hostage by Iran in 2014, and Marty Baron, the editor of The Washington Post at the time, said he considered it his job to be a regular presence on TV, radio and in the press. Rezaian was released in a prisoner exchange in 2016.
GULNOZA SAID And a lot of media outlets have reported about a potential prisoner exchange in Evan Gershkovich's case. And they've been throwing different names.
MOLLY SCHWARTZ Which also happened last year when WNBA player Brittney Griner was tried on drug charges and sentenced to nine years in prison. She was then freed in exchange for Viktor Bout, a Russian arms dealer being held by the U.S.. But Said says that even when everything is going according to plan, that isn't a guarantee of immediate results. Brittney Griner was held for 294 days. Jason Rezaian for 544.
GULNOZA SAID The case of Jason Rezaian just shows how important it is to keep the attention on the case, because we, as journalists know very well how news cycle works.
MOLLY SCHWARTZ Meanwhile, the Russian public is being exposed to a very different media campaign.
GULNOZA SAID If you look at how Russian state media reported on Evan Gershkovich's case you would think that he was already a convicted spy. As if Iran didn't have a right to presumption of innocence guaranteed by the Russian constitution.
MOLLY SCHWARTZ State Duma member Andrea Sive, on one of Russian State TV's political talk shows, said that journalism is an ideal cover for a spy
MOLLY SCHWARTZ He says it was the West that started a half cold, half hot war against Russia. And then Evan Gershkovich is a captured spy of a state at war with Russia caught on Russia's territory. He is undoubtedly a prisoner and prisoners are sometimes subject to exchange.
GULNOZA SAID So from all that, it is clear that the case is very political, especially because the immediate gain of the Russian authorities is just silence Evan's reporting.
MOLLY SCHWARTZ It's very unusual for nation states to detain foreign correspondents, even in countries with a bad record of violating press freedom. According to CPJ's latest prison census, the vast majority of the 363 journalists imprisoned around the world were locked up by their own government.
DAN STORYEV So we are seeing this ramping up of repressions against journalists in Russia. Right now, we have I believe there are 31 journalists persecuted for anti-war activities. Anti-war stance.
MOLLY SCHWARTZ Dan Storyev of is the managing editor of English language publications at OVD Info, a Russian human rights group.
DAN STORYEV We kind of have this repressive iceberg, as I like to put it right where at the bottom you have this long burning, stamping out of journalism, of freedom, of press, of civil society in Russia.
MARIA KUZNETSOVA You can be in prison up to 15 years for saying something that is not in accordance to Russian official position.
MOLLY SCHWARTZ Maria Kuznetsova is the spokesperson for OVD info.
MARIA KUZNETSOVA And we have a lot of public leaders and journalist talking was done czars and face such huge criminal charges because of just one scene they sat over.
MOLLY SCHWARTZ OVD Info has recorded around 200 criminal charges brought against people for violating the fake news laws and around 6000 minor offenses brought against people for quote, discrediting the Russian military. And these have been brought against people for posting no to war or Ukrainian flag or even just a peace sign or a picture of a dove.
MARIA KUZNETSOVA We have cases round people are holding Leo Tolstoy book War and Peace, and that book was considered as discrediting Russian army. And the police wrote in the Protocols that Tolstoy did not support the czar regime. And because this person was holding his book, it means that he does not support the current regime in Russia. We had the guy who wrote special military operation, but he just pulled quotation marks and the police wrote in the protocols that by putting quotation marks, he was mocking the name and that means he was discrediting the Russian army.
MOLLY SCHWARTZ And then just this past February, Maria Ponomarenko, a Russian journalist, was sentenced to six years in prison for posting that it was Russian planes that had bombed a theater full of children and Mariupol. Alexei Moscow Yacov, a single father, was recently arrested because his 13 year old daughter drew an antiwar picture at school. His daughter was put into an orphanage and then given to her estranged mother.
DAN STORYEV We're seeing the Kremlin kind of reverting to the Soviet playbook.
MOLLY SCHWARTZ Dan Storyev
DAN STORYEV If there is a Soviet saying that's kind of hard to translate, but it basically goes along the lines of if you have a man, you will find an article to charge that man under the bed, shall I? Big deal. And I did so right. And so we kind of coming back to that where it doesn't really matter what article are they going to persecute you under, prosecute you under? Are they going to persecute you, prosecute you anyway? And now with Evan. Now this extends to the foreigners as well.
VALERIE HOPKINS It's now about two weeks since Evan was detained. And I think every single day is probably incredibly psychologically and emotionally difficult.
MOLLY SCHWARTZ Valerie Hopkins of The New York Times knew it was risky to be working as a journalist in Russia, but she told me that Evan's arrest partly came as such a shock because of the espionage charges. Foreign correspondents have to get their accreditation extended by the Russian government every three months.
VALERIE HOPKINS If they really believed that Evan posed a risk, they could have chosen to not extend his accreditation, which effectively would have anyways ended his ability to report from inside Russia. But instead they chose to to do this escalation, which I think, you know, probably have the chilling effect that it intended.
GORDON FAIRCLOUGH We withdrew our bureau chief.
MOLLY SCHWARTZ Evan's boss, Gordon Fairclough.
GORDON FAIRCLOUGH I'm not sure when I would consider it safe for us to have someone back on the ground in Russia. And that, of course, makes it harder for American audiences to know what's happening in Russia. Right. Particularly at a time of, I think, pretty significant diplomatic tension between Washington and Moscow. Having fewer avenues for mutual understanding is not a good thing.
MOLLY SCHWARTZ The New York Times says that after it publicly moved most of its bureau out of the country last year, it's been sending journalists into Russia regularly to report stories, but it currently has no reporters based there.
VALERIE HOPKINS When I was asking myself about what price I was willing to pay to do journalism in Russia, in Russia of 2022, you know, I did that and think a lot about whether or not it would be worth it if I wound up in jail.
MOLLY SCHWARTZ Throwing journalists in jail is the hallmark of authoritarian countries, which the Soviet Union was, and today's Russia has become. It's a history that Evan knows well. His parents emigrated to the US from the Soviet Union.
VALERIE HOPKINS Both of us grew up as the children of immigrants. We bonded over being bilingual kids loving Russian bands like Kino and also the Backstreet Boys. Shortly before he was arrested, I remember we went and did karaoke, actually. You know, we sang Russian and American songs.
MOLLY SCHWARTZ Kino, a band Evan loves, was this underground Soviet rock band.
MOLLY SCHWARTZ I keep thinking about a Kino song called April. The lyrics go so much pain and scars, It's difficult to move.
MOLLY SCHWARTZ And April will die and be born once again.
MOLLY SCHWARTZ I listened to this song a lot when I was in Russia last year on a journalism fellowship. When the war started, I was forced to leave the country and in the chaos of that moment, I latched on to this song with its acknowledgment of pain and message, of rebirth, like a kind of North star.
MOLLY SCHWARTZ There's an email address that people can use to write Evan letters in prison, freegershkovich@gmail.com. I hope that if people do, this is the message he receives. For On the Media, I'm Molly Schwartz.
Copyright © 2023 New York Public Radio. All rights reserved. Visit our website terms of use at www.wnyc.org for further information.
New York Public Radio transcripts are created on a rush deadline, often by contractors. This text may not be in its final form and may be updated or revised in the future. Accuracy and availability may vary. The authoritative record of New York Public Radio's programming is the audio record.