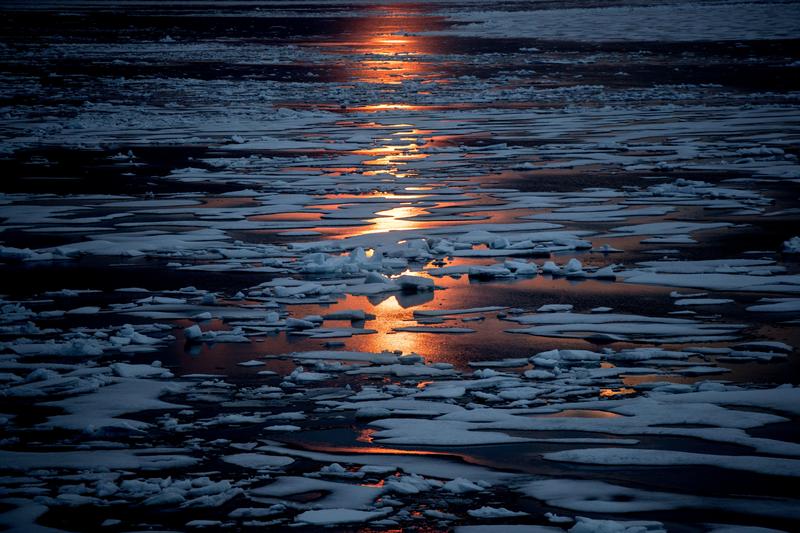 Transcript
BROOKE GLADSTONE This is On the Media. I'm Brooke Gladstone, on this week's show the tender frailty of the systems that govern our planet, our economy, and the cosmos that contains it all.
LUKE KEMP We can't look at climate change in isolation from everything else going on in the world. Inequality, misinformation, new destructive weapons, the modernization of our nuclear arsenals, societal fragility writ large
GUIDO TONELLI Science tells us that there is an inner fragility in the entire universe. We share the same fragility
MARK BLYTH Remember ten, fifteen years ago — you get together with your friends on a nice summer night and you'd be sitting outside and you'd be making each other laugh and you'd be having a couple drinks and the point would be to crack each other up. And now when we get together we sit around and we go [sighs]
BRYAN WALSCH Perhaps we've passed some line that will be impossible to come back from, but that hasn't happened yet.
BROOKE GLADSTONE Life, the universe, and everything — after this
[BREAK]
BROOKE GLADSTONE From WNYC in New York, this is On the Media. I'm Brooke Gladstone. This week, as we take our first faltering steps into 2023, and taking the week off to do it, we decided to contextualize what we're facing by pulling some favorite segments that reveal much about the fragility of our systems - the ones that govern the economy, the environment, and even the cosmos.
How else to reckon with the future? How about by starting with the planet, over the last 365 days.
NEWS CLIP: Pakistan's climate change minister says the floods have destroyed 45% of Pakistan's croplands.
NEWS CLIP: Europe is on fire. In Portugal, 3000 firefighters are working in hellish conditions. Temperatures in the mid-40s celsius are blamed for the deaths of 240 people.
NEWS CLIP: It's hell on earth as Hurricane Ian slams into Florida. 155 mph winds, 18 foot waves, epic destruction.
NEWS CLIP: A dire emergency in East Africa, the drought there exacerbating the hunger crisis as many as 20 million people could be starving by the middle of this year half of them children
BROOKE GLADSTONE The United States Development Programme asserts that "numerous experts believe we are living through, or on the cusp of, a mass species extinction event, the sixth in the history of the planet and the first to be caused by a single organism—us." Antonio Gutteres, head of the UN, spoke to BBC in late October.
ANTONIO GUTTERES If we are not able to reverse the present trend that is leading to catastrophe in the world, we will be doomed.
BROOKE GLADSTONE Doom and gloom, to which we are accustomed. But are we doing enough to try and understand the full extent of our fragility? In August, a study by an international team of climate experts published in the peer-reviewed Proceedings of the National Academy of Sciences, warned that legitimate worst-case scenarios are vastly under-reported. They called for directing more research and attention on a"climate endgame" agenda.
In August I spoke to Luke Kemp, Research Associate at Cambridge's Center for the Study of Existential Risk and one of the authors of the study. He said we know least about the scenarios that matter most.
LUKE KEMP These are plausible. They could happen and we should pay attention to them, particularly because the consequences are so extreme. We often don't do analysis of higher temperature scenarios, and we also don't look at the worst case potential risks in terms of knock on effects. Secondly, I think it's bad public communication. As soon as you put out a number 1%, 2%, 0.0003%, it gives people an undue sense of scientific precision. And what we're trying to say here is that these are plausible but we need more research before we can venture out into the realm of putting numbers and probabilities upon these extreme scenarios.
BROOKE GLADSTONE Are there ways that journalists can better share the information we have?
LUKE KEMP One thing that many journalistic outlets can do is to simply accurately portray the science in the first place. I've been astounded by some of the bad takes of this research thus far. I've seen at least one major outlet in the UK run the headline that climate change could result in an extinction level pandemic by 2070. And we say nothing like that in the article. And indeed, it's worthwhile noting here that if I or any of my coauthors really felt that this was inevitable, that we were all doomed, we wouldn't have written this article. I'd be on the beach somewhere. The entire point of this article and the climate end game agenda is risk management. It's not disaster voyeurism. It's about understanding extreme risks so we can prevent them.
BROOKE GLADSTONE And you do think there is a path to at least the degree of mitigation?
LUKE KEMP Of course.
BROOKE GLADSTONE You suggest that the current information that we get from institutions like the UN's IPCC kind of sugarcoat their status. Is that true? I mean, didn't the IPCC famously conclude a few years back that much of the damage is irreversible and that we should focus on resilience in the face of warming instead?
LUKE KEMP We definitely don't say that the IPCC sugarcoats anything.
BROOKE GLADSTONE Okay.
LUKE KEMP The IPCC analyzes the existing body of literature on climate change. The existing climate scholarship that is analyzed by the IPCC is under-exploring both higher temperature scenarios and under-exploring these more complex risk assessments in the case of higher end warming, when you look at the likelihood of three degrees and above relative to its mentions in different IPCC reports, there is a significant mismatch; 1.5 and two degrees are overrepresented visibly in their probability, while three degrees and above are underrepresented substantially.
BROOKE GLADSTONE Uh-huh
LUKE KEMP The second study. We share that this seems to have gotten worse, most likely because we now have these international goals of limiting global warming to two degrees or 1.5 degrees under the Paris Climate Agreement. And so it's natural, but let's channel the scientific attention towards those scenarios. And it's worth noting here they're just easier scenarios to model. They also don't look at these risk cascades that we know do exist. In 2010, a heatwave in Russia led to Russia imposing a zero export ban that led to a spike in global food prices. And we had exactly the same of COVID-19 as well. If you were just worried about mortality, morbidity, you missed the biggest issue, which is that the sheer number of people infected could overwhelm and collapse the health care system. This is how risk actually works in the real world.
BROOKE GLADSTONE You're talking about the knock on effects, the pressures, the inequality, the hazards. All of those conditions that could lead to catastrophe are already present to a degree, and we need to be concerned about tipping points.
LUKE KEMP Indeed, this is not just about the magnitude or the speed of warming. It's about societal fragility. And part of this is knock on effects, what we call risk cascades. Climate change by itself may not cause a global catastrophe, but it could potentially impede our recovery from another catastrophe. So think of nuclear war, for instance, if you have a nuclear winter, followed by what's called a nuclear spring, so essentially accelerated warming after the soot washes out of the atmosphere from a nuclear conflict, that's much, much worse if you have three or four degrees of warming rushing in at just 1.5.
BROOKE GLADSTONE You also reviewed the collapse of some ancient civilizations due to climate change and other things. What can we learn from that?
LUKE KEMP Collapse historically hasn't always been a bad thing. Historically, it's almost always been bad for elites. It hasn't always been bad for the vast majority of the population.
BROOKE GLADSTONE That's fascinating.
LUKE KEMP I think one of the best collapse or transformation case studies is covered by my colleague Eric Klein, which is the late Bronze Age collapse. It can be dated to roughly 1177 B.C.. You had this collection of different states: the Akkadian Empire, for instance, the Assyrians and many others like the Mycenae Kingdom. They all exist in this one big system across the Mediterranean, deeply, both economically and diplomatically integrated. It's a good parallel for globalization, but on a much smaller scale. There wasn't just one big risk. We did have climatic variation. One of the big impacts appears to have been drought. We also had climate change causing migration from the north into the Mediterranean. It had these long term trends like increases in inequality, increases in the interconnectedness of the network, which made it likely that if one city-state fell, that could cascade for the entire system. It was vulnerable.
BROOKE GLADSTONE Do you think that we're similarly vulnerable?
LUKE KEMP Yes. And there's good studies on this that have actually been conducted by some of my coauthors — Martin Schaeffer in particular — how these very large interconnected systems, whether they're in the financial space or the ecological, they're often very good at buffering against small disturbances, small shocks. But once the shock becomes sufficiently large enough, they amplify rather than dampen it.
BROOKE GLADSTONE This hour is focused on existential questions, but we're also exploring the possibility of agency. I think it's fair to say that the phrase climate end game can be a little off putting. What is alarming has the potential to be paralyzing.
LUKE KEMP I disagree this is off putting. There is an enormous difference between talking about risks, potential adverse events in the future, and saying that they could happen and saying they are inevitable. One thing to note here is that end game comes from chess or bridge. It's the stage of the game when you have few pieces remaining. It's not saying checkmate, you're done. It's saying the final moves can be played out. I think that actually, in a very subtle way, does suggest agency. It does suggest that, yeah, we can think about the extreme risks and these worst case scenarios, these catastrophic risks. But we have agency in preventing them and even potentially at the late stages.
BROOKE GLADSTONE What a perfect way to end this interview.
LUKE KEMP No worries. My absolute pleasure.
BROOKE GLADSTONE Dr. Luke Kemp is one of the authors of a new study called "Climate End Game: Exploring Catastrophic Climate Change Scenarios." Among the reasons we balk at considering the potential for long term catastrophe is that our brains are wired for short term problem solving. That's according to journalist Bryan Walsh, the editor of Vox's Future Perfect, who dug into the issue in a TIME Magazine piece on "Why Your Brain Can't Process Climate Change." Welcome to the show, Bryan.
BRYAN WALSCH It's great to be here.
BROOKE GLADSTONE You wrote about how we're wired to avoid thinking about doomsday scenarios, existential events that are maybe a little too far over the horizon. And you situate us into the narrow metal tube of a functional MRI.
BRYAN WALSCH Indeed, if you actually put yourself in that machine and you ask yourself to think about people close to you, your brain will light up and you ask yourself to think about people very far away from you. Your brain will light up less. Basically, the closer in proximity or relationship someone is, the more your brain is actively thinking about it. But what's really interesting is if you actually ask yourself to think about you in the immediate future, okay, lights up — like I identify with myself. I'm thinking about that person probably too much all the time. Then if you ask yourself to think about you in ten years time, it lights up a little bit less. Twenty, thirty — it lights up increasingly less. And what that means essentially is that we almost treat our future selves as strangers to ourselves, and that's yourself. Imagine trying to think about or prepare for generations of people who haven't even been born yet. Think about something as simple as this: I mean, do you save enough for retirement? Are you financially secure for the future? Surveys would indicate that's not the case. You know, you often make choices based off your present day needs. Multiply that by society and you've got – you've got where we are now.
BROOKE GLADSTONE And maybe inevitably economists have their own term to describe this phenomenon. Right. The social discount rate, which quantifies how much value declines as we look into the future — kind of the opposite of the compounding interest rate.
BRYAN WALSCH I think that is the way to think about it. It's, you know, would you rather have $1 now or $10 in a year's time? Basically how you answer that question is sort of how you set your own personal discount rate.
BROOKE GLADSTONE Right. You put that in explicit monetary terms. You calculated that with a 5% discount rate, it would only be worth spending about $2200 today in order to prevent $87 trillion of damages. That's the size of the total world economy now in 500 years. Now, this presents some problems. I don't know anybody who actually believes we're going to be around in 500 years.
BRYAN WALSCH I think you're absolutely right. It's really hard to wrap your mind around time lengths as long as 500 years. I like to start thinking about my five year old son, like I think about the fact that he could well be around by the start of the 22nd century, which is mind blowing to me. Then maybe you think that actually, yes, we do have a responsibility to what we owe that future — like we do have a responsibility to try to create the best possible conditions for them, not just to survive, but to thrive. Those people don't have a voice. We have to be that voice, not just thinking about the future, but maybe even being prepared to make some sacrifices of our own welfare now to ensure that future is actually even better.
BROOKE GLADSTONE Yeah, right. That is a little bit like But other than that, Mrs. Lincoln, how did you like the play?
BRYAN WALSCH Yeah, it's absolutely — it's a big ask.
BROOKE GLADSTONE You talked about how the people of the future have no voice. You tend toward a writer of philosophy named Samuel Scheffler. And I haven't read his book Death and the Afterlife, but the descriptions make it sound as though he thinks we as a species actually do care about the future, even if our behavior suggests we don't.
BRYAN WALSCH He goes into thinking really about, well, what really matters to us in the present day. Like I just went on, said, like, well, we tend to focus on our present selves, you know, adopt habits that may not be better for us in our future selves. But we also do care deeply about the continuation of the human project, continuation obviously, of our families. You know, I think if tomorrow we were all to find out that, okay, you have a situation like that great novel and movie, Children of Men, where suddenly no one can reproduce anymore. You'd think on one hand, Well, your life is not really changing. You know, it's not as if an asteroid or a nuclear warhead and suddenly everyone dies at once. But what that book and film shows, and I think what Sam talks about really, is that without confidence in a future that will go beyond us, life starts to lose meaning really.
BROOKE GLADSTONE But you wrote the problem is, in the words of the social philosopher Roman Krznaric, "we colonize the future, treating it as a distant colonial outpost where we dump ecological degradation, nuclear waste, public debt and technological risk." This hour is about connectedness, frailty, and agency. And the first part I think we can get – we are connected to the world. But how do we exercise that agency?
BRYAN WALSCH How do we exercise that agency...?
BROOKE GLADSTONE To make a better future or a sustainable one or any future at all?
BRYAN WALSCH I think every action around climate change is an effort to do just that. People take different routes to it. You can be an activist with the idea that you are trying to safeguard the future. You can be a politician who's trying their best to be pragmatic, appeal, maybe a little bit, to those present day biases to get legislation passed that will benefit the future. I think any spiritual movement really often relates to that. Having a family — that relates to that. All these things, to me, works together. It does take an imaginative leap. I think it's trying to look to the whole sweep of humanity and look at the progress that we have experienced over the course of 500 years in the past, a thousand years – even further. As difficult as things might look in the immediate future. I wouldn't want to go back 500 years. We've come a long way since then. Perhaps we have passed some line that will be impossible to come back from. But that hasn't happened yet, and I have a lot of confidence. And as a journalist, I try to write about that as much as possible, that we can continue that even with all the setbacks we're likely to face in the future.
BROOKE GLADSTONE Bryan, thank you very much.
BRYAN WALSCH Thank you.
BROOKE GLADSTONE Bryan Walsh is the editor of Vox's Future Perfect and the author of the book End Times: A Brief Guide to the End of the World. Coming up, the "ugggh" of it all. This is On the Media.
[BREAK]
BROOKE GLADSTONE This is On the Media, I'm Brooke Gladstone. Our money, like our habits and habitats, has undergone significant upheaval in the past several years.
BLOOMBERG Inflation has peaked and is starting to come down. We've come down from 9.1% to 7.1% over the last six months.
BLOOMBERG I see that oil prices are falling and gas prices are falling, I see industrial commodity prices are falling…
KRON In Napa, for a while, it was cheaper to pour wine into your gas tank than gasoline. But this morning in Napa County, not too bad…
CNBC Unemployment is still in a relatively good place, but everytime you turn around… people seem to be getting laid off…
CNN The Fed just raised rates again and that does not sound good for the future of the economy.
NBC Continued fears the federal reserve could tip the economy into recession by keeping interest rates higher for a longer period.
CNBC Are we going into a worldwide recession? …Well, I think so. These numbers don't portend very well.
FOX …When we're going into a recession is just a question of time…
BROOKE GLADSTONE But what do the chaotic messages about our economy say about us? It's after all, a creature of our own design. And like so many of humanity's creations, it ultimately reflects our accomplishments and progress, our fears and, of course, our mistakes. Why should we expect anything more or less from our economic indicators?
MARK BLYTH So here's an interesting one, and it's about robots.
BROOKE GLADSTONE Mark Blyth is a political economist and a professor of international economics and public affairs at Brown University. He spoke to us in July.
MARK BLYTH I don't know if you remember this, but around 2010, just when the global financial crisis was beginning to metastasize, every financial outlet in the world started to say that everyone was going to be replaced by a robot. Do you remember that? We're all going to lose our jobs! It was the race against the machine, all that sort of stuff. Underlying this was the way that we calculate the productivity of manufacturing. For a long time, it looked like the United States was roaring ahead of Europe. It turns out that it was a mismeasurement problem. As an economist called Silvia Holzman figured this out, that what we do is we look at the IT sector, which is obviously a very large part of American manufacturing, and we basically say, Okay, so you've got a new computer. The chip's twice as powerful. You must be twice as productive. I'm being crude, but that's essentially what it is. So we were calculating the productivity of the IT sector in the United States as just being almost exponential. Now, when you didn't do that and you did it the same way as Europe, the effect disappeared. But that really mattered because for ten years it made it look like America was running leaps and bounds ahead of Europe when in fact it wasn't.
BROOKE GLADSTONE Let's move out a couple of thousand feet. You suggest we might be staring down the barrel of a kind of permanently shocked economy?
MARK BLYTH Yes. Let me explain that. So here's how people tend to think about the economy. And it's a weird way of thinking about things, but let me run with it. So there's an idea that if you take all of the labor, all of the capital, all of the ideas, all of the stuff, and put it together and call it an economy, it kind of settles into a kind of equilibrium that basically just means steady state. And that steady state can be shocked from time to time. So whether it's a financial crisis, that's a big slap in the jaw or whether it's externally generated inflation because of COVID and a war, that's another shock. That basically that equilibrium gets out of whack for a while, but then it will come back to trend. Right. That's the assumption we've worked with for a very long time. So what I'm wondering, sitting in this incredibly hot world that we're in where basically half the planet's on fire, thinking about things like the Colorado River really running dry in the west, being in a 1600 year drought if I got that figure correct and various other developments across the globe — what if we're moving out of that equilibrium completely? What if we're getting to a stage now where basic things that we took for granted are going to be permanently short, whether it's workers, water, food in certain parts of the world and the conflicts that are going to arise because of that. It's very hard to imagine reverting back to the prior equilibrium. It's more likely that we're bouncing around in a new world of uncertainty with permanently higher prices. It's not a very pretty view, but I think it's one that we have to entertain.
BROOKE GLADSTONE Should there be a move simply to slow down the economy then?
MARK BLYTH There's a lot of very serious folks who will argue that we need to de-grow the economy. But you have a kind of static pie problem. If you don't add to the economy, if you don't grow in some sense, then proportionately you're going to get less and less over time. If you want to see what that looks like, consider Italy. Italy hasn't grown in the past 20 years. It's now about 20% smaller economically than it was before, and its politics reflect those divisions. So while you want to de-grow in the sense that you want to decouple GDP growth from carbon emissions, it's not clear that the answer to do so is to basically shrink the economy at the same time.
BROOKE GLADSTONE Okay, but wait up. Is Italy's political problem because of its shrinking economy? I mean, stability has not actually been a hallmark of Italian politics.
MARK BLYTH That's very true. But here's a little fact that most people have forgotten. Between 1960 and 1990, the two fastest growing economies in the world were Japan and Italy. It absolutely changed its governments all the time, but it was politically stable in the sense that the same parties were around the same people swapped cabinet positions. The economy grew. Wages rose. Politics wasn't polarized. What's happened since essentially joining the euro and I'm not just blaming the euro for this. They just have failed to grow. They are 20% poorer. And when you get poorer, that tends to produce a bad politics.
BROOKE GLADSTONE So the argument against slow growth, or maybe, shrinking, is that the political consequences could be dire. Let's extrapolate to the U.S..
MARK BLYTH Think about everybody's hate figure of the moment in the Democratic Party, which is Joe Manchin who has killed Build Back Better for the third time. Well, if you have a look at West Virginia, you can call up the number of jobs in mining and you can say, oh, my God, there's more people working in insurance than in mining. This is crazy. But then you remember that there are some of the best paid jobs in the state — tat this is a state that's very poor, has a lot of Medicare liabilities, a lot of people with opioid problems, etc.. So those high wages pay high taxes that keeps the system afloat. Add together gas. Add together all the ancillary skills that's with it. One third of GDP for West Virginia is tied up in the fossil fuel industry. And then you've got people like us saying, hey, we need to decarbonize, which they take as a mortal threat to their business model.
BROOKE GLADSTONE There are, of course, a lot of implications about the major source of Manchin's campaign funding.
MARK BLYTH Oh, no doubt. But simply from the point of view of a worker working in West Virginia, why would you trust the federal government not to blow this one? You do remember that Senator Clinton in 2016 was running around saying to all these 55 year old white guys that work in a mine should become coders. That was never very practical, was it? And if you have a look at what happened to the Midwest from the Clinton period onward, you see effective deindustrialization and massive downward mobility of many people in that part of the country, which happened under the same people who now want you to embrace a green transition. So why should they trust them?
BROOKE GLADSTONE So our economy is shocked. Shortages, wars, oil crises. They aren't new, but maybe not so many disruptions all at once, especially when you add on global warming. So are our tools of diagnosis, like defining a recession as two straight quarters of declining GDP and so many of the other things we use, no longer suited to assessing the situation at hand?
MARK BLYTH That might well be the case that, you know, these are not the droids you're looking for, to quote Star Wars on this one. These are not the indicators you're looking for. Let's think about why that might be the case. And you give me a clue in something you were just saying. Earlier on I was talking about how we think about an economy being in equilibrium in a steady state and it gets hit by a shock. The way that we think about these shocks is that they're normally distributed. Big shocks happen rarely. Small shocks happen quite a lot, and you don't notice. And that these shocks themselves are independent of each other. What you just said is that what we've got is a world where the big stuff is happening quite frequently and these shocks tend to compound on each other, adding one to the other. That takes us into a very different world. You can start to get weird outcomes like the labor market seems to be super tight, but at the same time we're raising interest rates, and we're expecting a recession. So maybe the system has shifted in such a way that it doesn't respond the way that it used to and increasingly will fail to do so. In which case many of the indicators that you're looking at has given you information, but it might not be given you the information that you think it is.
BROOKE GLADSTONE You said we need to imagine a world in which some things are permanently in short supply because of these shocks that will soon just become basic conditions of life. But goods aren't in short supply right now, are they? I thought one of the factors here is that companies have too much inventory.
MARK BLYTH So it's a very mixed story out there. Certainly some big retailers, notably, I believe it was Target, who pulled a whole ton of inventory and then had to sell it off to clear the decks, essentially. We still have supply chain problems. My favorite little example of this is that the PCR reagents and the home test kits that you get — they're not just made in one city in China. They're made in one factory in China.
BROOKE GLADSTONE Oh god.
MARK BLYTH So we are still totally dependent on these very shockable supply chains. You begin to manage that by home sourcing, by trading more with partners who you can trust to share your values — to use the language of the White House on this one. But all of that stuff takes time.
BROOKE GLADSTONE What about the things that may be in permanently short supply because of climate change?
MARK BLYTH Well, what's happening now is a lot of weak and sloppy thinking about climate change is itself being shocked. So one of the arguments you would hear is, oh, well, it'll take, you know, 20 or 30 or 40 years for these things to show up. And, you know, if that means that we can't grow wheat in Wisconsin anymore, well, you can grow it further up in Manitoba. Well, no, it's happening really fast. And you can't grow it in Manitoba because the soil is completely different. And the same thing with zooplankton because of acidification. If they basically start dying off, the entire Marine food chain comes into jeopardy. Once you go through a certain limit, there's no way back. A simple one for this is global food supplies. We have a highly geared system that is just-in-time delivery based upon regular harvests, which are based upon regular things like monsoons. And if those weather patterns begin to shift drastically, then your ability to count on those crops really comes into doubt. My favorite example of this is the Colorado River literally running dry. American agriculture depends upon the Colorado River, particularly California. Would America still count as a superpower if its West basically stopped producing the agricultural goods that it does that enables the U.S. to be not just self-sufficient, to be a net exporter of food?
BROOKE GLADSTONE Historically speaking, though, haven't we seen large shifts in the way the world does business before? I mean, the Roaring Twenties and the Sixties.
MARK BLYTH The types of shocks that you got within the twenties and you got hit with in the sixties and seventies were the business-as-usual shocks. What we were always able to do is ignore what economists call the externalities of production, continue to just dump more and more stuff into nature and take more and more stuff from nature. And that will always be the cornucopia. We never have to worry about that. But we now seem to be in a world where we can no longer ignore those externalities that what we're doing is making them worse. These shocks are different qualitatively, and the trajectory that we may be on as different qualitatively.
BROOKE GLADSTONE Hmm, so you think the real underlying cause of this shift is and will be climate change?
MARK BLYTH I think it's all these things coming together. This is what I mean about this is not normally distributed. And these are things are not independent. In terms of production, when the sort of the honeymoon between China and the United States started to come apart maybe ten years ago. Then we had our first conversations about deglobalization because of the pandemic. Now we have actual warfare on the European continent, which is impacting global oil and food supplies. And add to that the fact that the United Kingdom had the weather that the British weather office thought would happen in 2050 in 2022. So it's not just climate. It's almost as if climate is kind of the icing on the crappiest cake of all time.
BROOKE GLADSTONE [BROOKE MAKES AN EXASPERATED SOUND] So –
MARK BLYTH You know, it's funny. It's funny. You should make that noise. I was talking to someone about this last night. Do you remember, like maybe ten, 15 years ago what happened as you get together with your friends on a nice summer night and you'd be sitting outside and you make each other laugh and you'd have a few drinks, and it'd be great. And the point was to crack each other up, and now when we get together, we all sat around and we go [MARK SIGHS EXASPERATEDLY].
[BROOKE LAUGHS]
MARK BLYTH You know, you want to talk about confidence in the economy. Think about it from the point of view of a 25 year old coming out of college. Do you really have great faith in your ability to put together a retirement portfolio that's going to last the course? Let alone buy a house? To go back to this idea of what are the things that we're measuring when we're measuring the economy, let's think about the confidence index. So consumer confidence is down, it's terrible, right. Well, if you go on Bloomberg, you can sort out bipartisanship. You can look at the American Confidence Index in terms of Republicans and Democrats and what it shows the majority of democrats thinks things are okay but not great. Practically all Republicans think things are terrible because they must be under a Democrat. So on average, we all think they're bad, right? But I wonder how much these other subjective factors are featuring into this. I mean, are we confident about the future in the way that we used to be? Do we really think that like 20 years from now, things are going to be totally fine and kids coming out of college are going to have more life chances than they do now? Or is this kind of feeling that we've all got that we don't really express? Is that kind of, ugh and what's that doing to us on a macro level?
BROOKE GLADSTONE What is it doing to us Mark?
MARK BLYTH I mean, it would be wonderful if, you know, this moment of rising temperatures, etc. really gives us pause and makes us recognize that, you know, we face an existential set of problems. I mean, there should be a moment for transformation, a moment for incredible investment in our collective futures. But we seem to be paralyzed by a lack of imagination. And we see this in Build Back Better. Adam Tooze put it well in his newsletter when he said the real problem here isn't Joe Manchin, it's the fact that the centrist Democrats think about generational transformation with a funding model that would be used to fund a nursery school in a village. Everything has to be paid for. And you run the global economy with a dollar, which is the global reserve asset, and you run it as if it's a corner shop. That's the "ugh" moment. I'm going to my friend's 50th birthday party. We've known each other from our time at Columbia thirty years ago. And we're going to get together. And it should be this moment of total celebration. And what's going to happen is we're going to talk about all this stuff and we're literally going to go UGH!
BROOKE GLADSTONE Mark, thank you very much.
MARK BLYTH It's always a pleasure.
BROOKE GLADSTONE Mark Blyth is a political economist and professor of international economics and public affairs at Brown University.
[BREAK]
BROOKE GLADSTONE This is On the Media. I'm Brooke Gladstone, one of the brightest news stories of 2022 – maybe the past few eons – came in the form of some breathtaking images.
NEWS CLIP Today, science has made the distance between all of us and the cosmos just a little bit shorter, with perhaps one of the greatest scientific achievements in our lifetime.
NEWS CLIP A new era in astronomy. NASA's releasing a full batch of images and data from the massive James Webb Space Telescope.
BROOKE GLADSTONE The pictures show the universe as it looked soon after the Big Bang more than 13 billion years ago. The Webb Telescope is giving us baby pictures of the cosmos. In December, the telescope also offered the very first glimpse of rare galaxies beyond us as they looked at the dawn of cosmic time. Last summer, I spoke to Guido Tonelli, a particle physicist, visiting scientist at CERN and the author of the book Genesis: The Story of How Everything Began. He has long probed with mind-blowing success the origins of everything and seems to also have a grasp on how it all ends. But first, he wants us to understand how vital origin stories are, no matter where or when they come from.
GUIDO TONELLI I think is a primordial issue. If you take a look to all tribes, all small populations that sometimes have been found in the Borneo or the Amazonas, they all have a tale of the origin. It looks like we need desperately to locate ourself inside a tale, and once we have located ourselves inside the tale, then we can start organizing our societies.
BROOKE GLADSTONE It serves, you believe, as the origin of art, science, philosophy, religion.
GUIDO TONELLI Because you locate yourself in a long tradition. And the group that owns a tale of the origin is a group which has culture, which is stronger.
BROOKE GLADSTONE And you touch on a multitude of creation stories prominently Hesiod's Theogony, the best existing notion of what we think the Greeks in the seventh century B.C. might have thought about these matters. And he begins with a deity called Chaos, a word that had a very different meaning then. Hesiod's chaos was not chaotic. She was a void, and that's kind of how your universe begins, right?
GUIDO TONELLI For me, as a modern scientist that believes that the entire universe is a transformation of the void. The void resonates with the old Greek word of chaos. So it's like closing a circle that was opened by Hesiod and closed today by modern science.
BROOKE GLADSTONE In your world, collecting information on the birth of space time, how did you feel about the images coming from the James Webb telescope?
GUIDO TONELLI It's something difficult to describe because we know what is happening in the darkest side of our universe, because we have indirect evidence. But the power of an image is incredibly strong. It's amazing to see galaxies in collisions or to discover that even in the smallest and darkest portion of our universe, you can collect signs of hundreds, thousands of galaxies, each one containing hundreds or thousands of stars around which we know that we'd be orbiting an immense number of planets. We are really a very tiny object in an incredibly large structure, which is absolutely fantastic.
BROOKE GLADSTONE Do you think that they'll enable you to attack some of the mysteries that we still have, like dark energy, dark matter? You've said that it's embarrassing for scientists to know only four or five percent of matter.
GUIDO TONELLI Yeah. I'm a bit embarrassed in admitting that our ignorance is still immense. In particular, there are two major questions. One is the dark matter, which is very important because it keeps together everything- particularly the galaxies. Dark matter is everywhere, including in this room, and we are not able to explain what it is. And dark matter accounts for something like 27–28% of the entire universe. Even worse is dark energy. Two-thirds of the universe is made out of this strange form of energy, which makes everything expand at an increasing speed. The real hope that we have today is that the James Webb telescope will give some light in some of these mysteries.
BROOKE GLADSTONE Do you think it's possible we'll ever get a glimpse of the big bang?
GUIDO TONELLI Ha, ha. This is a very good question. We cannot go to the Big Bang because there is a limit, and the limit is a sort of a wall. And the wall is the moment in which the radiation, which is light, most of the telescope uses a sort of light or some frequency — light separated from matter only 380,000 years after the Big Bang. So we have reached already this point and we can see the baby universe. Unfortunately, we cannot go beyond this with electromagnetic radiation. But today we have understood how to use gravitational waves. So if we are able to improve the sensitivity of the gravitational wave detectors, then we might be able to really see life the very first instant of the birth of our universe.
BROOKE GLADSTONE Wow. You direct your vision to the astoundingly large and to the unimaginably small, the infinitesimal particles that make up everything. Do these two kinds of data work together to piece together our origin story?
GUIDO TONELLI So science uses basically two independent teams of pioneers. The teams of astrophysicists or astronomists looking at objects which are very far away. They see them back in time. We, the other team, the particle physicists, study the tiniest possible object, the elementary particle. We bring back to life particles that were extinct since billions of years. Our universe at the very beginning was extremely dense and extremely hot, very different from the the large and cold and dark universe we have today. In the expansion, the universe has become cooler and cooler. That means that these particles are not able anymore to leave. The temperature is too low.
BROOKE GLADSTONE Mm hmm.
GUIDO TONELLI But in the particle accelerator, the Large Hadron Collider at CERN, for example, producing collisions between protons, as we do, the density of energy reaches a value which is similar to the value of the original universe. This is why in this tiny portion, going high in energy, in temperature means going back in time.
BROOKE GLADSTONE Ten years ago this month, after decades of building intricate instruments to probe the cosmic mysteries, you had an astounding breakthrough at the Large Hadron Collider near Geneva. You and your colleagues announced the discovery of the almost mythical Higgs boson, known popularly as the God particle, because of its role in giving mass to all the other particles, basically creating everything.
GUIDO TONELLI This hunt for this elusive particle occupied the lifetime of that generation of scientists. The previous generation, without success, they were not able to discover it. Now we know why. Because it is a particle which is extremely heavy. And the machines that were produced in the 60 or 70's, they were not able to produce it. For a scientist like me, being aware that you are among the first humans to look at a new state of matter that was not available since the beginning of the universe, since billions of years, is something which is difficult to describe.
BROOKE GLADSTONE Is there any way to briefly explain the significance of the Higgs boson and how it contributes to our creation story?
GUIDO TONELLI Imagine that for a moment. We can fly there and see the baby universe — sort of a fog of elementary particles, each one indistinguishable from the others. This universe could have expanded forever without forming nothing interesting — would have been a perfect universe, but completely useless without the possibility to create the stars and galaxies, flowers, human beings, rocks, etc.. And this is why it is so important. Because after 100th of a billionth of a second, this tiny moment just after the Big Bang is the moment in which the universe cools down enough to allow the Higgs boson.
BROOKE GLADSTONE Higgs boson.
GUIDO TONELLI That was one of these particles flying around without any particular role. It started freezing because the universe became too cold. Now the universe is not any more perfect. Now each particle has a different mass. Now there is not the same density everywhere. There is differentiation. It is thanks to a few of these particles that we can form the first protons and around the proton you can have a lepton, which is an electron flying around. So you can have the first atom, you can form the first clouds of dust of hydrogen that will give birth to the first stars that will give birth to the first planet. Without this initial touch, our universe would have remained forever a perfect but useless universe.
BROOKE GLADSTONE There are creation stories. What about extinction stories? What are the best theories about the end? Many have postulated a Big Crunch, basically an expanding universe, changing direction, smashing into itself.
GUIDO TONELLI The Big Crunch has basically been abandoned because the evidence we have is that our universe is continuing its expansion at an increasing speed. One possibility for the fate of our universe will be that this expansion will continue forever. That means that after tens of billions of years, the universe will be too cold, everything will be too distant, and there will be no creation of new stars. It will become a very depressive universe full of black holes, neutron stars. It is called the thermal death of the universe.
BROOKE GLADSTONE Mhmm.
GUIDO TONELLI There is another possibility that is quite recent is in connection with the discovery of the Higgs boson, because the Higgs boson that is producing this mechanism, allowing particles to have mass and to aggregate any stable forms. So if the Higgs boson goes to another transformation and disappears immediately, we have collected data that hints that this could be possible. That tomorrow at 4:00 in the morning, immediately in the entire universe, the Higgs field degrades. If this happens, the entire universe will become a huge bubble of pure energy. So everything will disintegrate. There will be no possibility of adding stars of galaxies or planets or human beings etcs. We come back to the original situation, the perfect sphere of elementary particles, all massless, that are not able to aggregate in any form. It will be a hotter universe with nothing to be described.
BROOKE GLADSTONE You talked at the beginning of how important it is to the development of culture and art and the strength of societies to understand their origins. To have some story about it. I just wonder if you think contemplating our end has value in itself.
GUIDO TONELLI We thought it was impossible to damage significantly the planet. Now we have realized that these mechanisms are quite finely tuned, and if you intervene too strongly you might destroy equilibria which are there since millions of years ago. Now we know that the same is true for the entire universe. Imagine for a moment we have been in the last 2500 years speculating that we are subject to death while, the moon, the sun, the planet Earth was, eternal. Now, science tells us that there is an inner fragility in the entire universe, and so we as material beings share the same fragility. For us — is 80, 90, 120 years, for the universe is billions of years. But for me, it is absolutely amazing to discover that modern science tells us today that the fragility of the human beings is shared by the immense structure of our beautiful universe.
BROOKE GLADSTONE Thank you very much. Guido Tonelli is a particle physicist and the author of the 2021 book Genesis: The Story of How Everything Began.
Okay. So we don't have much agency when it comes to the thermal death of the universe. But Guido's point about connection was one made in some fashion by all our guests this week, and that reminded me of a conversation I once had with Michael Pollan, who wrote How to Change Your Mind. He told me he was drawn to the subject of psychedelics, in part because of some work that was being done in hospitals with terminal patients, people who were terribly afraid of what was coming. They were offered psilocybin, which suppresses the part of the brain that governs separateness from our surroundings. It gave them direct experience of a connection to everything that most of us can't achieve on our own. It opened them up to the idea that all separate things come to an end, including their pain and themselves, even as all things come together. And they were less afraid. I'm not advocating drug use here. I wish there were a pill. All we've got is a little free will making the decision not to despair.
On the Media is produced by Micah Loewinger, Eloise Blondiau, Molly Schwartz, Rebecca Clarke-Callender, Candice Wang, and Suzanne Gaber with help from Temi George. Our technical director is Jennifer Munson. Our engineers this week were Andrew Nerviano and Sam Behr. Katya Rogers is our executive producer. On the Media is a production of WNYC Studios. I'm Brooke Gladstone.
Copyright © 2023 New York Public Radio. All rights reserved. Visit our website terms of use at www.wnyc.org for further information.
New York Public Radio transcripts are created on a rush deadline, often by contractors. This text may not be in its final form and may be updated or revised in the future. Accuracy and availability may vary. The authoritative record of New York Public Radio's programming is the audio record.