The Big Sigh: An Assessment of Our Economic Future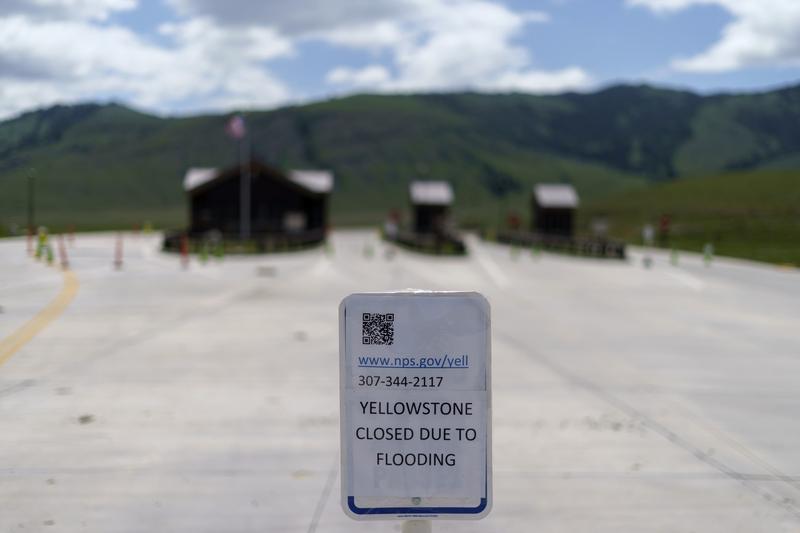 Transcript
BROOKE GLADSTONE This is On the Media, I'm Brooke Gladstone. Our money, like our habits and habitats, has undergone significant upheaval in the past several years.
[CLIP]
NEWS REPORT Inflation has peaked and is starting to come down. We've come down from 9.1% to 7.1% over the last 6 months.
NEWS REPORT I see that oil prices are falling. I see that gas prices are falling. I see industrial commodity prices are falling.
NEWS REPORT In Napa, for a while, it was cheaper to pour wine into your gas tank than gasoline. But this morning in Napa County, not too bad.
NEWS REPORT Unemployment is still in a relatively good place, but every time you turn around, people seem to be getting laid off.
NEWS REPORT The Fed just raised rates again and that does not sound good for the future of the economy.
NEWS REPORT Continued fears the Federal Reserve could tip the economy into recession by keeping interest rates higher for a longer period.
NEWS REPORT [OVERTALK] you know, these numbers don't portend very well.
NEWS REPORT I think we're definitely slowing. And when we go into a recession is just a question of time [END CLIP]
BROOKE GLADSTONE But what do the chaotic messages about our economy say about us? It's, after all, a creature of our own design. And like so many of humanity's creations, it ultimately reflects our accomplishments and progress. Our fears and, of course, our mistakes. Why should we expect anything more or less from our economic indicators?
MARK BLYTH So here's an interesting one, and it's about robots.
BROOKE GLADSTONE Mark Blyth is a political economist and a professor of international economics and public affairs at Brown University.
MARK BLYTH I don't know if you remember this, but around 2010, just when the global financial crisis beginning to matastisize, every financial outlet in the world started to say that everyone was going to be replaced by a robot. Do you remember that? We're all going to lose our jobs. It was the race against the machine, all that sort of stuff. Underlying this was the way that we calculate the productivity of manufacturing. For a long time, it looked like the United States was roaring ahead of Europe. It turns out that it was a mass measurement problem. As an economist called Silvia Holzman figured this out, that what we do is we look at the IT sector, which is obviously a very large part of American manufacturing, and we basically say, okay, so you've got a new computer. The chips twice as powerful. You must be twice as productive. I'm being crude, but that's essentially what it is. So we were calculating the productivity of the IT sector in the United States as just being almost exponential. Now, when you didn't do that and you did it the same way as Europe, the effect disappeared. But that really mattered because for ten years it made it look like America was running leaps and bounds ahead of Europe when in fact it wasn't.
BROOKE GLADSTONE Let's move out a couple of thousand feet. You suggest we might be staring down the barrel of a kind of permanently shocked economy?
MARK BLYTH Yes. Let me explain that. So here's how people tend to think about the economy. And it's a weird way of thinking about things, but let me run with it. So there's an idea that if you take all of the labor, all of the capital, all of the ideas, all of the stuff, and put it together and call it an economy, it kind of settles into a kind of equilibrium that basically just means steady state. And that steady state can be shocked from time to time. So whether it's a financial crisis, that's a big slap in the jaw or whether it's externally generated inflation because of COVID and a war, that's another shock. That basically that equilibrium gets out of whack for a while, but then it will come back to trend. Right. That's the assumption we've worked with for a very long time. So what I'm wondering, sitting in this incredibly hot world that we are and we're basically half the planet's on fire, thinking about things like the Colorado River really running dry in the west, being in a 1600 year drought if I got that figure correct and various other developments across the globe. What if we're moving out of that equilibrium completely? What if we're getting to a stage now where basic things that we took for granted are going to be permanently short, whether it's workers, water, food in certain parts of the world and the conflicts that are going to arise because of that. It's very hard to imagine reverting back to the prior equilibrium. It's more likely that we're bouncing around in a new world of uncertainty with permanently higher prices. It's not a very pretty view, but I think it's one that we have to entertain.
BROOKE GLADSTONE Should there be a move simply to slow down the economy then?
MARK BLYTH There's a lot of very serious folks who will argue that we need to degrow the economy. But you have a kind of static pie problem. If you don't add to the economy, if you don't grow in some sense, then proportionately you're going to get less and less over time. If you want to see what that looks like, consider Italy. Italy hasn't grown in the past 20 years. It's now about 20% smaller economically and it was before and its politics reflect those divisions. So while you want to de-grow in the sense that you want to decouple GDP growth from carbon emissions, it's not clear that the answer to do so is to basically shrink the economy at the same time.
BROOKE GLADSTONE Okay, but wait up is Italy's political problem because of its shrinking economy? I mean, stability has not actually been a hallmark of Italian politics.
MARK BLYTH That's very true. But here's a little fact that most people have forgotten. Between 1960 and 1990, the two fastest growing economies in the world were Japan and Italy. It absolutely changed its governments all the time, but it was politically stable in the sense that the same parties were around the same people swapped cabinet positions. The economy grew. Wages rose. Politics wasn't polarized. What's happened since essentially joining the euro and I'm not just blaming the euro for this. They just have failed to grow. They are 20% poorer. And when you get poorer, that tends to produce a bad politics.
BROOKE GLADSTONE So the argument against slow growth or maybe shrinking is that the political consequences could be dire. Let's extrapolate to the U.S..
MARK BLYTH Think about everybody's hate figure of the moment in the Democratic Party, which is Joe Manchin who has killed Build Back Better finally for the third time or possibly the fourth time. Why is it that he's doing this? Well, if you have a look at West Virginia, you can call up the number of jobs in mining and you can say, oh, my God, there's more people work in insurance than in mining. This is crazy. But then you remember that there are some of the best paid jobs in the state. This is a state that's very poor, has a lot of Medicare liabilities, a lot of people with opioid problems, etc.. So those high wages pay high taxes. That keeps the system afloat. Odd together gas. Odd together. All the ancillary skills it's worth. A one third of GDP for West Virginia is tied up in the fossil fuel industry. And then you've got people like us saying, hey, we need to decarbonize, which they take as a mortal threat to their business model.
BROOKE GLADSTONE There are, of course, a lot of implications about the major source of Manchins campaign funding.
MARK BLYTH Oh, no doubt. But simply from the point of view of a worker working in West Virginia, why would you trust the federal government not to blow this one? You do remember that Senator Clinton in 2016 was running around saying to all these 55 year old white guys that work in a mine should become coders. That was never very practical, was it? And if you have a look at what happened to the Midwest from the Clinton period onward, you see effective deindustrialization and massive downward mobility of many people in that part of the country, which happened under the same people who now want you to embrace a green transition. So why should they trust them?
BROOKE GLADSTONE So our economy is shocked. Shortages, wars, oil crises. They aren't new, but maybe not so many disruptions all at once, especially when you add in global warming. So are our tools of diagnosis, like defining a recession as two straight quarters of declining GDP and so many of the other things we use no longer suited to assessing the situation at hand.
MARK BLYTH That might well be the case that, you know, these are not the droids you're looking for. To quote Star Wars on this one, these are not the indicators you're looking for. Let's let's think about why that might be the case. And you give me a clue in something you were just saying. Earlier on I was talking about how we think about an economy being in equilibrium in a steady state and it gets hit by a shock. The way that we think about these shocks is that they're normally distributed. Big shocks happened, rarely, small shocks happen quite a lot and you don't notice. And these shocks themselves are independent of each other. What you just said it that what we've got is a world where the big stuff is happening quite frequently and these shocks tend to compound on each other, adding one to the other. That takes us into a very different world. You can start to get weird outcomes like the labor market seems to be super tight, but at the same time we're raising interest rates and we're expecting a recession. So maybe the system has shifted in such a way that it doesn't respond the way that it used to and increasingly will fail to do so. In which case many of the indicators that you're looking at has given you information, but it might not be given you the information that you think it is.
BROOKE GLADSTONE You said we need to imagine a world in which some things are permanently in short supply because of these shocks that will soon just become basic conditions of life. But goods aren't in short supply right now, are they? I thought one of the factors here is that companies have too much inventory.
MARK BLYTH So it's a very mixed story out there. Certainly some big retailers, notably, I believe it was Target, who pulled a whole ton of inventory and then had to sell it off to clear the decks, essentially. We still have supply chain problems. My favorite little example of this is that the PCR reagents and the home test kits that you get. They're not just made in one city in China. They're made in one factory in China.
BROOKE GLADSTONE Oh god.
MARK BLYTH So we are still totally dependent on these very shockable supply chains. You begin to manage that by home sourcing, by trading more with partners who you can trust to share your values, to use the language of the White House on this one. But all of that stuff. Takes time.
BROOKE GLADSTONE What about the things that may be in permanently short supply because of climate change?
MARK BLYTH Well, what's happening now is a lot of weak and sloppy thinking about climate change is itself being shocked. So one of the arguments you would hear as, oh, well, it'll take, you know, 20 or 30 or 40 years for these things to show up. And, you know, if that means that we can't grow wheat in Wisconsin anymore, well, you can grow it further up in Manitoba. Well, no, it's happening really fast. And you can't grow it in Manitoba because the soil is completely different. And the same thing with zooplankton because of acidification. If they basically start dying off, the entire Marine food chain comes into jeopardy. Once you go through a certain limit, there's no way back. A simple one for this is global food supplies. We have a highly geared system that is just in time delivery based upon regular harvests, which are based upon regular things like monsoons. And if those weather patterns begin to shift drastically, then your ability to count on those crops really comes into doubt. My favorite example of this is the Colorado River literally running dry. American agriculture depends upon the Colorado River, particularly California. Would America still count as a superpower if its West basically stopped producing the agricultural goods that it does? That enables the U.S. to be not just self-sufficient, to be a net exporter of food?
BROOKE GLADSTONE Historically speaking, though, haven't we seen large shifts in the way the world does business before? I mean, the Roaring Twenties and the Sixties.
MARK BLYTH The types of shocks that you got within the twenties and you got hit with in the sixties and seventies were the business-as-usual shocks. What we were always able to do is ignore what economists call the externalities of production, continue to just dump more and more stuff into nature and take more and more stuff from nature. And that will always be the cornucopia. We never have to worry about that. But we're not seem to be in a world where we can no longer ignore those externalities that what we're doing is making them worse. These shocks are different qualitatively, and the trajectory that we may be on as different qualitatively.
BROOKE GLADSTONE Hmm, so you think the real underlying cause of this shift is and will be climate change?
MARK BLYTH I think it's all these things coming together. This is what I mean about this is not normally distributed. And these are things are not independent. In terms of production, when the sort of the honeymoon between China and the United States started to come apart maybe ten years ago. Then we had our first conversations about globalization because of the pandemic. Now we have actual warfare on the European continent, which is impacting global oil and food supplies. And add to that the fact that the United Kingdom had the weather that the British weather office thought would happen in 2050 in 2022. So it's not just climate. It's almost as if climate is kind of the icing on the crappiest cake of all time.
BROOKE GLADSTONE [BROOKE MAKES AN EXASPERATED SOUND] So –
MARK BLYTH You know, it's funny. It's funny. You should make that noise. I was talking to someone about this last night. Do you remember, like maybe ten, 15 years ago what happened as you get together with your friends on a nice summer night and you'd be sitting outside and you make each other laugh and you'd have a few drinks, and it'd be great. And the point was to crack each other up and no one would get together. We all sat around and we go [MARK SIGHS EXASPERATEDLY].
[BROOKE LAUGHS]
MARK BLYTH You know, you want to talk about confidence in the economy. Think about it from the point of view of a 25 year old coming out of college. Do you really have great faith in your ability to put together a retirement portfolio that's going to last the course, let alone buy a house? To go back to this idea of what are the things that we're measuring when we're measuring the economy, let's think about the confidence index. So consumer confidence is down it's terrible right. Well, if you go on Bloomberg, you can sort out bi partisanship you can look at the american confidence index in terms of republicans and democrats and what it shows the majority of democrats thinks things are okay but not great. Practically all Republicans think things are terrible because they must be under a Democrat. So on average, we all think they're bad, right? But I wonder how much these other subjective factors are featuring into this. I mean, are we confident about the future in the way that we used to be? Do we really think that like 20 years from now, things are going to be totally fine and kids coming out of college are going to have more life chances than they do now? Or is this kind of feeling that we've all got that we don't really express? Is that kind of, "ugh" and what's that doing to us on a macro level?
BROOKE GLADSTONE What is it doing to us Mark?
MARK BLYTH I mean, it would be wonderful if, you know, these–this moment of rising temperatures, etc. really gives us pause and makes us recognize that, you know, we face an existential set of problems. I mean, there should be a moment for transformation, a moment for incredible investment in our collective futures. But we seem to be paralyzed by a lack of imagination and we see this in you know, in build back better. Adam Tooze put it well in his newsletter, when he said the real failure here isn't Joe Manchin. It's the fact that the centrist Democrats think about generational transformation with a funding model that would be used to fund a nursery school in a village. Everything has to be paid for. And you run the global economy with a dollar, which is the global reserve asset, and you run it as if it's a corner shop. That's the "ugh" moment. I'm going to my friend's 50th birthday party it's we've known each other from our time at Columbia three years ago. And we're going to get together. And it should be this moment of total celebration. And what's going to happen is we're going to talk about all this stuff and we're literally going to go–ugh.
BROOKE GLADSTONE Mark, thank you very much.
MARK BLYTH It's always a pleasure.
BROOKE GLADSTONE Mark Blyth is a political economist and professor of international economics and public affairs at Brown University.