Why We Need to Study Climate Worst-Case Scenarios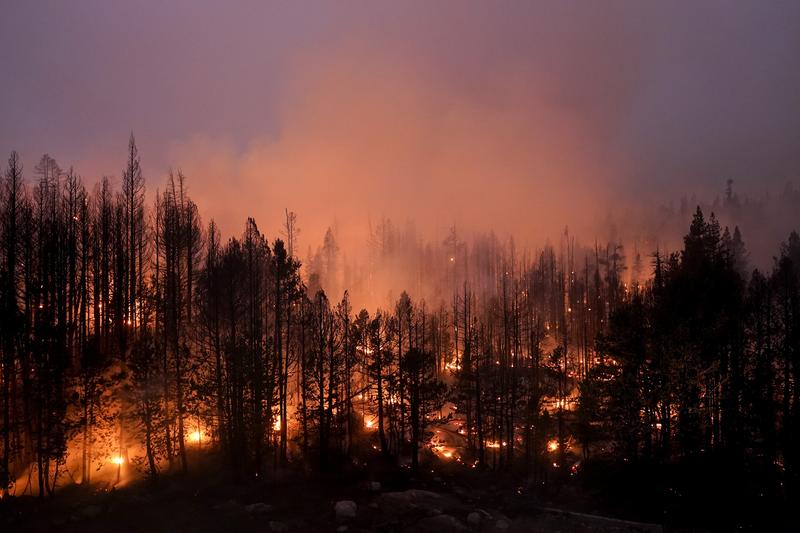 Transcript
BROOKE GLADSTONE From WNYC in New York, this is On the Media. I'm Brooke Gladstone. This week, as we take our first faltering steps into 2023, and taking the week off to do it, we decided to contextualize what we're facing by pulling some favorite segments that reveal much about the fragility of our systems - the ones that govern the economy, the environment, and even the cosmos.
How else to reckon with the future? How about by starting with the planet, over the last 365 days.
NEWS CLIP: Pakistan's climate change minister says the floods have destroyed 45% of Pakistan's croplands.
NEWS CLIP: Europe is on fire. In Portugal, 3000 firefighters are working in hellish conditions. Temperatures in the mid-40s celsius are blamed for the deaths of 240 people.
NEWS CLIP: It's hell on earth as Hurricane Ian slams into Florida. 155 mph winds, 18 foot waves, epic destruction.
NEWS CLIP: A dire emergency in East Africa, the drought there exacerbating the hunger crisis as many as 20 million people could be starving by the middle of this year half of them children
BROOKE GLADSTONE The United States Development Programme asserts that "numerous experts believe we are living through, or on the cusp of, a mass species extinction event, the sixth in the history of the planet and the first to be caused by a single organism—us." Antonio Gutteres, head of the UN, spoke to BBC in late October.
ANTONIO GUTTERES If we are not able to reverse the present trend that is leading to catastrophe in the world, we will be doomed.
BROOKE GLADSTONE Doom and gloom, to which we are accustomed. But are we doing enough to try and understand the full extent of our fragility? In August, a study by an international team of climate experts published in the peer-reviewed Proceedings of the National Academy of Sciences, warned that legitimate worst-case scenarios are vastly under-reported. They called for directing more research and attention on a"climate endgame" agenda.
In August I spoke to Luke Kemp, Research Associate at Cambridge's Center for the Study of Existential Risk and one of the authors of the study. He said we know least about the scenarios that matter most.
LUKE KEMP These are plausible. They could happen and we should pay attention to them, particularly because the consequences are so extreme. We often don't do analysis of higher temperature scenarios, and we also don't look at the worst case potential risks in terms of knock on effects. Secondly, I think it's bad public communication. As soon as you put out a number 1%, 2%, 0.0003%, it gives people an undue sense of scientific precision. And what we're trying to say here is that these are plausible but we need more research before we can venture out into the realm of putting numbers and probabilities upon these extreme scenarios.
BROOKE GLADSTONE Are there ways that journalists can better share the information we have?
LUKE KEMP One thing that many journalistic outlets can do is to simply accurately portray the science in the first place. I've been astounded by some of the bad takes of this research thus far. I've seen at least one major outlet in the UK run the headline that climate change could result in an extinction level pandemic by 2070. And we say nothing like that in the article. And indeed, it's worthwhile noting here that if I or any of my coauthors really felt that this was inevitable, that we were all doomed, we wouldn't have written this article. I'd be on the beach somewhere. The entire point of this article and the climate end game agenda is risk management. It's not disaster voyeurism. It's about understanding extreme risks so we can prevent them.
BROOKE GLADSTONE And you do think there is a path to at least the degree of mitigation?
LUKE KEMP Of course.
BROOKE GLADSTONE You suggest that the current information that we get from institutions like the UN's IPCC kind of sugarcoat their status. Is that true? I mean, didn't the IPCC famously conclude a few years back that much of the damage is irreversible and that we should focus on resilience in the face of warming instead?
LUKE KEMP We definitely don't say that the IPCC sugarcoats anything.
BROOKE GLADSTONE Okay.
LUKE KEMP The IPCC analyzes the existing body of literature on climate change. The existing climate scholarship that is analyzed by the IPCC is under-exploring both higher temperature scenarios and under-exploring these more complex risk assessments in the case of higher end warming, when you look at the likelihood of three degrees and above relative to its mentions in different IPCC reports, there is a significant mismatch; 1.5 and two degrees are overrepresented visibly in their probability, while three degrees and above are underrepresented substantially.
BROOKE GLADSTONE Uh-huh
LUKE KEMP The second study. We share that this seems to have gotten worse, most likely because we now have these international goals of limiting global warming to two degrees or 1.5 degrees under the Paris Climate Agreement. And so it's natural, but let's channel the scientific attention towards those scenarios. And it's worth noting here they're just easier scenarios to model. They also don't look at these risk cascades that we know do exist. In 2010, a heatwave in Russia led to Russia imposing a zero export ban that led to a spike in global food prices. And we had exactly the same of COVID-19 as well. If you were just worried about mortality, morbidity, you missed the biggest issue, which is that the sheer number of people infected could overwhelm and collapse the health care system. This is how risk actually works in the real world.
BROOKE GLADSTONE You're talking about the knock on effects, the pressures, the inequality, the hazards. All of those conditions that could lead to catastrophe are already present to a degree, and we need to be concerned about tipping points.
LUKE KEMP Indeed, this is not just about the magnitude or the speed of warming. It's about societal fragility. And part of this is knock on effects, what we call risk cascades. Climate change by itself may not cause a global catastrophe, but it could potentially impede our recovery from another catastrophe. So think of nuclear war, for instance, if you have a nuclear winter, followed by what's called a nuclear spring, so essentially accelerated warming after the soot washes out of the atmosphere from a nuclear conflict, that's much, much worse if you have three or four degrees of warming rushing in at just 1.5.
BROOKE GLADSTONE You also reviewed the collapse of some ancient civilizations due to climate change and other things. What can we learn from that?
LUKE KEMP Collapse historically hasn't always been a bad thing. Historically, it's almost always been bad for elites. It hasn't always been bad for the vast majority of the population.
BROOKE GLADSTONE That's fascinating.
LUKE KEMP I think one of the best collapse or transformation case studies is covered by my colleague Eric Klein, which is the late Bronze Age collapse. It can be dated to roughly 1177 B.C.. You had this collection of different states: the Akkadian Empire, for instance, the Assyrians and many others like the Mycenae Kingdom. They all exist in this one big system across the Mediterranean, deeply, both economically and diplomatically integrated. It's a good parallel for globalization, but on a much smaller scale. There wasn't just one big risk. We did have climatic variation. One of the big impacts appears to have been drought. We also had climate change causing migration from the north into the Mediterranean. It had these long term trends like increases in inequality, increases in the interconnectedness of the network, which made it likely that if one city-state fell, that could cascade for the entire system. It was vulnerable.
BROOKE GLADSTONE Do you think that we're similarly vulnerable?
LUKE KEMP Yes. And there's good studies on this that have actually been conducted by some of my coauthors — Martin Schaeffer in particular — how these very large interconnected systems, whether they're in the financial space or the ecological, they're often very good at buffering against small disturbances, small shocks. But once the shock becomes sufficiently large enough, they amplify rather than dampen it.
BROOKE GLADSTONE This hour is focused on existential questions, but we're also exploring the possibility of agency. I think it's fair to say that the phrase climate end game can be a little off putting. What is alarming has the potential to be paralyzing.
LUKE KEMP I disagree this is off putting. There is an enormous difference between talking about risks, potential adverse events in the future, and saying that they could happen and saying they are inevitable. One thing to note here is that end game comes from chess or bridge. It's the stage of the game when you have few pieces remaining. It's not saying checkmate, you're done. It's saying the final moves can be played out. I think that actually, in a very subtle way, does suggest agency. It does suggest that, yeah, we can think about the extreme risks and these worst case scenarios, these catastrophic risks. But we have agency in preventing them and even potentially at the late stages.
BROOKE GLADSTONE What a perfect way to end this interview.
LUKE KEMP No worries. My absolute pleasure.
BROOKE GLADSTONE Dr. Luke Kemp is one of the authors of a new study called "Climate End Game: Exploring Catastrophic Climate Change Scenarios." Among the reasons we balk at considering the potential for long term catastrophe is that our brains are wired for short term problem solving. That's according to journalist Bryan Walsh, the editor of Vox's Future Perfect, who dug into the issue in a TIME Magazine piece on "Why Your Brain Can't Process Climate Change." Welcome to the show, Bryan.
BRYAN WALSCH It's great to be here.
BROOKE GLADSTONE You wrote about how we're wired to avoid thinking about doomsday scenarios, existential events that are maybe a little too far over the horizon. And you situate us into the narrow metal tube of a functional MRI.
BRYAN WALSCH Indeed, if you actually put yourself in that machine and you ask yourself to think about people close to you, your brain will light up and you ask yourself to think about people very far away from you. Your brain will light up less. Basically, the closer in proximity or relationship someone is, the more your brain is actively thinking about it. But what's really interesting is if you actually ask yourself to think about you in the immediate future, okay, lights up — like I identify with myself. I'm thinking about that person probably too much all the time. Then if you ask yourself to think about you in ten years time, it lights up a little bit less. Twenty, thirty — it lights up increasingly less. And what that means essentially is that we almost treat our future selves as strangers to ourselves, and that's yourself. Imagine trying to think about or prepare for generations of people who haven't even been born yet. Think about something as simple as this: I mean, do you save enough for retirement? Are you financially secure for the future? Surveys would indicate that's not the case. You know, you often make choices based off your present day needs. Multiply that by society and you've got – you've got where we are now.
BROOKE GLADSTONE And maybe inevitably economists have their own term to describe this phenomenon. Right. The social discount rate, which quantifies how much value declines as we look into the future — kind of the opposite of the compounding interest rate.
BRYAN WALSCH I think that is the way to think about it. It's, you know, would you rather have $1 now or $10 in a year's time? Basically how you answer that question is sort of how you set your own personal discount rate.
BROOKE GLADSTONE Right. You put that in explicit monetary terms. You calculated that with a 5% discount rate, it would only be worth spending about $2200 today in order to prevent $87 trillion of damages. That's the size of the total world economy now in 500 years. Now, this presents some problems. I don't know anybody who actually believes we're going to be around in 500 years.
BRYAN WALSCH I think you're absolutely right. It's really hard to wrap your mind around time lengths as long as 500 years. I like to start thinking about my five year old son, like I think about the fact that he could well be around by the start of the 22nd century, which is mind blowing to me. Then maybe you think that actually, yes, we do have a responsibility to what we owe that future — like we do have a responsibility to try to create the best possible conditions for them, not just to survive, but to thrive. Those people don't have a voice. We have to be that voice, not just thinking about the future, but maybe even being prepared to make some sacrifices of our own welfare now to ensure that future is actually even better.
BROOKE GLADSTONE Yeah, right. That is a little bit like But other than that, Mrs. Lincoln, how did you like the play?
BRYAN WALSCH Yeah, it's absolutely — it's a big ask.
BROOKE GLADSTONE You talked about how the people of the future have no voice. You tend toward a writer of philosophy named Samuel Scheffler. And I haven't read his book Death and the Afterlife, but the descriptions make it sound as though he thinks we as a species actually do care about the future, even if our behavior suggests we don't.
BRYAN WALSCH He goes into thinking really about, well, what really matters to us in the present day. Like I just went on, said, like, well, we tend to focus on our present selves, you know, adopt habits that may not be better for us in our future selves. But we also do care deeply about the continuation of the human project, continuation obviously, of our families. You know, I think if tomorrow we were all to find out that, okay, you have a situation like that great novel and movie, Children of Men, where suddenly no one can reproduce anymore. You'd think on one hand, Well, your life is not really changing. You know, it's not as if an asteroid or a nuclear warhead and suddenly everyone dies at once. But what that book and film shows, and I think what Sam talks about really, is that without confidence in a future that will go beyond us, life starts to lose meaning really.
BROOKE GLADSTONE But you wrote the problem is, in the words of the social philosopher Roman Krznaric, "we colonize the future, treating it as a distant colonial outpost where we dump ecological degradation, nuclear waste, public debt and technological risk." This hour is about connectedness, frailty, and agency. And the first part I think we can get – we are connected to the world. But how do we exercise that agency?
BRYAN WALSCH How do we exercise that agency...?
BROOKE GLADSTONE To make a better future or a sustainable one or any future at all?
BRYAN WALSCH I think every action around climate change is an effort to do just that. People take different routes to it. You can be an activist with the idea that you are trying to safeguard the future. You can be a politician who's trying their best to be pragmatic, appeal, maybe a little bit, to those present day biases to get legislation passed that will benefit the future. I think any spiritual movement really often relates to that. Having a family — that relates to that. All these things, to me, works together. It does take an imaginative leap. I think it's trying to look to the whole sweep of humanity and look at the progress that we have experienced over the course of 500 years in the past, a thousand years – even further. As difficult as things might look in the immediate future. I wouldn't want to go back 500 years. We've come a long way since then. Perhaps we have passed some line that will be impossible to come back from. But that hasn't happened yet, and I have a lot of confidence. And as a journalist, I try to write about that as much as possible, that we can continue that even with all the setbacks we're likely to face in the future.
BROOKE GLADSTONE Bryan, thank you very much.
BRYAN WALSCH Thank you.
BROOKE GLADSTONE Bryan Walsh is the editor of Vox's Future Perfect and the author of the book End Times: A Brief Guide to the End of the World. Coming up, the "ugggh" of it all. This is On the Media.
Copyright © 2023 New York Public Radio. All rights reserved. Visit our website terms of use at www.wnyc.org for further information.