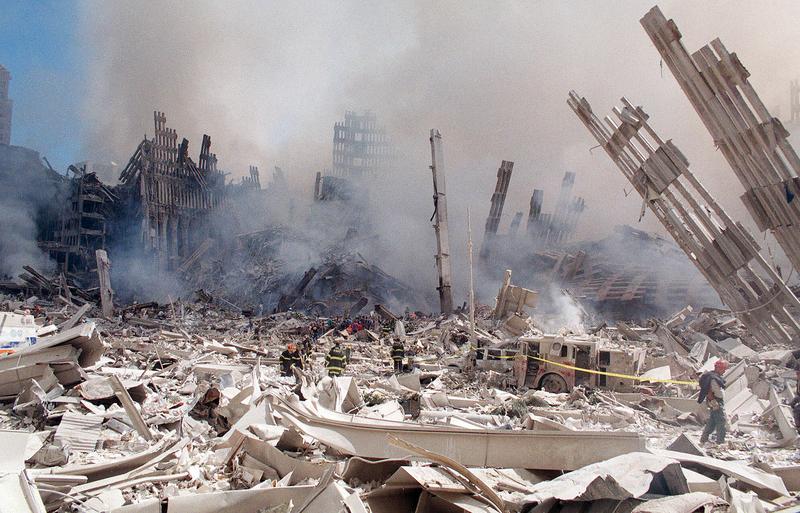 Transcript
SAAD MOHSENI A lot of people felt initially that the Taliban would shut us down, but for us it was the exodus of our most experienced people that almost shut us down.
SACHA PFEIFFER The return of the Taliban poses an existential threat to media outlets that serve up news and entertainment to millions of Afghans. From WNYC in New York, this is On the Media. Also on this week's show, how a 9/11 Truther movie birthed a conspiracy movement.
KOREY ROWE It was a perfect storm at a time in history where you can get a handheld camera, you can get a laptop with editing software, and for the first time maybe ever, the normal person had the ability to create a film.
SACHA PFEIFFER A brand new conspiracy got out of hand this week after bad reporting led to more bad reporting. [CLIP]
JOANNE REED The emergency room in one rural Oklahoma town is being overwhelmed by people overdosing on ivermectin, the horse deworming medication. It's gotten so bad that gunshot victims, gunshot victims, are having to wait to be treated. [END CLIP]
SACHA PFEIFFER It's all coming up after this.
[END OF BILLBOARD]
BROOKE GLADSTONE From WNYC in New York, this is On the Media. I'm Brooke Gladstone and I want to introduce you to an esteemed journalist who'll be filling in for me for the next few weeks. Sacha Pfeiffer's currently an investigations reporter for NPR, but some years back, she was part of the Boston Globe's Spotlight team. The team which exposed the clergy sex abuse covered up by the Catholic Church and earned the newspaper the 2003 Pulitzer Prize for Public Service. Oh, and she's got hosting chops, too. As senior reporter and host of All Things Considered and Radio Boston at WBUR. I'll be back with all of you soon, but in the meantime, you're in good hands with Sacha.
SACHA PFEIFFER Thank you, Brooke, and thank you for entrusting me to help watch over the show while you're away. It's true that I was part of the Globe's Spotlight team for several years, and it was the summer of 2001 when we first started looking into not just priests who abuse children, but church leaders who covered up for priests who abuse children. It was a systemic problem in the Catholic Church and it became a huge story that we were just at the start of when another, even huger story broke that put our church investigation on the back burner.
[CLIP]
NEWS REPORT This just in. You are looking at obviously a very disturbing live shot there. That is the World Trade Center. And we have unconfirmed reports this morning that a plane has crashed into one of the towers... [END CLIP]
SACHA PFEIFFER Immediately after the planes hit the buildings, we tried to make a comprehensive list of all the companies that worked in the World Trade Center complex. About 50,000 people reported to work there every day. So those companies were scrambling to figure out who was safe and who might have been hurt. I'll never forget making calls from my desk in Boston to many of those companies and finding that their phone lines just had rapid busy signals. Their telephones were out of service. We had watched the towers fall on TV, but when we couldn't get through to the people inside them, it became even more real, and chilling.
Less than a month after the attacks, President Bush announced Operation Enduring Freedom that launched a bombing campaign in Afghanistan after the Taliban refused to meet Bush's demands. He wanted the handover of al-Qaida leaders, closure of terrorist training camps and return of foreign hostages. After a week of airstrikes that killed hundreds of civilians. The Taliban offered to turn over Osama bin Laden in return for evidence of bin Laden's guilt and a cease fire. Bush refused and deployed thousands of ground forces there. Soon after, the regime that had been in power since 1996 fell and the U.S. occupation began. It was a jarring change for a country that had endured years of hard line religious rule. Women were kept out of public life. Non-religious music and other entertainment were banned. When those restrictions suddenly lifted, a new media era was born.
Enter Saad Mohseni. He's an Afghan Australian entrepreneur who started Afghanistan's first privately owned radio station in 2003 with a 220,000 dollar grant from the U.S. government. It began playing pop music that had been hard to come by before or too dangerous to play.
[POP MUSIC BEGINS]
SACHA PFEIFFER Mohseni's Tolo TV came next. It aired an evening news program, then a separate news operation called Tolo News and Provocative Entertainment too. Steamy Turkish soap operas and reality shows like an Afghan version of American Idol.
[IDOLS SINGING]
SACHA PFEIFFER Even an animated show starring a superwoman called Burka Avenger .
[SUPER HERO AVENGING CRY]
SACHA PFEIFFER In the last few weeks, millions of Afghans have tuned in to Tolo to watch the Taliban take back control of the country. Just this past Tuesday in Kabul, hundreds of Afghan women led one of the largest protests against the Taliban. And Tolo was there to cover it.
[PROTESTERS CHANTING]
SACHA PFEIFFER Gunfire eventually dispersed that crowd. Protesters and journalists were beaten and 14 journalists were arrested. Hours later, the Taliban announced its government with no positions of power given to other political forces or religious minorities or women. The Taliban have claimed they'll let women work, but with an asterisk. They say it must be, quote, within our frameworks. After the fall of Kabul, Tolo News anchor Behestha Arghand became the first woman to interview a Taliban leader, but shortly after that interview, she fled the country out of fear for her life.
BEHESHTA ARGHAND I am so unhappy. Because this generation really struggled for a new Afghanistan and I miss my job, my country.
SAAD MOHSENI A lot of people felt initially that the Taliban would shut us down. But for us it was the exodus of our most experienced people that almost shut us down,
SACHA PFEIFFER Tolo founder, Saad Mohseni.
SAAD MOHSENI There were days that 20 people would just leave. Technical people, presenters, reporters and management. They were really struggling to hire people to replace our lost, experienced individuals.
SACHA PFEIFFER Were you losing people because they were both concerned about personal safety and also wondering if they'd be able to continue to do the kind of journalism they want to do?
SAAD MOHSENI It's probably all of the above. It could also be just better opportunities for themselves and their families. We cannot begrudge someone's desire to leave, but at the same time, it's just-- it's devastating. We've perhaps lost 100,000 plus of our best educated, most progressive, most aspirational young Afghans. When the Taliban members of the Cultural Committee came to visit with us, they spent about two-two and a half hours debating issues such as women's rights, democracy, freedom of expression with our people. In one of the meeting rooms. It was not emotional, it was very objective. But to have that debate: can we influence them? Even if it's one percent, I mean, it's worth it, isn't it? To have these young people in the country pushing back could have an impact and but to lose them and to lose so many of them makes the battle so much more difficult,
SACHA PFEIFFER Saad, another Afghan media outlet Etilaatroz recently released photos of some of its journalists who were beaten by Taliban forces. With those concerns about personal safety and your staff having gotten smaller, how effectively can your staff cover the news of Afghanistan?
SAAD MOHSENI So the key thing for us is how do we push back? I mean, you have to remember that we have similar challenges in the early years with the Karzai administration. You know, we were summoned by the intelligence agency. People got locked up, including my own brother. So how do we cover the story? How do we engage with the Taliban? How do we express to them how important it is for them to respect media freedom? And will it have an impact? Because I think every time they react responsibly, then we set a new benchmark in terms of how the government behaves.
SACHA PFEIFFER Are you finding that you're having to issue new safety guidelines for journalists?
SAAD MOHSENI Absolutely. About ten days ago, two of our journalists were beaten up and we decided to not send our journalists to vox pops onto the streets until we had a commitment from the Taliban to not only apprehend the individual who had beaten up our guys, but also to find our camera and equipment and to also issue directives to their people, not to beat up journalists. I'm talking about the street thugs. So we're learning. We're learning to deal with the senior management, so to speak, with the leadership, and they have to learn to control their people.
SACHA PFEIFFER So far, this new iteration of the Taliban claims to be more moderate, but as we've talked about, we're seeing journalists targeted, protesters met with violence. What is your sense in these early days of how the Taliban might rule?
SAAD MOHSENI It's very difficult to tell. Right now as things stand. If you have to freeze this moment, there are obviously more moderate. There is television. The television was banned in 2001 before they were deposed. There are women at schools. There are women at universities, albeit with, you know, segregated with a curtain right in the middle of the room to see, you know, separate the boys from the girls there. They're allowing civil society. They're allowing political discourse on television. We're allowed to cover protests. We're allowed to cover fighting around the country. So as things stand, right this second, the environment's different. But the problem is that we have no guarantees that the situation will remain as it is. And there's absolutely no doubt that there'll be more restrictive. The question is how restrictive relative to today and relative to the period under President Karzai,
SACHA PFEIFFER You know well that it's never been easy to run a media company in Afghanistan, and about 10 years ago, you told on the media about legal restrictions reporters faced. At one point, reporters were told they couldn't do live coverage from the scene of a terrorist attack. And some Tolo journalists have died. There was a 2016 suicide bomber who attacked a bus carrying Tolo TV employees and killed seven staff members, but here we are in 2021 with Tolo still standing. What considerations are on your mind as you debate whether to keep it running or what would make you call it quits?
SAAD MOHSENI Listen, we will continue our work. The question is whether we do it from inside the country or from outside the country or maybe a combination of both. But media has been one of the success stories of the country. And I think media is going to be very important for us going forward. Our viewership for just in our news network, based on what we see online, is up 86%. People are watching the news and totally, totally focused on what's going on, and this is one of the few outlets in terms of how people get their information. And this, you know, for us, it's a, it's a huge responsibility. We represent certain things for most Afghans in addition to information and education and entertainment. But media does so much more for Afghanistan and we hold individuals and institutions accountable, and I think to a large extent, the Afghan public trusts our medium almost more than any other institution in the country. And that will continue, I'm pretty sure.
SACHA PFEIFFER What do you think of foreign reporting on Afghanistan in this moment? Are the reporters doing a good job?
SAAD MOHSENI I think the ones who are very much anonymous, the ones who are hysterical and quite a few, which they have this bigger picture view of Afghanistan, and they believe that ultimately Afghanistan is going to be OK. They may all be right. We don't know. But what's important is that right now there are a handful of reporters, but my concern is that they'll be less than reporters in the weeks ahead. And that's going to make it difficult for people to actually keep tabs on what the Taliban are doing, and it's really up to us to not only inform Afghans of what's transpiring, but also to inform the audiences outside the country so that they also don't lose interest and they also monitor issues and events inside the country.
SACHA PFEIFFER You said some of the foreign reporting is hysterical. In what way?
SAAD MOHSENI Well, for example, about these people that need to leave. And a lot of ways that eases the consciences of certain individuals within certain organizations to organize for the evacuation of, you know, 300 employees or 20 friends or whatever, but my concern is the 38 million people who are going to remain inside the country. And I think we need to be focused on that, not the 200 African-Americans who will remain or some of the translators or some members of the civil society. That is my concern.
SACHA PFEIFFER Have you found yourself as a news leader, going to the same considerations your staffers are about whether to stay or go?
SAAD MOHSENI Yeah, of course. I think about it all the time. I mean, we're going to hang in there for as long as possible, but we're prepared to turn the lights off if we need to.
SACHA PFEIFFER Saad, thank you for coming on the show.
SAAD MOHSENI Thank you.
SACHA PFEIFFER Saad Mohseni is co-owner of Tolo and director of its parent media company, the Moby Group. Coming up, how 'Never Forget' became how to remember. This is On the Media.
[BREAK]
SACHA PFEIFFER This is On the Media, I'm Sacha Pfeiffer sitting in for Brooke Gladstone. In the 20 years since September 11th, 2001, we have tried collectively and individually to grapple with what happened. Over and over again, we return to that morning and every anniversary, the media repackages what we know as articles, as television specials, as documentaries. But two decades later, how we tell the story of September 11th is an editorial choice. One the documentary directors especially are compelled to make.
JAMES PONIEWOZIK One school is focused very much on the day, and the horrors of it and the memories of it and the ironies of it.
SACHA PFEIFFER James Poniewozik is the chief television critic for The New York Times. I spoke to him about the piece he wrote this week in which he reviewed the slew of 9/11 documentaries released to mark this anniversary.
JAMES PONIEWOZIK You will hear over and over again what a beautiful blue sky warm September morning it was. You know, you'll see the same footage of firefighters out on a routine gas leak call where the documentary crew with them inadvertently captured the plane, striking the north tower of the World Trade Center.
SACHA PFEIFFER Such is the case in specials like Apple TV Plus's 911 Inside the President's War Room, which follows the Bush administration through the morning.
[CLIP]
PRESIDENT GEORGE W BUSH We went from a calm, beautiful day to one in which our world changed dramatically. [END CLIP]
JAMES PONIEWOZIK The other documentaries, which tend to be some of the longer, more ambitious, in many cases more provocative remembrances take 9/11 as a starting point or simply a point in history. And look at how far we've come from there and how we reacted to it culturally, socially, politically, militarily.
SACHA PFEIFFER Netflix's five part series, Turning Point: 9/11 and the War on Terror, takes this approach using 9/11 as the opening scene to America's longest war.
[CLIP]
TURNING POINT TRAILER September 11th changed the world...Let's think through our actions today so that this does not spiral out of control. [END CLIP]
JAMES PONIEWOZIK What decisions sort of fell forward from that and how it changed the country and the world, for better or worse? It's kind of 9/11 the day versus 9/11 the era,
SACHA PFEIFFER It feels vital, even if wrenching, to capture the shock and panic of those first 24 hours. But Poniewozik says that 20 years in, there is something to be said for expanding the frame.
SAAD MOHSENI Think about the language that we use around 9/11, like really shortly after September 11th happened: 'Never forget.' Those two words are said over and over again in connection with that date. There is an implication that it is the remembering itself that is sort of an obligation, you know, to all those who were lost and then that in itself was sufficient and not to push too much past that. Right. Because the corollary to that is that something that you are remembering is something that is past. And that's one way of looking at history. But another way of looking at history is that it's an ongoing continuum. And that invites some documentarians to look at 9/11 almost as I don't want to oversimplify it, but how did things or when did things start going so wrong?
SACHA PFEIFFER The PBS Frontline special America After 9/11 attacks two dramatic moments back to back. The first shows members of Congress gathered on the Capitol steps after the 9/11 attacks singing God Bless America.
[CONGRESS SINGING 'GOD BLESS AMERICA']
SACHA PFEIFFER The second scene is also at the Capitol steps, but from a very different day.
[CLIP]
AMERICA AFTER 9/11 CLIP The January 6 insurrection at the Capitol was the logical endpoint of the 9/11 era. [END CLIP]
JAMES PONIEWOZIK The argument that the documentary makes, I think in a very convincingly, is that the aftermath of 9/11 set off a chain of decisions, whether it was military quagmires that undermined public trust, suspicion of the other at home, demagogery in politics, so on and so forth. That led to the point where it became inevitable that you would end up with a populace so divided that you would have an attack on this very site of unity. That's one reason, I think, why it's so much easier to just do a remember the day documentary, because you can just focus on the part that we can all agree on. Of course, we can all recognize that this was sad and heartrending and shocking and horrifying. The problem that you get into in discussing history, as you see with things like, say, teaching the Civil War, Jim Crow, is that it's easier to talk about it as here is this terrible thing that happened in the past. And let's remember it.
SACHA PFEIFFER While some stick to the chaos of the day, or lean on scene to scene comparisons, others paint with the broadest brush, trying to capture it all. As Spike Lee did in his HBO documentary NYC Epicenters.
[CLIP]
BUSTA RHYMES This is Busta Rhymes.
JON STEWART Jon Stewart.
NYC PARAMEDIC New York City paramedic,
AOC Congresswoman Ocasio Cortez
ROSIE PEREZ Rosie Perez
FLIGHT ATTENDANT Flight attendants
DAVE BUSCEMI Dave Buscemi.
SPIKE LEE What hospital were you born in?
DR FAUCI Brooklyn Hospital.
[SPIKE LEE LAUGHING AND CLAPPING] [END CLIP]
JAMES PONIEWOZIK Which is sort of a very broad, impressionistic look at New York in the era of covid, in New York, in the era of Trump and New York in the era of 9/11 and on the date of 9/11. And suddenly you're not looking at September 11th as this catastrophic, unlike any other date, but as sort of a signal post of just this era of calamity.
SACHA PFEIFFER For Poniewozik, Lee's film was one of the best to graced the airwaves this year as its director work backward from 2021 to 2001, examining a trail of cultural change in New York City that convincingly all leads back to that fateful September day. But he says Lee's project was marred by a forced admission. A lengthy section dedicated to the conspiracy theories birthed after 9/11.
JAMES PONIEWOZIK And thank God, whatever he actually believes, he cut that out under pressure for whatever reasons, and it's not going to be spread further as a result.
SACHA PFEIFFER But he says the fact that conspiracy theories made it into one of the better cinematic remembrances is telling, because it shows the pervasiveness of 9/11' the most destructive aftereffects
JAMES PONIEWOZIK As Spike Lee gets into, elsewhere in his own documentary where he, you know, takes to task anti-vaxxers in the Covid epidemic, or the election truthers who wouldn't accept that Donald Trump lost the election. In a way, it's like even his sweeping diagnosis couldn't help in some way succumbing to the disease that he's trying to describe.
SACHA PFEIFFER 9/11 didn't create all the things that plague American society today, like racism, xenophobia and rampant conspiracy theories, but it did amplify them. Give them a new stage to stand on, and now they're part of the legacy in the lens of that day. Spike Lee's nod to the 9/11 truth movement is a throwback to a bizarre time in media history when left-leaning celebrities routinely traded vague theories about that day. Here's Rosie O'Donnell in conversation with Joe Rogan.
[CLIP]
ROSIE O'DONNELL Fire has never turned concrete into trouble in the history of the world.
JOE ROGAN It does seem ridiculous, but I'm not smart enough to – I mean, I don't... You know what I mean? [END CLIP]
SACHA PFEIFFER Former Minnesota governor and real-life Hulk; Jesse Ventura.
[CLIP]
JESSE VENTURA Every war fought starts with a false flag operation. How much studying have you actually done of 9/11 other than what the government's told you? [END CLIP]
SACHA PFEIFFER Fictional Hulk, Mark Ruffalo.
[CLIP]
MARK RUFFALO I saw the way they all came down, and I–and I–and I got back...Well, uh, my first reaction is that buildings don't fall down like that. [END CLIP]
SACHA PFEIFFER As recently as 2016, more than 50 percent of Americans believed our government had hidden important evidence about 9/11. On the Media reporter, Micah Loewinger dug into the roots of the 9/11 truther movement to understand how and why the conspiracy theories caught hold.
DAN TABERSKI It's so funny because Loose Change, and–and like 9/11 truthers and all that stuff, for me, it was always just a colossal joke.
MICAH LOEWINGER That's Dan Taberski, the host of a bunch of podcasts like Missing Richard Simmons, The Line and most recently, 9/12. A show about what changed in America the day after the Twin Towers fell.
DAN TABERSKI But in going back, I think I was more open minded and more interested in how many people really did think that something was up with 9/11. It's a lot of people that I know, a lot of people that I respect. Huge swaths of the country.
MICAH LOEWINGER This question, how did so many people come to believe 9/11 was an inside job? Is just one of many that Dan tackles on his podcast. But it's the question I was after, which is why I dove right into the episode in his series where he interviews this fascinating guy named Dylan Avery.
[CLIP]
DYLAN AVERY First of all, I don't f*cking know what happened on 9/11. Second of all, I made it clear to you that I'm not doing this interview to have another one of those conversations that make me feel like I'm still in 2006. Like nobody is the same person they were 15 years ago.
DAN TABERSKI How are you different than you were 15 years ago? Well, I mean, I'm not an angsty teenager anymore, so that definitely helps.
DAN TABERSKI Well, you're a little angsty. [END CLIP]
MICAH LOEWINGER Who is this guy, and why is he so angry at you?
DAN TABERSKI He's not so much angry at me. He's just angry at the place that he's been locked into in the culture, I think. He can't escape it. He cannot escape 9/11.
MICAH LOEWINGER Avery is the director of a film called Loose Change, which he first posted online for free in 2005. Loose Change helped popularize the conspiracy theory that 9/11 was orchestrated or at the very least allowed by the Bush administration to justify our misadventures in the Middle East. It's also the first movie to go viral. A remarkable feat considering Avery was a teenager when he started putting it together.
DAN TABERSKI Narrates it himself, edits it himself, directs it. It's super, super indie. The initial version was pretty rough. He's re-edited the documentary a few times over the years, but the vibe is cool. His presentation just feels so laid back. So matter of fact, nothing but scorch and hot evidence set to French hip hop beats.
[CLIP]
DYLAN AVERY By that evening, eyewitnesses and experts alike were rushing to defend the official narrative of events. Claiming that raging jet fuel fires melted the steel inside the Twin Towers.
WITNESS I saw this plane come out of nowhere and just ream right into the side of the twin tower, exploding through the other side. And then I witnessed both towers collapse one first and then the second. Mostly due to structural failure because the fire was just too intense. [END CLIP]
MICAH LOEWINGER Avery goes on to make the point that a jet fuel fire couldn't have gotten hot enough to melt the metal.
[CLIP]
NEWS REPORT 10:00 Eastern time this morning just collapsing on itself. We have no idea what caused this.
WITNESS Almost looks like one of those planned implosions…
WITNESS As if a demolition team set off. When you see the old demolitions of these old buildings, it folded down on itself... [END CLIP]
MICAH LOEWINGER This became a really popular talking point among so-called 9/11 skeptics, but as many experts have explained since, steel begins to lose its structural integrity well below its melting point. When I first saw Loose Change as a middle schooler, I found this next point the most compelling.
[CLIP].
[FRENCH HIP-HOP BEAT ROLLS UNDER]
DYLAN AVERY In all the videos of the collapses. Explosions can be seen bursting from the building 20 to 30 stories below the demolition wave.... [points] here... [points] here. [END CLIP]
MICAH LOEWINGER These smaller explosions, he says, resemble the sort of charges used in controlled demolitions. The magazine Popular Mechanics in 2005 debunked this and many other truthers, memes. They went out and interviewed demolition experts who argued that as the floors of the towers began to pancake, the collapse likely pushed air downward through the elevator shafts, which then burst out of the sides of the buildings below.
[AVERY POINT AND SAYS 'HERE']
MICAH LOEWINGER Though he raises a ton of questions, Avery doesn't try to put all the pieces together, which is the very reason he named the film Loose Change.
[FRENCH HIP HOP BEATS FADE OUT]
DAN TABERSKI There's something about the construction of it all that makes it seem larger than the little pieces are, which you may consider some sort of innovation.
MICAH LOEWINGER As Dan Taberski demonstrates in his podcast 9/12, when Avery and his friends began promoting the film in 2005, some members of the media totally gobbled it up.
[CLIP]
FUNDRAISING HOST And we have something today that we're offering for a donation of 100 dollars, it's the 'Loose Change', the brand-new film by Dylan Avery. We are offering it here. [END CLIP]
MICAH LOEWINGER Lefty stations like KPFK in San Francisco and WBAI in New York used the film to raise money. Network TV shows dissected Avery's theories for millions of viewers.
[CLIP]
AJ HAMMER Maybe the airplanes did not take down the Twin Towers and maybe the government is covering it all up. SHOWBIZ Tonight investigates the startling allegations. [END CLIP]
MICAH LOEWINGER And celebrity fans spread the word far and wide.
[CLIP]
DAVID LYNCH At the World Trade Center, three buildings came down like demolition. And those things bother me. [END CLIP]
MICAH LOEWINGER This is David Lynch, director of Mulholland Drive and Twin Peaks, speaking on a Dutch TV show in 2006. The first time I heard this, I didn't even think it was real. He and the interviewer watch a clip of Loose Change on air.
[CLIP]
WERELDGASTEN Do you think it's convincing what they tell in the film?
DAVID LYNCH It's not so much what they say, it's the things that make you look at what you thought you saw in a different light.
WERELDGASTEN And the suggestion that the American government is behind it?
DAVID LYNCH That's too big for people to think about. It's-- it's too big. It's like something no one wants to think about. [END CLIP]
MICAH LOEWINGER I have another theory about why Loose Change may have caught on.
DAN TABERSKI Hit it.
MICAH LOEWINGER Which is that it was at a sweet spot in the development of the Internet.
DAN TABERSKI Sure.
MICAH LOEWINGER It came out the year Google Video was launched.
DAN TABERSKI Mhm
MICAH LOEWINGER YouTube had just been created. Internet video that could go viral-
DAN TABERSKI Yeah
–Was relatively new.
KOREY ROWE ...but loose change was successful only because it was released in the moment in time that it was
MICAH LOEWINGER Korey Rowe was a producer of Loose Change.
KOREY ROWE It was a perfect storm at a time in history when technology had evolved to a point where you could get a handheld camera, you could get a laptop with editing software, and for the first time maybe ever, the normal person had the ability to create a film.
MICAH LOEWINGER During its first year on the platform, Loose Change reached 10 million people on Google Video in 2005 alone. By Avery's estimate, the film has now reached 100 million viewers in total, which would make it maybe the most viewed independent doc ever.
KOREY ROWE What Google Video enabled people to do across the world was take something from the Internet, download it, redub it in their own language, or add subtitles to it and then reupload it. And so for at least a year, we were number one through number 18 on Google Video. We were the top video in every slot in different languages all around the world.
MICAH LOEWINGER Because of its success online, Mark Cuban offered to produce and distribute the film. Give it a proper nationwide theatrical release.
KOREY ROWE And Charlie Sheen, who was the highest paid TV actor at the time, had voiced an interest in narrating that film. Charlie Sheen was in the middle of syndication of Two and a Half Men, which was a billion-dollar deal for the networks that he was involved with. And then somebody leaked the story that we were in pre production with them to The New York Post, Page Six. And then it got picked up by Bill O'Reilly on Fox News.
[CLIP]
BILL O'REILLY Billionaire businessman Mark Cuban, the owner of the Dallas Mavericks basketball team, is putting up money to distribute a 9/11 conspiracy film. One which says Americans were behind the terror attacks. Actor Charlie Sheen will apparently narrate this opus. And it's awful, you know that. [END CLIP]
KOREY ROWE And before the end of the day, the deal had been dropped.
MICAH LOEWINGER And after that fell through, they brought on Alex Jones as an executive producer. Needless to say, the film has garnered, you know, a lot of negative attention, which might be why Avery declined my request for an interview. And he only agreed to talk with Dan Taberski after the two of them cut a deal.
DAN TABERSKI That was the only way he agreed to talk to me. Is if I said I wouldn't ask him about the content of the film.
DYLAN AVERY Why? Why wouldn't he want to talk about the movie he made?
DAN TABERSKI Because then he has to defend it, and I think A) he's sick of defending it. B), it's all wrong. There's not a lot of truth in it.
MICAH LOEWINGER According to a recent New York Times article, Loose Change supplied the modern template for disinformation. Coaxing its viewers to do their own research on fanatical forums. Quote, they disappeared down rabbit holes and emerged days or weeks later, as if not full-fledged 9/11 truthers, at least passionate skeptics. Nowadays, Dylan Avery and his producer Korey Rowe feel they're under attack. That they've been blamed for unleashing a flurry of other conspiracy theories, most of which they want nothing to do with.
[CLIP]
DYLAN AVERY Everything that's happening now is bananas. [END CLIP]
MICAH LOEWINGER This is Dylan Avery and a clip from 9/12, Dan Taberski's podcast.
[CLIP]
DYLAN AVERY Sandy Hook is bananas, flat earth is bananas, QAnon is bananas, and I realize there's some people that are probably like listening and rolling their eyes like, 'oh, yeah, how convenient that you think all those other conspiracy theories are bananas, but you don't think your own pet theory is bananas.' [END CLIP]
DAN TABERSKI Do I think he deserves to be let off the hook? Absolutely not. Connecting him to how conspiracy theories have grown, and all that for sure. Go for it. To me, what was more interesting was the fact that he actually did make a film that really documented a feeling of the time and not just a feeling that he was starting. It was a feeling that was out there. Dan is actually touching on an interesting debate in the field of media studies. Is this type of popular misinformation the cause of, say, widespread fringe theories about 9/11? Or does a film like Loose Change go viral because it quenches a thirst in the culture? I think it can be a mixture of both. And in this case, the context in which the film was made and released offers some powerful clues.
CHARLES B STROZIER What's so remarkable about the 9/11 conspiracy movement is that it was, for all intents and purposes, non-existent for the first couple of years.
MICAH LOEWINGER Charles B. Strozier is a psychoanalyst and the author of a recent academic article tracking public polling data to figure out exactly when 9/11 conspiracy theories broke into the mainstream.
CHARLES B STROZIER In December of 2001, George W. Bush's approval rating was 91 percent.
[CLIP]
PRESIDENT GEORGE W BUSH On my orders, the United States military has begun strikes against al-Qaida, terrorist training camps and military installations of the Taliban regime in Afghanistan. [END CLIP]
MICAH LOEWINGER By 2002, a book that featured the bulk of the theories that would end up in loose change had become a bestseller in France. But Americans weren't taking notice. We were looking for blame elsewhere.
CHARLES B STROZIER Dick Cheney and neoconservatives who had been wanting to fight a war against Iraq for many, many years. And in the course of the next year of 2002, they campaigned relentlessly for buildup to the war in Iraq, which had nothing to do with Afghanistan, and Osama bin Laden, and al-Qaida. Nothing.
[CLIP]
DICK CHENEY Simply stated, there is no doubt that Saddam Hussein now has weapons of mass destruction. [END CLIP]
CHARLES B STROZIER By the fall of 2002, some 66 percent of Americans believe that Saddam Hussein was somehow responsible for 9/11. The grief, anger and blind patriotism that defined the months following 9/11 were unsustainable. The clearest cracks began to show when America began to confront the cruelty of our new wars.
[CLIP]
NEWS REPORT The Iraqi prisoners were hooded, stripped naked, forced into sexually explicit poses or human pyramids. And there are the American soldiers, male and female, smiling, pointing, humiliating the prisoners. [END CLIP]
CHARLES B STROZIER When the scenes from Abu Ghraib, when the torture became available, when it was clear that Saddam Hussein did not have nuclear weapons, that that was false intelligence. Then there was this surge of opposition to the Iraq war, which was not there initially. The year those pictures went public, 2004, turns out to be a big year for the truther movement. The same year the Abu Ghraib story broke, we learned that The New York Times had been duped big time. The paper had run a series of bad stories featuring leaks from anonymous sources from within the Bush administration. Stories which were then used by the administration to justify the war in Iraq. In a 2002 interview, Vice President Cheney said, quote, There's a story in The New York Times this morning. Saddam has been seeking to acquire and we have been able to intercept and prevent him from acquiring through this particular channel the kinds of tubes that are necessary to build a centrifuge. No weapons of mass destruction were found.
MICAH LOEWINGER Then that summer...
[CLIP]
COMMISSIONER We found a high level of dysfunctionality almost across the government. The CIA and the FBI did not communicate with each other as well as they should have. [END CLIP]
DAN TABERSKI And even when that 9/11 Commission report came out in 2004, which was a big deal and it said it was not an inside job and that the government completely screwed up in terms of letting this happen.
MICAH LOEWINGER Dan Taberski.
DAN TABERSKI Even now you look at it, you're like, well, these are the people. They're creating their own alibis. Nobody got fired, right? Nobody got sacrificed on the altar. It doesn't sit well. And I think, I think going to war in Iraq and the betrayal that that really felt like for a lot of people really made it possible to be like...
MICAH LOEWINGER What else have they lied about?
DAN TABERSKI What else that they lied about? And I don't think that question was a bad question.
CHARLES B STROZIER That's when the 9/11 conspiracy movement gained traction.
MICAH LOEWINGER Charles Strozier points to what might be the earliest poll on 9/11, trutherism, which found that in August of 2004, almost half of New Yorkers believed the U.S. government had known the attacks were coming and consciously failed to act. Which is to say that a year before loose change had even been uploaded to the Web, there was a demonstrable appetite for it.
CHARLES B STROZIER I mean, I think Loose Changes is an important part of the story, but its role is to amplify, not to create.
MICAH LOEWINGER When I brought up Loose Change in an editorial meeting a few weeks back, I framed this as a story about an early example of the Internet breaking our brains. And maybe there is something to that. But it's just one piece of a bigger story.
CHARLES B STROZIER 9/11 was a complete shock to America. In the context of the 1990s, you know. We had won the Cold War, Russia was in shambles after the collapse of the Soviet Union, we were relatively more dominant in the world in the 1990s than we ever had been as a country or ever will be again. We had vast wealth. China had not yet risen to the kind of prominence it was now, and nothing symbolized that power then, those two gigantic towers reaching to the sky. So to have America be devastated, to be attacked on our own ground, and to have the towers not only attack but collapse, to have thousands of people die. To be humiliated was a shock that didn't, it didn't fit into any traditional kind of historical narrative. That kind of historical moment is ripe for a grand conspiracy theory.
MICAH LOEWINGER What's clear to me now is that the propaganda pushed by the Bush administration broke our brains. Images of those far off wars broke our brains. Disastrously bad journalism broke our brains. 9/11 broke our brains. In part, because it rightfully shook our faith in the myth that America was exceptional, that America was invincible. For On the Media, I'm Micah Loewinger
SACHA PFEIFFER Coming up, how one drug came to signify so many different things to so many different people. This is On the Media.
[BREAK]
SACHA PFEIFFER This is On the Media, I'm Sacha Pfeiffer, sitting in for Brooke Gladstone. In the year since the truther movement tried to destabilize our collective understanding of the events of 9/11, many conspiracy theories have blossomed. But these pandemic times seem to have unleashed a new and more virulent strain of the disease.
[CLIP]
LAURA INGRAHAM There was a concerted campaign to vilify and dismiss and demean and frankly lie about the effectiveness of these drugs. There's nothing well else to call it. [END CLIP]
SACHA PFEIFFER Fox News Laura Ingram, referring to the FDA's decision not to approve contested drugs like hydroxychloroquine and ivermectin as Covid treatments. Ivermectin, for the uninitiated, is mostly known as an anti-parasite drug used to treat scabies and worms and even head lice in humans. It's also occasionally and now famously used as a horse de-wormer. And for some on the anti vaccination right, it's been heralded as a treatment for and possible preventer of Covid-19.
[CLIP]
TUCKER CARLSON Ivermectin, which can and is around the world used to treat and prevent the spread of the coronavirus. It's not some crackpot fish tank cleaner. It's a real drug [END CLIP]
SACHA PFEIFFER that's led to a rush and a cottage industry. Google 'buy ivermectin,' and you'll be fast tracked to a slew of fee for prescription services at $90 and upward a pop. Meanwhile, the Facebook groups where ivermectin users meet to trade tips and tricks for obtaining and using ivermectin have become a breeding ground for a particular way to get your hands on the drug.
[CLIP]
NEWS REPORT Here in Texas, farm stores are selling out of high dose ivermectin intended only for animals.
NEWS REPORT And some animal feed stores in the Bay Area have seen people coming in to buy animal ivermectin products for human use. [END CLIP]
SACHA PFEIFFER It's all been delicious fodder for mocking memes.
[CLIP]
JIMMY KIMMEL Meanwhile, these poor horses are like, hey, I have worms. I need that stuff. There are worms in my butt. Do you understand? [END CLIP]
SACHA PFEIFFER The FDA even got in on it tweeting: 'you are not a horse, you are not a cow. Seriously, y'all stop it.' And then came a report this past weekend from KFOR TV, a central Oklahoma NBC affiliate.
[CLIP]
DR JASON McELYEA ER's are so backed up that gunshot victims were having a hard time getting to facilities where they could get definitive care and being treated. [END CLIP]
SACHA PFEIFFER Dr. Jason McElyea, an Oklahoma based physician.
[CLIP]
DR JASON McELYEA Some of the examples of patients that we're seeing that are causing a backlog are those such as people who are taking horse doses of ivermectin, or other medications related to that. [END CLIP]
SACHA PFEIFFER The story was picked up by other media outlets that drew conclusions beyond what Dr. McElyea said. Many media reports made an explicit link between the lack of hospital beds and the use of ivermectin. Joanne Reed on MSNBC.
[CLIP]
JOANNE REED The emergency room in one rural Oklahoma town is being overwhelmed by people overdosing on ivermectin, the horse deworming medication. It's gotten so bad that gunshot victims, gunshot victims are having to wait to be treated.
SACHA PFEIFFER That was also published by Newsweek, by the New York Daily News, The Guardian, Rolling Stone. Tweeted out by The Rachel Maddow Show and on and on. Too juicy to check. And when an Oklahoma hospital issued a statement saying there was no hospital bed shortage, and that Dr McElyea hadn't worked there in two months, it gave fuel to people from the right crying conspiracy.
[NEWS CLIP MONTAGE]
NEWS COMMENTARY So they got the story completely wrong. Just like they did with Jussie Smollett, just like they do with the Covington kids and so on.
NEWS COMMENTARY Rachel Maddow gave out bad information. Why is her account now suspended?
NEWS COMMENTARY A note to our progressive friends. This is your version of QAnon. [END MONTAGE].
[CLIP]
DANIEL DALE There is no evidence that ivermectin was the key cause or even a primary cause of hospital backups in Oklahoma. [END CLIP]
SACHA PFEIFFER CNN's fact checker and chief Daniel Dale.
[CLIP]
DANIEL DALE And if you go through the doctor's quotes in the clip, the local station released, there's no evidence even that the doctor claimed that himself. So far, all I can tell is that the doctor said ivermectin misuse was one of the reasons local hospitals are congested.
SACHA PFEIFFER But...
DANIEL DALE Some of the critics of the story also jumped to conclusions. After one of the hospital systems this doctor works with issued a statement saying they hadn't seen anyone come in with ivermectin complications. This statement was treated by some on the right as definitive proof that the whole story was completely made up. Even that the doctor was a big liar. Again, though, it's really unclear the doctor said anything truly false. And secondly, these aggressive critics didn't pay any attention to the fact that the doctor is affiliated with more than one Oklahoma hospital. On Monday, a different hospital he works with said in a statement that they had seen a, quote, 'handful of patients with ivermectin complications.' And they said these patients were adding to the existing pandemic problem of hospital congestion.
SACHA PFEIFFER To understand how we got here, Mother Jones senior editor Kiera Butler says we have to go back in time to when ivermectin was not a political signaling tool, but just another weapon in the infectious disease fighting arsenal.
KIERA BUTLER It's been studied for diseases like dengue and yellow fever, both of which are viral infections, so a bunch of researchers wondered whether it would be effective against Covid-19. And around April 2020, there was a pre-print, that means a study that has not been peer reviewed or accepted for publication, that suggested that in a lab like in a petri dish, it did show some effectiveness against the Covid-19 virus.
SACHA PFEIFFER You described the experience of a University of Minnesota doctor and infectious disease researcher. His name is David Boulware.
KIERA BUTLER That's right. You know, when you see a drug that you think might be effective, you have to run a trial. And the best kind of clinical trial is a randomized controlled trial, which means that you give one group of people the intervention, in this case ivermectin, and the other group of people get a placebo. So he set this trial up and he was trying to recruit volunteers for it. And when people got wind of it, he began getting hate mail.
SACHA PFEIFFER And as you write, as a result, he had trouble enrolling trial participants. And this wasn't the first time this has happened to him. Before ivermectin, there was hydroxychloroquine. He had a problem there, too.
KIERA BUTLER Trump had already been promoting HCQ as kind of a miracle cure for Covid-19, and everybody already had formed their opinions about this. So people either didn't want to enroll in the trial because they were convinced that HCQ worked, or they didn't want to enroll in the trial because they were convinced it didn't work.
SACHA PFEIFFER Some countries have considered ivermectin a legitimate Covid treatment. Peru, Bolivia, Brazil, Zimbabwe, they added it to their national treatment guidelines. But you write that maybe those countries were jumping the gun in the sense based on premature or incomplete research.
KIERA BUTLER Yeah, that's right. You know, I think a lot of it does go back to that preprint that got a lot of attention in April 2020. It turned out that the preprint had relied on data that was automatically collected from people's health records by a corporation. Data that's collected in this way is not really considered to be very reliable. But even after that, you know, there are a bunch of smaller studies that came out about ivermectin that claimed that it was effective. But in the months since then, those studies have been found to be faulty in various ways. You know, some of them are just too small to really be meaningful. Some of them had problems with data.
SACHA PFEIFFER But it seems that as word spread that ivermectin was being researched as a possible treatment for Covid. Many people wanted it even before the scientific process was totally finished in terms of evaluating its effectiveness. And it also seems that a lot of conservative media personalities who had been promoting hydroxychloroquine suddenly pivoted to ivermectin.
KIERA BUTLER That's right. And that's a really interesting dynamic. And I think it has to do with a few things. Very quickly, at the beginning of the pandemic, the right was kind of radicalized to be suspicious of vaccines and to embrace treatments. And that really has to do with events even before the pandemic. You know, people who study the anti-vaccine movement have noticed a rightward tack over the last 5 to 10 years where, you know, it used to be you saw a lot of people on the left talking about additives and vaccines and wanting to keep everything that they put into their families bodies pure. But in recent years, the argument has shifted to what some people call medical freedom or health freedom. The idea is resisting the government's attempts to control your body through these vaccine programs.
SACHA PFEIFFER Is there a predatory aspect to that? There's an industry of people who are profiting from convincing other people that ivermectin can treat and prevent Covid-19,
KIERA BUTLER you know, look no further than America's Frontline Doctors. This is a group of conservative, far right-wing physicians. They have been skeptical of the Covid-19 vaccines and they're now offering a service where you can pay them $90 and they will hook you up with a doctor who will, via telehealth, prescribe you ivermectin. America's Frontline Doctors is not the only place that's gotten in on this grift. There are a bunch of different services out there that you can pay for to to get yourself some ivermectin.
SACHA PFEIFFER Given the evolving state of the research on ivermectin, do we know for sure that ivermectin is the wrong thing to take in all covered cases?
KIERA BUTLER It certainly is true that there has not been a definitive, randomized control trial that suggests that ivermectin is effective against Covid-19. That said, I think that a piece of nuance that has been lost in this discussion is the fact that just because there is not enough evidence for the NIH to recommend a drug as a standard of care for the entire population doesn't mean that it won't have benefit for an individual. This is why doctors are allowed to prescribe drugs off label, and they do all the time. All of the researchers that I talked to for these stories that I wrote about ivermectin said that they think that it's totally fine. You know, if an individual doctor for some reason, you know, maybe this is a person who has very high risk, who can't be vaccinated if an individual doctor makes the decision to treat that patient with ivermectin. That's OK. But the evidence is not there yet. And it may never be there to say this should be a standard of care for Covid-19.
SACHA PFEIFFER Ivermectin is not just a deworming drug for horses. There are formulations of it meant for humans that can be used in helpful circumstances like the developing country, diseases that you talked about earlier.
KIERA BUTLER Well, yeah. And you know, I talked to a researcher in Spain, Carlos Chaccour. He has been working with ivermectin in a really important study on whether it can be used in humans to prevent malaria. Now, if if that were the case, then that would be huge. You know, malaria is one of the biggest public health threats that we face. And, you know, he and other researchers who are studying ivermectin for other diseases are worried that the backlash against ivermectin from this Covid-19 debacle might imperil their research and prevent ivermectin from being studied in ways that could be really, really important and helpful.
SACHA PFEIFFER Well, that's a very important point. And I think it's at the larger potential tragedy here, which is that not only were many of these stories wrong, but there is a better, more important story to be telling about ivermectin, which is that all this negative coverage the drug is getting is potentially hurting the health care system in the long term. Because whatever good uses there might be for ivermectin may now never get studied because all this grift and this noise and these misleading articles only add to the confusion and maybe the reluctance to study the drug.
KIERA BUTLER Yeah, I think that's totally fair to say. You know, that if the popular sentiment turns against ivermectin, and ivermectin is just, you know, the butt of a joke about somebody going to a feed store and dosing themselves, then this could have real world ramifications and that would be a tragedy.
SACHA PFEIFFER Kiera, thank you for talking about this.
KIERA BUTLER Thank you so much for having me.
SACHA PFEIFFER Kiera Butler is a senior editor at Mother Jones.
That's it for this week's show. On the Media is produced by Leah Feder, Micah Loewinger, Eloise Blondiau, Rebecca Clark-Callender and Molly Schwartz. And our show was edited by our executive producer, Katya Rogers. Our technical director is Jennifer Munson, our engineer this week was Adriene Lilly. On the Media is a production of WNYC Studios. I'm Sacha Pfeiffer.