How Ivermectin Became Politicized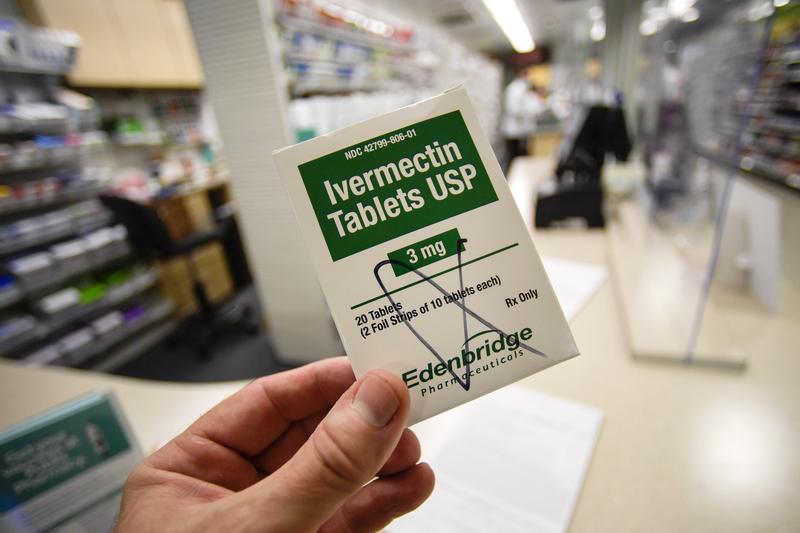 Transcript
SACHA PFEIFFER This is On the Media, I'm Sacha Pfeiffer, sitting in for Brooke Gladstone. In the year since the truther movement tried to destabilize our collective understanding of the events of 9/11, many conspiracy theories have blossomed. But these pandemic times seem to have unleashed a new and more virulent strain of the disease.
[CLIP]
LAURA INGRAHAM There was a concerted campaign to vilify and dismiss and demean and frankly lie about the effectiveness of these drugs. There's nothing well else to call it. [END CLIP]
SACHA PFEIFFER Fox News Laura Ingram, referring to the FDA's decision not to approve contested drugs like hydroxychloroquine and ivermectin as Covid treatments. Ivermectin, for the uninitiated, is mostly known as an anti-parasite drug used to treat scabies and worms and even head lice in humans. It's also occasionally and now famously used as a horse de-wormer. And for some on the anti vaccination right, it's been heralded as a treatment for and possible preventer of Covid-19.
[CLIP]
TUCKER CARLSON Ivermectin, which can and is around the world used to treat and prevent the spread of the coronavirus. It's not some crackpot fish tank cleaner. It's a real drug [END CLIP]
SACHA PFEIFFER that's led to a rush and a cottage industry. Google 'buy ivermectin,' and you'll be fast tracked to a slew of fee for prescription services at $90 and upward a pop. Meanwhile, the Facebook groups where ivermectin users meet to trade tips and tricks for obtaining and using ivermectin have become a breeding ground for a particular way to get your hands on the drug.
[CLIP]
NEWS REPORT Here in Texas, farm stores are selling out of high dose ivermectin intended only for animals.
NEWS REPORT And some animal feed stores in the Bay Area have seen people coming in to buy animal ivermectin products for human use. [END CLIP]
SACHA PFEIFFER It's all been delicious fodder for mocking memes.
[CLIP]
JIMMY KIMMEL Meanwhile, these poor horses are like, hey, I have worms. I need that stuff. There are worms in my butt. Do you understand? [END CLIP]
SACHA PFEIFFER The FDA even got in on it tweeting: 'you are not a horse, you are not a cow. Seriously, y'all stop it.' And then came a report this past weekend from KFOR TV, a central Oklahoma NBC affiliate.
[CLIP]
DR JASON McELYEA ER's are so backed up that gunshot victims were having a hard time getting to facilities where they could get definitive care and being treated. [END CLIP]
SACHA PFEIFFER Dr. Jason McElyea, an Oklahoma based physician.
[CLIP]
DR JASON McELYEA Some of the examples of patients that we're seeing that are causing a backlog are those such as people who are taking horse doses of ivermectin, or other medications related to that. [END CLIP]
SACHA PFEIFFER The story was picked up by other media outlets that drew conclusions beyond what Dr. McElyea said. Many media reports made an explicit link between the lack of hospital beds and the use of ivermectin. Joanne Reed on MSNBC.
[CLIP]
JOANNE REED The emergency room in one rural Oklahoma town is being overwhelmed by people overdosing on ivermectin, the horse deworming medication. It's gotten so bad that gunshot victims, gunshot victims are having to wait to be treated.
SACHA PFEIFFER That was also published by Newsweek, by the New York Daily News, The Guardian, Rolling Stone. Tweeted out by The Rachel Maddow Show and on and on. Too juicy to check. And when an Oklahoma hospital issued a statement saying there was no hospital bed shortage, and that Dr McElyea hadn't worked there in two months, it gave fuel to people from the right crying conspiracy.
[NEWS CLIP MONTAGE]
NEWS COMMENTARY So they got the story completely wrong. Just like they did with Jussie Smollett, just like they do with the Covington kids and so on.
NEWS COMMENTARY Rachel Maddow gave out bad information. Why is her account now suspended?
NEWS COMMENTARY A note to our progressive friends. This is your version of QAnon. [END MONTAGE].
[CLIP]
DANIEL DALE There is no evidence that ivermectin was the key cause or even a primary cause of hospital backups in Oklahoma. [END CLIP]
SACHA PFEIFFER CNN's fact checker and chief Daniel Dale.
[CLIP]
DANIEL DALE And if you go through the doctor's quotes in the clip, the local station released, there's no evidence even that the doctor claimed that himself. So far, all I can tell is that the doctor said ivermectin misuse was one of the reasons local hospitals are congested.
SACHA PFEIFFER But...
DANIEL DALE Some of the critics of the story also jumped to conclusions. After one of the hospital systems this doctor works with issued a statement saying they hadn't seen anyone come in with ivermectin complications. This statement was treated by some on the right as definitive proof that the whole story was completely made up. Even that the doctor was a big liar. Again, though, it's really unclear the doctor said anything truly false. And secondly, these aggressive critics didn't pay any attention to the fact that the doctor is affiliated with more than one Oklahoma hospital. On Monday, a different hospital he works with said in a statement that they had seen a, quote, 'handful of patients with ivermectin complications.' And they said these patients were adding to the existing pandemic problem of hospital congestion.
SACHA PFEIFFER To understand how we got here, Mother Jones senior editor Kiera Butler says we have to go back in time to when ivermectin was not a political signaling tool, but just another weapon in the infectious disease fighting arsenal.
KIERA BUTLER It's been studied for diseases like dengue and yellow fever, both of which are viral infections, so a bunch of researchers wondered whether it would be effective against Covid-19. And around April 2020, there was a pre-print, that means a study that has not been peer reviewed or accepted for publication, that suggested that in a lab like in a petri dish, it did show some effectiveness against the Covid-19 virus.
SACHA PFEIFFER You described the experience of a University of Minnesota doctor and infectious disease researcher. His name is David Boulware.
KIERA BUTLER That's right. You know, when you see a drug that you think might be effective, you have to run a trial. And the best kind of clinical trial is a randomized controlled trial, which means that you give one group of people the intervention, in this case ivermectin, and the other group of people get a placebo. So he set this trial up and he was trying to recruit volunteers for it. And when people got wind of it, he began getting hate mail.
SACHA PFEIFFER And as you write, as a result, he had trouble enrolling trial participants. And this wasn't the first time this has happened to him. Before ivermectin, there was hydroxychloroquine. He had a problem there, too.
KIERA BUTLER Trump had already been promoting HCQ as kind of a miracle cure for Covid-19, and everybody already had formed their opinions about this. So people either didn't want to enroll in the trial because they were convinced that HCQ worked, or they didn't want to enroll in the trial because they were convinced it didn't work.
SACHA PFEIFFER Some countries have considered ivermectin a legitimate Covid treatment. Peru, Bolivia, Brazil, Zimbabwe, they added it to their national treatment guidelines. But you write that maybe those countries were jumping the gun in the sense based on premature or incomplete research.
KIERA BUTLER Yeah, that's right. You know, I think a lot of it does go back to that preprint that got a lot of attention in April 2020. It turned out that the preprint had relied on data that was automatically collected from people's health records by a corporation. Data that's collected in this way is not really considered to be very reliable. But even after that, you know, there are a bunch of smaller studies that came out about ivermectin that claimed that it was effective. But in the months since then, those studies have been found to be faulty in various ways. You know, some of them are just too small to really be meaningful. Some of them had problems with data.
SACHA PFEIFFER But it seems that as word spread that ivermectin was being researched as a possible treatment for Covid. Many people wanted it even before the scientific process was totally finished in terms of evaluating its effectiveness. And it also seems that a lot of conservative media personalities who had been promoting hydroxychloroquine suddenly pivoted to ivermectin.
KIERA BUTLER That's right. And that's a really interesting dynamic. And I think it has to do with a few things. Very quickly, at the beginning of the pandemic, the right was kind of radicalized to be suspicious of vaccines and to embrace treatments. And that really has to do with events even before the pandemic. You know, people who study the anti-vaccine movement have noticed a rightward tack over the last 5 to 10 years where, you know, it used to be you saw a lot of people on the left talking about additives and vaccines and wanting to keep everything that they put into their families bodies pure. But in recent years, the argument has shifted to what some people call medical freedom or health freedom. The idea is resisting the government's attempts to control your body through these vaccine programs.
SACHA PFEIFFER Is there a predatory aspect to that? There's an industry of people who are profiting from convincing other people that ivermectin can treat and prevent Covid-19,
KIERA BUTLER you know, look no further than America's Frontline Doctors. This is a group of conservative, far right-wing physicians. They have been skeptical of the Covid-19 vaccines and they're now offering a service where you can pay them $90 and they will hook you up with a doctor who will, via telehealth, prescribe you ivermectin. America's Frontline Doctors is not the only place that's gotten in on this grift. There are a bunch of different services out there that you can pay for to to get yourself some ivermectin.
SACHA PFEIFFER Given the evolving state of the research on ivermectin, do we know for sure that ivermectin is the wrong thing to take in all covered cases?
KIERA BUTLER It certainly is true that there has not been a definitive, randomized control trial that suggests that ivermectin is effective against Covid-19. That said, I think that a piece of nuance that has been lost in this discussion is the fact that just because there is not enough evidence for the NIH to recommend a drug as a standard of care for the entire population doesn't mean that it won't have benefit for an individual. This is why doctors are allowed to prescribe drugs off label, and they do all the time. All of the researchers that I talked to for these stories that I wrote about ivermectin said that they think that it's totally fine. You know, if an individual doctor for some reason, you know, maybe this is a person who has very high risk, who can't be vaccinated if an individual doctor makes the decision to treat that patient with ivermectin. That's OK. But the evidence is not there yet. And it may never be there to say this should be a standard of care for Covid-19.
SACHA PFEIFFER Ivermectin is not just a deworming drug for horses. There are formulations of it meant for humans that can be used in helpful circumstances like the developing country, diseases that you talked about earlier.
KIERA BUTLER Well, yeah. And you know, I talked to a researcher in Spain, Carlos Chaccour. He has been working with ivermectin in a really important study on whether it can be used in humans to prevent malaria. Now, if if that were the case, then that would be huge. You know, malaria is one of the biggest public health threats that we face. And, you know, he and other researchers who are studying ivermectin for other diseases are worried that the backlash against ivermectin from this Covid-19 debacle might imperil their research and prevent ivermectin from being studied in ways that could be really, really important and helpful.
SACHA PFEIFFER Well, that's a very important point. And I think it's at the larger potential tragedy here, which is that not only were many of these stories wrong, but there is a better, more important story to be telling about ivermectin, which is that all this negative coverage the drug is getting is potentially hurting the health care system in the long term. Because whatever good uses there might be for ivermectin may now never get studied because all this grift and this noise and these misleading articles only add to the confusion and maybe the reluctance to study the drug.
KIERA BUTLER Yeah, I think that's totally fair to say. You know, that if the popular sentiment turns against ivermectin, and ivermectin is just, you know, the butt of a joke about somebody going to a feed store and dosing themselves, then this could have real world ramifications and that would be a tragedy.
SACHA PFEIFFER Kiera, thank you for talking about this.
KIERA BUTLER Thank you so much for having me.
SACHA PFEIFFER Kiera Butler is a senior editor at Mother Jones.
That's it for this week's show. On the Media is produced by Leah Feder, Micah Loewinger, Eloise Blondiau, Rebecca Clark-Callender and Molly Schwartz. And our show was edited by our executive producer, Katya Rogers. Our technical director is Jennifer Munson, our engineer this week was Adriene Lilly. On the Media is a production of WNYC Studios. I'm Sacha Pfeiffer.