Afghanistan's Journalists Grapple with the Taliban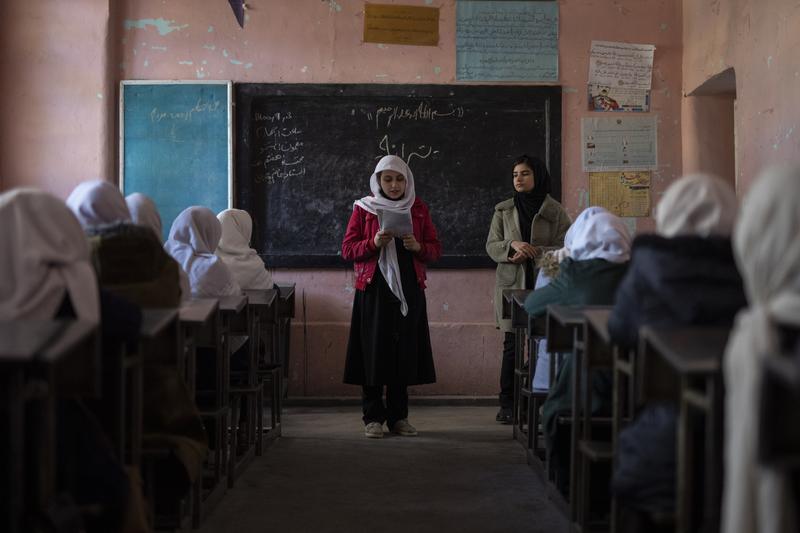 Transcript
BROOKE GLADSTONE From WNYC in New York, this is On the Media. I'm Brooke Gladstone and I want to introduce you to an esteemed journalist who'll be filling in for me for the next few weeks. Sacha Pfeiffer's currently an investigations reporter for NPR, but some years back, she was part of the Boston Globe's Spotlight team. The team which exposed the clergy sex abuse covered up by the Catholic Church and earned the newspaper the 2003 Pulitzer Prize for Public Service. Oh, and she's got hosting chops, too. As senior reporter and host of All Things Considered and Radio Boston at WBUR. I'll be back with all of you soon, but in the meantime, you're in good hands with Sacha.
SACHA PFEIFFER Thank you, Brooke, and thank you for entrusting me to help watch over the show while you're away. It's true that I was part of the Globe's Spotlight team for several years, and it was the summer of 2001 when we first started looking into not just priests who abuse children, but church leaders who covered up for priests who abuse children. It was a systemic problem in the Catholic Church and it became a huge story that we were just at the start of when another, even huger story broke that put our church investigation on the back burner.
[CLIP]
NEWS REPORT This just in. You are looking at obviously a very disturbing live shot there. That is the World Trade Center. And we have unconfirmed reports this morning that a plane has crashed into one of the towers... [END CLIP]
SACHA PFEIFFER Immediately after the planes hit the buildings, we tried to make a comprehensive list of all the companies that worked in the World Trade Center complex. About 50,000 people reported to work there every day. So those companies were scrambling to figure out who was safe and who might have been hurt. I'll never forget making calls from my desk in Boston to many of those companies and finding that their phone lines just had rapid busy signals. Their telephones were out of service. We had watched the towers fall on TV, but when we couldn't get through to the people inside them, it became even more real, and chilling.
Less than a month after the attacks, President Bush announced Operation Enduring Freedom that launched a bombing campaign in Afghanistan after the Taliban refused to meet Bush's demands. He wanted the handover of al-Qaida leaders, closure of terrorist training camps and return of foreign hostages. After a week of airstrikes that killed hundreds of civilians. The Taliban offered to turn over Osama bin Laden in return for evidence of bin Laden's guilt and a cease fire. Bush refused and deployed thousands of ground forces there. Soon after, the regime that had been in power since 1996 fell and the U.S. occupation began. It was a jarring change for a country that had endured years of hard line religious rule. Women were kept out of public life. Non-religious music and other entertainment were banned. When those restrictions suddenly lifted, a new media era was born.
Enter Saad Mohseni. He's an Afghan Australian entrepreneur who started Afghanistan's first privately owned radio station in 2003 with a 220,000 dollar grant from the U.S. government. It began playing pop music that had been hard to come by before or too dangerous to play.
[POP MUSIC BEGINS]
SACHA PFEIFFER Mohseni's Tolo TV came next. It aired an evening news program, then a separate news operation called Tolo News and Provocative Entertainment too. Steamy Turkish soap operas and reality shows like an Afghan version of American Idol.
[IDOLS SINGING]
SACHA PFEIFFER Even an animated show starring a superwoman called Burka Avenger .
[SUPER HERO AVENGING CRY]
SACHA PFEIFFER In the last few weeks, millions of Afghans have tuned in to Tolo to watch the Taliban take back control of the country. Just this past Tuesday in Kabul, hundreds of Afghan women led one of the largest protests against the Taliban. And Tolo was there to cover it.
[PROTESTERS CHANTING]
SACHA PFEIFFER Gunfire eventually dispersed that crowd. Protesters and journalists were beaten and 14 journalists were arrested. Hours later, the Taliban announced its government with no positions of power given to other political forces or religious minorities or women. The Taliban have claimed they'll let women work, but with an asterisk. They say it must be, quote, within our frameworks. After the fall of Kabul, Tolo News anchor Behestha Arghand became the first woman to interview a Taliban leader, but shortly after that interview, she fled the country out of fear for her life.
BEHESHTA ARGHAND I am so unhappy. Because this generation really struggled for a new Afghanistan and I miss my job, my country.
SAAD MOHSENI A lot of people felt initially that the Taliban would shut us down. But for us it was the exodus of our most experienced people that almost shut us down,
SACHA PFEIFFER Tolo founder, Saad Mohseni.
SAAD MOHSENI There were days that 20 people would just leave. Technical people, presenters, reporters and management. They were really struggling to hire people to replace our lost, experienced individuals.
SACHA PFEIFFER Were you losing people because they were both concerned about personal safety and also wondering if they'd be able to continue to do the kind of journalism they want to do?
SAAD MOHSENI It's probably all of the above. It could also be just better opportunities for themselves and their families. We cannot begrudge someone's desire to leave, but at the same time, it's just-- it's devastating. We've perhaps lost 100,000 plus of our best educated, most progressive, most aspirational young Afghans. When the Taliban members of the Cultural Committee came to visit with us, they spent about two-two and a half hours debating issues such as women's rights, democracy, freedom of expression with our people. In one of the meeting rooms. It was not emotional, it was very objective. But to have that debate: can we influence them? Even if it's one percent, I mean, it's worth it, isn't it? To have these young people in the country pushing back could have an impact and but to lose them and to lose so many of them makes the battle so much more difficult,
SACHA PFEIFFER Saad, another Afghan media outlet Etilaatroz recently released photos of some of its journalists who were beaten by Taliban forces. With those concerns about personal safety and your staff having gotten smaller, how effectively can your staff cover the news of Afghanistan?
SAAD MOHSENI So the key thing for us is how do we push back? I mean, you have to remember that we have similar challenges in the early years with the Karzai administration. You know, we were summoned by the intelligence agency. People got locked up, including my own brother. So how do we cover the story? How do we engage with the Taliban? How do we express to them how important it is for them to respect media freedom? And will it have an impact? Because I think every time they react responsibly, then we set a new benchmark in terms of how the government behaves.
SACHA PFEIFFER Are you finding that you're having to issue new safety guidelines for journalists?
SAAD MOHSENI Absolutely. About ten days ago, two of our journalists were beaten up and we decided to not send our journalists to vox pops onto the streets until we had a commitment from the Taliban to not only apprehend the individual who had beaten up our guys, but also to find our camera and equipment and to also issue directives to their people, not to beat up journalists. I'm talking about the street thugs. So we're learning. We're learning to deal with the senior management, so to speak, with the leadership, and they have to learn to control their people.
SACHA PFEIFFER So far, this new iteration of the Taliban claims to be more moderate, but as we've talked about, we're seeing journalists targeted, protesters met with violence. What is your sense in these early days of how the Taliban might rule?
SAAD MOHSENI It's very difficult to tell. Right now as things stand. If you have to freeze this moment, there are obviously more moderate. There is television. The television was banned in 2001 before they were deposed. There are women at schools. There are women at universities, albeit with, you know, segregated with a curtain right in the middle of the room to see, you know, separate the boys from the girls there. They're allowing civil society. They're allowing political discourse on television. We're allowed to cover protests. We're allowed to cover fighting around the country. So as things stand, right this second, the environment's different. But the problem is that we have no guarantees that the situation will remain as it is. And there's absolutely no doubt that there'll be more restrictive. The question is how restrictive relative to today and relative to the period under President Karzai,
SACHA PFEIFFER You know well that it's never been easy to run a media company in Afghanistan, and about 10 years ago, you told on the media about legal restrictions reporters faced. At one point, reporters were told they couldn't do live coverage from the scene of a terrorist attack. And some Tolo journalists have died. There was a 2016 suicide bomber who attacked a bus carrying Tolo TV employees and killed seven staff members, but here we are in 2021 with Tolo still standing. What considerations are on your mind as you debate whether to keep it running or what would make you call it quits?
SAAD MOHSENI Listen, we will continue our work. The question is whether we do it from inside the country or from outside the country or maybe a combination of both. But media has been one of the success stories of the country. And I think media is going to be very important for us going forward. Our viewership for just in our news network, based on what we see online, is up 86%. People are watching the news and totally, totally focused on what's going on, and this is one of the few outlets in terms of how people get their information. And this, you know, for us, it's a, it's a huge responsibility. We represent certain things for most Afghans in addition to information and education and entertainment. But media does so much more for Afghanistan and we hold individuals and institutions accountable, and I think to a large extent, the Afghan public trusts our medium almost more than any other institution in the country. And that will continue, I'm pretty sure.
SACHA PFEIFFER What do you think of foreign reporting on Afghanistan in this moment? Are the reporters doing a good job?
SAAD MOHSENI I think the ones who are very much anonymous, the ones who are hysterical and quite a few, which they have this bigger picture view of Afghanistan, and they believe that ultimately Afghanistan is going to be OK. They may all be right. We don't know. But what's important is that right now there are a handful of reporters, but my concern is that they'll be less than reporters in the weeks ahead. And that's going to make it difficult for people to actually keep tabs on what the Taliban are doing, and it's really up to us to not only inform Afghans of what's transpiring, but also to inform the audiences outside the country so that they also don't lose interest and they also monitor issues and events inside the country.
SACHA PFEIFFER You said some of the foreign reporting is hysterical. In what way?
SAAD MOHSENI Well, for example, about these people that need to leave. And a lot of ways that eases the consciences of certain individuals within certain organizations to organize for the evacuation of, you know, 300 employees or 20 friends or whatever, but my concern is the 38 million people who are going to remain inside the country. And I think we need to be focused on that, not the 200 African-Americans who will remain or some of the translators or some members of the civil society. That is my concern.
SACHA PFEIFFER Have you found yourself as a news leader, going to the same considerations your staffers are about whether to stay or go?
SAAD MOHSENI Yeah, of course. I think about it all the time. I mean, we're going to hang in there for as long as possible, but we're prepared to turn the lights off if we need to.
SACHA PFEIFFER Saad, thank you for coming on the show.
SAAD MOHSENI Thank you.
SACHA PFEIFFER Saad Mohseni is co-owner of Tolo and director of its parent media company, the Moby Group. Coming up, how 'Never Forget' became how to remember. This is On the Media.