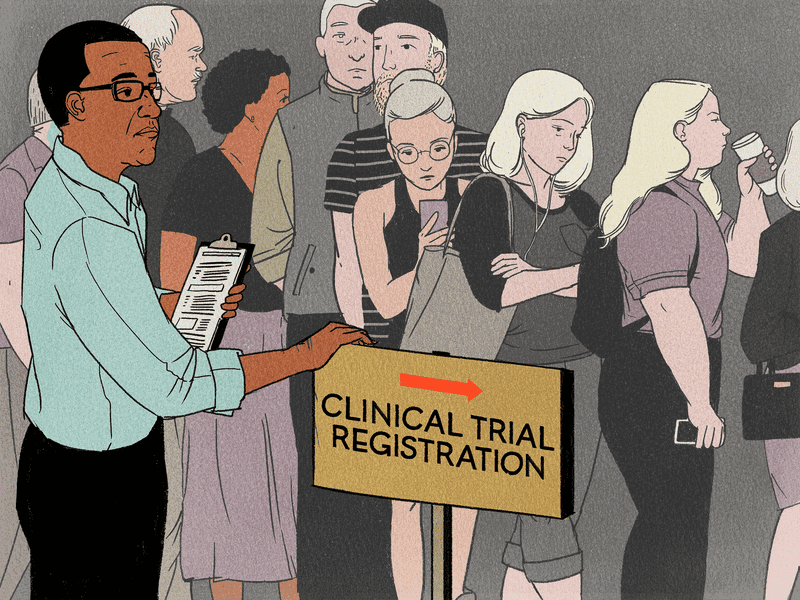 Transcript
Undiscovered is produced for your ears! Whenever possible, we recommend listening to—not reading—our episodes. Important things like emotion and emphasis are often lost in transcripts. Also, if you are quoting from an Undiscovered episode, please check your text against the original audio as some errors may have occurred during transcription.
ANNIE MINOFF: This is Undiscovered.
So, heads up, there's no salty language in this episode! But there's some stuff that we describe that is graphic and upsetting. So this one's not for kids.
SHAWN JOHNSON: Here? Where? Do you mean closer?
ELAH FEDER: Yeah, no you're good.
SHAWN JOHNSON: Okay.
ELAH FEDER: So, Annie, I started my interview with Shawn Johnson the way that we usually do. You know you check you levels by asking them what they had for breakfast.
ANNIE MINOFF: Always.
SHAWN JOHNSON: Uh Oatmeal and cottage cheese. Don't know why I had to think about that. No, I actually eat the same five things every day. So it was weird I had to - like a very type A meal prepper.
ELAH FEDER: Shawn is actually a type A everything. We met up at Harvard, where he goes to medical school.
ANNIE MINOFF: Of course.
ELAH FEDER: Of course. On top of being a medical student, he started an after-school science education program, he does peer mentoring. He also volunteers with local cancer researchers-
ANNIE MINOFF: Like on the side?
ELAH FEDER: Like on the side. Which I tell him this sounds like a lot to me. And he's like, no no no, don't be ridiculous.
SHAWN JOHNSON: Like my dad is a truck driver, has been driving trucks since I was born. Is in his 60s, is driving up and down the West Coast, That's hard. My mom gets up at the crack of dawn, like takes public transit into work gets back home at 7 or 8 and does it every single day. Like that stuff is hard. Sitting in like a classroom and reading and then going to some meetings and sending emails. That's easy. <<laughs>>
ELAH FEDER: Alright, well now I feel like I think baby. Which I am.
<<Shawn laughs>>
ELAH FEDER: that's fine. That's fine. You can shame me.
ELAH FEDER: Shawn wasn't one of these kids who grew up wanting to be a doctor. But when he was in college, his sister Ashley died of cancer. And after that he decided I want to do something about this. I want to do something about cancer.
So after college, he lands a job as a research technician at the Dana Farber Cancer Institute in Boston, and then one day while he's there, he finds out about the drug that could have saved his sister's life.
SHAWN JOHNSON: It was actually an interesting story. So I was shadowing with a physician, spending the day with him.
ELAH FEDER: This doctor was involved in a clinical trial with a cancer drug called brentuximab vedotin. Shawn had never heard of it. So later, he looks it up.
SHAWN JOHNSON: And I was reading about it, and I come across this article saying that it was approved in Hodgkin's like X number of years ago and that floored me because I had never heard of this before.
ELAH FEDER: Hodgkin's—Hodgkin's lymphoma—that's actually what Shawn's sister had. And so he looks at the dates, and he figures out that when Ashley was sick, this drug was going through clinical trials. It had actually reached phase 3 clinical trials. You only do phase 3 once a drug shows promise. And in this clinical trial the results were really good. For 86% of patients the tumor actually shrank. But-
SHAWN JOHNSON: I never heard about it. She never heard about it like nobody ever approached us about being in a study. And that, I remember, was really upsetting, like there was a time for like- there was a long time actually where I had the article of the drug being approved in Hodgkin's on my desk.
ELAH FEDER: To be clear, Shawn didn't think that anyone was actually trying to keep his sister out of this, like he didn't think they were deliberately hiding this trial from her. But he did see this as part of a bigger problem. Because by the time that he found out about this drug, he'd already noticed something about oncology research.
SHAWN JOHNSON: A lot of the people that I was seeing who were coming in for clinical research didn't look like people like me-
ELAH FEDER: Shawn's dad is black. His mom is white. And he identifies as black.
SHAWN JOHNSON: -didn't look like people like from the community, didn't look like people who I was spending time with outside my work
ELAH FEDER: So, this is actually part of a broader pattern. In cancer research in this country, the most promising clinical trials are done mostly on white people. Which means people of color—and black people in particular, are often not included in research that might save their lives. And Shawn? He wants to change that.
ANNIE MINOFF: I'm Annie.
ELAH FEDER: And I'm Elah. And in today's episode, Shawn confronts the medical abuses that have led generations of African Americans to distrust medical researchers. And then he convinces a team of Boston scientists to let him try something pretty counterintuitive to try to win that trust back.
ANNIE MINOFF: That's coming up, on Undiscovered.
ELAH FEDER: The patients that Shawn saw coming in for these clinical trials they weren't just white. They also seemed pretty affluent to Shawn. Which kinda made sense. He figured if you're poor and maybe working long hours, you aren't necessarily going to have the time to go for the best and most promising clinical trials for your condition. And they might not be finding you either. But as for people of color, Shawn thought this was more than a lack of access. He'd actually grown up hearing people say that doctors and medical researchers should not be trusted.
SHAWN JOHNSON: I remember my uncle, when I was younger, told me this really weird story about how he thought that the city was like putting male birth control into fast food restaurants, and he just wasn't like a crazy guy. It's not like he thought there were like UFOs and like aliens and all kinds of other stuff. He just believed that like the medical system was doing these things.
ELAH FEDER: And the more he looked around, the more that he started noticing other people saying stuff like this.
SHAWN JOHNSON: First barber I had in Boston. He asked me where I worked. And then as soon as I started talking he was like, 'You know they have a cure for AIDS at Dana Farber right?'
ELAH FEDER: And Dana Farber, that's where Shawn worked. So this distrust, this fear that you're being lied to or experimented on - a lot of people will try to explain that with Tuskegee. Tuskegee was this 40 year long experiment--actually ran into the '70s--where the U.S. government denied black men treatment for syphilis, actually didn't just deny them treatment, they gave them fake treatment, and they went around preventing local doctors from treating them, just so they could see what this disease did to them. But to Shawn it seemed obvious this was about way more than Tuskegee.
SHAWN JOHNSON: Everybody goes, oh well Tuskegee happened and now every black person in America knows about Tuskegee. Well, that's kind of ridiculous right. Like a lot of people you'll talk to have no idea what that is, but a lot of people will say like my auntie or my grandma or like me myself like I don't want to go to these academic hospitals because I'll be experimented on I might get a placebo.
ELAH FEDER: so Shawn decided he wanted to read more about this history. And he started with a book called Medical Apartheid.
ANNIE MINOFF: So Medical Apartheid is a 400-page survey of the history of experimentation on black people in the United States. It is a heavy read. And it starts with the story of J. Marion Sims. J. Marion Sims is sometimes called the father of modern gynecology. Until a few months ago, there was actually a statue of him in New York City in Central Park.
HARRIET WASHINGTON: I would eat my lunch under that statue when I was doing research in the book
ANNIE MINOFF: That's Harriet Washington. She wrote Medical Apartheid.
HARRIET WASHINGTON: And I initially had warm feelings toward Dr. Sims because initially I believed what I had read, that he was a medical hero...
ANNIE MINOFF: - a 19th century doctor from South Carolina. Sims was famous for inventing the duckbill speculum - which is actually a precursor of the speculum gynecologists use today. But maybe his most famous accomplishment was for his cure for vesicovaginal fistulas.
Vesicovaginal fistulas are something that can happen after very very prolonged labor, where the bladder and the vagina fuse together. This condition is exactly as terrible as it sounds.
HARRIET WASHINGTON: So he tried to cure it and here's how he tried to do it. He acquired black women.
ANNIE MINOFF: Black women who had been enslaved and had these fistulas.
HARRIET WASHINGTON: and then he proceeded to repeatedly experiment on closing their vesicovaginal fistula. Now what this means is very difficult to hear about or to read about.
ANNIE MINOFF: Sims kept 12 women in what he called his "little hospital," which he built in the corner of his yard. And for five years, between 1845 and 1849, he did experimental surgeries on these women, over and over sometimes in front of an audience of surgeons, sometimes he would have two men holding them down. It took 30 surgeries to cure one of these women. A woman named Anarcha.
And this part is key. Surgeons were just starting to use anesthetic at the time and Sims later said that he thought these operations weren't painful enough to quote justify the trouble and risk. So all of those operations? Done without anesthesia.
ELAH FEDER: Not everything in this book was done over 100 years ago, either.
Shawn read about experiments on prisoners, experiments done on children. Like one study where scientists injected black and Hispanic boys as young as 6 with a drug to curb their so-called "risk for aggression." And that was in the 90s.
SHAWN JOHNSON: So there's this long history where really if you were, like, if you were black and somebody said you would be in a clinical trial you should have run. Like that's the hard part is that like, more than likely it was a bad idea to.
ELAH FEDER: So it took Shawn a while to get through this book. And when he was done, he was angry.
SHAWN JOHNSON: I felt like for me a piece of my history, like, hadn't been given to me. Like why that I have to wait until I was 25 to read this book to learn about people who are my family generations ago dealt with?
ELAH FEDER: Now that Shawn knew this history, the idea that someone would think their city was drugging them or that scientists might have a secret cure for AIDS they weren't telling people about made more sense. That mistrust came from somewhere.
ANNIE MINOFF: So, in some ways, of course medicine has changed. There are rules and safeguards in place that were not there before. But safeguards aren't guarantees.
And let me say super clearly there is a whole aspect to this story that is not behind us, that isn't history. Studies show people of color are still treated worse by our medical system.
A 2003 National Academies report found people of color were less likely than white people to be given the right medications for their heart disease, to get bypass surgery, or transplants, or dialysis. Other studies have found doctors underrate the pain of their black patients, and actually prescribe them less pain medication.
So you add that all up: lack of trust—justified lack of trust. Plus, probably an even a bigger factor, which is lack of access. And the upshot is the most promising clinical trials don't include many black people in them.
ELAH FEDER: Right. That's not good. It's not good to be excluded from a clinical trial that might save your life. It's not good for medicine either. Right we want treatments that work for as many patients as possible, patients with different, genes and environments, not just the subset of people that we happen to study.
So a couple of years ago, Shawn decided that he wanted to do something about this. Like he wanted to get more black patients involved in medical research. And then... he found out about a project directed by Corrie Painter, scientist...and wild woman.
CORRIE PAINTER: Here are the bubbas. These are our guinea hens. This is Honey! She is a brat and a bully. Do not let her fool you.
ELAH FEDER: I went to meet Corrie at her home. It's about an hour outside of Boston, where she has guinea hens, chickens, bees, a dog, a cat, a snake, a rabbit, and goats.
<<Goat bleating>>
ELAH FEDER: When I ask Corey what she had for breakfast. She tells me she foraged for berries. Anyway, Corrie, besides being a wild woman, she's also a biochemist and she directs the Metastatic Breast Cancer Project—MBC project, for short. Which is at MIT & Harvard's Broad Institute.
So it turns out—I didn't know this before—but there are people's tumor samples just sitting in storage in labs and hospitals across the country.
ANNIE MINOFF: Just sitting there!
ELAH FEDER: Yeah, the idea is they might be needed for later testing, but a lot of the time-
ANNIE MINOFF: Just sitting there!
ELAH FEDER: -nothing's being done with them. So the MBCproject figures, what if we could actually make use of those. What if we could look at cancer DNA from these tumor samples, compare that to DNA from non-cancer cells from the same patients? And then we can see how- for example how cancer mutates, maybe find genes that predispose people to certain cancers.
All of this, of course, depends on getting consent from the patients. So if someone's interested,
CORRIE PAINTER: We send them a consent form. If they provide consent, then we send them a saliva kit.
ELAH FEDER: Basically, a tube that they have to fill up with spit, and mail back. Saliva is to give you those non-cancer cells. And then the researchers ask for your medical records and permission to get that slice of the tumor that's being kept in storage.
CORRIE PAINTER: We send the tissue plus their saliva kit all for sequencing at the genomics platform at the Broad Institute.
ELAH FEDER: They officially launched the project in October of 2015, spread the word through social media. Which actually worked really well for them. Within a year, they had almost 3000 patients signed up.
ANNIE MINOFF: That's a lot.
ELAH FEDER: Yea and they were thrilled about it. But of those patients only about 2% identified as Black or African American
ANNIE MINOFF: Which is a problem if you're doing a breast cancer study. Because African American women are more likely to die of breast cancer than white women. And it's thought a lot of that is because of this lack of access to medical care that we've been talking about? But that doesn't explain why black women are more likely to develop aggressive cancers like "triple negative breast" cancer - that's the hardest to treat. And no one really knows why that difference exists. And we're not going to if there are no African Americans in these studies.
ELAH FEDER: Right. So the MBCproject knew that they needed way more than 2 percent. But Corrie didn't necessarily feel like she was the best person to fix this problem. Corrie has actually been a cancer patient herself, so she could connect with other cancer patients on that level. But at the same time-
CORRIE PAINTER: I am a middle aged white woman. I have no context to understand. Like a lifetime of of what people of color experience
ELAH FEDER: And then one day a young cancer researcher shows up and says, hey that's something I can help with. It is Shawn Johnson.
ANNIE MINOFF: Aha!
ELAH FEDER: Yea. So Shawn had heard about the MBCproject back when he was at Dana Farber, and it just seemed like a natural fit. And so he contacts the MBC team and says hey, let's get more black people in your study. Although, qualifier.
SHAWN JOHNSON: I'm black but I'm not a woman. I'm not a black woman and I'm not a black woman with breast cancer.
ELAH FEDER: Note, men get breast cancer too, though not nearly as often.
SHAWN JOHNSON: And so the most obvious thing was if we want to reach more black women with breast cancer we should ask black women with breast cancer, like, what they think we should do.
ELAH FEDER: The MBC team of course was on board.
ANNIE MINOFF: Yea.
ELAH FEDER: This made a lot of sense. But, Shawn had one more idea. He was like, let me talk to these women that we'd like to bring on board for our medical research. And then let me tell them about how medical research has abused African-Americans for literally centuries.
ELAH FEDER: Because Shawn had this question.
SHAWN JOHNSON: If patients in marginalized communities have fears about the medical system, how do you address that? Like do you talk about it at all? Do you not bring it up, and if people ask just like tell them like how things are safe? Or--and this was my interest-- like, what if you give people all this history?
ELAH FEDER: Would it make black patients MORE interested in collaborating with them, or less? So the MBC team one of its guiding principles is transparency. But this idea that Shawn had it went way beyond transparency. Shawn's approach was more like radical honesty. Don't just acknowledge the history of exploitation if people bring it up, actively teach it. Talk about it. You know, if you do that Shawn wanted to know-
SHAWN JOHNSON: What happens? Like, what happens if you sit and you give the whole history of this
ANNIE MINOFF: Coming up, what happens and Shawn puts radical honesty to the test.
<<BREAK>>
ELAH FEDER: One of the first people that the MBC project would talk to was Bridgette Hempstead. Bridgette is no newbie to medical trials. She remembers, at the first one she participated in, they gave her shots. Which hurt. A lot.
BRIDGETTE HEMPSTEAD: Mm, let me tell you how bad, how bad they hurt. It feels like if you took the lips of your vagina and put 'em over your head.
ELAH FEDER: Oh my God. That's quite graphic. Thank you.
BRIDGETTE HEMPSTEAD: Yup. I can't - <<laughs>>
<<Elah laughs>>
BRIDGETTE HEMPSTEAD: I can't describe to you how painful they were!
ELAH FEDER: So these shots were in her arm, just side note.
ANNIE MINOFF: Okay.
ELAH FEDER: In case you were wondering. Anyway, this trial, where they inflicted on Bridgette a worse pain than I'm willing to imagine-
ANNIE MINOFF: Uh huh
ELAH FEDER: -Bridgette actually she had to fight to get into this. Her original doctor hadn't been supportive of her signing up, so she got rid of that doctor got a new one.
ELAH FEDER: And at this point, she'd beaten back her metastatic breast cancer. This was a trial for a vaccine that might prevent the cancer from coming back. Basically, a series of shots that might help the immune system fight off that cancer.
BRIDGETTE HEMPSTEAD: And I'm telling you, I probably should have been drunk when they did it!! <<laughs>> But I was not. <<laughs>>
ELAH FEDER: Bridgette was actually first diagnosed with breast cancer back in the 90s. And she remembers back then, she didn't see a lot of black women in breast cancer awareness campaigns.
So she had the impression that breast cancer was mainly a white woman's problem. And it seemed like her doctor did too. Her doctor refused to give Bridgette a mammogram when she asked for one. She gives her a few reasons like Bridgette's age. She was only 34 at the time.
ANNIE MINOFF: Young.
ELAH FEDER: Yeah, it's young. But also, she said this.
BRIDGETTE HEMPSTEAD: She told me that I was African-American and I didn't need to worry about it and to come back in 10 years.
ANNIE MINOFF: Yeah, so like when people talk about mistrust of doctors, this is the kind of stuff that makes people mistrust.
ELAH FEDER: This is, exactly
ANNIE MINOFF: they're talking about
ELAH FEDER: Yeah, so Bridgette had to actually insist. She got that mammogram. And of course it turned out she did have breast cancer. She was diagnosed actually on her 35th birthday.
And this moment, it actually turned Bridgette into an activist. Today she runs a national African American breast cancer network called the Cierra Sisters. And one of the things that she wants to see more of is more African Americans patients being studied in medical research.
So when one day Corrie reaches out to Bridgette and asks her if she might help MBC figure out how to be more inclusive, Bridget is in. So in the fall of 2016, Bridgette and five other women who do this kind of advocacy around breast cancer, they travel to Boston to meet the MBC team.
<<Meeting sounds, distant voices>>
ANNIE MINOFF: Yeah, there's a video of this meeting. You can see everyone gathered around a conference table. At the front of the room is this young, black med school student.
SHAWN JOHNSON: Do you want me to stand?
ANNIE MINOFF: Shawn Johnson
SHAWN JOHNSON: Okay, thank God.
<<Several people laughing>>
SHAWN JOHNSON: I did not sleep much last night.
ANNIE MINOFF: He starts off light.
SHAWN JOHNSON: And I still remember the first time that I left home to come here in 2010. I called my dad up and I go—this is a real conversation—I go, oh yeah, I was like, I got into some internship at Harvard Medical School. And he goes, there's black people there?
<<Several people laughing>>
SHAWN JOHNSON: I was like- I was like there must be one now.
<<Several people laughing>>
SPEAKER (OFF-MICROPHONE): Oh my God.
SHAWN JOHNSON: And so, and he asks me, he goes- he goes, oh, are you going to be, like, experimenting on people? And I was like, no, Dad, that's not what I'm doing.
ANNIE MINOFF: And Shawn tells them, like, that distrust, it's not just paranoia, it is not new, it goes way back.
And that's when he starts launching into this history. Because remember, this is, like, what this talk is about for Shawn. He wants to know, would telling people about this history help dissolve some of that distrust? Like, would it encourage people to be part of research, to collaborate researchers?
So he tells them about J. Marion Sims, the gynecologist who practiced surgeries on enslaved women. He tells them about medical schools that stole black bodies out of cemeteries. And of course, he tells them about Tuskegee. It is an intense 30 minutes.
SHAWN JOHNSON: So that's my hopefully not too gloomy presentation-
<<light laughter>>
SHAWN JOHNSON: -on the history of medical mistrust
ANNIE MINOFF: While Shawn's talking, it's hard to tell what Bridgette and the other women around this table might be thinking. They're mostly quiet, they're jotting down notes on legal pads, but as soon as he stops, it becomes clear this hit home.
BRIDGETTE HEMPSTEAD (in the meeting): It makes you want to cry that a group of people have been so mistreated and-
ELAH FEDER: That was Bridgette.
BRIDGETTE HEMPSTEAD (in the meeting): It was horrible then, and it's horrible now, just because of the way that some of the physicians believe that we're so different that we're still dehumanized as individuals [fades low]
BRIDGETTE HEMPSTEAD (in interview): Oh, his presentation was- his presentation was so good. It was incredible.
ELAH FEDER: So Bridgette had actually heard a lot of what Shawn talked about that day before, but having it all laid out like that, that was powerful. And it clearly landed for the other women that day too.
<<meeting murmurs>>
SPEAKER OFF-MICROPHONE: This was priceless.
MULTIPLE SPEAKERS: Right, yeah.
ANNIE MINOFF: That was one of the women off-mic. She says this should be taught to every medical student. And then another woman, Latonya Wilson, she goes even bigger.
LATONYA WILSON: You know, I've been sitting here thinking--and it might sound a little crazy, but he needs to actually hit every African-American, or just every television station.
SPEAKERS OFF-MIC: Yes. Mm-hmm.
LATONYA WILSON: I mean was I just thinking that. BET, just everything, CNN. I'm serious because, like how you stated, I've never- I heard about the, uh, Tuskegee, but everything else, didn't hear that.
ELAH FEDER: So Shawn's gamble was that if you talk to people about this history, they might be even more excited to work with you, right? To make the future of medicine different. But if that hadn't been the outcome, if people had heard his presentation and thought, no thank you, I want nothing to do with medical research, Shawn would have been fine with that too.
SHAWN JOHNSON: People just have a right to their history. Regardless of what people's response is, I actually don't think that matters. Like I think patients of color particularly should know this is what happened, and I think maybe this could be, like, a contentious viewpoint, but if that makes more people not participate, that's their choice.
ELAH FEDER: But that's clearly not what happened here.
BRIDGETTE HEMPSTEAD: For me, it- it validated, yes, you acknowledge what happened, but it gives you the empowerment to 'where are we going?'
ELAH FEDER: Which, of course is what this meeting was all about, where is the MBC project going? What should they do differently?
And actually, the women around this table definitely had some ideas about that. Like the MBC project's flyer. So Latonya starts telling them about this thing that happened the other day to her. She was at a hospital, she starts talking to another woman, finds out that this woman has stage IV breast cancer.
LATONYA WILSON: And I said, you stage IV? I said how about you participate in this project right here?
ELAH FEDER: So Latonya pulls out the project's flyer, hands it to this woman, and this woman looks at it, and she says-
LATONYA WILSON: a whole bunch of white people in here, and I started laughing.
ELAH FEDER: For Corrie, who directs the project, this was kind of a revelation. Like, the main image on this flyer, it's a photograph of a woman standing on a hilltop. Uh, she has a ponytail. The sun is behind her, so she's-she's a silhouette, she's fully in shadow, and you can't see her skin colour. But the women around this table are like, yeah, but she's still white.
CORRIE PAINTER: And we're like, uh, white? Wait. It's a silhouette, like on purpose. We thought we were doing good!
BRIDGETTE HEMPSTEAD (in meeting): The reason why you would say, well, you would say yes, she's white because a lot of black people are not, um...
SPEAKER QUIETLY OFF-MIC: Hiking
BRIDGETTE HEMPSTEAD: Hi-
<<Multiple people laughing>>
ELAH: Hiking
BRIDGETTE HEMPSTEAD: They're not hiking! <<laughs>>
<<Multiple people laughing>>
ELAH FEDER: The MBCproject took those recommendations. The shoelaces are gone, so it looks less like a hiking shoe. The hair is short and curly.
ANNIE MINOFF: You know, these are small things, obviously, but they matter. If you don't see yourself reflected in a campaign, you might not think its message is for you.
So another piece of feedback that MBC got was go to the people you're going to reach. Visit black communities. Maybe hit up churches. So that's what they're trying to do. Like just one example: Shawn got a group going at Howard University. It's this group of volunteers, and they try to recruit people around DC, get them involved in this study. Their first outing was a couple of weeks ago-
<<Crowd of people talking>>
ANNIE MINOFF: -to a church.
IMANI BOYKIN: Hello, how are you today?
ANNIE MINOFF: It's a super busy Sunday. People are living services, milling around. A few older women come by the table, and they pick up the brochures they have there, which feature the new image-
ELAH FEDER: The new image, of course, yes.
ANNIE MINOFF: Yes. They seem to really appreciate what the students are doing.
SPEAKER: Well, God bless your ministry. I hope and pray y'all get this thing together…
IMANI BOYKIN: Thank you so much.
ANNIE MINOFF: So recruitment is underway. As for how the project's working out?
CORRIE PAINTER: So the project is going really well. We have had so many people enroll, over 4700 people.
ANNIE MINOFF: And actually since we talked to Corrie, that number has gone up. It's over 5000 now! And since Shawn joined this project, they've more than doubled the number of people in the study who identify as black or African American. They now have, actually, the most African American people with metastatic breast cancer who have ever been included in a study. But you look at the raw numbers, that's just 142 people out of 5000. Less than 3 percent.
CORRIE PAINTER: So we have a lot of work to do
ELAH FEDER: So, ideally, they'll get somewhere that's closer to actual patient demographics. And if they get a more diverse gene pool they stand a better chance of discovering new cancer genes. They might even figure out if there are some genes that play a part in why African American patients do get those more aggressive breast cancer types.
But researchers who do this kind of work have to be so careful. Because if there's one thing we've learned it's that we are so quick to harp on differences, especially racial differences, even when those differences do not exist.
So I asked Shawn about this: how do you do this work, how do you get more diverse patients in medical research without inadvertently othering them?
SHAWN: So I think the biggest way that you can say that you do this is you have to have people who represent the groups that you're talking about be really in charge of leading it. Or at least be, like, advising on it. Because then you run- you don't run into, like, just some of the dumb stuff. Like, I hope that more of this work happens. I hope that there's more of a focus on having diverse representation in clinical trials and clinical research. Are people going to mess up? Absolutely. That's just, like, a given.
ANNIE MINOFF: This work that Shawn wants to see happening, this reckoning with medicine's past and present, it's happening more and more. And not just around conferences tables at fancy research institutes. Like, a few months ago, New York City finally took down that statue of Marion Sims, the gynecologist, that had stood in Central Park for 84 years.
<<Cheering sounds, beeping>>
ANNIE MINOFF: It took more than a decade of work by local activists to make this happen. They'd protested and petitioned until finally the city relented. So in April, Parks Department workers strapped Sims into a bright blue harness, and then carefully lifted him off of his pedestal.
<<Beeping sounds>>
ANNIE MINOFF: Nearby, people chanted.
MULTIPLE SPEAKERS: Marion Sims is not our hero. Marion Sims is not our hero. Marion Sims is not our hero. Marion Sims is not our hero. Marion Sims is not our hero. Marion Sims is not our hero. Marion Sims is not our hero.
<<fades low, sirens, cheering>>
ELAH FEDER: So now, there's just the granite pedestal. The city said has said it's gonna to leave it there. They've talked about adding plaques with some extra historical context about what Sims did and who he did it to. Including the only three names we know for the women he experimented on: Anarcha, Betsey, and Lucy.
They've also talked about commissioning a new artwork, something that honors women of color in science. But for now, the granite pedestal stands bare.
<<Sounds of birds, traffic, wind>>
The statue is gone. Hopefully, making way for something better to take its place.
<<Wind sounds>>
ELAH FEDER: Undiscovered is reported and produced by me, Elah Feder
ANNIE MINOFF: And me, Annie Minoff. We had production help this week from Alexa Lim, story consulting from Linda Villarosa, and fact checking help from Robin Palmer.
ELAH FEDER: Our senior editor is Christopher Intagliata, our composer is Daniel Peterschmidt, and our production intern is Kaitlyn Schwalje. I Am Robot and Proud wrote our theme.
Thank you also to Deirdre Cooper Owens who talked to us about James Marion Sims. If you want to learn more about Sims and the complicated history of gynecology, we recommend reading her book Medical Bondage.
ANNIE MINOFF: And that brings us to the end of Undiscovered Season 2. Thank you so much for listening these past 10 weeks. We will really try not to leave you hanging for quite so long between seasons this time around, but in the meantime, help us make this a better show! We've got a survey up. It's at undiscoveredpodcast.org/survey. Or if you just want to sign up for our newsletter, and be the first to know about new episodes you can do that at that same link. undiscoveredpodcast.org/survey.
ELAH FEDER: Finally to learn more about this episode, visit our website, undiscoveredpodcast.org. And we'll see you soon!
Copyright © 2018 Science Friday Initiative. All rights reserved. Science Friday transcripts are produced on a tight deadline by 3Play Media. Fidelity to the original aired/published audio or video file might vary, and text might be updated or amended in the future. For the authoritative record of Science Friday's programming, please visit the original aired/published recording. For terms of use and more information, visit our policies pages at http://www.sciencefriday.com/about/policies/