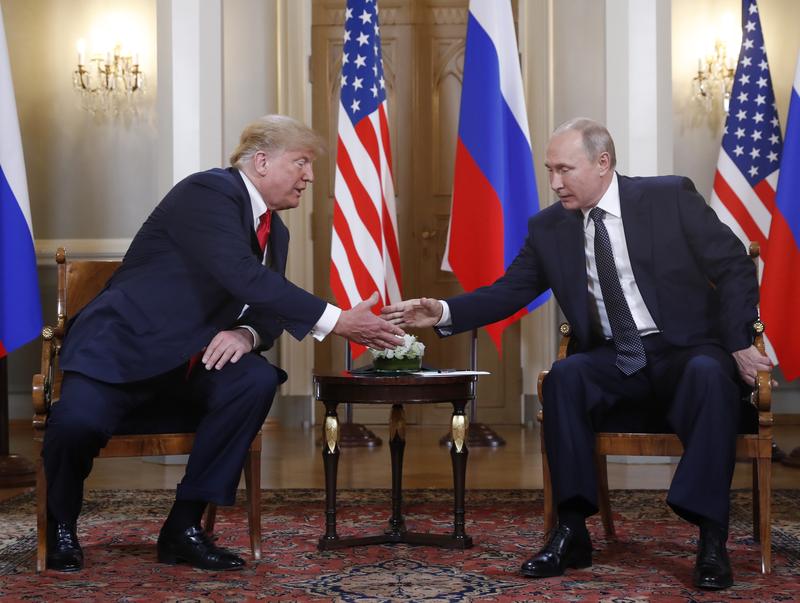 Transcript
ILYA MARRITZ: Hi! It's Ilya Marritz, co-host of Trump, Inc. Andrea Bernstein and I are hosting WNYC's special coverage of the Republican National Convention, and we're going to share a couple of our favorite conversations here in the podcast feed.
This one is about the recently released Senate report examining counter-intelligence risks connected with Russian interference in the 2016 presidential election. It is an eye-opening document. And my guests are Politico's Natasha Bertrand, The Atlantic's Franklin Foer, and Andrea. Here we go!
[90S-ESQUE TECHY MUSIC PLAYS]
MARRITZ: Last week, the Senate Select Committee on intelligence released its fifth and final report on Russian interference in the 2016 election. Earlier volumes had focused on election infrastructure, social media, and the American response to the Russian active measures campaign. This report is focused on counterintelligence threats and vulnerabilities, or, in plain English, it's focused on the ways in which we are and have been vulnerable to foreign espionage. It's a thousand pages of eye-opening — at times hair-raising — information. And we thought now would actually be a great time to discuss it — not only because the report is fresh and perhaps didn't get the attention it deserves, but also because it has so much to say about the last Trump campaign, with plenty of echoes for today.
In this report, we learned that 2016 campaign chairman Paul Manafort was in regular contact with a Russian spy during the campaign — a situation the report describes as, quote, "a grave counterintelligence threat." Manafort fed that spy inside polling information. And after he left the campaign, Manafort and the spy worked together to promote a so-called "peace plan" for Ukraine that was favorable for Russia.
There was also a lot that we learned about Roger Stone, Donald Trump, and WikiLeaks, and those hacked Democratic emails, and a lot of vivid detail that has gotta be tempting for TV show runners. How about a handwritten note from Don Jr. to Don Sr. that reads, in part, "Dad, you are being sent a gift from Putin!" This was a traditional lacquered box — and yes, there's a picture of that too. It's from back in 2013.
There is so much in the Senate report. And with me are three people who've been pulling hard on various threads contained within the report for many years.
They are: Natasha Bertrand, Politico's national security correspondent; Franklin Foer, a staff writer at The Atlantic; and Andrea Bernstein, my Trump, Inc. cohost and the author of the book, American Oligarchs: The Kushners, the Trumps, and the Marriage of Money and Power, which is out on paperback October 6th.
Natasha, Frank, Andrea, welcome.
ANDREA BERNSTEIN: Hey, Ilya!
FRANKLIN FOER: Thank you.
NATASHA BERTRAND: Thanks for having us.
MARRITZ: Natasha, this document covers a lot of the same subject matter as what's in Robert Mueller's report. And yet — to me at least — it was a much more satisfying read, filling in a lot of information that was redacted or missing in the Mueller report and drawing some real conclusions too.
So, before we even get into the contents, what is it that makes this report so different?
BERTRAND: Yeah. So, I think, fundamentally, what makes this different is that it's a counterintelligence document. It's not a criminal investigation. It wasn't the result of a — of a narrow kind of criminal probe. It was much broader than that.
And the Senate Intel Committee obviously had more time to investigate than Special Counsel Robert Mueller did, and had a broader kind of remit. So there's more in here that they were able to disclose than I think Mueller was last year. Um, part of the most shocking aspects of this is how far they go in saying that the President's campaign chairman at the time, Paul Manafort, was a grave counterintelligence threat to the campaign, stemming from his relationship with what the Senate Intel Committee described as a working Russian intelligence officer who is Konstantin Kilimnik.
That was, I think, one of the biggest bomb shells in the report that, not only was the President's campaign chairman, you know, working with someone who had ties to Russia intelligence, but someone they assess to actually be a — an intelligence officer for the Russian intel services, which is much further than Robert Mueller was willing to go.
Um, there were a lot of new details in here about the potential role that Paul Manafort and Kilimnik may have played in the hacking and leaking operation in 2016, and other details about Roger Stone, the president's longtime confidant, and his communications with WikiLeaks, and his communications with the President about that leaking operation, that the President then went on to say that he did not remember in sworn testimony to Mueller.
So there's a ton of new information in here. And I think that a lot of that, again, stems from the freedom that the Senate Intel Committee, had here to really dig into the more, uh, detailed counterintelligence threats that were posed by this operation.
MARRITZ: Frank, I want to start with this stuff that's closest to the 2016 campaign, and then we can zoom out and go for some of the — they're not really extraneous details, but some of the [PAUSE] more unusual things that we discovered from all parts of Trump world that are also contained in this report …
But, sticking with Paul Manafort, can you explain how this report sort of expands our understanding of his relationship with the Russian spy, Konstantin Kilimnik? Robert Mueller, I think, said he was linked to Russian intelligence. This report just plainly says, "Konstantin Kilimnik is a Russian intelligence officer." So who is he and who was he to Paul Manafort?
FOER: I just want to take you back to the last days of the Mueller investigation. February of last year, Andrew Weisman, who is one of the prosecutors on the Manafort part of the case, was in court telling Judge Amy Jackson that this relationship between Manafort and Kilimnik was at the center of their investigation. And when he said that in court, it built all of this suspense, this storyline, and then when he cracked a report, which appeared the letter, um, it was — it was told in kind of an elliptical fashion. It was buried in the report. Um, but we — we've — we've known for a long time that this was a big deal to the investigators, and it was just a disappointment that we didn't know more about it. So, um, what this report …
MARRITZ: And, in fact, the charges that Paul Manafort pleaded guilty to were not connected with this. There was — there was bank fraud and there was conspiracy and a variety of other charges, but there was actually nothing about working with a Russian spy.
FOER: Right. Exactly. But it — it seemed like, um, you know, the Mueller investigation was strategically plotted to go to these questions about tax evasion and foreign agent representation in order to apply pressure to crack witnesses, to build to some bigger story line. And the Mueller investigation, in my view, kind of ended prematurely and was in part outwitted by Manafort, who was lying to investigators in part. I assume Bill Barr played a role in pressuring them to close up shop early.
But, um, just to go back to the question and, you know, who was Kilimnik, who was Manafort? So, this report portrays Paul Manafort as somebody who'd been working with arms of the Kremlin for a decade. And in fact, it says — in a detail that I hadn't known — that he'd briefed the Kremlin in the past before on some of his work for Russian oligarchs abroad. Um, Kilimnik was by his side for most of this period. Manafort didn't speak with language, Kilimnik was his translator, and he kind of became this almost surrogate son to him.
And so they were talking every day during the campaign, and they were using communication methods that made their conversations disappear. So, we know for a fact that Manafort passed him certain polling data, but we don't know what else was communicated in these daily conversations. And — and I'll just leave this with … I mean, I always thought Manafort was in knee-deep, [LAUGHS] um, but when I read this report, I thought, "Wow, maybe Manafort was in deeper than I thought." You know, we — we've known for a long time … Manafort knew during this period that people thought that Kilimnik was some sort of Russian agent. There was an article in Politico in June of 2016 alleging this. And so, they were working together hand-in-glove, I think, is the point.
MARRITZ: One of the details that really jumped out at me from here is that Manafort and Kilimnik actually discussed Manafort joining the Trump campaign before [CHUCKLES] he had an invitation to join the Trump campaign.
Now, Andrea, I want to turn to you, because you covered the Trump campaign. You were at rallies and events, and I wonder how this report is — if it's causing you to sort of revise everything that you saw back in 2016 and — and the events as they unfolded in our memory. How does this add to what actually happened?
BERNSTEIN: Well, it has been bringing me back to the Republican convention in 2016, which Paul Manafort was in charge of. He was the campaign chief, he was in charge of the messaging, and telling us exactly what, uh, we were supposed to be taking away, and who Trump was trying to reach, and what his message was. And it made me realize that even the things that they talked about in 2016 — they talked about building the wall and they talked about immigration and they talked about "Lock Her Up" and they talked about drain the swamp — those were just sort of the top-level themes. And what we see from this report is that — you know, Don Jr. last night mentioned the Loch Ness monster, and I think it's sort of a fitting metaphor because, with the Loch Ness monster, you only see a little bit of it, in theory. The rest of it is beneath the surface.
That is what this report makes me see really clearly about 2016 is that during the campaign we saw only the overt messaging. And this connection between Paul Manafort and Konstantin Kilimnik in which the bipartisan committee talks about how many times Paul Manafort and his deputy Rick Gates turned over sensitive calling data to the Russians. And they made it very clear that Kilimnik was conveying it to various parties in Russia. This report says "We don't know what they did with it." But what does anyone do with polling data? What would Paul Manafort do with polling data? The answer is micro-target voters, and try to sway very specific voters with messaging.
So, if you look at all of the pieces of this report, what emerges is this vast disinformation campaign that was taking place concurrently with the Republican National Convention and which, very clearly — and again, I just can't stress enough, this is a bipartisan report — how — they lay out very clearly how the Russians were involved in it.
And, in fact, one of the most interesting details to me is that the Russians had a structure, and the structure was that Oleg Deripaska, an oligarch, was charge of election interference and he would work with Konstantin Kilimnik, and it was Paul Manafort's job — in other countries, in Ukraine and Montenegro and Georgia — to run sort of the legit political side of things. And they brought that structure — this report makes clear — to the Trump 2016 campaign.
MARRITZ: Natasha, I know the idea has been out there for some time — really, ever since we learned that Paul Manafort was passing polling data to Konstantin Kilimnik that, you know, there's always been this question of what Kilimnik or the Russians did with that data. How much does this report fill us in on that? I feel like it builds a strong circumstantial case.
BERTRAND: Yeah, "circumstantial" the operative word there. I mean, I think that there's still a gap in how much we know — a big gap in how much we know about what they actually use that polling data for. What Manafort had said was that the pulling data was used to show his superiors — or whatever you want to call them — in Ukraine that he was able to conduct a winning presidential campaign. People that he wanted to do business with overseas — that he was successfully managing this winning campaign, and that showing them the poll numbers and Trump doing well in certain states, would help him financially, because again, Paul Manafort was in the hole, you know, millions of dollars.
And that's part of the reason why he joined the campaign to begin with, was to try to drum up more business. So, you know, we don't really know how plausible that explanation is. It could be a little of both. It could be that the Russians were passed this polling data, um, by Kilimnik, and it was used to micro-target voters.
We do know that there was a lot of micro-targeting going on by the campaign. That's one of the ways that they used Facebook most effectively. But we don't know whether it was as straightforward as that. Um, I think there …
MARRITZ: And micro — can you just define micro-targeting for a second? Is that, like, you know, Facebook ads?
BERTRAND: Yeah. So it's basically targeting certain, very specific segments of the population in specific swing states, for example, or specific — people with specific interests or people with, you know, specific, um, things that they've liked on Facebook, for example. Um, age groups, um, certain demographics that they wanted to — to try to win over in 2016, and targeting them with either positive or negative ads. Targeting them with, you know, things that might hamper voter turnout instead of promoting it. So, things that, you know — things that might try to suppress the Black turnout, for example. All of these things went into the campaign's, uh, very — I wouldn't say sophisticated, but, very extensive targeting operation in 2016 using social media. So the question has always been, "Well, did the Russians somehow direct this?" Because, obviously, they were targeting ads themselves in 2016 using Facebook. And whether there was ever a connection there between the campaign and — and the Russians has always been a big open question.
And the — the passing of the polling data was a very big kind of dangle to people who thought that that was plausible because, you know, there were a lot of questions about whether the Russians would have a sophisticated enough understanding of American politics to, um, target these ads towards people in, you know, swing states or target them towards people who are most likely to be affected by them.
Some people say that all you really have to do is, you know, a Google search to figure out who would be most susceptible to — to these ads. Um, and others say, "No, it would actually be more difficult, and you would have to have someone on the inside kind of informing how the Russians do this kind of targeting."
So I think that this is something that still merits more investigation. I don't think we know all the answers yet. It could be a little bit of both. Um, it could be a little bit of truth to both sides here, but something very odd happened with that polling data, I think. And it's worth trying to get to the bottom of it now.
MARRITZ: Yeah. And — and the report, as Frank mentioned, makes clear that there was a lot of communication between Kilimnik — the Russian spy, the Russian agent — and Paul Manafort during the campaign. So, we don't know all that they were discussing, and they also met in person a few times, but the density of communication, uh, suggests that they weren't, you know, just exchanging recipes.
BERTRAND: Absolutely. I mean, this was a very well-established relationship. They met during the campaign and they were very secretive about it. They used, um, encrypted apps to communicate. They used, um, draft emails back and forth, so that they wouldn't have any kind of, um, just trail of their communications by email.
Um, this was something that was benefiting both of them. And the question is — is, you know, how is this benefiting Kilimnik and the Russians?
[LIGHT BACKGROUND MUSIC PLAYS]
MARRITZ: Ilya Marritz on WNYC, talking with Politico's Natasha Bertrand, The Atlantic's Franklin Foer, and my own cohost, Andrea Bernstein. We will be back right after a short break to talk more about the Republican Convention and the Senate's recent intelligence report on Russian interference in the last election and the Trump campaign. Stay with us.
[MIDROLL]
[90S-ESQUE TECHY MUSIC PLAYS AGAIN]
MARRITZ: Ilya Marritz on WNYC, talking about the Republican National Convention and more. Uh, we, uh, just before the break, we were talking with Franklin Foer of The Atlantic, Natasha Bertrand of Politico, and my cohost of the Trump, Inc. podcast, Andrea Bernstein.
And we are looking at the Senate Intelligence Committee report, produced last week. Uh, it is the fifth volume of their investigation into Russian intervention in the last election. And you may ask yourself, "Why does this matter?" Well, let me tell you, it is a very interesting document that adds a lot to our knowledge — a lot to what was already on the record from the Mueller Report about what went on in the 2016 election. Provokes a lot of questions as well.
The area that I think we should probably turn to next, after talking a bit about Paul Manafort and his relationship with a Russian spy — I think the next big revelation connected with the campaign has to do with communications between Roger Stone, a kind of longtime political gadfly — I guess, is the nicest word you could probably use for him — and Donald Trump and the Trump campaign. And the report lays out in great detail, uh, the way that the campaign viewed Stone as a conduit to WikiLeaks, which was releasing hacked emails — hacked from the Democratic party, and the DNC, and key Democrats. And the eagerness with which the Trump campaign embraced those emails.
And I want to ask you about that first, Andrea, because President Trump in the past has denied that he talked about WikiLeaks with Roger Stone. This report — and it's a bipartisan report — says, "We believe that is not true. We believe that Stone and Trump discussed WikiLeaks and hacked emails a lot."
BERNSTEIN: Yeah. I mean, that's right. The … It's very clear from this report that Trump spoke to Stone on many occasions. In fact, one of the things that the report singles out is that he sometimes used his security chief's — Keith Schiller's — phone when he wanted to hide from people that he was talking to Roger Stone, that he had spoken to him so many times.
And the report lays out how President Trump told the Special Counsel he didn't recall speaking to Stone and how he said that he didn't think he spoke to him between June and November. And then the report says, "But we have all this other documentation that it did happen." And I think that, you know, this was redacted from the Mueller report because the Stone trial was going on. I mean, Stone was ultimately convicted, sentenced to several years in prison, and then President Trump commuted his sentence.
Uh, it's worth saying — and all of that is very interesting context out of what we learn from this — but sort of, you know, going back to this idea of, "What is the Republican party messaging now?," and we see how Trump was so actively invested in 2016 in bringing the WikiLeaks negative information about Hillary Clinton and the Democrats to light and how he, on several occasions, spoke to aides and spoke to Roger Stone about when it would be coming out. And that one of the most — I don't know if startling is the right world — but sort of graphic details was that, in October, after the U.S. Intelligence Committee had already identified this information as coming from Russia, Ivanka Trump — who was then a senior campaign official — instructed other campaign officials to send it out twice-daily tweets about the WikiLeaks information. So they clearly saw it as something that could benefit their campaign, even when the provenance of it was pretty widely understood.
MARRITZ: Yeah. And Frank, you had a piece in The Atlantic last week — I believe the total was "Russiagate Is Not A Hoax" — and one of the things that you wrote about this, and this is interesting to me, is sort of holding this report side-by-side with Mueller. Which, you know, as Andrea mentioned, parts of the Mueller report were redacted for very good reasons, like the then-upcoming trial of Roger Stone.
And yet, now we have this much more fulsome, much more satisfying narrative. You wrote, "It finally delivered what Mueller either could not or would not: a comprehensive presentation of the evidence in the matter of 'collusion.'" Do you think we have — as ill-defined as that word is here, is that the word that we should be using?
FOER: Yeah. I mean, I think that, the — kind of the fundamental, moral, political question is [PAUSE] we've known for a very long time that Russia was trying to influence the result — the outcome of the U.S. election in Donald Trump's favor. And the question has always been, "When we look at this whole slew of suspicious activity that the Trump administration was engaged in, how much of it kind of actually traces back to nexuses where the Russians and the Trump campaign were working hand-in-glove?"
And I think we — we've always had enough evidence to say that there was a veneer of collusion. But, in this report, I think it comes across as something that was, um, affirmatively, empirically much deeper.
Um, when I look at this report, the thing that strikes me — um, I mean, there are two things that strike me: One is, really, even after studying this question for so long, there's still so much that we don't know. That there were so many strands of Manafort's behavior that both Mueller and the Senate were investigating, so many strands of — of — of Roger Stone's behavior of, uh, all these other theories about what the Trump campaign was up to that to investigate them all is just a massive effort. And even after all these investigations, there are things that we don't know because the behavior was deliberately obscured.
And the second point is that one of the reasons it was obscured is that people like Manafort and Stone were deliberately, uh, obstructing investigators. They were lying to investigators and it worked. That the Mueller investigation was not able to produce the goods — in part because I think he folded up tent prematurely — but in part, their primary witnesses were lying through their teeth. Or — your primary suspects to the investigation were lying through their teeth. And one of the reasons that they were lying through their teeth was that Trump was dangling the possibility of pardons in front of Stone and Manafort.
And we don't know more about Manafort's relationship to Kilimnik because he lied. We don't know more about Manafort's relationship to Stone, which seems to have been like a real, active part of this, and how things stitch together, ultimately, because they were both lying. And so we're stuck with this thing where we know that something bad happened, but there's still gigantic gaps in our knowledge.
MARRITZ: Well, not only do we know that something bad happened, [LAUGHS LIGHTLY] but we also know that the American public has never been that exercised about this particular issue.. And if you are someone like me — I think like all of us — who's really fascinated by the Russian intervention in our last election and — and ongoing efforts, it should be said — you sometimes feel a little bit like a crazy person.
FOER: A crank?
MARRITZ: Not least because the crimes that, uh, for instance, Roger Stone or Paul Manafort were eventually accused and convicted of, are not the same as the worst things that it appears that they did. And I don't really know — it's not for us to say, as journalists, what you do with that — but I don't know what you do with that.
FOER: Well, let me just say one thing here, which is that the Mueller — the Mueller report was a moment. And, um, the Mueller testimony in front of Congress was a moment. And that, if he had presented something that was closer to this document in his report and in his testimony, I think that Russiagate would still be with us as a live political issue.
But because the report was so, um — so elliptical, and, I think, just kind of poorly structured and legalistically done, um, the moment fizzled, and Russiagate kind of disappeared. Most of the public came to the conclusion after that whole episode that there wasn't — there wasn't that much there there.
MARRITZ: In the five or so minutes that we have remaining, I want to kind of engage you guys on how Russia has sort of continued to shape narratives.
Uh, Natasha, you wrote last week — you kind of reupped a piece that you had written, sort of querying the possibility that Russia was behind the storyline that was out there that it was Ukraine that actually interfered in the 2016 election, for which there's no evidence. This report, I think, takes our understanding of that a little bit further.
BERTRAND: Yeah, 100%. So, this — this report said that a lot of it actually began with Kilimnik and Manafort who, as early as, um, 2015, I believe the report says, were raising this possibility that Ukraine could be framed for election interference in the — in the upcoming — then-upcoming presidential election.
So this is a narrative that really started with the Russians right after the election in 2016. The Russians released a statement saying that the Ukrainians were the ones that actually interfered and not the Kremlin. So if you trace the origins of this back, which I did for a piece, uh, last year — er, earlier this year — god, it all blends together! [LIGHT LAUGHTER FROM THE PANELISTS] You start to realize that —
MARRITZ: It really does!
BERTRAND: — this really did start, um, with the Russians. And what we're seeing now is a willingness by members of Congress to kind of launder that narrative through congressional investigations, and keep this alive, and pin blame for quote-unquote "corruption," and kind of project all of this onto Joe Biden and his relationship with the Ukrainians and "Well, you know, are the Ukrainians still helping Joe Biden? Did they help guide the Democrats in 2016?" And it's all become very insidious and kind of tangled up.
And, whereas the Russians got a lot of help from the media, frankly, in 2016, early 2017, in promoting this narrative, now they're getting help by Republican members of Congress who have decided to take it upon themselves to investigate these allegations and give them oxygen, even though the intel community has told them that this is Russian disinformation and that they're promoting it.
Um, so it's winning at this point and that's what people in the national security and intel community who are following this stuff really stress is that, at this point, it's difficult to stop because it's being legitimized by, uh, the President's allies — not just by the President, but, you know, the people who are working to help get him elected.
MARRITZ: [TALKING AT THE SAME TIME AS BERNSTEIN] Andrea, what are you, what are your lessons here? Yeah.
BERNSTEIN: In fact, we heard it last night, in a sense — a whiff of it — because we heard Jim Jordan — Representative Jim Jordan, who we saw a lot in the impeachment hearings — talk about "the Russia hoax" and the "false impeachment." And the idea that that was all a hoax is sort of very clearly delineated in this report as part of the sort of cover-up that originated from the Kremlin, that, not only did they do these things — did they do these active measures — but then they created this propaganda network, which these members of Congress, as Natasha has talked about, have sort of taken up, and created a kind of propaganda defense against their own actions.
I mean, I would love to hear from Natasha, if you have thoughts on how the Republicans in the Senate signed onto this. Because it is such an amazing and affirmative declaration that, yes, the idea that Ukraine started it and that it's a hoax, is Russian propaganda.
BERTRAND: Yeah, well, I mean, just in the time we have left, I mean, they — they signed onto this because pro-Russian figures in Ukraine are actively feeding them information that they're using for their investigation, people like Andriy Telizhenko and Andrii Derkach, who are — according to the intel community in a statement that they released, which was pretty unprecedented, a couple of weeks ago — are actively promoting Russia's interests, not only in Ukraine, but also here, and are part of this inter— new interference campaign that Russia is doing to undermine Joe Biden. And these are the people …
MARRITZ: In fact, Rudy Giuliani and others have been — have been visiting with some of these people recently.
BERTRAND: Exactly. Rudy Giuliani being somewhat of an intermediary here. So these are the people that the GOP-led Senate Homeland Security Committee is using for investigative material and interviews and documents that, for all we know, could be completely fake.
I mean, there's just no real transparency surrounding this investigation. No real transparency around who they're speaking to, how much stock they're putting into it. All we know is that these figures have said, "Look, we have an open line to members of Congress who are interested in hearing what we have to say." And so far people like Senator Ron Johnson have indicated that they are totally open to hearing any and all "evidence," quote-unquote, even if it is Russian disinformation.
MARRITZ: I'm going to give the last word to Frank. We only have about 30 seconds, but make the pitch to our listeners. Why should they crack open this thousand-page report?
FOER: A foreign country that really didn't like us and wanted to destroy our democracy launched an extended effort to undermine it. And the Senate report, which is bipartisan — there are five volumes — and it covers the whole landscape of what Russia did. And it's the single best narrative of how they destroyed — tried to destroy our democracy in 2016.
And despite everything that we know about what happened in 2016, they're at it again. They're taking everything that they learned that time and they're applying it. Um, and so they — they know how to disrupt our voting systems. They know how our social media systems work.
MARRITZ: [SOFTLY] And time is up. Frank, I'm sorry to break in. I gotta thank you now, Franklin Foer from The Atlantic, Natasha Bertrand of Politico, and my cohost, Andrea Bernstein. Thank you guys.
BERTRAND: Thank you.
[TRUMP, INC. THEME PLAYS]
MARRITZ: Thanks for listening to this bonus episode of Trump, Inc. This conversation was produced by Zach Gottehrer-Cohen and the team of "All of It." We had podcast engineering help from Ed Haber.
If you're listening to this the week of the 2020 RNC, you can catch me and Andrea each day on WNYC from noon to 2 PM Eastern. And we'll be back in your podcast feed later this week with another conversation from special Convention coverage.
I'm Ilya Marritz. Thanks for listening.
[THEME MUSIC PLAYS OUT]
Copyright © 2020 ProPublica and New York Public Radio. All rights reserved. Visit our website terms of use at www.wnyc.org for further information.
New York Public Radio transcripts are created on a rush deadline, often by contractors. This text may not be in its final form and may be updated or revised in the future. Accuracy and availability may vary. The authoritative record of New York Public Radio's programming is the audio record.