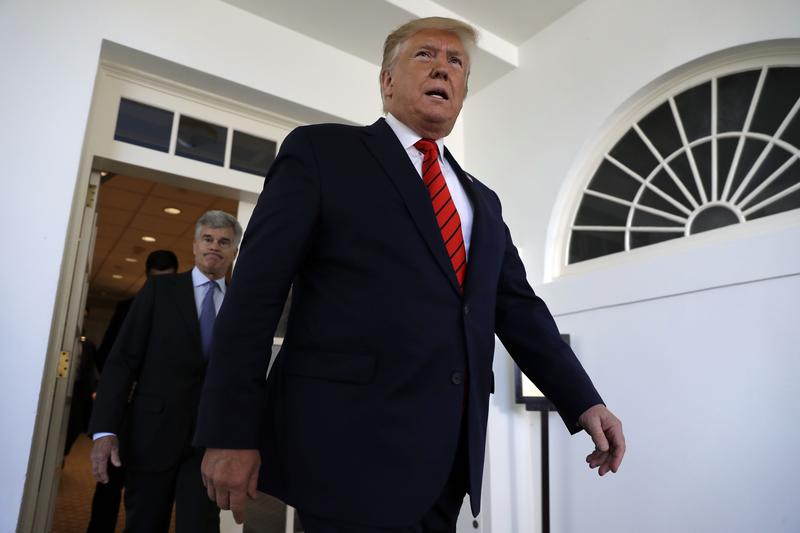 Transcript
Andrea Bernstein:
Let's go back. February 2019. Trump's former executive vice president and special counsel Michael Cohen is testifying before Congress about some business documents.
Michael Cohen:
Mr. Trump is a cheat.
Andrea Bernstein:
Documents that Trump prepared for a bank when he wanted to get a loan.
Michael Cohen:
As previously stated, I am giving to the committee today three years of Mr. Trump's personal financial statements; from 2011, 2012, and 2013.
Andrea Bernstein:
The documents claimed that over this period, Trump's net worth soared from 4.6 billion to 8.6 billion.
Michael Cohen:
It was my experience that Mr. Trump inflated his total assets when it served his purposes, such as trying to be listed amongst the wealthiest people in Forbes, and deflated his assets to reduce his real estate taxes.
Andrea Bernstein:
Congresswoman Alexandria Ocasio-Cortez asked Cohen about this practice of sometimes overvaluing assets, sometimes undervaluing them.
Alexandria Ocasio-Cortez:
To your knowledge, was the President interested in reducing his local real estate bills? Tax bills?
Michael Cohen:
Yes.
Alexandria Ocasio-Cortez:
How did he do that?
Michael Cohen:
What you do is you deflate the value of the asset, and then you put in a request to the tax department for a deduction.
Andrea Bernstein:
Deflate, inflate. It's the Trump way. We have documents showing that from the Trump Organization's own tax filings. It might even have broken the law.
Andrea Bernstein:
Hello and welcome to Trump, Inc., a podcast from WYNC and ProPublica, an open investigation into the business of Trump. I'm Andrea Bernstein. Our story today is about two buildings. The first, the Trump International Hotel & Tower on the Southwest corner of Central Park. The opening sequence to the Apprentice flashes to a picture of this building.
Donald Trump:
My name is Donald Trump, and I'm the largest real estate developer in New York. I own buildings all over the place.
Andrea Bernstein:
He doesn't actually own this whole building. The other building we're going to talk about is in Lower Manhattan, 40 Wall Street. Trump brags about it a lot.
Donald Trump:
So many great assets. 40 Wall Street. 40 Wall Street. Actually, before the World Trade Center was the tallest, and then when they built the World Trade Center it became known as the second tallest, and now it's the tallest.
Andrea Bernstein:
The two buildings have something in common. Trump wanted to pay as little as he could in taxes on them, and he wanted to take the most favorable loans he could against them. To do both of these things, he filed two sets of documents. One set, to taxing authorities, made the buildings look less profitable. The other set of documents, to his lender, made them look more profitable. Both documents are supposed to be using, at least in some cases, the same underlying numbers. Apples to apples.
Andrea Bernstein:
Heather Vogell of ProPublica got both sets. She found they don't match up. There are big differences. Heather spoke to over a dozen experts in accounting, law, and real estate for this story. Not a single one of them could explain the discrepancies away. The Trump Organization declined to comment for this story.
Andrea Bernstein:
One of the extras we spoke to is Anne Milgram, the former Attorney General of New Jersey.
Anne Milgram:
We could all imagine a small business, or a mom-and-pop shop, struggling on this type of paperwork, or maybe not lining things up exactly. But we're talking about a major business organization, with a lot of properties, that should be perfect.
Andrea Bernstein:
The forms were not perfect.
Nancy Wallace:
I mean, at the end of the day, that is fraud.
Andrea Bernstein:
That's Nancy Wallace, a professor at UC Berkeley. We'll hear more from her, and Anne Milgram, later in the episode. Here's Heather Vogell.
Heather Vogell:
When you put things on a document that are being presented either to governments, public officials, or to investors, there is a much higher level of expectation that that information is accurate.
Andrea Bernstein:
What are your obligations to taxing authority, in terms of truthfully filling out documents?
Heather Vogell:
I mean, you're supposed to truthfully fill out the documents.
Andrea Bernstein:
What about to lenders?
Heather Vogell:
To the lenders, you're supposed to provide accurate information.
Andrea Bernstein:
You're not supposed to inflate and deflate, just because you want more money. The penalties for lying to lenders can be significant; from fines to criminal fraud charges. The tax forms say by signing tax commission forms, the signer states that he or she has read the forms before signing them, affirms the truth of the statements made, including any statements on attachments or preprinted on the forms, even if made or inserted without the signers knowledge, and understands that false filings are subject to all applicable civil and criminal penalties.
Andrea Bernstein:
Donald Trump's former campaign chair Paul Manafort is serving prison time for understating his income to the Internal Revenue Service, and for overstating his income to banks he wanted to loan him money. Michael Cohen is also serving prison time for, among other things, making false statements to a bank. Donald Trump? A lot of people want to see his taxes. He's gone to court three times to make they stay secret. In New York, there's a criminal investigation; a grand jury is looking at whether Trump's business committed felonies in New York. In that case, Trump's lawyers argue, no matter what crime a sitting president might've committed, even if it was before he was president, he cannot even be investigated. A federal judge called that argument repugnant to the nation's governmental structure and constitutional values. The court fight is ongoing. Trump's tax returns and financial documents remain walled off. Heather Vogell found some anyway.
Heather Vogell:
This is the first time I've been here. I mean, I've been through Columbus Circle a million times, but I didn't really focus on it before.
Female:
Kind of monolithic?
Heather Vogell:
It's just sort of heavy, dark, it's all glass, but it has a very...
Andrea Bernstein:
Now, Trump doesn't own most of this building on Central Park. The Trump International Hotel & Tower provides a number of streams of income for him. Heather and Trump, Inc. producer Alice Wilder went there recently.
Female:
Here we are. Trump International Hotel & Tower, big letters. I'm surprised that the letters are in white, and not gold.
Female:
That is exactly the thought that I just had. I was like, "Why are the letters not in this kind of bronzy, brassy kind of tone?"
Andrea Bernstein:
Trump owns two commercial units on the ground floor. One is rented to the restaurant, Jean-Georges.
Female:
But here we are coming around the corner to the other space that he does own, which is the parking garage underneath. It's a valet park. I don't think we can actually go in there and check it out or anything, but that is the other space that he rents to a commercial tenant.
Andrea Bernstein:
He also has an easement, or roof rights, on the roof where he is able to lease antennas, which is a very profitable thing to be doing. He's got an income stream from that activity too in that building. Trump is supposed to be reporting that income to the city, on property tax forms. The information on those forms might've remained entirely secret, but the Trump Organization appealed to the city to lower its taxes on the property.
Heather Vogell:
It turns out that if you appeal your taxes, that you have to submit a form that has your expenses and income detailed, that is public. So I thought, "Why don't I try to get ahold of that?"
Female:
You filed a Freedom of Information Request?
Heather Vogell:
I filed a Freedom of Information Request last year in November, and then finally in June of this year I got some documents back.
Female:
You began to compare the numbers?
Heather Vogell:
I started comparing the numbers.
Andrea Bernstein:
Three experts told Heather that Trump is supposed to say how much he's making from the restaurant, the parking garage, and the roof where the antennas are.
Heather Vogell:
There's a box on the tax form for income from telecommunications equipment. It's very straightforward. They said that that's where the information should be reported.
Female:
Was it reported?
Heather Vogell:
No.
Female:
What was there?
Heather Vogell:
Nothing. For nine years there was nothing reported in that box.
Andrea Bernstein:
Heather had already scrutinized a different set of Trump financial documents; a detailed list of income and expenses that the company provided when Trump was trying to get financing for the building. The information is in disclosure forms that were filed as part of what's called a commercial mortgage-backed security. ProPublica editor, Marilyn Thompson, suggested this line of inquiry.
Heather Vogell:
So I started looking into these securities that have information about the loans-
Female:
Because they're one of the few places where Trump is actually making disclosures.
Heather Vogell:
Exactly. It's one of the few places you can find out a little bit more information on his business, on sort of the nuts and bolts, and lift the hood and take a look and see what's underneath.
Andrea Bernstein:
Heather noticed that on the loan documents, Trump listed money he was making by renting roof space for the antennas on top of his Columbus Circle building. But on his city tax filings? That's the box he left blank.
Andrea Bernstein:
Heather brought her findings about the missing income to New York City Mayor Bill de Blasio's office. A spokeswoman said, "The city is looking into this property, and if there's been any under-reporting we will take appropriate action."
Andrea Bernstein:
Donald Trump took over 40 Wall Street in the 1990s. His casinos had recently declared bankruptcy. He'd stiffed his mainstream lenders. The city was just emerging from a recession. The Financial District was a ghost town.
Abe Wallach:
I mean, you could literally walk in the street and not fear that you're going to be hit by a car.
Andrea Bernstein:
This is Abe Wallach. In the 1990s he was Donald Trump's vice president for acquisitions and finance. Almost the same title Michael Cohen later had.
Abe Wallach:
I said to Donald, "I think I'm going to go down to Wall Street and look for a major building for you." He says, "I don't want to go down to Wall Street. I don't want to be in Wall Street. It's dead." I said, "It's dead right now, Donald, but it's New York and things turned around in New York."
Andrea Bernstein:
Wallach told Trump he could get the building for cheap, maybe $10 million, maybe $1 million.
Abe Wallach:
That excited him.
Andrea Bernstein:
But not enough. Wallach had to make sure the skyscraper, which is 71 stories tall, looked really, really big to Trump. That meant seeing it from a distance.
Abe Wallach:
I'm stage managing. I took a cab down one day, and I said to the cab driver, "Take the East Side River Drive," and then you could see the building from a distance. Then I said, "Go further." You could see it larger, but when you got to the building you couldn't see anything.
Andrea Bernstein:
Wallach took Trump downtown on the route he planned.
Abe Wallach:
He says, "Boy, that's a big building."
Andrea Bernstein:
Wallach knew what his boss wanted.
Abe Wallach:
It was huge. It needed renovation, and he could buy a cheaply.
Andrea Bernstein:
Wallach flew to Germany to convince the owners to lease the property to Trump for 250 years. Right away, Trump started to squeeze money out of the Germans. He wanted 10 years of free rent. Wallach got it.
Abe Wallach:
Then Donald would send me over to Germany every couple of months to get another couple years of free rent, and he gave it.
Andrea Bernstein:
40 Wall Street made Trump money. He thought of every angle, including money targeted to help small businesses devastated by the 9/11 attacks. Trump applied for a special grant from New York State for small businesses in Lower Manhattan that had lost all their customers who had worked in the Twin Towers; deli's, dry cleaners, that sort of thing. Trump got one of these grants for $150,000 for 40 Wall Street.
Andrea Bernstein:
Trump appealed his property tax assessments, repeatedly. 2009, 2010, 2011; all the way through his presidential campaign, the one he said he was paying for himself.
Donald Trump:
I'm spending money like crazy. I'll probably have over, maybe close to or over, a hundred million dollars of my money spent on the campaign.
Andrea Bernstein:
During the campaign, a huge loan on 40 Wall Street for $160 million was coming due. Trump wanted to refinance it. Because he couldn't easily get lending from a mainstream bank, he went to a so-called alternative financer, which lent him the money, and then packaged the loan into one of those commercial mortgage-backed securities. To do that, the lender had to file disclosures, just as it had done for the Trump International Hotel & Tower at Columbus Circle.
Andrea Bernstein:
We'll be right back.
Andres Garcia:
Anybody have an American-born kid? Okay. We're going to talk about it. Oh, man.
Chris Garcia:
Hey, I'm Chris Garcia.
Andres Garcia:
My son Christian Andres Primitivo Garcia. He goes by Chris. Yeah, okay. I believe him, man.
Chris Garcia:
For a long time my dad was the centerpiece of my act, and then he died. For the last two years I've been trying to figure out what happened to him in Cuba. Those are secrets that he kept with him until the end. Listen to Scattered from WNYC studios, wherever you get your podcasts.
Andrea Bernstein:
We're back. Heather got the tax documents and the loan documents for 40 Wall Street, which you could compare. She made a spreadsheet.
Andrea Bernstein:
This says "DIHD Commercial?"
Heather Vogell:
Yeah. I mean, my spreadsheets have spreadsheets. I mean, it's crazy.
Andrea Bernstein:
The numbers did not line up.
Heather Vogell:
Well, it's funny because whenever I see something that doesn't match, it's like I think, "Oh, I'm just not understanding. Maybe I just don't get it." Then I start asking a ton of questions to a ton of people, assuming it's my error frankly. It's this whole process where as time goes on I start realizing, "Nope. Nope. That's not my error. I'm not misreading those documents. Those actually are numbers that should look a lot more alike."
Andrea Bernstein:
There were inconsistencies in the rents listed, adding up to millions of dollars. The insurance numbers didn't match. In some cases, not even the occupancy rates matched. Heather took her findings to an expert.
Kevin Riordan:
My name is Kevin Riordan, and I'm a clinical instructor at Montclair State University. Just previously I was the executive director for the Center of Real Estate at Rutgers University.
Andrea Bernstein:
Before that, he spent years in finance and real estate.
Kevin Riordan:
We were able to obtain, Heather was able to obtain, the documents on the selling of the securities, which included the 40 Wall Street loan.
Andrea Bernstein:
This is what investors would be looking at to decide if they want to buy in; documents for the commercial mortgage-backed security, CMBS.
Kevin Riordan:
In those documents there are historical disclosures; specifically, in the documents of the CMBS loan, it said that at 12/31/2012 the occupancy of the building was 58.9%.
Andrea Bernstein:
On the tax filings it said 81%.
Kevin Riordan:
That's not a rounding error. So this raised my question, why would they be so materially different? Because that is material; that's not a rounding error.
Andrea Bernstein:
Why? Well, what is the answer? Why would they be?
Kevin Riordan:
As an investor, when you're looking at that situation where you have occupancy going from 60% to 70% to 85%, you're getting pretty excited that this building has got energy behind it. It's got a good story behind it.
Andrea Bernstein:
The company told the lender that occupancy rose to 95% a few years later, but there were problems.
Kevin Riordan:
An A building, by definition, is a really good building. Right? Then there's a B building, which is not as good as an A building.
Andrea Bernstein:
These are terms of art in Manhattan real estate.
Kevin Riordan:
This building is probably somewhere between a B- and maybe a C+.
Andrea Bernstein:
Trump took out a $160 million loan against this building. His lender was Ladder Capital. It was an alternative lender, and it was taking Trump's loan, packaging it up with other loans, and then it was turning around and offering pieces of the package to investors. Ladder was both the lender and the seller, and to make a profit it had to sell the loan for more than its face value. To do that, it had to make promises to the banks that would package the loan into securities for investors, in a prospectus. That's where we see Trump fiddling around with the occupancy numbers.
Kevin Riordan:
In the prospectus to the investors in the capital markets we'll make reps and warranties about the loan; that certain due diligence procedures were done, certain documentation was obtained, not only obtained but was reviewed, outside counsel will make opinion as to the legality of the loan, and other things about the loan, that it's in conformity.
Andrea Bernstein:
This is one set of scrutiny that these loan documents are supposed to go through. There's a second level; the rating agencies.
Kevin Riordan:
The rating agency is going to also look at the documentation around this loan; not so much historical, but more what's in place today. What's their view of this particular loan? Because that has an impact on the profitability.
Andrea Bernstein:
In theory, Ladder and the ratings agencies are supposed to assess these claims. We don't know how closely they looked at the documents. We do know the claims were passed along to investors.
Kevin Riordan:
All that's going on, it all gets packaged, and then it shows up at my doorstep to say, "Do you want to buy investment grade bonds?"
Andrea Bernstein:
Now Trump's loan, the one based on these made-up numbers, is part of the bond market. The building never performed the way Trump promised investors it would. Instead, it got put on what's called a watch list.
Kevin Riordan:
Heather has obtained what I call the servicing documents, which have been put out to investors telling what the cash flow of the property is, and we are 10% away from wherever that number is. We've never got to that number.
Female:
This is a number that was held out to the investors, as where the income was likely to be almost immediately after the loan was made.
Kevin Riordan:
Yes. That's another thing. They don't disclose the time period as to when they're going to hit, we'll call it, the number, but it should be relatively close. The loan was closed in the Spring of 2015. We are now the Fall of 2019. Heather has obtained financial performance through December 2018, and we're still 10% off. We're talking probably around $2 million.
Female:
That's a lot. That would be a lot to investors.
Female:
I suspect there are people who are listening, or who might listen, who would think, "Yeah. It was real estate. It's Wall Street. Everybody lies. Everybody wants to tell a good story. That happens all the time." Does it?
Kevin Riordan:
There's this puffery, right? I can say it's a great building. I can use a lot of terms around the building, but it's hard to argue numbers. Rent roll is the rent roll. The terms of the leases with the tenants are the terms of leases, and that's black and white.
Andrea Bernstein:
There's something else you should know about the company that gave Trump these loans, ladder Capital. A man named Jack Weisselberg is a top executive there. Jack Weisselberg's father Allen is the chief financial officer of the Trump Organization. Allen Weisselberg has been an employee of the Trump's, first Fred Trump, then Donald Trump, for over 40 years. Jack Weisselberg, the son who works at Ladder Capital, has benefited from his relationship to Trump through his father.
Female:
Alan was deeded a condominium from one of Trump's condo buildings, Trump Park East, for pretty far below what was considered market value at that time. It was around $150,000 in the early 2000s, or I think this was in 2000. Allen deeded it three years later to his son, to Jack, for around the same amount. Then a few years after that, Jack turned around and flipped it for more than three times as much. He made a nice profit on that relationship.
Andrea Bernstein:
Do we have reason to believe that Jack Weisselberg didn't properly scrutinize this loan because of the family relationship?
Female:
We don't know. Ladder Capital declined to have any of its employees interviewed on the record for this story. So we don't know if there was any effort to recuse him from consideration of matters related to this loan or not, or if he was the one who brought it in. We just don't know anything.
Andrea Bernstein:
The Trump Organization and Ladder Capital have long been tied together.
Female:
They refinanced Trump Tower in 2012. They did 40 Wall. They did the Columbus Circle property. This is a relationship that's been continuing for years.
Andrea Bernstein:
Those secret payments to Stormy Daniels that Cohen was sent to prison for? Cohen says Allen Weisselberg signed off on them. Alan Weisselberg cooperated with the US Attorney's Office in its investigation of Cohen, and was given limited immunity. But Allen Weisselberg is still under scrutiny. Congress is looking at his financial transactions. So, we learned recently, is the Manhattan District Attorney Cyrus Vance, Jr. Weisselberg didn't respond to questions for this story.
Andrea Bernstein:
When Michael Cohen pleaded guilty to making misleading statements to a bank in August of 2018, this is what he said in court: "On or about February of 2016, in order to be approved for a HELOC, a home equity line of credit, I reviewed an application form that did not accurately describe the full extent of my liabilities. I did not correct the inaccurate information on the form. I signed it knowing it would be submitted to the bank." The judge interrupted, "Did you know those statements were false when you made them?" Cohen answered, "They were omitted, Your Honor," as opposed to being false. "Well," the judge said, "You knew it was false, that it falsely depicted your financial condition, didn't you?" "Yes, Your Honor," Cohen said. "You omitted those statements, did you not? For the purpose of influencing action by a financial institution?" "Yes, Your Honor."
Andrea Bernstein:
We asked ourselves, if Cohen went to prison for lying to a financial institution, how are we to understand what his boss did? We went first to an expert in real estate and financing malfeasance.
Nancy Wallace:
My name is Nancy Wallace. I'm a professor at UC Berkeley in the Haas School of Business.
Andrea Bernstein:
Heather discussed some documents with you that she had found by looking in both loan disclosures and the New York City tax commission filings. What did you make of those documents?
Nancy Wallace:
She used two datasets that are really accurate, and if they differ, it's surprising. It's totally reasonable to ask the question why.
Andrea Bernstein:
Just looking at the whole picture, the loans, the tax documents, and the discrepancies. Can you give listeners a sense how bad it is?
Nancy Wallace:
On the loan side of it, it can be litigated, if you fraudulently fill out loan documents. I mean, at the end of the day that is fraud. Then given that the loans that your colleague is looking at are securitized, those are now bonds, and now we are in the area of securities fraud. We've already gone there. I mean, there is still massive litigation from the subprime mortgage crisis. These are very large loans. I think it's really bad for the city of New York; obviously it's bad, because these are property tax receipts, and those are things that pay for schools and roads and police and other things that these buildings are receiving services for, and are not paying their fair share. That's when the city of New York should get involved.
Andrea Bernstein:
Right. I guess the point of confusion is, is everybody doing this in New York and Trump just got caught?
Nancy Wallace:
No. New York is a market that is a pretty aggressive, rough-and-tumble market. I think moreso than any other market in the country. New York and New Jersey are kind of notorious for a very rough-and-tumble real estate climate, but that doesn't excuse illegality. Especially illegality that gets into our national bond markets. There aren't special rules for New Yorkers, and there certainly aren't special rules in this case.
Andrea Bernstein:
So it's bad. But did Trump commit a crime? We had one more person to ask.
Anne Milgram:
Anne Milgram. I teach at NYU School of Law. I'm the former attorney general for the State of New Jersey, and a former local, federal, and state prosecutor. I cohost Cafe Insider with Preet Bharara.
Andrea Bernstein:
Heather and I brought her the documents.
Anne Milgram:
It's the income for just this property?
Female:
Yes. Yes.
Anne Milgram:
So each one is individualized?
Female:
Yeah. It is.
Anne Milgram:
Okay. It's all real estate.
Female:
Yeah.
Anne Milgram:
There's two ways I would think about this. I would think about if there was an amount of income that was underreported in an effort to pay lower taxes, and then essentially overreported in an effort to be able to secure these loans. That's one huge potentially criminal problem. There are red flags here, and certainly if I were sitting in a prosecutor's office I would want to ask a lot more questions.
Andrea Bernstein:
You've spent a lot of time in prosecutor's office, and running prosecutor's office. If these documents were presented to you as a beginning point, what would you think?
Anne Milgram:
The government has a vested interest in making sure people are honest when they file forms with the government, and also that they report the accurate amount of money so that they pay the right amount of taxes.
Andrea Bernstein:
Do you think that, just to be clear, that there could be something criminal here?
Anne Milgram:
My feeling on this stuff is it looks problematic. I think it would be too early for me to say, beyond the fact that it certainly looks troubling and would be something I would want to know a lot more about.
Andrea Bernstein:
If you were sitting in a prosecutor's office.
Anne Milgram:
Exactly, which I'm not.
Andrea Bernstein:
The question of whether the President can even be criminally investigated by a local prosecutor for anything he's ever done, even as a private businessmen, is now before the Second Circuit Court of Appeals. A ruling could be months away.
Andrea Bernstein:
This episode was produced by Alice Wilder and Katherine Sullivan. The executive producer is Meg Cramer. The engineer is Jared Paul. The editors this episode were Nick Varchaver, Eric Umansky, and Robin Fields. Special thanks for their help this episode to ProPublica's Marilyn Thompson, Abe Wallach, Kevin Riordan, Melanie Brock, Nancy Wallace, and Anne Milgram. Anne Milgram has a podcast, Cafe Insider. She hosts it with Preet Bharara. I subscribe, and you should too. Steve Engelberg is the editor in chief at ProPublica, and Emily Botein is the vice president of original programming at WNYC. The original music is by Hannis Brown.
Copyright © 2019 New York Public Radio. All rights reserved. Visit our website terms of use at www.wnyc.org for further information.
New York Public Radio transcripts are created on a rush deadline, often by contractors. This text may not be in its final form and may be updated or revised in the future. Accuracy and availability may vary. The authoritative record of New York Public Radio's programming is the audio record.