Looking at the Youth Mental Health Crisis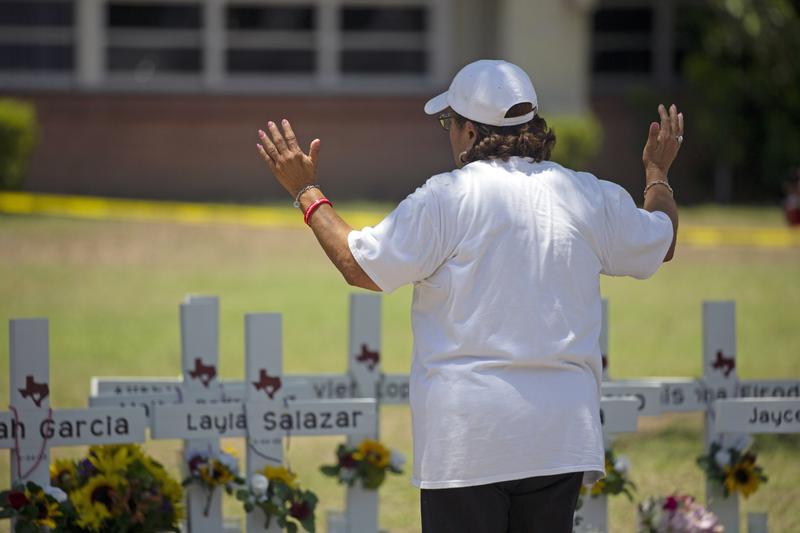 Transcript
Melissa Harris-Perry: This is The Takeaway. I'm Melissa Harris-Perry. On Tuesday, a gunman killed 19 children, 1 teacher, and at least 1 other adult in an elementary school in Uvalde, Texas. These precious children killed while simply attending school are now among the thousands of young people injured or killed by guns during the past year. In fact, analysis of CDC data recently published by the New England Journal of Medicine reveals that in 2020, firearms became the leading cause of death for young Americans, the leading cause.
The shock, fear and rage of this moment focuses our attention on gun violence perpetrated by brutal armed strangers. Even now, it's critical to remember and acknowledge another terrifying threat guns pose to our nation for children. Lethal self-harm, the rate of death by self-inflicted gunshot wound has risen faster among adolescents and teens than any other group.
To better understand death by suicide and its connection to the mental health of young people, we spoke with Dr. Michael Lindsey. He's Executive Director at the McSilver Institute for Poverty Policy and Research at New York University. This conversation which we had with Professor Lindsey before the mass shooting in Texas was part of our planned look at adolescent mental health.
Dr. Michael Lindsey: Certainly in our work, particularly around suicide behaviors, we found, Melissa, that from even 1991 through 2017 and then later in 2019, we saw a continual increase among Black youth in terms of suicide behaviors, particularly suicide attempts have been increasing over that span of time. The studies have also documented as well that among racial and ethnic groups, for example, from 15 to 24-year-olds, that Black and Asian or Asian Pacific Islanders have seen an increase in suicide behaviors, and this is prior to the pandemic.
Certainly, the precursor kinds of behaviors related to suicide attempts, like depression or untreated anxiety and trauma, have been on the rise and certainly played a role in terms of suicide behaviors.
Melissa Harris-Perry: Let's talk a bit about suicidality. Talk to me about the definitions of suicidal-like ideation versus the move towards actual practices or attempts at suicide. Help me to understand these different aspects and what we're seeing in this present moment.
Dr. Michael Lindsey: Absolutely. One might start with suicide ideation or suicide thoughts. These are essentially ruminations or thoughts that perhaps your life is not worth living, you may be frustrated by the circumstances that's happening in your world and so you feel like you'd be better off not being around. You just ruminate about that versus-- or the continuum of planning suicide, where you actually think about a plan that you would do, what method you might use in order to attempt suicide on to progressing toward a suicide attempt, which we know runs the gamut in terms of the particular methods that are used in terms of how one might attempt suicide. Unfortunately, if that attempt is successful, then you obviously see a death related to a suicide attempt.
There's been some research, Melissa, on this notion or concept of lethality. Essentially, what that suggests is that your attempt was lethal in terms of the consequence of it. For example, access to guns and using guns or other kinds of serious weapons in their attempt might actually reflect that one was quite intentional in terms of the lethal method that was used to attempt suicide.
Melissa Harris-Perry: Why are we seeing a rise in death by suicide among adolescents? Is it that lethality or it's actually also more ideation and more attempts?
Dr. Michael Lindsey: I think it's a couple of things. One is the disconnection from treatment. The treatment has been uneven for a lot of youth in our society, whether you're talking about finding the right fit in terms of the therapist or whether you have the means by which to be able to access those services in terms of affordability. I think the disconnect from continuous consistent treatment is an issue.
I will couple with that the fact that we don't always see school mental health services that would be available for kids proximal to their challenges that they would have access to. There was a study out of Montefiore Medical Centre in New York that suggested that kids who access school mental health services do so 21 times more the rate than when kids are referred to outpatient or community-based treatment, so that's an issue, the lack of treatment or disconnection from treatment.
Then I think the other major issue is that we really need to restrict means by which kids and other folks have access to the means and methods by which to attempt suicide. There needs to be safety planning and restricting those means.
Melissa Harris-Perry: If teachers, loved ones, community members, parents are seeing in their young people worrisome signs, what are the steps?
Dr. Michael Lindsey: Well, I would first check and see if there are any behavioral health supports in the schools. If families are concerned about suicide risk, there are all kinds of telephone, hotlines that are out there. Then also, at the McSilver Institute, Melissa, we've actually created a dedicated page for folks to go to as a resource, and that is mcsilver.nyu.edu/help. I think that the first step would be to try to determine if there are resources at the school that could support a child who might be in need.
Melissa Harris-Perry: Michael Lindsey is executive director at the McSilver Institute for Poverty Policy and Research at NYU. We'll be back in just a moment. This is The Takeaway. You're back with The Takeaway, I'm Melissa Harris-Perry. Yesterday afternoon, just as our team was making final revisions to the show we'd planned to bring you, a show focused on the mental health crisis among young people in America, we learned of the horrifying school shooting in Uvalde, Texas.
Perpetrated by an 18-year-old, this massacre claimed the lives of at least 19 children in the second, third, and fourth grade, as well as two adults. We're talking here about 8, 9 and 10-year-olds. It's an enraging act of violence that can lead young people who are already struggling to feel even more vulnerable, or distraught, or hopeless. We decided we wanted to continue with our plan to hear from some young people who have faced mental health challenges and have become advocates for their own well-being and that of their peers. Just to note, we spoke with these young adults before the mass shooting in Uvalde.
Diana Chao: Hi. I'm Diana Chao. I am a 23-year-old first-generation Chinese-American immigrant from Southern California. I currently serve as the founder and executive director of Letters To Strangers, the largest global youth-for-youth mental health nonprofit. My journey with mental health began, I would say, before I even really had any recollections of it. I grew up in a Buyi household, and Buyi is an ethnic minority within the greater Chinese population. I was born in a rural village in the poorest province of China.
The way that a lot of traditional values and patriarchal viewpoints affected me became very evident from a young age. I was six years old when I was thrown out of the house for the first time. By the time I was 13 years old, we had already moved to the States, but I was diagnosed with bipolar disorder and it came with a psychosomatic manifestation. Psychosomatic symptoms are physical manifestations of psychological distress.
For me, it came in the form of an eye disease, which ended up making me go blind for about half of high school. Combined, these two illnesses, of course, put me in a pretty bad place. I started to attempt suicide. My little brother was the one who found me in my final attempt, and because of my family situation, I was serving as his guardian for the most part by that point. I felt like I had a duty and responsibility to him that I didn't feel the same of for myself. For his sake, I decided I needed to start to heal. It was very hard to navigate the American healthcare system. Since I was growing up beneath the poverty line, my parents didn't speak English. I ended up writing letters to strangers.
Melissa Harris-Perry: Now, writing these letters helped Diana articulate her experiences. She invited others into the experience by forming a club at her high school and then establishing a nonprofit organization.
Diana Chao: Letters to Strangers, I think sometimes people think that we are just like a pen pal organization, which I know it's to be expected based on the name, but no, we don't write as pen pals, we all write as strangers. There's no set up where you know exactly who the person receiving your letter is and who your letter is going to come from. We do a lot beyond letter writing as well. We seek to destigmatize mental illness and increased access to affordable and quality treatment, of course, with our namesake letter writing exchanges that happen between student groups on campuses or in local communities or by the general public through our free online platform.
We also do things like our Second pillar, which is science-based peer education, wherein we publish the world's first youth-for-youth mental health guidebook as well as a free teacher's curriculum guide, and the third pillar being our grassroots policy-based advocacy. For example, we currently run the first Pan African toll free mental health hotline out of our Liberia office.
Juan Acosta: I'm Juan Acosta. My pronouns are he, him, his. I am 25 years old and I'm a mental health advocate. My journey with mental health began at a very young age. I was struggling a lot in school. I was being bullied because of my language barriers that I was facing at the time. I came to this country at age two from Mexico, so my English wasn't the best in school. It led to a lot of kids teasing me about it.
In addition to that, I was being bullied because of my sexuality and what people assumed my sexuality to be at the time, which felt really intrusive. I started really struggling with anxiety and depression. I couldn't put a name to it until middle school where I was able to finally see a doctor and be told that this is what I was struggling with. I didn't necessarily know who to go to, who to talk to because I didn't want to be out yet. I repressed a lot of my emotions, which led to a lot of negative thoughts, including thoughts of suicide at a very young age.
Melissa Harris-Perry: When Juan was struggling in school, he wasn't sharing it with his parents.
Juan Acosta: When I was struggling with my own mental health, I didn't really talk to my parents about what was going on with me. I built this barrier in communication with them where I didn't really let them in about how I was truly feeling because as immigrants in this country, I saw my parents have to really work day and night to put food on the table. When I was being bullied in school for being myself, I didn't feel like that was as important as putting food on the table. I felt like if I shared how I was truly feeling to my parents, it was going to be an added stressor to them and I didn't want to see my parents stress anymore because they were already doing more than enough for my siblings and I.
Now I look back at it, and I know that I would have had their love and support if I did share how I was feeling, but as a young person, as a youth, what I wanted to make sure of was that they didn't have to deal with all that I was facing, including my sister. I remember going to school with my sister as well. She's only a year younger than me, but oftentimes, I would tell her like, "Don't tell anybody that you're my sister."
It was a coping mechanism in some way for me because I didn't want people to bully her for being related to me because I was gay and I didn't want her to know that I was being bullied for these things. I pushed my family out a lot. When I did come out and I started sharing more of my struggles, my parents were supporting, they were really embracing and uplifting. I have such a beautiful relationship with all of my family now. They support me, they support who I am, they affirm who I am.
We have built an environment where we're all able to speak openly about our mental health. I think that is so necessary for all families around the nation and around the world to do because children learn from their parents, they model behavior. If a parent can be honest with their child and let them know like, "I'm having a bad day," or "I've had a bad day," or "I'm really struggling today," it will make a ripple effect and it will make the child feel more comfortable in sharing how they're feeling as well.
Melissa Harris-Perry: Juan attributes the mental health crisis we're seeing in young people partially to the pandemic, to the social isolation, canceled graduations and proms, and to the uncertain future they're facing.
Juan Acosta: I also believe that we have seen a rise in young people's mental health struggles because they have been more open about it and they are willing to share that they are struggling. Now, we have social media tools where young people are able to express how they're truly feeling. Prior to that, in past generations, I believe that the stigma was too large for people to be willing to speak about it. Sometimes people didn't go to anyone and that's why we didn't have the statistics that we have today.
Charlie Lucas: Hi, I'm Charlie. I'm a 17-year-old game developer in Atlanta Georgia and the co-creator of the notOK app.
Melissa Harris-Perry: At the age of 12, Charlie Lucas began developing an app for his 15-year-old sister, Hannah, who's diagnosed with a chronic illness. He witnessed her anxiety and depression and felt helpless.
Charlie Lucas: My family, growing up, we didn't ever really talk about mental health. I grew up in a super religious Black family. It was always just prayed away and don't talk about it afterwards. I didn't even know that mental health was an actual thing that could be a factor in your life until my sister actually developed a really bad chronic disease called postural orthostatic tachycardia syndrome. That basically just made her faint. It made her spiral into depression and anxiety. That was one of the first times that I ever even thought that you can just be depressed as a person and that's fine, because she actually had to go to therapy during that.
My personal journey with mental illness and mental health and stuff started when I started to have panic attacks at a very young age of around 10, just these horrible waves of just panic and anxiety that would last up to a few hours, where I could not move my body. It was just an unbearable wave of just pure panic. That transitioned into me now being able to go to therapy and me learning how to work with my intense panic attacks and also depression and anxiety, especially in this modern day.
Melissa Harris-Perry: Charlie's sister came to him with the idea for the notOK app after she'd attempted suicide.
Charlie Lucas: From that, she actually told me her idea for the notOK app about a few days after she had that experience. Actually, the first thing that I said when she told me was, and I quote, "Let's go." At that point, I actually knew that I could actually help her with what she was dealing with and through the form of an app and through the form of digital media, because I've been teaching myself how to program, I know how to create apps since I was about seven at that point.
On that very day, I actually started working on the wire frame and the workflow, which is how the app looks and how it works. The notOK app is a digital panic button that when you press it, it in turn sends text message to your pre-selected up to five closest contacts with your current GPS location and directions.
Melissa Harris-Perry: Charlie says the app notifies trusted contact when someone is in crisis. It also helps start a conversation about mental health.
Charlie Lucas: When you press the button, it just immediately sends out an alert that notifies people that you're not okay. It starts that conversation on, "Hey, are you good? What's happening? Do you need help? Do you need me to be there?" along with the address, so that if they need to be there, they can. One of the things I really like about the app, and especially about the trusted contacts is when you actually send the alert to say, "Hey, do you want to be a trusted contact?" it starts the dialogue on mental health and mental illness and saying just, "Hey, what is this? Are you okay? Do you need help?" You can actually start the dialogue on, "Yes, I do need help sometimes. I was wondering if you are able to be one of those reliable people in my life?"
Melissa Harris-Perry: Today, the app has been downloaded 175,000 times by people of all ages. Charlie shared his thoughts on the recent attention to the rising numbers of mental health issues for people his age.
Charlie Lucas: I don't think that more people now are struggling with mental illness and mental health, I think that more people now are being open about it because the stigma is being broken. I think that the mental health struggles for people my age are being worsened due to factors like going to school and wondering if this will be the day that someone will bring a gun to school and this will be the day that there'll be a school shooting at your school and you don't know how to deal with that, or dealing with the factors for Black and brown people that you might be pulled over by a police officer and you'll have to deal with the factors that that'll carry for the rest of your life if it's a good interaction or if it's not, or gay people and LGBTQ people, the fear of being outed constantly.
I don't really think that the rate of mental illness has been being going up, I think that it's being worsened by these horrible, horrible factors that are going on right now, especially with COVID and loneliness. We've actually seen a spike in loneliness and depression in my age range due to COVID and due to the isolation that COVID brought.
Melissa Harris-Perry: These three young mental health advocates had a few words of advice to share with others facing similar issues.
Diana Chao: As much as we seek to support and validation from online and in-person resources, I hope we also give ourselves the grace to recognize the uniqueness within each of our own stories and to give ourselves time to process those stories the way that they are presenting themselves. I just want us to remember that what we're feeling is valid. There are many different types of help out there that hopefully at least one of which we can find can be the right one for us and to remember that truly no one walks this earth alone.
Juan Acosta: What I would tell other young people out there who are struggling is that you are not alone. Sometimes when you are in a dark moment in your life, you feel really alone and you feel like you won't be able to make it out, but there is support out there, there are resources, and we all struggle at some point. No one should feel broken for struggling, nobody should feel broken for being who they are. Even if you may not feel like you can do it at home with your parents or with your family members, I encourage you to utilize online communities, online resources like chats, warmlines and more where you're able to receive support.
Charles Lucas: It's okay to not be okay. It's okay to not be fully 100% amazing all the time, and it's okay to struggle mentally, and it's okay to struggle physically. As long as you ask for help when you need it, there's nothing wrong with having depression or anxiety and there's nothing wrong with asking for help if it ever becomes too much for you.
Melissa Harris-Perry: Our thanks to Diana Chao, Juan Acosta, and Charlie Lucas for sharing their stories with us. Mental health issues are never easy to talk about and we appreciate these young people for sharing with us. If you or someone you know is in need of help, call the national helpline at 1800-662-4357, that's 1800-662-help, or the national suicide prevention lifeline at 1800-273-8255. Both are available 24/7.
Copyright © 2022 New York Public Radio. All rights reserved. Visit our website terms of use at www.wnyc.org for further information.
New York Public Radio transcripts are created on a rush deadline, often by contractors. This text may not be in its final form and may be updated or revised in the future. Accuracy and availability may vary. The authoritative record of New York Public Radio's programming is the audio record.