Is Your Pandemic Pod Safe?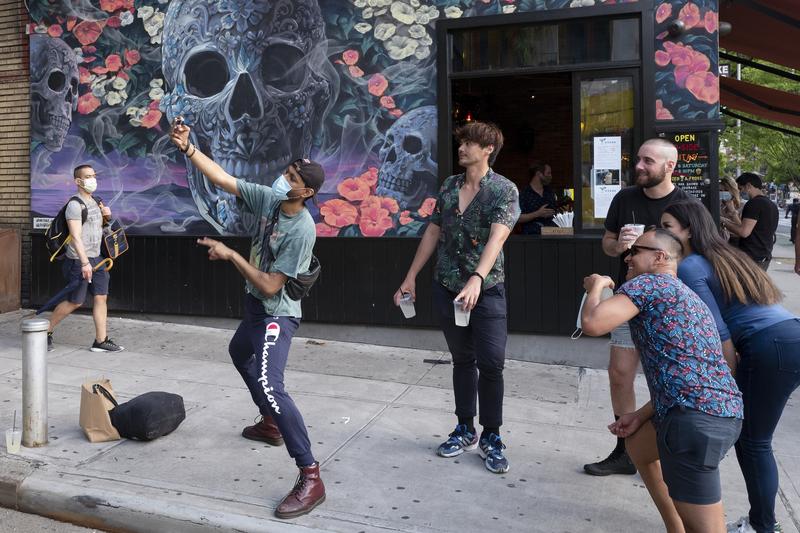 Transcript
[music]
Tanzina Vega: So one year into the pandemic, how's your pod holding up?
Speaker 2: It's kind of like Russian roulette. So far so good, but you never know.
Tanzina: Early in the pandemic, many of us formed bubbles or pods, small groups of people we decided to stick with through COVID to share risks but also the benefits of continued human interaction and vital support. But as we enter into a second year of the pandemic, this time with the possibility of vaccinations, people are faced with new questions about what's safe for their pods and what rules to follow. Here's how your pods are faring.
Speaker 3: This is [unintelligible 00:00:46] I'm calling from the East Bay. My wife and I have been in a pandemic pod with a family that we're good friends with. We have had about two people in the pod have been vaccinated. I myself, I'm recovering from coronavirus and it's been a little tricky because anytime somebody either has a work-related thing where they have to break their pod or a family member comes to visit, we all go into these quarantines. It's working out. It's nice to have some people to connect with, without having to be quite so scared.
Speaker 3: My family has been in a pandemic pod with my parents and my in-laws since March. However, we are currently experiencing record weather here in Texas and because most of our community is without electricity or water, we've had people in our home that we haven't been able to see in such a long time. It seems like a trade off that was worth it.
Deborah: My name is Deborah and I'm from Salem, Oregon. I have my sister, her husband, our 92 year old mom and my husband in our little bubble. It hasn't changed since March 26, 2020, which was the last time we saw our daughter and grand kids. I drove an hour each way to see them once or twice a week and volunteered at their private school. I am so sad some days, it's unbearable. But we have our family and we try to make the most of it.
Emily: This is Emily from Clemson, South Carolina. I have shifted from a pandemic bubble to a pandemic funnel. I gather in only small groups of usually three people. My church had already moved to a three person, small group format before the pandemic shutdown. My triad has been a reliable, encouraging support and source of belly laughs as we gathered outside in the warm months and now share more meals at home in the cold season. It's not that my bubble is closed, but that funnel means that I can contact easily anybody that I have sat in a room with. Thanks Takeaway.
Polly: Our bubbles have shifted somewhat. The first few months we utilized virtual meetings and shared cocktails and games this way. During the winter, several friends have done an extraordinary effort to convert outdoor spaces for us to gather. It's all been locked in tandem with checking in, speaking hard truths, and holding each other and ourselves accountable for our broader well being. This is Polly [unintelligible 00:03:19] in Portland, Oregon.
Simon: My name is Simon Stanton. I live in Gilbert, Arizona. My wife and I have kept the same routine. My wife drives a half hour one day a week to shop and clean home for a month and I buy groceries two days a week. We have spent holidays and anniversaries with my mother-in-law and sister-in-law.
Speaker 5: Hello. I walk seven mornings a week. It really has actually given me a good sense of community when there isn't much community to be had right now.
Tom: This is Tom McCarter at Vista, California. We are operating in a pod bubble with family and assuming that everybody is secure and safe, but you never know who they have brushed up against in the course of a day, who might not have been wearing a mask. It's kind of like Russian roulette.
Tanzina: Now we're going to bring in an expert voice to hear how these pods have changed in the past 11 months since COVID-19 reached the United States and how they may change in the coming weeks and months with the rollout of the vaccine. Keri Althoff is an associate professor of epidemiology at Johns Hopkins University. Keri, thanks so much for being with us.
Keri: Thanks for having me.
Tanzina: The idea of pods or bubbles came about in order to prevent transmission. How effective was this as a concept? Let's start there.
Keri: This concept is not new for this pandemic. This concept has been a concept we've studied and understood through infectious disease epidemiology for quite a while. Essentially, what we're doing is we're just closing down our networks so that we reduce the risk of exposure to the virus. We've loved to see people pod up, I think it's been really important, particularly for people who are alone, particularly for kids and families. I think these pods have been really helpful in trying to keep people connected, but in very small ways, so that we don't have large groups gathering
Tanzina: Are there rules in terms of how many people is an ideal number or should we be opening our pods?
Keri: The number is a function of a couple of different things. First of all, it's a function of the members who are in the pod and what their exposures and risks are, and then it's also a function of how much community transmission is going on. There is no one number for a pod, but really it has these influences that you have to consider and I think some of that is why we've seen changes in pods over time. In addition to the fact that after a while, if your family has been podded with one other family, maybe it's just time to see a different family for a while.
Maybe your kids match well with two of their kids but the third felt a little left out. If you're a single person, maybe your pod was a group of friends that you were connected with through work and now perhaps you've changed jobs or something else has happened. Over time we've seen these pods change, but the idea with a pod is that there's an agreement. There's an agreement about who you will see outside of the pod and who you will not see outside of the pod.
Tanzina: When you say see, Keri, do you mean see outside or are pods places where we can feel comfortable going inside to see people? I've had people who have been very upset if I've asked them, "Where are you without a mask indoors," and they're sort of, "How dare you ask me that question," response. I think that's a normal question in these times.
Keri: It is, and really that's what it was about. Who you could be unmasked and indoors with and running between houses, for example. That's what we mean by see, when we're talking about in a pod. That is an agreement that the members of the pod have to come to. I've seen pods who write out their agreements. If there's something where somebody goes to visit, let's say, a family member that's outside of the pod, then there are our specifications and guidelines around the time that they have to wait when they return before they can reenter the pod so that if they are exposed, those infections can be seen and can be dealt with and taken care of and people can recover without exposing other people.
At the core and at the strictest definition, a pod is an agreement among a small number of individuals who agree to only interact closely face-to-face or without masks in indoor settings. It gets to be really, really small numbers. Then for interactions outside of that, you can have discussions about, well, my kids and I go for walks in our neighborhood and we might encounter other friends outside but we're wearing masks and we're keeping our space. If your pod is comfortable with that and you're adhering to that, you're protecting the pod and the pod will protect you.
Tanzina: Keri, I'm also wondering, pods really rely on trust and I don't think a lot of people expected pods to have to last this long. It almost sounded like, "Great. I'll hang out with these couple of people for a couple of weeks and we'll see." What has it meant for people to try and navigate this space over time?
Keri: It's been dependent upon trust and I think we've all learned very important lessons about trust over the past year because we've all been making decisions in very uncertain times, but it's also been a lot about communication, because in a lot of communities across our country, transmission has been rampant. Even seemingly low risk activities, people can get infected. People can get infected in their pods. The problem with that is just this uncomfortable feeling I think a lot of us have.
The important thing to remember is that we cannot stigmatize this disease. This illness is running through our communities. It is very transmissible. We know how to mitigate with appropriate precautions and podding is part of that. It helps us to create that balance. Having the conversation with individuals in your pod about, honest conversations about who you're interacting with. Also maybe needing to change the pod up a little bit and having an appropriate two week period where perhaps you're going to pod up with somebody new and you make sure that there's a wash out of two weeks before you fully engage with that individual in a pod.
Tanzina: Let's talk about that wash out though. Let's talk about that two week, because again, I think that at this point, when I've asked people, "Are you quarantining?" They don't understand it to mean I'm staying at home for two full weeks without any contact with the outside world. They understand it like, "I'm not really seeing anybody, but I may be doing shopping and doing other things." Even the concept of quarantining I think has become a lot more loosely defined at this point.
Keri: When we use the word quarantine, it is actually for individuals who have had known exposure to the virus. Quarantining is a very specific situation where individuals with known exposure to the virus have been asked to hunker down for two weeks or 10 days in their home. Individuals who have been vaccinated now will be exempt from that, but essentially you're asked to sit in your house and wait. Wait we to see if you become sick, because the problem is this virus can create a lot of asymptomatic infections and it can also create a situation where you're infectious before you get symptoms.
The rest of us, what we're doing without having known exposure to the virus and if we are not ill with the virus, we are being as careful as we can and using our own risk calculations to determine what activities we feel comfortable with and what is not okay for us or our families, and so that is the difference. When I talk about a wash out period, I'm talking about perhaps you were engaged with a pod, you're going to break from that pod and go to a different pod. Having two weeks where you are doing minimal activities and you're not interacting with other people so that you can come into that new pod knowing that you're not bringing any infection with you.
Tanzina: There are some new things that are coming out in the market. We talked about vaccines a little bit. There's also rapid testing. What's your sense of people saying, "I want to have a birthday party or a gathering. Everybody just take a rapid test today and let's all come in and hang out."
Keri: I think the important thing to remember about rapid tests is they are amazing tools and honestly we need more of them. Because in a situation like that, if somebody does have a positive rapid test that morning, hopefully they would say, "I'm not going to that birthday party. I'm not going to work. I don't have to tell anybody why, I'm just not going to do it." Those can be important decision-making tools.
The other thing to remember about rapid tests is, it's just for that moment. You don't want to be doing rapid tests three days before the party. You don't want to be doing rapid tests the morning of the party. Also remember that no test is perfect and so there could be a false negative, there could be a false positive. Overall, is it going to reduce your risk if you have that knowledge right before you attend a party? Sure, if people act appropriately on that knowledge and recognize it's still not a zero risk scenario.
Tanzina: If someone in a pod gets sick, what should people do?
Keri: First of all say, "What can I do to help?" Because your pod mates are the people that you're with through this. That doesn't mean you go over to their house. That means maybe you send them flowers, you help get a grocery delivery for them, something like that, because isolation is what happens when somebody gets sick and it is hard. If that person that you've been podding with lives alone for example, they need a support system while they're alone.
Be sure you reach out and you say, "What can I do to help from a safe distance?" Then honestly, if you've had contact with them within a reasonable time frame, be sure you're answering your call, because a contact tracer may be calling you. Also it's a good idea just to really monitor your own health, and don't go into situations where you might be in close contact with individuals who are at higher risk. Don't go see grandma after somebody in your pod just became ill, even if that was something that you had been planning for a while. Make sure that your decision-making, and keep that phone on, because if a contact tracer deems you a close contact within a reasonable time period, you will be asked to quarantine.
Tanzina: What about people who don't have pods? What should they be thinking about one year in? I don't have a pod so I'm trying to think about that. What do I think about now? But I also have a one-year-old, so.
Keri: Pods are something where some people are engaged with them at different times than others, because everything we do right now is our own risk calculation, so having your own framework for making decisions right now is really important. We've put out a framework to help guide decision making in this, so maybe that can be a part of your decision making when you're thinking about having a pod or not having a pod.
If you don't have a pod, just remember that you need to keep your contacts still at a minimum when we're talking about close contacts. We are still in this pandemic so following all the mitigation procedures when you're in the community, which includes proper and consistent mask wearing, social distancing even in the grocery store and handwashing, handwashing, handwashing. So important. If you feel like you're ready to engage with a pod, go through that process of making sure that you have selected somebody who has a similar risk tolerance than what you do and you can come to some agreed upon terms about how your pod will function.
Tanzina: Keri Althoff is an associate professor of epidemiology at Johns Hopkins University. Keri, thanks so much for talking to us about pods.
Keri: Absolutely, thanks for having me.
Copyright © 2020 New York Public Radio. All rights reserved. Visit our website terms of use at www.wnyc.org for further information.
New York Public Radio transcripts are created on a rush deadline, often by contractors. This text may not be in its final form and may be updated or revised in the future. Accuracy and availability may vary. The authoritative record of New York Public Radio's programming is the audio record.