In Wisconsin, Joe Biden Maintains Lead Over Donald Trump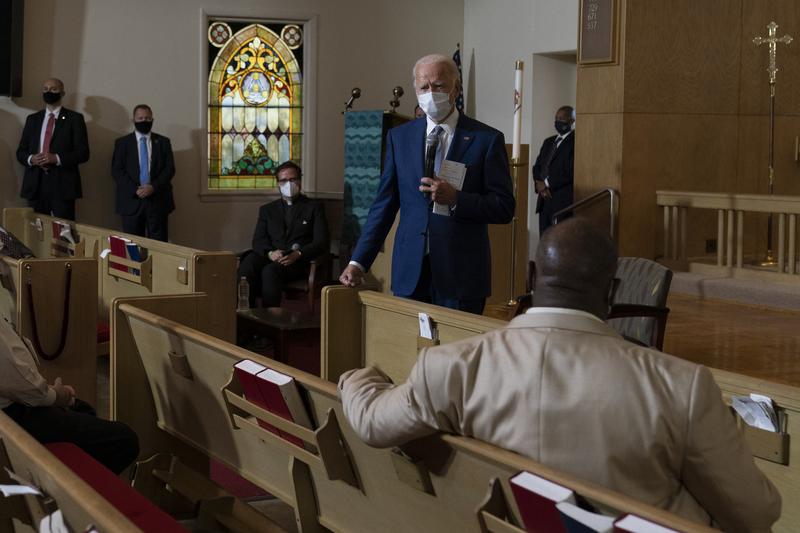 Transcript
[music]
Tanzina Vega: Welcome to The Takeaway. I'm Tanzina Vega. At the beginning of September, President Trump made a stop in Kenosha, Wisconsin following the police shooting of Jacob Blake and subsequent protest. There his message was clear. In a bid to win over conservative voters in the state, he touted law and order and accused liberal politicians of appeasing and encouraging "violent mobs."
Wisconsin is a key battleground state in the upcoming election and it's one that President Trump barely carried to victory in 2016. A recent poll conducted by the New York Times and Siena College shows that the President's message is not resonating with Wisconsin voters as much as he may have expected.
In fact, about one in five voters in the state said that while protests like the one in Kenosha were more concerning than rooting out racism in the criminal justice system, they are still planning to vote for Joe Biden. That same poll also found that Joe Biden is leading President Trump 48% to 43% in Wisconsin overall.
We're going to talk about it. I've got Reid Epstein politics reporter from the New York Times, and James Causey project reporter and columnist at the Milwaukee Journal Sentinel, and the 2019-2020 Marquette University O'Brien Fellow. Reid and James, thanks for being with me.
James Causey: Thanks for having us.
Reid Epstein: Great to talk to you.
Tanzina: I'm glad we were able to get both of you on the line. Reid, let's start with you. This new poll from the Times in Siena College was somewhat surprising, I think to a lot of folks. Were you all surprised at the Times when you saw the data?
Reid: Well, we weren't necessarily surprised that Joe Biden is leading in Wisconsin. He's been leading over President Trump throughout the spring and the summer. What was surprising was the extent to which the law and order message from the President has seeped in with voters, but yet it isn't necessarily accruing to President Trump's benefit.
More voters believe that Joe Biden would defund the police than say he wouldn't, even though he has repeated over and over again that he would not. That's been a key message from President Trump since a lot of this unrest began back in June. Just as many voters think that rioting in cities is a bigger problem than racism in the criminal justice system, even though like you said about one in the five of those voters still are backing Joe Biden for President.
Tanzina: James, you are on the ground in the state. You're seeing all of this play out. When you saw this poll, what was your interpretation of the poll? Was it surprising to you to hear this or was this pretty much in line with what your reporting has shown so far?
James: No, like Reid said it's pretty much in line with what we expected. There really were no surprises. One thing that is surprising is this law and order message that's coming across loud and clear, I think is strong with certain voters, but with other voters, people of color, I don't think that message is coming across in a way that the President would like it to.
The shooting of Jacob Blake changed the game, so to speak. When people saw this man walk into his car and shot in the back seven times, you could talk about law and order all you want, but what it really comes down to is you have a white cop shooting what appeared to be an unarmed Black man in the back seven times and that's what a lot of people see and that's part of the reason for the Black Lives Matter movement.
Tanzina: Reid, the President as we mentioned at the top did go to Kenosha, Wisconsin at the beginning of September and really made a very profound outreach effort to the law enforcement in Kenosha, not so much with the Blake family. Do you think that that may have been affected other results of this poll here?
Reid: One thing that we've seen from President Trump and essentially most of his administration is a core focus on trying to bring back into the Republican fold voters who voted for him in 2016 but have since been repelled by his personal conduct and the actions of his administration. His path to victory in states like Wisconsin, Michigan, and Pennsylvania is to bring some of those wayward Republicans back into the fold.
It's not about winning over people of color or really even many independent voters. It's keeping suburban Republicans who have left the party because of Trump and convincing them that Joe Biden is an unacceptable choice. That's why we have seen the repeated efforts to brand Joe Biden and democrats as extreme leftists saying that they would defend the police.
We've heard some of this rhetoric about the suburbs from President Trump. That's really about scaring people away from voting for Joe Biden and the polling today has shown that it's not particularly working and it is, by all means, energizing voters on the left. One thing that we saw in our poll was that voters in cities in Wisconsin which for most voters, that means Milwaukee and Madison are far more likely to say that they are certain to vote in this November's election than voters in rural and suburban areas. What Trump is doing may have, in fact, the opposite effect of what he intends.
Tanzina: One of the other things that the poll looked at Reid is not just who's supporting who, but also how voters are looking at how President Trump handled the pandemic. What did you find there?
Reid: Well, this is not a big surprise either and this has been similar polling data we've seen for months, is that Trump does not get very high marks on the pandemic. He still scores well and Joe Biden on the economy. Is really the last significant policy area that he does, but voters think that President Trump has done a poor job handling the pandemic. Just as for the most part, they think he's done a poor job of handling some of the unrest and race relations in this country.
Tanzina: James, how is the coronavirus pandemic right now playing out in Wisconsin from your reporting?
James: Well, over the last couple of days we've seen the record numbers of the cases and record numbers of new cases and record numbers of positive cases in this where more being are tested, but the positive numbers from that are in the 20% range and that's the highest that has been since the pandemic started and that's very scary.
When you want to talk about the last time we voted here in this state, this was during a pandemic, when a lot of people tried to get in postponed, we had thousands and thousands of people crowding into five polling places, high schools in the city during a pandemic. I think a lot of those people who voted, they put their lives in danger during a pandemic.
Some of those people who tried to vote were rained on, they got out of the line, and most people are still upset. We're going to see a lot of those people come out in droves to vote this time and I think that's why the reporting is showing that more people in the city plan to vote because they're still upset over what happened last time.
Tanzina: One thing that has stood out this time around is this multiracial coalition of people who have been protesting regularly to bring change to criminal justice. Many of them are younger. Many of them are even white. Are you, James, seeing that same coalition of folks are now going to take that energy to the polls in November?
James: Well, the hope is that they do turn this into the vote because just protesting and not using your right to vote would not do much. What we're seeing is that over 100 days of protesting, this is a very diverse crowd of people protesting. You have Black, white, the LGBTQ community out there as well and they want their voices to be heard.
One thing that we're hearing and seeing is that they're telling these young people to go vote. That's very exciting because people are understanding that they do have to exercise that right to vote. I do have to say this. This is a young coalition of people and it's still hard for a lot of young people to get excited about voting for two old white men in their late 70s.
This will probably be the last time or it should be the last time that we have a man that's going to be 78 years old and another one has, I think 76 or 77 running for president. It's very hard to get young people excited to vote for old white men that age, it's just is. That's going to have to change.
Tanzina: Reid, to James's point, we're talking about younger voters who were out or younger Wisconsinites who were out protesting, but Wisconsin is a very white state and its voters are also relatively older compared to other states. Does the poll tell you anything about how older voters in Wisconsin are feeling?
Reid: One thing that's striking in this poll of Wisconsin that has been consistent across polls of other battleground states is that President Trump has lost his advantage with older voters. The poll showed that among Wisconsin voters 65 and older that Joe Biden had a nine-point lead. President Trump won that demographic by more than 10 points in 2016. The same is the case, there's been polling in Pennsylvania that shows a 20 point swing among voters 65 and older, a 16 point swing in Florida among voters 65 and older. If President Trump chose that amount of atrophy among older voters, he cannot win the election. That's another reason you see--
Tanzina: He cannot win the election nationally, not just take Wisconsin, you mean, Reid?
Reid: He cannot win the election. If he loses 20 points of support from voters 65 and older, he cannot win these battleground states. He doesn't have enough support among younger voters to make that up.
Tanzina: To that point, James, are you seeing an increased effort to get people to go to the polls in November?
James: Yes, we're seeing it every single time that they have a huge march or something like that. We see people out there telling people that they have to register to vote. We're seeing a real strong push for absentee voting, which is, "My mailbox is flooded." Every other day they're saying, "It's time get your absentee vote in. It's not too late to apply for your absentee vote," and all those kind of things. Yes, there's been a strong push advertising as well, emails, telling people to vote. The NAACP here is pushing for early voting. That's definitely happening, and it's happening among young people.
Tanzina: We're relatively close to the election. It's hard to forecast, but given everything that we just talked about, do we expect these numbers that the poll has shown so far to hold?
Reid: All of us are out of the prediction business after 2016, but the one key thing to remember is that in a lot of these battleground states in Pennsylvania, Michigan, Wisconsin, President Trump did not get to 50% in those places, but because there were multiple third party candidates siphoning votes away, he was able to carry the state. There's a belief in both parties in both campaigns that if it is just a one on one battle or a one on one contest with a libertarian candidate that that would accrue to Joe Biden's benefit because there aren't left-wing candidates there to take votes that would otherwise have gone to Joe Biden.
There's certainly some polling data that is head-scratching, President Trump is doing much better among Hispanic voters than I think people had anticipated, and that younger voters are not as strong for Joe Biden as certainly, Democrats would hope or as the Biden campaign had hoped, but frankly, older voters vote more in much greater frequency than younger voters. If Joe Biden is able to swing the percentage of older voters by 15 to 20 points as the polls are indicating, that's much more than he would lose from a soft turnout from younger voters.
Tanzina: Reid Epstein, politics reporter from the New York Times, and James Causey, project reporter and columnist at the Milwaukee Journal Sentinel, thanks to you both.
James: Thank you.
Reid: Thanks.
Copyright © 2020 New York Public Radio. All rights reserved. Visit our website terms of use at www.wnyc.org for further information.

New York Public Radio transcripts are created on a rush deadline, often by contractors. This text may not be in its final form and may be updated or revised in the future. Accuracy and availability may vary. The authoritative record of New York Public Radio's programming is the audio record.