Carlton McCoy is Changing the Wine World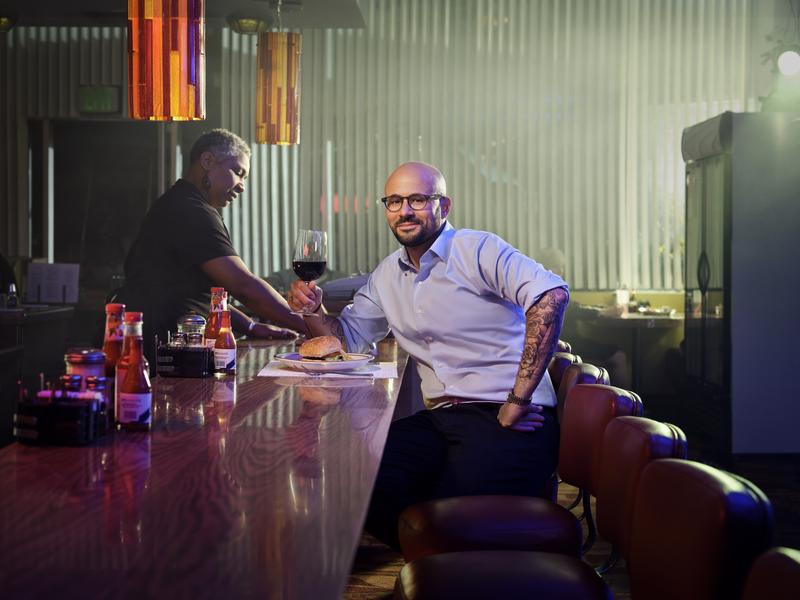 Transcript
[music]
Melissa Harris-Perry: Welcome back to The Takeaway, I'm Melissa Harris-Perry. When the COVID pandemic shuttered American businesses, schools and communities, many of us turned to wine. According to Nielsen data, online wine sales increased more than 200% in 2020. That makes sense because wine has been a source of pleasure for humankind for tens of thousands of years, but unlike the culturally egalitarian notion of having a cold beer at the end of a hard day, wine is often paired with an air of the exclusive, sometimes even the exclusionary. In 2019, a report by SevenFifty Daily, an online trade magazine for the alcoholic beverage industry, found that just 2% of wine professionals identify as Black. Our next guest is one of them.
Carlton McCoy: Hello, my name is Carlton McCoy. I'm the CEO of Lawrence Wine Estates and the host of CNN series Nomad.
Melissa Harris-Perry: After growing up in D.C., McCoy earned a scholarship to the prestigious Culinary Institute of America, where he fell in love with food and wine. By 28, he became the second Black person to earn the rank Master Sommelier, and he's co-founder of The Roots Fund, which works to create pathways for BIPOC folk interested in wine. Today, he serves on the Court of Master Sommelier's Diversity Committee. He's got a new show Nomad with Carlton McCoy, which debuted on CNN in May. The show follows his quest to find the places where food, music, art and culture collide. I sat down with Carlton McCoy and asked him to tell me, just what is a Master Sommelier?
Carlton McCoy: A Master Sommelier is essentially a certification under the Court of Master Sommelier. It's a very rigorous test that very few people in the world have passed, only 250 people internationally, and it was something that I feel blessed that I started doing when I was very young, because I don't think I would have [chuckles] the time or energy to do it now.
Melissa Harris-Perry: Tell me a little bit about the test, help us, for those of us who have a great joy and appreciation of wine. What would a test like this look like?
Carlton McCoy: One thing I'll tell you is for the average person it would take all of the joy out of drinking a glass of wine. We'll put it that way. No, but it's years of study where essentially you have to study everything there is about wine, everything from geology, to history, to chemistry of wine-making to the Latin names for different yeast used, to every region in the world, the laws, because every region has different bottling and production restrictions, how long they can age the wines.
You have to memorize all this stuff and know it very well, but there's also other alcoholic beverages of saké and spirits and cocktails, and it's an enormous amount of information. There's a test, but there's also a blind tasting where you have to be able to describe in great detail, and then call a vintage, what varietal of the great-- the region and the quality level of six wines. You've got 25 minutes to do that. Then, there's a mock service exam where essentially you're doing proper and very high-end luxury wine service for about 20 different Master Sommeliers, and they are putting you through the ringer to see if you can keep your composure and offer proper luxury wine service, which is probably the most difficult part for me, I believe. It was the only part I didn't pass the first time I took the exam. I'm a casual person. I treat people all the same, so that was very difficult for me [chuckles].
Melissa Harris-Perry: As you describing this, the issues of history, of language, of refinement, of practice, I'm assuming you must have really just loved school, really, like scored very high on your SATs. You were a school guy, right?
Carlton McCoy: No, I hated school. I dropped out of high school twice. The traditional structure of school just didn't work for me and the way my mind works. I have pretty extreme ADHD and I learn very quickly and I need to be stimulated, and school doesn't work that way. Especially in D.C., the public schools had horrible funding and the teacher to student ratio is massive and it was just very, very difficult for me, so I just stopped going at some point [chuckles]. I remember the conversation I had in high school like, "Look, I can make this very easy for all of us. If you just give me the assignments, I'll do them and I'll just bring them to you, and then I'll go back home. Why do I need to be here? This is very easy to learn."
The teacher looked at me, "You understand this is not how this works. You [unintelligible 00:04:31] to do that." No, I hit a stride with school was when I was in culinary school. I grew up literally next to my grandmother my entire life cooking in a kitchen. It was something that I've always loved. It gave me a way to connect with people from all around the world, which I didn't realize until I went to culinary school, and the CIA where I got a scholarship to, the student body is incredibly international. I was able to interact with people in places that I would only hope to ever go through food. I was really, really engaged in culinary school and excelled there.
Melissa Harris-Perry: I love this as myself, a high school dropout. I have a PhD, but still do not have a high school diploma, for so many of the same reasons that you were describing. This notion that it's culinary school where it clicks. Talk to me a little bit about where you found that you loved food.
Carlton McCoy: My heritage, my mother is 100% Ashkenazi Jew. Her mother were Jewish immigrants came over during the persecution of the Russian Jews, and her father was a Hungarian Jew. They met in New York City, very classic family-owned Jewish delis and so forth. She was raised in Manhattan. My father, African-American. My grandmother and grandfather were both from Southern families that moved up to D.C. in the '40s, part of that second wave of The Great Migration. My parents met in New York City, late '70s, disco scene, partying, and moved down to D.C. with my father's family. I was raised exclusively by my father's family in a very traditional African-American household which was really filled with a lot of joy and fun, and most importantly a ton of food.
It was almost like there was always something on the stove cooking. That connection with food and the way that can bring joy to people was a way of life. For me, I always say it was the only marketable skill I had when I left high school was that I could cook, and I know that very few high school students know how to cook, but it was almost a requirement in my household and I really took joy in it. That was how I connected with my grandmother as well who raised me, was in the kitchen. It was only by chance that I had the opportunity to get a scholarship to culinary school because I was not going to go to college.
It was a program in D.C. called Careers Through Culinary Arts Program. They found kids in these public schools that potentially could have a career in culinary arts because, obviously, I grew up in Southeast D.C., I went to Anacostia High School. It's not a place where people really understand that being a chef is a viable career path. They found me and trained me for cooking competitions, which I won, and the first prize was a full ride to the Culinary Institute of America. That really changed my life, but also gave me an opportunity to take something that I was already passionate about, make a life and career about it. It took me on this incredible journey of traveling the world, which has become obviously another big passion of mine.
Melissa Harris-Perry: Let's take a little listen to an episode where McCoy visited his family in Washington, D.C.
Speaker 3: Carlton, come on, you got to cook this corn plate and let's go. We don't have baking powder and baking soda.
Carlton McCoy: Then we'll whip the egg whites in the yolks. That'll add some-- see, I got something out of culinary school, huh. It brings me a ton of joy to cook with my family. Most of the recipes in a Black home are not written down. Use scraper like this, Vicky, you get a lot of the corn milk out of it and it's like a starch. You've got to watch and learn and use your senses.
Speaker 3: I need-- how many more eggs you need? [laughs]
Carlton McCoy: These are the recipes that my grandmother taught me that I'm now passing down to my nieces. Let's go. Let's go.
Speaker 3: It's time to eat.
Carlton McCoy: This is the continuation of our culture inheritance.
Melissa Harris-Perry: Listen, can I just tell you the egg white thing was extremely important to me? I was like, wait, the number of times I have had to stop what I'm doing and go to the store for baking powder. Never again. Never again, I will whip the egg whites.
Melissa Harris-Perry: It's not a direct replacement, but when you're sitting there, you've got to make it work. It's like, you learn that in the kitchen. I really love cooking professionally. It very much is a family environment, even on the toughest of days, much like cooking at home with the family, you're there together doing this thing. I miss that instantaneous gratification of preparing something and be going on someone's table and it makes them smile. It makes their birthday or anniversary much more special. There is almost nothing in the world that can give you that type of gratification so quickly.
Melissa Harris-Perry: Now, do you bring wine to your family table? Do you pair with what you all are making, and what goes with the cornbread you made?
Carlton McCoy: I think sometimes I would say that the sommelier is the greatest and the worst thing that ever happened to the wine industry [chuckles]. The greatest is because I think it shows that Americans could learn about wine, engage with it and be at the top of the profession, if not as well as or better than some European nations. There's more Master Sommeliers now in the US than there are any other place in the world. Where I think we hinder things is sometimes we make wine too serious.
Wine is really first about pleasure and it brings people together, much like food.
From that point, I think with my family, I try to spend more time drinking and enjoying wine with them than trying to pair. Pairing can create a really singular, very unique, fulfilling experience, but I think that it's a secondary priority, a second to wine just giving us joy. As sommeliers, it's important for us to guide people in the right direction, but ultimately to make sure that people are just drinking wine and sharing it with family and friends.
Melissa Harris-Perry: Tell me about The Roots Fund.
Carlton McCoy: The Roots Fund was an idea that I had with a good friend, Ikimi Dubose. We really wanted to create an organization whose entire purpose was to ensure that minorities and people of color were welcomed into the wine industry with open arms. It was an industry that I feel like, for one reason or another, a lot of people of color never really engaged in.
We wanted to create this nonprofit that would create educational opportunities for people of color to engage with the industry and to find opportunities to have careers. It started to make the industry even more rich and exciting, because you're involving more people. Just like any other industry in the world, the more unique voices and cultural perspectives, the more exciting the industry is. I think that we're starting to see that change now.
Melissa Harris-Perry: Speaking of unique and multiple cultural perspectives, I want to listen to one more piece from the show. This is from the episode where you go to South Korea.
Carlton McCoy: I never felt like I fit in as a kid because of my mixed background, yet the more I travel, it's easy to see the world is increasingly mixed, too. Korea and America, so Jew and hip hop. A big part of my job is pairing. This makes perfect sense to me. Sometimes the most unexpected combos are the ones that stick with you.
Melissa Harris-Perry: All right. What makes the Nomad different than other travel shows out there?
Carlton McCoy: What was very important to me was that the show be an expression of my filter and the way I see the world culturally. A lot of that is led through food and beverage. It's given me a door to enter where I'm welcome and accepted by people from all over the world, and I realize that. You end up in someone's grandmother's table, then the conversation evolves from there. It's food and then it's wine and it's politics and it's history and it's art and it's music.
You realize that these are all things that are connected. The show Nomad is really meant to express all of the cultural pillars of a place. These are things that we really explore when we're there. Often, these aren't things that I'm super aware of. We go, "Hey, look, I know this part of the culture. That'll get me in the door to start the conversation." Then, we explore from there. If it seems a great organic conversation, that's because it is, because none of it is scripted. We just try to figure out when we get there, and that's been really fulfilling. I think so often people try to mimic and copy what Tony did with Parts Unknown and A Cook's Tour and so forth.
The reason why people fail is because they don't realize that show was very much Tony, and we all stand on his shoulders, but I think to be successful at this genre in television, you have to be unique to your own voice. I try to do that with Nomad.
Melissa Harris-Perry: I just spent the past week with a group of about a dozen African-American adolescents and teens. They ranged in age from 11 to 20 years old. We were doing work around issues of Black land and food justice. A lot of what we did was around land, but we also tried to talk about food. Anything you'd say to a group of young people really trying to think about questions of food and justice and identity, and how they connect?
Carlton McCoy: Well, sure. I mean, look, as I travel the world, you realize that there are certain cultures in the world that for many reasons, for centuries and sometimes longer, have not been put on the pedestal they always deserve. We're now, as a global culinary world, really starting to understand the value these cuisines and sometimes their superiority and complexity and delicacy. It's a very exciting thing to see. You look in the US alone and you see now fine dining restaurants with cuisines that you would've never thought, even 10 years ago, would be a thing.
It's given a platform for young minorities to be proud of their cuisine and understand that it has a place in fine dining if they want that. When you often live in a world that doesn't value your culture as something that is valuable, then it's hard for you to stand behind that pride. I think that that tide has turned pretty dramatically here in the last few years. I think this generation now will be able to build a very different world than the one I was raised in, which is exciting to be a part of, but also to be able to hand the baton off. Traveling the world, you realize that people are, for the most part, all the same. We have cultural differences, but we're really no different.
People are absolutely exceptional. If we could find our ways to celebrate each other a little more, I think it would be more of a pleasant experience for all of us. I think that's what I try to do with Nomad, is to celebrate these differences, but understand that they're very small [chuckles], and how can a little mixed-race kid from Southeast D.C. be able to travel the world and connect with everyone, because I'm human and that's enough.
Melissa Harris-Perry: Carlton McCoy is a host of Nomad with Carlton McCoy on CNN. I love that, "I'm human and that is enough." Thanks so much for being with us today.
Carlton McCoy: Thank you.
[music]
Copyright © 2022 New York Public Radio. All rights reserved. Visit our website terms of use at www.wnyc.org for further information.
New York Public Radio transcripts are created on a rush deadline, often by contractors. This text may not be in its final form and may be updated or revised in the future. Accuracy and availability may vary. The authoritative record of New York Public Radio's programming is the audio record.