Will There Ever be Justice for Emmett Till?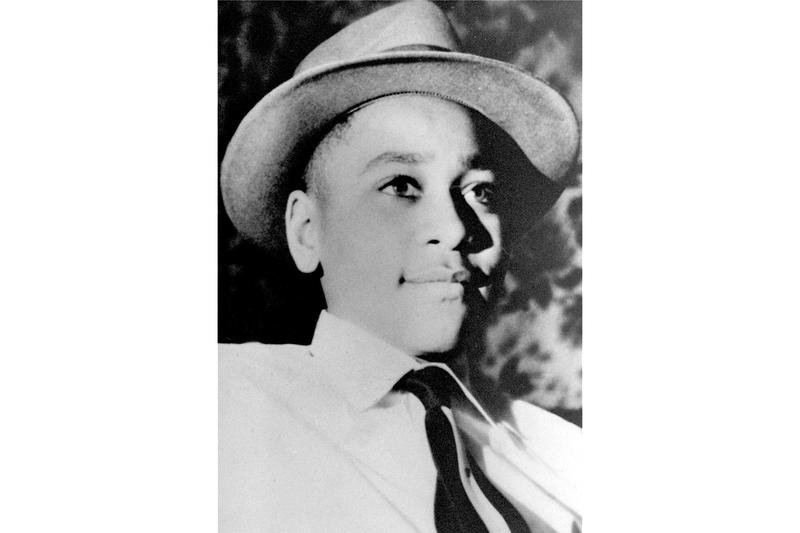 Transcript
[music]
Melissa Harris-Perry: Welcome to The Takeaway. I'm Melissa Harris-Perry.
[music]
On August 28th, 1955, two adult white men, Roy Bryant and JW Milam, kidnapped 14-year-old Emmett Till at gunpoint from his uncle's home in Money, Mississippi. It was the middle of the night. Bryant and Milam beat and shot Emmett. They used barbed wire to tie a cotton jean fan to his neck, and they threw him into the river. When Mamie Till-Mobley received her son's remains, the child was disfigured beyond recognition.
She made a choice so vulnerable and courageous; it altered the course of history. At her insistence, for five days, Emmett's mutilated body lay in an open casket. More than 50,000 people visited the Southside Chicago Church where he lay and millions more saw the shocking photos of the brutalized Boy in Jet Magazine. All bore witness to the stomach-churning realities of Bryant and Milam's racist violence.
Mamie Till-Mobley: When people saw what had happened to my son, men stood up who had never stood up before. People became vocal who had never vocalized before. Emmett's death was the opening of the Civil Rights Movement. He was the sacrificial lamb of the movement.
Melissa Harris-Perry: Her steel-spined courage launched a movement for justice, but Mamie Till-Mobley never received even a modicum of accountability for the murder of her son. In 1955, an all-white Mississippi jury refused to convict the killers, and in 1956, Look Magazine paid the men $4,000 to print their confession to the murder. Throughout it all, there was a third co-conspirator, Carolyn Bryant now Carolyn Bryant Donham. It was Mrs. Bryant who told her husband and brother-in-law that Emmett Till whistled at her. It was Mrs. Bryant who told the 1955 Mississippi jury that Emmett physically accosted and sexually propositioned her.
It was Mrs. Bryant, who during the trial, brought her own young sons to the courthouse, dressed in their Sunday best. It's Mrs. Carolyn Bryant captured in a Black and white photo who stands with her head thrown back in laughter, embracing her husband Roy at the end of that farce of a trial. It's a photo that still haunts my dreams and my waking. Late last week, Carolyn Bryant now Carolyn Bryant Donham died at the age of 88 while in hospice care. Joining me now is Tim Tyson, senior research scholar at the Center for Documentary Studies at Duke University and author of The Blood of Emmett Till. Tim, welcome to The Takeaway.
Timothy Tyson: Thank you, Melissa. Glad to be here.
Melissa Harris-Perry: Also with us is Keith Beauchamp, an award-winning filmmaker behind the documentary, The Untold Story of Emmett Till, and producer of the movie, Till. Keith, welcome to the show.
Keith Beauchamp: Thank you for having me, Melissa.
Melissa Harris-Perry: Now, Keith, I want to start actually with Last year, with 2002, you had helped to unearth an unserved 1955 search warrant for Mrs. Bryant. I want to listen just for a moment to two of Emmett's cousins, Deborah and Terry Watts talking to CNN after the warrant's discovery.
Deborah Watts: I definitely want to see it through, but it has been a tremendous amount of trauma. I still feel like the weight is on our shoulders. We found the new evidence, and so we just want justice served.
Melissa Harris-Perry: Keith, why was that warrant never served?
Keith Beauchamp: Melissa, it's very interesting because during the reopening of the case in 2004, one of the first things I held, I actually gave over to the authorities right before they reopened the case, was that there was documentations in the original FBI files that speaks clearly about a warrant that was actually being executed for Carolyn Bryant's arrest in 1955. At the time, if I remember the document correctly, it stated they could not locate her. Then over the years and after the closing of the case in 2021, the family began to ask questions about this outstanding warrant that was never served. We were inspired to go and search for the warrant.
Of course, we located the 67-year-old outstanding warrant. The reason, on the books which was stated by those officials in 1955, why they never executed the warrant is because Carolyn Bryant was a young mother with children to take care of. I would have to say because of [unintelligible 00:05:40] impulse, which is the word that was used at that time, Carolyn Bryant was allowed to evade justice since 1955 and all the way up until today.
Melissa Harris-Perry: Now, Tim interest in Mrs. Bryant was also renewed after the publication of your book. In the book, you write about meeting her and about her admission that her claims about Emmett were false. Can you talk to us a bit about that experience and whether or not you understood her to have remorse?
Timothy Tyson: Well, basically, the only thing she really confessed to me was perjury. She confessed that in court, her account of sexual assault, sexual language used, a physical touching, a grabbing of her. She said that part is not true. I cannot read her mind. Some of the time my intuition was that she was lying and that was the time when she admitted she had been lying. I did not find anything that was rock solid prosecutable, but I think one thing is clear about the warrant that Keith and his colleagues found in the LeFlore County Courthouse is that the LeFlore County Sheriff's Department back in 1955 felt there was good reason to prosecute Carolyn Bryant but ended up--
I found this in the Greenwood Morning Star, in the newspaper, they said this. Then in the next issue of the newspaper, they said, "We're not going to bother the woman. She's got two small boys to take care of," which is the first time I've ever heard of childcare responsibilities being used to dodge a capital warrant.
Melissa Harris-Perry: Obviously the photographs of Till in that casket, the grief of Mamie Till-Mobley that we also see in those photographs, those images are haunting. I am most haunted, truly, by the photographs of the Bryant and Milam family in the courthouse, and in part because she does have two young children. I suppose that whatever imaginations I have about the level of hatred that we can have for another human, I am still taken aback by the capacity to feel such joy as a mother. Keith, I suppose I want to come to you on this because I am struggling still to understand what feels to me like a level of inhumanity that I still can't capture.
Keith Beauchamp: Yes, I agree, Melissa. That's frustrating. It's frustrating to understand how Carolyn Bryant Donham was allowed to evade justice for so long and it's even more frustrating to know that she was a mother who had the opportunity to raise her kids. Of course, mother Mobley, Emmett Till's mother did not. To see them in the courtroom celebrating, it adds salt to injury and it's very hurtful which is why we have been fighting for so long to make sure that justice prevails in this case, that Carolyn Bryant is held accountable for her participation in the kidnapping that led to ultimately the lynching of Emmett Till.
Melissa Harris-Perry: Tim, you also draw our attention to the structures in ways that I think continue to inform movements for social justice and the continuing movement for Black Lives, there are these individual co-conspirators, the Bryants, the Milams, but there's also this whole system right around them that makes this possible. Even with the death of the final co-conspirator here, I wonder, Tim, if you imagine any kind of possibility for justice and accountability in the context of these institutions.
Timothy Tyson: I think there's a lot of important things about this case, but that the most important thing about the case is not just the southern horror movie starring Redneck Frankenstein, but what Emmett's mother Mamie Till-Mobley and Black Chicago, and eventually hundreds of thousands of other people did with this unspeakable crime and how they used it to launch a movement that did alter the course of American history. I think one way to honor Mamie Till-Mobley is to continue that project and to now step forward and demand the change that we need in order to improve the lives of Black children across this country.
Melissa Harris-Perry: We're talking about the legacy of Emmett Till and the death of the final co-conspirator, Mrs. Carolyn Bryant. We'll be right back with more on The Takeaway. [silence] We're back with Tim Tyson, author of The Blood of Emmett Till, and Keith Beauchamp, the filmmaker behind The Untold Story of Emmett Till and the movie Till. Keith, what does justice and accountability for you, for the Till family who I know that you're in relationship with, how is Justice pursued again now with Bryant Dunham's death?
Keith Beauchamp: Melissa, that's something I'm still processing, considering it's been 29 years of my life hoping that we could get justice in Emmett Till's case. I do have solace knowing that we were able to produce a film, Till, that would stand the test of time, that the murderers themselves did not control the narrative in this case. I also believe that the family would move forward, which I know and many have been speaking about this lately, is that they're going to continue to tell Emmett's story.
One of the things that Mother Mobley when she was with us when she used to tell me all the time was, "Keith, we must continuously tell Emmett's story until man's consciousness is risen, because only then that would mean true justice for Emmett Till." For the longest time, I often wondered what she meant by that, because when we met I was fairly young, but over the years in past decades, I realized what she was actually trying to say and what she was saying, those words, in many ways were prophetic.
What she was trying to tell us, Melissa, is that no matter how long, how hard we would fight to get justice for Emmett Till, it's not going to stop all the Emmett Tills of the world from happen. In recent years we've been dealing with the different depths of Black and brown being slaughtered on the streets of America, whether it's at the hands of those who are sworn in to protect us or at the hands of white supremacists.
What she wanted us to understand as a people collectively, that what is happening on the streets of America today is the same with what was happening in 1955, and that the deaths that we are seeing are no different from Emmett Till. They're all one in the same, and that is very important for us to recognize that.
Melissa Harris-Perry: Tim, both because I don't want to be a person who could stand and laugh in the face of brutality and horror towards someone else, and because as Keith is drawing us towards this question of justice after a brutal murder is still insufficient. What we want is to stop these deaths. I do try to have some level of either empathy or understanding as I look at these moments. I think to myself, surely, any adult man who would drag a child from his bed and murder him with this level of brutality is also surely a man who must have brutalized and beaten his wife. I can't fathom that that wouldn't be true.
Everything we know about the connections between domestic violence and gun violence in our own moment suggests to me that that is true. Tim, not because I want to in any way write an apologia for Carolyn Bryant, but because I do want to understand the connections potentially between gendered violence and racial violence. In your conversations with her, did you ever understand from her, and of course their marriage ends, she suffers the loss of one of her children later in his life. I guess I'm wondering, is there any spark of humanity? Again, not to write an apologia for her, but more for me because I want to keep the next Carolyn Bryant from happening.
Timothy Tyson: Someone once accused me of humanizing her in my account of the story. I pointed out that I did not humanize her, God humanized her, and furthermore, human beings have a bad track record. Genocide is a ongoing reality in human life, and unspeakable indifference to the suffering of others is not something unusual in our experience. I think we also have to be mindful that not just police killings, though every single one of them reminds me of of Emmett.
I hear the children of America chanting in the streets, Emmett Till, Emmett Till, how many Black kids will you kill? He is still held up as a symbol of America's inhumanity. When I think about public education and housing and criminal justice and unemployment and no real effort to cultivate the human capacities of impoverished and minority children, I think the slow death of Emmett Till, that we are still killing Emmett Till in so many ways, and the slow deaths are as significant as the murders that continue.
Melissa Harris-Perry: Keith, I want to come to you on a final question. I began by talking about the powerful and courageous choice of Mamie Till-Mobley. Again, when I seek to understand all of this story, I am also always in open mouth awe of her capacity to do that. I'm quite certain, I don't have that courage, that strength of human spirit. Yet I wonder now in this moment when seeing murdered, shot, mutilated, harmed Black bodies, in our scroll, in our feed as such a regular part of our experience of the media, have we lost the power of that shock to move a movement in the ways that her decision to publicize the brutality against Emmett Till did actually move us enough to create movement?
Keith Beauchamp: I firmly believe nothing hits you more than a visual. We're seeing touch generation and I know there's been a lot of dialogue about the mass shootings and should we have another Emmett Till moment? I would have to say, yes. I know that many of us may be desensitized to what's happening, a lot of us are suffering from racial fatigue. It's something unnatural to see death every day, but in order for us to move collectively towards a new movement for change, some of us have to be shocked by the atrocities that are happening.
I'm not in the business of traumatizing people. I'm not of course a huge big fan of showing the results of the injustice that is among us, but I do believe that just like the late Mrs. Mamie Till-Mobley in 1955 was able to use a photograph, a visual of her son's body to change the mindset of not just this country but the world. I believe the same thing can certainly happen even today despite what others may think.
We are seeing, touch generation. We have to see things to believe it. What set this in 1955 was so unique about Till's case. There were many lynchings that occurred during that day. There were many victims. There were a lot more younger than Emmett Till, but what set Emmett's case away from all the others was Mother Mobley's courageous decision to have an open casket funeral and to allow photographers into that private space to take that photograph, which then goes around the world, that awakened the sleeping giant in all of us.
Melissa Harris-Perry: Keith Beauchamp is the filmmaker behind The Untold Story of Emmett Till and the movie Till. Tim Tyson is author of The Blood of Emmett Till. Keith and Tim, thank you both for joining us.
Timothy Tyson: Thank you.
Keith Beauchamp: Thank you, Melissa.
Copyright © 2023 New York Public Radio. All rights reserved. Visit our website terms of use at www.wnyc.org for further information.
New York Public Radio transcripts are created on a rush deadline, often by contractors. This text may not be in its final form and may be updated or revised in the future. Accuracy and availability may vary. The authoritative record of New York Public Radio's programming is the audio record.