Will Michigan Become the Next Space State?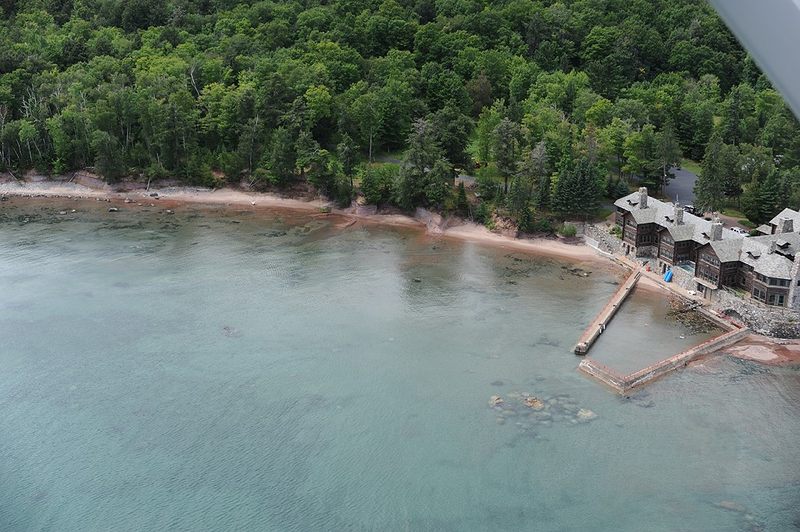 Transcript
[music]
Melissa Harris-Perry: It's The Takeaway. I'm Melissa Harris-Perry, and it's time for a little word association fun with my producer, Jay.
Jay: Hello there.
Melissa Harris-Perry: You're ready?
Jay: I'm ready. Let's do it.
Melissa Harris-Perry: Okay, I'm going to say a state, you say the first thing that comes to mind. Florida.
Jay: About oranges.
Melissa Harris-Perry: Great. California.
Jay: Hollywood, beaches.
Melissa Harris-Perry: Michigan.
Jay: Cars.
Melissa Harris-Perry: Jay, I'm actually going to stop you right there because pretty soon saying Michigan might bring to mind not the auto industry, but the space industry. That's right, Michigan is planning to develop the first spaceport in the Midwest.
Gavin Brown: We are looking forward to this exciting time to bring Michigan into the space state status.
Melissa Harris-Perry: That's Gavin Brown, Executive Director of the Michigan Aerospace Manufacturers Association, or MAMA, who's speaking back in 2020. MAMA has announced a plan to create three potential sites, including the vertical launch site in Michigan's Upper Peninsula on an estate which sits on the edge of Lake Superior. The plan is being called the Michigan Launch Initiative but isn't set in stone just yet.
While MAMA has conducted numerous feasibility studies funded in part by a $2 million grant from the state legislature, the project would have to undergo an environmental review in order to receive a commercial space transportation license from the FAA, and MAMA estimates the target operational date for the vertical launch site would be sometime in 2026.
Residents who live near that proposed on-site are concerned about environmental effects in the area, and what it might mean to have a commercial spaceflight industry in their backyard. For more on this, we spoke with David Rompf, a New Yorker contributor who wrote about the Michigan Launch Initiative in his recent article entitled, The Plan to Make Michigan the Next Space State.
David Rompf: This is an area that is beloved by residents and visitors for the lake itself, which has incredibly clear water. In some areas, it has up to 100 feet of visibility underwater. There are also nature preserves nearby. There are residents who live very close, and if built, there's a very good chance that some or many of them may have to evacuate their homes. We're talking about many who are senior citizens, people in their 60s and 70s and beyond. By the time this spaceport gets built, they'll be even older.
Then, of course, they have concerns about the environment itself, the forests nearby, the Eagle's Nest, other several preserves, and nature trails in the area, so there are several issues that arise when you talk about building a spaceport in this location.
Melissa Harris-Perry: Now, help us understand what a vertical launch site is, what will it look like, and what will be getting launched?
David Rompf: The spaceport complex proposed for Michigan consists of three facilities. One of them is the vertical launch site that you just referred to. Another is a horizontal launch site north of Detroit, and then a command and control center in the eastern part of the Upper Peninsula. The vertical launch site will launch rockets straight up into the sky, so this is the kind of rocket that most people think about when they see rocket launches on TV. The rocket is poised vertically. It is launched straight up into the sky, and in this case, it would go over Lake Superior.
The rockets probably would be around 100 feet tall, although more is to be determined, so that's about 9 or 10 stories. They would carry various kinds of satellites and other payloads. These satellites might include communication satellites, GSP satellites, satellites for monitoring weather patterns. They might be used as many satellites are for tracking wildlife migrations, so some satellites that are now circling the Earth, they can track whale populations and penguin populations. If you use your smartphone or credit card to buy your favorite coffee drink in the morning, you're probably using some kind of satellite technology, you just don't know.
Melissa Harris-Perry: It seems to me, at least some of the uses that you talked about there also have some potential environmental good or collective good. I'm wondering if there is a purpose for this location, like is there a reason why it would need to be located here versus in some other location?
David Rompf: Well, MAMA says that the benefit of having the vertical launch site here is, first of all, the open space provided by Lake Superior itself, so like the Atlantic and Pacific Oceans, there would be wide open water that rockets can fly over, so you're not flying over inhabited areas. There's also lots of forest land. It is not a very densely populated part of the state. The Upper Peninsula in total has 300,000 residents, and that's about 3% of Michigan's total population, so it's pretty sparsely populated and you don't want rockets flying over residential neighborhoods.
However, there are people who live very close by but these open areas provide a benefit. There's also access to a highway, so you need to transport the materials to spaceport rockets and satellites, and other things that are used for launches. There's an airport in Marquette, Michigan, the nearest city, and you need people to be able to come into the area to build to participate in these launches.
There are some strategic benefits to having the vertical launch site here. There are also some very highly technical space reasons, so there would be easy access to something called polar orbit and that's when rockets circle the Earth from north to south over the poles, and something very highly technical called sun-synchronous orbits, which allows a satellite to be in the same spot at the same time every day, and there are some benefits to scientist for doing that.
Melissa Harris-Perry: Does the association also make any claims about a more earthly value, sort of a sense that the residents will benefit financially or in any other way from the location?
David Rompf: Certainly, the association projects that there could be an economic benefit to this region and to the entire state of Michigan. The primary argument for putting the spaceport and building this space economy is an economic one, so the potential for increasing jobs and attracting talent, space-savvy talent to the area is certainly a strong argument.
The association also projects that the gross economic impact of the spaceports for Michigan would be about $13 billion over the next 10 years. That's assuming that everything goes as planned, that the spaceports are built, that the two launch sites get the aerospace clients that they need to bring in revenue and that everything goes well.
There's a lot that remains to be seen as to whether or not that is a valid figure or not, but when you talk to people in the area who support the idea of a vertical launch site in the Upper Peninsula, many will say that there's a possibility that it would bring jobs to the area. However, MAMA is saying that it's really only about 650 jobs that would be generated for the entire state through this spaceport complex.
[music]
Melissa Harris-Perry: Let's take a quick break. More about the Michigan Launch Initiative and local concerns in just a moment.
[music]
Melissa Harris-Perry: This is The Takeaway and we're back with David Rompf, a New Yorker contributor who wrote about an initiative that will make Michigan the next space state, but some residents have reservations about the proposed project.
David Rompf: There are very complex and competing issues when you talk about building a spaceport in Michigan and particularly next to Lake Superior in the Upper Peninsula. On the one hand, MAMA says that there's an economic benefit, on the other, a vertical launch site could change the very nature of this region. There are forests, the beautiful lake itself. There's the Hiawatha Water Trail, which was once used by Native Americans to travel from Big Bay down past Marquette into Grand Mornay. That's often used by kayakers now, there are eagles nests along the lake, so it's a unique and beautiful environment that could very well change when you talk about building a vertical launch site that not only has the launch site where the rocket is but several facilities that are required to serve that purpose, parking lots, bright lighting that will light up the night sky. Right now the night sky in that part of the world is very dark, and people enjoy that.
There would be security fencing. There would probably be a certain element of space tourism, so people who are interested in space and seeing rockets launch might very well want to visit the area and which could create a new layer of tourism, which means possible more commercial development to serve those tourists who come to the area, so it could change what this place looks like and feels like to people who've been there for generations.
Melissa Harris-Perry: Is this something beyond nimbyism? I mean, is this a project that's going to be built, and it's just a question of in whose backyard, in whose neighborhood?
David Rompf: whether this spaceport in Michigan gets built will depend on many, many factors. Certainly, there is a concern around having rockets in one's backyard. The fact is, the federal government requires an environmental impact statement to assess what this will do to the water, to the land, to wildlife, and other parts of the environment. That could take several years, in fact, to finish. The spaceport might not get built if the environmental assessment says, "Look, there are too many negative potential impacts on this environment."
There is also the fact that there are a lot of other spaceports in the United States. There are 13 FAA-licensed spaceports. Many of them, according to the FAA, aren't even launching rockets yet. The question is, is there a need for yet another spaceport when, in fact, some of the existing spaceports may be working under capacity and haven't even brought in significant launch-related revenue? Those are questions that people are starting to ask, and I think a lot of people, including local government, will be taking a hard look at in the coming months.
Melissa Harris-Perry: David Rompf is contributing writer for The New Yorker, and his recent article is titled The Plan to Make Michigan the Next Space State. Thank you for joining us.
David Rompf: Thank you, Melissa.
Melissa Harris-Perry: We reached out to MAMA for comment and received a response from their spokesperson, Mary Ann Sabo. She took issue with The New Yorker piece and said that the organization was disappointed by our decision to speak with David Rompf, saying, "We've declined the opportunity to participate in the [Takeaway's] interview since it's clear we won't be treated fairly." I also spoke with a local resident who is concerned about the location of the proposed launch site, Michigan's Upper Peninsula near Lake Superior.
Dennis Ferraro: My name is Dennis Ferraro. I'm the president of a local nonprofit here in Marquette, Michigan called the Citizens for a Safe & Clean Lake Superior. We found out about this on July 23rd of 2020. First, I didn't believe it. I had to actually read the paper twice. Then I got depressed for about two days. Then after that, I got angry. A bunch of neighbors in the community here got together and we formed a steering committee. From that steering committee came out our nonprofit corporation here.
Melissa Harris-Perry: Dennis lives about 2 miles from the proposed vertical launch site, and the other local residents are worried about what the launch site would mean for the serene community where many of them have chosen to retire.
Dennis Ferraro: We live here in Marquette County on the Southern shore of Lake Superior. Lake Superior is the largest surface area of fresh water in the world. In the Southern shore of Lake Superior, here in Marquette County, is one of the most beautiful landscapes you can imagine. It has everything from, of course, the freshwater Lake Superior, to sandy beaches, to beautiful sandstone cliffs.
Then the coastal habitat of Lake Superior is filled with a variety of plants and animals in this area, particularly where this rocket launch site is going to be. We have bald eagles nesting. We have wolf, bear, moose. There are multiple public recreational areas that surround this proposed rocket launch site where people go to ski, to hunt, to bike with trail bikes, or just to wander in the woods. It's really a national treasure.
Melissa Harris-Perry: They also have concerns about the effects to the environment. Although, as mentioned before, the project would have to undergo an environmental review in order to receive an FAA commercial space license.
Dennis Ferraro: Some of the rockets that are proposed to be launched here are similar to rockets that have been launching in Kodiak, Alaska. One of these rockets a couple of years ago exploded off the pad and the amount of debris that was scattered over the landscape required the government there to scrape away 230 metric tons of the local environment. There the woods and shoreline and so forth and then decontaminated it. So, yes, it's a high risk of pollution. It just really doesn't make sense to do it in this type of pristine environment next to a body of freshwater.
Melissa Harris-Perry: Whether the proposed vertical launch site is built or not, Dennis says he has no plans to leave.
Dennis Ferraro: This is my place. This is where I'm going to cash in the chips. I'm 75 years old. I've been coming to the upper Peninsula since I was five years old. I have family buried here in the Upper Peninsula. I was a trial attorney in Chicago. When it came time for me to retire back in 2015, 2016, I knew where I wanted to come. My wife and I came up to the UP, we looked around, we fell in love with Marquette and with the coastal habitat here. I'm not going anywhere and we're going to defeat this plan.
Melissa Harris-Perry: Our thanks to Dennis Ferraro for sharing his perspective with us.
[music]
Copyright © 2022 New York Public Radio. All rights reserved. Visit our website terms of use at www.wnyc.org for further information.
New York Public Radio transcripts are created on a rush deadline, often by contractors. This text may not be in its final form and may be updated or revised in the future. Accuracy and availability may vary. The authoritative record of New York Public Radio's programming is the audio record.