Wildfires in the American West: A Lockdown within a Lockdown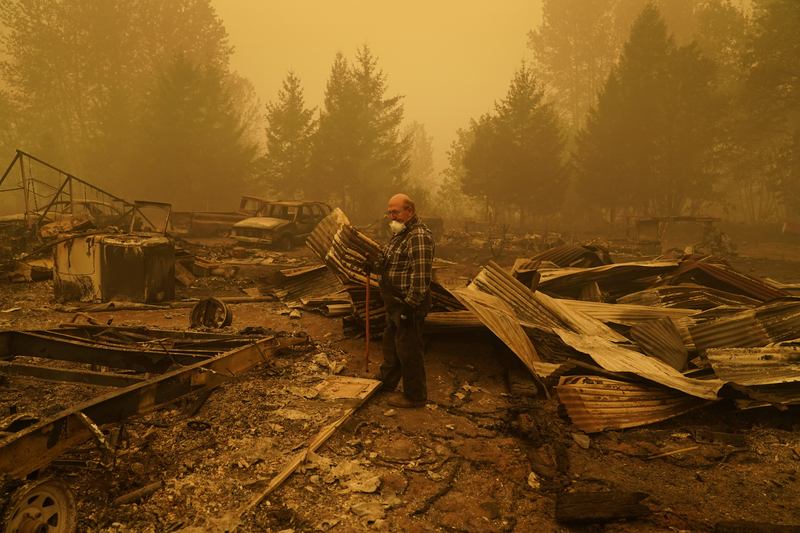 Transcript
Speaker 1: We saw the smoke billowing. There was smoke coming-- We were looking out of our kitchen here and there's smoke. Just a big, huge billow of dark smoke coming up. We're used to fires. We're used to smoke around here, but that was-- We knew it was close. Speaker 2 We're going to be working diligently to go through those areas to locate anybody that may have perished in the fire.
Speaker 3: This hospital we've actually had two evacuation events associated with different fires. We actually started to get some of the burned victims in between the two events.
Speaker 4: When we seen the fire burn closely grabbed the animals left all but the cat couldn't find, and then the cat-- We came back two or three days later and we found him. Burned paws and burned belly, but other than that we got him he didn't die.
Speaker 5: Air quality here unhealthy in almost all of California. When there is a sunset the sun is a dark red color, something you would be out of maybe a Star Wars movie.
Speaker 6: It looks so small. We're just like, "How did our big life end in this little area?" You know what I mean?
Tanzina Vega: The American West is burning. In California, Oregon, Colorado, and Washington state record wildfires are leaving behind a trail of unprecedented devastation. Houses have been destroyed. Tens of thousands of people have evacuated their homes and the air quality of some communities blanketed by smoke and ash is now at dangerous levels. The leaders of those Western States are all pointing in one direction.
Speaker 7: While our state reels from this horrific firestorm of dry weather, hot wind, and drought conditions, this will not be a one-time event.
Speaker 8: We're in the midst of a climate emergency. We're in the midst of a climate crisis.
Speaker 9: These are not just wildfires, they're climate fires.
Speaker 10: Unfortunately, it is the bellwether of the future.
Tanzina: I'm Tanzina Vega and that's where we start The Takeaway today. Erin Ross is a science reporter at Oregon Public Broadcasting and Sam Brasch is a climate and environment reporter for Colorado Public Radio. Erin and Sam, welcome to the show.
Sam Brasch: Thank you. Glad to be here.
Tanzina: Erin, let's start with you. We just heard at the top all three governors saying on Newsom, Inslee, and Brown, all saying that this is really about climate change. This is a bellwether for our future. Erin, what's happening on the ground in Oregon right now?
Erin Ross: Well, right now fire conditions are definitely starting to improve, which is we're all very grateful for. Strangely enough, it's actually the smoke that's really helping that happen. It's kept temperatures really low, kept humidity high and so now we have moisture in the air and fog and it's making favorable conditions for fighting fires.
Tanzina: In terms of what we just heard Erin, are the fingers pointing to climate change specifically in Oregon right now? Is there more of an acceptance that that in fact is what's leading the way here?
Erin: It's a little bit complicated. We do know that without climate change these fires to some extent would not have been possible. It's difficult to say if events like this one exactly are going to become more common with climate change. This event was primarily driven by a really extreme wind storm. The kind of which we never really get up here. We had three days of 60 mile an hour plus winds coming down off the mountains from the East and they're very dry winds. That's very uncommon. What is unfortunately increasingly common is that really, really dry fuel that we're seeing. We had record high temperatures for a large chunk of September, our water tables are very low and the fuel on the ground is very dry and it doesn't matter how windy something is or how many downed power lines you have. If the fuel is not dry it's not going to light. While we might not see simultaneous fires burning across Oregon like this again hopefully until we get another once in a century storm, we'll certainly continue to see our wildfires get larger and hotter and more frequent.
Tanzina: Erin, we know that Oregon's fire Marshall, Jim Walker resigned, do we know why?
Erin: Yes. We just got some of that information yesterday. It seems as though he went into an active wildfire and without permission on doing a favor for a friend looking for survivors, but he wasn't authorized to be in there. Apparently had been a little bit absentee during the initial fires from the administrative side, he was going into fire camps which could be useful in some cases, but when you have fires that are moving 40 miles an hour down a Canyon, it's not particularly useful.
Tanzina: Sam, let's talk about what's happening in Colorado. Is this the first time that many folks there have witnessed a fire like this? What are conditions like on the ground right now?
Sam: I'll start by saying that we are nowhere near where Oregon, Northern California, and Washington are right now. The disaster playing out on the West coast is pretty unfathomable. I think the feeling right now in Colorado is that we have largely dodged a bullet. Last week we had a number of major fires burning across the state and they were growing and then we had this free cold snap. Last Tuesday night we had 90s one day here in Denver and then some places saw a 50-degree temperature drop. We had snow the next day. That's really helped our firefighters get an edge on some of the biggest fires burning, especially the Cameron peak fire that's West of Fort Collins in Northern Colorado and it's burned 11 square miles of Rocky Mountain National Park.
Tanzina: Sam, you mentioned some pretty extreme weather there. You said you guys had dodged a bullet in terms of fire, but the weather is that being caused by climate change as well? The extremes going from fire to snow seemed pretty intense.
Sam: They're pretty intense. I think with Erin just to echo her, I can't say whether or not that temperature swing would be more common because of climate change, but similar to what she was saying. The longterm conditions playing out here in the West, especially Colorado are just dryer, hotter weather. You have a climatologist at CSU, Colorado State University, Brad Udall and he gave us a rough estimate that if you subtract climate change from the whole equation you would have about half of the same acreage right now burning in the American West. That's a rough calculation, but it gives you some idea of what role climate change is playing here. Like Erin said, you have hotter weather, more fuel on the ground ready to burn and that's definitely the same situation playing out in Colorado.
Tanzina: Are we seeing Sam any evacuees right now, you said things have died down, but I'm wondering if people who had to be evacuated we've been reporting here on The Takeaway that when it comes to natural disasters in a pandemic that can complicate things.
Sam: Absolutely. Again, that same fire, the Cameron Peak fire is the one of greatest concern right now when it comes to evacuations, a few big spread out-- I wouldn't even call them neighborhoods sort of collections of homes up in the mountains have been evacuated as a cause of that and most people are collecting in Fort Collins there. We've heard reports that I needed to look into this more about not shelters being set up, but volunteer groups that are working to have people stay in their homes and hotels, figure out where they can be that safe and not collected together. Because like you said, there's a pandemic going on as well.
Tanzina: Erin, what about in Oregon? We know that there were people who were forced to evacuate. How are those efforts going right now?
Erin: Initially the red cross planned to house evacuees in hotels to help prevent the spread of COVID-19, but there were so many evacuees coming in so fast it quickly became clear that wouldn't be possible so they did set up shelters in fairgrounds and similar places. To try and help prevent the spread of COVID, of course, social distancing is being practiced and masks are required, but also counties and many of the evacuation areas have been in contact with their confirmed COVID-19 patients and are directing them to instead evacuate to one of the quarantine centers that Oregon set up, which are available for people who live in say multifamily homes or with the elderly who might not be able to quarantine safely or without putting their family at risk. Instead, those people are being directed to go there. The big concern right now is all of the smoke that we're experiencing. There's a record smoke event. Well over four million people now are in hazardous conditions in Oregon alone and combined with a respiratory pandemic that has a lot of public health officials really concerned.
Tanzina: Sam, what about in Colorado, are the air quality conditions also concerning there right now?
Sam: Not right now. Last week they were really, really bad. We watched smoke from the Cameron Peak fire arrive in Denver, I've never seen anything like it, but there was a huge plume setup and then you could just watch it come at you from where we were. Like Erin was saying, this is a huge concern due to the respiratory pandemic. The smoke contains all kinds of hazardous material, but the one that scientists pay a lot of attention to is called a PM2.5, it's tiny little particles. The problem with this is it can get into your lungs and it's so small. It can even reach your bloodstream. Scientists know that this can gum up your mucus membranes, it can inflame your lungs, all of that leaves you vulnerable to COVID-19, can make a case of COVID-19 a lot worse, and there's science too that it could have really long-lasting implications. One study up in Montana suggests that a really bad fire season is often followed by a really bad flu season. other studies in California have looked at the long term effects on people's immune system that wildfire smoke could actually make it harder for you to fight off disease over years or even lifetime
Tanzina: Erin in Portland, in particular, there've been protests for racial and social justice that had been ongoing for months now. Have these fires had any effect right now on the political tone and tenor on the ground?
Erin: Very, very much. These fires have increasingly become politicized and that's due in large part both to the efforts of the Oregon Republican Party to frame the issue around wildfire management and then at the same time rumors and conspiracy theories that have spread very rapidly online and since gone national that these fires were in fact not started by a major wind event, but were started by Black Lives Matter and anti-fascist protesters. That rumor is patently false Oregon state law enforcement which does not have a good relationship with Black Lives Matter groups or with anti-fascist groups, all say that these fires are not politically motivated. The FBI investigated and said, they're not politically motivated, but this rumor still continues to spread and it's creating a very tense situation here on the ground. In Clackamas County, which is to the Southeast of Portland, there were reports, well-confirmed reports of armed men setting up checkpoints on the interstate, where they were stopping people going in and out of the cities and trying to confirm whether or not they were Antifa and looking for things like gas cans.
Tanzina: Erin, what is this doing in terms of-- We've said this is a disaster within a disaster within a disaster at this point, is federal aid coming to Oregon?
Erin: Not very much, not fast enough. We received funding and we received some national guards workers, but right now there is so much cleanup to do. At one point we had 3,000 firefighters and we were told that we needed 3,000 more and there just weren't any available anywhere in the country to come. These fires still continue to be really, really large. If the weather changes, the situation can change very rapidly.
Tanzina: Just quickly Erin, because of the lack of firefighters, are there any alternatives in Oregon like in California where they use inmate populations to put out fires?
Erin: No, we don't. Actually, right now our inmates are in a pretty rough situation because many prisons had been evacuated and there were reports that the conditions right now that they're experiencing are very inhumane.
Tanzina: Erin Ross is a science reporter at Oregon Public Broadcasting and Sam Brasch is a climate and environment reporter for Colorado Public Radio. Thanks so much, Erin and Sam will be paying close attention. Stay safe.
Sam: Thank you.
Erin: Thank you.
Tanzina: If you are in or near an affected area, we've been asking you what effect these fires are having on your life and your community.
Nikki: Hi, my name is Nikki and I live in Forest Ranch, California. It's a small mountain community in Butte County. We packed up things in preparation of evacuating for the Butte Lightning Complex on August 17th. It was a pretty hard day for me. I didn't realize until a friend pointed out that I was experiencing PTSD from the campfire two years ago. We were evacuated for 10 days during that fire. We did not evacuate this time, but our bags remained packed at the entryway to our house. It's pretty surreal every time I walk by that pile. The current fires are farther away, but we are still on guard. The campfire taught us that you can't think, "Oh, the fire's miles away it won't make it to our ranch."
Speaker 5: Hi, this is [unintelligible 00:13:50] from Portland, Oregon. It's very overwhelming for us. For myself I'm my mother's caregiver. Even though we're only under a level one evacuation and I have most everything together, it's just a lot to prepare of what we need to take just in case we have to go medicines, files, all that stuff. The air quality is so bad we couldn't even see to the end of the street near my house at all. I do real estate and I have been reaching out to some of my clients who are actually affected. I've just got a couple that have had to move out and some that are under level two being prepared. It's just really overwhelming, especially on top of everything else that 2020 has had to offer.
Howard Luks: I currently live in Carmichael, California. My name is Howard Luks. The smoke is just crazy. I've lived here in the Central Valley of California for about 35 years and I've never seen anything like this. Smoke from the campfire a few years ago in 2018, that was bad, but I don't recall it lasting this long. Incredibly smoky the whole entire way. I currently work outside. I worked for the US census. I lost my job right before the pandemic, but due to the pandemic, I've not been able to get another one. Unemployment ran out right as a census was starting up, I took it knowing that I was going to have to risk my health doing that job, but now the smoke, I can't even get in a full 40 hours a week because of it. In some ways though, it's harder for my kids, because virtual school was already difficult, but at least they got to go outside for PE until this. Now they can't even do that. They're just cooped up inside all the time and they're going so crazy.
Teresa Goodell: My name is Teresa Goodell, I'm calling from Beaverton, Oregon, outside Portland, and it is awful here. I have asthma. I can't go outside. The air smells like fire. I can't see much. I normally have a nice view from my home. It's unprecedented and it's unnerving and it is the fault of polluters and climate change deniers. This did not have to happen.
Debbie Hemenway: Hi, my name is Debbie Hemenway. I live in Winters, California, which is a little town right on the very Eastern edge of the LNU Fire Complex. Friends and community members that I know have lost everything they have. A month ago our streets were filled with smoke and I couldn't see the end of the block. Now we're living with smoke and particulates from all the fires up and down the coast. I haven't seen a blue sky since mid-August and we're in the house with the air purifier going 24/7. My dogs are only allowed out for few minutes a few times a day. Following the breakout of the pandemic back in February, March, it's like we're having a lockdown within a lockdown and there is no end in the foreseeable future. This is taking a physical, mental, and psychological toll on many of us. It didn't have to be like this. I'm sad and I'm angry.
Tanzina: Thanks so much for sharing your thoughts and if you want to tell us about your experience, call us and leave us a message at 8778-my-take.
Copyright © 2020 New York Public Radio. All rights reserved. Visit our website terms of use at www.wnyc.org for further information.

New York Public Radio transcripts are created on a rush deadline, often by contractors. This text may not be in its final form and may be updated or revised in the future. Accuracy and availability may vary. The authoritative record of New York Public Radio's programming is the audio record.