Why Newsroom Diversity Matters for Political Coverage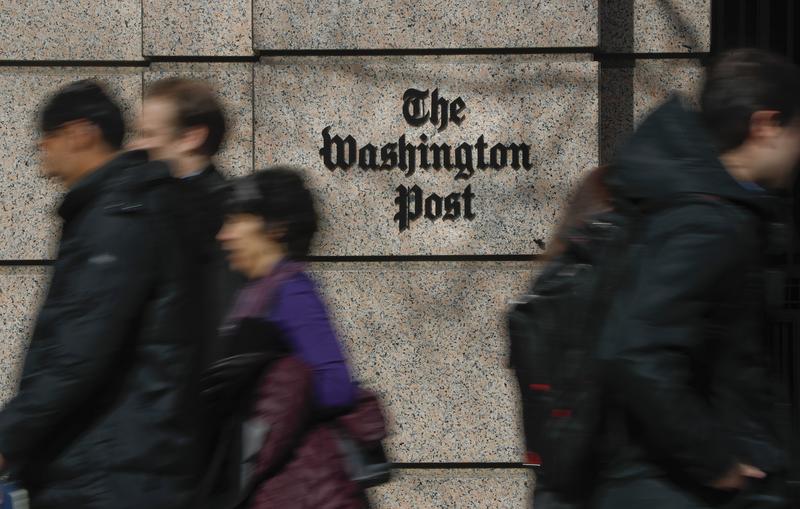 Transcript
[music]
Amy Walter: It's politics with Amy Walter on The Takeaway. A couple of weeks ago when I announced the show would be coming to an end, I told you we'd spend the last few shows looking at the political challenges ahead to understand their root causes and to understand how they're being addressed or ignored. Today we'll hear from a few of the heroes of the 2020 election, the officials and volunteers who work tirelessly to protect the integrity of our elections.
They worked through a global health crisis that dramatically altered the way we cast votes in this country and a plague of disinformation that sought to undermine American confidence in democracy itself. But we begin with a conversation about diversity and political journalism. When I first started reporting on politics and, well, sometimes I feel super, super old. It wasn't that long ago. I was often the lone woman in the room.
There was sometimes a boys club feel to political coverage. Girls were allowed but they had to be willing to adapt to the already established culture. But the lack of reporters of color was even more striking. Look through those press scrums from the 1980s and '90s, even the early 2000s, and you see very few brown and Black faces. Of course, a lot has changed in recent years and newsrooms have had to adapt.
This year we saw a lot of reporters of color on our TV. We listened to them on podcasts, on radio shows, and read their by-lines in the nation's top newspapers. Ignoring issues of systemic racism is no longer possible. 2020 taught us that. In fact, race and racism and our national reckoning are rightly centered in the national conversation. What does all of this mean for how we discuss politics and policy? For that, I turned to Errin Haines, co-founder and editor-at-large for the 19th*, Toluse Olorunnipa, national political reporter for the Washington Post, and Maya King, political reporter at Politico.
Maya King: Over the last, particularly the last two years, we've really been able to see and learn the value and the huge platform that Black voters have, not just as a political force, but an organizing force. Every campaign that I spoke to on the primary, on the campaign trail, and I'm sure Toluse and Errin can attest to this, really underlined the value of Black voters, especially in 2018 and in 2019 when things were really starting to kick up on the campaign.
Then we had this thing called the coronavirus step into the scene and that totally changed the direction of the political campaign, but it didn't necessarily change, at least for me and my reporting on race and demographics, the direction of my reporting in that I was still focusing on the impact, and disproportionate impact, of these policies and of these major events on Black communities.
Taking it even further, we had the George Floyd, Ahmaud Arbery, Breonna Taylor killings at the hands of police that spurned international protests, again, against racial inequities and against police violence. It was just made very clear to me time and time again, of just the giant value and platform that Black communities have specifically as it relates to American politics.
Covering all of that also as a Black woman was truly-- It required me to really challenge my own understandings of the community that I also belong to, which was great for me as a journalist, to be able to still learn a lot of new things and be able to tell stories that hadn't been told before, but was also equally very difficult to be able to not only understand these and see these things happening in real time, but also see how they were impacting those closest to me in my community and in my family.
That in itself was also informing my reporting. I say all that to say it really has been a truly remarkable 18 months as it relates to politics and political reporting. Covering this as a Black person has truly been as equally fulfilling as it has been challenging.
Amy: Toluse, how would you describe your experience?
Toluse Olorunnipa: Yes, I think Maya covered it actually really, really well. We all as reporters try to figure out how to tell the story of what's happening in the country and even globally and there's such a diverse experience based on where you're from, based on what kind of community you live in, and it's important as reporters to tell the full story, especially here in America. To make sure that everyone's story gets told and gets told with the appropriate context and gets the appropriate weight and attention that's needed.
For a large part of our history, certain communities were overlooked, their stories were not told, or their stories were told in stereotypical ways or ways that did not appreciate the fullness of those cultures and communities. I think having a more diverse press corps is a big part of trying to tell those stories in the appropriate way with the appropriate amount of cultural recognition of what those communities are going through.
As Maya said, as we've faced the past couple of years of turbulence, especially when it comes to racial issues in the country, it's important to have voices that understand what a lot of these communities have been going through that just has not been getting the coverage, or have not been getting the focus that's appropriate over the past several decades.
Now that the country is turning its attention to these issues, it's important that these voices are elevated. It's important that people who are now ready to tell their stories to a broader audience get to do so without having them filtered through a negative lens as we've seen so often in the past. I do feel some level of responsibility to make sure that I'm telling those broad stories in an inappropriate way, and that I'm giving voice to people and communities that have been overlooked for far too long.
It's a weighty responsibility. It's difficult, in addition to the difficulties of just being a reporter generally. It's an added responsibility that I think we have to make sure that we are representing people who may have skepticism towards the media, may feel like in the past their stories were misinterpreted or not given the right amount of attention. So now that people are starting to focus on these issues, whether it's income inequality, police brutality, police harassment, that those stories are told with the right level of nuance.
There's definitely some high level of responsibility to make sure we're doing that well, make sure that we are reporting for the broad community, but that we're doing it in a nuanced way. It's all of our responsibilities but I think there's a special responsibility on people who have experience with these communities, who have maybe grown up in these communities, who may understand some of the nuance better than other reporters, to make sure that we're doing our part to provide that level of context and nuance so that those stories are told in a way that enlightens us all.
Amy: Errin, you have the unique position that you also started a news organization in this moment, and one that focused specifically on reflecting racial, ideological, socioeconomic, gender diversity of American voters. Talk about that experience and compare it to your experiences that you had in traditional newsrooms. You came most immediately from the AP.
Errin Haines: Sure. Let me also just say though how great it is to be in conversation with my colleagues who are growing in number, especially in terms of visibility and representation, because that absolutely matters. Yes, I was one of the five women who helped to start the 19th* which is a non-profit independent newsroom that is at the intersection of gender, policy, and politics, because we wanted to change the narrative around the majority of the US electorate, namely women, but also marginalized folks in this country.
I'm somebody who spent much of my career covering issues of race and I would say by default gender, because I do tend to see a lot of my work through my own lived experience as a Black woman, but probably focused a lot more on my Blackness than my womanhood, honestly, before I came to the 19th*.
I think early on in my career, I thought I was going to be covering the vestiges of racism and the progress, the gains that had been made since the civil rights movement, but I now find myself really focused on some of the losses and the retrenchment of racism in this country, in addition to some of the continued progress that Black Americans have made. Starting this newsroom really was about changing the conversation around gender, yes, but also frankly around race in this country, especially as it pertains to our politics.
Last year we certainly did not envision starting a newsroom in the middle of a pandemic, but we absolutely sat at the intersection of everything. I think in 2020, the country and our industry saw what a lot of Black journalists in Black America have long known, which is that race is the unfinished business of our democracy and the story of our time. As a Black journalist, as Toluse and Maya have said, we get to chronicle the highs and the lows of the Black experience in this country and those were certainly on display last year. Black people continuing to be disproportionately affected in yet another facet of American life with the pandemic, from both a public health and economic perspective.
A national reckoning on race that came even in the midst of a global public health crisis, and yet an election in which Black voters would not be denied even in the midst of a pandemic, to vote in record numbers and to help elect a Black woman as the second most powerful person in the country for the first time in our history. For me, others have talked about bringing our lived experience to the work.
I'm somebody who has always believed that that is an asset that Black journalists have, not a bias, if not a superpower frankly, because we see stories that other folks don't necessarily see. We are in conversation with our family members, our friends, people from college, you name it, talking about what it means to be Black in America in this moment. But as journalists more broadly, our mission is to leave behind the most honest and accurate record of who and where we are as a country. If we are not telling the truth about race in public, I know that we are not doing that. We are not doing our job as journalists, period, much less as Black journalists more specifically.
Amy: Talk about that for a minute, too, about bringing the lived experience and then the pressure on being an "objective journalist". You're supposed to be dispassionate, you're supposed to be able to detach yourself from what you're covering, which also seems very unrealistic, number one, and number two, like something that people who are white and covering politics, of course that is a much easier experience for them than it is for others.
Errin: I don't know, Amy, I would actually push back on that. Objectively speaking race is a matter of fact in terms of life in the United States. If we can agree upon that fact of life in America, then I think we can begin to have a conversation about exactly what objectivity means. Like I said, the goal here is honesty and accuracy. I think that because race has been so polarizing in this country because of the original sin of slavery, the default setting for some people is that to talk about race is to invite bias into [inaudible 00:12:49]
Amy: Exactly, doesn't it seem like we're still there? Do you feel like we've actually gotten past that? I don't. I still feel like that's not okay to talk about, that's polarizing, that's divisive. Let's not talk about that.
Errin: I would say, when I am met with that reaction, that tells me more about the journalist than it does about whatever the story is. I think too, what we've come to learn certainly in the last four years, if not before that, is that more folks, white Americans, and that includes white Americans in newsrooms, are starting to really think about what it means to be a white person in America and the idea of whiteness as part of our identity politics.
That's real. That's a thing and that is a journalistic aspect of our job that is worth being explored, right? But because white Americans and by default, white journalists are not thinking about these issues, honestly, nearly as much as Black people and Black journalists think about race, they're not as comfortable talking about it. They are not as used to using that muscle, and it is a muscle, honestly.
The more you use it, the more comfortable you get with it, the better you get at it. I would just encourage white journalists who are coming to realize the role that race plays not only in our politics, but in our society more broadly, to get rid of these kind of traditional notions of objectivity which were developed and defined largely by white male gatekeepers, and to really ask yourself-- Being dispassionate about it means taking these feelings out of writing about race and really focusing on the facts of writing about race and journalism that focuses on those facts. If we do that, then I think that we are living up to our journalistic mission.
Amy: Toluse, I want to get to that issue too, of facts. You covered the White House. You covered the Trump campaign back in 2016. Journalists were very uncomfortable calling what Donald Trump was doing or saying racist, and by the time when he was sworn in as president and then as we went into the campaign, newspapers including yours. I'm just going to read a Washington Post headline from the summer of 2020 was, "Trump's push to amplify racism unnerves Republicans who have long enabled him."
Can you talk about what happened? Where that change, that switch seemed to be flipped from being uncomfortable as Errin was discussing with talking about race, it was in a "dispassionate way", versus calling out what was right in front of us all along.
Toluse: Yes, I think it was sort of a industry-wide and a paper-wide reckoning with what Errin was talking about, the importance of covering this issue, covering the issue of race without kid gloves. Covering it in a fact-based manner and the fact is that many of the things that the president was saying, the things he was doing, the political strategy that he was employing, were racist. They were racially offensive, they were racially insensitive, and they were racist.
They were essentially pushes and efforts to denigrate specific communities, pushes to identify with his own whiteness and to get his supporters to see their whiteness as a form of privilege that they didn't want to let go, and to rile up his "base" with sometimes racist dog whistles and sometimes racist bullhorns. There were so many examples. One that comes to mind is when the president told four Congress women of color to go back to their countries, even though they were American citizens and the vast majority of them were actually born in this country and had no other country to go back to. It was very clear when the president started doing things like that.
The examples piled up and the newspaper and the top leaders at the newspaper started to realize that we cannot beat around the bush. We have to do a service to our readers by calling things as they are, even though it may be uncomfortable for our readers or maybe uncomfortable for the broader public to think of the president of the United States as someone who traffics in racist language and politics, but that was what was happening and it was important for us to be true to the moment, to be fact-based and to be unsparing in our coverage of the way the president was behaving.
I think that was something that ended up becoming a service to our readers because it was important for them to know that this was what was happening in the country. The country is, as Errin said, still trying to work on this unfinished business of racial inequality and racial sensitivity and it is something that is difficult to talk about, is difficult to process. It is a challenge that this country has faced for the better part of two centuries and it continues to be a challenge that we're facing.
It's important for us in the media to focus on the issues that are continuing to face the country without papering over them or making it seem like all of those issues have been solved or that all of the problems that marred the history of this country no longer affect a large portion of the people in the country. In fact, almost everyone in the country is touched by race in one way or the other.
I think it was important for us to call this for what it was and to level with our readers, level with our audience, about what was happening in the country and sometimes it required us to use language that may be difficult to read or difficult to process, but language that reflected the reality of what we're living in, which is a very difficult time.
Errin: Amy, I just want to echo and just put a pin in something that Toluse was saying just now. The idea that we saw racism re-emerging in the last four years. Black journalists saw this, they said this, and sometimes they were criticized for trying to point this out in newsrooms. We can't lose sight of that because I think it's important for our political journalism coverage going forward, and our coverage of our country going forward. I can think back to the 2016 campaign when we saw that there was racism happening at some of these Make America Great Again rallies, that was in the atmosphere of some of these rallies.
That is not to suggest that everyone that voted for former President Trump was a racist, but racism was certainly a part of the equation and that was something that was emboldened and enabled. It is a fact, our federal government has found white nationalism, white power is a national domestic terrorism threat. That's not a Black journalist saying that in a newsroom, that is something that our own government has found to be true. So saying those things, even though to Toluse point, they may make some people uncomfortable because they may see some of these folks, some of these stories, and maybe their lived experience is similar to--
They know somebody who maybe has reflected some of these views or they want to maybe try to empathize with folks or try to understand better, but it really is important to understand the dynamics of race and politics. I think that that is something that journalists of color who are covering politics are definitely uniquely positioned to do and I hope that it is something that more white journalists who cover politics get more comfortable doing.
Just because former President Trump is no longer in office, that does not mean that the intersection of race and politics is no longer with us, just as when the first Black President Barack Obama left office. We certainly were very far from being post-racial, if anything we're in a hyper racial America and that means that we have an obligation to cover that.
Interviewer: That's a great segue then, Maya to you, to ask about where we go from here and what you're expectation are going forward. As Errin pointed out, Donald Trump's not there sort of fanning the flames every single day like we saw for the last four years, but it doesn't mean that we shouldn't cover with the same intentionality these issues of race. What do you think the commitment is as you're seeing your newsroom and others evolve at this time, to doing so?
Maya: Well first, I would argue that now, especially this year if not the next four years, make this story of race in politics as important as they've almost ever been. We've got a Bill on Reparations on the hill within the first 100 days of a presidential administration. I'm not sure if that's ever happened before. Then even on top of that, communities of color that showed out en masse, that showed up to the polls en masse, in the midst of a public health crisis and an international reckoning on race, are looking to this particular White House and saying, "We need you to deliver for us."
Even more specifically Black communities are looking to this White House with a Black and South Asian vice president, a historically diverse presidential cabinet, a historically diverse Congress, waiting for policies that will specifically, positively, impact their communities saying, "We've delivered for you. Please deliver for us."
I know for the next 12 months to the next four years, that's exactly what I'm looking at. That's all that I'm following is how- one of the limits of representation now. How does having historic diversity in the top levers of power impact politics and policy for communities of color? I would agree with everything that my colleagues have said which is, yes, this is absolutely a critical time for coverage of race and coverage of demographics. I would take it even further and say that if newsrooms charge and journalism's creed is to tell the truth and to state the facts, then reporting about race and the impacts of these policies is part of that.
We don't necessarily have to think too hard about this if we're still holding ourselves to the same journalistic standards that we've been saying that we would like to see. That means, of course, for our white colleagues who are on the White House beat, who are on the Congress beat, not just relegating these stories about race and policy to your colleagues of color because this is your beat too. This is part of the story that everyone is telling, and if there is some discomfort, give the people who are telling these stories, who have made this their life's work, the support that they need within newsrooms to be able to do that as effectively as possible.
That's the biggest takeaway that I would have here is just that I think that more newsrooms now understand the value and importance of covering race in politics. Now the challenge, of course, is figuring out how to do that the right way, and that's what we'll be seeing too as we continue to follow this story of race in politics from a political standpoint. How are newsrooms going to evolve to make sure that this is also done correctly?
Amy: This has been fantastic. Thank you guys so much for coming on and talking through this with me.
Maya: Thank you for allowing us to gather together because we don't get to do this nearly enough in the pandemic.
Amy: I know. Someday soon we will be in person. Bye guys.
Errin: Bye.
Toluse: Bye.
Amy: Errin Haines, co-founder and editor-at-large for the 19th*, Toluse Olorunnipa national political reporter for the Washington Post, and Maya King political reporter at Politico.
Copyright © 2020 New York Public Radio. All rights reserved. Visit our website terms of use at www.wnyc.org for further information.
New York Public Radio transcripts are created on a rush deadline, often by contractors. This text may not be in its final form and may be updated or revised in the future. Accuracy and availability may vary. The authoritative record of New York Public Radio's programming is the audio record.