Why COVID-19 Infections for Fully Vaccinated People Are Not Cause for Alarm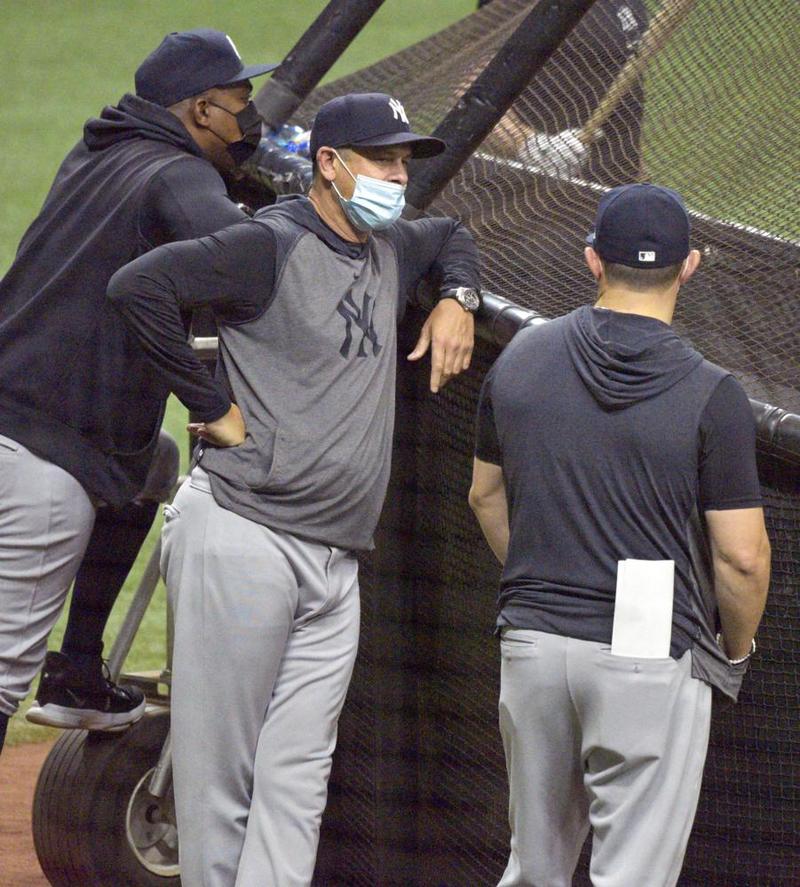 Transcript
Matt Katz: I'm Matt Katz, in for Tanzina Vega. Good to have you with us. For some time now, experts have been telling us that while all of the authorized COVID-19 vaccines are very effective at preventing severe cases and deaths, none are 100% effective at stopping people from contracting the virus. When vaccinated people do get COVID-19, these cases are often referred to as breakthrough infections.
According to the CDC between January and April, there were 9,000 breakthrough infections out of 95 million vaccinated people and while the number is most likely and undercounts, it still suggests that breakthrough infections are extremely rare. However, a recent COVID-19 outbreak among the New York Yankees has put the possibility of breakthrough infections back in the spotlight.
This month, nine employees of the Yankees, including one player, tested positive for COVID. Out of those nine, only one reported any symptoms, which were mild. According to the Yankees, all nine employees were fully vaccinated with the Johnson & Johnson vaccine. Here's Yankees General Manager, Brian Cashman, on the YES Network last Thursday, prior to the news that a ninth employee had tested positive.
Brian Cashman: The one thing I take from this is I believe the vaccine is working. We've got eight positives and seven of the eight presented as without symptoms, so without the testing, you wouldn't even have known. Then the one that did present, thankfully, now [unintelligible 00:01:23] symptom-free.
Matt: More information is needed to figure out whether the Yankee's outbreak is, in fact, an example of breakthrough infections but in the meantime, it's important to get the full picture on these rare cases. With me now to explain all of this is Nsikan Akpan, Health and Science editor for the WNYC newsroom. Thanks for being here, Nsikan.
Nsikan Akpan: Hey, thanks for having me.
Matt: How much has our understanding of this concept of breakthrough infections evolved since people started getting vaccinated?
Nsikan: It's completely evolved. You can't learn about breakthrough infections until after clinical trial is done. Clinical trial is essentially a field test for humans, might be one way to put it. For the COVID-19 vaccine trials, those recruits numbered about 30,000 to 40,000 for the authorized vaccines from Pfizer and Moderna, and Johnson & Johnson. Those studies really try to have a diverse mix of people. You really want all races, all ages, you want it to be demographically representative sex, chronic disease, and you do that because you want those results from the clinical trial to be able to predict what's going to happen in the real world.
You never really know how a vaccine is going to perform until you have it out in the real world, until it's either authorized or approved but the real world is messy. It comes with a lot of unexpected variables. You have supply chains, you have freezers, you have people who are outliers, so you might not expect you have hot weather. Once you take that dose out of the fridge, that hot weather can degrade the vaccine and you now have the Yankees. This is curveball that nobody was expecting with these breakthrough infections.
That's just a long way of saying that the efficacy that you measure in a clinical trial is going to be different from the effectiveness that you measure in the world at large. That's the difference between those two terms, but so far, it looks like the efficacy that was measured in clinical trials is matching the effectiveness in the real world.
For Pfizer Moderna, we saw about 90% to 95% efficacy against severe disease and now we're seeing that also in the real world, but also 90% to 95% effectiveness against even getting any infection at all, even having the virus take hold in your body. Then the Mayo Clinic put out a preliminary study a couple of weeks ago, showing that the Johnson & Johnson vaccine its efficacy from the clinical trial is also matching its effectiveness in the real world against infection. It's about 77% effective.
Matt: Then how do you make sense of the Yankee situation, nine employees tested positive, all of whom were fully vaccinated? How does that make sense to you?
Nsikan: There's a lot to pick apart in dig into there. I think, first off, a lot of us has jumped to the conclusion that a breakthrough infection happens, but we really need to see what the CDC's investigation into the outbreak finds. I say that because like I just said, there's a lot of variables that go into just administering a vaccine. We need to make sure that the vaccines were stored properly. We need to make sure that they were administered properly because if you don't do that first step right, the effectiveness is going to be lower even before the vaccine inter enters your body.
I think another thing that's going on is that the people who are traveling with the Yankees right now, it's like a group of about 50 to 60 people. They're getting tested three times a day and so that is a testing rate that's much higher than the average person. You're more likely to catch cases. You're more likely to despite cases, which is what you want. You want to be able to isolate your very valuable players as soon as you can, to make sure that the outbreak doesn't spread throughout your organization.
I think what's interesting about the Yankee situation is that we've caught these nine cases, but almost all of them had no symptoms, which is a sign that the vaccines are working. We know that when you get vaccinated, especially with the Johnson & Johnson vaccine, there's a greater chance of you catching the infection, but we would expect that the Johnson & Johnson vaccine would protect against severe disease or severe symptoms and so that's what we're seeing there.
Matt: You mentioned that they're tested more frequently than the average American and so as HBO hosts, Bill Maher, who had to cancel his show last week and after testing positive, despite being vaccinated. Is this something we're seeing that people who were maybe getting some of these breakthrough infections that their infection wouldn't necessarily be caught if they were just in the general population?
Nsikan: I don't know if we can say that broadly for the breakthrough infections, but we can say that breakthrough infections would be expected. All vaccines experienced breakthrough infections, even the best ones that we have so the ones for chickenpox, measles, mumps, HPV, there's always a small chance that you're going to have a breakthrough infection.
If you think about the testing levels for the Yankees and probably for a show like Bill Maher's, that rate is going to be comparable, if not better than what you would see on a clinical trial. If you're testing these teams as often as they're reporting, you're going to be more likely to catch breakthrough infections or asymptomatic infections that typically go unnoticed
Matt: Nsikan, last month you wrote a piece criticizing coverage around breakthrough infections and deaths among fully vaccinated people in Michigan. What were some of the main flaws that you saw in reporting that story?
Nsikan: I think to their credit, Michigan health officials, they wanted to get ahead of the curve and inform the public about the breakthrough infections that they were seeing. They put out this number that was like we've seen 246 breakthrough infections. A lot of news outlets just picked up on it and they're like, "Oh, my goodness, can you believe it? People are getting infected even though they're vaccinated." The thing that they didn't do was include the denominator. That 246 was out of, I think, about 1.8 million, meaning that there's about one of every 10,000 cases led to breakthrough infection.
Without that denominator, without that extra context, you're going to have a lot of people who are scared and you're going to have a lot of people who maybe start distrusting the vaccines. I think that's one common thing that I've seen with the reporting on breakthrough infections, especially with the Yankee stories that came out last week and this isn't a dig on the reporters doing that work, a lot of these folks aren't health reporters, they're not science reporters, they're just trying to say here's what the team is telling us. They're just trying to get that information out to other folks. When every major outlet is covering that story, it does creating a magnifying effect or an amplifying effect. You have to wonder if that can send out, I would say, misconceptions about how well the vaccines are working, if you know, those stories don't all include context.
Matt: You absolutely need that context and maybe if our public health officials were a little more clear and consistent, that would also go a long way in helping us understand that context, too. As far as that goes in terms of what we should be thinking about from a public health perspective more broadly when it comes to breakthrough infections, do you think the fact that there are these breakthrough infections, which are, again, mainly mild or asymptomatic cases, presents any reason for vaccinated people to keep wearing masks in inside, indoors?
Nsikan: All of the data that we're seeing so far especially with the Pfizer in Moderna vaccines and people should keep in mind that we have more data on the Pfizer and Moderna vaccines because they were authorized earlier. All of that data is suggesting that the vaccines are going to protect against infection for the people who are fully vaccinated. I think for that reason, vaccinated people can worry less about catching the virus when they're out in public like majority of situations outdoors, for sure.
I think most places that are indoors for sure. The reason that we have the exceptions in the CDC guidance on masking is that you're more likely to catch a virus, even if you're vaccinated, if your if your exposure is higher. If you go into a hospital and you have a lot of people who are coughing, you have COVID wards, the amount is going to be a lot more exposure there. Even in that setting, your defensive shields, your immunity shields might break down.
Matt: Nsikan Akpan is the Health and Science editor for the WNYC Newsroom. Thanks so much, Nsikan, I appreciate it.
Nsikan: Thank you. Thanks for having me.
Matt: Many thanks for having me many vaccinated people still have mixed feelings on any quick return to normal. Here's what you've been telling us.
Mary Claire: This is Mary Claire of [unintelligible 00:11:07], South Carolina. I am fully vaccinated and I will not stop wearing a mask when I'm around people I do not know outdoors and especially inside. We'd not know enough to throw caution to the wind. Besides, there's still widespread COVID-19 on the planet, and variants will continue to proliferate until the virus is under control everywhere with vaccines.
Jena: Hey, this is Jena from New York City. I would change my mask use just by a little bit. I assume you wearing masks to protect against the sun. When I bike, I like to wear masks when I hike or just to feel safe in general when I'm in crowded spaces. However, when I feel like I need to experience these smells around me, I'll definitely take it off like when I'm at the beach, when I'm at a garden.
Participant: My name is [unintelligible 00:12:03]. I'm from Point Arena, California, and I believe in science. If you think data supports the change, then I'm with it.
Elle: I'm not going to change anything about mask-wearing because while safety depends on trusting unknown people to be honest about having had their shots, I'll wait for the next dose. Used to be you wouldn't let yourself wonder or worry about the people, workers, the restaurant, behind the scenes in the kitchen to truly be washing their hands properly. We'll take that apprehension and put up [unintelligible 00:12:34] and welcome to 2021. This is Elle [unintelligible 00:12:39] from Barrington, New Jersey.
Teresa: Hi, this is Teresa Weaver from Kingfisher, Oklahoma. Yes, I will stop wearing my mask with the CDC recommendation unless I'm with somebody who's uncomfortable not wearing a mask. Then I'll put mine back on.
Daniel: This is Daniel from Greenville, South Carolina. Even though I'm now fully vaccinated, I'll continue to wear masks when indoors and [unintelligible 00:13:01] large crowds out of an abundance of caution, as well as out of respect for others.
Nancy: Hi, this is Nancy from New Jersey calling. I will continue wearing a mask in public. I wore a mask in public prior to COVID and ignored strange looks. I have an asthma-related condition and there's certain allergens that are detrimental to my airway. Wearing a mask is actually very beneficial for me. I will continue.
June: This is June from Corning, New York. I will not change my habits in regards to wearing a mask because I am so fearful of all the idiots who do not get vaccinated and are spreading these germs and getting everyone sick. My mother died of COVID in December and she was healthy and it killed her. I will not take my mask off when I am in public for a long time.
Dennis: This is Dennis calling from Foxborough, Massachusetts. I'll continue to wear a mask when indoors in such situations as shopping, I'll avoid retail locations that don't require masks. I won't eat indoors at restaurants or attend any indoor events, even mask. The CDC decision was too quick and far-reaching for my comfort level and I'll leave it to others to play Canary in the coal mine and see what develops over the next few months.
Dave: Hi, my name's Dave Kovalchuk and I'm from [unintelligible 00:14:27], Pennsylvania. I just went into a pizza parlor and on the front of the pizza parlor door, it said, "All mask required." They obviously wrote after the fact, "unless you've been vaccinated." I walked in had a slice of pizza no mask, and it felt great.
Matt: Lots of complexity and thought in those responses as always. We thank you for sharing them with us. As for me, I've been walking outside with my mask off, but if I pass someone on the sidewalk, I put the mask on and that's for the stranger's comfort, not mine and it's certainly grounded more in social science than health science. You can call anytime at 877-8-MY-TAKE, that's 877-869-8253, or send a voice memo to takeawaycallers@gmail.com.
Copyright © 2021 New York Public Radio. All rights reserved. Visit our website terms of use at www.wnyc.org for further information.
New York Public Radio transcripts are created on a rush deadline, often by contractors. This text may not be in its final form and may be updated or revised in the future. Accuracy and availability may vary. The authoritative record of New York Public Radio's programming is the audio record.