Why Are People "Quiet Quitting" Their Jobs?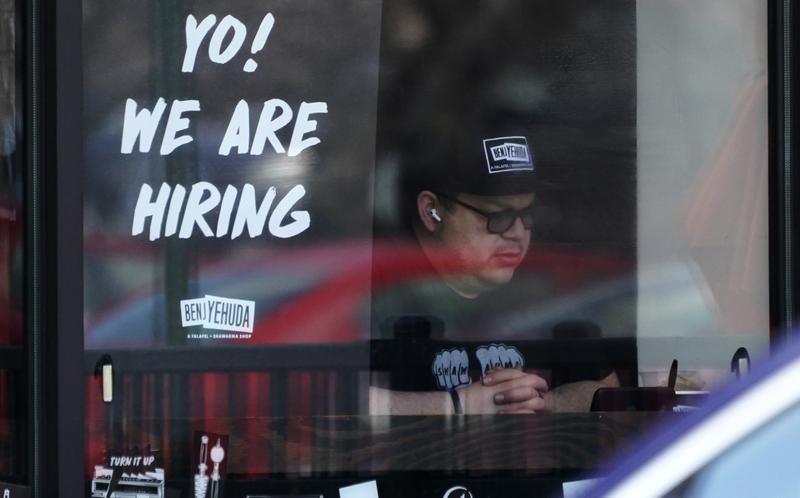 Transcript
Melissa Harris-Perry: Welcome back to The Takeaway. I'm Melissa Harris-Perry. Do you remember this?
Joey DeFrancesco: Jared, I'm here to tell you that I'm quitting.
[band playing]
Melissa Harris-Perry: That's the viral video from 2011 when a young hotel worker named Joey gathered his friends, their marching band instruments, and a camera person to capture his direct and sonically dramatic resignation on video. Joey's noisy departure has been viewed more than 8 million times, an undoubtedly fueled resignation dream sequences of countless discontent employees.
Joey DeFrancesco: Who's coming with me?
Melissa Harris-Perry: Now more than a decade later, trumpets, symbols, and snare drums are no longer the soundtrack of employee dissatisfaction. They've been replaced by the muffled click of a laptop closing as an employee logs off at precisely 5:00 PM not to return for even a brief email scan until 9:00 AM sharp. This is quiet quitting. Quiet quitting is the latest workplace trend sparking conversation in social and mainstream media. The idea went viral after TikTok user Zaid Khan, a 24-year-old engineer in New York City talked about quiet quitting as an explicit rejection of pre-pandemic hustle culture which celebrated being on the grind.
Zaid Khan: You're not outright quitting your job, but you're quitting the idea of going above and beyond. You're still performing your duties, but you're no longer subscribing to the hustle culture mentality that work has to be your life. The reality is it's not, and your worth as a person is not defined by your labor.
Melissa Harris-Perry: Think of it this way. 2010 workplace culture is Rick Ross.
[music]
Everyday I'm hustlin'
Everyday I'm hustlin'
Everyday I'm hustlin'
Everyday I'm hustlin'
Melissa Harris-Perry: 2022 workplace ideology, that belongs to Beyoncé and Big Freedia.
[music]
Release your anger
Release your mind
Release your job
Release the time
Release your trade
Release the stress
Release the love
Forget the rest
Melissa Harris-Perry: Quiet quitting is yet another indication of the peculiar realities facing American workers as the country emerges from the pandemic. Remote and hybrid work options make it easier for some kinds of employees to limit how much energy they exert at work. No need to take PTO to meet an electrician. Just hit mute, turn off the camera, and manage it during the Zoom meeting. Don't like to walk out the door while there's still a light on in the boss's office? No problem. In the virtual office, just set an automatic timer to turn off those Slack notifications by 5:00 PM each day.
Sarah Damaske: My name is Sarah Damaske. I'm a Professor of Sociology and Labor and Employment Relations at Penn State. Quiet quitting is a term that's come up in the last few weeks to refer to people who are not putting their all into their job. They're not actually leaving their job, but the idea is that they are not putting 100% of effort into it.
Melissa Harris-Perry: As an unrepentant Generation X workaholic, the idea of giving less than 100, let's be honest, 150% at work, that makes me grumpy. Is that not called being bad at your job? What makes it a phenomenon worth thinking and talking about?
Sarah Damaske: I think that's an excellent question. I think that it is or at least I'm not sure that I think that it's something necessarily new. I do think that there has been some concern with a level of productivity since the pandemic, but I also think that there's a lot of evidence that this is something that workers and managers have struggled over for centuries.
Melissa Harris-Perry: What should we make of quiet quitting? Is it a movement, a moment, or just a meme? One thing for sure, it struck a chord with many who have shared their quiet quitting in social media.
Speaker 5: I am not going to kill myself over a job that doesn't care about me as a human being. I am not going to put in a 60-hour work weekend, pull myself up by my bootstraps for a job that does not care about me as a person.
Speaker 6: If quiet quitting means not going above and beyond and just doing what you are paid to do, isn't that just called working, doing your job properly with a healthy boundary? Can we just call it what it is? It's called working, doing your job. I've been in tech for three years. I've always had positive reviews. There's been times where I have gone above and beyond. I've let work-related problems live rent-free in my brain, but I don't do that anymore because it's so not worth it.
Melissa Harris-Perry: Here's some of what you told us about quiet quitting.
Max: Hey, this is Max from Sutton. Quiet quitting might just be the idea of, I don't know, working within the boundaries of your contract and job.
Brian: This is Brian calling from Orlando, Florida. The term quiet quitting, I believe, just for the average worker, it's been a reckoning and a realization that we no longer have to succumb to workplace exploitation. We're contracted for a 40-hour week but often working 60 for 40 hours. Now understanding and being able to see that there are multiple jobs out there, understanding that in the wake of COVID the fragility of life, we no longer have to work these long hard hours for the possibility of a promotion when we finally realize that we could be laid off at the drop of a dime as it was evident in COVID and just life is just so fragile.
Alice: This is Alice from Kirkland, Washington. First of all, I hate the term quiet quitting because it doesn't reflect the situation at all. A more accurate term would be acting your wage. People are realizing how much wages have stagnated while productivity has gone up. It makes no sense to keep going the extra mile when raises almost never outpace inflation. People are exhausted seeing diminishing returns and realizing their true worth. Let me emphasize, this was long overdue and it's only a bad thing if you're the one trying to keep wages low.
Melissa Harris-Perry: Here again is Sarah Damaske, Professor of Sociology and Labor and Employment Relations at Penn State. Is this about just being an unproductive worker, or is this meant to be more intentional in some way?
Sarah Damaske: One of the things that we know is that you can encourage people to work harder by automating the work or having timers for how many tasks are meant to be done or having a manager standing over people. Those are all somewhat effective tools, but the most effective tool is to convince them that they want to work that hard.
I think that when we think about this ethos of work that is very central to American culture, it is about showing that you're a moral or a worthy person by working hard.
When I talk to my undergrads and I ask them, "How late did you stay at the library last night?" they're really eager to be the one who stayed the latest. It's a way of showing through their work hours that they are the most dedicated. I think that that translates into how we expect people to do their work.
Melissa Harris-Perry: Now, it's possible that the realities of pandemic-era workplaces have fundamentally altered this orientation toward work. According to Gallup's State of the Workplace 2022 report, 60% of people feel emotionally detached at work, and the leading cause of their dissatisfaction is perceived unfair treatment at the workplace. Beyond better pay, what makes workers feel valued and motivated?
Sarah Damaske: We can look at something like dignity at work, for example, as being really central and also something that can be found across a very wide range of occupations. I think that when people are working in jobs in which they feel like they're respected, in which they feel that they are seen and valued, that they take their work more seriously and are more committed to it, I think we also see that as something that can happen when workers have schedule control, for example, which is a flip side of flexibility because a lot of academics think of flexibility as something that tends to work for employers.
Schedule control means the worker gets to have some say on their schedule. We see that if you look at studies of, say, the gaps workers, that when they have access to controlling the hours that they're going to work, they're much more satisfied on their job. We can see that in frontline retail workers and we see that to be true among professional workers. These sorts of things are things that really make workers more committed to the work that they're doing.
Melissa Harris-Perry: I'm also hearing in the critique that is quiet quitting a sense that actually this isn't good management. This is taking you away from whatever other life pursuits you might have; being good at gardening, being good at parenting, being good at citizenship.
Sarah Damaske: Exactly. I think that it also suggests that it's a one-way honor system, that we expect this level of dedication from workers to their jobs, but we don't expect jobs and employers to have that level of dedication to us.
Melissa Harris-Perry: Everyone, quick time out. We're going to touch on the other side of this phenomenon. Quiet firing. This is The Takeaway.
[music]
Melissa Harris-Perry: We're back on The Takeaway. I'm Melissa Harris-Perry, and I'm here with a little reminder for the quiet quitters of TikTok. Their frustration with seemingly clueless employers is hardly a new phenomenon. Way back in 1980, icon Dolly Parton gave us a workplace anthem to be sung loudly, not quietly.
[music]
Working 9 to 5
What a way to make a living
Barely getting by
It's all taking and no giving
Melissa Harris-Perry: Sing it, sister. If there's one thing Dolly understood, it's that workplace inequality is not just about employer and employee but also about the ways that some employees have more flexibility, authority, and power than others. I asked Penn State Professor of Sociology, Sarah Damaske, about what kinds of workers have the ability to quiet quit and which ones don't. When we talk about this ability to quiet quit, to maybe pull back, set boundaries, work only particular hours, I think the other thing that rubs me about that is, well, that's some kind of workers who are able to do that and not others.
If you're a low-paid childcare worker and it's 5:00 PM and a parent hasn't made it back to pick up the kid yet, you can't just be like, "All right, two-year-old, peace out. I'm quiet quitting over here." You have to stay. If you're a firefighter, you've got to put that fire out.
Sarah Damaske: I think that's a great point, and I also think it's worth taking a step back and saying, "What kind of workers are experiencing this? Also, is this something that is uncommon? Is this a new historical event?" I think in terms of what kinds of workers experience this, I think we can imagine lots of ways in which different workers could maybe do less at their job. There's many ways in which if you're working in the service industry, for example, and you're on the front line, it's really hard to do less because the line just gets longer and longer [unintelligible 00:12:24] you.
Melissa Harris-Perry: I wonder also about the current tight labor market. That in a tight labor market, whether it's quiet quitting or a super loud quitting or chanting while you're on the picket line, that labor is in a really different position than in a more slack labor market where if you only want to give 105%, the employer will just hire somebody that will give their 110.
Sarah Damaske: Yes, I think that's very clear right now that workers have more bargaining power than they had prior to the pandemic, and with that comes the ability to decide whether you're going to leave your current position or whether you're going to change how you're approaching the work that you're doing. We also see that it has given workers the opportunity to unionize.
Melissa Harris-Perry: In fact, your point about unionizing seems critical. If an individual worker quiet quits, it can actually just create more work for the rest of the team. If you're talking about that service line that's getting longer and longer, there's somebody else on that team who ends up picking up the slack, but if everybody decides to loud quit together, i.e, organize, make demands on employers, then it actually can change workplace culture. I'm wondering if quiet quitting is also the kind of more individualistic, less organized based route for addressing labor concerns.
Sarah Damaske: Absolutely, and I think that we want to also think about why we need these responses. I think that what we see is a labor market that has dramatically changed over the last 40 years in which workers don't have the same access to job security that they used to and which companies no longer promise that they'll keep workers or that they'll give them opportunities for advancement and in which the minimum wage was really stalled for a very long time for so many workers. I think all of those things need larger responses than quiet quitting would provide.
[music]
Melissa Harris-Perry: Not long after social media users started exploring the idea of quiet quitting, they introduced another related concept, quiet firing. Here is Gen Z TikToker DeAndre Brown who's also known as The Corporate Baddie.
DeAndre Brown: Quiet firing is basically when you are doing the work within your job description and you are living up to your job responsibilities, however, your job is not throwing you a check. Why am I not getting a raise? Why am I not getting a promotion? If this is happening to you, your company is taking advantage of you and you need to loudly quit. What is loudly quitting you wonder? Packing your belongings and leaving. You don't pay me my worth, someone else will.
Sarah Damaske: Quiet firing I think is very interesting. It's this idea that you're not getting feedback, you're not getting promoted. You're not getting these opportunities. You're being stalled out in the workplace. If we look at some of the research by Susan Lambert and Julia Henly in Chicago where they're working in hotels, they found that the hotels didn't fire people when they didn't need as many workers. They zeroed out their hours. You didn't need to tell anyone that they didn't have to come back to work.
You could take them from working 20 or 30 hours a week and put them down to five or two. When you drop someone's hours like that, they can't keep working for you. They end up quitting themselves, loud quitting because they have to find a job that pays. This is a practice that we see in the service sector, that we also see now in professional occupations where people are getting feedback that suggests that there won't be avenues for promotion.
We know that this is actually a fairly common way that women who are pregnant are shunted to the side. My research and others show that women who are pregnant can experience this in the workplace, and this is how they end up moving out of the workforce because they're receiving these signals that their work isn't going to be valued anymore.
Melissa Harris-Perry: Sarah Damaske is a Professor of Sociology and Labor and Employment Relations at Penn State University. Thank you so much for your time today.
Sarah Damaske: Thank you so much for this conversation.
[music]
Paul: Hey, this is Paul from Austin, Texas. Just letting you know I've been quiet fired from a few tech companies. I'm hoping for a better year after this crazy economy with all this inflation. Hoping for the best.
Laurie: Hi, my name is Laurie. I'm calling from Greenville, South Carolina, and I am seeing definite effects of quiet quitting. I work in an industry in public service that is just exhausted. Since COVID started, we haven't had a break, and people are leaving their positions right and left simply because they are exhausted and they're looking for a more meaningful path of life. We are weary to the bone with young people who are coming in and unwilling to work and do what it takes to make stuff happen. Sometimes it's quiet, in some ways not so quiet.
David Wimberley: David Wimberley in Houston, Texas. An example of quiet firing. At my previous employer, if they were going to fire you, the team would open a new chat room, and you weren't invited to be in it. That was kind of fun.
Bernadette: This is Bernadette from Portland. Quiet quitting, that is just a stupid name for working to your job description because you hired them for that job description. If you wanted more, you should have paid them more and told them that this was going to be their job. Quite firing, however, has been something that they've done forever and it's if they don't like you for whatever reason, they're going to find a way to fire you due to any technicality. They really need to suck it up.
Speaker 15: Add your voice to our show by becoming a part of our listener response network. We'll text you a few questions every week about topics we'll be discussing on The Takeaway and you can weigh in on issues you care about. Sign up by texting the word Start to 70101. Again, that's Start to 70101. Standard messaging and data rates apply.
[music]
Copyright © 2022 New York Public Radio. All rights reserved. Visit our website terms of use at www.wnyc.org for further information.
New York Public Radio transcripts are created on a rush deadline, often by contractors. This text may not be in its final form and may be updated or revised in the future. Accuracy and availability may vary. The authoritative record of New York Public Radio's programming is the audio record.