The Whitewashing of Reggaeton And Why J. Balvin's Apology Falls Flat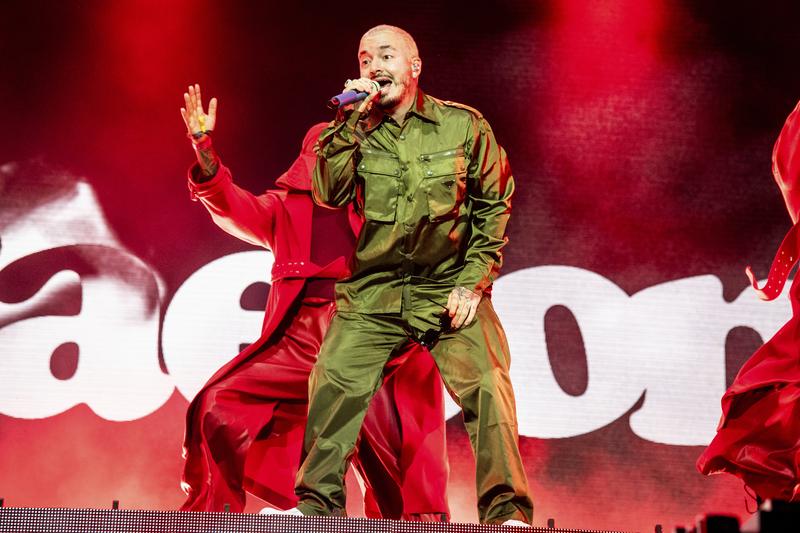 Transcript
[music]
Alana Casanova-Burgess: I'm Alana Casanova-Burgess, in for Melissa Harris-Perry, and this is The Takeaway. Last weekend, musical artist J Balvin accepted the African Entertainment Award for Afro-Latino Artist of the Year, and that announcement quickly sparked a backlash because he's a white Colombian, something the artist acknowledged in a subsequent Instagram post where he wrote, "I am not Afro-Latino, but thank you for giving me a place in the contribution of the Afrobeat music and movement."
It comes after prior bad behavior from Balvin. There's his video for the song Perra, which came out earlier this year. In it, he has two Black women on leashes walking like dogs in front of him. He also apologized for that decision, writing, "I want to say sorry to whomever felt offended, especially to the Black community. That's not who I am. I'm about tolerance, love, and inclusivity." Whomever felt offended? Because this is radio, you can't see how far back my eyes are currently rolling. Balvin is emblematic of a bigger problem. There's been a whitewashing of reggaeton since the beginning.
[music]
Alana Casanova-Burgess: Reggaeton, first known as Reggae en Español, goes all the way back to the 1980s in the country of Panama. The purveyors were Black kids, descendants of those who had come from the West Indies to work on the Panama Canal. They took reggae and translated it into Spanish. One of the originators who would help to revolutionize the music into reggaeton music we know today was this man, El General, who's song Muevelo you're hearing right now.
[music]
Alana Casanova-Burgess: Yet the history of reggaeton that most people hear begins in Puerto Rico and centers around music of artists like Daddy Yankee, and rarely goes back to the likes of El General and La Atrevida.
[music]
Alana Casanova-Burgess: Even when the story is told about Puerto Rico, the focus is on stars like Daddy Yankee and racist giants like Tego Calderon, an Afro-Puerto Rican pillar of the genre. The erasure of Black people and Black women from reggaeton is intentional. That's why J Balvin has been dragged for accepting the Afro-Latino award and why his apologies seem to fall flat. With me now is Zahira Kelly-Cabrera, artist, writer, speaker, and socio-critic who joins us from the Dominican Republic. Welcome to the show.
Zahira Kelly-Cabrera: Hi, hi. Thank you for having me.
Alana Casanova-Burgess: I think there's some context that people need to understand here, especially racially in Latin America for Black people. Can you help our audience understand those dynamics a bit more?
Zahira Kelly-Cabrera: Really, the context is that the racial hierarchy in Latin America is not very different from the US, despite all the, "Woo, woo, woo. We are rainbow. We're all mixed. There's a racial democracy. We don't think about that." Really, actually, I would say it's worse because if you turn on the TV in Latin America, you will only see white Latinos. They would like to pretend that Indigenous people and Black people in Latin America do not exist. You will not find us in government, except for very, very rare occasions. We're just generally kept out of social life. Latinidad is just viewed as only white Latinos and light-skinned mestizos.
We lack the most resources, Black and Indigenous people. The lease, access to education, to money, to resources like water, electricity, to state resources. Our communities don't get roads and that kind of thing. There is no racial democracy. Then in Latin American music, the industry pretty much excludes Black people. They'll have a couple of token Black men, but Black women at the level of someone like J Balvin, or Karol G, or the Daddy Yankees, or whoever is just absolutely unseen. You turn on the radio, you will never hear a Black girl. It's just how it is.
Alana Casanova-Burgess: There was this very telling interview, I think, in which J Balvin said he didn't see a future for him in reggaeton earlier in his career until he realized that Daddy Yankee looked like him and not like Tego Calderon, who, as I mentioned, is Afro-Puerto Rican. He said, "[Spanish language] I saw Daddy Yankee was white, a Latino like me." The implication there, as I heard it, was that Tego Calderon, who is Black, is not Latino. Is that how you unpack that statement, too?
Zahira Kelly-Cabrera: Absolutely. It just goes to show, Latinidad is structured so that we see it as non-Black, essentially. That is why most people, Latinos and non-Latinos included, have a hard time processing the fact that there are Black Latin Americans. What we have is a lot of people call us plain Black. We can find white Latinas doing their hair like Black girls, dancing, dressing, doing Black girl music, but you will not find a Black girl because we are not supposed to be in those spheres. We're not Latino, right?
Alana Casanova-Burgess: I noticed that this award is from a group called the African Entertainment Awards USA. Then they responded to this controversy by renaming the category The Best Latin Award. Do you know what happened there? What was going on?
Zahira Kelly-Cabrera: On their part, it's just a huge failure to even acknowledge the enormous amount of Black-descended people who live in Latin America right now, because they're calling him the bridge between Africa and Latin America, and we're the ones who created that genre, the Black people in Latin America. We are the bridge, we are the descendants. Because of the way Latinidad is structured and just general anti-Blackness, even people from Africa do not comprehend that there are Black people in Latin America who actually have way more of a claim because it is ours, the Afro-descended music as well.
To name a white man the bridge between Africa and Latin America when there are so many Black people who he is actually cosplaying, that's just absolutely ridiculous, so out of touch. The allyship, even inter-communally, just completely lacked right there as well.
Alana Casanova-Burgess: Have there been any positive changes that you've seen in the Latin music world when it comes to racial equity in recent years?
Zahira Kelly-Cabrera: Honestly, I'm not trying to sound pessimistic, but if in 2021 I still do not see a single Black woman anywhere to be found while everyone is cosplaying us, I cannot tell you that there has been some huge progress. The only Black girl that you ever see and she's tokenized is from ChocQuibTown, from Colombia. She's Goyo. She's amazing, but the fact that that is the only person and she's relegated to background all of the time anyway, it just doesn't bode well. It doesn't make me feel hopeful that things are actually changing. Everyone is just focused on trying to be us, but without us.
Alana Casanova-Burgess: Does the colorism that you're describing also translate to album sales and chart numbers? Are white Latinos also profiting off of reggaeton more than Afro-Latinos?
Zahira Kelly-Cabrera: Well, that is the thing. Appropriation is the conversation that is not only happening in the US. A lot of people will pretend that we do not discuss this in Latin America, but if you speak to any Black activist in Latin America, you will find that we do talk about it. Yes, it is appropriation when it is only white Latinos who you see on the charts making bazillions of dollars, and someone like J Balvin is absolutely completely filthy rich off of basically Black everything, while Black people cannot get anywhere near that.
We're told that we are not marketable. That is why Dominican people, also everyone says our slang, everyone is coming to the arts to record everything. We produce so many things for everyone, but we are not the ones making the money, white Latinos are. That is not sharing, it's appropriation when you are the ones who are the center and the face of everything and the people who created it are basically marginalized to the background.
[music]
Alana Casanova-Burgess: You mentioned ChocQuibTown. Are there other artists that people should be listening to who are Afro-Latino, who are not J Balvin?
Zahira Kelly-Cabrera: I absolutely love Sech, I love Los Rakas, I love Ozuna as well, and you already mentioned Tego Calderon, Iza.
[music]
Zahira Kelly-Cabrera: She was actually also nominated for that award and did not win. She is a gorgeous, super talented girl from Brazil, Ludmilla.
[music]
Alana Casanova-Burgess: I've seen my Twitter feed and my Instagram feed blow up with this J Balvin news. Since you're in the Dominican Republic, I wonder if the conversation is also taking place there. Was this big news?
Zahira Kelly-Cabrera: People rolled their eyes and side-eyed, but for the most part, it's like that news did not necessarily get here in the same way. The politics here, a lot of people in the music industry are more focused on kissing- [beep] of white Latinos because they think that that is the only route. It's like people are actually afraid to say something against this man. There has still been a lot of people ridiculing the entire decision all over social media, but from the industry, it's been quiet because it's like, you don't want to burn those bridges. Because the only way to get on is through these same white Latinos that appropriate, you know?
Alana Casanova-Burgess: How do you find a way out of this dynamic? Is it just more conversations or is there action that needs to be taken? Like what happens next?
Zahira Kelly-Cabrera: What happens next is, honestly, I don't see a way to actually force racist white Latinos to somehow let people into their industry. In the Dominican Republic, the biggest industry for music right now is the [unintelligible 00:11:11] and it is very much run by Black Dominican artists. We have our own scene, our own industry, and all of that, and to me, that is really the only way. Because begging them for inclusion, that's not going to work and clearly, they have no intention of changing.
Everyone keeps telling me that the documentary J Balvin did for Complex is full of him playing victim. Because he is completely aware of all the things people are saying about his appropriation and his anti-Blackness and to him, he's a victim, he's not doing absolutely anything wrong, so literally, there is no telling these people anything either. Us doing our own things is basically all it is and it's an uphill battle because we have the least resources in Latin America to do these things, to begin with. Yet we are still here being the cultural producers that they are copying, you know?
Alana Casanova-Burgess: Mentioned that in some ways that their racial dynamics in Latin America are even worse than in the United States. Is there a difference in the music scene in the US than what you're describing in Latin America?
Zahira Kelly-Cabrera: Listen, in the United States, you can turn on the radio and find a bunch of Black girls. We have our Beyoncés, we have our Whitney Houstons, we have a million Black girls that you can look to. In Latin America, you turn on the radio, you will not find a single Black woman. We're just not there. The same with television, you just will not find us. It's just like a completely different context where it's like in the US, Black people are hyper-visible, that's part of the anti-Blackness, but in Latin America, we're invisibilized, so it's like we just do not have a place in our own music, which is really the kicker.
Alana Casanova-Burgess: Do you want to give us a particular song to go out on today?
Zahira Kelly-Cabrera: I really love Sech, Me Olvidé.
Alana Casanova-Burgess: Tell us about the song.
Zahira Kelly-Cabrera: I feel like it's so forward-thinking, it really expands on reggaeton. Also, he's like a OG because he's actually from Panama.
[music]
Zahira Kelly-Cabrera: A Black Panamanian who started this, but it's like very jazzy and elements that you do not usually hear reggaeton. It really moves away from just like the basic beats and it's just a beautiful song, musically and lyrically and I think that people are not used to hearing that in reggaeton as well.
Alana Casanova-Burgess: Zahira Kelly-Cabrera is artist, writer, and socio critic. Thank you so much for joining us today.
Zahira Kelly-Cabrera: Thank you for having me.
Copyright © 2022 New York Public Radio. All rights reserved. Visit our website terms of use at www.wnyc.org for further information.
New York Public Radio transcripts are created on a rush deadline, often by contractors. This text may not be in its final form and may be updated or revised in the future. Accuracy and availability may vary. The authoritative record of New York Public Radio's programming is the audio record.