White House Contact Tracing Efforts Appear to Fall Short Following President Trump's COVID-19 Diagnosis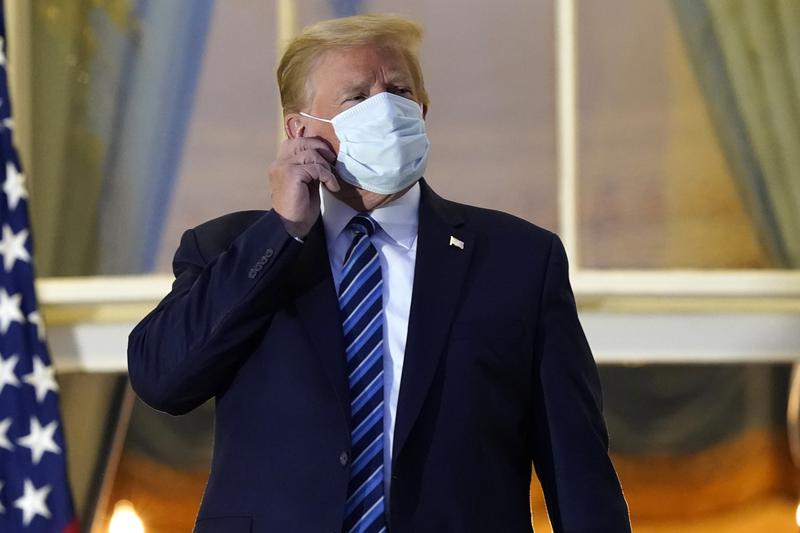 Transcript
Tanzina Vega: President Trump has been discharged from the Walter Reed Medical Center and is back in the White House, but positive COVID-19 cases continue to be reported for people who work in and around the Trump administration. More than a dozen people have tested positive so far, including two members of the White House housekeeping staff, as well as White House press secretary, Kayleigh McEnany. The President's personal physician, Dr. Sean Conley said that efforts are being made to reach out to people who may have come into contact with the President and his associates while they were positive for COVID-19. That's a process known as contact tracing.
Dr. Sean Conley: The White House medical unit, in conjunction with collaboration with CDC and local state and health departments, are conducting all contact tracing per CDC guidelines.
Tanzina: Officials in many of the states and counties that President Trump visited in the days before announcing he had contracted the coronavirus say they've heard little or nothing from the federal government. The New York Times reported yesterday that the White House is not conducting contact tracing for the Rose Garden ceremony that took place 10 days ago in honor of Judge Amy Coney Barrett. Eight people who attended that event have since tested positive for COVID-19, including President Trump.
Comparing the White House's apparent lack of contact tracing to broader contact tracing efforts nationwide is where we're going to start today. Joining me now is Lissandra Villa, a staff writer for Time Magazine. Lissandra, thanks for joining us.
Lissandra Villa: Thanks so much for having me, happy Tuesday.
Tanzina: Also with us is Amy Fairchild, dean and professor at the Ohio State University's College of Public Health. Amy, thanks for joining me.
Amy Fairchild: Thank you for having me.
Tanzina: Lissa, let's start to dig a little bit into the contact tracing efforts that the White House is doing at least. Dr. Sean Conley said they would be doing contact tracing. You've been reaching out to officials in some of these states who said they haven't heard from the White House. Where does that stand?
Lissandra: That's right. My colleague Abby and I started reaching out to folks in some of the states that the President traveled to immediately before he announced that he had contracted COVID-19. As of yesterday, I was still receiving messages from officials in some of those states saying that they had not heard from the White House. I know that New Jersey has gotten a list of names and emails for the people who attended a fundraiser there, but that the New Jersey governor was basically saying that it wasn't enough to do a full contact tracing. I know that the governor there was saying that they needed more from the federal side of it.
Tanzina: Amy, remind us, how should the White House be handling contact tracing right now?
Amy: Contact tracing is actually a rather complex jurisdictional undertaking because as you move from one county to the next, a different set of health officials have responsibility for cases that live in that county. It's not surprising that this is a hard problem to wrangle given that you have a President who's traveling to different places, people coming together from across different health jurisdictions.
The way it typically works is, you get a case record that's entered, that's got all of that person's contacts and then those get funneled out to the right state or county health department depending on which state you're in, it could be a state, it could be a county, it could be a city that's responsible for doing contact tracing in those cases.
Tanzina: By your estimation, what you're hearing about the types of contact tracing that are coming out of the White House, are they sufficient right now?
Amy: The White House alone is not going to be able to do it because of the way that the disease surveillance system is set up in the United States. Again, cases are reported at a local level which has responsibility for contact tracing. The White House can certainly help by making sure that names get to those locales but it's also a question of making sure that somebody who actually had contact with the President or somebody on the President staff. Simply being in the room with somebody doesn't necessarily amount to an exposure.
Tanzina: What are you hearing as far as that issue? Do we have a sense where the most of the campaign events that the President participated in were indoors or outdoors? The Rose Garden event was outdoors but famously the President and others were not wearing masks. We indicated that eight people there, including the President, were infected with COVID-19. Are we aware of the concerns here? Because if you're in outdoor event, that's supposed to be less of a risk and yet eight people contracted COVID.
Amy: We don't know that they contracted COVID during the time in that outdoor space. We don't know what kind of contact happened before, whether people were wearing masks or not but certainly masks are quite an effective means of preventing the spread of the virus. If you look at the CDCs guidelines, in fact, it's really 15 minutes within six feet of somebody regardless of whether they are wearing masks, regardless of whether they are indoors or outdoors. It's really the masks plus social distancing. We don't know that people were infected in that outdoor space. The web of contacts and who was contacted when, that can be quite complex.
Tanzina: Amy, I just want to push back a little bit on that because I hear what you're saying but at the same time there were eight people who were contacted in an event where people were not wearing masks, including the President. I would imagine that it would be-- I don't know how we can't point that event to being a spreader event.
Amy: It could be a spreader event but we don't know what happened before and after that outdoor interaction. It could have happened outdoor, it could have happened indoors before or after.
Tanzina: Sorry. Lissa, what are your thoughts on that? What do we know about where the President was and wasn't, outdoors or indoors? The President does not comply with mask mandates. The President, in fact, yesterday came out and removed his mask for a lot of public display. Amy, what's the reporting say on where he was and how many of these events are indoors or outdoors?
Lissandra: Immediately after the President announced that he had COVID-19, I went through the pool reports and reconstructed where he'd been in the days preceding that. There is a lot of detail on those reports about a lot of people that he comes in contact just in the course of his daily activity. You're right that not everyone has come into contact with him for 15 or more minutes but you do have to keep in mind the amount of movement that the President goes through. For example, the motorcades and who is traveling with him when he's on Marine One and on Airforce One and who's greeting him at the bottom of the stairs and how much time did that amount to.
There was a mix of activity, there's the outdoor rally and then there's some indoor events that we have a little bit less insight to. For example, I know that in Hennepin county in Shorewood, Minnesota, where he attended a fundraiser at the private residence of a GOP donor, the county was waiting for a list of the people, last I heard from them, they were waiting for a list of the people who had attended because they weren't sure how many people were actually Hennepin county residents which goes to professor Fairchild's point about the jurisdiction on this where they weren't sure who they were responsible for contact tracing for.
There was just a lot of activity, a lot of movement, and based on what we can glean from the public health officials that we've reached out to on the county and state levels for the places that he traveled, there's not been a ton of outreach.
Tanzina: Amy, when we think about contact tracing more broadly, how well are states and counties doing conducting contact tracing at the moment?
Amy: I think most states and counties, unless they have really staffed up for instance like Massachusetts which has about 15 contact trace per 100,000 population, they're getting behind in contact tracing. It can take a couple of days to a couple of weeks to reach out and that's because it's a time-intensive interaction between a contact tracer or a disease investigation specialist and a case or a contact.
Tanzina: In terms of the efficacy of contact tracing, it feels as though people need to be willing to open up and say who they've been in contact with in order for this to work. How effective have some of these contact tracing efforts been?
Amy: Contact tracing can be quite effective if there is trust in the system, if people are willing to give the names of their close contacts but it is a challenge in that giving that contact name means that somebody is going to be quarantined for 14 days. That can be a significant burden on people. That's what we as a society have to really celebrate, the people who participate in contact tracing, who are willing to go into isolation for 10 days, who are willing to go into quarantine for 14 days because that's the way. It's not even so much testing our way out of it that we're aiming for, we're trying to isolate and quarantine our way, at least our way through, it's not out of COVID-19.
Tanzina: Let's talk a little bit about that because the President himself has not quarantined for the 14 day period. In fact, he's been, he was at Walter Reed Medical Center. He's made light of how the severity of the coronavirus, and he, in fact, took a ride in front of Walter Reed with other people in a vehicle with him. Amy, what is that message telling the American people, and Lissa, I'd love to hear your thoughts on that as well?
Amy: Well, first, he's infected, he was infected. That's a 10 day period of isolation and typically ends on date 10.
Tanzina: Which I don't believe he underwent is what I'm saying.
Amy: Well, it depends on when and when his doctors identified his first day of infection. I do think you're right. That's unclear. It's unclear if--
Tanzina: I know it's unclear. We know that the President has not been isolated for 10 days.
Amy: That would be best practice.
Tanzina: What message is that sending to the American public? Lissa, I'd love to hear your thoughts as well.
Lissa: One of the first thoughts that I had when he was leaving is the people that have to be around him still, right? Think of from Sunday, when he left that Walter Reed for the temporary outing, and the risk created for his security detail that was completely unnecessary to now the risk that he's creating for the White House residents staff. I know there was at least one senator, Brian Schatz, who sent Chief of Staff Mark Meadows a letter on contact tracing, saying that in particular, he was concerned about the White House residence staff and whether they were going through the necessary contact tracing.
Now that White House staff is going to have to be in the President's vicinity, right? It's concerning when there is a President who we know has COVID, who's coming out without a mask, and acting as though it's unnecessary that he takes the precautions. There's major concern from people that this is going to lead to relaxation, with people taking COVID cases more casually, right, and going about their daily lives. That's just not what we have been told from public health officials is the guidance that we should be following. Why should the President be acting any differently than what millions of Americans have been told to do, to try to get past this pandemic?
Tanzina: Amy, and I want to get your thoughts on that because so far, we've seen 210,000 Americans die as a result of different pieces of information coming out of the White House and other governors across the states, across the country. It feels like an inappropriate time, at least for the President of the United States, to not underscore the severity of the situation, particularly as we go into the fall and winter months.
Amy: I worry about sending the message that feeling better is equivalent to being better. We have seen this around the country within many different cases. Somebody who tests positive, they feel fine, they think it's fine, and they end up exposing a lot of people not appreciating the degree to which we can spread the disease even during asymptomatic periods.
Tanzina: Amy Fairchild is the Dean and Professor at The Ohio State University's College of Public Health, and Lissandra Villa is a staff writer for Time Magazine. Thanks.
Copyright © 2020 New York Public Radio. All rights reserved. Visit our website terms of use at www.wnyc.org for further information.
New York Public Radio transcripts are created on a rush deadline, often by contractors. This text may not be in its final form and may be updated or revised in the future. Accuracy and availability may vary. The authoritative record of New York Public Radio's programming is the audio record.