White and Asian Students Fight to Win the Meritocracy Game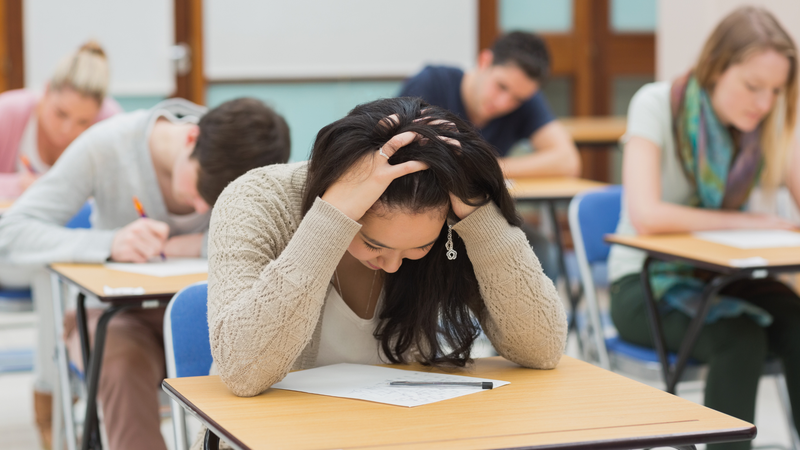 Transcript
Melissa Harris-Perry: It's The Takeaway. I'm Melissa Harris-Perry. Now we're on our way to an affluent suburb on the East Coast. It's a real town with a fake name, used to protect the town's residents, "Woodcrest."
Now, the majority are white and well-educated. Though there are a handful of Black and Latinx students bust in from other towns. There's also a growing Asian-American population, mostly Chinese and Indian American families, who've moved here and enrolled their children in the local schools where they've excelled academically. In fact, they're outperforming everyone else.
Now, just a quick aside here. Asian-Americans have long been dubbed a so-called model minority, quiet, hardworking, ultimately successful, but that's a harmful trope that fails to recognize the diversity within the AAPI community and is often used to silence and minimize stories of struggle and hardship.
The tensions in this town are very real between Asian-Americans and white families whose children compete for the highest grades, top rankings, and the best transcripts to submit to colleges. While these groups fight it out at the top of the heap, children with less access to advanced placement classes, extracurricular activities, and after-school tutoring are left with much less opportunity to compete with their white and Asian-American classmates.
Natasha Warikoo, Professor of Sociology at Tufts University, spent a lot of time observing families in Woodcrest for her book Race at the Top: Asian-Americans and Whites in Pursuit of the American Dream in Suburban Schools. I asked Natasha to join us and talk about her findings and perhaps tell us where Woodcrest really is.
Natasha Warikoo: It's on the East Coast, but really I think the important point is that there are a lot of Woodcrest and there are a lot of communities like this that are mostly upper-middle-class, predominantly white, but with a large and growing Asian-American population and where there's a lot of academic competition in schools and high achieving adults, high levels of education. Woodcrest is everywhere, I'll say that.
Melissa Harris-Perry: What took you to Woodcrest intellectually?
Natasha Warikoo: I'm a scholar of immigration and inequality in education. There was this idea that the move of immigrant families over generations to entering suburbs, uttering suburbs was a process of assimilation. That over generations and over time families would move to the suburbs and blend in with the dominant group. This is what we saw for Eastern and Southern European immigrants, for Jewish immigrants and the question is often, well, is that going to happen with Asian-Americans because Asian-Americans are doing well socioeconomically in general, but I just had a sense that the situation was different and that there are these tensions and I felt rumblings about this.
Asian-Americans obviously are not white and get racialized in particular ways, and so I really wanted to just investigate what happens when Asian-Americans move to the suburbs and do so in large numbers and are doing well academically, how do their white neighbors respond? How do they navigate social life? Do they blend into whiteness? Are there marks of distinction? These are the questions that I went into this community wondering about.
Melissa Harris-Perry: When you talk about the race at the top, not the race to the top. Tell me about white folks and Asian-Americans and their children, and how it is that they're already at the top, but still racing one another?
Natasha Warikoo: When you add in this ethnic change dimension, I think sometimes it can feel like, well, then do Asian-Americans get blamed for that increased competition where if they're not there, it's just, "This is the way of the world?" I call it a race at the top because there's intense competition in these places and sometimes that gets racialized as Asian-Americans are trying to get ahead in the wrong ways, or whites are doing things differently, but what they don't realize is that they're all at the top and the ones who really lose out are the kids and families who can't afford to move to places like this, who are not even in this race because they don't have the economic resources, the cultural knowledge.
That competition, I argue, makes it seem fair and like it's a meritocracy and the "the best" really get what they deserve when kids who are not in this community, whose parents don't have the same resources are locked out of that competition.
Melissa Harris-Perry: Now, I got to say, as a parent, you really engage in this question of how what's going on with young people is often fueled by our angst and anxiety as parents, our belief about what constitutes good parenting, and our judgment of others' parenting.
Natasha Warikoo: We live in an era where we place so much at stake in parenting and what it means to be a good parent. It's almost a moralistic. My sense of self-worth is dependent on how I see myself as a parent, and I'm a parent as well, so I get it. Am I a bad parent if I don't show up to that softball game? There is this anxiety of, "All the other moms are there, why am I not there?"
It's very different, and I think this is across racial lines. I think there is this sort of contemporary intensive parenting, this sense of we need to do everything that we can to help our kids get ahead. I think all parents do that. We have different resources and different ways of doing that, but I think that that's part of what fuels this intense need to self justify as well. If you're not doing things the way I'm doing it, you must be a bad parent and even if your kid is getting ahead and doing well because I didn't do things the way you did, rather than feel like somehow inadequate, I have to judge you and say, "Well, that's not the right way to do things."
Melissa Harris-Perry: I guess, part of what I found most telling was this idea that what constitutes good parenting also has these racialized and immigrant versus native implications around particularly like the choice that young people can make themselves. The extent to which one values self-expression or young people making their own choices versus adult direction.
Natasha Warikoo: We do know from some of the cross-cultural studies that there's less emphasis on autonomy than there is in the West. We know that that's true, although in urban middle-class communities in those countries, that's also changing. I think in part because of the Western influence.
I definitely saw the Asian parents in this community were mostly immigrant parents, and I definitely saw a little bit of that difference, like a lot less anxiety about whether their kids are choosing what they're doing or not, but I also think there are ways in which upper-middle-class, white American parents are also directive, but they need to convince themselves that their children have chosen what they've chosen. There's less choice than we think in upper-middle-class, white American families, and there's more choice than we think among Asian parents as well.
Melissa Harris-Perry: Pause for just a minute with me, we'll be right back with more of our conversation with Natasha Warikoo right here on The Takeaway.
[music]
Melissa Harris-Perry: I've been speaking with Professor Natasha Warikoo about her book Race at the Top: Asian-Americans and Whites in Pursuit of the American Dream in Suburban Schools. We discussed how white families are advocating for their children and possibly changing policies to help them compete against the Asian-American students who are outperforming them in school.
Natasha Warikoo: None of this is overt. No one is saying, "Well, Asian kids are doing well academically, so we should not publish class rank anymore." There's just this sense of like, "Maybe class rank is not such a good thing, so let's eliminate it or let's not name a valedictorian," and perhaps it's not a coincidence that every valedictorian or whatever is Asian-American.
One of the things that came up when I was doing this research was homework. Differing ideas about how much homework kids should get. In part because white students were more likely to be doing a lot of intensive extracurricular activities, especially in high school and so the school district decided to do this pilot, and then they expanded this idea of no homework in elementary school. At the high school, there were certain parameters, like you couldn't give homework on any religious holiday or long weekends, or what have you.
There was a lot of difference in terms of whether people thought this was a good thing. Again, it was white parents solution to, "Well, our kids are stressed out. We need to-- If there's too much going on, we need to reduce the stress," and Asian parents saying, "Well, we agree that our kids are stressed out. We need to address it, but we think homework is important or our kids aren't doing activities till nine o'clock at night so our little more homework is not going to keep them up till midnight the way it might if they're getting home much later." Just different ideas about how kids should be spending their time.
Again, I think it was not a deliberate, "This is going to advantage whites," but in fact, their solution to mental health was, "Okay, let's reduce homework. Maybe that will level the playing field a little bit in terms of academic standards."
Melissa Harris-Perry: How do you define academic excellence? Maybe less you, but how are parents defining what constitutes academic excellence?
Natasha Warikoo: I use the word achievement more broadly because academics is just one piece of achievement and I think in the US we have a much more holistic view of achievement in college. In part, I think all of this is looking towards the college application process and US selective colleges are looking at students holistically.
You have to be strong academically, but you also have to have extracurriculars. What the hardest to get into colleges, you've got to be, they call it pointy, you've got to be really good at something. I think the white parents understand that because they've gone through the college admissions process in the United States. A lot of these parents in this community have gone to elite American colleges.
Asian parents in this community who are mostly immigrants, they went to college, so these are mostly Chinese and Indian parents who are highly educated. In their experience, getting into college is all about a standardized test and they understand that it's different in the US, but I think it's, I call it these cultural repertoires that we have in our head, like ways of doing things or your intuition about how to get ahead. They're really focused on like, "I was really great academically. I went to after-school academic classes, that's what led me to success," and they're imparting that on their kids.
They're like, "Yes, you got to do an extracurricular, but don't let it take over your life." I had Asian parents telling me like, remember this one mom being like, "I told my son, quit the swim team. You're not getting your homework done. You're too stressed out, quit swimming," but she was like, "But he wouldn't do it." It's not that kids always do what their parents tell them to do, but that was her solution. It's too much, take your four honors classes, but quit the varsity swim team, which is really intensive.
Melissa Harris-Perry: Talk to me more about what it means for communities who are neither white nor Asian-American and maybe who are less well resourced to be engaging in a school system, maybe applying to the same colleges as the folks who've been having this battle at the Woodcrest of our country.
Natasha Warikoo: I think it's important to remember that communities like Woodcrest, a lot of suburbs were created in part because of racial integration. It was a way for whites to move out to these suburbs. These communities that were to leave the city at a time of, again, school integration to create these kind of havens of class and racial segregation, but it was now like it was a community of choice. That's the start.
Then these communities enacted laws like single-family home laws, where you could only build single-family housing where minimum lot size policies to keep people out who are working class and it's a thinly veiled attempt. I think in those periods to keep out African American working class in particular, and so this is the foundation of these kinds of communities. It's an irony that Asian Americans are able to take advantage of this class in racial segregation because of US immigration policy, that means that a majority of Asian immigrants are coming with high levels of education and have the incomes and resources to be able to move into these communities and don't experience the same kinds of racial discrimination in the housing market.
If we can understand that, we can see the ways that these havens of privilege are really then disadvantaging those kids who are not even in the game, often don't even know the game. When you're saying applying, they're often not even applying to those colleges because they don't see themselves as candidates for those places. That's the story I'm trying to tell that these are places of incredible privilege and Asian-Americans are sometimes benefiting from that even if there is this tension between whites and Asians in these communities.
Melissa Harris-Perry: Do you see solutions to this?
Natasha Warikoo: In some ways, my solution is about housing policy. It's about more mixed-income housing. It's about bringing public transportation to the suburbs, but it's also about teaching kids about the privileges that they have and helping them see that, "Yes, you did work really hard. You practice that violin every day for an hour, for two hours, but there are kids who never have that opportunity."
I think it's easy to miss that when it's like, "Wow, God, I practice an hour every day, but the kid next door practice two hours a day and so they won the competition and I got second place." It's easy to forget that some kids are not even in the race, and I think helping them understand that I think is incredibly important, but also changing our policies so that we don't have such separation by class and race in this country.
Melissa Harris-Perry: Natasha Warikoo is Professor of Sociology at Tufts University and author of Race at The Top. Thanks for joining us.
Natasha Warikoo: It's so good to be here. Thanks for having me.
[music]
Copyright © 2022 New York Public Radio. All rights reserved. Visit our website terms of use at www.wnyc.org for further information.
New York Public Radio transcripts are created on a rush deadline, often by contractors. This text may not be in its final form and may be updated or revised in the future. Accuracy and availability may vary. The authoritative record of New York Public Radio's programming is the audio record.