Where Do Democrats Stand on Gun Control?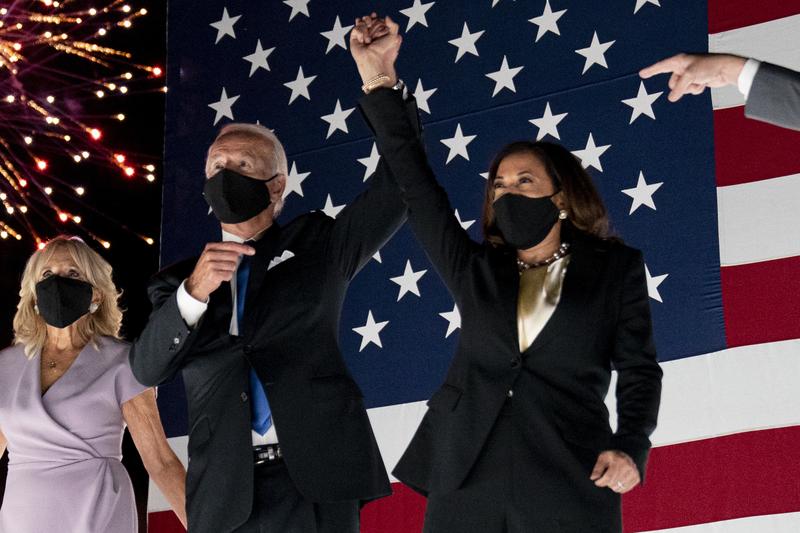 Transcript
Tanzina Vega: As the 2020 campaigns ramp up, the debate over gun policy may play a role in what we see on the debate stage in the coming weeks. Today we're going to take a look at the Democrats approach to gun policy on the heels of last week's Democratic National Convention, and specifically what we've seen from Kamala Harris and her career so far, and how it fits in with what we've seen from Joe Biden. Jason deBruyn is with me. He's a reporter for North Carolina Public Radio and he's with the Guns and America reporting project. Jason, thanks for being with me.
Jason deBruyn: Hi, good to chat with you.
Tanzina: The Democratic National Convention while virtual this year still had lots of areas of importance. Give us a summary of what we heard during the DNC in terms of gun control reform and gun violence.
Jason: We actually heard a good amount. It actually took center stage on one of the evenings. There was a full 10-minute montage of videos and speeches on gun safety. These were pre-recorded, but they included people like Emma Gonzalez, who was a survivor of the Parkland shooting, certainly groups like Moms Demand Action. They had a prominent role. Obviously, Gabby Giffords, the former Congresswoman who, of course, has been a big advocate for gun safety measures. She also prominently spoke.
It's something where Democrats it looks like are trying to make a bigger issue of this year. That's interesting because, in previous elections, it's always been one of those things where there are certain Republican voters who will see gun issues as their single issue that it's what drives them to the polls. It's what drives them to, say, volunteer, or perhaps even donate. Haven't seen that as much on the Democratic side. It'll be interesting to see if that picks up a little bit in this election.
Tanzina: Let's talk about the candidates specifically. Let's start with Senator Harris, the vice-presidential candidate. What do we know about her track record as AG, a Senator in California that gives her a sense of how she approaches dealing with guns and gun reform?
Jason: Yes, it's a good question. She's definitely tough on guns. She's tough on all crime. She even gets some criticism, I think, on the left for perhaps being too tough on crime. Just as a for instance in 2011, an operation that she spearheaded while she was Attorney General seized about 1,200 firearms from people who were barred from owning them. These were people who were largely mentally unstable or perhaps that act of restraining orders against them. Interestingly, she actually got some credit for that particular action from some gun rights groups. They would like to see the laws.
There are certainly some laws that groups like the NRA support and when attorneys general enforce those laws, they do tend to at least give some credit. Now, to be clear, the NRA has given senator Harris and vice-presidential candidate Harris an F. It's not like anyone who's a gun-rights activist sees her as a "friend" to gun owners or anything of that nature. She's certainly one of the people who would look to enact some stricter gun regulations.
Tanzina: What do we know about presidential nominee Joe Biden and how he talked about guns during his campaign, if at all?
Jason: Pretty similar. I think it's probably fair to say that Senator Harris is perhaps-- It's a bigger issue for her. Look, there's no question that Joe Biden would also be an advocate of stricter gun measures. While he was vice president, President Obama actually placed him on a task force to try to enact some common-sense gun measures as they called it. Now, very few, if any of those, actually passed that is due largely to the fact that the executive branch needs Congress to act on many of these issues. It certainly has been something that's been on the forefront of candidate Biden's mind for some time.
Tanzina: If you were to compare Kamala Harris and Joe Biden in how they approach gun reform, who would you say is-- Where would you put them side by side?
Jason: The truth is, there's really not much difference between them. That's actually true of a lot of the Democratic candidates even when there was a dozen or more that were still running. The truth is that gun issues are perhaps the most polarizing issue in American politics. We see this from Pew at time to time. There are times when other issues, perhaps are more polarizing. I'm thinking back to, for instance, in 2016, the decision to build the wall was perhaps more polarizing, but gun issues are always right up there.
There's actually very little that distinguishes one Democratic candidate from another or for that matter, one Republican candidate from another. Of course, when you're looking at comparing Democrats to Republicans, they're really quite polarized or they're really quite different on the issue. In terms of differences between Harris and Biden, there's really very little but of course, when you compare either one or both of them to President Trump or Vice President Mike Pence, there's a pretty big gulf there.
Tanzina: One of the things that's interesting, Jason, is that there have been reports that more Americans are buying guns in light of the COVID-19 coronavirus pandemic. Given that that is happening, at least in some parts of the country, we know even here in New York that there are requests to get permits that have been increasing, is this an issue that's still going to resonate with Democratic voters and perhaps disenchanted Republican voters as much as the Democrats hope it will?
Jason: I think, yes, because of what I said just a minute ago about it being polarizing. I would imagine that it's maybe not the most important thing this year. We have the pandemic. We have social unrest and we have focused on police brutality and injustice and inequality overall. Clearly, those are very important issues as well. The other interesting thing to mention is that gun issues tend to percolate around school shootings and with the pandemic and schools being out, we actually haven't had nearly as many school shootings.
An interesting little data point for you. March of 2020 was the first month since March of 2002 that there was not a school shooting. For many, many months in a row, there had been a school shooting and that's when these issues tend to percolate up. Of course, now there's other equally or perhaps even more important issues that are all around us but again that's not to say that gun issues won't be important. Groups like Everytown for Gun Safety and Moms Demand Action have pledged to spend tens of millions of dollars on campaigns not only at the presidential level but for Senate candidates as well including right here in North Carolina. I definitely think that it's going to be a big issue if not perhaps the biggest issue if that makes sense.
Tanzina: We talked about school shootings but there also have been increases in spikes this summer, in particular, in gun violence. What do we know about that? That flies directly alongside calls to "Defund the police" and I'm wondering how and really siphon off resources from police departments to more community-based solutions. Do you see that either of the candidates have taken a position there on how exactly that would play out given the activist demands?
Jason: Yes, maybe that still has yet to play out as well but you hit on some important things. There has been an enormous spike in gun sales. We've seen that have an effect on gun violence. Maybe again, one thing to point out, two-thirds of all gun-related deaths are actually suicides and so we perhaps won't know the true full effect of this increase in gun sales for several more months or years.
Reporting on suicides tends to lag several months or even more in some cases. We might not know the full effect of this big increase in gun sales for some time but even taking suicides and putting that aside, we are seeing increases not only in homicides but also just in everyday gun violence that's attributable partly to pandemic stresses that people are feeling, partly to stresses and perhaps fear of the social unrest that's happening around people.
Certainly, just with the increased availability of firearms, there's a lot of research to show that in any area in a household or in a neighborhood, as the percentage of people who own guns increase, the percentages of firearm violence increases in those places. The prevalence or the more people that own guns, the research is pretty clear that that does increase gun violence both on the suicide and on interpersonal levels.
Tanzina: The NRA has been struggling for a while now in terms of its internal politics, in terms of investigations that have been lobbed against it. You mentioned earlier that both Harris and Biden have very low ranking within the NRA, which I'm sure their voters don't have a real issue with if you will, but tell us a little bit about the investigation and how strong you suspect or not strong you suspect the NRA will be able to be and to counter some of the ads that you mentioned, for example, that might be coming from every town USA.
Jason: Yes, I would think they would certainly be muted this year. It's funny you mentioned that the voters perhaps wouldn't mind so much if Biden or Harris had apps from the NRA. In fact, in some campaign speeches, they actually tout that. They're proud of the fact that the NRA does not think highly of them. Yes, one of the biggest issues for the NRA this campaign cycle might just simply be that it doesn't have nearly the same war chest to work with as it has in the past. They're being investigated for misappropriating funds where the heads of the organization were essentially taking lavish trips and even siphoning off donations from the very members that they purport to serve or to advocate for.
At the end of the day, it is still going to be interesting if they're able to, for instance, say to their donors, say to their members, "Look, this is all liberal media. This is all bias. You can't believe what The New York Times, The Washington Post, NPR. You can't believe what any of them are saying. You trust me, you trust us. We say that we're doing the best for you and we truly are." That perhaps will still be a persuasive argument.
We've not seen the NRA spend as much so far in this cycle as we have in previous cycles. They have not made the same pledges that, as you mentioned, Everytown or Moms Demand Action has. There still is some time to campaign. They still have time to come in with a big spend, but I do suspect that there'll be a little bit more muted this year than in previous cycles, largely because of the reduction in funding that they'll have.
Tanzina: I'm wondering, of course, that investigation at least the one that I'm referring to is coming out of New York State's Attorney General Letitia James towards the NRA. More broadly, Jason, I'm wondering there's been lots of talk over decades now about the power of the gun lobby in Washington. If the Kamala Harris-Joe Biden ticket takes office in January, do you think that that actually would indicate that the gun lobby would eventually be taken on in the way that at least folks on that side of the political spectrum have expected?
Jason: Let me answer that in a very specific way and it would depend on what happens in the Senate. The truth is that the executive branch really doesn't have a lot that it can do. It relies heavily on Congress. The bills that Congress can pass in order to enact gun policy or gun legislation. Even if Joe Biden wins, we'll take for granted that probably the house goes the same direction as the presidency in this election. Let's say both of those go for Democrats. That's still not a guarantee that the Senate will also go blue. If that happens, it might be possible that there will be a lot of gun legislation that passes the house that Joe Biden is perhaps eager to sign, but that then languishes in the Senate.
In fact, we're already even seeing that in the past couple of years or the past year or so, as Democrats have had control of the house, they have passed legislation that has gone nowhere as Speaker or Senate leader McConnell has just basically let it sit on his desk. Now, of course, in this particular situation, it is perhaps unlikely that the president would sign those pieces of legislation anyways, but nonetheless, they're not even getting to his desk.
This is one reason that groups like Everytown and Moms Demand are taking really a two-track look. They're looking obviously at the presidential election, but they're also looking very strongly at close Senate races including again here in North Carolina and other swing states because it's very important for those groups that not only do Democrats win the executive branch, but they also take control of the Senate so that pieces of gun legislation then do not pass the house, waiting for Joe Biden to sign it, but don't ever get to his desk.
Tanzina: We'll be watching. Jason deBruyn is a reporter with North Carolina Public Radio and with the Guns and America reporting project. Jason, thanks so much for your work.
Copyright © 2020 New York Public Radio. All rights reserved. Visit our website terms of use at www.wnyc.org for further information.

New York Public Radio transcripts are created on a rush deadline, often by contractors. This text may not be in its final form and may be updated or revised in the future. Accuracy and availability may vary. The authoritative record of New York Public Radio's programming is the audio record.