What's at Stake as Julius Jones's Execution Day Nears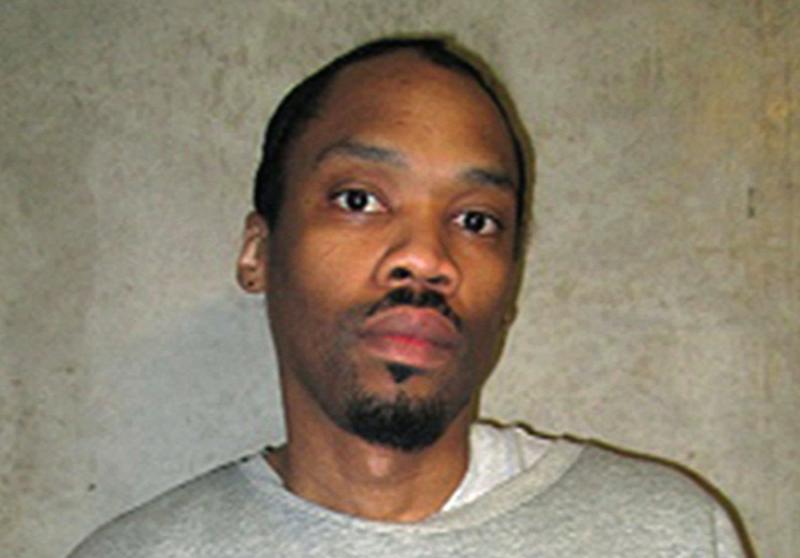 Transcript
Antoinette Jones: I stand on faith that God has given me. That even if he doesn't meet with me, I'm praying that he has heard my mother's words, my brother's words, and my words, and my family's words. I'm just asking him to hear from God. This is not a political, this is not a political, this is not a political decision, this is a moral decision.
Melissa Harris-Perry: That was Antoinette Jones, sister of Julius Jones, speaking with The Oklahoman earlier this week. She was talking about Oklahoma Governor, Kevin Stitt's pending decision over whether to commute her brother's death sentence. Her brother's execution is scheduled for Thursday. Governor Stitt has delayed his decision for two weeks. It follows a vote earlier this month by the Oklahoma Pardon and Parole Board, which recommended that Jones's sentence be commuted to life in prison with the possibility of parole. As Antoinette mentioned, the governor has not met with Jones's family ahead of the scheduled execution.
Julius Jones has always maintained his innocence of the 1999 murder of businessman Paul Howell, and despite a wealth of evidence supporting his claim, he is moving closer each hour to being executed by the State of Oklahoma. Kelli Masters is an attorney based in Oklahoma, and she served as part of Julius Jones's legal delegation at his commutation hearing in September. Was actually skeptical of Jones's innocence until she took a closer look at the evidence. Kelli, thanks so much for joining us.
Kelli Masters: Thank you, Melissa.
Melissa Harris-Perry: Talk to me about your skepticism about the Jones case?
Kelli Masters: Well, I've been an attorney in Oklahoma for 21 years. I have never necessarily been antideath penalty. I've always been very much a law and order person who believes that we have the best justice system on the planet, in this country. Essentially, I always believed that Oklahoma basically got it right. Although there have certainly been exonerations over the years. I wanted to believe that this case was heard by a jury, it was reviewed by multiple appellate judges. At the end of the day, the conviction remained. It sounded like a horrific case, just reading about the details of the murder.
Basically, a carjacking gone wrong and a father die in front of his sister and his two children. It was just a devastating case. I was contacted initially to write a letter on behalf of Julius Jones to our governor, Governor Stitt. Initially, I almost declined, thinking well, why should I get involved in something like this that has already been tried and appealed, and here we are. Something in me really compelled me to take a closer look. I started digging into the facts of the case. I started reviewing every transcript, every piece of evidence.
I think the thing that really opened my eyes was at trial when the prosecution rested their case, the defense attorneys who were young public defenders at the time just simply stood up and said the defense rests. There was so much information that the jury never heard and never got to consider. That's when I knew I really, really needed to dig in and know more, and I wanted to even meet Julius before I write a letter. Then I've decided I couldn't just write a letter, I wanted to really be an advocate and do all I could to make sure Oklahoma got this right.
Melissa Harris-Perry: I want to begin by acknowledging what you said about Mr. Howell, who was killed. That the facts of that case are horrifying and that his family, as his survivors have every right to feel desperately sad and angry that he was taken from them. As we acknowledge that reality, also the realities that you are offering to us about the possibility that there could be a miscarriage of justice in the case of Julius Jones. I'm wondering, as you have watched this move forward, and we have not followed the case for as long as you have obviously, but we have been following it for a few months.
I have to say I'm surprised to find us here the day before the execution is set to take place, given that there have been two recommendations by the Oklahoma Pardon and Parole Board, that would at least be staying the execution. It doesn't mean that Mr. Jones would be going home, but it would be leaving open possibilities.
Kelli Masters: Exactly. I was part of the delegation that spoke on Mr. Jones's behalf in September, and it was three to one vote by the Pardon and Parole Board. The board is tasked with reviewing all the evidence, all the circumstances of the conviction, looking at things together the jury didn't see, including confessions by Christopher Jordan, the co-defendant that he actually was the one that murdered Paul Howell and had pinned it on Julius. He admitted even that he planted the murder weapon in Julius's house. None of that was heard by the jury.
The Pardon and Parole Board looked at everything objectively to make sure that we're getting it right, and not just at the commutation hearing, but also last month at the clemency hearing which is an even more reversed hearing. They voted the same way. Now that they came down on the side of innocence, which is personally where I've landed after looking at everything, objectively, they just expressed there are so many doubts in this case that there's no way we should move forward with execution. Of all circumstances where you look to commute a sentence, this would be one of them.
Honestly, I had held out hope because of those two strong recommendations to the governor by his appointed Pardon and Parole Board. Yet at this hour, I'm very concerned that we are marching towards execution.
Melissa Harris-Perry: I want to be as generous and fair as I can with the choice that the governor is making here. Can you help us in two ways? One, what are the choices that the governor has? What things might the governor be able to do here? Can he stay the execution, but leave for more trial? Does he have to actually, absolutely absolve Mr. Jones? I'm wondering what his options are, and then also, what you think he's using as criteria for making the decision.
Kelli Masters: First of all, the process in Oklahoma is this, once all of the appeals have run, which they have in this case, they did years ago. I might point out that on appeal, appellate courts are limited to the record created and preserved at trial. The bar for reversal is very high. Sadly, even with all the evidence in this case of Julius's innocence, it does not surprise me that the limited record never got a fair review. That's what the Pardon and Parole Board is in place to do. To actually make sure and ensure that we don't make mistakes.
The board has voted twice in favor of-- once in favor of commutation, meaning a lesser sentence, and they recommended life with a possibility of parole. The second hearing they recommended clemency and also made the same recommendation, meaning the recommendation to the governor was to spare Julius's life and commute his sentence to something lesser. The governor can stay the execution. He can actually ask for a reprieve, meaning the execution is simply delayed to give him more time to review the case. He could do that. He could accept the Pardon and Parole Board's recommendation of life with a possibility of parole.
He has followed the board's recommendation in the vast majority of cases that they've recommended clemency in. He could choose to commute to life without parole. He could choose to commute to life and released with time served. Julius could walk out immediately or he could be up for parole in a matter of months or years or he could be just sent to prison for life, or the decision that I think the governor is weighing or leaning towards is just allowing the execution to proceed according to the judgment entered against him.
I wish I could say what the governor is thinking in this case. It boggles my mind that back to the two strong recommendations and all of the hearings that have been held, that he would actually go against that and allow the execution to proceed with such doubt remaining in this case. I wish I knew. I really truly wish I knew what the governor was thinking and potentially rejecting this recommendation.
Melissa Harris-Perry: I guess we will all soon learn. Kelli Masters, attorney based in Oklahoma. Our thoughts are with you, with the families of both Mr. Howell and Mr. Jones over the course of the next 24 hours. Thank you.
Kelli Masters: Thank you.
[music]
Melissa Harris-Perry: Because we think of The Takeaway as a conversation, and you, you're part of our community, I just want to take a moment and be very honest with you. Now, we have been covering the case of Julius Jones for months here on the show. We've talked with members of his family and with some of the advocates who've been fighting for Julius's life. We have not talked with any family members of Paul Howell, the man that Jones was convicted of killing. I can imagine, as this execution is coming closer, that they have a variety of difficult feelings.
I also want to point out that I'm not a lawyer and that I have not reviewed all the details, all the documents of this long and complicated case. I do not know for certain if Julius Jones is guilty of the crime for which he is set to be killed tomorrow. I don't. Here's what I do know. I know the district attorney who charged and convicted Julius Jones has had a full third of his cases overturned due to prosecutorial misconduct. I do know that today, 10 people who were sentenced to die in murder cases in Oklahoma have been exonerated.
I do know that Oklahoma City police officers have erected barricades around the governor's mansion because Governor Kevin Stitt has still refused to act to stop this execution. That's despite the fact that the parole and probation board in the past several months, has recommended both commutation and clemency. Let me be clear. I am not sure that Julius Jones is innocent but far more important, the State of Oklahoma is not certain that Julius Jones is guilty.
[music]
Melissa Harris-Perry: Now, back in October, as we grappled with the reality of the Jones case, The Takeaway, we took a deep dive into the practices of the death penalty in this country. Look, across our long history, at different points, we've had various protocols of death. We've used public hangings, firing squads, gas chambers, the electric chair. All, at various points, have been legal methods of execution, but since 1977, nearly 90% of all executions have used lethal injection. That's how Julius Jones is set to be killed tomorrow.
For years, lethal injections have been presented as a more humane alternative to previous methods of execution. During our deep dive, we talked to Sam Spital of the NAACP Legal Defense Fund. He helped us to understand that lethal injections are not a humane alternative.
Sam Spital: In fact, as Justice Sotomayor has noted in a number of dissenting opinions, there is powerful evidence that lethal injection, in many cases, risks essentially torturing someone to death but they are because of the paralytic effects of one of the drugs, unable to, in any way, show what's happening to them. It is really this ultimate form of torture that no one else can see. It appears, to others, that this is somehow an anesthetic, almost medical event and it looks peaceful, when in fact, the person who is being executed is being tortured to death.
You have very serious risks about maladministration of drugs. Oftentimes, the people involved in executions do not have proper training. We've seen a number of indisputably botched executions, where it's clear that the person who was executed was tortured to death. The method remains, dare I say, popular in many places because it creates this false sense of somehow the state is not doing what it's actually doing, which is taking a human life. Taking a human life, there's no way however it appears to make what is actually happening anesthetic or painless process.
[music]
Melissa Harris-Perry: Here we are. The day before a man we are not sure is guilty is sentenced to die by a method that we know is not humane. This is The Takeaway, I'm Melissa Harris-Perry.
[music]
Copyright © 2021 New York Public Radio. All rights reserved. Visit our website terms of use at www.wnyc.org for further information.
New York Public Radio transcripts are created on a rush deadline, often by contractors. This text may not be in its final form and may be updated or revised in the future. Accuracy and availability may vary. The authoritative record of New York Public Radio's programming is the audio record.