What's Lost When Lesbian Bars Permanently Close their Doors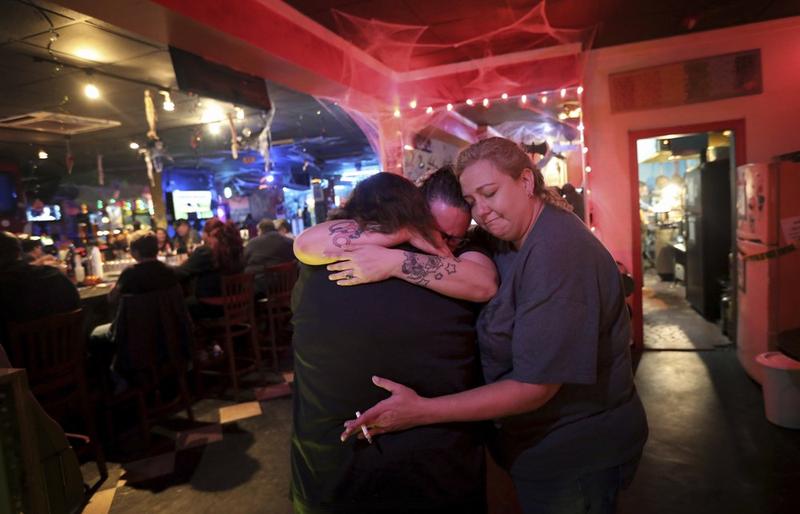 Transcript
[music]
Nancy Solomon: It's The Takeaway I'm Nancy Solomon in for Tanzina Vega. In the 1980s, there were around 200 lesbian bars across the US. They provided a dedicated place for lesbians to meet and build a sense of community, particularly as discrimination against the LGBTQ community was widespread. There are only about 15 lesbian bars left in existence in the US today. LGBTQ bars as a whole have declined in number. The decline has been exacerbated by the pandemic. There are plenty of bars where both lesbians and gay men frequent, but today we're talking about the bars that catered exclusively to lesbians.
The closures are a tough pill to swallow, particularly as there are so few spaces dedicated to this community, and losing them means losing their history. Here's what you told us about your favorite lesbian bars.
Kate: Hi, this is Kate of Iowa city. I'm so sad that my favorite lesbian bars on the West coast, all of them, Mod and Amelia's in San Francisco, the Primary Domain and the 927 in Portland, Oregon, and the East Lake East in Seattle have all closed.
Emily: My name is Emily. I'm calling from Los Angeles the first and last time I ever went to the iconic Lexington club in San Francisco was their last weekend open. It was so heart-wrenching to hear the owners come up and say, "Thank you for your support," to see the people who've been going there for decades.
Amber: Hi, this is Amber Hall, senior producer at The Takeaway. I actually met the woman who I would later marry at Ginger's in Brooklyn. These are very special, incredible places, and I really hate to see so many closed their doors.
Nancy: Thanks to Amber and all our listeners who reached out on this. This is also near and dear to my heart. I went to my first lesbian bar in the late '70s, a place with no windows on Portland's Skid Row. I wasn't yet 21. Even though I'd been out of the closet for a year or two, at that point, I didn't know what was behind that windowless door. It turned out to be a fantastic scene, crossing generations and various representations of gender non-conformity, including working-class Butch lesbians, who I wouldn't have ever seen, let alone meet, otherwise.
I'm joined now by Jo McDaniel, Co-founder of, As You Are Bar, to discuss what the continued closure of lesbian bars means for queer women and the cultural impact of these institutions. Thanks for joining me, Jo.
Jo: Thanks for having me, Nancy.
Nancy: You started bartending in DC in 2005 at LGBTQI bars and helped open DC's, only standing lesbian bar, A League of her Own. How has the scene changed in that time?
Jo: Well, it's funny how you mentioned the window list bars in Portland's Skid Row. Although DuPont circle is far from a sketchy neighborhood, the first bar I worked in 2005 had zero notable effects on the outside. It was a completely blank space with a small sign above the door. Inside was this enormous like warehouse-sized dance floor, and everything was painted black and everything had mirrors. It was nothing you would expect from the outside. 13 years later, I helped to open A League of her Own, which has rainbows all over the front and windows and is quite visible from the street, quite clear the community it serves, which we, even in the early 2000s, didn't really have the freedom to do yet.
Nancy: Now let's talk about the closings. This is really been going on before the pandemic hit. Tell us, what are some of the pressures on these businesses and why have there been so many closings?
Jo: Sure. Well, Washington DC lost our beloved Phase one in 2015 after 41 years. Phase One was the longest-running lesbian bar in the States at the time. Listening to the callers talk about the places that have closed, it was heart-wrenching. There are Washingtonians who still talk about the times had at Phase. I think the pressures are so many. I think one of the main things that gets swept under the rug is pay inequity and job security for queer people. Women and queer people and non-binary and gender non-conforming struggle, make less cents on the dollar, have less leisure money to be spending on luxury items like going out.
It just changes the need of that community. Then it changes by proxy how the proprietor can run their business. That's a huge pressure. In DC, we face a lot of gentrification because we're a small area in terms of square footage, or square miles rather. As soon as a neighborhood gentrifies or gets cleaned up, as they say, then it becomes harder to run a business there.
Nancy: Can an argument be made that the need for lesbian bars has decreased as acceptance generally has increased?
Jo: I love that question because I think it's an interesting way to see how the world has shifted. Sure, we can go to a chain restaurant and potentially hold our girlfriend's hand and it'd be somewhat safe, but you never know what you're walking into. In marginalized communities that doesn't shift. You are marginalized regardless of how much acceptance we are not there yet. There is something incredibly sacred about walking into space and knowing that while you don't know what's behind that door, you know that it's your people in there. You know that there's a commonality that you can't find just anywhere.
There's that safety, it helps you grow and become the human you're going to be, when you know you have it. As somebody who started in my early 20s and I'm now in my late 30s and have watched the bar scene shift from behind the bar, I can tell you that there are 22-year-olds today who are still aching. I don't think we're aging out. They're still aching for that sense of community that we can only get in spaces that are designed for our community.
Nancy: You and your co-founder are working to open As You Are Bar in Washington DC. Tell us about that project and what you're trying to do with it.
Jo: I think gay bars generally have a fairly cookie-cutter approach and we're looking to break that mold. Rach Pike and I are looking to be more inclusive, to not be a lesbian bar but to be able to use a more umbrella term like queer, to really make sure we're including trans folks and non-binary folks. Then we're looking to bridge some of the age gaps. DC has a higher education component. If you're not 21, there's really no place for you yet. We want to change that.
Nancy: Are there different dynamics in place for LGBTQ bars as a whole? Their numbers are declining as well, but is there anything different going on between lesbian bars and queer bars in general?
Jo: Yes, I think that the gay men community really builds its nightlife or builds its social component around where people go, whereas what I have found in the community of women and non-binary people and trans folks is that we are going to go where the people are. It's not so much about what space we go to, but who we're occupying it with. That just seems to be almost inherently a difference between the communities in that regard. I think that we, as a community, have more equality. The dwindling numbers in gay men bars has shifted. I think that's a generational thing.
There was a bit of a dip in the '80s, obviously when the AIDS epidemic ran rampant through our community. I think it's almost like an opposite effect happened, that once we started getting more legal rights, almost our community started settling down and going out a little bit less, or needed that community as our visibility increased a little less.
Nancy: Well, there's also the advent of online dating or online hookups, which has been, that's a huge shift in how you meet people. Of course, it doesn't need to be said, when that didn't exist you almost had to go to the bars to find people to meet.
Jo: There was no other option.
Nancy: Obviously the pandemic has been brutal on bars and restaurants, but do you think there might be an actual bump once we're able to reopen? It seems like if there ever was a case for pent up demand, this would be one of them.
Jo: Yes. It's so interesting. Rach, my partner and I, when we founded As You Are Bar, we provide a good amount of virtual content. We have weekly content and monthly things. While people are very grateful and continuously cheer us on in that, the countdown is real. The constant asking of when a brick and mortar is coming, it just happens continuously. Something we spoke about early in pandemic is the service industry has shifted a little bit because this generation didn't know how much they needed us or how much they were gaining from having nightlife professionals in their lives until we were not there.
Rach and I in particular have gotten, because we were both bartending up until the pandemic hit and well into it, we got lots of messages, I'm in literally shock and awe. "I can't believe how much I miss you all, how much I miss being in that space." Even people who are not into it or crammed in or uncomfortable, it was like, "I'm dying to be on a sweaty dance floor." We get it, because we do too.
Nancy: That's like me actually missing my commute to work, which is crazy. Along with lesbian bars, Black-owned gay bars have also seen their numbers decline. What do we collectively lose when these spaces close?
Jo: Safety, first and foremost. I think we're so fortunate to the pandemic for a lot of people's eyes being opened to the white supremacist and capitalist structure that we're built on. It was really easy when you were in the rat race of ambition to lose sight of that bigger picture and I think so many people have less of an ability to ignore those truths anymore. When you lose your community, the more intersectional the better. There was this Monday party here in DC that Rach and I would frequent and it was held in a bar owned by a Black woman and it was run by all Black queer people.
We just went in to add money to the pot and not take up too much space, but just to help keep the party going. Yes, people meet each other, they network and there's power in that. There's power in numbers. Knowing where your people are going to be on a certain given night, that just keeps you safe through the rest of the week. It's better for your mental health. I just think losing spaces, particularly those owned by marginalized communities, anytime one person loses or has to close their doors it's a blow to that whole community.
Nancy: I think it's hard sometimes for people who've lived their whole lives as heterosexuals to really understand the role that bars have played in the lives of gays and lesbians over the years. For more than a century, really. Towards the end of last year, two filmmakers started the Lesbian Bar Project, which is trying to raise money for lesbian bars to stay open. How is that going and is it playing a role in preserving the bar scene?
Jo: Well, Erica Rosen, Elena Street, I can't say enough good things about these incredibly ambitious, super young humans. I've been very fortunate to work really closely with them, both on the first iteration of lesbian bar project, as well as what they have coming up. I got to flirt with Leah Deliria via Zoom for an event, but that's no surprise there. Anyone within a hundred mile radius of her gets that. That was really fun. One of the biggest things for me that was a takeaway of that was interacting with proprietors of the different spaces across the country and learning people's stories. You can feel really siloed because, again, misogynistic culture says that we should be competitors. We don't really talk to and about each other that often.
I have been fortunate enough to just fall in love with these people who are also doing this work. It feels so small when you're in it, just in your little bar, in your little town, which none of our towns are particularly small, but still that's how it feels. To actually just sit and throw ideas back and forth and tell our stories is so powerful. Lisa Cannistraci who owns Henrietta Hudson's is absolutely my elder crush for a year now because she's everything you want and then New York broad with this scratchy raspy, smoker's cough voice and thick New York accent. She's just my hero. It's an impressive thing when we know about each other and when we can hold each other up and hang on to each other.
Nancy: I guess that is one of the silver linings in the pandemic cloud, is the ways that Zoom has allowed people to be in touch across geographical distance, at least. Jo McDaniel is the co-founder of As You Are Bar coming soon to Washington, DC. Thanks so much for being with us.
Jo: My pleasure, thanks for having me.
[music]
Speaker 1: I first started going to dyke bars because I was a lesbian and that was a place to meet other women and it was very exciting, but I kept going because I love to dance. The first dyke bar I went to is Dietrich's, I think it was called, named after Marlene Dietrich. Then places like The Duchess. I was able to sit in the back in a corner and watch the dynamics between women, because I was a baby dyke and had so many questions, but was so scared to ask. I moved on to Crazy Nannies. There, being two floors, was so great. I was always on the dance floor and the top when I wasn't trying to do naughty things in the bathrooms.
I moved on to the Clit Club and loved it there but also Henrietta Hudson's, which actually was super small so wasn't really my favorite spot, but before COVID on a Friday night, you would see me in Henrietta's sweating it out on the dance floor. I think the reason why dyke bars are so important and why it's so sad that they're a dying breed is because where do you go to see dykes in a big group, in a clump? Nowhere else, except for maybe the dyke march,, and that's only once a year. Dyke bars are super important. I am a Black lesbian and my age 55.
Lauren: Hi, my name is Lauren. I'm from Brooklyn, New York. I use she/her pronouns and I'm 36 years old. Growing up in Park Slope, I've always been blessed to have lesbian bars there as far back as I can remember. They've always been a place of empowerment for me. Aside from just being a place to hang out with your friends, it's a place where we have community meetings and social events outside of just drinking. Any marginalized community, it's important for people to have access to safer spaces where they know that they'll be welcomed and free to be themselves.
It's important for these lesbian bars to continue to exist. Specifically in Park Slope, Ginger's on Fifth Avenue pretty much raised me. When I was in my early twenties I used to go to Caddy Shack on Fourth Avenue, that since has closed. Then when I would go to the city, I would often go to Cubby Hole in The Village.
Copyright © 2021 New York Public Radio. All rights reserved. Visit our website terms of use at www.wnyc.org for further information.
New York Public Radio transcripts are created on a rush deadline, often by contractors. This text may not be in its final form and may be updated or revised in the future. Accuracy and availability may vary. The authoritative record of New York Public Radio's programming is the audio record.