What's Going on with Protests in Canada?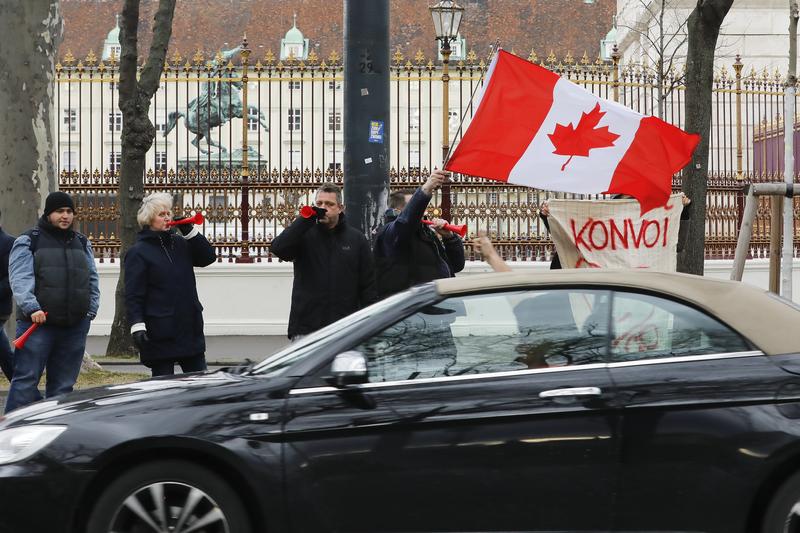 Transcript
[music]
Melissa Harris-Perry: Yes, Blame Canada. This little ditty is a South Park satire classic from 1999. It's so good, it was nominated for an Academy Award for Best Original Song that year. Of course, the reason the song is so ridiculously hilarious is because, of course, who in the US is ever mad at Canada? Blame Mexico, that's basically a campaign slogan in the US during the Trump administration, which regularly blamed both domestic economic and social challenges on our neighbors to the south, but blame Canada? That is the stuff of satire, until this.
[music]
That's the sound of big rig trucks that have been occupying downtown Ottawa in Canada for the past two weeks. These protesters are calling themselves The Freedom Convoy, and they originally gathered to protest rules that mandated that truck drivers passing between the US and Canada show proof of vaccination against COVID-19. While many media reports continue to characterize this multi-week disruption as a protest, and saying that it is led by and for truckers, well, the reality is a little more complicated.
According to the Canadian outlet Global News, several of the organizers of the convoy are far-right extremists with a history of Islamophobia and racism. At the beginning of the protests, multiple participants were seen bearing swastikas and confederate flags at the demonstrations. On February 6th, Ottawa Mayor Jim Watson declared a state of emergency. Here he is speaking with the CBC this week.
Mayor Jim Watson: These people have stayed far too long. They're disrupting far too many lives. Someone is going to get injured or seriously killed if they don't understand the severity of the situation.
Melissa Harris-Perry: The disruptions have spread beyond Ottawa, blocking multiple parts of the border, including a bridge between Windsor Ontario, and Detroit Michigan that serves as an essential part of the supply chain for the automobile industry. The outsized effects of this movement's actions stand in sharp contrast to the fact that roughly 90% of Canadians are vaccinated and nearly 90% of Canadian truck drivers are vaccinated as well.
Canadian Prime Minister Justin Trudeau emphasized the divide between the right-wing demonstrators and the vast majority of Canadians in his remarks this week.
Canadian Prime Minister Justin Trudeau: People of Ottawa don't deserve to be harassed in their own neighborhoods, don't deserve to be confronted with the inherent violence of a swastika flying on a street corner, or a confederate flag, or the insults and jeers just because they're wearing a mask. That's not who Canadians are, that's not what Canadians demonstrated over the past two years.
Melissa Harris-Perry: Now, if you find yourself waiting on parts to repair your used car, or you're simply feeling a little nervous about global democracy, well, it might in fact be okay to blame Canada. I'm Melissa Harris-Perry and today on The Takeaway we start with the trouble at the northern border. I sat down with Regina Bateson, an assistant professor of Public and International Affairs at the University of Ottawa and I asked her what is going on there?
Regina Bateson: First there was a protest, and there are still elements of a normal protest to what's been going on here but there's also an occupation. There are blockades that have spread across the country. There are ties with right-wing extremist groups including white supremacist groups and now there's a significant element of foreign intervention, both political support and financial support coming from the United States. There are multiple different things happening once you're on the ground and meanwhile, local residents are caught in the middle of it all.
Melissa Harris-Perry: Let's back up and walk through each part of that, I think it's really useful, so let's start with it began with, how you describe, a normal protest. Who was protesting what here?
Regina Bateson: I should say there were elements of a normal protest to how this started and by normal protest, I mean people on foot with signs trying to communicate some kind of message and make their voices heard. That's been part of what was happening here, but even in that initial beginning of the events, there was also a well-organized convoy that had been planned in advance that had been traveling across Canada. Authorities knew they were coming here to Ottawa, they knew very clearly that their stated intent was nothing short of revolution and they proposed an unconstitutional seizure of power.
It was clear from the beginning that this was a well-organized event but as in any national capital, people here are familiar with protests and people who make demands, we're no strangers to contentious politics. Certainly, those first few days, that Friday, January 28th, January 29th which was a Saturday, we saw people roll into town loudly. Trucks, big rigs, pickup trucks, lots of flags, all different flags, and I personally was caught up in the convoy that first day inadvertently, and I thought, "This is a big demonstration. This is loud, it's significant, it's big."
I think people expected, the average citizen here expected that the group would come, demonstrate, and then go, and in fact, they stayed. Then going into that Sunday into Monday, which was the 30th into 31st of January, we started to see that despite having taken a really hardline aggressive stance with other protests that have happened here in the past and sit-ins and very peaceful forms of demonstration by other groups, particularly Black and Indigenous groups here in the past, despite that, the Ottawa police were taking a really hands-off approach to this group. They had stood back and allowed them to bring their big rigs into the center of Ottawa into the downtown core right next to Parliament, right next to the Prime Minister's offices.
There they'd gotten installed, and they weren't ticketing them, they weren't towing, and at the same time, there was really a lot of hate speech and harassment and intimidation toward local residents happening. That Sunday into Monday is when it really morphed into an occupation and what feels to a lot of people who live here like a hostage-taking situation, there's a strong element of extortion to what's been happening.
Melissa Harris-Perry: All right. Initially, it was being described as a trucker protest, but nothing about how you're talking about this feels to me like that, what is missing and how, at least initially, how this was framed?
Regina Bateson: It's not just truckers, it's not just a protest and it's not just about COVID. I think that is really important to get across. There are some people who are truckers who are here, and there are some big rigs. There are also lots of people who've come with private vehicles, pickup trucks, the roving pickup trucks who drive around town, intimidating people are in some ways more terrifying I think for local residents, they definitely feel like more of a rogue element. It's unpredictable when and where you're going to encounter them and then there are organizers with political aims.
There is a right-wing populist and extremist movement here in Canada. It's existed before this, unfortunately, will continue to exist and probably be emboldened after this. There are folks with political aims who are not truck drivers. The ostensible trigger, or initial organizing catalyst for this event, was the imposition of a vaccine mandate for truck drivers to be able to cross between Canada and the United States without being quarantined in Canada, but that is really just the small part of what's being demanded by folks on the ground.
They've demanded the end to all COVID-related restrictions in Canada. They've demanded the resignation of Justin Trudeau. They have proposed forming a ruling junta with other government actors here. There's really quite a wide range of demands, and I would say it goes far beyond COVID. Also, because they've really challenged and upended norms around how society and politics operate here.
They've come into a place where there's a great deal of respect for process procedures, norms, calm deliberation, consultation, and they've torn that all up and they're playing by a completely different rulebook.
Melissa Harris-Perry: The kind of late-night comedian jokes themselves, like what is the far right in Canada what you have to pay for your own health insurance or something. There's a way I think that this is stunning, I think, for those of us south of the Canadian border, because Canada is consistently represented in US, I would say, maybe progressive US circles as this progressive promised land to which we could escape if the unfortunate political candidate is chosen in any given election. Canada always emerges in this kind of narrative and yet I hear you saying that this is a violation of some kinds of norms, but also a continuation of a pre-existing ideological formation.
Regina Bateson: Well, to be very clear, the events that have unfolded in Ottawa and across the country in what has been called a nationwide insurrection are stunning for Canadians too, absolutely stunning, deeply unnerving, unsettling. There is a far-right populist movement here that is not dissimilar from the movements that exist in the United States. In fact, there are ties between the two sets of groups that go back well before this. The thing is, that it's a much smaller percentage of the population here and also that the media ecosystem is very different.
There isn't the same level of attention given to them. They haven't had significant political power, or allies, really in mainstream politics to date. There's no equivalent of Fox News. There's no equivalent of Breitbart here. The impact and power of that extreme right has been much smaller here historically. It's really important to note that the vast majority of the country does not share their views. When Justin Trudeau stood up earlier, a few days ago in the House of Commons, and said, "This is not who we are as Canadians," that's true, he was right.
The vast majority of Canadians disagree with the demands of the convoy and the tactics they've been using. The fact remains that, like it or not, whether this is "who Canadians are or not", the convoy is here, they're on the ground, they are threatening residents, they're threatening democracy, they are disrupting critical infrastructure. At this point, they've gained a worldwide reputation and notoriety, they're sparking parallel movements elsewhere from New Zealand to Paris. They've really attained a degree of political power that was previously unthinkable.
Melissa Harris-Perry: What is the government currently doing? Do you have a sense because as you're talking about that, as you're talking about the spark and the way that it becomes a catalyst in other nations, even if it is almost a vanishingly small minority of Canadians are within Canadian public opinion, an attempt to crush it outright seems to be also precisely the catalyzing moment that could have global effects?
Regina Bateson: Yes, so there are a variety of less confrontational tactics around the management of this that has certainly been debated. Other cities in Canada, such as Toronto, Quebec City, have been more successful in preventing large vehicles from becoming installed in their downtown core and from preventing people from taking territory. The key mistake and the Ottawa police services agree at this point that the key mistake was allowing the big rigs into the core of Ottawa, and a lot could have been prevented with just a few concrete barriers two weeks ago.
Right now, you're right that the authorities are backed into a corner, especially because there's a strong division of power and strong federalism in Canada. This, believe it or not, this nationwide insurrection has largely been kicked into the laps of municipal police forces here. For example, in Ottawa, the Ottawa police have been saying clearly for days, days, that they are outnumbered, they do not have the resources to control the situation. They are a moderately sized police force that's usually responsible for a quite calm and well-behaved municipality of about a million people, and they are now trying to contain what's essentially an insurrection or an attempted revolution.
They have been asking for more personnel to be able to manage the situation differently, for example, to actually be able to cut off the supplies of fuel that are getting into the area, that are re-fueling those trucks and keeping them heated in the frigid Canadian winter. They just don't have the personnel, they've been trying to manage this with something like between 500 to 700 officers total, working in shifts. That's not really very many when you split it out by shifts.
They've placed a request for 1,800 additional personnel including 1,600 more officers, and that was placed on Monday, February 7th, and the request has not been filled. 1,800 more people have not materialized in Ottawa. The convoy continues onward with their mission. They've escalated, they've intensified their behavior, they've now gone out to the airport in Ottawa where they were cruising around in a performative way, making their presence known, flexing their muscle.
As we know, the blockade of the Ambassador Bridge is really very significant and is essentially paralyzing a fourth of all trade between Canada and United States. Meanwhile, the response is slow from the authorities here.
Melissa Harris-Perry: Just one last question. You've really made clear how anxious and distressing, anxiety-producing and distressing this is for residents and especially as you were talking about the smaller pickups driving through towns and that sense of not only being held hostage, which is bad enough in one's own town, but also being intimidated. I'm wondering, have there been acts of either verbal harassment or even of physical harassment and violence that we need to know about?
Regina Bateson: Yes. It's also important to note that residents feel quite abandoned. You might think of Canada as a place that's the home of big government. I'm making the impression that one would have of Canada in the United States. The experience of residents on the ground has actually been one of abandonment particularly for people who live in this downtown core area, which is a densely populated residential neighborhood that butts right up against parliament in downtown Ottawa. The city councilors have been doing what they can, but there really has not been much protection for residents.
I should also say that the Ottawa police are overwhelmed. They have been fielding coordinated-- or they've been dealing with coordinated attacks on the 911 system, attempts to flood the 911 system with irrelevant calls so the true calls cannot get through. When people call on emergency number, there have been reports that they're being put on hold or they're having to wait. There's been difficulty in even documenting what's happening.
Among what's happened, yes, the Ottawa police have gotten reports of hate crimes, they've opened hate crime investigations. There's been a lot of hate speech and harassment, particularly targeted toward anyone who's Black, Indigenous, and immigrant, wearers of hijab, LGBTQ, happens to be outside in a mask. There are any number of reasons why people are being targeted who are just average residents of the city.
There was also an attempted arson of a residential building downtown that was really very disturbing. People believe that it was retaliation because the residents of that building had asked truckers to stop honking. There's video of people going into that building, lighting a fire in the lobby, securing the exit doors from the building to trap the residents inside, and then fleeing themselves. It is only by the grace of God that someone has not died yet.
People really feel as though the police are trying to wait this out and law enforcement is trying to wait this out but every day that goes on, people here are in danger and Canadian democracy is in danger.
Melissa Harris-Perry: Regina Bateson is an Assistant Professor of Public and International Affairs at the University of Ottawa. Thank you for being here and please stay safe.
Regina Bateson: Thanks very much.
Melissa Harris-Perry: After just two weeks, messages of support have spread far beyond Canada and inspired copycat movements, including in New Zealand.
Reporter: Roads blocked, commuters stranded, and protesters taking over the streets. Those were the scenes in central Wellington after a convoy of trucks, cars, and motorbikes converged on parliament. They call themselves anti-mandate and freedom protesters.
Melissa Harris-Perry: Journalist Jenna Lynch of Newshub observed their local demonstration from a distance this week.
Jenna Lynch: It's been advised that all of the staff in the building don't go near the protesters because there has been quite a volatile situation. Normally, you'll notice now, we do go down to all of these protests but this particular group has been pretty nasty. Not all of them, obviously, there are some protesters out there that are just singing and having a good time. We've been copping a lot of abuse and it's not super safe to go down there.
Melissa Harris-Perry: Sheera Frenkel is a technology reporter for the New York Times and author of An Ugly Truth. She's been following these developments online.
Sheera Frenkel: As the protests in Canada have entered their second week, we've really seen activists from all over the world and even some local politicians take up this cause and try to adapt it to local movements. For instance, in countries ranging from Australia to Germany, local politicians have called for far-right activists to launch a similar protest in their country.
It's coming at this pivotal time where a lot of countries are considering whether they're going to have vaccine requirements or vaccine mandates. People are getting really fired up around this, both people who want to see vaccine mandates and people who don't. It's become a real moment, I think, globally, where people are looking at what's happening in Canada and wondering how they can interpret it for their own motivation at home.
Melissa Harris-Perry: Again, it's important to note here, the majority of Canadians do not support these protests.
Sheera Frenkel: What's happening in Canada seems to be drawing in people from across the political spectrum who are upset about mandates. While it started in the anti-vaccine community, I've now seen it spread across Telegram groups and Facebook groups where people are just upset at being forced or mandated to do anything. I think that's one thing that's been really interesting watching this, that it's no longer, I would say, specific to the anti-vaccine movement. There are people who are writing in and saying they voted for Biden in the last election and they consider themselves Democrats, but they're really angry about vaccine mandates, and so they support the truckers in Canada and want to take part in a local movement.
Melissa Harris-Perry: The range of supporters in the United States include Elon Musk who tweeted out "Canadian truckers rule" on January 27th and former President Donald Trump, who put out a statement of support last Friday. There's also been some support for the Canadian protests among US Republican lawmakers.
Sheera Frenkel: We've seen some local officials speak out in support of what's happening in Canada. I have seen politicians sharing photos and videos of the Canadian truckers and expressing admiration for that. I have not seen Republican officials calling for a similar protest here in the United States at the moment. That seems to be limited to the far-right groups and anti-vaccine activists.
Melissa Harris-Perry: Some of these Republican lawmakers are also now targeting GoFundMe after the fundraising platform blocked 10 million in Canadian dollars raised for the Freedom Convoy. The blockage has to do with violating the rule against the promotion of violence and harassment. So far, lawmakers say they will launch inquiries into the GoFundMe, including Texas Attorney General Ken Paxton, Senator Ted Cruz, and Florida Governor Ron DeSantis. Here is Senator Ted Cruz speaking on Fox News last week.
Ted Cruz: Listen, it is theft on the part of GoFundMe. Let me say the Canadian truckers are heroes. They are patriots and they are marching for your freedom and for my freedom. They are those truck drivers that, God bless them, they're defending Canada, but they're defending America as well.
Melissa Harris-Perry: Sheera Frenkel has seen some online chatter of groups inspired by the Canadian trucker movement to start their own American freedom convoy right here in the US.
Sheera Frenkel: In the US, anti-vaccine activists were the first seize on this and we saw their local Facebook groups, their Telegram channels really light up and become inspired by what was happening in Canada. Now they've pivoted from wanting to support the efforts in Canada by sending food or sending money to trying to plan something here locally and launching a similar convoy here in the United States that would convene on Washington DC and try to block the capital much in the way that these Canadian truckers have blocked Ottawa.
Melissa Harris-Perry: What started as a small anti-vaccine mandate protest in Canada's capital city could have reverberating political implications in the US and far beyond in the coming months.
Sheera Frenkel: The convoy that's happening in Canada, I think has really highlighted how organized the anti-vaccine movement has become. I've been reporting on the anti-vaccine movement for years now, and we've seen their numbers grow during the pandemic, but I think this shows just how capable they are of organizing an effective protest. I think that they will be a force to be reckoned with in the US ahead of the midterm elections. They're planning a number of protests across the US even in the coming months against vaccine mandates. I think they're a really fascinating group to watch because of how large they've grown and how well organized they seem to be.
Melissa Harris-Perry: Our thanks to New York Times reporter Sheera Frenkel for speaking with us on this story.
[music]
Copyright © 2022 New York Public Radio. All rights reserved. Visit our website terms of use at www.wnyc.org for further information.
New York Public Radio transcripts are created on a rush deadline, often by contractors. This text may not be in its final form and may be updated or revised in the future. Accuracy and availability may vary. The authoritative record of New York Public Radio's programming is the audio record.