What's Going on With The Feud in Pro Golf?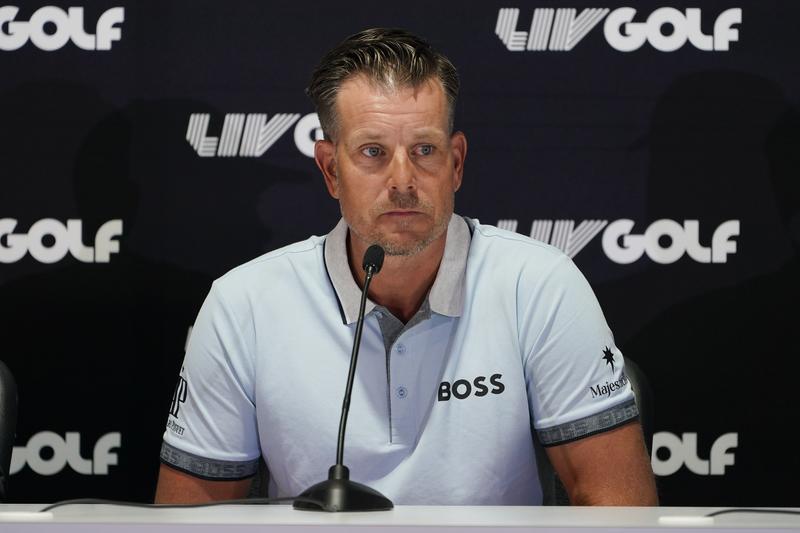 Transcript
[music]
Dr. Melissa Harris-Perry: It's MHP back now with more of The Takeaway.
Speaker 2: If you are a fan of epic high stakes sport, you're going to love what we have in store for you today. We are delighted to have you with us for the third and final round of the LIV Golf London Invitational and it starts right now.
Dr. Melissa Harris-Perry: Starting right now, a new startup tournament LIV Golf, backed by the kingdom of Saudi Arabia and financed by Saudi Arabia's Sovereign Wealth Fund. It's dividing the professional golf world by promising players multi-million dollar prizes and attracting some of the best known names in golf to play in their circuit.
Dennis Quaid: Because we see a vibrant game full of color, played all around the world. A game of high fives, fist pumps, and flying teams.
Dr. Melissa Harris-Perry: Whoa, listen, LIV, as you can tell is rebranding the game as "GOLF, BUT LOUDER." If that voice sounds familiar, it's actor Dennis Quaid making the case that LIV has the right stuff. Top golfers, including former world number one Dustin Johnson have resigned from the PGA tour and moved on over to LIV Golf. LIV reportedly offered Johnson a $100 to $150 million to play.
Dustin Johnson I'm very thankful for the PGA tour and everything that it's done for me. Obviously, you just said, I've done pretty well out there for the last 15 years, but this is something that I thought was best for me and my family and I'm very excited about playing.
Dr. Melissa Harris-Perry: Six-time major winner. Phil Mickelson also joined LIV Golf with an even bigger reported $200 million contract and others like Tiger Woods, who reportedly turned down a nearly $1 billion offer from LIV have remained loyal to the PGA.
Tiger Woods: What these players are doing for guaranteed money, what is the incentive to practice? What is incentive to go out there earn in the dirt?
Dr. Melissa Harris-Perry: The real problem working with the new league and its Saudi funders just ask, well, Phil Mickelson, who was quoted in an interview with writer Alan Shipnuck as saying, "We know they killed Khashoggi and have a horrible record on human rights. They execute people over there for being gay. Knowing all of this, why would I even consider it? Because this is a once in a lifetime opportunity to reshape how the PGA tour operates." Mickelson later apologized for the remarks claiming he had been speaking off the record, which Shipnuck denied. Here's Mickelson speaking on Message in June.
Phil Mickelson: I don't condone human rights violations at all. Nobody here does, and throughout the world. I'm certainly aware of what has happened with Jamal Khashoggi and I think it's terrible. I've also seen the good that the game of golf has done throughout history. I believe that LIV Golf is going to do a lot of good for the game as well.
Dr. Melissa Harris-Perry: LIV supporters have been asked by reporters to address Saudi Arabia's human rights record, including the murder of journalist Jamal Khashoggi in 2018 by Saudi agents. Former president Donald Trump, who has business ties to Saudi Arabia and has repeatedly played down concerns about the country's record plays today in a Pro-Am tournament at his Trump National Golf Club Bedminster. To tee things off for us we're joined now by Andrew Beaton, sports reporter for the Wall Street Journal. Thanks for coming on The Takeaway, Andrew.
Andrew Beaton: Thanks so much for having me.
Dr. Melissa Harris-Perry: It does sound like exciting golf, but what does Saudi get out of this?
Andrew Beaton: I think it depends who you ask. If you talk to people from LIV, the one thing that they stress is that this is an enterprise to grow the game of golf, they say, that this wants to be as you had brought up golf, but louder and a new fun format in order to grow the game internationally and with young people. If you ask the critics, what they say is that this is a country with an extremely concerning record on human rights, and that associating with top golfers and really popular people like Phil Mickelson and Dustin Johnson is a means to essentially whitewash that backlash and criticism to their record on human rights.
Dr. Melissa Harris-Perry: Andrew, one might argue that the United States has certainly in our long history and maybe even in our more recent one, some pretty troubling human rights violations as well. That golf in particular has a pretty exclusionary history in the US. Is this a little bit of pot kettle black calling?
Andrew Beaton: I think it's definitely possible to look at the game of golf and see an extremely exclusionary history. It doesn't take a long look to find country clubs that have been surprisingly recently exclusive to either just men or men of a certain color or of a certain religion. I think what is unique about this is that this is a state funded operation. I think that is the tension point that differentiates this from say the typical conversations in golf and what has really made this an enterprise that a lot of people are really trying very hard to make heads and tails over.
Dr. Melissa Harris-Perry: All right. Let's talk about what is attractive about LIV to some of these top pros. Clearly, the dollars are there, but what else is it? Why is it a place where in acknowledging the problems with Saudi Arabia, they're still willing to make this shift?
Andrew Beaton: To start off with it is a gobsmacking amount of money. It is both more money than the players typically make and they also have to do less to earn it. The PGA Tour in the typical golf world, earning money is very much meritocracy. You finish in first place, you earn a certain amount of money. You finish in second place, you earn a little bit less and so on and so forth. The guaranteed pay days offered by LIV Golf are really completely out of precedent. It's really hard to separate the money from what is happening. Beyond that, there's a couple other factors. First of all, they're getting paid to work less. There are fewer tournaments and they're still making an incredible amount of money.
These tournaments last three days instead of the typical four days. That is obviously attractive to them. Then if you want to go beyond that, there's a new format that they say is attractive to them and they believe will help attract a bigger fan base to the game. There's a team element. There's a smaller field. All the players tee off at the same time on different holes in what's known as the shotgun start. They're trying different things, both in terms of the business structure, but also in terms of the playing structure to shake it up.
Dr. Melissa Harris-Perry: This weekend, former president Donald Trump will be hosting a LIV Golf event at his Golf Club in New Jersey. What did the former president say to you about his involvement here?
Andrew Beaton: What was fascinating is that there's been a lot of consternation on Capitol Hill about LIV Golf. Obviously, Saudi Arabia is a really dicey and tense issue when it
comes to politics and there's been bipartisan concern expressed about LIV Golf, but the former president Donald Trump has been one of the rare political voices who's been in favor of it. One of the interesting things that he said was he thinks this has been a great bet for Saudi Arabia. He said that this has been great publicity and worth billions of dollars in great PR for the kingdom.
Dr. Melissa Harris-Perry: Is the concern primarily a cultural hegemony or is there a more specific concern that somehow through golf Saudi Arabia gets access to something within the US that is a security concern?
Andrew Beaton: I think it's more of a cultural question because as Saudi Arabia has this unique role in American politics, where in some ways it is an incredibly strategic ally. In other ways, it has been a cultural flashpoint over human rights issues, over incidents such as the killing of journalist Jamal Khashoggi, and that extends beyond something as glaring as that to day to day things such as gay rights, women's rights and day to day issues that are incredibly important and sensitive. I think the question is for the people who are concerned about that is, is this country that has a lot of salient questions about its behavior trying to just erode those questions by creating something new, cool, and fun and without actually addressing the underlying problems?
Dr. Melissa Harris-Perry: Often when a competitor, and this is market-based philosophy, a competitor comes in with a new product that people seem to want, then the product that's already in the marketplace is meant to adapt. PGA going to get more exciting as a result?
Andrew Beaton: I think one of the fascinating things about this is that regardless of anybody's qualms with the messenger, the message is resonating and people are noting that yes, golf is a popular sport, but also golf isn't a sport that has evolved an incredible amount over say a year, 5 years, 10 years, 20 years, 30 years, 40 years, 50 years. This is a moment that is essentially forcing the PGA Tour to do that. It's the type of thing where you can look at and say competition is good and there's already been decisions by the PGA Tour to do more to increase the payouts in some of their events by a pretty significant amount. There have been announcements about new types of events that they want to create. I think this is a moment that regardless of what ends up happening with live golf, we will see the effects on the PGA Tour for decades to come because it's forcing them to adapt.
Dr. Melissa Harris-Perry: PGA has got some other concerns problems here. Can you tell us about the Department of Justice antitrust investigation into the PGA Tour?
Andrew Beaton: Yes, I think one of the things that's fascinating about this is that, from the start, the PGA Tour had made clear that its players were not allowed to play on the LIV Tour, and that if they did so they'd be suspended. What LIV was telling players when they were trying to recruit them was that if they did as much if the PGA tour ended up trying to ban them, then that would be an antitrust violation. One of the things that we reported a couple of weeks ago is that yes, in fact, the Department of Justice is investigating the PGA Tour for potential anti competitive behavior.
The tour has said that everything they do is kosher and that they plan to beat this investigation, just as they did in the '90s but it's interesting that this is something that the FTC had looked at, in the 1990s, the PGA Tour essentially prevailed but at a moment when there is this cultural and business civil war in golf, there's another factor and that is the Justice Department and they are looking at the PGA Tour's behavior and the way it conducts business to see is their behavior monopolistic and anti-competitive.
Dr. Melissa Harris-Perry: Is there any other example of this in sport, either now or in some previous era has something like this ever happened before?
Andrew Beaton: There have been startup leagues before in sports and they very often fail. You can look at the USFL, which Donald Trump was involved with in the '80s trying to challenge the NFL, that only lasted a few seasons. What is unique about this enterprise is that it is flush with money and it's not just a little bit of startup money, it is backed by the wealth and the oil money of Saudi Arabia. That is really, really wealthy and that is how they can afford to pay such stunning amounts to golfers. It's why they can offer record purchases to the golfers and it's why this might not just fold tomorrow, under a crush of debt. It is because they have an incredible amount of money to try and see this through as long as they desire to do so.
Dr. Melissa Harris-Perry: Is there a way given that LIV is emerging that we're already beginning to see these top athletes move in that direction is there a way that the PGA or the US government might try to leverage or incentivize this and in some way to address Saudis human rights atrocities?
Andrew Beaton: It's going to be fascinating to see because we're at this tense moment politically, where on the one hand, there's a lot of criticism of Saudi Arabia. On the other hand, we just saw President Joe Biden go visit Saudi Arabia and fist bump MBs, in what was kind of a jarring and remarkable international event. I think trying to make heads and tails of the United States' relationship with Saudi Arabia, is pretty similar to trying to make sense of what LIV Golf is and what LIV Golf will be because it can be confusing but it's also new and different and it's always seeming to be changing.
Dr. Melissa Harris-Perry: Maybe I should have asked this first, but just as a foundational question, because my perspective on this might be a little warped. I teach at Wake Forest University, which is also my undergraduate alma mater. We have a whole dorm named after Arnold Palmer and a really great golf team. Golf seems to be very central in the world of sport. Is it? Do Americans love golf, engage golf, or is it possible that LIV is going to create something new, even for US and certainly for global audiences?
Andrew Beaton: I think both can be true. I think it is possible LIV is creating something new that is going to attract people. I also think it's completely possible that the PGA Tour where that name, Arnold Palmer has so much cultural cachet has a lot of cultural cachet in the cities that host the PGA Tour tournaments and where the standard history of what happens in the traditional world of golf really means so much.
I think what's interesting about this is we're going to see that battle between that culture, that tradition, and some people who say, "All right, this is an old game that needs reinvention, needs invigoration." What we're going to find out is how much that cultural cachet is worth down up against the political questions that surround LIV golf and whether it is truly aiming to shake up the golf world or whether it is a means to improve the global reputation of a foreign state.
[music]
Dr. Melissa Harris-Perry: Andrew Beaton is a sports reporter for The Wall Street Journal in New York. Thanks for joining us, Andrew.
Andrew Beaton: Thank you so much for having me.
[music]
[00:15:35] [END OF AUDIO]
Copyright © 2022 New York Public Radio. All rights reserved. Visit our website terms of use at www.wnyc.org for further information.
New York Public Radio transcripts are created on a rush deadline, often by contractors. This text may not be in its final form and may be updated or revised in the future. Accuracy and availability may vary. The authoritative record of New York Public Radio's programming is the audio record.