What's Behind the Rise of Sober Bars?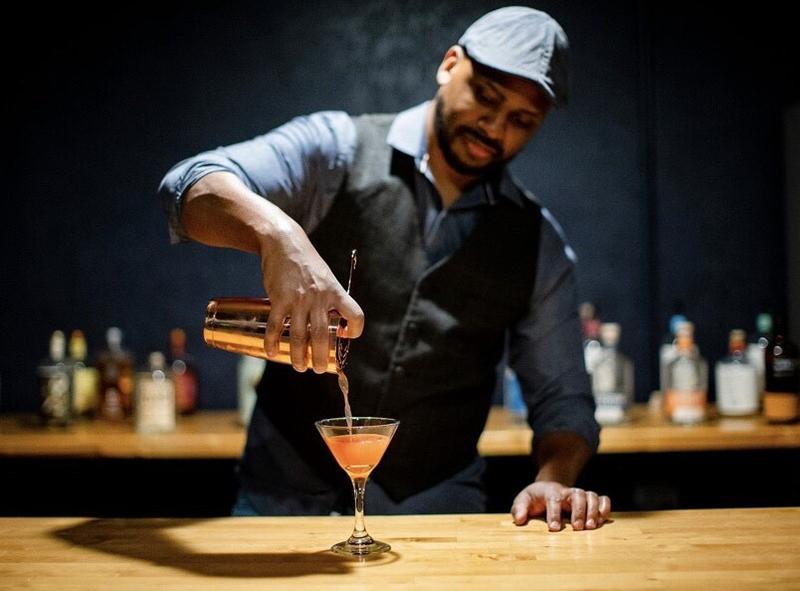 Transcript
[music]
Melissa Harris-Perry: I am Melissa Harris-Perry. Now usually when you tune in to listen to the Takeaway, you hear a lot from me, but today, we're heading out into the field with two of our intrepid Takeaway producers, Katerina Barton and Ryan Wilde. Go ahead and sit back, relax, and enjoy this special Takeaway reports, but maybe hold off on pouring yourself a drink. Just wait, you'll understand what I mean in a moment.
[background conversations]
Katerina Barton: On a Saturday night in February, Ryan and I walked into a bar in the East Village called Hekate. Hekate, or as some of you may know her as Hekate, is a Greek goddess of witchcraft. This bar was pretty witchy. They had some occult decor, tarot card readings and rat bone earrings that you could buy in a display case.
Ryan Wilde: The place was pretty packed
[background conversations]
Katerina Barton: But there was something a little different about this bar.
Ryan Wilde: Katerina and I talked to some of the people there about what brought them in that night.
Claire Hibbs: My name is Claire Hibbs. I've been sober for about a year and a month now. I have this like sober Instagram and a few of us are going to connect here tonight. It was my first time coming here, so that's why I'm here.
Phil: My name is Phil, Phillip. We just came out for dinner tonight and we went to the museum today and she thought about this place and she told me about it, was really curious and I said, what kind of place is this, like a bar that don't serve alcohol though? I came to check it out. This is amazing.
Ives: Hi, my name is Ives. My friends and I have been, I guess, sober curious. We've been saying that maybe we should drink less, and then also I'm considering freezing my eggs. By the way, eggs take about 90 days to fully form. In order to get a really good batch in let's say April, I am preparing my body by not drinking, not doing bad things, working out and stuff. This is part of our new ritual.
Katerina Barton: If it isn't obvious yet, Hekate is a sober bar. It's one of the first of its kind in New York City. When you enter this bar, you're greeted by Mistress Netty,
Mistress Netty: Welcome. How's it going today? Have you been here before?
Katerina Barton: She's a bartender who's been sober for 11 years and she's been bartending for 28 years.
Mistress Netty: We're a totally sober environment, so there's no alcohol in everything. I like to let people know that the beers contain 0.5% and that we do have some stuff with psychoactive ingredients, but if you order one of those, I'm definitely going to warn you if you don't mention it. This is so nice to be able to taste everything that I can make again and to have an environment full of people that aren't getting messy and just enjoying the flavors of things is very exciting for me. I've been waiting a long time for a place like this.
Ryan Wilde: Now, Katerina before I got into journalism, I was also a bartender for many years. I noticed this recent trend of sober bars and also regular bars that I would go to offering more elaborate non-alcoholic drinks. I was curious about what that says about where we are as a society with drinking culture. Now, I found that what I was noticing was actually a thing. Non-alcoholic drink sales have exploded in recent years, over 20% between 2021 and 2022. Katerina, when I pitched this idea to you, you were skeptical.
Katerina Barton: I've seen this trend too. Lots of bars now have mocktail options on their menus. Personally, I've always thought like, why would I ever spend $18 on a non-alcoholic cocktail? I was also interested in this because I was attempting to do dry February, like dry January.
Ryan Wilde: Basically, you picked the shortest month of the year to go dry.
Katerina Barton: I did, yes. I was also worried about going out with friends and being social while also not drinking in places where everyone else was drinking. I was excited to learn a little bit more about all of the options out there.
Ryan Wilde: I remember when we walked into Hekate after a few minutes, you were like, you know what?
Katerina Barton: This does feel like a real bar.
Abby Ehmann: It feels like a bar, but without the alcohol. Hello, my name's Abby Ehmann and I am the owner of Hekate Cafe and Elixir Lounge.
Katerina: Abby embodies the witchy and crafty theme of her bar. She has long, straight, black and gray hair. That night in February, she was wearing a Valentine's Day outfit, which was red furry boots, a long red skirt, a white and red polka dot turtleneck, and a black fringe jacket complete with a big heart necklace.
Ryan Wilde: Don't forget about Scribbles, her tiny dog who was in her arms the entire time.
Katerina Barton: Yes. Abby says there are all types of people that come into her sober bar.
Abby Ehmann: It's been a pretty wide variety. We've got people from teenagers all the way to people in their 70s. We have monthly meetings before we open actually. Basically, the Church of Satan has their own AA group, so they come in once a month. There are people in recovery, there were loads of people doing the dry January thing and the sober October thing. People who are supporting their friends who are sober and just the sober curious.
Ryan Wilde: Abby does drink and she actually also owns a bar that serves alcohol right across the street. Last year, she opened Hekate mainly to make the bar experience accessible for some of her favorite customers.
Abby: One had a doctor who said, maybe you shouldn't drink so much, and the other customer number two got completely sober. I thought, why not make a place that they'd feel equally comfortable in and really want to go to every day, but that isn't about alcohol, that's maybe healthier for them?
Ryan Wilde: Hekate was a hit from the get-go. Now, if you've ever walked the streets of Manhattan, it seems like there are at least two bars per block, but sober bars, not so much. With so little competition and this newfound interest in non-alcoholic alternatives, she says her sober bar is actually making more money than her regular bar.
Katerina Barton: I was kind of shocked when she said that. Now, Hekate isn't just slinging $12 mocktails with overpriced juice, all of these elixirs on Hekate's menu are crafted with care. Here's just a sampling of what some people said they were drinking that night.
Customer 1: Tequila, with the lavender Simple syrup is amazing.
Customer 2: Right now she just served me a coffee with Cinnamon. What is that? Cinnamon and Ginger. This is delicious.
Customer 3: We had a mocktail with actually jalapeno margarita. We loved it.
Ryan Wilde: That's the cocktails and drinks, but there's more to a bar than just the booze.
Katerina Barton: There's something that Abby said to us that really stuck out to me.
Abby: Especially in New York City where we all live in tiny apartments, bars and restaurants and cafes are our living rooms. If you're sober, it limits where you're going to go for that living rooms in New York City.
Ryan Wilde: What she's saying is that there's this really important social component to the non-alcoholic experience, but we'll dig deeper into that in a little bit.
Katerina Barton: First, hold my beer.
Ryan Wilde: That's non-alcoholic, right Katerina?
Katerina Barton: Of course. Next, we're headed to LA to hear more about the zero-proof spear industry that has exploded recently. There's actually a place in Los Angeles that is a zero proof liquor store, as in all of the liquor bottles, but none of the liquor.
Brianda Gonzalez: My name is Brianda Gonzalez and I am the founder of The New Bar. We are a curated non-alcoholic bottle shop and discovery platform based out of Venice, California. We have had a few folks who walk in and they see the shop, and they go, "These are all really beautiful," and then I'm like, "Oh, have you ever had a non-alcoholic drink before?" They go, "What? This is non-alcoholic." They're often surprised to see that these things look and feel like alcohol when you walk into the store, but they don't actually contain that.
Katerina Barton: Before this interview, I didn't even know how many options were out there.
Brianda Gonzalez: Pretty much any alcoholic cocktail that you crave now can be replicated in a non-alcoholic format. I think we've seen this over the past three or so years, but even more so over even just the past year, whereas before maybe you had O'Doul's as your non-alcoholic beer. Now there's small independent brands that are making phenomenal beers like Beste Brewing or Athletic Brewing, which are entirely dedicated to making great non-alcoholic options.
You can have your IPA, your Pilsner, your Mexican Lager, but then you look at that pattern and you see it across spirits and wines. We're at a point now where if you want to make a Negroni or a Manhattan or any other elaborate cocktail you have your vermouths and every ingredient you might need.
Ryan Wilde: Brianda's motivations for her zero-proof liquor store were pretty personal, and the story begins in her hometown.
Katerina Barton: Which is Catalina Island, a small island off the coast of LA. Maybe you've heard of it from the movie Stepbrothers.
Ryan Wilde: It's a Catalina freak of wine mixer
Brianda Gonzalez: If you've ever visited, it's entirely driven by hospitality and food and beverage. There's 16 bars within one square mile town. That is very much the context that I grew up in. I grew up very surrounded by the drinking culture and the role that drinking played in how we unwind and relax and celebrate and do all of those things.
I also grew up in a single-parent household with my dad, and he is a bartender by trade and he has been my whole life. He and I have always been really fond of doing mixology, hosting, sharing drinks and food with everybody. That was how we operated until about two years ago when he got really sick and we found out he had an autoimmune disease.
Ryan Wilde: When Brianda's dad got sick, they looked for ways to preserve the ceremony and ritual around drinking.
Katerina Barton: That involved changing their mindset around it.
Brianda Gonzalez: Look at any historic piece of writing and you see that people have gathered around food and drink forever. I think that the cultural value that holds and the joy that brings to everybody is pretty universal. When my dad and I were looking for ways that we can do that and truly, truly have the experience that we were looking for, I think I felt firsthand the importance of having an inclusive option that could give that to more people whether they arrived at this decision to drink less or not drink at all because of health reasons or sometimes addiction or just a lifestyle decision to focus on other aspects of their health.
I think if you look around, there's just a lot more people interested in drinking less and it's amazing to provide an option for those people and to make it really easy and fun for them as well.
Ryan Wilde: Recently, Brianda has also made a decision to drink less.
Brianda Gonzalez: I'm giving myself a few passes should I decide to collect them and have an alcoholic cocktail, but primarily, not drinking. I have found that making the cocktails and having a really tasty non-alcoholic wine has just made it 20 times easier than my first or second attempt at taking a break from alcohol in the past.
Katerina Barton: What's her latest, favorite cocktail?
Brianda Gonzalez: I've been experimenting with a non-alcoholic Mezcal Negroni. I use a non-alcoholic Mezcal from Monday and some sweet vermouth from a brand called Liars as well as a bittersweet aperitif from a brand called Wilfred's from the UK. It makes a really tasty and deep cocktail that actually feels pretty close to an alcoholic cocktail in my opinion.
Katerina Barton: Okay. At this point, I was well into dry February and Negronis are probably my favorite drink and I love Mezcal. Needless to say, after this interview, I really wanted to try this. Brianda sent us some to taste for ourselves for research purposes.
Ryan Wilde: And how was it?
Katerina Barton: It was really good. It had the texture and mouth feel of a real cocktail. It was a little sweeter than a normal Mezcal Negroni but the smokey flavor was definitely there.
Ryan Wilde: Now, you tried yours at the office?
Katerina Barton: Yes, I mix them up around our desks and I invited all our coworkers over to try.
Ryan Wilde: Going back to this idea of ritual which Brianda was just talking about, I was taken back to the sober bar, Hekate, where I tried out their Jalapeno Margarita.
Katerina Barton: Let's run that tape.
Ryan Wilde: It looks just like a Margarita. Comes in a nice coupe glass with a little lime and here we go. I'm going to give it a taste. It's really good. Still has that smoky kick of Mezcal that a regular Mezcal Margarita would have. Hold on, let me have another sip here. Yes, and it's got that tangy, lovely, adult margarita taste that a normal one would have.
Katerina Barton: Does that taste like a normal cocktail?
Ryan Wilde: It does taste like a normal cocktail. Do you want to try it?
Katerina Barton: I do want to try it. Oh wow. That is really good. It does have that smokey, spicy flavor of a margarita.
Ryan Wilde: It also mimics the burn as it goes down your throat of a normal margarita.
Katerina Barton: It does, yes. That's really good.
Ryan Wilde: Yes, that's a winner.
Katerina Barton: Okay, pause with me for a minute. For the skeptics out there, I hear you. Why would you spend money on booze but without the buzz?
Ryan Wilde: I get that. When I was sipping that drink at Hekate and we were talking, I was so absorbed in the atmosphere of the bar that I completely forgot it didn't even have alcohol. What mattered in that moment was the ritual of sharing a drink together and there's some real value in that. Right?
Katerina Barton: Right. Going back to Brianda, she said something along those lines that we're also paying for something social here.
Brianda Gonzalez: For me, I've started to think about the value of a drink as the context around it. It's going to a wonderful place and enjoying a drink with a friend and having something that's truly tasty and delightful and fully complex and maybe not having a hangover tomorrow is the inherent value of that drink for me. I think it's an interesting shift in perspective that more people are coming around to but we will have to decouple the perceived value of the buzz, the alcoholic buzz versus the perceived value of the ceremony and the quality and the flavor of the drink itself.
Ryan Wilde: Next, we're going to distill this whole non-alcoholic thing down even more. We're digging into the sociological aspect of the sober bar scene. That's coming up on The Takeaway.
Melissa Harris-Perry: It's The Takeaway. You're listening to a Takeaway report from our producers, Katerina Barton and Ryan Wilde. They're bringing us some info about sober bars.
Ryan Wilde: By now, we've heard about some of the fancy non-alcoholic concoctions bartenders are mixing up.
Katerina Barton: And the expanding selection of spirits on the shelves of zero-proof bottle shops.
Ryan Wilde: Beyond the booze, the next person we spoke to says that there is something else driving this movement.
Chris Marshall: My name is Chris Marshall. I'm the owner and founder of Sans Bar based in Austin, Texas. Sans Bar is a space where we have all the fun and social life of a bar without the alcohol. I created it because while yes, we do need a good mocktail to enjoy after work or it's a great way to celebrate someone's anniversary with a glass of non-alcoholic wine. For me, the real purpose of alcohol-free space is to create an environment in which people connect.
Katerina Barton: Now, Ryan, I went to college in Austin and I have a lot of family down there, and there's a big culture around wineries, local distilleries, and bars. That's what you do in Austin.
Ryan Wilde: From the outside, Sans Bar might not look too different than your favorite bar in Austin but take a step inside and you might notice some differences.
Chris Marshall: There is noise and there's activity, there's movement, but the music is a little softer. The lights are a little brighter. It's not full fluorescent lights but the lighting is soft so that people can see each other. We really try to create a space where people can come and meet new people. If you go to a coffee shop, you're going there to meet someone you already know. If you go to a bar, it's hard to really connect to strangers.
Ryan Wilde: At some point, you've probably heard alcohol being referred to as a social lubricant but as Chris sees it, alcohol is often just the excuse for a deeper human desire.
Chris Marshall: Oftentimes, we use alcohol as a shortcut for connection. It's become shorthand for, I want to spend time with you. What do you say when you're with friends, you want to go out for drinks? What you're really saying is I want to spend time with you. You go out on a date and you're interested in someone, the first thing you may say is let's meet up for drinks. What you're really saying is, I don't know you. I want to get to know more about you and let's spend time together.
Katerina Barton: Chris's philosophy for Sans Bar is partly inspired by a concept known today as third places.
Ryan Wilde: In 1989, this sociologist named Ray Oldenburg wrote this book called The Great Good Place. In it, he basically argues that in order for a healthy functioning society to exist, people need a balance between three realms, home life, the workplace, and then--
Ray Oldenburg: What is the third place? It's where we gather apart from home and work in a spirit of camaraderie and joviality and we enjoy one another's company. This has always been a very important part of life not only in this culture but in every culture I look at.
Ryan Wilde: Now, Oldenburg also argue that third places have been vanishing. Katerina, when's the last time you hung out at a candy store or a soda fountain?
Katerina Barton: Not in a while.
Ryan Wilde: Yes, for me, never. Places like these diners, roller rinks, you get the picture. They were all once important social hangouts at the heart of community life. Places where you can meet friends, old and new.
Katerina Barton: They've disappeared over time for lots of reasons, in part due to poor city planning, and more recently, the growing presence of social media. What's left for people to connect and share physical space is pretty much just cafes and bars.
Ryan Wilde: Now, Chris Marshall's Sans Bar acknowledges that bar culture is a foundational part of American society.
Chris Marshall: I've become a bit of a nerd around the history of bars and our relationship to them in the United States. The founding of our country was in the bar. The birthplace of our country was in a bar from the history of the Civil War to Stonewall, and the riots there for rights for the LGBTQ people. Civil Rights leaders met in bars and restaurants. We have this history of bars and restaurants being the place where we connect to create social change. I think that the alcohol-free bar movement is just continuing in that tradition.
Katerina Barton: Chris's mission with Sans Bar is to provide Austin with a sort of communal space that's gone missing recently. He's putting on karaoke nights, vendor markets, and also drag shows.
Ryan Wilde: Sans is the alcohol. The idea came to Chris while he was working as an addiction counselor.
Chris Marshall: In my career, I realized that there was no space where people could come and socialize without alcohol. I recognized that a lot of people knew that alcohol was not serving them. It wasn't a good fit for their lives, they would wake up tired or hungover the next day, and while they understood that there was no space for them to go, that did not center and feature alcohol. Having a third space where you can be in community with people and you can deeply connect with people and have conversations with people is so important.
Katerina Barton: You may wonder if this growing sober bar and zero-proof thing is just the latest wellness craze or something.
Ryan Wilde: Yes, I was wondering that but from what Chris has been seeing, people are choosing clarity and he thinks that the trend is here to stay.
Chris Marshall: The best versions of ourselves are alcohol-free. When we are without filters, when we are Sans, any distractions, we're able to be with each other in a way that I think we really crave. Everyone is there for the very same reason because we recognize that we need these connections. We need to know about each other, we need to be known. If you closed your eyes on a Friday night in Sans Bar, it would sound like any other bar. What I think you would notice is that the conversations are so much more than how was work and how are the kids. I think the conversations get really, really deep because people move past pleasantries and move into that deeper yearning to know other people.
Katerina Barton: Next, we're heading east to hear why another sober bar owner employs people in recovery at the first-ever sober bar in Philadelphia.
Arielle Ashford: My name is Arielle Ashford and I am the owner of The Volstead and Co-founder of Unity Recovery.
Katerina Barton: I had a question for Arielle. This is a tongue-in-cheek question, but is a bar without alcohol a bar?
Arielle Ashford: I think so. There's a bar top and there are beautiful bottles behind, and there are people sitting at the bar and some nights, like has been recently over dry January, it's standing room only and there's conversation and there's music, and there's laughing, all those same elements are still there and present. There's just not alcohol. I think what's been really fascinating to see is we all, or most people have called alcohol a social lubricant but what we're finding is that that's not typically the case. We can still come together and laugh and have a good time, remember what we did the next morning, and still have that joyous, boisterous, really fun time together.
Ryan Wilde: Arielle co-founded Unity Recovery in 2019 with her husband, Robert. Unity is a trauma-informed and recovery-centric organization. They have a community center, resources for folks in recovery for substance use disorders, a yoga studio, and now The Volstead.
Katerina Barton: For Arielle and Robert, The Volstead is part of their own personal journey with sobriety, and it came from their desire to fill a need in their own lives and in their community.
Arielle Ashford: My husband and I are both in recovery from substance use and mental health disorders. When we relocated to Philadelphia, almost 10 years ago at this point, we had an urge, we had a need that wasn't being met by anything in Philadelphia. Meaning like bars, clubs, concerts, places to go where if we didn't order a drink, we weren't getting like side-eyed from the waiters or anything like that. Necessity is the mother of invention and that's how The Volstead was really born.
Katerina Barton: Arielle has been in recovery for 14 years now. She grew up in Utah before she relocated to the East Coast.
Arielle Ashford: When I was drinking a lot, I loved to go to concerts. That was one of my favorite things to do and I would get very intoxicated at these shows and not remember seeing them the next day. It's like, I know I've seen Incubus, I know I've seen Muse, I know I've seen Placebo, but I don't remember the show at all, which was very heartbreaking. A lot of memories, relationships, experiences were just cut short in my early 20s and I didn't get to have that full experience that maybe some friends did.
Ryan Wilde: At a few points, Arielle substance use disorder landed her in jail. She remembers her last stint as a turning point in her journey.
Arielle Ashford: My last time in jail, I was there for 90 days and I'm not a proponent of incarceration. I don't think it works, but I was also there for an amount of time that was relatively short. It was 90 days. That time was actually important to me to reflect on how I ended up here. Seeing a lot of women come through, they would get released and then they would turn around and come right back. That was a really big indicator to me of where this path was going to continue to go should I stay on it. I made the decision after I got out of jail to go to treatment and I did 60 days in a treatment center in Salt Lake City.
Katerina Barton: After treatment, Arielle went back to school, eventually earning a degree in social work. From there, she got interested in advocacy work, sharing her story in front of all different people from all different backgrounds. And that path even led her to the White House.
Arielle Ashford: My husband and I met actually when I spoke at the White House in 2015. That was a direct outcome of being in recovery and advocacy work for healthcare, especially for folks in recovery who maybe don't have access to that. Then the party really got started, speaking at the White House, having a baby, getting married, opening all these businesses, being a leader in the community over here. They're all a direct reflect of recovery and of sobriety.
Katerina Barton: Today, Arielle, has continued her advocacy work with The Volstead.
Arielle Ashford: We hire friends that are in recovery, friends that were formally incarcerated. Having a background in both of those things, there's a lot of doors that are slammed shut before you even have a chance to make a case for yourself because you have to check the box in some places because you have to disclose in some places. I know from my experience, my husband knows from his experience that when somebody is in the process of finding recovery and maybe they have some traction, they're unstoppable.
They are the most loving, dedicated, loyal, nurturing, responsible people you can hire. I remember when people took chances on me in early recovery knowing my background and where I had been. If it wasn't for that, what's the point? Somewhere along the line, there has to be people that are going to say, "I don't see what's on the paper. I see you and I want you to come over here in this shelter."
Ryan Wilde: Like Chris Marshall of Sans Bar, Arielle believes that now more than ever, people need more third places like The Volstead and it's open to everyone,
Arielle Ashford: Especially post-pandemic, there's such a need for community. I think health and mental health and wellness are becoming more topics that people are looking into maybe taking a little more seriously than they did before. Where are those spaces? Really? Where are those spaces? Is it the gym? Is it the yoga center? Is it this restaurant? We don't know. I think there's this really unique opportunity to have community-based places for people who are looking to connect on maybe a deeper level.
Ryan Wilde: By now, you may be curious about heading to a sober bar and trying out a zero-proof Mezcal Negroni or a jalapeno margarita for yourself.
Katerina Barton: No matter where you fall on the spectrum of sobriety, going to a sober bar shouldn't have to be intimidating.
Ryan Wilde: Right. If you're unsure, here's Chris Marshall once again from Sans Bar in Austin with some parting advice.
Chris Marshall: I get how it is daunting to show up in a social space with none of your perceived barriers that we've used to comfort ourselves and create space between us and the world. I would challenge everyone to sit with the idea of a space where you are deeply known. The desire to be deeply known outweighs that anxiety and that worried sense of, "What will I be if I don't have alcohol present?" This is just a new way of socializing and one that leaves you feeling whole at the end of the night and the next morning.
[music]
Katerina Barton: We want to thank Chris Marshall, Arielle Ashford, Brianda Gonzalez, Abby Ehmann, and everyone else who shared their experience with us and their perspective.
[music]
Melissa Harris-Perry: All right, just a quick thank you here to our fantastic Takeaway producers, Katerina Barton, and Ryan Wilde for that original and sobering reporting. Extra thanks to our line producer, Jackie Martin for helping them out with all of that, and to Sean Sundra, and Vince Fairchild for putting that whole thing together and adding a little audio wizardry to make it all sane. Go check out our social media channels on IG and Twitter at The Takeaway, because all week we're going to be sharing some favorite non-alcoholic drinks from some of the folks that you heard from in this story.
[music]
Melissa Harris-Perry: Remember, if you or someone you know is experiencing a substance use disorder and need some help, you can call the National Helpline. Call it, 1-800-662-HELP. That's 1-800-662-4357. I'm Melissa Harris-Perry and this is The Takeaway.
[music]
Copyright © 2023 New York Public Radio. All rights reserved. Visit our website terms of use at www.wnyc.org for further information.
New York Public Radio transcripts are created on a rush deadline, often by contractors. This text may not be in its final form and may be updated or revised in the future. Accuracy and availability may vary. The authoritative record of New York Public Radio's programming is the audio record.