Black Masculinity and 'The Slap' Felt Around the World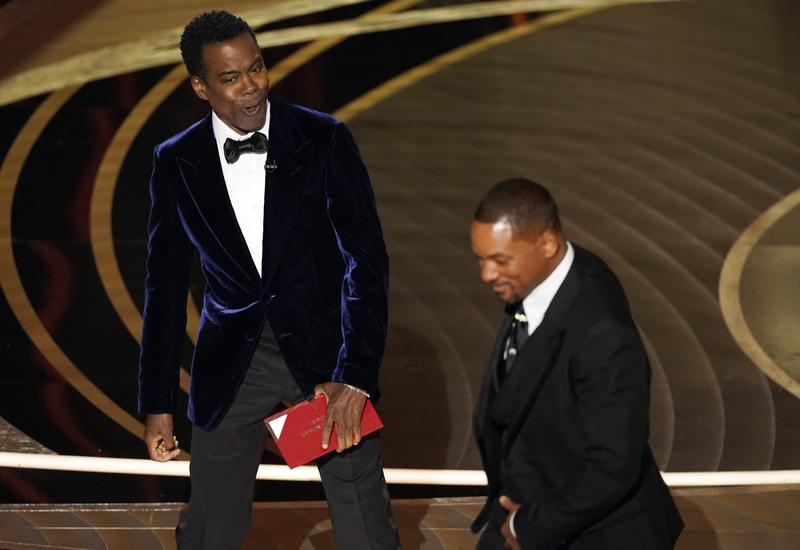 Transcript
[Beyoncé]
I want you to tell these people where we are
City of Compton
Yeah
Melissa Harris-Perry: The start of Sunday Night's Academy Awards was perfect. The queen, Beyoncé, standing center court on the same Compton, California, tennis courts where Venus and Serena Williams trained during their childhood under the watchful eye and stern guidance of their father Richard Williams. Bey's braided, beaded Black girl dancers include her own eight-year-old, Blue Ivy. Beyoncé's Be Alive, it was the epic live performance our pandemic scarred souls had have been yearning for. With it, the Oscar-nominated artist performed a kind of artistic corrective, sliding joyful Black girlhood back to the center of the King Richard story.
Such an auspicious beginning made what happened later in the evening all the more jarring.
Chris Rock: "Jada, I love you. G.I. Jane 2, can't wait to see it. All right?"
Audience: [laughter]
Chris Rock: "[laughs] It's [unintelligible 00:01:13]. That was a nice one. Okay. I'm out here. Uh oh. Richard? [laughs]"
Audience: [laughter]
[slapping sound]
Chris Rock: "Oh, wow. Wow. Will Smith just smacked the [bleep] out of me."
Audience: [laughter]
Will Smith: "Keep my wife's name out of your [bleep] mouth."
Chris Rock: "Wow, dude."
Will Smith: "Yes."
Chris Rock: "It was a G.I. Jane joke."
Will Smith: "Keep my wife's name out of your [bleep] mouth."
Chris Rock: "I'm going to, okay?"
[music]
Melissa Harris-Perry: Comedian Chris Rock mocked Jada Pinkett Smith's appearance, and her husband Will Smith got on stage and slapped the comedian. Shortly after that, Smith won the Academy Award for Best Actor.
Will Smith: "Richard Williams was a fierce defender of his family. In this time in my life, in this moment, I am overwhelmed by what God is calling on me to do and be in this world."
[music]
Melissa Harris-Perry: It was hard to process. Was it a laudable moment of loving defense? A man protecting his beloved wife against an onslaught of cruelty commonly reserved for Black girls and women? If read in this way, the moment parallels the man that Smith portrays in King Richard. Richard Williams, the father of Venus and Serena, he regularly sought to form a protective shield over his daughters. Here's Richard Williams stepping in during an interview that Venus did on ABC in 1995 when she was just 14.
Richard Williams: "You got to understand that you're dealing with the image of a 14-year-old child. This child going to be out there playing when your old ass and me going to be in the grave. When she say something, we done told you what's happening. You're dealing with a little Black kid, and let her be a kid. She done answered it with a lot of confidence, leave that alone."
Melissa Harris-Perry: Or should we read Will Smith actions as simple brutality, a standing unprofessional overreaction? On Monday night, Smith apologized on Instagram to Rock, writing, "Jokes at my expense are part of the job, but a joke about Jada's medical condition was too much for me to bear and I reacted emotionally. I'd like to publicly apologize to you, Chris. I was out of line and I was wrong. I'm embarrassed and my actions were not indicative of the man I want to be. There's no place for violence in a world of love and kindness."
Today, after the incident has been dissected, analyzed, retweeted, one thing seems clear: the slap undid the work of Beyoncé's opening performance because it shoved a woman out of the center of her own story and replaced her experience with his violence.
I'm Melissa Harris-Perry, and that's where The Takeaway begins. With me now is Mark Anthony Neal, the James B. Duke Distinguished Professor of African and African American Studies at Duke University, and host of the podcast Left of Black. Professor Neal, it's great to have you back on the show.
Professor Neal: How are you doing, Melissa?
Melissa Harris-Perry: I'm great. I do want to talk about this idea of protection. It's one that I feel like comes up a lot in classes, in scholarship, and in our public discourse about families, but maybe particularly about Black families and Black men's role in those families.
Professor Neal: I'll admit that my first reaction to the slap was to say that I ain't mad at Will Smith. It seemed as though he was showing up for his wife, and thus showing up more broadly for Black women. Again, this is after the week that we all witnessed the grilling of Ketanji Brown Jackson, so there were many folks who were sensitive about the treatment of Black women in the public sphere. It reminded me of [unintelligible 00:05:41] piece about Dave Chappelle, about how Black men don't show up for Black women, but this is the thing. To show up is not to show up with your hands.
What was not on display was support of Jada necessarily, even Black women, but I would argue a display of toxic masculinity. It spoke to the emotional limits of Will Smith, and then more broadly Black men, to not be able to show ways of support for Black women without going back to the old adage of using their hands, of force, of violence. No, it wasn't the kind of violence that would put Chris Rock on his back, but there was a performative gesture there that he was attempting to shame Chris Rock with an act of violence because he felt as though Chris Rock had shamed his wife.
Melissa Harris-Perry: I immediately thought of the King Richard film because in the film there are these multiple interactions with young Black men on the tennis courts. In the first, Richard Williams, to protect his family, to protect the oldest daughter, actually takes a beating; is beaten pretty violently. He later in the film then thinks of enacting violence against these same young men, takes his gun out, this kind of what we've thought of and defined as the proper masculine role, "Get your gun, protect your girls," but is stopped from being able to enact that violence.
You realize in that moment how it would not have protected the family. That in fact it would've opened them to the vulnerability of being without him, without his income, without his guidance, and yet you get why that seems like the thing to do.
Professor Neal: No question. It often puts a light on the family that causes situations to put them in more detriment. For Will Smith, that means questioning about whether or not he can keep his Oscar, but the more extended shame that's now put upon the Smith family because of his actions. It raises more questions about the aspects of their interpersonal relationship that they have gone public with that have become now part of their brand. I think that at that moment you have to realize the limits.
Will Smith has had numerous opportunities to speak to the chronic disease that his wife Jada Pinkett Smith is suffering from. Alopecia is a disease, some forms of it that almost exclusively affect Black women. You're hard-pressed as a Black man to not have some Black woman in your life who is suffering from hair loss.
In that case, I don't want to lose sight of Chris Rock's role here, because in some ways his performance says-- In many ways, Chris Rock had one job. He was there to announce the award for Best Documentary Film. If that gets lost in all of this moment now, he did what he was supposed to do as a comedian. He's looking for literally the kill in the audience who he can go after doing a quick scan, and Jada and Will of course are right there. At the same time, to make fun of a Black woman's chronic disease, and it could be alopecia, when we think about the limits of what Black men know about Black women's chronic health, how many Black men really understand alopecia?
We could also be having a conversation about fibroids within this context. This lack of knowledge of the kinds of chronic diseases that afflict Black women are a form of toxic masculinity in and of itself. We have this performance on all sides.
Melissa Harris-Perry: Yet Chris Rock did make a whole documentary [scoffs] about Black women and hair. If there's any brother in the room who would know, or should know, who should have an understanding of it. I want to go back to your point about the on-edginess that many have felt in the wake of the Ketanji Brown Jackson Supreme Court confirmation process, and what often felt like very brutal questioning because it does put into sharp relief the moment when Senator Corey Booker mounts a clear defense. Not by removing her from the center and putting himself at the center, as so many other people on both sides did during that week, but really by doing exactly what you're saying. By talking about Black womanhood. By centering those long experiences of Black women, and the power of that moment as compared to the slap.
Professor Neal: That's why even in the context of King Richard there is some interesting irony here because it's one of the critiques of the film. I thought it was an extraordinary film. I thought it was wonderful to get a backstory on what motivated Richard Williams in the way that he did, and support of his daughters playing a sport in which Black folks were not highly visible. The film, of course, decenters the life of Venus and Serena. It decentered the life of their mother. Unfortunately, even in Will's comment afterwards, it really decentered the great performance of Aunjanue Ellis as their mother.
It decentered Venus and Serena, whose story we should have been celebrating in this moment, which was not different the week earlier or two weeks earlier when director Jane Campion did the same thing in response to their genius. I don't think there are enough Black men who understand being there for Black women. Writing for Black women doesn't mean to center your performance of writing for Black women. It's actually to have the emotional knowledge, the emotional intellect to stand back from your standard, forward to performing masculinity to create a space for us to be able to consider the lives and concerns and the trauma and successes of Black women.
Melissa Harris-Perry: I want to talk about one more piece here, and maybe get from you a sense of what's possible. Since the slap, I haven't been able to stop thinking about my mentor Dr. Maya Angelou, who I think many people are aware of her personal story of being raped as a child and then being mute for many years thereafter. Something always, I think, gets missed when you read I Know Why the Caged Bird Sings. You have to read that. It's not only the horror of the assault, but it's that when she testifies against her rapist, he is then killed by her uncles. She goes mute because she believes that her testimony, that her voice, actually took someone's life.
I think of how many-- You talk about it'd be hard to be a Black man and not know a woman with alopecia or with fibroids. I got to say it's also almost impossible to have all the Black women in your life and not have at least one of them, or maybe many of them, be survivors of sexual assault and abuse. I think of how often we don't speak, in large part to protect the Black men we love in our lives from defending us, and in so doing making themselves targets of a criminal justice system that loves neither us nor them.
I'm wondering about how, given the ways that we raise boys to think that this is what protection is, how we can start to get to a definition of manhood that allows room for women to talk about our experiences.
Professor Neal: The thing about toxic masculinity, and particularly in this case as we're discussing Will Smith, there are so many Black men that create facades. Their ideal of what it means to be a man in the world, a Black man in the world. I think one of the things we saw with Will Smith on stage is that he's cracking under the pressure of maintaining that facade. Folks who joked about he showed that he was really from West Philadelphia, but what he's been doing for the last 30 years is performing a facade to make people forget that's where he came from. To forget the get the trauma that he was raised with. Some of the stuff that he talked about in his memoir.
We really need to get to a moment and a place where Black men, Black boys feel comfortable in the bodies that they are, and not feel that they have to live up to some sort of idealized version of masculinity and Black masculinity. It's difficult because we have all of these media images. Social media now is at play in terms of putting into the world this ideal notion of how you're supposed to respond to stuff. Will Smith in part is responding to the ways that the world viewed him and other Black men viewed him in relation to the dynamics of his marriage with Jada Pinkett Smith and what's happening, the stuff that's been made public, and how he reacts.
There's a way in which we look at that slap and it's like artists imitating fiction, or artists imitating real life in this kind of moment. He's like Richard Williams on stage, but even Richard Williams knew not to cross the line to be violent in defense of his daughters. It's almost as if he wished that was Tupac. [chuckles] The interaction that he didn't have with Tupac 30 years ago, it's like Chris Rock becomes a stand-in for all these men who were saying to Will Smith, "You're not man enough. You need to man up."
He needs to be able to pull back from that. He needs to have an emotional sense of himself to better respond emotionally and intellectually to these challenges about who he is in the world and by extension, who Black men can be in the world.
Melissa Harris-Perry: As always, Mark Anthony Neal, James B. Duke Distinguished Professor of African and African American Studies at Duke University, and host of the podcast Left of Black. Thanks so much for coming and for talking through all of this with me. I so appreciate it.
Professor Neal: Thank you, Melissa.
[music]
Copyright © 2022 New York Public Radio. All rights reserved. Visit our website terms of use at www.wnyc.org for further information.
New York Public Radio transcripts are created on a rush deadline, often by contractors. This text may not be in its final form and may be updated or revised in the future. Accuracy and availability may vary. The authoritative record of New York Public Radio's programming is the audio record.