What Kneeling in Protest Means To a New Generation of Athletes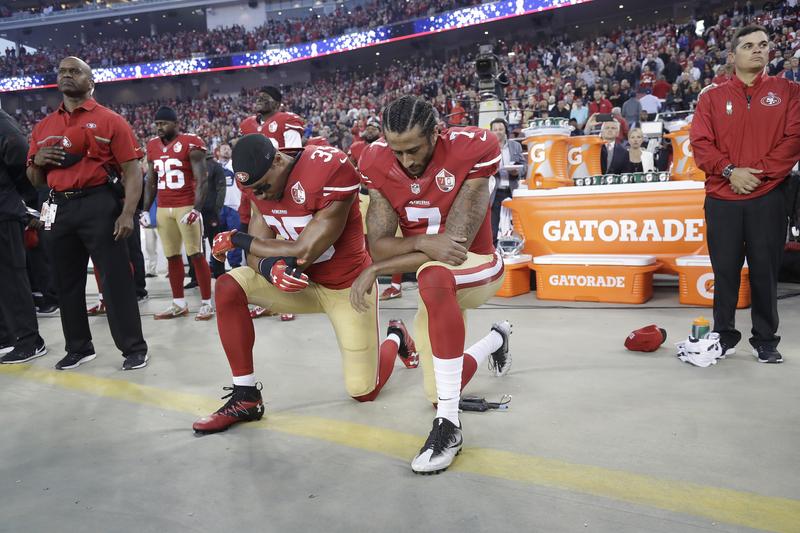 Transcript
[music]
Colin Kaepernick: Ultimately, it's to bring awareness and make people realize what's really going on in this country. There are a lot of things that are going on that are unjust, people aren't being held accountable for and that's something that needs to change. That's something that this country stands for, freedom, liberty, and justice for all, and it's not happening for all right now.
Melissa Harris-Perry: That's Colin Kaepernick in 2016. He's speaking to reporters in a locker room interview following the first game after he chose to sit rather than stand while the national anthem played. Much has changed in the five years since this moment. Colin Kaepernick is no longer playing in the NFL, shut out by what appears to be collusion among the professional teams.
Colin Kaepernick's choice to take a knee made him much more than a quarterback. It transformed him into a catalyst for meaningful social discourse and change. During the past five years, thousands of athletes have elevated their fields of play into platforms for change. These athlete activists kneel in the same tradition that 1968 Olympic medalists Tommie Smith and John Carlos stood.
Reporter: The United States leads the Olympics in medal awards and is just about supreme in the sprint races, thanks to men like Tommie Smith and John Carlos. Yesterday, they came in first and third in the 200-meter dash, and then stood on the victory platform with bowed heads wearing black socks and gloves in racial protest.
Melissa: Colin Kaepernick's silent protest was soon repeated by athletes from all sports, from many racial backgrounds, and from grade school to the professional leagues.
Reporter: US soccer star Megan Rapinoe decided to take a knee during the national anthem last night in a friendly match against Thailand.
Reporter: Players from Madison East High School and Madison West High School took a knee during the pre-game national anthem on Friday night. School administrators say that they support the students.
Melissa: Dave Zirin, sports editor for The Nation talked with dozens of these brave athletes for his new book, The Kaepernick Effect: Taking a Knee, Changing the World. I'm Melissa Harris-Perry and we begin today's episode of The Takeaway with an in-depth conversation about this new book with its author, Dave Zirin.
Dave Zirin: For the young people with whom I spoke, taking the knee is about a language, it's about a method, it's about a way to show their community that they are upset about racial inequity and police brutality. That's what it is in its most broad form. Now, they could be doing it because of a local incident, they could be doing it because the memory of people like Philando Castile and Alton Sterling, and Sandra Bland just falls heavily upon their shoulders and they want to express that. For whatever the individual motivation, most broadly it's because when Colin Kaepernick took that knee, it showed these young athletes that there was something that they could do. Pardon the mixed sports metaphor, but they just took the baton and ran with it.
Melissa: Tell us one story, one athlete, one town that has stuck with you most after having completed the book.
Dave: Well, I'll tell you something, Melissa. It's almost tough to try to think of one only because these young people were so open with me. Choosing one almost feels like playing favorites because I've got such incredible reservoirs of affection for all the people with whom I spoke. We've stayed in contact. I went back and reinterviewed just about everybody after the police murder of George Floyd, and the demonstrations broke out in the summer of 2020, to see how they were feeling about that.
There are layers here of connection that I want to honor, but at the same time when you ask the question, it's difficult for me not to think about somebody like Rodney Axson Jr, who's the very first story in the book. By my calculations and research Rodney Axson was the first person in this country, after Colin Kaepernick, to put their knee on the ground. Of all the women, men, young boys, young girls, different sports, it actually started with a football player in Brunswick, Ohio, and that's Rodney Axson. That's a suburb of Cleveland.
Rodney Axson felt like he had no choice but to take that knee because he'd been filled with just a lot of anger and dissatisfaction because there was a ton of racism on the football team. Here he was, his family had moved them out of Cleveland to a predominantly white suburb and school in Brunswick because they thought the family would be safer there and get a better education. Far from feeling safe, he is confronted with racism, police harassment, and just feeling like a fish out of water.
For him, it was like, "What am I doing here? Why is this happening to me? Why is this my existence?" He was searching for some way just to show everybody that racism was not okay in Brunswick and he was tired of having to bear the brunt of it. He reminded me so much of something that a young woman told me later in the book. She said that "People say I made them uncomfortable, but I figured if I'm making you uncomfortable for two minutes by taking that knee, you know how I feel every day and sit with that."
Rodney, when he sees Colin Kaepernick take that knee, it's like a big light bulb going off over his head. It's a eureka moment, it's a, "Yes, that's what you're doing, here's something that I can do." Rodney Axson then takes the knee and of course, that's really where the story just begins. In so much of the book, the knee is really not the culmination but it's almost the launching point because then you have to deal with the backlash, you have to deal with the results.
Rodney Axson had to deal with, in a lot of respects, the worst of all the stories in that, his coach didn't support him, his teammates didn't support him, he started getting violent death threats coming over the wires of social media directed at himself and his family, racial slurs to a profound degree. It was so terrible that he felt like he had to walk his little sister to school every day, an elementary school-aged child because he was worried for her safety.
Yet despite all of that, Rodney Axson felt no sense of regret whatsoever. In fact, he felt just a tremendous amount of pride that he was willing to stand up and force people in Brunswick, Ohio to think about their behavior and also very systemically how Rodney Axson even fits into a community like Brunswick, Ohio. I think of Rodney a lot because to me, it's evocative of the courage that so many people in the book show and so evocative also of the lack of regret or remorse about what they did.
Melissa: You touched on another key aspect as you were telling us his story. In the book, you write both about athletes who took this knee, took this stand, made this statement as solo actors often because they had to be. Then there are also times when it's the whole team, when the team makes a decision together to stand, to kneel, to be in solidarity. Tell us a little bit about one, how that happens, how it is that some teams made that whole decision, and then also what difference it makes when the whole team is part of it.
Dave: Melissa, I have a good friend named Joe Ehrmann. He played for the old Baltimore Colts and he does coaching seminars. Joe has this thing that where he says, "There are two kinds of coaches, the transactional and the transformational. The transactional coach is the person who is in it for themselves and for how coaching young people makes them feel and how winning makes them feel and their own status in a community because of the actions of children." That, unfortunately, an unflattering description describes, I would argue, most youth coaches in this country.
The transformational coach is the person who's in it for the kids. Who sees themselves as an educator and is in this to educate the kids themselves. In situations where you have transformational as opposed to transactional coaches, only there do you see the whole team really come together and turn it from an act of a single person who can be isolated, who can be scapegoated, who can be attacked into almost an I am Spartacus moment where everybody is saying, "You know what? If you're coming after one of us, you're coming after all of us."
They take the rhetoric, that sometimes very thin rhetoric about a sports team being like a family and they take that very seriously. If one person in the family is upset, everybody should be upset. If one person has an issue, then everybody has an issue. What the coach does, he or she or they do not just snap their fingers and say, "Let's have a team meeting and talk about racism," but they actually artfully and skillfully facilitate a conversation that allows for true empathy and true solidarity.
Melissa: How did the team of protest of the Missouri football team happen?
Dave: That's just a remarkable story. The Missouri football team made history in a way that I think sent shockwaves of fear down the spines of every college president in the United States. To me, I still go back to it sometimes and shutter with joy
[laughter]
because I was just [unintelligible 00:10:15]
Melissa: That's how I felt. I was like, "Yes, I've been waiting for this moment in college sports."
Dave: I know. Let's remember, that was in 2015, November, Colin Kaepernick is August of 2016. The power of the athlete was already, we forget this sometimes, strongly in the air by the time Colin Kaepernick decided to take his knee. What made Colin Kaepernick different and what made him, I think, historically very significant was using that anthem space by which to express his dissent, which then spread like wildfire, which I express in the book and the power of the symbolism of taking that knee. That's a specific language Colin Kaepernick gave, but it's not the ultimate expression of power that we've seen. The ultimate expression of power is first seen in that Missouri football team in, I believe, it was November of 2015.
In brief order of this story, Missouri has such a legacy of racism both as a state but also on that campus that goes back decades. This has been a Missouri issue for decades of students, particularly Black and brown students of saying, "We have a problem here and it needs to be addressed," and having their concerns fall upon uncaring ears. After a series of violent incidents on campus, incidents that involve also racist graffiti on campus, some students decided that enough was enough. They started to engage in regular civil disobedience, hunger strikes very influenced by the Black Lives Matter Movement.
Missouri is a very short distance although another world from Ferguson, Missouri. Several students started doing the drive to Ferguson to be part of the protests and breaking that invisible wall between this institution of higher learning and this impoverished community dealing with regular police repression. They make the decision that they're going to engage in much more aggressive direct action against racism on campus and the school president and the school provost, they're largely just pooh-poohing it and saying, "Pish-posh, not a big deal."
One student started to engage in a hunger strike right in the middle of campus, and it started to get a great deal of attention. Then a lot of students, particularly Black women, it was Black women, just putting it out there, went to the football team and said, "He's killing himself to fight racism on this campus and you're not doing anything." The football team at the University of Missouri at the time, 69% Black, and the campus as a whole, 7%. Saying, "Here's one institution where we actually have numbers and power. What are you going to do about it? What are you willing to risk?"
The football team, starting with the Black athletes on the team, but it became the entire team including an almost all-white coaching staff, all decided that they were not going to play until the issues of racism were addressed on campus. Immediately, the situation goes from a school president and a school provost smiling and being like, "Oh, isn't that cute students are protesting," to the school losing a million dollars a week because there's no college football, and then the provost and the president find themselves it's out of work within days.
Melissa: As you're telling that story, it's so critical that you point to Black women organizers, student organizers on campus who, in part, go to the football team. It's also a reminder that this position of taking the knee or protesting can be harder to garner the same power effect for women athletes. Over and over again, we see women, particularly women athletes, in the vanguard of supporting everything from the movement for Black lives to voter registration, but they get far fewer cameras and much less press. Why do you think it's less important to us? Is it really just about the media attention when women athletes are the ones who take the stand or take the knee?
Dave: Most basically, the blunt response I'll give is sexism is a hell of a drug. There's a lot of it in this country and there's an extra layer of it when we're talking about Black and brown women. Their heroism gets routinely written out to history, routinely and repeatedly. This is not a modern thing and this is not a sports thing. Sometimes, I'll tell you something Melissa, as, I'll say, an amateur sports historian, my hackles go up a big-time when people talk about women being denied sports at the turn of the 20th century because it was actually white women that didn't have sports. Black women organized their own leagues immediately.
There are huge articles like The Chicago Defender and the Amsterdam News about Black women's sports leagues that would be very highly attended. The Chicago Defender once did a poll of favorite athletes in the community and over half of them were women. This was like at the turn of the 20th century. We forget that at our peril. We have this incredible historical blindness because of the twin evils of racism and sexism about the roles that Black women have played.
Honestly, I'm not asking for a cookie I swear, but when I did the book, it was very important to me to make sure that representation was real because the knee story is not a male story, it's a story of people across sports and across genders wanting to be heard because the revulsion towards police brutality, the revulsion towards racial inequity that has touched people across the board and that was represented in the streets in the summer of 2020 and it was represented in the athletic fields in the lead up to 2020.
Melissa: As you talk about being something that mattered across genders, we are watching state legislators across the country introducing legislation to ban trans athletes from grade school sports, from high school sports, just in terms of thinking about the ways that you have some athletes who are able to choose what it means to be political or to protest. They're playing their sport and they take that knee, they put their body in a position that makes a statement but there are these other athletes and their bodies make a statement just by being their bodies.
Dave: This is going to be one of the great struggles going forward because the anti-trans hysteria has become a staple of the right-wing in this country. They've tried different avenues by which to demonize people for no reason other than them being their true selves. We remember first they tried bathrooms and it didn't really take like they dreamed, this mass demonization of the idea of the bathroom bill. If anything, there was a terrific pushback against it, especially when it was pointed out that cisgender people are the people who have been committing sexual assaults in bathrooms. It became so [unintelligible 00:17:36] like, "Oh, look maybe we shouldn't talk about that because the mirror is on us now." With sports, they feel like they have found purchase in a way to try to divide people and split people and put forward just yet another boogeyman of this idea of your child is being denied because someone else is trying to succeed you. Isn't that the root of so much prejudice in our society? That idea of people trying to self-victimize for the purpose of oppressing somebody else.
So much of modern racism is defined by that lens of self-victimization and then, therefore, justifying political or sometimes literal violence through an act of, and I want to repeat the word self is so important here, self-victimization not real victimization. Not the actuality of being victimized but the idea of projecting that lens upon yourself so you can act outside the norms of society because you do it under the guise of saying, "Well, I'm defending my family, I'm doing-"
We see that across so many political issues and it's something we need to stand up against particularly in the sports world because the heart of the sports world should be about inclusion. I recognize that the very nature of the history of sports in this country has been about the fight for inclusion, whether we're talking about Jackie Robinson, whether we're talking about Billie Jean King, the fight for inclusion has been the story of sports. What we're learning is that it continues into the 21st century.
Melissa: My last question for you. When you were talking about that distinction between transactional and transformational, I was thinking it's also true sometimes of relationships that journalists have with their sources. Sometimes they're truly just transactional, but I have known you long enough and seen you in relationship with many of the athletes that you have developed relationship with to know that you do not have a transactional relationship with the folks who you speak with and who help you and help all of us to understand the sports world. It is with the sense of undoubtedly the depth with which you can answer this question that I ask, how is Colin Kaepernick doing right now?
Dave: Well, Colin Kaepernick is somebody who's undergoing his own transformational project. We haven't really heard from him much at all over the last five years, but we're going to be hearing a lot from him in the next year. He's going to be telling his story by his terms with the help of people like Ava DuVernay and with the help of his own book publisher, which he started to speak about the issues that are dear to him namely issues around police and prison reform if not outright abolition. We're going to hear a great deal from Colin Kaepernick in the next year because I would argue that his transformation is really just beginning.
Melissa: Dave Zirin as always thank you for bringing us voices and analysis and a certain heart to thinking about sports and the world of sports. Dave Zirin's a sports editor for The Nation and author of The Kaepernick Effect: Taking a Knee, Changing the World. Thanks, Dave.
Dave: Thank you so much, Melissa.
Melissa: Now, we asked you, our listeners, to tell us about a defining moment in sports activism that has had an impact on you.
Andrea Wilcox: This is Andrea Wilcox from Scottsdale, Arizona. Colin Kaepernick was willing to forfeit his career. Whether you agree with why he did it or not, his sacrifice is impossible to ignore thus the issues he was trying to elevate are impossible to ignore.
Katie: Hi, this is Katie from Santa Fe, New Mexico. My sport activist heroes are Colin Kaepernick, as always, who took a stand for everyone who believes in freedom and equality, and of course, Simone Biles who took a stand for her wellbeing and shining a light on the emotion and psychic toll that high performance, and just daily trying to act normal during a global pandemic, can take.
Kwame Abdul-Bey: The life of Muhammad Ali has guided me throughout my life. He was the voice of the voiceless. I am Kwame Abdul-Bey from Little Rock, Arkansas.
Mike Scott: This is Mike Scott from Spokane, Washington. For me, it was the Black Power fists in the air protest at the '68 Olympics. It took a great deal of courage to send such a message to the whole world, knowing that hatred they would face upon their return to the US.
[00:22:24] [END OF AUDIO]
Copyright © 2021 New York Public Radio. All rights reserved. Visit our website terms of use at www.wnyc.org for further information.
New York Public Radio transcripts are created on a rush deadline, often by contractors. This text may not be in its final form and may be updated or revised in the future. Accuracy and availability may vary. The authoritative record of New York Public Radio's programming is the audio record.