What the Cuomo Sexual Harassment Report Means for Democrats Nationwide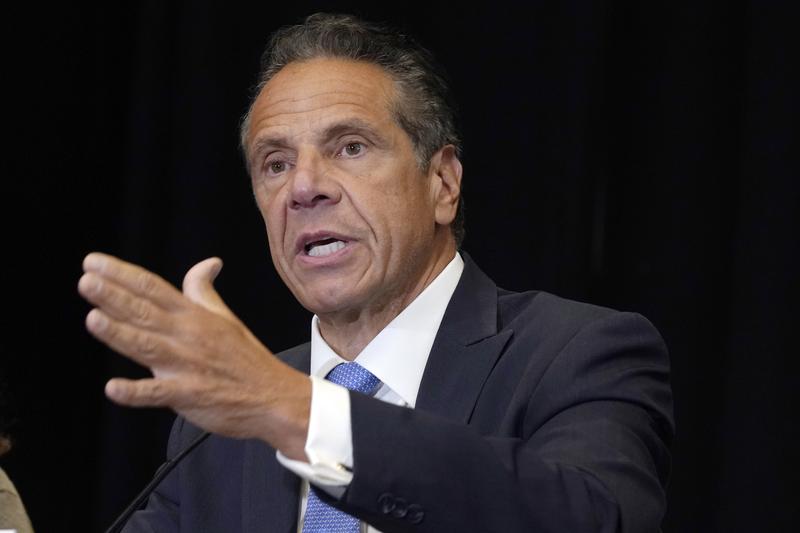 Transcript
[music]
Melissa Harris-Perry: This is The Takeaway. I'm Melissa Harris-Perry. On Tuesday, New York attorney general, Letitia James, announced the findings of an extensive months-long investigation into sexual harassment allegations against New York Governor Andrew Cuomo.
Letitia James: Governor Cuomo sexually harassed current and former state employees in violation of both federal and state laws. The independence investigation found that Governor Cuomo sexually harassed multiple women, many of whom were young women, by engaging in unwanted groping, kisses, hugging, and by making inappropriate comments.
Melissa: Beyond the harassment itself, the Attorney General's Office also documented a culture of fear and retaliation created by the governor and those closest to him.
Letitia James: The Governor and his senior team took actions to retaliate against at least one former employee for coming forward with her story, her truth. Governor Cuomo's administration fostered a toxic workplace that enabled harassment and created a hostile work environment where staffers did not feel comfortable coming forward with complaints about sexual harassment due to a climate of fear and given the power dynamics.
Melissa: In the wake of the investigation's conclusion, prominent Democrats in and outside of New York have called for Governor Cuomo to step down. That includes president Biden, who was asked by CNN reporter Caitlin Collins about the matter on Tuesday.
Caitlin Collins: Back in March, you said that if the investigation confirms the allegations against Governor Cuomo, then he should resign. So will you now call on him to resign given the investigator said the 11 women were credible?
President Biden: I stand by that statement.
Caitlin Collins: Are you now calling on him to resign?
President Biden: Yes.
Melissa: But so far, Andrew Cuomo has completely disregarded those calls. In a video he released on Tuesday, he downplayed the allegations made against him and attempted to undermine the credibility of his accusers.
Governor Cuomo: Today, we are living in a superheated, if not toxic, political environment. That shouldn't be lost on anyone. Politics and bias are interwoven throughout every aspect of this situation. One would be naive to think otherwise, and New Yorkers are not naive.
Melissa: With Cuomo staying put for the time being, New York state legislators are gearing up to potentially vote on articles of impeachment against the governor, but a full impeachment trial is likely more than a month away. For more, I'm joined now by Gwynne Hogan, reporter for WNYC and Gothamist. Gwynne, thanks for coming back on the show.
Gwynne Hogan: Hi, thank you.
Melissa: Also with us is a voice many of you know, Amy Walter, editor in chief of The Cook Political Report with Amy Walter and former host of Politics with Amy Walter, from The Takeaway. Amy, it's so great to have you back.
Amy Walter: I am so happy to be here.
Melissa: All right, Gwynne, I want to start with you. Several women came forward to accuse Governor Cuomo of sexual harassment earlier this year. Can you just walk us through the big pieces of the report put out by the Attorney General's Office?
Gwynne: Sure. This outlines in its totality, it corroborates the stories of 11 women. While some of the broad brushes of the allegations we knew, this documents meticulously with contemporaneous text messages, notes that Cuomo's senior staffers were talking about this abuse while it was happening. The evidence is what really just paints this full picture of a pattern of behavior that targeted women for abuse and top staffers who enabled it.
Secondly, there are some new allegations in this report. One is the story of a state trooper. She actually did not want to come forward with the story, but investigators found her during the course of this investigation and compelled her to testify. Basically, she had been transferred to Cuomo's personal security detail after he met her at an event. Even though she didn't meet the minimum requirements for state troopers to work on the security detail at that time, they changed the requirement for her.
He then targeted her with a series of sexual comments about her body, about her clothes, about her marriage, and her sex drive, and then escalated with several instances where he touched her body. He rubbed her hands over parts of her body and other state troopers testified that they witnessed these encounters as they were happening. Overall, it paints this pattern of this toxic environment where women were targeted for abuse and it was enabled.
Melissa: Amy, if there was a long-term toxic environment, you have people like state troopers seeing this happen, that says to me on the one hand, yes, this is a Cuomo problem, but it seems like a much bigger problem than that.
Amy: Right, it's a power problem and it is not unique, of course, to Governor Cuomo. So many people in power have taken the opportunity to abuse that and to create a culture where they're insulated from any sort of retaliation, where they're able to get away with pretty much anything. This is not something new. What's new, and I think what is unique about this moment is that they're now being held accountable.
What's also different, though, about this moment is that I think in another era, maybe era I'm using loosely, could have been 10 or 15 years ago, this sort of report and what Gwynne laid out is so damning that a political figure would be shamed out of office, would see the fact that every single supposed ally within his party has abandoned him as a way to step down and an opportunity to "do the right thing". That's not what's happening now.
I think that the political era we're in says, "You stick around and you fight." That your base will never abandon you because they prioritize team over anything else and that it is not worth, I say worth in quotes here, the cost of stepping down when you can fight against this and politically, still come up a winner.
Melissa: To the extent of that, stick around, no matter what is an era, it's got to be one that at least was ushered in by Bill Clinton, who got impeached and was like, "You know what? I'm staying." Then certainly was solidified by President Trump who was impeached twice and was like, "You know what? So what? I'm staying." It seems to me that it's a pretty long political era in some ways and one that repeatedly does that work over and against the most vulnerable people.
Gwynne, I want to come to you for just a second on this, because vulnerability is also part of this broader story that we're in. Obviously, New Yorkers need real political, meaningful policy leadership right now. Let's just take, if nothing else, there is a spreading Delta variant in this global pandemic, is anything going to be able to get done while all this madness is happening around Cuomo in the State House?
Gwynne: That's why many of the legislators began calling for his resignation months ago, because we have an understanding that he has a private attorney who is handling this. His senior staffers are having to answer to these questions all the time. It's hard to imagine, especially now after this report comes out and if he faces an impeachment trial, that his remaining staff are going to be doing anything but this.
No, that is what is really tipping the scales for people, is that, "Yes, we have Delta variant. We have a looming eviction crisis. We need the work of government to happen and not to have this sideshow take over."
Melissa: Amy, Gwynne was just telling us about state legislators asking the governor to step down, in part, because of policy, but I also wonder if their ability to ask him to step down is also political. In other words, is there any sense that the leadership of the state of New York would be anything other than the team, in other words, Democrats?
Amy: When he steps down, there's not the political worry that this is going to embolden Republicans or benefit Republicans.
Melissa: It's not a swing state.
Amy: Exactly. The worry is more that if he sticks around, that makes the governorship much more vulnerable. Remember next year is an election year and the governor is up for reelection. So somebody as wounded as this could put a state that hasn't elected a Republican as governor since the early 2000s into more peril. It also helps that the Lieutenant governor, who's the person who would step into this job should Cuomo either step down or be impeached, is a Democrat and is a woman, which I think for many politicians, they'd say, "Oh, this is a much better look for us, to have in his place, a woman who is taking over after these horrible accounts of sexual harassment."
Look, I think so many people are making this comparison between, say, what happened in Virginia, where the then Governor, Ralph Northam, it came out that in his college days, there was a blackface picture. He alleges it wasn't him, but the calls came for him to resign. It looked as if he was headed that way, and then the Lieutenant Governor, also, a couple of days later, there was scandal involving that person, who is also a Democrat, involving sexual assault. The worry among politicians was, "Oh, boy, we can't have our governor step down, our lieutenant governor step down, and give the opportunity for Republicans to take over in the state of Virginia."
The place I think this is most analogous to, actually, or the case that's most analogous is Al Franken, and this was in the era of me too, as well. Senator from Minnesota, accused by many women of inappropriate touching, he was asked by his colleagues to resign, he ultimately did. There is tremendous pushback, even now, against some of the women in the Senate who asked him to resign, specifically Senator Kirsten Gillibrand from New York, because he wasn't given due process. There was no ethics investigation, there was no fair trial in all of this. Even many Democrats, many liberals who say he was pushed out for political reasons, that this was not a fair experience.
I think so many look at that case, look at Al Franken and say, you know what, do not resign in the face of accusations. Stay and fight for as long as you can.
Melissa: Gwynne, does the Attorney General's report count as due process for the governor in this case?
Gwynne: Well, that is sort of what many of his staunchest allies in the Democratic Party had not called for his resignations, and they changed their tune. We have more than 160 pages of documentation and hundreds more appendices of evidence pointing towards this. That's why the head of the state's democratic party called for his resignation, one of his closest allies for years. That's why he lost the stronghold of support that he had in the state assembly, which is where any impeachment proceeding would begin.
Having said that, they do not want to go through with an impeachment. They just want him to resign, right? They don't want to have to take this vote, but the governor is forcing their hand by not stepping down
Melissa: Gwynne Hogan is a reporter for WNYC and Gothamist. Gwynne, thanks so much for being here.
Gwynne: Thank you for having me.
Melissa: Amy Walter is editor in chief of The Cook Political Report with Amy Walter and Amy, you don't go too far because you're going to stick around for the second half of our hour because I want to talk with you about what's happening in Ohio as well.
Amy: Can't wait
Copyright © 2021 New York Public Radio. All rights reserved. Visit our website terms of use at www.wnyc.org for further information.
New York Public Radio transcripts are created on a rush deadline, often by contractors. This text may not be in its final form and may be updated or revised in the future. Accuracy and availability may vary. The authoritative record of New York Public Radio's programming is the audio record.