What the American Jobs Plan Will Mean for the Care Economy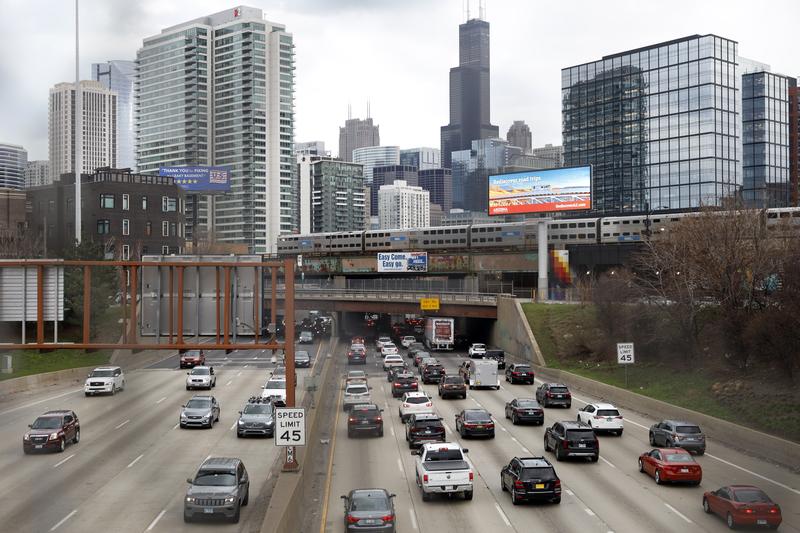 Transcript
[music]
Rebeca Ibarra: I'm Rebeca Ibarra host of NPR and WNYC's Consider This, in for Tanzina Vega, and you're listening to The Takeaway. On Wednesday afternoon, President Joe Biden traveled to Pittsburgh, Pennsylvania to unveil his $2 trillion plan to boost the economy and rebuild infrastructure across the US.
President Joe Biden: I'm proposing a plan for the nation that rewards work, not just rewards well. It builds a fair economy that gives everybody a chance to succeed. It's going to you create the strongest, most resilient, innovative economy in the world.
Rebeca: The sweeping proposal called the American Jobs Plan is part of President Biden's Build Back Better agenda, set to tackle everything from the ongoing climate crisis to job creation to improving infrastructure like roads, bridges, and highways. At least 400 billion will be set aside for the "caregiving economy," with major investments in child and elder care access. Even more investment in caregiving infrastructure is expected in the coming weeks, as the Biden administration prepares to release a second part of the package. As we've reported on this show, the COVID-19 pandemic has brought the nation's caregiving crisis to the fore as millions of women, particularly women of color have had to leave the workforce to take on childcare and other caregiving responsibilities over the past year.
Today on The Takeaway, the caregiving economy is where we start. Joining us now is C. Nicole Mason, the president, and chief executive officer of the Institute for Women's Policy Research. Nicole, thank you so much for being here.
Nicole Mason: Thank you so much for having me Rebeca, glad to be here.
Rebeca: Let's start by saying, how do we define the care or caregiving economy?
Nicole: The caregiving economy is quite simple. It's just people caring for other people. For children, whether at home, daycare or school, for parents and grandparents, for the sick or disabled. That is the definition of the caregiving. The people who work and provide those services are a part of the caregiving economy.
Rebeca: Nicole, it's interesting that investments in caregiving were lumped together with more traditional forms of infrastructure like bridges and roads. Why don't we usually think about childcare infrastructure the same way we think about physical infrastructure?
Nicole: Well, this is a really historic shift in our thinking about care. What happened during the pandemic is we understood that care is a big part of infrastructure, and without a solid care system women have fallen out of the workforce. Kids, because they've been out of school and have not had a reliable care, it really impacts, again, labor force participation. We also understand that those workers who were providing care were also hit really hard by the pandemic. We, as advocates, have really encouraged the administration to broaden our definition of infrastructure to include the care economy and not just roads and railways, the traditional definition of infrastructure.
Rebeca: Do you think the pandemic is changing or even radically changing our perception of caregiving?
Nicole: Absolutely. I think that the pandemic has been devastating, there's no doubt, but what it is allowed to do is accelerating the conversations that many of us have been having around the care economy and its significance. It allowed this issue to come into sharp focus as a result of the pandemic, because we couldn't deny the role of caregivers, the role of care in terms of families needed in order to be able to work, and the impact it had on women in the workforce. In effect, the pandemic has accelerated that conversation, and I have to say that I don't believe that we would have been having the conversation had it not been for the pandemic in this way.
Rebeca: Nicole, let's talk about some specifics in the American jobs plan. What does the proposal include for those who need care?
Nicole: It's a $400 billion investment in the care economy, mainly to increase quality, access, and raise wages for workers. I have to say that the care economy and the workers are one of the most underpaid sectors. When the pandemic hit these workers were really vulnerable because of the lower wages and the low quality of the job. No benefits, no paid sick leave, many businesses had to close their doors. What that did was increase the scarcity of the availability of care. This $400 billion investment will go a long way to strengthening the care infrastructure overall.
Rebeca: Tell us about what it will mean for older people and people with disabilities seeking at-home or community-based care?
Nicole: Well, it would expand the availability of care because it's really, first of all, care is exorbitantly expensive, especially for the elderly and people who have disabilities. What this does is increase the availability, lower costs for families, and also provide higher wages for workers. Very excited about the investments there and hoping that this is not the end of those kinds of investments. We've, under-invested for so long that this $400 billion will go a long way, but we're going to need continued investment as well.
Rebeca: You mentioned higher wages. What else does the American Jobs Plan outline when it comes to those providing the care?
Nicole: Again, raising wages, hopefully getting other benefits like paid sick leave. Again, making sure increasing the availability and accessibility of care is really critically important. What I'm also hoping is that this is an opportunity for us to make some changes to who is eligible to receive payment for care. Perhaps making sure that family members who provide care in their homes to family members or those with disabilities, that they're able to be reimbursed and paid for their services as well.
Rebeca: Nicole, what do you think has informed the Biden administration's approach to the care economy?
Nicole: I'm really excited to say that it's really been the advocates on the ground like [unintelligible 00:07:28] Domestic Workers Alliance and caring Across Generations, the National Women's Law Center and many other advocates who have been beating this drum for a very long time over a decade. The Biden administration is listening to those experts. I was reading an article, it's so funny, in the Wall Street Journal, and it said, "Why isn't buying and listening to the experts?" By experts, they meant Larry Summers and that bunch. I said, "Well, he is listening to the experts."
He's listening to the people who have been doing this work and understand the magnitude of this problem and the disproportionate impact it's had on women and communities of color and centering those voices. That's really been the game changer, at least in this package.
Rebeca: I wonder if there are models, maybe from the private sector or other states or elsewhere, that the Biden administration has based its caregiving investments on?
Nicole: Well, I would like to say that that is the case, but we also have to know that the private sector has not been leading in this area. It's really hard to take lessons from a sector that's a little far behind. I know firsthand that he has been in round-the-clock meetings with advocates who have been doing this work for a long time. Again, [unintelligible 00:09:01] Moms Rising, Time's Up and many of us who have been beating this drum. IWP are included, providing some of the critical research in this area.
Everybody does have a role to play in helping to shape this plan and this policy. I think this is the first time at least, I've been doing this work for 30 years where I feel like the voices of those who are most impacted are front and center in these conversations.
Rebeca: Then historically, what have been the barriers to getting major reforms on caregiving policies in the US?
Nicole: Well, unfortunately, we haven't prioritized care. In the US, we believe that it's women's obligation and duty to provide care without complaint. The caregiving system was not working for many working women and their families, and when the pandemic hit it became very clear that this is a crisis and we had a really broken system. Many women had, myself included, internalized the problem of care and believed it was our fault and our issue to solve. The pandemic, what it is done is, from corporate moms to want moms on the front line, we've started to see that it's not an individual problem. This is a structural institutional problem that deserves government attention, and treating childcare and care as a public good rather than a private obligation of families.
Rebeca: We know that millions of women left the workforce during the pandemic, is there anything in the American Jobs Plan that will help them get back to work?
Nicole: Well, pieces of this rescue plan, especially around the care economy, will help. I think we do need more, I have to say. I really would like to see us have a national care infrastructure. This piece of the program focuses on workers and strengthening the workforce. I do believe that we need to go a bit further and do what other countries are doing and investing in our child and family care policies, making sure that no family spends more than 7% of their income on care. Families can now spend up to 30% or more on care. Making it universally accessible.
The other part of Biden's plan, he extends care to three and four-year-olds. I would like to see it from zero, from birth on. The US spends less than 1% of its GDP on family care and child care policies. We're only above Ireland and Turkey. That seems unacceptable in the wealthiest country in the world. I think Biden is on the right track in terms of working to make us competitive globally. I think creating a national childcare infrastructure will have to go a long way to getting women back into the workforce and allowing them to sustain employment.
Rebeca: In the 20 seconds we have left, the Biden administration will be announcing a second piece of this plan in the coming weeks. What should we expect to see from that, especially related to the care economy?
Nicole: Well, we're going to see, again, strengthening of the care economy. It's going to focus on more of the expansion of infrastructure and focus on the care economy. That's going to go a long way. Again, I would like to see some focus on helping families. In addition to supporting workers and improving accessibility, also supporting women reentering the workforce.
Rebeca: C. Nicole Mason is the President and Chief Executive Officer of the Institute for Women's Policy Research. Nicole, thank you so much for joining us.
Nicole: Thank you. Thanks for having me.
Rebeca: Here to walk us through more on all of this is Jeff Stein, White House Economics Reporter for The Washington Post. Jeff, welcome back to the show.
Jeff Stein: Hey, thank you so much. It's always a pleasure to be on.
Rebeca: Did anything surprise you about the American Jobs Plan? Was it more or less in line with what Biden promised on the campaign trail?
Jeff Stein: That's a good question. Biden, on the campaign trail, announced his Build Back Better agenda, but it wasn't really clear. It included different components that we saw yesterday, but this was a much more specific delineation of the priorities that he is going to push in his first big post-COVID domestic set of priorities. In some ways, the plan shrunk. Biden initially called for $2 trillion in energy spending over four years. This is about that over eight years, so it's a smaller per-year impact. In many ways, he's really putting forward many of the same campaign commitments in an aggressive way and really pushing the boundaries of what we've seen Democrats promise on climate.
It's quite a sea change from the Obama years in which climate was often seen as an anti-jobs issue that, whether it was fair or not, the Obama plans were often characterized as limiting jobs, as limiting economic growth. Biden, in marketing this quite successfully, so far at least, as an infrastructure and jobs plan that has a climate component, is really flipping that dynamic on its head in a very interesting way.
Rebeca: Jeff, how does what's being proposed in this plan on caregiving compared to the $1.9 trillion COVID aid package President Biden signed into law in early March?
Jeff: The relief plan signed by President Biden in March really had very little, if anything to do with caregiving, as your prior guests accurately noted. This is about $400 billion. Although I will say, the plan released yesterday by the Biden White House is remarkably vague on exactly what it wants to do for the caregiving economy. There's basically no policy substance that I can tell. It has some aspirational goals, including making sure that caregiver takers are better paid for, and that home care is prioritized, so people do not feel the need to go into a nursing home if they prefer to age in their homes, which many of the experts I talked to say is also cheaper for the federal government.
Some clear policy goals here, but how that money would be allocated, where it would go precisely, how it would work. It's really only a few lines on a sheet of paper, just saying that they want to do something big. I am spending a lot of my time trying to get to the bottom of what this actually looks like.
Rebeca: Remarkably vague. Will any specifics be addressed in the second part of this package expected in April maybe?
Jeff: I would say no. The second package is going to have different priorities. It will have childcare and paid family medical leave, and college tuition. What the White House is likely doing or almost certainly doing is saying, "We want $400 billion or a major investment in caretakers, and we'll punt the specifics to Congress. You guys figure out exactly how you want to do this, but we want to do something big on this front." The second package will probably include similar aspirational goals around child care and paid leave and these other priorities, but may also not include the granular specifics on how that funding would actually work.
I don't mean to diminish the significance that all of this investment. As the guest noted, we are dealing with a massive crisis in which women in particular, and daughters, are bearing the brunt of our America is exceptionally unique in not providing elder care and home care as a right to people who are senior citizens. As we have the aging of the baby boomers, we are in for a real, real challenge. I don't mean to say that the White House isn't embracing this and prioritizing it. Just talking to the White House, they have dozens of activists and advocates and lawmakers and unions, business groups constantly asking for this or that, and they don't have that much money to play with.
The fact that they're saying that 1/5 of this plan is going to go to home care is really stunning. It's just a recognition of how seriously they're taking this, but we really still don't know exactly how it work.
Rebeca: Let's also talk about some of the other infrastructure plans laid out in the proposal. A big chunk of the proposal will go toward physical infrastructure like highways and roads. How substantial will the upgrade to our nation's infrastructure be?
Jeff: It's funny because there's this debate over what the word infrastructure means. If you think about it, it's quite a capacious term, the White House that's continued to say, "Well, this is human infrastructure," which may not be how many people think about it. It's not necessarily legitimate, it's set off quite a bit of joking on Capitol Hill, people trying to think about how they can recast their proposals. I tweeted about this today, but someone was joking that they should call Medicare for All a health care infrastructure proposal. Maybe court-packing and adding justices to the Supreme Court could be a court infrastructure or judicial infrastructure proposal.
The flexibility of the term, which is itself very popular, has opened this window for a lot of people to put different priorities in there. To your main point, it's so big and so hard to do this in a concise way, but very quickly, there's about $650 billion devoted to traditional physical infrastructure such as roads, bridges, ports, waterways, that kind of thing. Then there's several other huge pots, so about $200 billion for housing, $100 billion for broadband, $100 billion for the electrical grid, tens of billions of dollars for other critical infrastructure needs. It's hard to sum up exactly, but those are some of the main ones the White House is talking about.
They're saying that under this proposal, there would be electric vehicle charging stations everywhere in the country, every lead pipe in America would be replaced, every American can ever have access to high-speed affordable broadband by the end of the decade. So some very, very big promises here.
Rebeca: In the 30 seconds we have left, what roadblocks will this plan face moving forward?
Jeff: Progressive Democrats are ready. I spoke to Alexandria Ocasio-Cortez, she thinks that the framework is basically right, that this is on the right track in terms of the priorities but that the over dollar amounts are really not enough to meet the 1.5 degrees of warming that's very dangerous for the planet. We'll see if they have mobilized.
Rebeca: Jeff Stein is the White House economics reporter for The Washington Post. Jeff, thanks for joining us.
Jeff: Thank you so much.
Copyright © 2021 New York Public Radio. All rights reserved. Visit our website terms of use at www.wnyc.org for further information.
New York Public Radio transcripts are created on a rush deadline, often by contractors. This text may not be in its final form and may be updated or revised in the future. Accuracy and availability may vary. The authoritative record of New York Public Radio's programming is the audio record.