What Advances in MDMA-assisted Therapy Mean for People with PTSD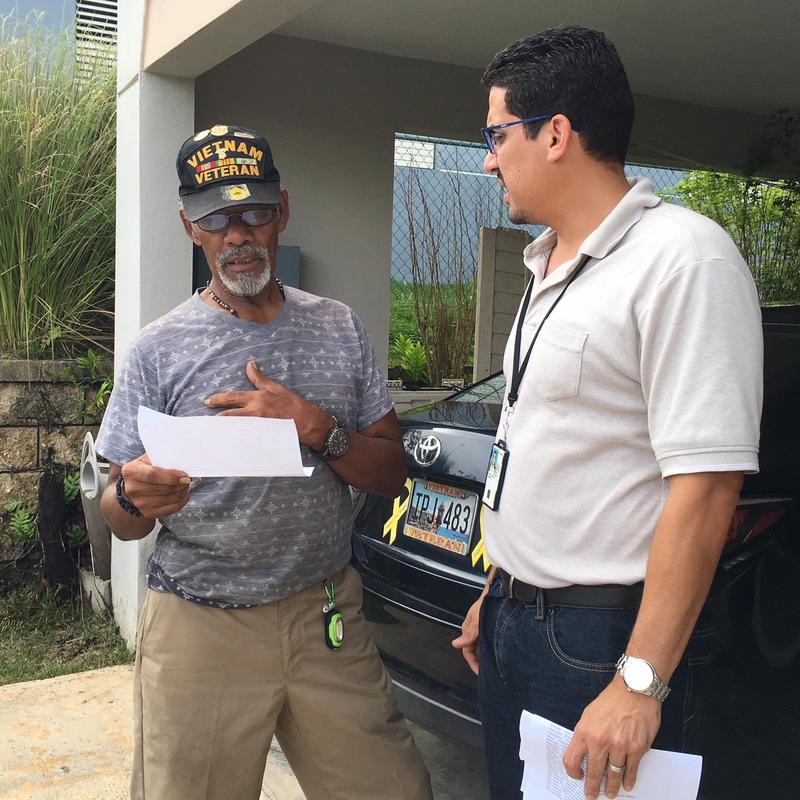 Transcript
[music]
Sarah Gonzalez: This is The Takeaway. I'm Sara Gonzales. I'm one of the hosts of NPR's Planet Money podcast, and I'm in for Tanzina Vega all week broadcasting from LA. We want to start with a heads-up to our listeners. This next conversation will include a discussion of suicide.
[music]
Sarah Gonzalez: This week, researchers published a study in the journal, Nature Medicine that could have major implications for how post-traumatic stress disorder is treated going forward. Their work examined the role that MDMA, which is found in drugs ecstasy or Molly, can play in treating people with PTSD. Conducted with 90 participants, including veterans, first responders, and sexual assault survivors, the study found that around 67% of those who were given doses of MDMA were no longer diagnosable with PTSD two months after the treatment. That's compared with 32% of those who were given a placebo.
Now, the study says that MDMA needs to be given alongside talk therapy in order to be effective, and many experts are hoping this eventually leads the FDA to approve MDMA for wider therapeutic authorization. Despite the excitement surrounding the new study, it also has some shortcomings. Around 75% of the participants in the research were white, meaning we still don't know the role MDMA can play in treating PTSD for people of color. For more, I'm joined by Retired Sgt. Jon Lubecky, Veterans' and Government Affairs Liaison for the Multidisciplinary Association for Psychedelic Studies or MAPS. MAPS was one of the groups involved in the recent MDMA study. Jon, it's great to have you here.
Retired Sgt. Jon Lubecky: Thanks for having me on.
Sarah Gonzalez: Also with us is Dr. Albert Garcia-Romeu, Assistant Professor and Psychopharmacology Researcher at the Johns Hopkins University School of Medicine. Albert, thank you for being here as well.
Dr. Albert Garcia-Romeu: Thank you.
Sarah Gonzalez: Jon, you served in Iraq, returned to the United States in 2006, then in 2014, you took part in Phase II of this MDMA trial. What was the actual treatment process like?
Retired Sgt. Jon Lubecky: The treatment process, it's not traditional, when we think of therapy, where you go to an office, and you get a 50-minute therapy hour, and just when you're about to open up about something therapist's like "That's all the time we have for today, we'll take it up next week."
This is a long process, it takes approximately four months to go through the full protocol. You start with three, we call them integration sessions, which are 90-minute regular therapy sessions to figure out a baseline and talk a little bit about what your traumas are, and things like that, so that when you're under the influence, the two specially trained therapists have an idea of where to go with where to start. You then do an eight-hour therapy session under the influence of MDMA, or basically as long as the MDMA is in your system, but you do take a booster dose, two hours in, which doesn't make you higher. It just extends that therapeutic range, so that you can get more therapy in. Then you do three 90-minute integration sessions spaced out over the next month to deal with everything that comes up in that therapy, and then you do it again, and you do three active sessions with MDMA.
As you said, 32% showed improvement on placebo. Part of that is because this protocol allows an individual even without taking MDMA to sit down with two therapists for eight hours and just talk. That in and of itself has shown to help. You add the MDMA on top of it, and you see the numbers that you have of 67% after two months. The trial I was in, which had, I believe, 127 total people, it was 56% after two months, and it rose up to 68% at the 12-month mark. I happen to fall into that category where I was healed towards the end of that 12 months because there's continued healing even without taking the medication.
Sarah Gonzalez: The therapy is occurring while you're on a dose of MDMA. Do you talk about the trauma you experienced during these therapy sessions, or is it a more broad therapy session?
Retired Sgt. Jon Lubecky: Honestly, you talk about all the traumas in your life. For me, the most significant one that I saw as an impact on my wife was from my time in Iraq, but I was also abused by my mother growing up, and went through some different interviews of environments. My coming home from Iraq, the plane landed, and literally no one left the plane. My wife had moved in with the lieutenant colonel, so I had a lot of trauma. I talked about all of it. I went in and I talked about all the trauma in my life, even though my intent was to just talk about Iraq.
Sarah Gonzalez: What did you feel like when you had these sessions, particularly when you had MDMA in your system? What did it feel like?
Retired Sgt. Jon Lubecky: It's like doing therapy while being hugged by everyone in the world who loves you in a bathtub full of puppies licking your face.
Sarah Gonzalez: [laughs] Wow. That's quite the sell.
Retired Sgt. Jon Lubecky: Here's the thing. This is one thing I do want to be clear. This isn't like taking this and going to a rave or a party. It is a lot of hard work. You are reliving and talking about the absolute worst moments of your life that were so significant and traumatic that could change your brain chemistry. It's not fun, but it's not overly traumatic, like say, prolonged exposure therapy, which is like beating on a nerve until it doesn't feel anymore. You have to work through everything, and that is not comfortable. It is not fun, but it is possible with the MDMA because you don't have panic attacks, you can stay in a therapeutic range, and not shut off emotions or be over-emotional, and then you can actually get into the work of the therapy. The therapy is what fixes it. The MDMA puts the mind, body, and spirit in the place it needs to be for that actual therapy to occur.
Sarah Gonzalez: Albert, the researchers who published this new study, they say that MDMA-assisted therapy represents a potential breakthrough treatment. You're a professor of psychopharmacology. Why is it that the combination of these two things might be more effective than other PTSD treatments?
Dr. Albert Garcia-Romeu: There's a way that this drug can help facilitate the therapeutic process as Sgt. Lubecky mentioned, turning down some of the knee-jerk fear response that's very common when talking about past trauma, and it allows access to some of those very difficult experiences, and also allows access to emotions that usually we keep behind a wall, if you will, to keep us protected. That facilitates that therapeutic process by using these drug-assisted treatment sessions to let people feel safe, and build the rapport with their therapists, and also face some of these extremely challenging experiences from their past in a setting that helps them to feel as though it's a little bit more manageable. That is one of the things that's extremely innovative about this type of treatment, which is that it's combining both the talk therapy with these drug-assisted sessions.
Sarah Gonzalez: What are other types of PTSD treatments like?
Dr. Albert Garcia-Romeu: There's a few other treatments. Some just include use of medications such as SSRIs, for instance, where people would take those daily for several months or longer. The idea would be that hopefully, that turns down some of those symptoms of anxiety, flashbacks, negative mood, but they only work for some people, they don't work well for everyone. I think importantly, they don't necessarily address much of the underlying issues that are there. It just tries to cover them over. Whereas with this MDMA-assisted treatment, you're able to more effectively work with that traumatic material, and then process it, which is ultimately the goal in talk therapy. Or as Sgt. Lubecky had mentioned, prolonged exposure therapy, which is a type of talk therapy where people go to talk about their past trauma, but because that can be highly unpleasant, many people just don't like to do that and are unable to really sit with that process for an extended period, which means that a lot of people just don't do that work, and then they aren't able to get better. By combining the MDMA with the talk therapy, you're able to get a little bit more of those safe feelings when you're confronting that material and then helping to process that a little better.
Sarah Gonzalez: Jon, will you talk to us about what your mental health was like prior to participating in this trial? How long have you lived with PTSD before?
Retired Sgt. Jon Lubecky: I lived with horrific PTSD for eight years before went through the trial. What's funny is I always thought I hit it well until I was healed and all my friends were like, "No, dude, we all were terrified." I had five suicide attempts and
I've been hospitalized. I didn't sleep through the night for eight years. I had a service dog. It was everything I could do to simply exist. I couldn't live. One of the issues that, and the doc can probably back me up on this, a lot of the PTSD treatments require, especially the pharmacological ones, they work if you're on them, and they don't when you're not. I actually used cannabis for five years to keep me on the living side of suicide attempts, and I didn't have any. Then when I stopped and went back on 42 pills a day the VA had me on, within 11 months, I had my fifth and final suicide attempt.
I was classified as having severe, but there's also people-- PTSD is a spectrum. For some people, mindfulness yoga, going to church, or going to the gym is all they need. Other people is [unintelligible 00:11:08] day keeps the demons away. Some people use cannabis. There's hyperbaric chamber therapy of sub ganglion blocks, as well as MDMA and other psychedelics. If we want to abate the PTSD and suicide epidemic in this country, then we need to have every option and every tool on the table.
Sarah Gonzalez: Jon, I'm so glad that you're still with us and you're feeling better. Albert, you are at Johns Hopkins, it's not actually easy for researchers to study psychedelics and how psychedelics can treat certain mental health conditions. Why is this a difficult thing to study?
Dr. Albert Garcia-Romeu: The main thing is, these are Schedule 1 substances, meaning they're the most highly restricted drugs, period. In order to get all of the necessary approvals to do that, it takes months and months and you need doctors, pharmacists. You need regulatory specialists because there are hoops to jump through groups like the FDA, the DEA. You have to acquire the drug, which can be time-consuming and expensive, just to find a way to get that legally. All of those things make it very difficult and expensive and complicated to be able to do research with the Schedule 1 drugs.
Sarah Gonzalez: How risky is MDMA, compared to say pharmaceutical drugs meant to treat things like PTSD? Maybe, how addictive are they compared to pharmaceutical drugs?
Dr. Albert Garcia-Romeu: It depends. There's lots of different types of pharmaceutical drugs. Obviously, things like opioids can be highly addictive, yet they're used pretty regularly and prescribed on a daily basis. Then there are also the types of SSRIs or other medications that can be used in treating post-traumatic stress, or some of the related conditions. The SSRIs in and of themselves can lead to withdrawal syndromes where people when they get off of them start to feel some problems and low mood. Really, I would say, the benzodiazepines that are used to treat some of the related anxiety symptoms are more addictive and problematic, and it's something that is not talked about enough because they're pretty commonly prescribed.
The MDMA itself, especially in the context of this type of treatment, where there are only three doses, so this is not something where people are given a script and taking this home and taking it every day. This is something where, in the course of the three or four months' therapeutic process, they come in for supervised sessions, dosing on-site with trained professionals who are monitoring about three days during that three-month period. In that context, this drug's incredibly safe. You actually don't see a whole lot of problems in terms of health risks or outside drug-seeking because, generally speaking, when people are using these in this type of therapeutic setting, then that's how they associate it's used, as opposed to recreational use, which can sometimes lead to some problems.
Sarah Gonzalez: Jon, it's been six years since you last took MDMA. Was there ever something like a come-down?
Retired Sgt. Jon Lubecky: It's funny. I equate it a lot like my back surgery. The pain when I had my back surgery went down so much, that I actually only took painkillers for 24 hours because I was in so-- The depression come down that you hear about MDMA, the reduction in my underlying depression was so great that the added depression by the serotonin depletion was negligible. Also, I think we need to stop looking at things like pharmaceuticals and MDMA. MDMA is a pharmaceutical. It was designed and manufactured prior to its being banned as a pharmaceutical. As the doc said, there's a lot of pharmaceuticals that are really, really bad. I think we need to start looking at these substances as good for the purpose that they're being used, or bad for the purpose they're being used for.
Also, there's a bigger picture here in relation to stigma. The entire time that I had PTSD, even before I had it, I was told this is a chronic lifelong mental illness, that once acquired, this is your new normal. We can manage and mitigate symptoms, but this is it, which leads people to lose hope. I did five times and I tried to end my life. If we can heal 67% of people of PTSD in four months, it is a mental injury and not a chronic illness, and it can be healed like a broken bone. As as far as the drug-seeking behavior, as I said before, you go through a lot of traumatic things. It's like a colonoscopy. You go in, you have specially trained people, you have really powerful drugs to knock you out, but they're not going to let you take home.
It's a necessary thing. It's not fun, it's uncomfortable. Although you may get some pleasurable feelings from the actual medication, the rest of it really, really sucks. It's not like the next day, you wake up and you're like, "Wow, that anesthesia was great. I'm going to go schedule another colonoscopy," because you only do it three times. I haven't done MDMA since the trial. Honestly, I don't use a lot of drugs. I've done an ayahuasca ceremony because I was invited and wanted to experience it with the church. I use cannabis for pain control because I hate opioids.
Sarah Gonzalez: Albert, are there concerns that before a drug like MDMA is officially approved for medical use, people dealing with mental health issues might seek it out on their own without professional help?
Dr. Albert Garcia-Romeu: Well, people have been using MDMA for years and years, so I'm not sure how different that's going to be as a result of this research. MAPS has actually been doing work in this area also for, at least a decade, if not longer. This is not exactly new, but what is new is the fact that the Phase III data, which is a very large and robust trial, has shown this efficacy, and that's really what's moving it towards the medical approval stage.
I do think that when people see this type of media and they're struggling, and they're not getting the help that they're wanting through traditional treatments right now, then it certainly begs the question of, what are they going to do if they are feeling like they don't have any other options, that there is a possibility they'll seek this out outside of the approved medical settings? That's because, at the moment, this is not available, except for through these clinical trials. That really puts people between a rock and a hard place. I understand that when you're struggling with these mental health symptoms, as we've heard, it can be literally a matter of life or death.
Sarah Gonzalez: Dr. Albert Garcia-Romeu is an Assistant Professor of Psychopharmacology Research at Johns Hopkins University School of Medicine and Retired Sgt. Jon Lubecky is the Veteran's and Government Affairs Liaison for MAPS. Thank you both for joining us. Jon, thank you for sharing your story with us.
Dr. Albert Garcia-Romeu: Thank you.
Retired Sgt. Jon Lubecky: Thank you.
Sarah Gonzalez: If you or someone you know is having suicidal thoughts, please call the National Suicide Prevention Lifeline 1-800-273-TALK.
Copyright © 2021 New York Public Radio. All rights reserved. Visit our website terms of use at www.wnyc.org for further information.
New York Public Radio transcripts are created on a rush deadline, often by contractors. This text may not be in its final form and may be updated or revised in the future. Accuracy and availability may vary. The authoritative record of New York Public Radio's programming is the audio record.