Voting, Primaries and Redistricting in the South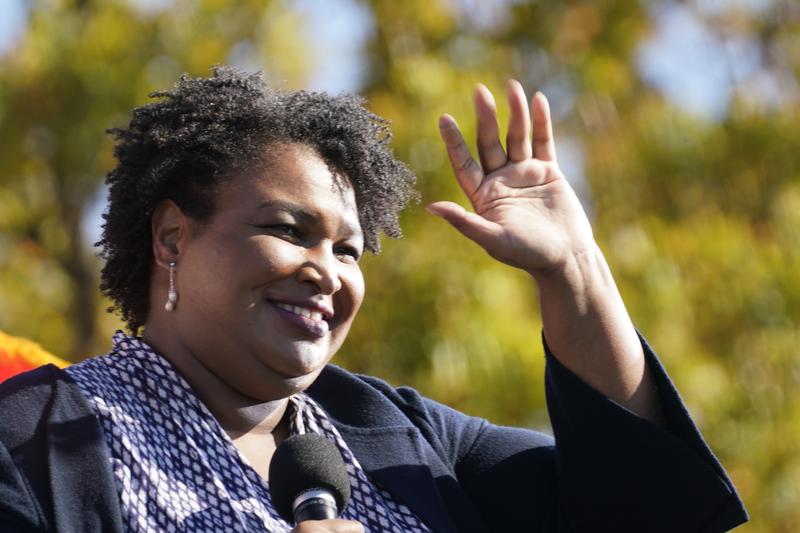 Transcript
[music]
Melissa Harris-Perry: It's politics time on The Takeaway. If you've been too busy to pay attention to politics this week, well, we do not blame you at all, but it's still primary season out there, and we're rounding up what's been going on in the five states that held primaries this week. On Tuesday, Alabama, Arkansas, Georgia, Minnesota, and Texas held their primaries, and my state, North Carolina, had a primary last week, but let's start out in the Peach state where current Governor Brian Kemp won the Republican gubernatorial nomination over his Trump back challenger, David Purdue.
Brian Kemp: Let's prove them wrong again and go two for O on November the eighth. Thank you all, and God bless you. Let's keep chopping everybody. Thank you very much.
Melissa Harris-Perry: Now, this victory sets up a rematch of the 2018 contest between Kemp and Democratic nominee, Stacey Abrams. While Kemp got to celebrate his primary win, Abrams had to spend the day after the election defending her recent comments about some of Georgia's shortcomings, policy failures she seeks to correct.
Stacey Abrams: We are number one in maternal mortality. Number two in the number of uninsured. We are number six in infant mortality. Number nine in gun violence. We are number 48 in the provision of mental health services. The challenge I have is that the answer from Republicans, from our former Senator to our current Governor is to fight me instead of fighting the problems that are facing Georgia.
Melissa Harris-Perry: With the fall opponents now clear, will Georgia remain the center of the political universe in the midterm elections, or will the sequel be less thrilling than the original?
I'm joined now by Maya King, politics reporter for The New York Times. Glad to have you back, Maya.
Maya King: Thanks for having me.
Melissa Harris-Perry: Also with us is Stephen Fowler, reporter covering state and local politics for Georgia Public Radio. Welcome back to The Takeaway, Stephen.
Stephen Fowler: Thanks for having me.
Melissa Harris-Perry: Stephen, let's start with you. What role did the language about election fraud that seems to have gained so much ground, what effect did that have in the context of this primary?
Stephen Fowler: Well, in some ways, not very much. Many of the candidates that former president, Donald Trump, picked to run against incumbents on the theme of election fraud in 2020, really did not get much traction getting blown out in their races. The Secretary of State, Brad Raffensperger, who was asked by former president Trump to, "Find votes to overturn the election," won without a runoff with about 52% of the vote, and Governor Brian Kemp, who faced that challenge from Trump-backed former Senator David Perdue, won with about 73% of the vote. Really, Republican primary voters in Georgia sent a message that they're more interested in the present and the future than dealing with the past.
Melissa Harris-Perry: Okay. Did they? [chuckles] I want to know if we can measure or think about those results in that way. It's not to suggest that your analysis is wrong, but instead, I'm trying to figure out what we know about how these voters are thinking about these candidates right? I mean, they're certainly not sending some sort of message about, the Republican party in Georgia is more progressive or more left. Are they even making a claim that the Republican party in Georgia is more independent from former president Trump?
Stephen Fowler: Well, I mean, the candidates that ran, ran almost solely on the 2020 election, saying the fraud happened and it was stolen and that they alone could fix it. The candidates that did win offered a little bit more of a three-dimensional aspect for Georgians. One reason that Brian Kemp won so convincingly is that he spent much of his time campaigning, reminding conservative voters that he's the most conservative Governor in Georgia's history and accomplished things for them on social issues and economic issues. Also, that's a little bit of the present.
Then the future comes from the warning about Stacey Abrams and her vision for the state and something that Republicans and conservatives don't want. By voting for people that Trump didn't pick that have strong conservative backgrounds and that are still very much interested in conservative policies, even around elections, you can say that the prospect of a governor Stacy Abrams is more top of mind for Republican voters than the 2020 election, even with people that might still think it was stolen.
Melissa Harris-Perry: I got you. That makes sense to me. Let's in fact then Maya pivot over to Stacy Abrams. She ran unopposed for the Democratic nomination for Governor, which is very different than the last time out where she had to overcome a pretty intense primary challenge. What are you looking for in this rematch in November?
Maya King: Well, a couple of things. A lot has changed from 2018, but what's interesting is that the Abrams' campaign has maintained a very similar campaign playbook in that they are going to continue their outreach to rural voters, voters that might not have been supportive of the campaign in 2018 or voters that might not have been really engaged with before.
They're also aiming now to make this campaign a referendum on Governor Brian Kemp. What we have heard a lot already from Stacey Abrams is this idea that Kemp is a "failed governor" on issues, particularly as they pertain to Black Georgians, low-income Georgians, and rural Georgians. Really something I'm looking for now is how that would play with the electorate, particularly against the backdrop of some pretty significant headwinds for Democrats.
We've rehashed this so many times now in politics, but it just can't be said enough just how difficult the environment is for national Democrats right now. Obviously, prices are rising. We've got a baby formula shortage that has just, I think, worried a lot of people and really affected some critical voting groups, but Democrats are looking to the leaked Roe v. Wade draft opinion as a possible lifeline, particularly here in Georgia as a way to appeal, especially to white women who may not have supported Abrams in 2018, but feel nervous or might have some misgivings about Republican leadership now in the wake of that draft opinion.
I think they're also looking for possible improvements in the economy later this summer, if that's at all possible, just aiming to capitalize on literally anything that they can to try to close the gap, I think, between Abrams and Kemp in this rematch that, again, is just taking place. A lot has happened over the last four years, and so taking place under some very different circumstances than that of 2018.
Melissa Harris-Perry: Maya, can you back up and zoom in for just a moment on the baby formula shortage. Why is that an issue that's relevant in a Georgia gubernatorial campaign cycle that we're going into?
Maya King: It's relevant, I think, everywhere, but in Georgia, voters have been keenly aware now of the role that their governor can play in their everyday lives. That's a message that Mr. Kemp has pushed quite a bit as well. They're looking at the baby formula shortage one as just a very scary thing. I mean, the shortage is nationwide, so there are many moms who are just unable to feed their children.
That's not a good thing, and I think they see that, many voters see that as yet another Washington policy failure that also connects to ongoing supply chain woes. The fact that, in addition to baby formula, many other things are just more expensive or harder to get. Airline travel and even travel by car, gas prices are extremely high. I think all of these things are intertwined, but the baby formula shortage, the fact that people are unable to, or having just great difficulty feeding their infants adds another layer of urgency and just general anxiety to this political environment.
That just reflects poorly again on President Biden, I think, in the minds of voters. Republicans are very eager to continue to play up any number of messages on failed Democratic leadership in Washington. I think Georgia voters are very keenly aware of how different the state is from Washington. I think both Democrats and Republicans pride themselves on that and are looking, again, at Washington and saying, "Well, what's going on up there?"
Kemp has been pushing a message of the influence and importance of your state executive. I think Abrams is also trying to do the same thing, but in making this a referendum on Kemp is harder to separate that from Washington.
Melissa Harris-Perry: Got it. That's super helpful. Now, Stephen, as Maya was talking about the things that have changed since 2018, one of the most important has been the maps, right? These are primary elections that took place within these new redistricted legislative maps. Can you talk about how this may have affected some of the primary results? I guess I'm thinking here, particularly about Democrat Lucy McBath and Republican Marjorie Taylor Greene.
Stephen Fowler: Georgia has changed a lot over the last decade demographically and politically. It's grown more democratic, its congressional maps has not. Republicans in charge of the mapmaking this year changed Atlanta's northern suburbs and made the 6th congressional district a safe Republican seat that was held by Democrat Lucy McBath. The 7th congressional district is now a safe Democrat seat that's held by Carolyn Bourdeaux. McBath and Bourdeaux faced off in a member on member primary that saw McBath pretty handily win that election because of a lot of different reasons, mainly dealing with the electorate and Bourdeaux's perception as being more moderate and stifling Joe Biden's agenda and things like that, but it has forced Georgia's congressional delegation to have one less Democratic member.
Then on the other side, Representative Marjorie Taylor Greene still represents one of the most conservative districts in the country, even though they added in a sliver of Democratic voters in suburban Cobb County, it's still overwhelmingly Republican, it's still overwhelmingly favorable to Marjorie Taylor Greene. She also decisively won her primary election, in part, because, like other incumbents that we mentioned, she's a known entity. There's no reason that voters were given to vote against her. Voters in her district like a lot of her antics and a lot of her stances on things, and so it's become a point where almost all of Georgia's congressional seats in the future will be decided in primaries and not in the general election.
Melissa Harris-Perry: Say that one more time because that feels absolutely critical to me, and I don't want folks to miss it.
Stephen Fowler: Georgia's 14 congressional house districts are almost to a point where they will be decided in summer primaries instead of the general election because of how uncompetitive the seats have been drawn by legislators in the redistricting process.
Melissa Harris-Perry: Of course, that's stunning, Stephen. In part because we know that primaries just across the board, much less in a midterm election year, have much smaller turnouts.
Stephen Fowler: Right. The governor's race had a million people statewide vote in the Republican primary, but Marjorie Taylor Greene, for example, got about 70,000 votes in her race in her district, and that was enough to blow the doors off her opponents, and so what you see is more and more extreme lawmakers on both sides of the aisle. You see more extreme stances have to be taken to really appeal to enough people that could fill Atlanta's football stadium are the ones deciding who gets sent to Congress in these districts, and it is definitely not doing anything to help our country's polarized nature right now.
Melissa Harris-Perry: Stephen Fowler is a reporter covering state and local politics for Georgia Public Radio. Thank you for walking us through all of this. We're going to take a quick break, but when we come back, Maya King is still going to be with me, and we're going to take a trip around to a few other states, more politics on The Takeaway.
[music]
I'm back with Maya King, politics reporter for The New York Times. Now earlier, we were looking at primaries held in Georgia this past week, let's take a look at some of the primaries held in other states. The Trump-backed candidates on the Republican side in these most recent primaries did not have the kind of success that we saw maybe three weeks ago when we were looking at, for example, Ohio. Does that tell you something about the Republican Party, particularly in the south, moving away from President Trump, or is this really more about the fact that these are candidates who are just simply so popular in their localities?
Maya King: I think it's a little bit of a mixed bag. I think about Alabama and Senator Mo Brooks, who once was very popular with Trump, but his endorsement from the former president was rescinded because he would not embrace in full the former president's lie that the election was stolen. His race is now headed to a runoff, but that's a little bit different from Congressman Ted Budd in North Carolina, who was endorsed by President Trump and was able to win a pretty competitive Republican primary.
I think, really, this just depends on, one, where the electorate is, and how much money these candidates have to be able to paint themselves, not just as Trump-endorsed candidates, but as "true conservatives". That means different things in different states and even across the deep South, which has voted reliably Republican, by and large. I think there's still some diversity among the Republican electorate, short of these shades of red in terms of how voters are feeling about a candidate who has a Trump endorsement and what else is also folded into their platform.
Melissa Harris-Perry: You mentioned Ted Budd. As a North Carolinian, my primary election campaign in terms of what I was seeing on television and campaign ads, was that a Republican primary campaign, and then Democrat Cheri Beasley on the Democratic side winning. Beasley is an African American woman who served as Chief Justice of the North Carolina Supreme Court. Right now, there are no Black women in the US Senate. She now becomes a candidate for that office.
Do you have a sense that the National Democratic Party is going to pour resources and attention into this North Carolina Senate race, or, again, are all eyes still on Georgia and that gubernatorial race?
Maya King: I don't have a clear sense yet of what the resourcing will look like in other states outside of Georgia, but I will say, so far, I have not seen that much attention being paid to Cheri Beasley's race. I imagine that will change soon because she has been widely discussed as a very compelling candidate, and one with a real shot of, first, diversifying the Senate, but two, also maintaining the very slim Democratic majority in that chamber.
Though I will note what's interesting about that primary, she was the very obvious front runner for many months, has been raising a ton of money. She was able to be very successful in that primary, in large part, because North Carolina Democrats, top brass, old-guard leaders, folks who have influence in the party in the state really coalesced behind her campaign very early on and made the decision that a Black woman candidate should be the person who represents the party in 2022.
I think that is a shift with that state party in figuring out who the standard-bearer was going to be. Of course, we know Jeff Jackson was another pretty formidable candidate in that primary in its early months in late 2021. He himself dropped out and endorsed Cheri Beasley shortly after. We know now he's running for the House, so may very well make it to Washington at a different capacity.
That did stand out to me because it represents a bit of a sea change, I think, in politics, and particularly the South now, where more parties are understanding, "Look, we have these huge, huge populations of people of color," and while places like the governor's mansion and the Senate have been very elusive to non-white candidates, one important first step is making sure that the party infrastructure is lined up behind them to at least give these candidates a fighting chance at being successful in November.
Melissa Harris-Perry: I can talk North Carolina politics all day, but let's go down to Texas for a second because there is not a clear front-runner in this San Antonio area race. Obviously, all eyes are on this area of the country right now because of the, still, heartbreaking gun violence that we saw this week at a elementary school, for goodness sake. Let's talk about Jessica Cisneros and Representative Henry Cuellar. It's the 28th house district, what's going on in this district?
Maya King: It's pretty clear that we are in recount territory. This is another race that has very quickly become emblematic of a number of trends in national politics and in Democratic politics, more specifically. Mr. Cuellar is a pro-gun and anti-abortion Democrat, not something that you see at all in the House of Representatives. In fact, he is the only anti-abortion Democrat in the House, and I believe one of the only Democrats with an A rating from the National Rifle Association, and that has really, I mean, really frustrated and angered the progressives who stood behind Jessica Cisneros, in large part because she was a shift from both of those things.
She was in support of women's access to abortion, and also in supportive of more stringent gun legislation or things that would limit access to firearms among 18-year-olds, in particular in Texas where you have few sweeping gun laws in place. What they've pointed out here is just against the backdrop of national politics. For national Democratic leaders, folks like Nancy Pelosi, Jim Clyburn, and Steny Hoyer who did support Henry Cuellar. For them to do so, progressives have pointed out that there's a little bit of hypocrisy in what they're saying about these policies and how much they want to support candidates who champion gun control legislation and expand abortion access but have lined up behind this one person.
I'll also note that the 28th District in Texas actually shares a border. It borders the 23rd district where Uvalde is located to its south. It's about a two-hour drive from Uvalde, Texas.
This is literally close to home for a number of people there. I think folks are understanding now just how important their votes are, but also how important national resources and storylines matter to these races.
Melissa Harris-Perry: Maya King is a politics reporter for The New York Times. Thank you as always for joining us.
Maya King: Thank you.
[music]
Copyright © 2022 New York Public Radio. All rights reserved. Visit our website terms of use at www.wnyc.org for further information.
New York Public Radio transcripts are created on a rush deadline, often by contractors. This text may not be in its final form and may be updated or revised in the future. Accuracy and availability may vary. The authoritative record of New York Public Radio's programming is the audio record.