Move to Virtual Nominating Conventions Marks Major Shift in U.S. History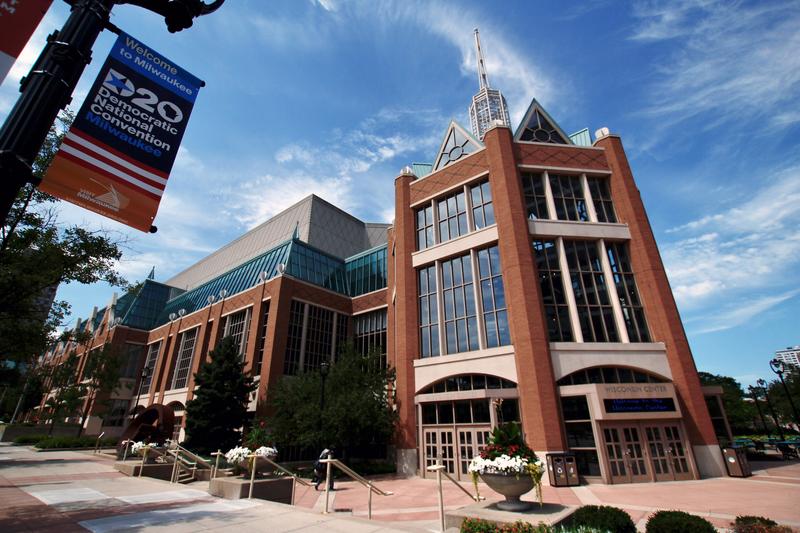 Transcript
[music]
Brigid Bergin: It's The Takeaway. I'm Brigid Burgan filling in this week for Tanzina Vega. It's nice to be here with you.
[music]
Today marks the kickoff to the 2020 Democratic National Convention. It was originally scheduled to be held in Milwaukee, Wisconsin, where former Vice President Joe Biden would have accepted his party's nomination in front of tens of thousands of people but because of the pandemic, the DNC and next week's Republican National Convention will be held almost entirely online. These virtual events mark a major departure after nearly two centuries of in-person nominating conventionS.
Franklin Roosevelt: My friends of the Democratic National Convention of 1932.
John Kennedy: Let me say first that I accept the nomination of the Democratic Party.
Speaker: With gratitude and with determination.
Ronald Reagan: With a deep awareness of the responsibility conferred by your trust.
Barack Obama: With profound gratitude.
Donald Trump: I humbly and gratefully accept your nomination for the presidency of the United States.
Brigid: Without the cheering crowds, there will certainly be a different energy this year, but not being in a physical space could also benefit party leaders. Protestors won't be visible outside the Convention Hall and Democrats will be able to avoid a repeat of 2016 when Bernie Sanders' supporters voiced their opposition to the party establishment during the convention.
[crowd chanting]
We start today considering the significance of past conventions and trying to learn what to expect from this year's new format. Joining me now is Susan Page, Washington Bureau Chief for USA Today. Thanks for being here, Susan.
Susan Page: Hey, it's great to be with you, Brigid.
Brigid: Also with us is Marsha Barrett, assistant professor in the Department of History at the University of Illinois. Welcome, Marsha.
Marsha Barrett: Hi, thank you for having me.
Brigid: Marsha, let's start with a little history lesson. When did a major political party first hold a nominating convention and why did they opt for this format?
Marsha: The first convention of a major party that we would recognize, oh, not we but maybe the general public, is the Democratic Party in 1832. The rise of the convention is in part a response to the increase in popular politics in the 1820s. There was a sense that in the period before conventions, we had congressional caucuses. Members of Congress would essentially determine and often from the same party would determine who would be the nominee, who would ultimately usually end up as the president and there was a public backlash to that.
There was a sense that there should be more people, more average voters involved in the process. You have the rise of the convention as a response to that and at the very least it gave the appearance that there were more people involved or more white men involved in the process.
Brigid: Oh, how democratic was the convention nominating process initially?
Marsha: Ironically, Andrew Jackson actually supported the idea of having a convention within the Democratic Party. In part, because he wanted to ensure that his preferred VP nominee would be selected and he thought he would have more control over that process in a convention. There was also an institution of a two-thirds rule that would ensure at least in his thinking that the previous Vice President Calhoun would not be chosen. The rise of the convention within the Democratic Party actually showed a moment where Jackson was really exerting his power over the party. The convention was the manifestation of that.
Brigid: Marsha in the late 1960s, though, it was a major shifting point for how the conventions operated. Can you tell us a little about what changed during that era?
Marsha: The 1960s are a very interesting period for both the Republican and Democratic parties in part because the parties, at least the establishment leadership in both parties found it more difficult to control delegates and the outcomes of the appearance of conventions in the 1960s. First with the Republican Party in 1964, where you have this upsurge of conservative support for Barry Goldwater that many more moderate and establishment leaders in Republican Party weren't prepared for. Then in 1968 with the Democratic Party, there was a sense that, you have the antiwar activist delegates who oppose the idea of nominating Hubert Humphrey, and the conventions didn't come across as a well-organized celebration of unity within the parties. There was a sense that some changes needed to be made. That's why the 1960s are important for both parties in their convention history.
Brigid: Some of those reforms really changed the operation of those conventions.
Marsha: It did, but in particular for the Democratic Party-- After 1968, there was a sense among many activist members of the Democratic Party that the party leadership and the delegates, in particular, didn't represent the base of the Democratic Party. There are a number of commissions, but the most well known is the McGovern-Fraser Commission. One of the outcomes of that is that you have the process of choosing delegates changes. Delegates were then chosen in the year of the convention. Before that time period, delegates might be chosen before, and people wouldn't necessarily know who these people were or who they supported. They were typically white men.
After 1972, you see reforms where there's actually an effort by Democrats to make sure that delegates, there are more women, there are more African-Americans. In 1968, 14% of the delegates in the Democratic Party were women. In 1972, that number jumped to 40%.
Brigid: Wow.
Marsha: You see a major shift within delegates. The Republican Party did have some commissions, but ultimately didn't really institute many reforms based on them. That's one of the major shifts, but then you also see the rise of the binding primary after 1972. Then that also changes the nominating process in a major way.
Brigid: Susan, I want to bring you into this conversation. You've covered conventions dating back to 1980. How much have you noticed them evolving over the decades?
Susan: Yes, I'm very sorry that this year it will break my string of political conventions because they're so much fun, at least for reporters and for activists. They're a real organizing opportunity for campaigns. Also, an opportunity for people who want to cause trouble for the candidate as we've seen in many years, including in 2016 in the Democratic convention, but they have changed a lot and they've changed in importance.
I think they've also changed in impact. They're a chance for a candidate to introduce himself or herself, to explain what it is they would do if they were elected. The viewership of conventions haven't always been so strong. A lot of people don't see a reason to tune in, and yet they've remained important throughout the last couple of decades because they start the general election. There are a point where Americans who are not very, very serious and focused on politics, begin to tune in to figure out who they want to vote for in November.
Brigid: Susan, from what we know now, what are these virtual conventions going to look like?
Susan: There's a lot we don't know. We're going to be seeing them starting Monday night. We know that there are going to be some speeches that are live but there's going to be a lot of material that has been prerecorded including the speech that we're going to hear Monday night from Michelle Obama. We know that they're trying to keep things very tight. For instance, a lot of people only get one minute or two minute for speeches. That's very hard for a politician to abide by, but with a digital convention, the managers have the ability to enforce these limits.
They won't have the hoopla. You won't see balloon drops, you won't see cheering partisans on the arena. You won't see disenchanted party members booing or waving signs that are going to the other direction. I think it will be a test of the ability of party organizations in these campaigns to present something that is worth watching. We're just going to have to find out what that is.
Brigid: A test for the parties, but also a challenge for an outlet like your own. How are you planning to cover this convention?
Susan: It's different from the previous ones. We would send an army. We had planned to send an army to Milwaukee for the Democratic convention and to Charlotte for the Republican convention. Now, we're sending carloads of people. There's not much to do at the convention. City is really very limited. The way we're covering it is the way Americans will be watching it. We'll be covering it off TV.
Brigid: It's so interesting. Tonight, Susan, New York Governor, Andrew Cuomo, will be speaking at the convention. He's got a much better speaking slot than he did in 2016. How much do you anticipate he'll be focusing on his state's COVID-19 response during that appearance?
Susan: I think the number one thing the Biden campaign wants to do, is keep a focus on President Trump's handling of the pandemic and questions about how well he has done and the deadly cost we've seen across the country. Andrew Cuomo, he has been criticized for his very initial response when the pandemic began or this year. He has gotten good grades. A positive assessment from his own voters and from Americans across the country for how he's done since then. The situation in New York is so much better than it is in other big cities that we see across the country. He is there to hammer the message that the president has failed to handle the coronavirus in a responsible way, in a way that follows the science and that we are all dealing with both the health and the economic costs of that.
Brigid: Susan, the Democrats also have some progressive speaking at their convention. They also have at least one notable Republican, former Ohio Governor John Kasich is in their lineup. What does that tell us about how the party is navigating its moderate and progressive wings this election cycle?
Susan: One thing we see this year that we didn't see four years is a united Democratic Party, at least until election night. You see Bernie Sanders take a very different tone toward Joe Biden than he did toward Hillary Clinton. A much more positive really encouraging his supporters to vote for the candidate who won the nomination. Even though unhappy that that person is not Bernie Sanders, but it is hard for a party to hold together a political spectrum that runs from John Kasich, the former Republican Governor of Ohio to AOC, who is leading the rising face of Democratic socialists. They can do that until November 3rd and I think the real question is going to be if Joe Biden wins the presidency, can he navigate these big ideological divisions in the White House?
Brigid: My last question to you both. Do you think that conventions will ever go back to the more traditional in-person format once that's possible or is this really the start of a longer-term shift?
Susan: I'll go first. This is Susan. I will say no. We're not going to have old track conventions. I don't know exactly what a convention will look like in four years, but I suspect it will not look like a 2016 convention. I suspect we've learned some things in 2020, they get applied in 2024 as well.
Marsha: I have a slightly different perspective. I know that over the years, especially with the rise of the binding primary, people have often said that it would be the end of the convention and they have remained. I think that the convention is likely to change and maybe how viewers watch a convention will change and become more diverse, but I think people do deep down enjoy the hoopla of a convention and I think some elements of that will remain.
Brigid: Susan Page is the Washington Bureau Chief for USA Today and Marsha Barrett is an assistant professor in the Department of History at the University of Illinois. Thanks so much to you both.
Susan: Hey, thank you.
Copyright © 2020 New York Public Radio. All rights reserved. Visit our website terms of use at www.wnyc.org for further information.

New York Public Radio transcripts are created on a rush deadline, often by contractors. This text may not be in its final form and may be updated or revised in the future. Accuracy and availability may vary. The authoritative record of New York Public Radio's programming is the audio record.