Rise of Violent Militias Prompts National Fears After Foiled Kidnapping Plot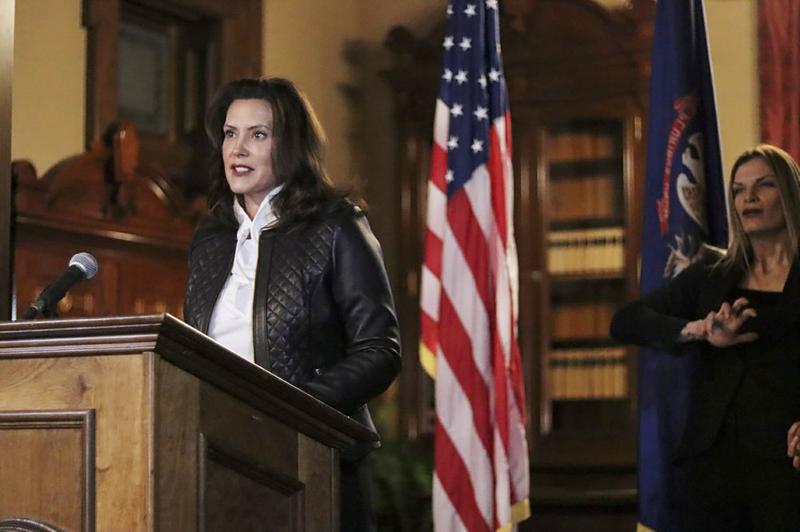 Transcript
[music]
Tanzina Vega: This is The Takeaway, I'm Tanzina Vega.
Dana Nessel: The individuals in custody are suspected to have attempted to identify the home addresses of law enforcement officers in order to target them, made threats of violence intended to instigate a civil war, and engaged in planning and training for an operation to attack the Capitol Building of Michigan and kidnap government officials, including the governor of Michigan.
Tanzina: That was Michigan Attorney General, Dana Nessel speaking last Thursday. Last week, more than a dozen white men linked to an anti-government right-wing militia were arrested after plotting to kidnap Michigan Governor Gretchen Whitmer and overthrow the Michigan state government.
The arrests are just the latest example of the growing threat of militia extremism across the United States. While federal law enforcement officials say they consider these groups to be a major threat to domestic security, the Trump administration has shown no signs of condemning these groups so far. Here's Governor Whitmer from her press conference last week.
Gretchen Whitmer: "Stand back and standby," he told them. Hate groups heard the president's words not as a rebuke, but as a rallying cry, as a call to action.
Tanzina: For more on the latest from Michigan, I'm bringing in Dustin Dwyer, a reporter with Michigan Radio. Welcome to the show, Dustin.
Dustin Dwyer: Thank you for having me.
Tanzina: What extremist militia groups are these 13 men affiliated with?
Dustin: According to the charges, they were affiliated with the group they called the Wolverine Watchmen. That was a group that seems to have been created by this group of men, because they didn't really fit into any of the other groups.
I spoke to one militia leader from a militia called the Michigan Home Guard. One of the ringleaders of this group who's now been charged with terrorism and kidnapping, he was in the Michigan Home Guard and got kicked out because his views were too extreme. He was too aggressive and he was thought to be an unstable person and so he got kicked out of the Michigan Home Guard and then linked up with these other men and created the Wolverine Watchmen.
Tanzina: Dustin, how common are these militia groups in the State of Michigan?
Dustin: They're very common and they have been for years, there are many different militias and people in the militias in Michigan have been trying over the past week to distinguish between this group and that group. You have groups in some militias coming out with statements condemning these 13 men, but the militias are really all over the state in Michigan.
Tanzina: What exactly is the distinction that these other militia groups are trying to make here? From my understanding, these are folks who have deputized themselves to somehow mimic law enforcement in many ways, but they are not officially deputized by anybody to actually carry out any of the things that they say they want to do. What exactly are these groups trying to distinguish? How are they trying to distinguish themselves?
Dustin: When you talk to them. The way they explain it to me and again, I talked to the leader of the Michigan Home Guard and he said, "Look, we're really just about protecting our family. We're about arming ourselves to protect our family." They say, "We're here to help the community." They talk about giving out water in Flint and responding when the dam collapse and they see themselves as these private citizens who go out to help. Meanwhile, they're just carrying these really large guns as they do.
In their minds, at least there's a big distinction and they've been trying to draw that distinction since this all happened. In reality, what a lot of people on the outside see is these huge rallies that were happening at the Michigan Capitol, all of these people were mixed together side by side. The people who have now been charged with terrorism were standing side by side with these other people in the other militias who say they're the good guys.
Tanzina: What happens now, Dustin, to these folks? These are 13 white men I believe who were arrested in this plot to overthrow the Michigan government and also to kidnap Governor Whitmer, what happens to them now?
Dustin: All 13 men are in custody, six of them are facing federal charges, seven of them are facing state charges. There are hearings on Tuesday, preliminary hearings for some of them and they will be in custody pending whether they get bonded out or something like that but now it's a court case. They're facing some pretty heavy charges here.
Tanzina: Among those charges, how much time could we see these folks doing if they are in fact convicted of the charges?
Dustin: I think it depends on the charge, but terrorism charges, they could be serving a long time in prison, but of course their lawyers will come out and say not all 13 were the ringleaders here. Some of them had different roles in this plot and they, of course, will try to negotiate it down, but we'll have to see.
Tanzina: Tell me a little bit about what the sense is in Michigan among the folks that you're talking to everyday Michiganders, how are they seeing what's been playing out?
Dustin: I think everyone's been shocked by it here as well as anywhere else. It's shocking, but in certain ways almost surprising because for some people, it confirms what they already believed. As I said, there were these demonstrations in April and again in May, where a lot of people were shouting things and holding signs that said nearly the same things that has been charged in these documents.
There was one man walking around the Lansing State Capitol with a doll with dark hair, which looks like our governor and there was a noose around its neck so some of the imagery and some of the rhetoric doesn't seem surprising at all, but when you look at the details of how far they'd got in this plot, it's pretty shocking.
Tanzina: Dustin Dwyer is a reporter with Michigan radio. Dustin, thanks so much for joining me.
Dustin: Thank you.
Tanzina: The plot to kidnap Governor Whitmer is just the latest incident involving right-wing extremist groups across the country. For more on the bigger national picture, I'm going to bring in Heidi Beirich now who's the co-founder of the Global Project Against Hate and Extremism. Heidi, welcome back to the show.
Heidi Beirich: Thanks for having me.
Tanzina: Also with me is Daryl Johnson, the owner of DT Analytics and a former senior analyst at the Department of Homeland Security. Daryl, thanks for joining me.
Daryl: Thank you.
Tanzina: Daryl, let's start with you. The modern militia at least movement dates back decades here in the United States, but where have we seen some of the sharpest increases during the Trump presidency?
Daryl: When I was at Homeland Security, we actually started seeing the recruitment of this second wave of militias going back to 2008 when Barack Obama was elected president. The reason why we saw that rise is because, typically, during Democratic administrations, militias are fearful of gun bans and gun legislation. They're also fearful of minority rights being expanded, particularly immigrants.
So we saw this rise actually begin as far back as 2008, but it's taken on new increases with the Trump administration, which goes against all the trending data that I've seen over the past four decades. Typically during Republican administrations, the militias don't have those same fears that they do during Democratic. This bucks the trend and I think linked back to the president's rhetoric.
Tanzina: When you say the president's rhetoric Daryl, you mean that he has not outwardly condemned these groups or that he has said things to encourage them?
Daryl: Has actually done both, he hasn't condemned these groups in any way when they've been participating in violence and plotting terrorist acts, but also through his tweets, we saw the president tweet out things like liberate Michigan and liberate Virginia back when they were having the anti-porn team rallies. He's also used other Twitter messages to send out a signal to these militia groups that they're operating in a permissive environment and that the president has their back.
Tanzina: Heidi, we're understanding a little bit more about these groups as we go, but who are these groups? What is their dynamic? Are these violent white supremacist groups? We heard it earlier, at the very top of the show, our reporter Dwyer who's in Michigan was saying that these groups have been around and some of them are trying to distinguish themselves, but how do we generally define "militia groups"?
Heidi: Sure. I think there's a big distinction actually between the militias or anti-government groups which is the broader movement and white supremacists in the sense that these aren't necessarily organizations that have overt racial messages.
Now there are racial messages within this movement. Daryl just mentioned anti-immigrant feelings, anti-Muslim feelings, but they're not groups in the way that white supremacists claim that the country should be run entirely by white people or that we should have a white ethnostate. I think that is a distinction that makes a difference.
Tanzina: Then how are we describing militia? What are the characteristics here and is militia even the right term to use, Heidi, given that this group in particular who threatened Governor Whitmer was planning to overthrow the Michigan state government and kidnap its governor?
Heidi: In general, anti-government groups are motivated by fears of having their guns taken away, conspiratorial ideas like the government's going to come and round them up and put them in camps. They talk a lot about arming themselves in case there's some constitutional usurpation that occurs.
In this case, I think this particular group had come to
see Governor Whitmer and the Michigan government as having basically overthrown the constitutional system and they were going to take her out and do something to restore that. These groups talk a lot about how the constitution has been violated and that they need to do something to reimpose an imagined past when that constitution was functioning.
Tanzina: But that imagined past, are they considered, Heidi, domestic terrorists?
Heidi: In many cases, militias have been involved in domestic terrorism, not just this particular case in Michigan, there was an earlier case against something called the Hutaree militia also in Michigan that was involved with possibly plotting against law enforcement. We had arrest of an Alaska militian that wanted to kill cops and judges. There's a lot of terrorism that comes out of these groups.
Tanzina: Daryl, in your experience as a result of what Heidi was just saying in terms of the terrorist activity that comes out of these groups, how does law enforcement tend to view them? Do they make a similar distinction between "militia groups" and white supremacist groups or are they all seen as threats to domestic security?
Daryl: Federal law enforcement defines a militia as two or more people that possess and use firearms to conduct paramilitary training and espouse anti-government rhetoric. That's the definition. After the Oklahoma City bombing, the FBI's behavioral sciences unit put out what's called a militia threat topology, which categorizes militias on the basis of their criminal activity as well as their rhetoric.
They have categories one through four, one being the least threatening and four being the most threatening. What differentiates the one, two, three, and four is basically the level of paranoia, whether or not they're committing criminal activity and whether that criminal activity involves terrorism or terrorist plotting.
Tanzina: Given what you heard about this group, in particular, Daryl, in Michigan, would you say that they fall into that category?
Daryl: Yes, they would definitely be a category three group because they're two or more people possessing firearms, conducting paramilitary training, espousing the anti-government rhetoric, they're committing criminal activity by plotting the kidnapping of the governor. They actually took steps to go to the governor's residence and conduct surveillance, so, yes, that would be a category three group.
Heidi: Daryl, we've heard about the Proud Boys and the Boogaloo Movement here in 2020, curious what makes those groups different from what else we've been hearing about with these militias, for example?
Daryl: The Proud Boys are basically a group that like to agitate at different protests. They can devolve into street fighting between protesters and counter-protesters. That's more of a state-local problem. It's not rises to the level of a terrorist group. Whereas the Boogaloo Movement we've had a number of incidents recently despite the fact this movement only existed for about a year or less.
We've had fatal shootings of police officers on California. We've had terrorist plotting in Las Vegas. We had an individual in Michigan and Madison Heights that got gunned down by the FBI for pulling out a weapon on them when they attempted to arrest him.
This is a movement that wants to basically take advantage of the civil unrest that's ongoing and try to exploit it and try to cause more civil unrest and destabilize society to hopefully start a civil war basically.
Tanzina: Heidi, I was hearing about this the potential for a "race war" back in 2008 after President Barack Obama was elected to Daryl's earlier point here. Let's take a look back at Michigan here because polling is showing that a lot of Michiganders are actually supportive of Governor Whitmer's restrictions, for example, on the coronavirus. Where is all this anti-government sentiment coming from?
Heidi: It's been around for a long time and we can trace this back to the 1990s, there's always been a segment of folks, especially in Michigan that have been vehemently anti-government. Don't like the federal government, although that's changed with the rise of President Trump, and view any measures like Governor Whitmer's taken as restrictions on their constitutional freedoms and something that they should fight back against. We saw very quickly just after a few weeks of lock-down, these massive protests in several states, including Michigan against the quarantines and the lockdowns.
Tanzina: Heidi, one of the big concerns here as we head into this very contentious presidential election just a couple of weeks away, is what's going to happen at the polls. I want to play a clip from President Trump right now.
President Trump: I'm urging my supporters to go into the polls and watch very carefully because that's what has to happen. I am urging them to do it.
Tanzina: Heidi, that was President Trump saying he's urging his supporters to go into the polls and watch very carefully. What can we take away from that? Heidi, is the president inciting some of these militias to do "poll-watching".
Heidi: I'm quite worried about exactly that that Trump is signaling to his supporters like he did back in late April with those liberate North Carolina, liberate Virginia, liberate Michigan tweets to say to them that they should be at the polls heavily armed folks standing in front of poll areas will be extremely intimidating and quite scary. You have to worry also about people who will be activated into acts of domestic terrorism. I think people forget that we have four such acts around the 2018 elections and this is an even more fraught environment than that year. This is scary.
Tanzina: Daryl to that point, one of the things that we're hearing is that the president is really sowing doubt about the legitimacy of the election results. He's been doing this for quite some time, as he's begun to consistently trail in the polls. Could violent militias, Daryl, act on this and interfere with the transition of power if, in fact, the president continues to sow this type of doubt?
Daryl: That is definitely a possibility and we're entering a period of heightened risk of things like this happening because these narratives of potential voter fraud, rigged election, these are code words that the militia interprets as the president being illegally taken out of power or something like that. If the Republicans end up losing the White House, then there may be people on the outer fringes, because they've been told this fearful narrative may turn that into action.
Tanzina: Heidi, I want to just close here by a little bit of-- Michigan Attorney General Dana Nessel last week said that what she's witnessing, what she's seeing in Michigan and I'm quoting right now, "Is not just a Michigan problem. It's an American problem." What does she mean by that, Heidi?
Heidi: We have had an incredible amount of terrorism coming, both from militia type groups and white supremacists over the last several months. This is something that's widespread all across the nation. Daryl mentioned the possible attack on social justice movement in Las Vegas by Boogaloo Boys, cops being killed by Boogaloo boys.
This group had connections to that particular movement. That is happening all across the United States. This is such a fraught period, it is very possible that we're going to see even more violence. Thank God this plot was broken up, but we don't know what's to come.
Tanzina: Daryl, we've got about a minute left. What are your concerns as we head into the election?
Daryl: My concerns are not only the ones that we've already discussed, the voter intimidation, the potential terrorist attacks following Republican loss, but we also have to worry about when these protesters and counter-protesters get together they could pull out guns on each other and shoot each other or start a gun battle.
Tanzina: We're seeing the concern about that of course is growing and growing. Daryl Johnson is the owner of DT Analytics and a former senior analyst at the Department of Homeland Security. Heidi Beirich is the co-founder of the Global Project Against Hate and Extremism. Heidi, Daryl thanks to you both.
Copyright © 2020 New York Public Radio. All rights reserved. Visit our website terms of use at www.wnyc.org for further information.
New York Public Radio transcripts are created on a rush deadline, often by contractors. This text may not be in its final form and may be updated or revised in the future. Accuracy and availability may vary. The authoritative record of New York Public Radio's programming is the audio record.